If you're wondering how to spend 10 days in Italy, I've got you covered with these 5 itineraries! Discover the beauty, history, culture, and wonder with the perfect Italy itinerary.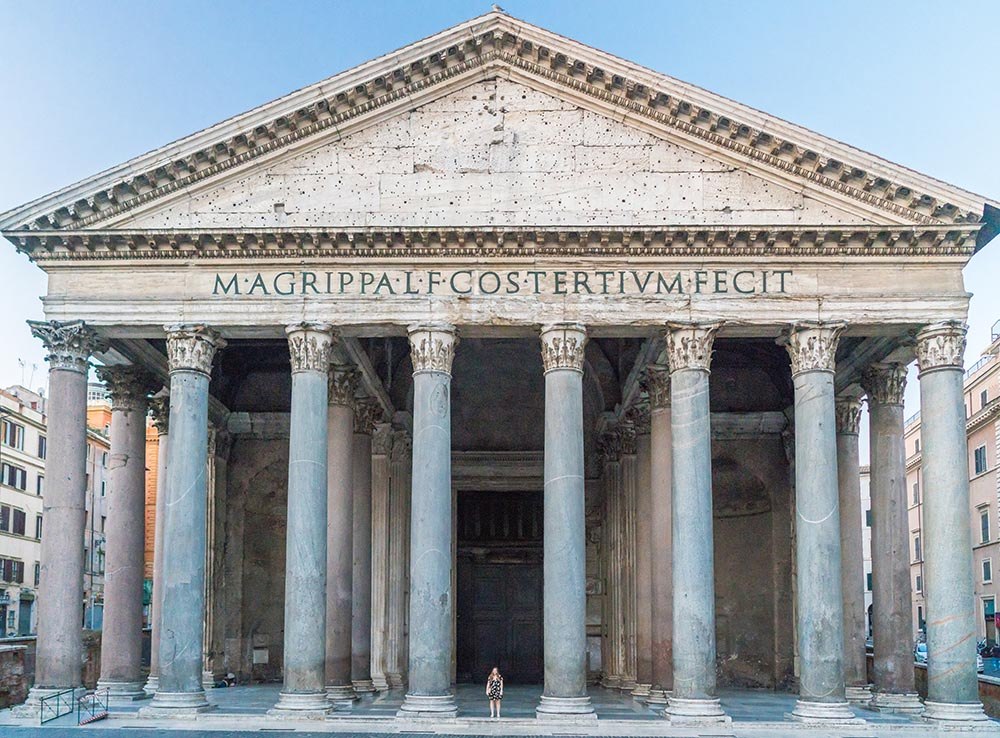 How to Spend 10 Days in Italy: 5 Amazing Itinerary Ideas for your Trip to Italy
Italy is an incredible country that should be on any traveler's bucket list! Italy has given us so much: the Renaissance, famous artwork, timeless classical music, stunning architecture, pasta, pizza, gelato…need I say more? Not only is Italy the birthplace of so many things, but it is also home to breathtaking natural beauty, from the lakes and mountains in the north to the gorgeous stretches of coastline on either side of the country.
We love Italy and have spent time living there and also being tourists there many times! It's one of our favorite places to visit over and over again.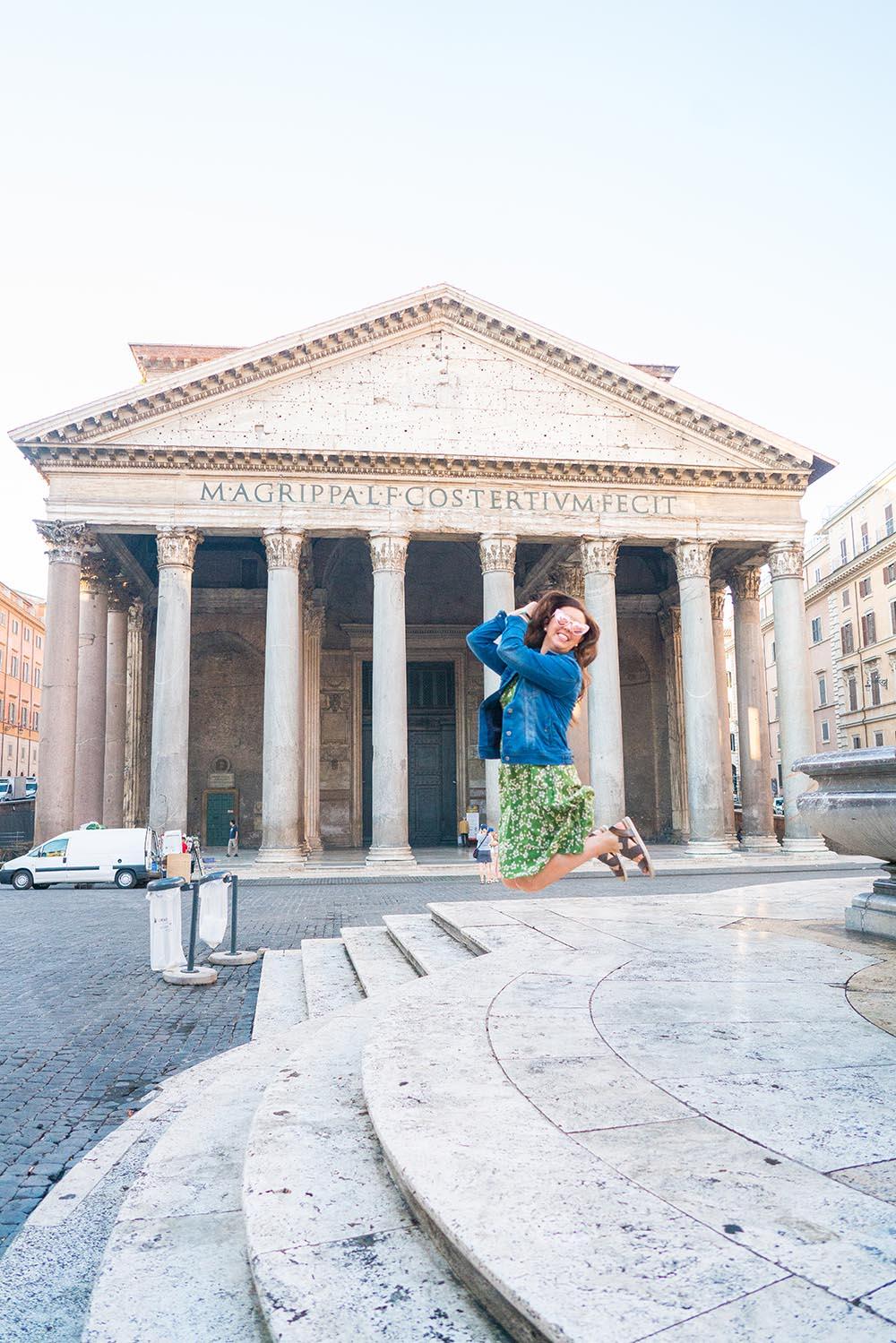 Any trip to Italy will be amazing, but I wanted to give you a few Italy itinerary options to choose from. They are all great options, but everyone has different tastes, and one might be a better fit for your needs and group.
If you want to learn more about Italy before planning your trip, be sure to read my complete Italy Travel Guide.
Want to skip all the planning and just access my detailed Italy Itinerary complete with interactive maps and daily schedule? Click the yellow button below.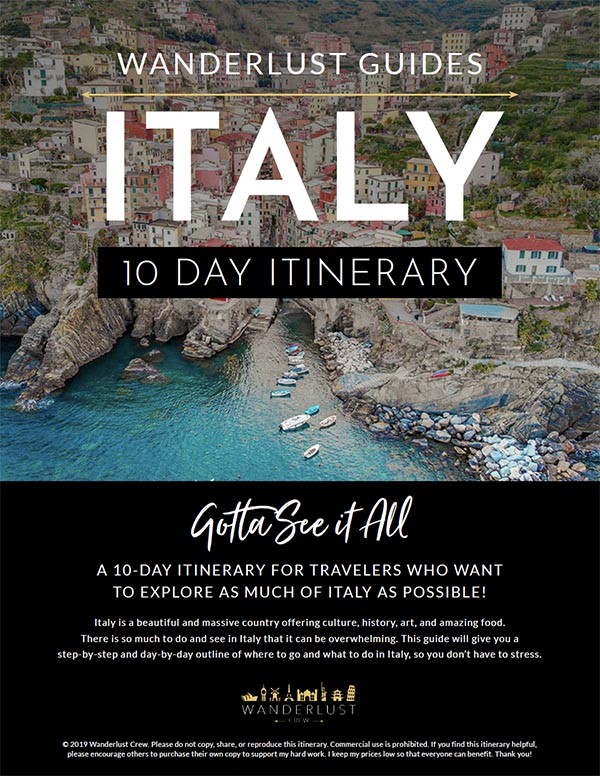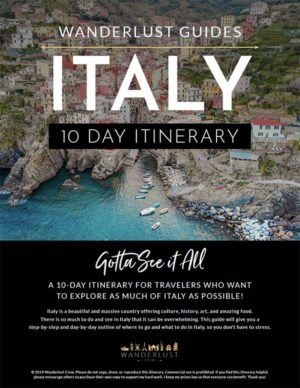 How Many Days Do I Need to See Italy?
How long should you plan for your trip around Italy? How about indefinitely? Two weeks in Italy is really nice, but if that's not an option for you, I think that 10 days in Italy is a good amount of time for your first visit. It will allow you to see around three sites without getting too worn out, and it's the average paid vacation time for most Americans.
A full 10 days in Italy gives you enough time to visit several cities in the country and have some in-depth experiences without feeling too rushed. But if you only have one week in Italy, you can still have a great time. Just cut one location out of any of these itineraries and you'll be fine! There are so many things to do in Italy and you'll never be able to see them all, but you can see the best!
How do I plan a 10 Day Trip to Italy?
If you're stressing about how to plan a trip to Italy, take a deep breath. Anywhere you choose will be great! Once you've decided to spend 10 days in Italy, it's time to get planning your trip! This is the fun part, but it can also be pretty stressful. Be sure to read all the information here, and once you pick which itinerary works best for you, do all the research you can!
The Best Time to Visit Italy
The best time to travel to Italy can be a tricky question! The best time to go to Italy will be different depending on what you want to do or see. If you want to see snowy mountains in the Dolomites or go skiing, obviously you'll want to go in the winter. If you want to spend most of your time on the beach, you'll want to go in the summer. Summer in Italy can be hot, humid, and really crowded. So if you want to see the big cities, it's best to go during shoulder season (April-May or September-October).
The best time of year to visit Italy is probably May or September in my opinion. Keep your preferences in mind when choosing when to go to Italy. I give my recommendation for each itinerary below.
Getting Around Italy
Getting around Italy can be fun and easy! In my opinion, traveling by train is the best way to travel around Italy and see the country. It allows you to sit back and relax between destinations, and with the cost of fuel and tolls in Italy, it's actually the most affordable way to travel Italy. Traveling around Italy by train can sound a little scary if you don't know what you're doing. Be sure to read my guide so that you feel confident before booking tickets and traveling by train.
Many will recommend purchasing a Rail Pass for your trip to Italy. A Rail Pass allows you to ride many trains in Italy without a reservation. This means you can hop onto almost any train in Italy. You can read more about it in my Italy Train Guide. Depending on the length of your trip, how often you'll be riding trains, which trains you'll be taking, and how many countries you're planning to visit in Europe, it can be a great deal…
But it can also be a waste of money. For these itineraries, I don't recommend buying one. I've done the math on each of these itineraries and I don't think it's worth it. If you are straying from any of these Italy itineraries, you really need to do the math and decide if it's right for you. This Italy Train Guide lays all of the information out for you.
There are some areas in Italy that I think it's definitely worth renting a car! In the northern lakes, dolomites, Sardinia, and Tuscany are all great places to drive in Italy. That can be a little terrifying in some areas. Be sure to read this guide to driving in Italy. I always tell people that once you drive in Italy you can drive anywhere!
If you're renting a car, there are two companies we prefer to use: Rental Cars and Expedia Cars. We have had no issues with them and have been able to find the best prices available.
How Much is a Trip to Italy Going to Cost?
How much does a trip to Italy cost you ask? Your trip to Italy cost will be very different than the next person. You'll need to budget for your 10 days in Italy. Your budget will depend a lot on where you choose to go. Large cities like Rome, Venice, and Florence will be more expensive than staying in the countryside.
Italy uses the Euro like a lot of Europe. The exchange rate is usually around .90 Euros to 1 USD. Food costs around the same as in the US, fuel is a lot more expensive, and accommodation will vary widely.
I would plan on spending around €100-300/night for accommodations depending on your group size and level of luxury. If you're a small group, VRBOs and house rentals can be very cheap! If you're traveling Italy on a budget, I highly recommend using VRBOs over hotels.
First Trip to Italy Suggestions
If you're planning a trip to Italy, you'll want to follow my basic advice, especially if its your first trip to Italy!
Learn a few basic words in Italian (grazie, ciao, preggo)
Be sure to validate your train tickets (avoid getting a €300 fine and read this!)
Try the local food and venture away from the main tourist sites to get it
Be sure to pack an Italy-specific power adapter (they have 2 types of plugs). I use THIS ONE for Italy specific plugs. And THIS ONE for European plugs also found in Italy.
Beware of pickpockets (you can learn about what happened to me here)
Beware of a Coperto charge. This is a charge to sit and eat.
Read my Tips for Visiting Europe
Where Are the Best Places to Visit in Italy?
Where to go in Italy you ask? When planning your trip to Italy, think about what is most important to you. The country is so large, it can be overwhelming. After visiting Italy 5 separate times, I have found it best to focus on one region of the country at a time if possible. I know that it's so hard to visit Italy and not want to see it all, but you won't want to spend your entire trip on a train, or in a car, or on a plane.
While it's tough to say just which are the best places to visit in Italy, because, let's be honest, all of Italy is so dang amazing, I do have some personal favorite Italy vacations. When I help friends plan their trip to Italy, I like to give them a little taste of everything: city, history, nature, beach, culture, and food!
I love getting off the beaten path, but there are just some places that are a must see in Italy! There are literally hundreds of choices you can make for your first Italy itinerary, and they would all be amazing. Every person or group has different preferences and interests. That's why I have created five different 10 day Italy itinerary ideas for you.
What to do in Italy
You'll have tons of amazing things to do in Italy, and what you choose to do will largely depend on where you go and what time of year you go, but here are some of the top things to do in Italy:
Eat gelato at least twice a day
Eat pasta
Go to the beach
Visit ancient ruins
Download my FREE Italy Bucket List by clicking here.
What to Pack for Italy
Packing for Italy can be tricky depending on the time of year you're visiting. Our family backpacked around Europe, spending an entire month in Italy. You can see our Italy Packing List here. No matter what time of year you go, be sure to pack a good pair of walking shoes. I love these sandals for warmer months and these boots for colder months.
The Best Way to See Italy in 10 Days
5 Italy Itinerary Ideas
I've compiled 5 itineraries for your 10 day trip to Italy. Any of these will be a great choice, it just depends on your personal preferences and what you really want to prioritize during your time in Italy. I've made some really classic itineraries and some more off the beaten path itineraries! Each Italy trip itinerary has been tried and tested by myself and I can highly recommend any of them. These are my top 5 Italy vacation ideas.
Itinerary #1: Gotta See it All
When to go: Shoulder Season (April-May or September-October)
This is one of the best Italy vacations for really energetic and active travelers. This itinerary is great for those visiting Italy for the first time, who think they may never have the opportunity to return again. Not everyone travels all the time, which is totally understandable. Some can't afford to travel often, and some don't really want to. If you think you'll only be in Italy once in your life, this is the itinerary for you. It's definitely an aggressive itinerary that requires you to move through the country nearly every day and spend about one day in each city, but it can be done!
If you want to make your life easier, you can purchase this full itinerary, which includes interactive maps, an hour by hour guide, walking you through each moment of your trip. This full itinerary provides you with specific tours and classes, and exact train schedules, as well as recommended accommodations. My interactive 40 page PDF contains everything you need to pull off this amazing itinerary!
Days 1 & Day 2: Rome
Most affordable flights to Italy will take you to Rome. It's where I've flown into every time I've visited Italy. But shop around and find the best deal because you can begin this Italy itinerary at any point.
You can start your Italy itinerary anywhere you wish, but I always recommend starting in Rome. Rome is the third most visited city in Europe, after Paris and London, with 7-10 million visitors per year, and for good reason.
Rome is full of art, history, culture, and amazing food. It is incredible to wander down a street and suddenly come upon an ancient structure or statue! Ancient history is everywhere in this large city.
When you first arrive in Rome, jetlag will probably get the best of you. Give yourself a day to recover and take in all the beauty (and gelato) that this ancient city has to offer. You're going to get here and never want to leave.
There is so much to see and do in Rome, it could literally take you a lifetime. Don't be discouraged by not being able to do it all. There is still so much that you can see just in a day and a half! Be sure to read my guide to Rome in One Day before you go.
Things you shouldn't miss in Rome:
Wake up early to beat the crowds
Vespa Tour of Rome (more info here Seriously one of the best things to do in Italy)
Tour the Colosseum BOOK HERE
See St. Peter's Basilica BOOK HERE
Wander Trastevere
Day 3: Amalfi Coast
The Amalfi Coast is a gorgeous stretch of coastline that you could honestly spend weeks in, lazing away on the picturesque beaches and soaking up the sun. But if you're on a mission to see it all, take an entire day to relax and enjoy the sites. There are many small towns dotting the winding coastline. I recommend picking one and spending a few hours at the beach.
I personally love the beach at Atrani because you don't have to walk down a thousand stairs like Positano, but you still get that beautiful and classic look of Amalfi! You can rent 2 beach chairs and an umbrella on the beach for €20 cash.
Here are the things you cannot miss on the Amalfi Coast
Day 4: Florence
Florence is a beautiful city that is home to much of Italy's Renaissance art. Home to Michaelangelo, da Vinci, Brunelleschi, Buonarroti, and Botticelli just to name a few, Florence is overflowing with ancient art and architecture! Spend a day and a half exploring museums, walking along the Ponte Vecchio, and eating gelato in this renowned city of culture. Tours and tickets MUST BE BOOKED IN ADVANCE! Especially if you are going during the busy season.
Here are things you should not miss in Florence:
Day 5: Florence/Pisa
Head to Pisa to see the famed Leaning Tower of Pisa! Yes, it's touristy, but worth seeing, especially if this will be your only time in Italy. Going up to the top is really awesome. Kids must be 6 or older and you can book your tickets here.
Day 6: Cinque Terre
Cinque Terre is one of my very favorite places in Italy! It was one of my best trips to Italy and it's what I picture parts of Italy must have looked 100 years ago! Cinque Terre, translated, means Five Lands, and is the area consisting of five villages: Monterosso, Vernazza, Corniglia, Manarola, and Riomaggiore. They are all equally stunning, and whichever one you choose will be amazing. They all have their own special charm, and they also all have their own pros and cons. Read my complete guide to Cinque Terre to help you decide which town to stay in.
The beautiful towns built on cliffs are honestly one of the best things to see in Italy. Be sure to spend some time in the ocean during your time in Cinque Terre. Monterosso has a beautiful white sandy beach with chairs and umbrellas. I recommend that you spend at least two nights in Cinque Terre so that you have a full day and a half to explore all the towns. There is a train that goes between each town so that the area is very easy to navigate.
Here are things you should not miss in Cinque Terre:
Visit all of the five towns by train
Take the ferry at least once so you can see Cinque Terre from the water
Day 7: Milan & Lake Como
Stop into Milan for a quick trip to see the Duomo Cathedral and the Last Supper, which must be booked in advance! Now you're on your way to Lake Como!
Day 8: Lake Como
Welcome to one of my favorite places on earth. With gorgeous lakeside villas and a relaxing atmosphere, it's one of the most beautiful places in Italy. I recommend you spend your time boating around the lake and checking out all the magnificent houses, wandering the streets of Bellagio, and renting a scooter to explore.
Things you shouldn't miss in Lake Como:
Rent a boat
Visit George Clooney
Villa del Balbianello (from Star Wars)
Day 9 & 10: Venice
You'll be spending the last two days of your Italy trip in the lovely Venice. There's no place on earth like it! Spend your last moments in Italy floating down the canals, getting lost in the winding alleyways, and eating gelato! Read all about what to do in Venice before going.
Things not to miss in Venice:
If this itinerary feels right for your 10 days in Italy, you can get the complete itinerary here. Let me do all the work for you!
Italy Itinerary 10 Days #2: Classic Italy
When to go: Shoulder Season (April-May or September-October)
This is the best Italy itinerary for someone who wants a really classic experience. It covers the most important sites and major cities in Italy that most visitors will want to see on their first trip to Italy. This Italy itinerary allows you to spend a few days in each location, so you can get to know each city a little better. You can do this itinerary in any order, but most people choose to start in Rome.
Days 1-3: Rome
You'll begin your classic tour of Italy in the capital of Italy. There is so much to see in Rome, you'll be glad you have three days to see it!
Here are some ideas for your 3 days in Rome:
I recommend getting up early in the mornings to see sites like the Pantheon and Spanish Steps before the rest of the tourists wake up. The city is so beautiful in the morning light.
Your first day in Rome is a great day to take a guided tour of the city so that you can get a lay of the land and check the main sites off. I recommend taking a Vespa Tour! It's so much fun and even kids can go. Knowledgable tour guides drive you around the entire city, stopping to show you classic and little-known sites. They even stop for gelato. Read here for more Vespa Tour information.
Eat dinner in Trastevere, where you'll find many tiny little restaurants all serving delicious and authentic Italian cuisine.
Try several gelato shops each day to find your favorite. Read this to find out the best gelato shops in Italy. My personal favorite is Gelato del Teatro!
Take a cooking class. Rome is home to some of the best food in the world. Don't skip out on learning how to make it yourself. This cooking class is amazing and I love this food tour.
If you're visiting Rome with Kids, there is so much to do! My kids love Rome, and not just for the gelato. Read my guide to Rome with kids.
Book a Photoshoot in Rome: BOOK HERE (use code WANDERLUST) for a discount.
Day 4-6: Florence
Florence, the birthplace of the Renaissance, is a must for your classic trip to Italy. You'll have the opportunity to see celebrated artwork and architecture.
Some ideas for how to spend your next few days in Florence:
Walk the Ponte Vecchio: This ancient bridge has been around forever and is one of the most iconic sites in Florence.
Take a Food Tour of Florence: BOOK HERE
Take pictures in the iconic Florence photobooth
Book a Photoshoot in Florence: BOOK HERE (use code WANDERLUST) for a discount.
Walk up the Duomo. You'll need to get tickets for this, but this massive, iconic building is just gorgeous.
Tour the many museums of Florence. Don't miss Michaelangelo's David.
Day 7-10: Venice
Spend the last few days of your classic Italy itinerary in Venice. It's one of the best cities in Italy and unlike anywhere else in the world. If you play it right, Venice can be a relaxing way to end your trip. I seriously recommend waking up with the sun and exploring Venice in the early hours while it's quiet and not overcrowded. It is truly beautiful. When it starts to get too busy or hot, go back to the hotel and take a nap! Then go back out around dinner time and explore until dark. I've done this during several trips to Venice and it was perfect!
Be sure to take advantage of the Vaporetto (public water transportation) and visit the islands of Murano and Burano!
Here are some ideas of things to do during your time in Venice:
Itinerary #3: Northern Lakes of Italy
When to go: Summer
This Lakes of Northern Italy itinerary is one of my favorites, and not something that most people try. This is best Italy itinerary if you're intereseted in exploring the beautiful lakes of Northern Italy. It's some of the most gorgeous scenery you'll ever see in your life.
I love this itinerary for a family trip to Italy. I do recommend that if you choose this itinerary, you book a trip for late spring or early fall as the lakes do get crowded during the summer, and are very cold during the winter months.
Each lake has something unique to offer and it's worth visiting all of them, but if this itinerary seems a little intense for your 10 days in Italy, I recommend cutting out one or two lakes and just sticking with two or three areas. The great thing about this itinerary is that you'll also be able to see Milan, so you'll get a taste of a large Italian city while also enjoying the countryside and beach time.
For this Northern Italy itinerary, I highly recommend flying into Milan and renting a car. The lakes and northern scenery can be best seen while taking leisurely winding drives around the lakes.
Day 1: Milan
On your first day of this 10 day Italy itienrary, you will fly into Milan. Here you can spend an entire day or half day exploring the city. Be sure not to miss the imposing Duomo of Milan and The Last Supper if you are interested in art history.
Day 2-3: Lake Garda
Known for its crystal clear waters, Lake Garda is a beautiful destination for relaxation and fun. Be sure to visit the stunning Scaligero Castle for magnificent views. You can also visit Gardaland, a great family amusement park!
Day 4: Lake Iseo
Lake Iseo, known as Lago d'Iseo is a little-known lake between Garda and Como that is a hidden gem in Italy. You can spend your time here hiking, ferrying across the lake, or visiting Grumello Castle.
Day 5-7: Lake Como
Lake Como is one of the best places in Italy and one of my favorite places on earth. Yes, it's popular, but its worth spending at least a few days here. We spent several months and never got sick of it! Rent a boat and cruise the lake yourself and visit the famous town of Bellagio. You can read all about what to do in Lake Como here.
Day 8-9: Lake Maggiore
Laggo Maggiore is the second largest lake in Italy and claims both Italy and Switzerland as it crosses the borders. It is located just south of the Swiss Alps which means there are beautiful mountains surrounding the lake all with incredible views. As such a large lake, you have many options for where to stay. There are beautiful lush gardens and old villas dotting the lake. you really can't go wrong!
Day 10: Milan
Head back to Milan after your wonderful 10 days on the lakes of Italy.
Itinerary #4: Italian Island Hopping
When to go: Summer
Sardinia and Sicily are the two largest islands in the Mediterranean Sea and are both worth visiting. You can easily ferry between the two islands via an overnight ferry, which can be really fun. Both islands offer a unique taste of Italy that is something a little different from the mainland boot!
Day 1-5: Sardinia
Spend 5 days on this beautiful Italian island that is the second largest in the Mediterranean Sea. It's one of my favorite places to go in Italy to enjoy the beach! With over 1,200 miles of gorgeous coastline, sandy beaches, Star Wars-esque rocky beaches, beautiful mountains, and centuries of history, it's an easy choice for anyone looking for a tropical Italian holiday. Italy beaches are known as some of the best in the world, and, in my opinion, most of them are on Sardinia!
Sardinia is known as a "Blue Zone" which means that people who live here live longer than anyone on Earth. The people there are so friendly, the food is amazing, and the scenery is absolutely breathtaking!
Day 6-10: Sicily
Mountains, history, food, beaches…Sicily really does have it all! It's one of the best places to vacation in Italy for sun lovers. Located in the soccer ball of Italy, just off the toe of the infamous boot, Sicily is the largest Meddeteranian island and worth spending a few days on. Sicily boasts some of the best beaches in Italy and evenin the world, like Cefalu, San Vito Lo Capo, Isola Bella, but also offers a rich history and culture as well as a delicious tradition of cullinary delights. Spend time on the beach, hiking, visiting ancient ruins, and tasting classic Sicilian food. It's a great place to take a cooking class (BOOK HERE).
Sicily is a great place to have a car so that you can really see the island. Read this guide to an Italy road trip in Sicily.
Itinerary #5: Exploring Tuscany
When to go: Shoulder Season (April-May or September-October)
Exploring Tuscany is one of the most classic Italian experiences you can have. What I love about visiting Tuscany, especially as a family, is that it is laid back and you can usually rent a nice villa with a pool for a good price on VRBO, while being surrounded by enchanting scenery. I've created a list here of beautiful villas in Tuscany at affordable prices (ps. most of them have pools)!
For this Tuscany Itinerary, I highly recommend picking a home base in one place and taking day trips from there. Everywhere on this list is an easy drive or train ride from anywhere in Tuscany. Maybe take a day trip every other day from your home base. This is perfect if you want to do an Italy road trip through Tuscany.
If you'd rather base yourself in Florence and take a day trip to San Gimignano, Siena, and Chianti, this is a great tour that hits all those locations.
Day 1: Florence
Visit Florence for a day trip. Enjoy the ancient feel the the city, walk the Ponte Vecchio, visit famous museums and see incredible artwork!
Day 2: Home Base
Spend time enjoying your Tuscan Villa. Look for cooking classes near you and try local food.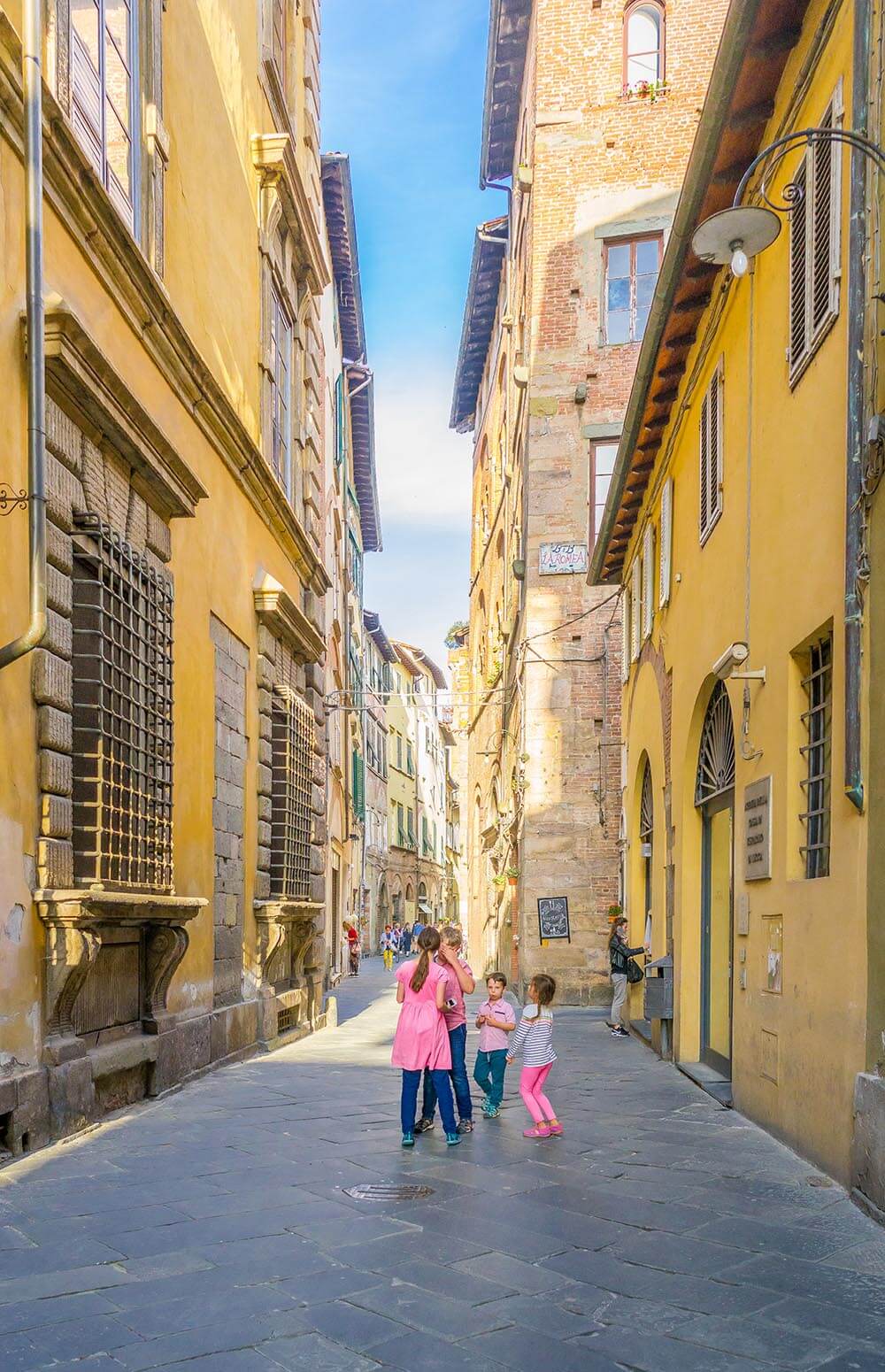 Day 3: Lucca & Pisa
Take a day trip to the beautiful city of Lucca, stopping in Pisa on your way there. Climb up the leaning tower of Pisa (you must book in advance).
Spend the majority of your time in Lucca, an amazing walled city, largely free from traffic and filled with beautiful architecture. I think it's one of the best cities to visit in Italy. Rent a bike and ride around the ancient walls of the city. You can even take a self-guided bike tour of the city. Be sure to grab a few gelatos during your time in Lucca as these were some of my favorite gelato shops in Italy.
Day 4: Home Base
Take a day to explore your own little Tuscan town. Sometimes the local hidden gems can be your favorite part of your trip to Italy! You never know what you'll find. As the locals what they recommend doing nearby.
Day 5: Chianti
With lush vineyards, olive groves, and hilltop towns, Chianti is a beautiful region of Tuscany. This is a great area to take a scenic drive or rent bikes to enjoy more views. If you'd like some help seeing Chianti, you can actually book a half day tour that will take you to all the best spots.
Day 6: Home Base
Day 7: San Gimignano
San Gimignano is a beautiful and well-kept walled city in Tuscany. This medival city still has its original house towers.
Day 8: Home Base
Day 9: Siena
This beautiful medival town will steal your heart the moment you enter its walls. Be prepared to climb some steep hills in Siena. Grab a pizza and hang out on the Piazza del Campo, the fan shaped public square where everyone comes to enjoy the city.
Day 10: Florence
Spend one last day in Florence seeing the sites before heading home.
Whichever itinerary you choose for your trip to Italy will be wonderful. You really can't go wrong by choosing any of these. I love helping my readers plan their travel, so if you need any help please reach out to me on Facebook or Instagram. You can learn more information about traveling to Italy on my Italy Website, I Heart Italy. If you want some great tips on traveling Italy, join my Italy Travel Group on Facebook for more helpful tips!
xo
Vanessa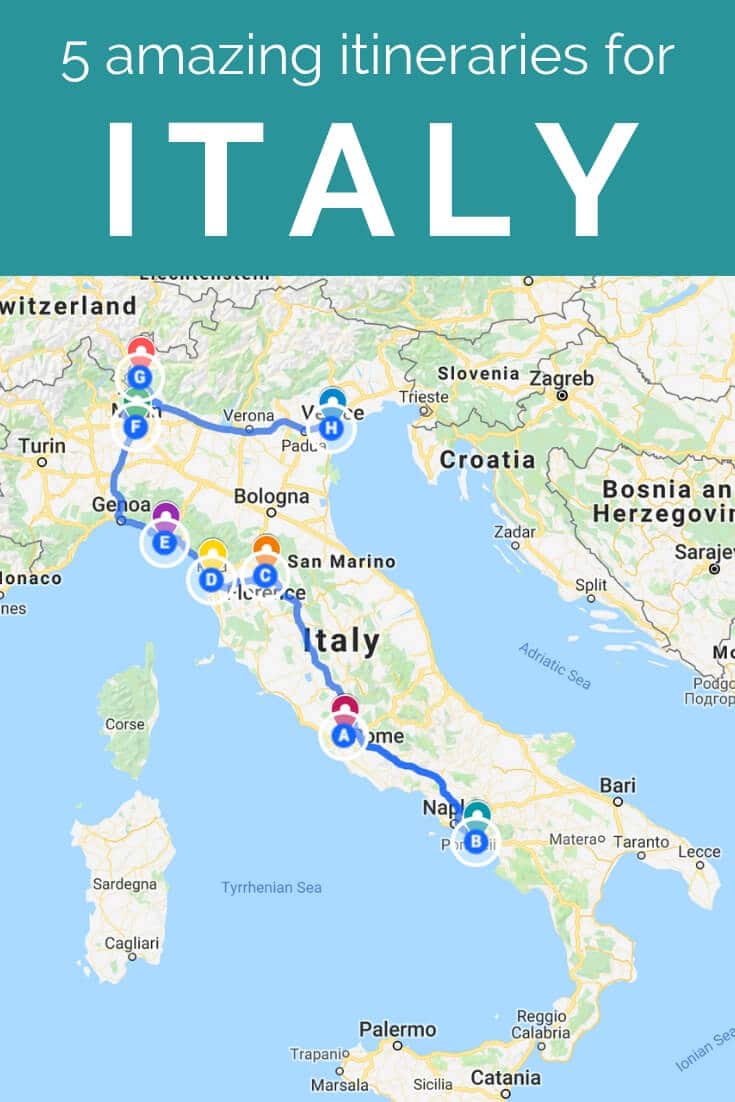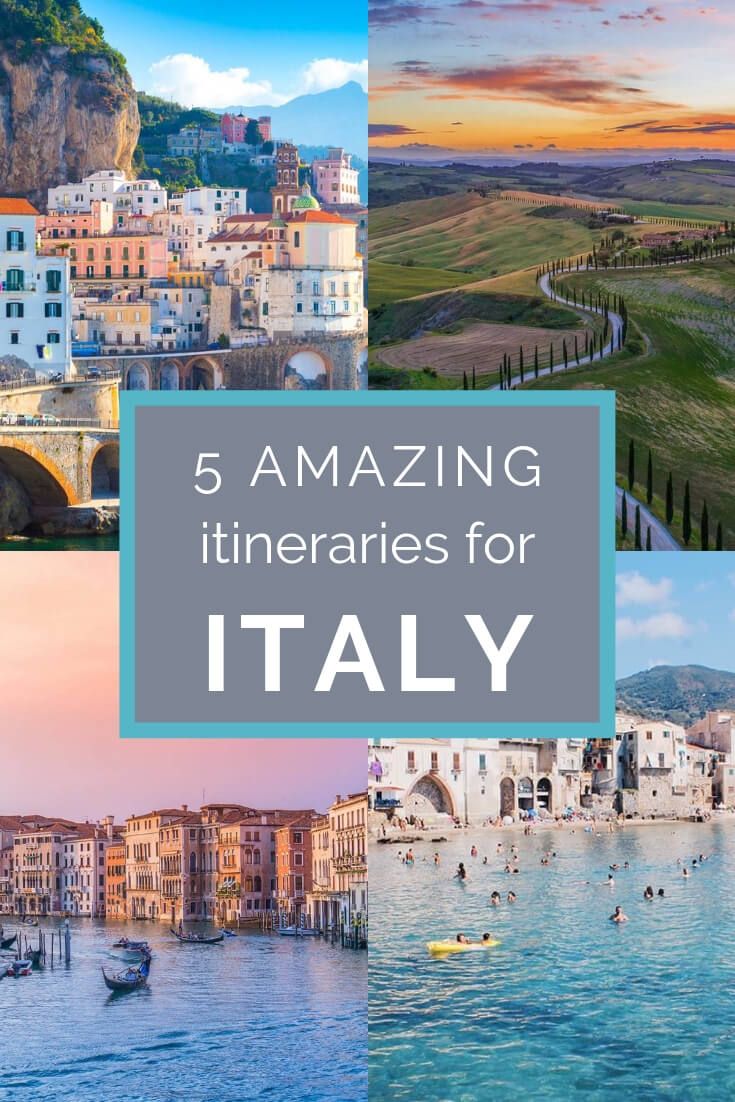 Practical Tips for Booking your Trip
Book Your Flights and Car
Find a budget airlines by using Skyscanner. This is my favorite way to search for flights because they crawl websites and airlines around the globe, so you always know you're getting the best deal. Learn more tips for finding the best flight deals here.

For cars, I like to use Rental Cars because they have good filters and its easy to search for multiple companies.
Book Your Accommodation
My preferred way to stay around the world is VRBO. I find it usually gives you a unique local experience in any destination. If you want to stay in a hotel, use Booking, as it consistently gives the cheapest rates for guesthouses and hotels. I use them both all the time.
Always Get Travel Insurance
Travel insurance protects you and your family against illness, injury, theft, and cancellations. It's peace of mind in case anything goes wrong. I never travel without it. I've been using World Nomads for the last few years and love how easy it is to use. I have also used Allianz. Compare rates to see which is best for the coverage you need.
Looking for ways to save money on travel?
Check out my resource page for the companies I use for traveling! I share everything I use to save me time and money.