One of the most frequent questions our family gets is "how can you afford to travel?" Obviously the biggest expense getting here was flights from the US to Europe. After that our expenses have stayed about the same. Usually, the biggest expense for a family while traveling is housing or hotel costs. It can be even more expensive than overseas flights!
I've written a little about staying in hotels and what you can do to cut some cots over here. Our family travels full time and for the past 7 months, we have lived almost exclusively in Airbnb rentals, staying in houses, apartments, townhouses, villas, cabins, boats, lofts and farms.
If you've never stayed in an Airbnb you can get $55 off your first stay with my coupon.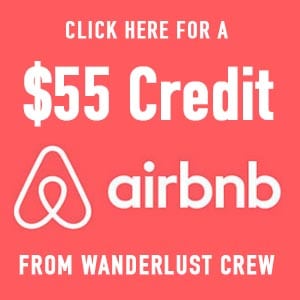 We've had many great experiences and a few not so great and have learned a lot along the way that we want to share! Here are our 16 rules for Airbnb.
1. Book Early
This may be a no brainer, but the earlier you book, the better the options you will have. Obviously the best and most affordable places will book up first. If you can book about 6 months in advance you have a great chance of getting a good deal on an awesome place! The good and bad about AirBNB is that you have to pay in advance for your stay unlike most hotels or vacation rentals where you pay after your stay or pay half to reserve and half when you stay.The good part about this is that when you go on your trip you don't have to worry about having that money aside or worry about hotels running your bill up with any extra charges. For me, the peace of mind is so nice. However it can be hard to book so far in advance and come up with all the money at booking. I suggest you start looking at listings several months before you are ready to book so that you will know how much money you need to save and put aside.
2. Book Long
Most listings on AirBNB offer a discounted monthly rate. I know when most people travel they don't generally vacation for a whole month, but some listings offer over a 50% discount for a monthly stay. So if you plan on staying 2 or 3 weeks, it may be worth searching for month long housing. Here's an example:


This apartment in Paris costs $112/day or $1955/month. If you were to stay 3 weeks you'd be paying $2352, but if you book for a month you'll save $200. And have an extra week if you need it. You could technically share a listing with another family for 2 weeks each and really save a ton of money!
The same idea goes for a 1 week stay vs. 6 days. Most listings offer a week long discount.
3. Contact First
ALWAYS Contact the Host First: We've had to learn this rule the hard way! In the beginning we would see a place we liked, then book it and pay for it. When you book a listing with AirBNB, you pay at the time of booking. Sometimes you can book a place and if the listing calendar is not up to date then the host can reject the booking. So your card has been charged already. You will receive a refund, but this can take several days. If you need to book another listing right away, your funds can be depleted while waiting for a refund! Total bummer, so ALWAYS contact the host before booking! This also gets a good dialog going between you and the host and sometimes they will send you a special offer.
4. Search Without Dates
This method is a little tedious and takes a bit longer, but can be really effective. When you search with dates, AirBNB automatically calculates any differences in prices for weekends and holidays you may be staying over. You can search without dates and AirBNB will show you the basic rate for the listing. You can then contact the host and they can give you a special offer or will approve you for a certain amount. I've had this work about 4/5 times.
5. Search the Map
Use the map search feature to make sure your listings are near the things you want to see. You can save quite a bit of money booking farther away from popular city centers, it just depends on your time constraints and transportation.

6. Keep transportation in mind
If you plan to use public transportation, be sure your listing is near train stations, bus stops or however you plan to get around. Take into account the cost of travel to where you want to go. For example, if you stay just outside London, you will pay about half the price for housing, but you will be paying X amount on taking a train to the attractions you want to see each day. If you stay in the city center you won't be paying as much for transportation. Do the math and see what works for you.
7. Use Filters
Use filters to be sure you find a listing with everything you need. Wifi is a must for us as well as a washer and dryer for longer stays. Dishwashers are nice too! Of course there are a lot of factors that could affect your needs. Are you planning on cooking or eating out most of the time. Will you bring enough clothing that you won't need a washer? Can you live without Wifi (who can?)? These filters can get really detailed and include the neighborhood you want to stay in to your hosts language.

8. Book Off Season
Also a no brainer, but the options and prices for listings are far more abundant during the off season! Surprisingly though, there are quite a few options during holidays because many people rent out their homes on Airbnb when they go on holiday. So you just never know!
9. Negotiate
It doesn't hurt to negotiate prices with a host. I have only done this once on Airbnb, but several times on Homeaway and VRBO. You'll never know until you try. Being polite always helps!
10. Check for Towels and Sheets
Occasionally I come by a listing that requires you to bring your own towels and sheets. Obviously we don't travel with those! And I'm sure you don't either, so watch out for those!
11. Act Like a House Guest
Always ask if there is anything the host needs you to do. Tend pets or plants etc. We have done both. Our Airbnb in Switzerland wasn't originally willing to rent out their whole house, but when we offered to care for their cat they were willing to let us stay. It was such a wonderful experience for my kids to take care of a pet, something they don't normally get to do!
12. Don't be a Slob
Leave your AirBNB tidy. Strip the beds, do the dishes, take out the trash, clean the toilets, start the laundry, sweep and wipe down counters. I don't normally go overboard with the cleaning, especially when there is a cleaning fee involved, but I like getting good reviews and try to leave homes as we found them.
13. Replace What You Use
Many times our hosts will leave us food, toilet paper, soap or other goodies. I try to replace what we use up or leave them a gift card for the nearest grocery store. I figure we would have spent the money on those things anyways, but hosts always appreciate this gesture. If I can't get a gift card I usually leave cash.
14. Report What You Break
It's inevitable, especially when traveling with kids that something will get broken! I don't think we've stayed anywhere and NOT broken something. It's usually a cup or 2 or 3 or 4! Honestly, we have a problem and it's not usually the kids! Always let them know if you broke something and offer to replace it, leave cash or have them request the money through AirBNB. We once broke a high end lamp and they requested 150 Euro to replace it. Kind of a bummer, but when you live in AirBNB's full time it's really important to have good reviews.
15. Reviews
I can't stress enough how important it is to have a good review. Especially if you are traveling full time and the houses you rent depend on your good reviews. I've requested houses that were already spoken for, but the host chose to rent the house to us instead because our reviews are so good.
16. Get to Know Your Host
Sometimes you will never meet your AirBNB host, but sometimes they will become your friends. The beauty of AirBNB is that you really get to immerse yourself in the place you visit by stepping into homes of people who actually live there. We absolutely loved our French hosts. We had several meals with them and she took my kids to a dairy farm and to harvest in the garden. You won't get those kind of experiences staying in a hotel.
We absolutely love staying in AirBNB's and all the experiences that come with it! There are ups and downs and we've definitely had a few weird experiences, but It's an opportunity to understand life as a local wherever we go! It makes traveling full time affordable and fun for our family.
Try out AirBNB and get $40 off your first stay, on us!
Have you used AirBNB? We'd love to hear your tips and experiences!