Cinque Terre, Italy, once a hidden gem, is now one of the most popular and unique places to visit in Italy. It's known as a honeymoon destination and a foodie mecca, and a great family beach destination! But what are the best things to do in Cinque Terre?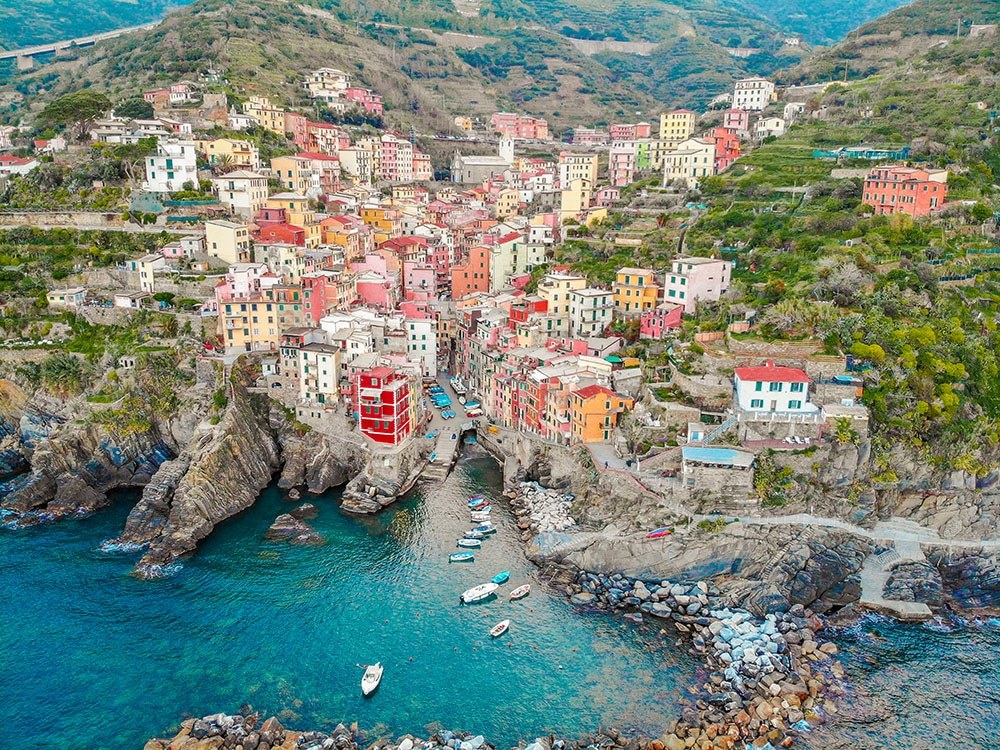 This post contains affiliate links
Complete Guide to Cinque Terre
The Cinque Terre region is one of the most breathtaking places in Italy (or the world really) that I've ever been. I've seen hundreds of pictures of this cluster of cute little villages, but nothing prepares you for how magnificent they are in real life.
I've long thought of this area as a romantic destination to visit with my hubby on some long-awaited second honeymoon in Cinque Terre, but then you've got reality, and usually, I'm stuck with the kids! And in this case, I was stuck with the kids on my own, in this romantic locale, without a significant other to speak of. And so I wondered: Are there things to do in Cinque Terre with kids or will this trip be a total bust?
Well, I've got good news for you. You can do Cinque Terre with kids and it can actually be amazing! This guide to Cinque Terre will help you navigate this stunning, but complicated region of Italy flawlessly. If you're visiting Cinque Terre with or without kids, read this first!
Don't have time to read a bunch of articles? Here are our top picks for visiting Italy:
Get an Easy Italy Itinerary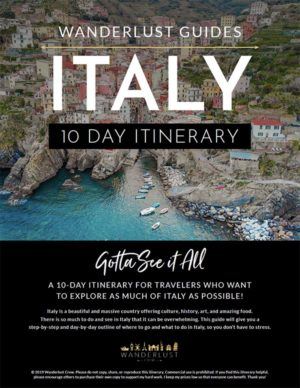 Our favorite hotels in Italy
Our favorite tours in Italy
Renting a car in Italy?
If you want to see authentic Italy and venture outside the main sites, I recommend you drive yourself. If you're renting a car, there are two companies we prefer to use: Rental Cars and Expedia Cars. We have had no issues with them and have been able to find the best prices available. And don't forget to get your International Drivers Permit before traveling to Italy
What is Cinque Terre
Just a little lesson on "The Cinque Terre:" The name actually defines an area consisting of 5 villages: Monterosso, Vernazza, Corniglia, Manarola, and Riomaggiore. The Cinque Terre is a national park and a UNESCO world heritage site. Vehicles are highly restricted in these towns.
But this leaves the villages so well preserved and this is what gives them their charm and ability to make you feel like you've stepped back in time 200 years, to a simpler, more idealistic version of Italy, and it's simply charming!
When to Go to Cinque Terre
The high season in Cinque Terre is generally April-October. We were there at the end of April over a weekend and it was definitely busy, but not unbearable! Although I usually advise off-season travel, you'll want to go to Cinque Terre during the warmer months to be able to enjoy all the area has to offer, such as beaches, hiking and wandering streets without being cold or wet. I think the tradeoff is worth the crowds. I would definitely shoot for shoulder season though, like April, May, September or October, so the crowds aren't quite as bad, but you still get great weather!
You can also do a Cinque Terre day trip, but honestly, it's best to see these beautiful towns for at least a few days and experience them by staying in them and walking the stairs to your house.
I've also heard rumors that Cinque Terre is going to start issuing tourist permits for the summer months. So if you're looking to go during that time, be sure to check on that first, before booking anything.
How to Get to Cinque Terre
Where is Cinque Terre? This beautiful region is located in Northwestern Italy not too far from Florence. Getting to Cinque Terre can be really easy or really difficult depending on how you arrive. The closest airport to Cinque Terre will be Pisa. Traveling to Cinque Terre by train is the easiest way to get there. You can take the train from Florence to Cinque Terre for a day trip or from Pisa, Milan, Venice, Rome, or anywhere really! I suggest purchasing a ticket to whichever of the Cinque Terre towns you are staying in.
Here are the times and prices to Cinque Terre from other major cities in Italy*:
Florence to Cinque Terre: 2.5 hours, $25 USD
Pisa to Cinque Terre: 1.5 hours, $16 USD
Milan to Cinque Terre: 4 hours, $30 USD
Venice to Cinque Terre: 6 hours, $40 USD
Rome to Cinque Terre: 5 hours, $40 USD
* These are averages to Cinque Terra as of May 2019
The trains in Italy are affordable and efficient. In fact, Italy is probably the only country that I prefer train travel vs. driving. You just have to know what you're doing and learn from my own costly mistakes!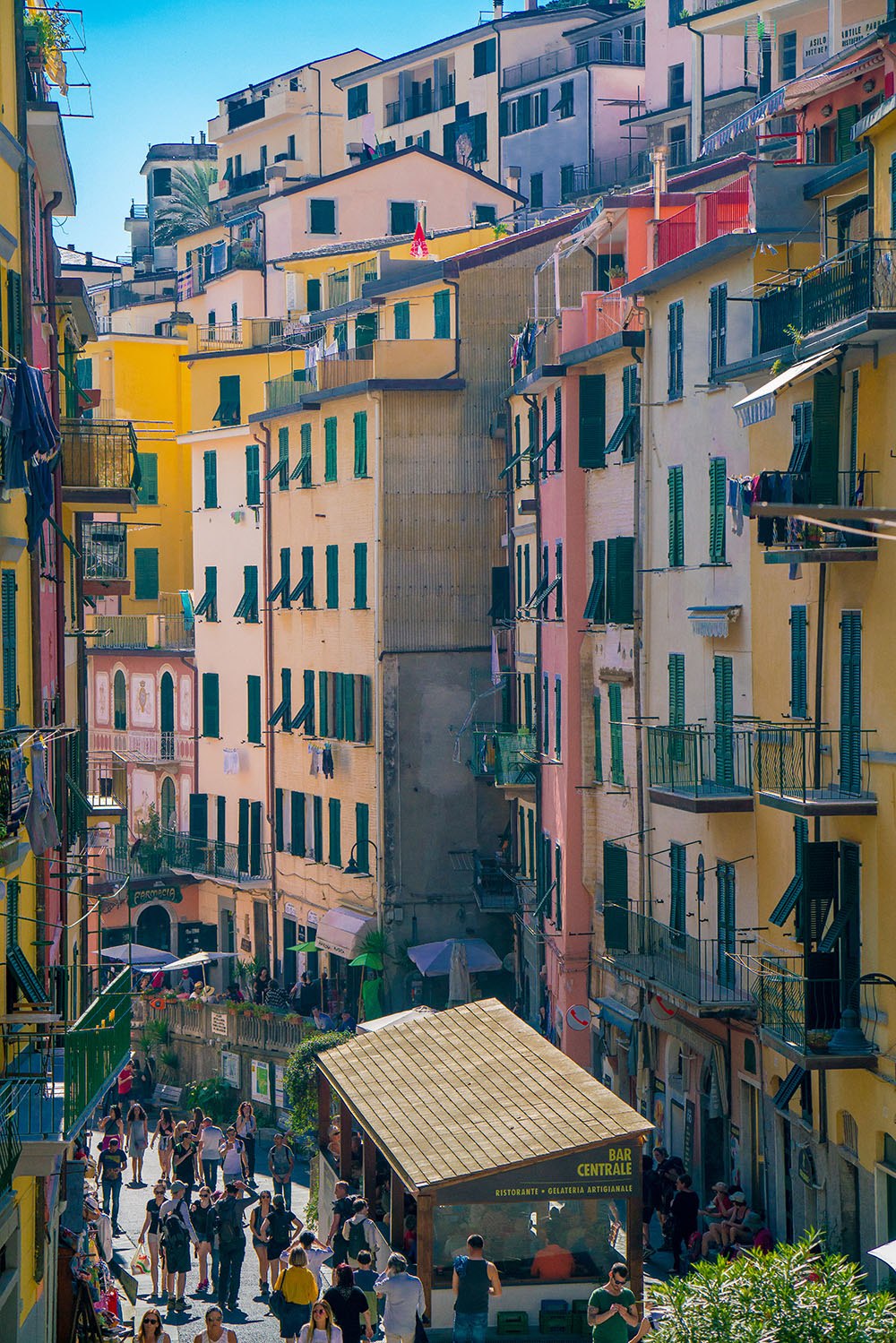 Cinque Terre as a Day Trip
Of course, I always think longer is better anywhere you visit, but it is possible to do Cinque Terre as a day trip from several destinations. You can take the train, but there are many great tours that will organize this for you which is probably best if you only have one day.
Florence is the most popular place to take a day trip to Cinque Terre and this tour offers a complete package with a live tour guide to walk you through each location in this beautiful area. I sometimes dislike tours, especially because I have rowdy children who are unpredictable, but if you only have one day to see something that should really require 7 days, I think having a guide is extremely helpful! You can book the tour from Florence here.
Cinque Terre from the Water
If you want to see the coastline of Cinque Terre, which is absolutely incredible, you'll want to take a boat tour to see it all. This tour offers an all-day tour up and down the coast and they also serve you a homemade Ligurian meal! Eating pasta with that view?! What could be better? You can book the tour here.
Where to Stay in Cinque Terre
I kind of showed up to the area with my four kids blind, without a game plan, without really doing any research, except or "where to stay in Cinque Terre" when trying to decide which town to book a house in. Thankfully, that search did not lead me astray. We decided on staying in Riomaggiore, largely because the pictures looked amazing and it was the most affordable place I could find!
We love using VRBO and have stayed in hundreds of different houses, apartments, boats, and treehouses over the years. Our apartment was located a few blocks from the Riomaggiore Cinque Terre train station, straight uphill (as most places in Cinque Terre will be), nestled just above a shop that sold everything lemon-scented, with the most incredible view out the windows. You can find the apartment that we stayed in here.
You really can't go wrong staying in any of the five towns that make up the Cinque Terre. They are all very close together and easily accessible by a 5-minute train, by ferry, or by hiking. When searching for where to stay in Cinque Terre, be sure that the apartment, B&B, or hotel is actually in one of the five cities. Look on a map! I think staying in La Spezia is just fine, but if you actually want to be in the Cinque Terre, you'll need to stay in one of the five villages.
I've had several people ask me if they should stay in a different town every night, or spread their trip out between the five villages, but there's really no need. Pick a good home base and explore from there. The 5 towns of Cinque Terre are so close together that you can definitely enjoy every town without staying there.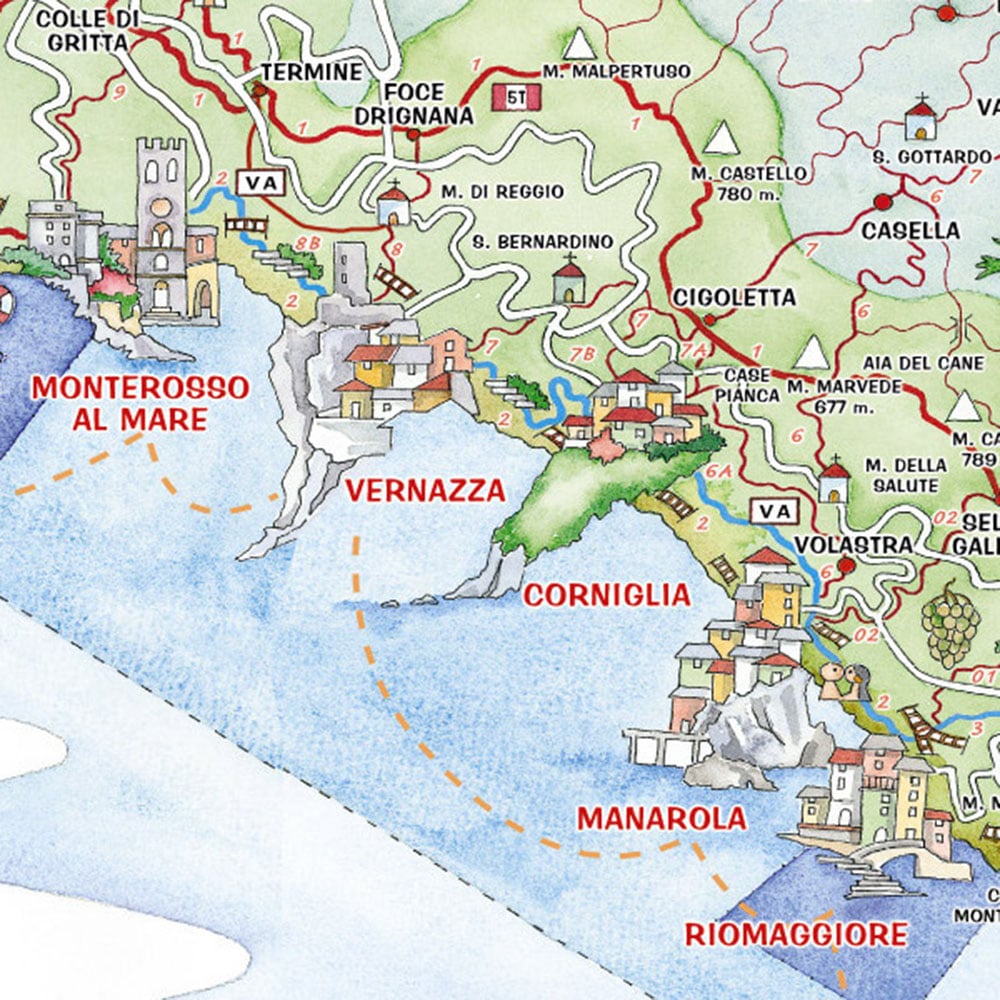 Our Favorite Things to do in Cinque Terre
There's enough to keep you busy in Cinque Terre for a week, so I would recommend staying as long as you can. Here are some of our favorite Cinque Terre activities:
Go Swimming
Cinque Terre lies along the coast and you can find lots of great beaches throughout the area. The sandy beaches can be found in the northernmost town of Monterosso al Mar, while the other towns have mostly rocky beaches.
Go Hiking
Cinque Terre is a hugely popular destination for hikers. There are multiple trails that you can hike between the five towns and the views are absolutely incredible. The best part is that you can stop for gelato in each town between trails.
Try Local Cuisine
You won't. go hungry in Cinque Terre. There is plenty of great local food to be found and since its directly on the ocean, you'll find some of the most incredible seafood in Italy here. You can check out more classic Cinque Terre food in our food guide.
Book a Photoshoot
We always love to book a photoshoot when we're traveling. As a mom, it's tough to get in the photos since I'm always behind the camera. We love using Flytographer to capture our memories. You can get $25 off your shoot by booking with this link or using code WANDERLUST.
The Five Cinque Terre Towns from North to South
To help you decide where to stay in Cinque Terre, I've broken the region down by town including descriptions, pros and cons, as well as the best place to stay in Cinque Terre in each town.
Monterosso al Mare
I think that Monterosso is the best place to stay in Cinque Terre if you are looking for beach time with young kids. It's the only one of the Cinque Terre villages that has a large white sandy beach with calm waters.
Lots of big, sandy beaches
More cars
Flatter than the other towns

Vernazza
Small, narrow streets
Several small beaches
Picturesque
Crowded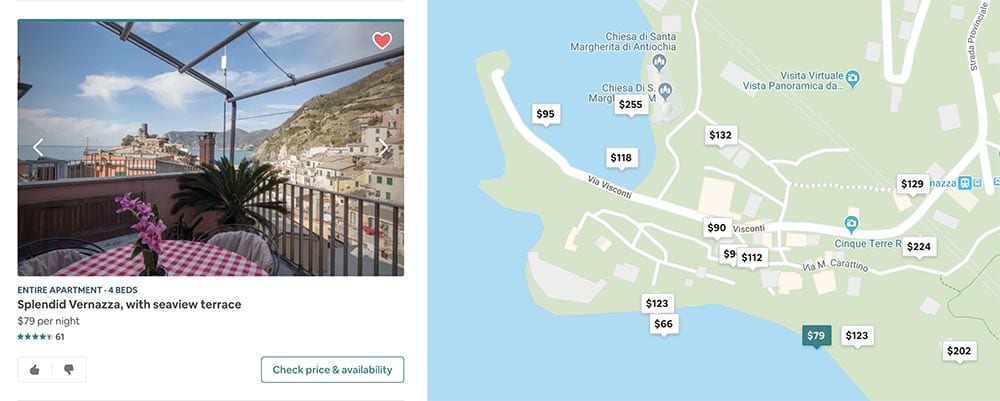 Corniglia
High up on a hill
Requires a bus ride or hike up 400+ stairs from the train station
The Cinque Terre Ferry does not come here
No beaches
Beautiful narrow and picturesque streets
Manarola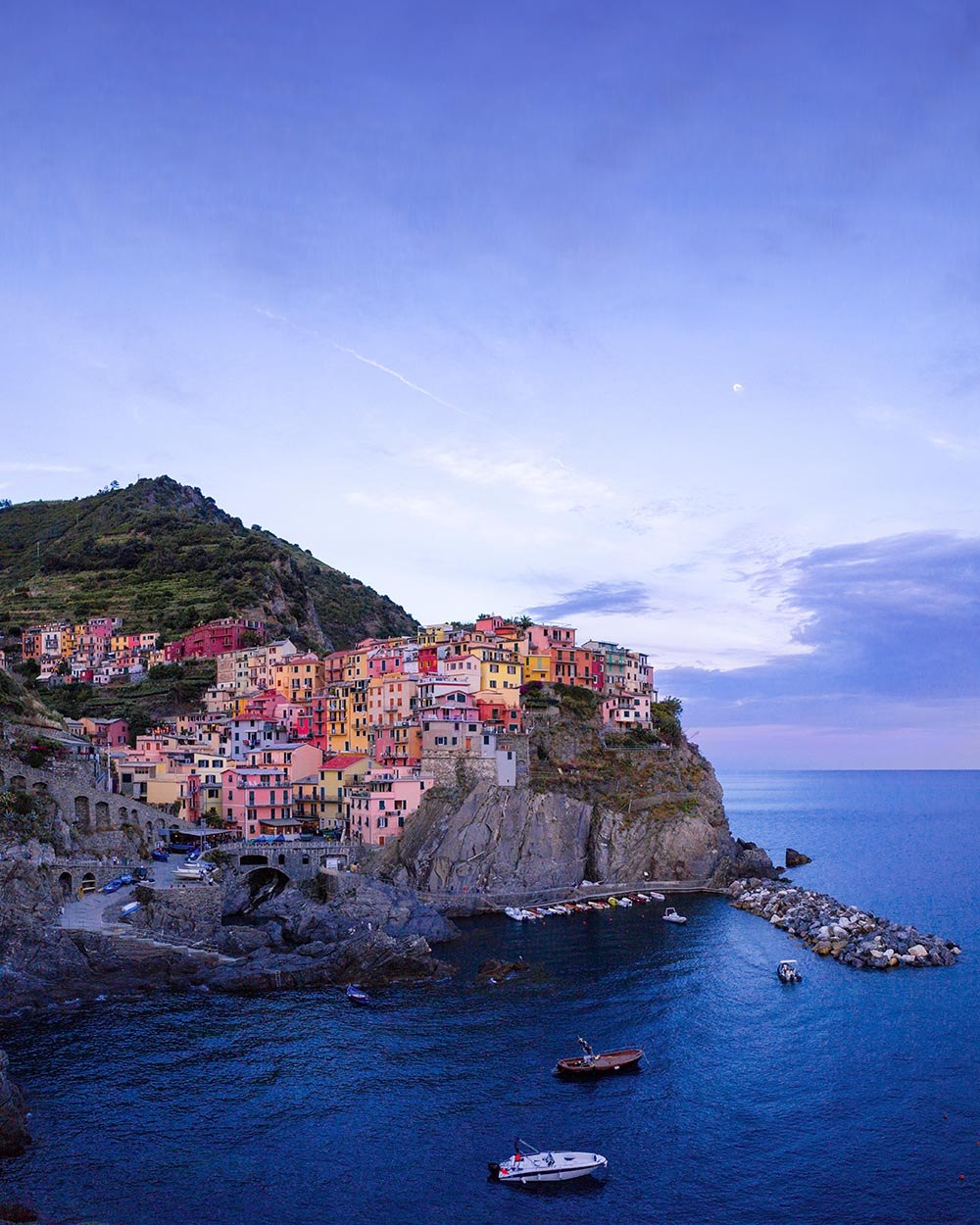 Probably the most photographed city. If you see a recognizable photo of Cinque Terre, it's probably of Manarola.
Bigger than Vernazza
Rocky Beaches
Lots of restaurants
Riomaggiore
In my opinion, I think this is the best town to stay in Cinque Terre
A wider main street, lined with hilltop houses on either side
Lots of stairs to get to the upper levels of the city
Great restaurants
Affordable Riomaggiore Airbnbs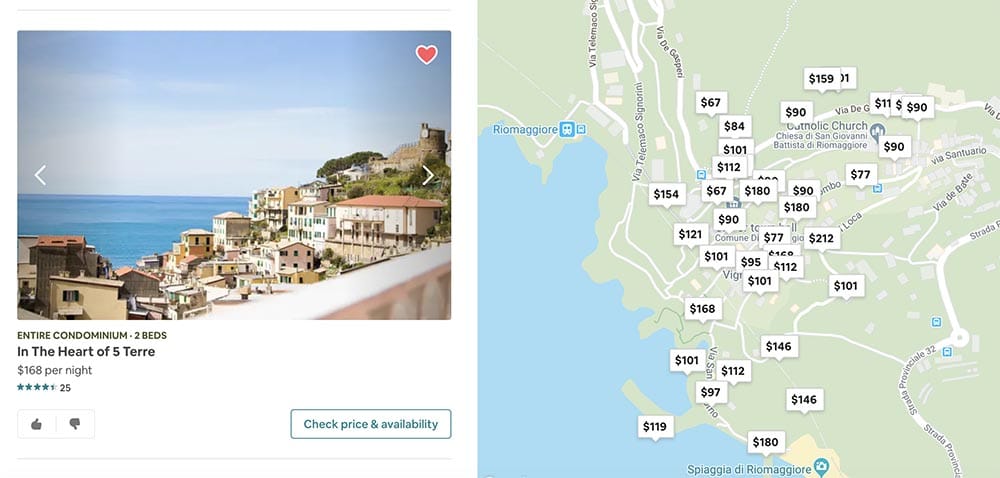 Getting Around Cinque Terre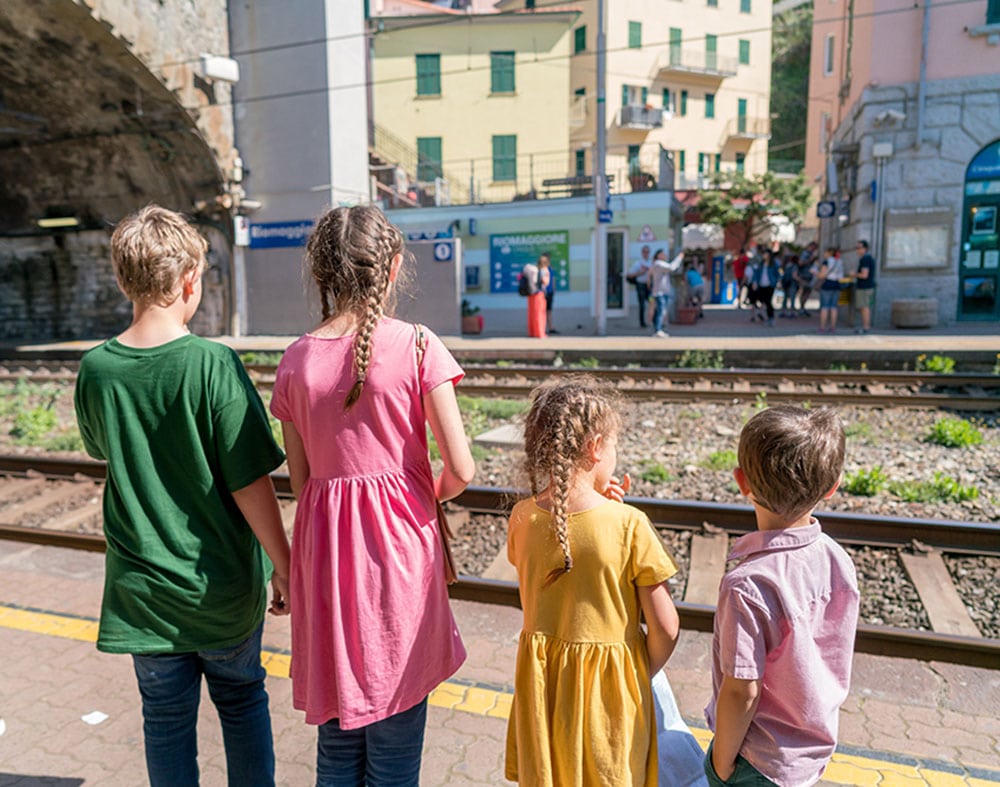 Getting around Cinque with kids was pretty easy! There are three main ways to navigate Cinque Terre:
Cinque Terre by Train
All five towns are connected by a five-minute train ride. The trains come about every 15 minutes or so. This is the easiest and cheapest way to get around Cinque Terre. You can purchase one ride for 4 Euros/person, all-day day pass for 16 Euros/person. Be sure to read my guide on Surviving Train Travel in Italy before using the trains. I had to learn these lessons the hard way with a 220 Euro fine!
Travel Times Between Cinque Terre Villages:
Monterosso – Vernazza: 4 minutes
Vernazza – Corniglia: 4 minutes
Corniglia – Manarola: 5 minutes
Manarola – Riomaggiore: 6 minutes
Cinque Terre Villages by Ferry
A really fun way to see the villages of Cinque Terre is to take the ferry. The ferry runs during the warmer months (usually April-October) and stops at all five Cinque Terre villages, except for Corniglia, and also in La Spezia, Levanto and Lerici to the north and south.The best part of taking the ferry between villages is being able to see them from the water, where you'll see those classic colorful houses been into the hills and spilling out nearly into the ocean.There are many ticket options, including a cheaper ticket for children, a one direction ticket and an afternoon ticket. It may be a good idea to do a combination of train and ferry, or take the ferry one day and the train the next.

Cinque Terre Hiking
The five towns are all so close together, that, if you're in good shape and the kids are willing, you can hike between them. Of course, this will take longer, but the views are stunning! Read more about hiking Cinque Terre.
Accessibility
Cinque Terre is a region full of hilly villages made up of levels built upon levels and connected by thousands of stairs! This doesn't mean that if you need wheelchair access that you shouldn't go. The best town to visit in Cinque Terre with a wheelchair or other accessibility needs would be Monterosso. It is the flatter of the villages and it generally has fewer stairs.
Strollers in Cinque Terre
I would not recommend bringing a stroller to Cinque Terre. As mentioned above, the area is covered with stairs and you'll likely have a good stair climb just to get to your apartment. A baby carrier might be a good option instead.
Cinque Terre Beaches
There are several beautiful Cinque Terre beaches in the area, but these are my favorites, from North to South:
Monterosso Beach: Located in Monterosso al Mar, this is the largest and sandiest beach in Cinque Terre.
Old Town Monterosso Beach: Located in the older part of Monterosso and the second largest beach in Cinque Terre
Vernazza Beach: This beach is a little tricky to get to. You have to walk through a cave, but the beauty and seclusion of this spot is worth it. Last time I went there was a "do not cross" tape that everyone seemed to be crossing.
Manarola Beach: A rocky harbor beach in one of the most popular Cinque Terre towns.
Riomaggiore Beach: This rocky beach is lined with cliffs that are popular with jumpers.
The Best Things to do in Cinque Terre
Now that you've gotten yourself to there, know where to stay, and know how to get around, you're ready to decide what to do in Cinque Terre.
Visit All Five Cinque Terre Towns: Don't go to Cinque Terre without visiting every city! They are each unique and beautiful in their own way, with a different feel to each town.
Take the Cinque Terra Gelato Challenge: To give your kids some motivation for visiting every city, take the gelato challenge and try a new gelato in every town! I know, it sounds really hard, but I hope you can manage!
Visit Churches: There are churches in every town and they are all old and beautiful! Go in and light a candle, say a prayer and catch a quiet moment in a bustling town.
Go to the Beach: Cinque Terre lies along the coast with stunning sandy and rocky beaches. Most of the sandy beaches are in Monterosso, which is speckled with colorful umbrellas and beautiful rocks. There is a really fun beach in Vernazza that is accessed by a little tunnel in the cliff. If you're into rock jumping, then Riomaggiore will have the beaches for you.
Enjoy the Food: Cinque Terre is covered with tasty restaurants offering traditional Italian cuisine. You usually can't go wrong. We loved Bar Centrale in Riomaggiore. Try some fresh fish wherever you go. Mine was caught the same morning and was huge! You can also find fried calamari around every corner. Pesto and Foccacia are famous in this region and definitely worth trying! Most restaurants in Cinque Terre are open and have outdoor seating, which I find to be more comfortable when dining with children. There are also crepe shops, bruschetta, and focaccia shops that make a good quick lunch or snack for kids.
Go for a Hike: There are several great hikes between the five towns and other hikes as well. Read this for more information on hiking Cinque Terre.
There is so much to do in Cinque Terre, but with the ease of transport within the region, it can be done quickly. Be sure to take time to relax and just soak it all in!
Overwhelmed? Get my Complete Guide to Italy
If you're totally overwhelmed by all this and want an easy complete itinerary to Italy, you can find my fully planned trip right here.