If you're heading to Rome, but want to visit Amalfi as well, here is the best way to get from Rome to Amalfi Coast, whether you're looking for a day trip or a longer visit.
The Best Way to get from Rome to Amalfi Coast
The Amalfi Coast has been a popular destination in southern Italy for centuries. It's less than 175 miles from Rome to Amalfi Coast, and it's worth taking at least a day trip for!
When it comes to transportation to the Amalfi Coast, you have several options. There are things to consider, and with my experience traveling around Italy, I feel confident giving you the low down. Below, you'll find my recommendations on different types of travel. And I've included some amazing tours so you can make the most of your time in this special part of the country.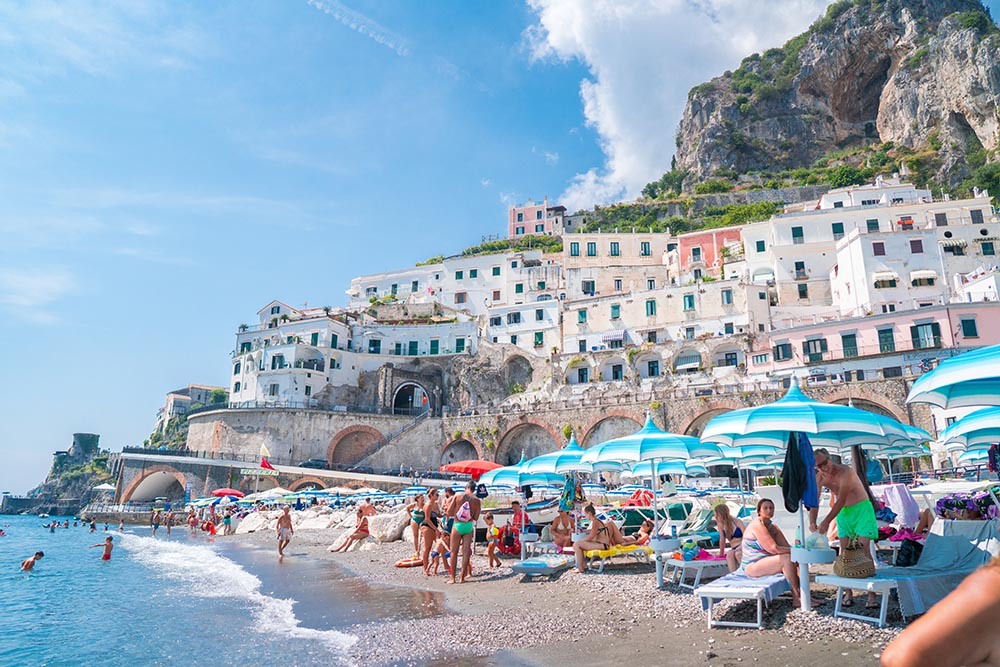 Things to Consider about the Amalfi Coast
When planning how to get from Rome to the Amalfi Coast, I suggest thinking about how much time you want to spend there. While you can do a day trip, consider spending at least 1 night. But you could easily spend a week with all the things you'll find to do!
There's amazing shopping and delicious local cuisine. You should definitely see the Amalfi Cathedral or walk through the colorful village of Positano. For outdoor lovers, you can kayak and explore the caves near Sorrento, or hike the mountains. And of the 100 beaches, I recommend visiting Furore Beach or Beach in Atrani.
If you're thinking about driving, it's also important to note that many parts of the road from Rome Amalfi Coast are winding and not for the faint of heart! And once you're on the Amalfi Coast, the only road is the SS163. It includes 35 miles of coastline with dramatic 400-foot cliffs, white sand beaches, and seaside villages hugging the mountainside over the sea. It makes for a great scenic drive if you're renting a car.
There's also a reliable public transportation system you can use. You can book a train, and transfer to a bus in Naples or Salerno. This is probably the most budget-friendly option and the easiest if you're staying overnight. And water taxis in Salerno are also popular ways to get between villages from the train station.
I think the best way to see the Amalfi Coast is with a local guide to show you the way. However, if you plan on taking longer than a day trip, you may have to schedule additional transportation from Amalfi Coast back to Rome. But with Amalfi Coast tours from Rome, you can leave the planning up to the professionals and just enjoy your trip!
How to get from Rome to Amalfi Coast
When traveling from Rome to Amalfi Coast, you have several good options:
Drive
Train
Day Trip
Boat
The Amalfi Coast by Car
Some people prefer the freedom and autonomy of booking a rental car and driving to the coast. It takes about 3.5 hours from Rome. Once you're there, you can go anywhere you want. Just beware that it can be difficult finding street parking, especially during the high season.
The reason most people don't go with a rental car is that the road from Rome to the Amalfi Coast is very steep and winding. Once you leave Pompei and enter the Lattari Mountains, you have to be really confident in your driving skills with all the twists and turns!
If you decide to rent a car to drive to the Amalfi Coast from Rome, be sure to get your International Driving Permit (IDP) before you travel to Italy. It's against the law to drive in Italy without one. You can find information on getting your IDP here.
You may also like the privacy of a car, but don't want to drive yourself. Then another option is booking a private car transfer from Rome to the Amalfi Coast. You'll find several different companies offering this service in Rome. They can pick you and your luggage up at the airport, the train station, or your hotel.
Some car services also offer customizable options for a private tour from Rome to the Amalfi Coast. You can plan stops along the way like Pompei or Salerno. But I only recommend this option if you're planning on staying overnight on the coast.
Train from Rome to the Amalfi Coast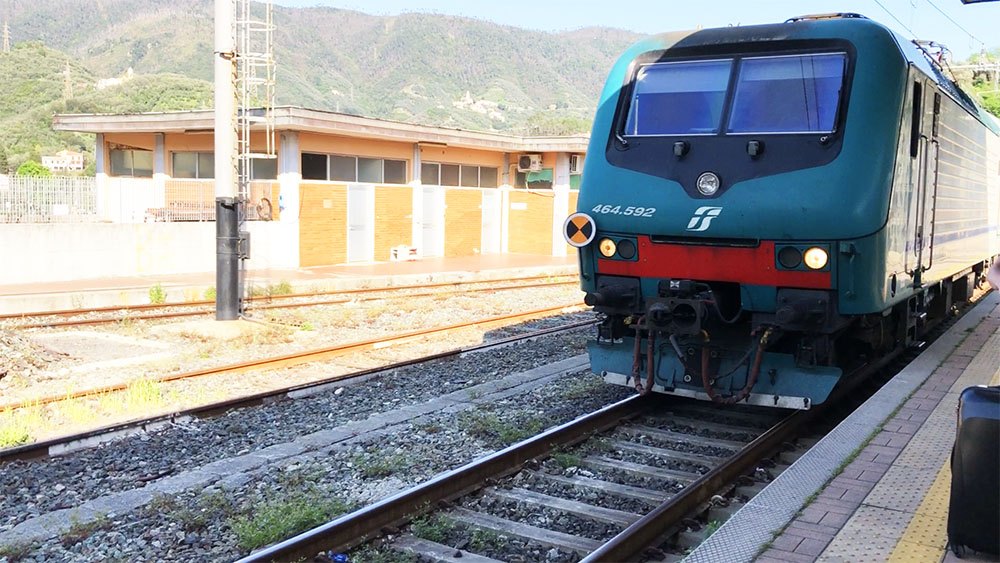 Most people like to drive when visiting the Amalfi Coast because they have freedom of movement and it's easy. But you'll be pleasantly surprised how easy it is to take the train from Rome to the coast!
First, the train is the fastest way to get to Amalfi Coast. It's super tourist-friendly and from the Roman train station, you'll find a train leaving every hour. It takes about 2 hours or less to get to Salerno, depending on if you take the local or express train. And from there you'll transfer to a local bus and be in Amalfi town in another hour.
Or you can take the train to Salerno and switch a boat. It takes about the same amount of time, but here you'll go to the Piazza Concordia and board one of the Amalfi Coast boat tours. These boat taxis leave every hour from the port and only cost a small fee. I highly recommend everyone visiting the Amalfi Coast take the boat at least once! It's a great way to get a scenic view of the mountainous coastline from the water below.
The train works well for day tours to the coast because it's so easy and fast. Take all the thinking out of your travels and meet a guide at the Roman train station for a Rome to Amalfi Coast tour. This boat-hopping tour of the Amalfi Coast begins when you arrive in Salerno. After some sightseeing, you'll board a ferry and get a private tour of the villages of Amalfi and then Positano.
In each village, there will be time for exploration and shopping, as well as a special activity. Enjoy a meal at a local restaurant and a visit to an Italian lemon grove. At the end of the day, you'll return with your guide to Salerno to catch the train back to Rome. On this tour, all your expenses are included.
Rome to Amalfi Coast Day Trip
One way to maximize your time in Italy and enjoy the royal treatment is to take a unique day tour. I suggest a Pompeii, Positano, and Amalfi Coast private day tour from Rome. Book this tour and you'll be picked up from your hotel by 2 English-speaking guides for a full day with all the details ironed out. Board an air-conditioned minibus and relax on a 3- to 4-hour ride to Pompei. You'll enjoy a walking tour of the ruins of Pompei while an archeological expert narrates the entire way. After this, you'll get back on the minibus and travel to the Amalfi Coast.
Along the way, you might stop to see the Bay of Naples from different lookout points. Once on the coast, you can enjoy a meal at a restaurant picked by a local who knows what's good! Go shopping, follow your guide to points of interest, or head to the beach and jump in the water. At the end of the day, you'll head back to Rome in time to unwind and have dinner.
What I love about this tour is the attention the guides give to your experience. If it's the quiet shoulder season, they might switch up which coastal village you go to so it's not boring. Or if it's the high season and there are crowds, they might switch up the schedule so you aren't pushed out of the coast during a busy afternoon. It really feels thought through and like the guides have a passion for the region!
Amalfi Coast by Boat
If you're interested in exploring the Amalfi coast by boat, this is a really fun way and also avoids driving on the crazy roads. This tour includes a local guide, train tickets to Salerno, ferry tickets, and a limoncello tasting. You'll explore Amalfi, Positano, Salerno, and a private lemon grove. It's a really special experience that you'll never forget!
FAQ about Getting from Rome to the Amalfi Coast
You might have questions while planning your adventure to Amalfi Coast. Here are some of the most common questions to help you make the best choices.
Is it easy to drive from Rome to Amalfi Coast?
Some people feel confident taking the drive. The issue is that there's only one road along the southern coast of the Sorrento Peninsula, and that's the SS163 that starts after you leave Pompei. You're going to be driving roughly 50 miles an hour down this road with harrowing and winding curves. Plus, driving takes 3 to 4 hours, which is the longest out of all your transportation options. That's why it's recommended to take the train or choose from different tours of the Amalfi Coast.
Does the train go to Amalfi?
The Rome to Amalfi Coast train doesn't actually take you to Amalfi. The closest you'll get is Vietri Sul Mare-Amalfi, another coastal village north of Amalfi. From here you'll take a local bus to Amalfi town.
Is there public transportation on the Amalfi Coast?
There are a few early buses that go all the way to the Amalfi Coast. These buses are direct and budget friendly. Just be prepared for it to take 5 to 7 hours to get there. Southern Italy generally has an easy-to-use and on-time bus system. It's also important to note that if you take public transit, you'll still end up transferring before reaching Amalfi.
How many days do you need for Amalfi Coast?
You could easily spend a few days to a week on the Amalfi Coast and still not see everything there is to see! Especially if you're traveling from Rome to Amalfi Coast via bus, I suggest taking the late bus, spending the night, and taking at least a day on the coast. Or if you only have a limited amount of time, a guided day tour will give you the best experience of the region.
Is the Amalfi Coast worth visiting?
It's definitely worth a visit! There are so many different things to do that everyone in your travel party will find something they love. There are historic sites, amazing shops, lemon groves, fabulous restaurants, and more. You can spend time on some of the most amazing beaches in the world or explore cliffside caves off the coast. There are boat tours and trips out to the surrounding islands. And that's just the beginning!
Take an Amazing Amalfi Coast Tour
A trip from Rome to the Amalfi Coast is something you'll never forget! While it's a few hours' journey, you'll understand the appeal of this enchanting coastline that's been drawing travelers for literally centuries.
There are visitor-friendly options for travel that will fit every taste and budget. While you could drive, I don't recommend it unless you're familiar with the countryside. Amalfi Coast tours from Rome are the way to go. They offer a variety of transport from trains, buses, and boats to private cars and more.
And I leave you with one more piece of advice: even if you drive or take the bus, try to take a boat taxi at least once! They connect all the villages and it's a nice scenic ride. You can definitely do the Amalfi Coast without a rental car if you wish.