Boating Lake Como
Is there anything better than spending a day on the water with the ones you love? One of the most memorable things we've done as a family travel activity is boating. We make it a goal to get out on the water, in one way or another, everywhere we go. The kids love to feel the wind in their hair and water in their face. It's been a great way to see more of the areas we go and to see different view points than from a car, and everyone loves to go fast!
Our very favorite place to go boating as a family was in Lake Como, Italy. Lake Como is one of our favorite places in the world, nestled between the mountains in northern Italy, it provides the rustic charm of the mountains and the magic of Italy. The lake is so vast it would take all day to drive around it, but you can zip around in a boat quickly in a few hours, without traffic, and take in the views of all the incredible villas along the shores. I mean, where else can you get this close to George Clooney's house?
There are several places to rent boats along Lake Como. You can use this tool  to locate a rental location. We were lucky enough to find one within walking distance from our Airbnb. Prices range depending on what kind of boat you want. Some boats require an international boating license. Our boat fit 6 and was perfect for our family.
We were in Lake Como for about 2 months and went boating almost every week. Each time we went out we would explore a new part of the lake. If you go north, you can see incredible mountains and more rural settings.
In the center you can hop off and explore the quaint, beautiful town of Bellagio and grab some fresh fish, pasta or pizza for lunch and gelato for dessert of course!
If you're not stopping for a bite, always pack a meal or a lot of snacks, especially if you're going with kids. It's fun to feed the leftovers to the ducks and swans on the lake. We packed a simple cooler full of fruits, veggies, bread and cheese, with plenty of water.
Gliding down the western fork of the lake you will find some amazing villas, including George Clooney's villa. He wasn't home when we stopped by. Too bad because I'm sure he would have invited us in! But you can see all sorts of different villas, new and old.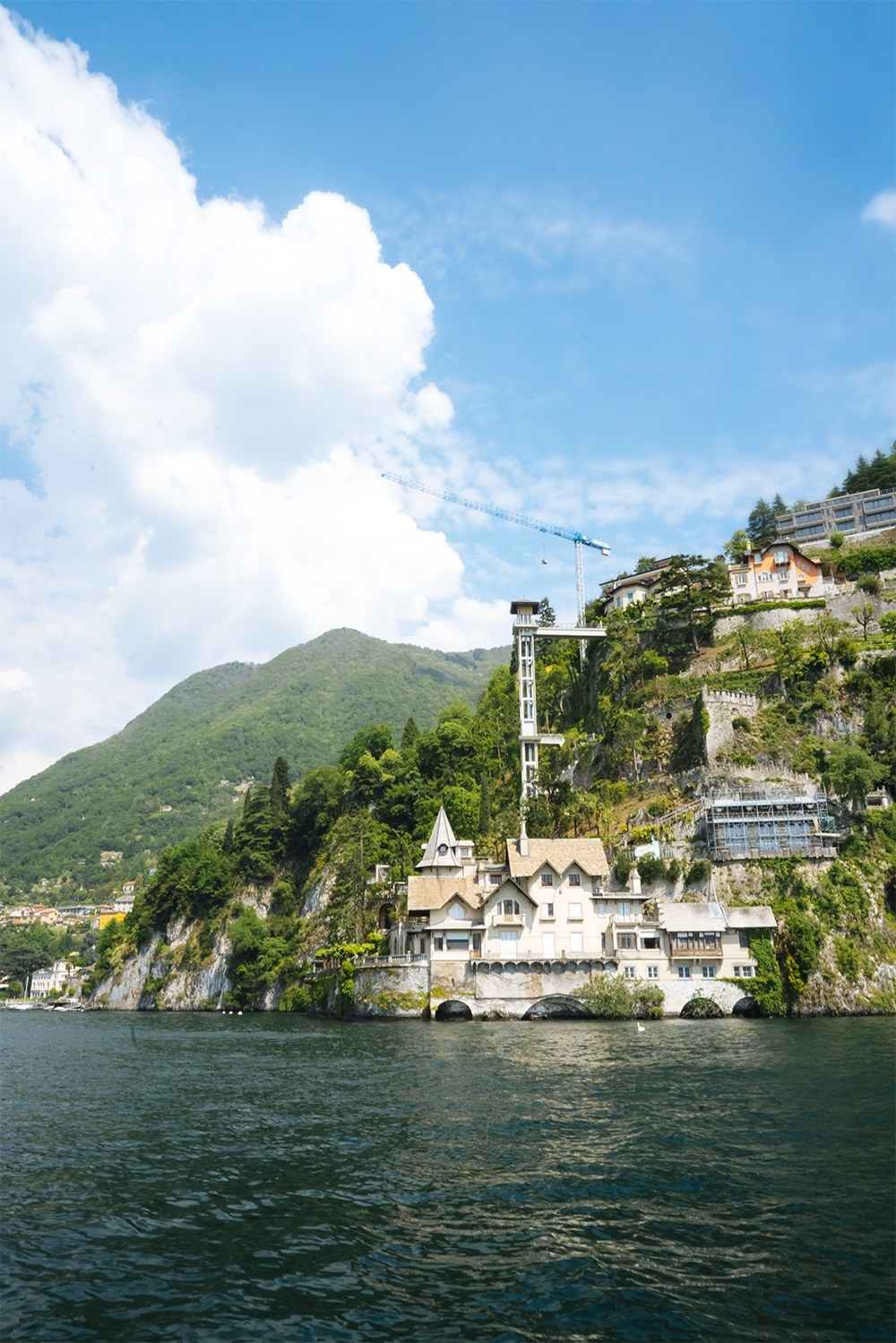 Villa del Balbianello is worth a cruise by for sure, especially if you are a Star Wars fan. Anyone recognize this place? You can only see it from a boat and it's absolutely gorgeous!
Here's a little clip of me pretending to be James Bond in the boat…

If you go to Lake Como, don't skip renting a boat! It's the best and most cost effective way to see the whole lake!
You can also read about my 5 reasons to make Lake Como your next family destination.
If you would like to follow along with us day by day you can follow @wanderlust.crew on Instagram or on Facebook  or on Twitter or sign up for our newsletter! We would love to hear from you!