These are 10 of the best things to do in Lake Como Italy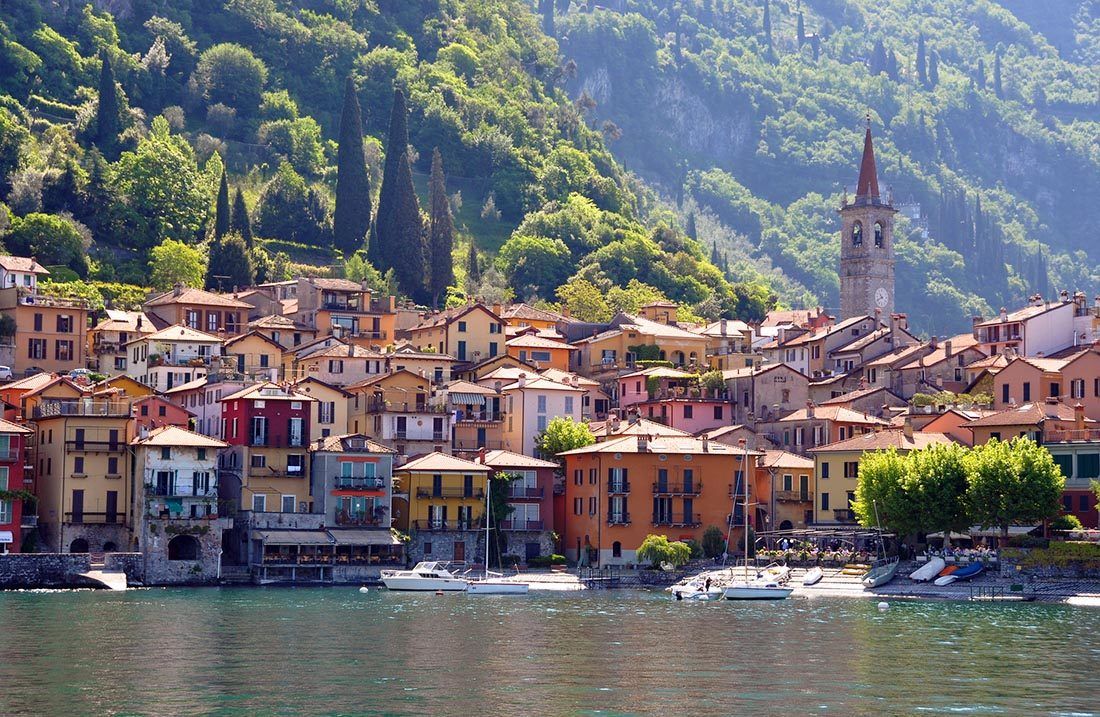 If you're looking for help planning your trip to Italy, join our Italy Travel Group on Facebook
10 Fantastic Things to do in Lake Como Italy
This post contains affiliate links
Lake Como is one of Northern Italy's hidden gems. Unlike the typical oval-shape that lakes normally have, Lake Como is more like the shape of the letter 'Y' turned upside down. It's also vast, containing several stunning towns and places to visit around its wishbone-shaped layout.
For these reasons alone, many tourists flock to Lake Como in the summer months, looking to relax and soak up the Italian sun. The lake is so popular, in fact, that actor George Clooney actually bought a summer home there back in 2002, known locally as the Villa Oleandra.
However, Mr. Clooney may not take too kindly to several tourists knocking at his door, so here are ten other fantastic things to do during your time in Lake Como.
1. Admire the Beautiful Lake Como
Let's start with a fairly obvious one: the lake itself.
Lake Como is truly stunning by its own accord, stretching for approximately 30 miles from North to South. Its water is idyllic – calm, sparkly, blue, and perfect for taking a refreshing dip in after a long hike around the lake's surrounding wilderness.
When you arrive in the stunningly beautiful Italian city of Como, take the time to walk up to the lake's edge and admire the idyllic views along the shore. Depending on what the weather's doing and which time of day you visit, you should be able to see right across the lake to all its surrounding towns.
One of our favorite activities is to go boating on Lake Como. You can rent a boat and tour the lake on your own. Another great option is to take a guided sail of the lake. This is our favorite boat tour of Lake Como.
2. Visit the Villas of Lake Como
Lake Como is dotted with incredible mansions and villas. Most of them are privately owned so you won't be able to tour them (sorry no George), but you can visit 3 beautiful Villas in Lake Como:
Villa Balbianello (where scenes from Star Wars was filmed)
Villa Carlotta
Villa Melzi
3. Como Cathedral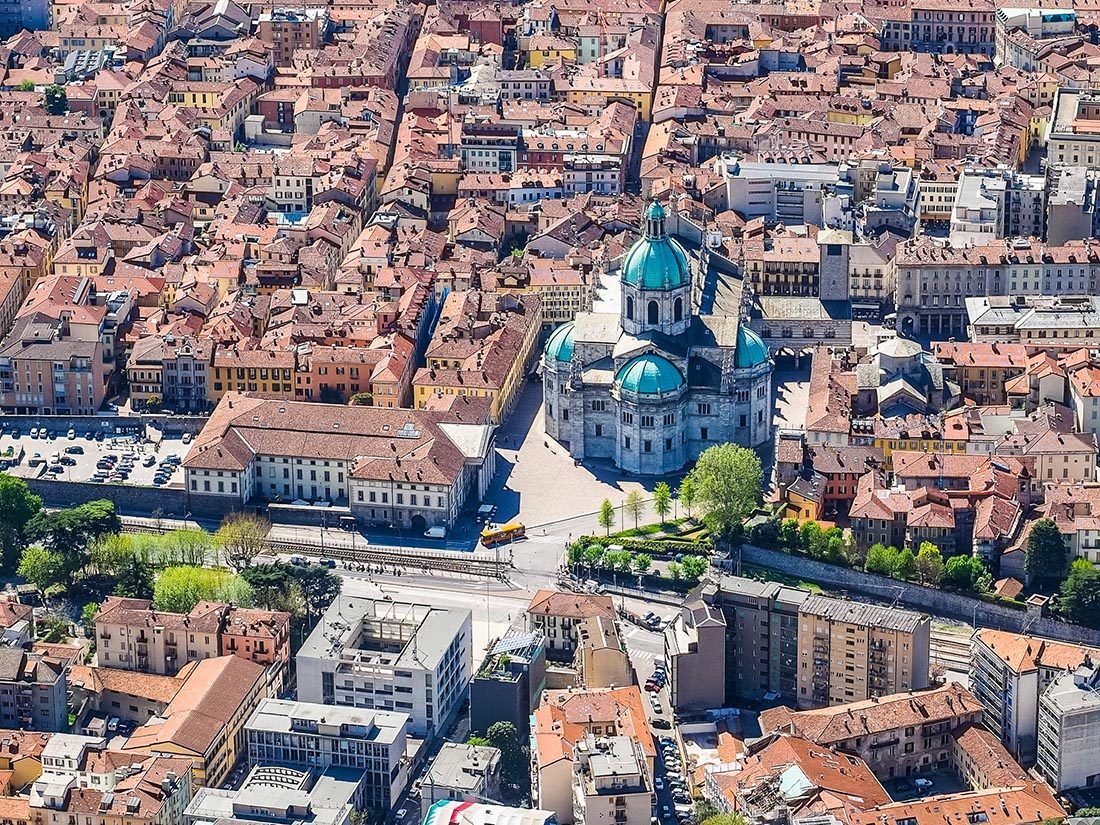 While you're in Como, head on over to one of the town's must-see attractions – its cathedral.
Como Cathedral – or Duomo ­– is located right in the center of the city, in the Piazza del Duomo, and features a selection of Gothic and Romanesque architecture to marvel at. The perfect escape from the heat of the sun, the cooling cathedral is free to visit, so you can spend as much time visiting as you like.
4. Tempio Voltiano
The Tempio Voltiano, also known as the 'Volto Museum' is a museum in Como built in memory of Allessandro Volto. This prolific Italian scientist is regarded as the inventor of the electrical battery and, until his death in 1827, he spent the majority of his life living in Lake Como.
If you are interested in taking an insightful look at the life and achievements of an Italian legend, the Volto museum is simply a must-visit.
5. Porta Torre
The fourth and final attraction we recommend visiting in the city of Como itself is the Porta Torre gateway, located in the Piazza Vittoria. This monument has guarded the entrance to the city for almost a century, following its construction all the way back in 1192. As you walk through it into Como, you will start to feel a great sense of the city's lengthy history, and get an idea of how it would have looked all those years ago.
6. Brunate Funicular
OK, so this attraction is still sort of in Como, but it's well worth a visit. Hop on the Como-Brunate funicular railway to take a short 715 meter ride upwards into the mountains, or walk up if you're feeling particularly brave.
Once you get to the top, you will arrive in the small town of Brunate. Here you will find a small number of shops, sights, and restaurants, but the town's crowning jewel is the stunning views it offers all the way across Lake Como.
You'll definitely need your cameras for this one.
7. Bellagio Town Centre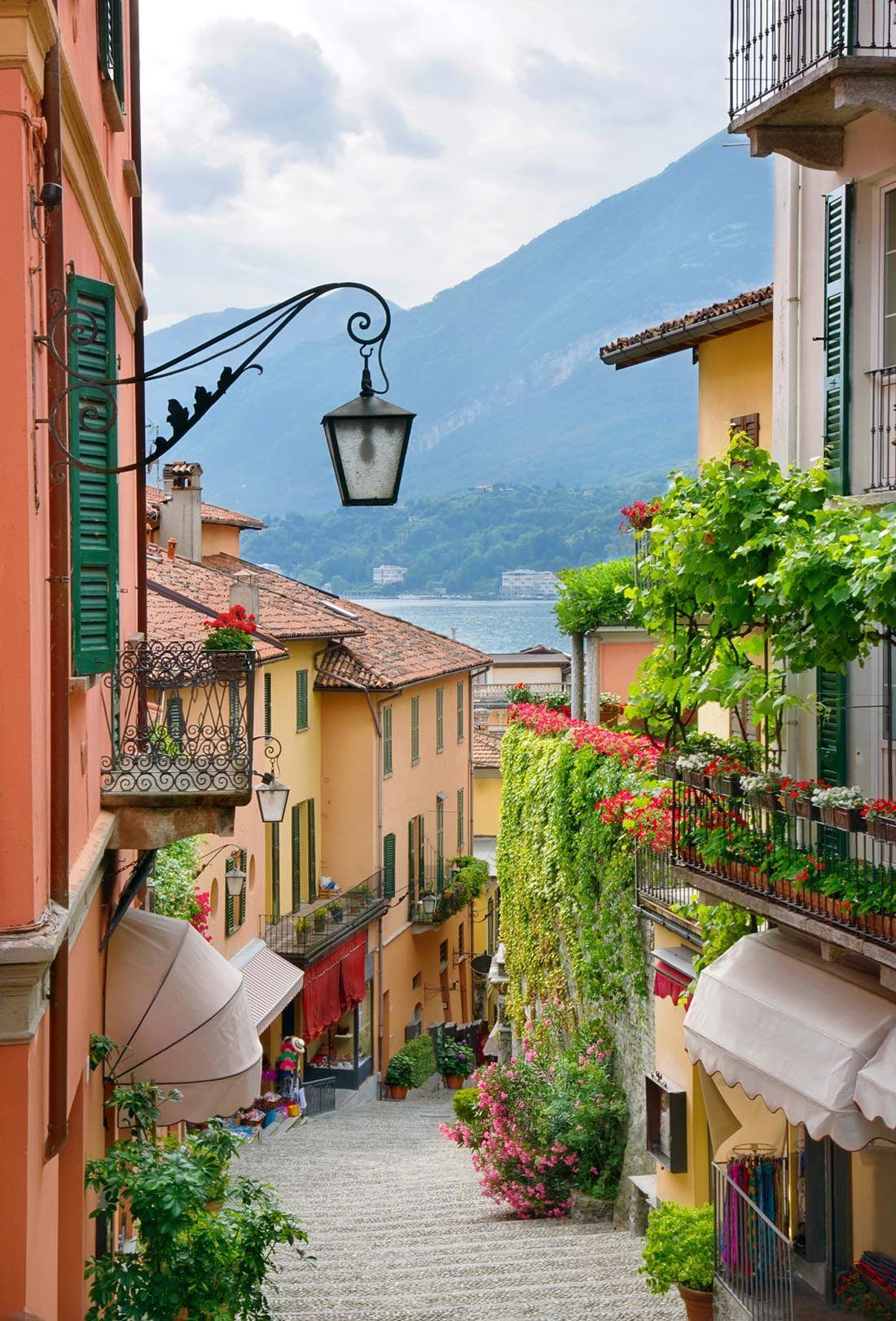 Only a short boat ride away from Como is the beautiful town of Bellagio. Here you will find a number of attractions and things to do, but the town center is the area that particularly stands out.
The true heart of the town, here you will discover a large collection of leather shops, perfume stores, small restaurants and more. Immerse yourself in the traditional Italian way of life, get any last-minute souvenir shopping done, and treat yourself to some unique delicacies and artifacts.
8. Castello di Vezio
If you're after incredible views, another fantastic place to visit is the Castello di Vezio, located near the Northern Italian towns of Varenna and Perledo.
The castle offers unparalleled views of Lake Como from a truly unique piece of Italian architecture. It may require a fairly steep hike up to the very top, but we promise it'll be worth it when you get there. Not only are the views incredibly impressive, but you are also likely to encounter many different birds of prey.
Plus, for any aspiring ghost hunters out there, the castle is rumored to be haunted by the ghost of the Lombard Queen Teodolinda, so make sure to keep an extra eye out.
9. Eat All the Food
Italian food is known the world over for being one of the best types of cuisine there is. Whether it be pizza, pasta or bruschetta, the Italians certainly know their stuff when it comes to food – where best to try it then than in Lake Como itself?
With a plethora of restaurants to choose from in the surrounding area, you will be spoilt for choice as to where to eat and what to eat when you get there. One thing you certainly need to try is an Italian gelateria – a specialist type of ice cream. After a long few days visiting the other attractions included on this list, you will definitely need one.
10. Take a Cooking Class in Lake Como
One of the best things to do in Lake Como is to take a cooking class. Italians have a way of using few and simple ingredients to make the most mouthwatering dishes in the world. There are many cooking classes offered in the area, but we love this one in Lierna, where we lived for 2 months.
Whatever you choose to do in Lake Como, you will be blown away by the beauty of this stunning Italian destination! If you have any questions or need help planning your trip to Lake Como, feel free to reach out to me via Facebook, Instagram, or email.
And if you're planning a trip to Italy and need some guidance, consider my complete itinerary which includes interactive maps and daily schedules.