this post contains affiliate links
If you're looking for the best gelato in Italy, look no further! We've divided the country up by city and have given you the best gelato shops in the country!
The Best Gelato in Italy: How to identify it and where to find it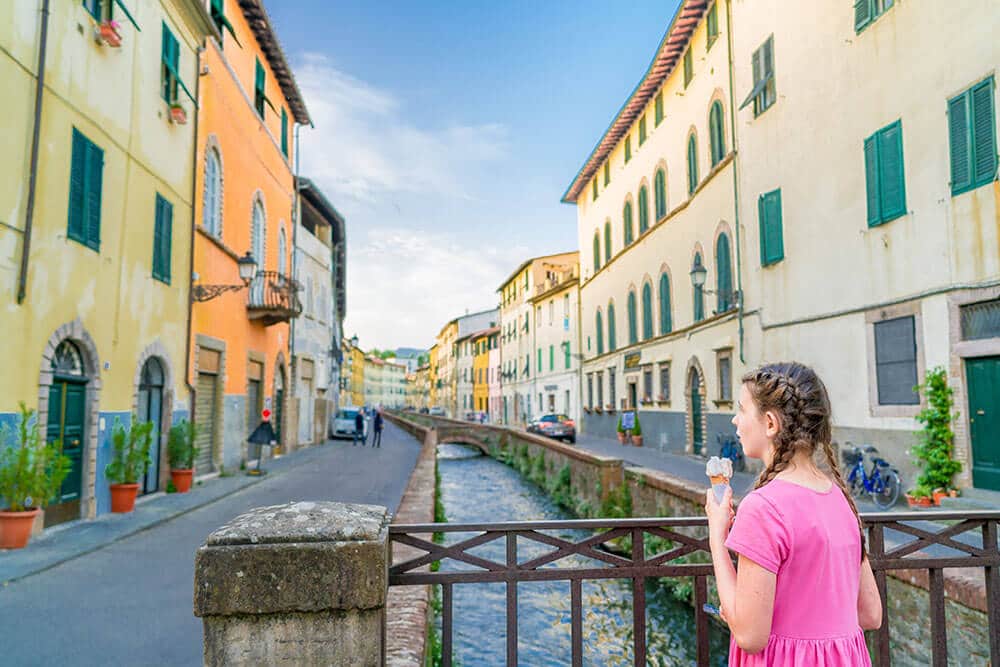 If anyone has been following me on any social media platform or my blog for any amount of time, the number one fact they could probably tell anyone about me is that I LOVE GELATO! I'm unabashedly a huge fan of this creamy delicious cold treat that can be found all over Europe, but especially in Italy! It is said by many that Italy boasts the best gelato in the world. Maybe not in one particular gelateria, but overall, the Italians do it best!
I try gelato wherever I go, and once, while visiting the beautiful Cinque Terre, I tried gelato in all five towns! I'm not ashamed! I walked hard for that gelato! When you're busy clocking over 30 thousand steps a day in Italy, I think you're entitled to a little cool, sweet treat!
Gelato 101
Before you go to Italy and eat ALL the gelato, let's get you educated on this very important subject! You don't just want to go eating any old gelato. I mean even with those 30K steps, you don't want to be wasting calories on bad gelato. It's just bad practice and has the potential to completely ruin your trip to Italy! So let's learn a little bit about gelato!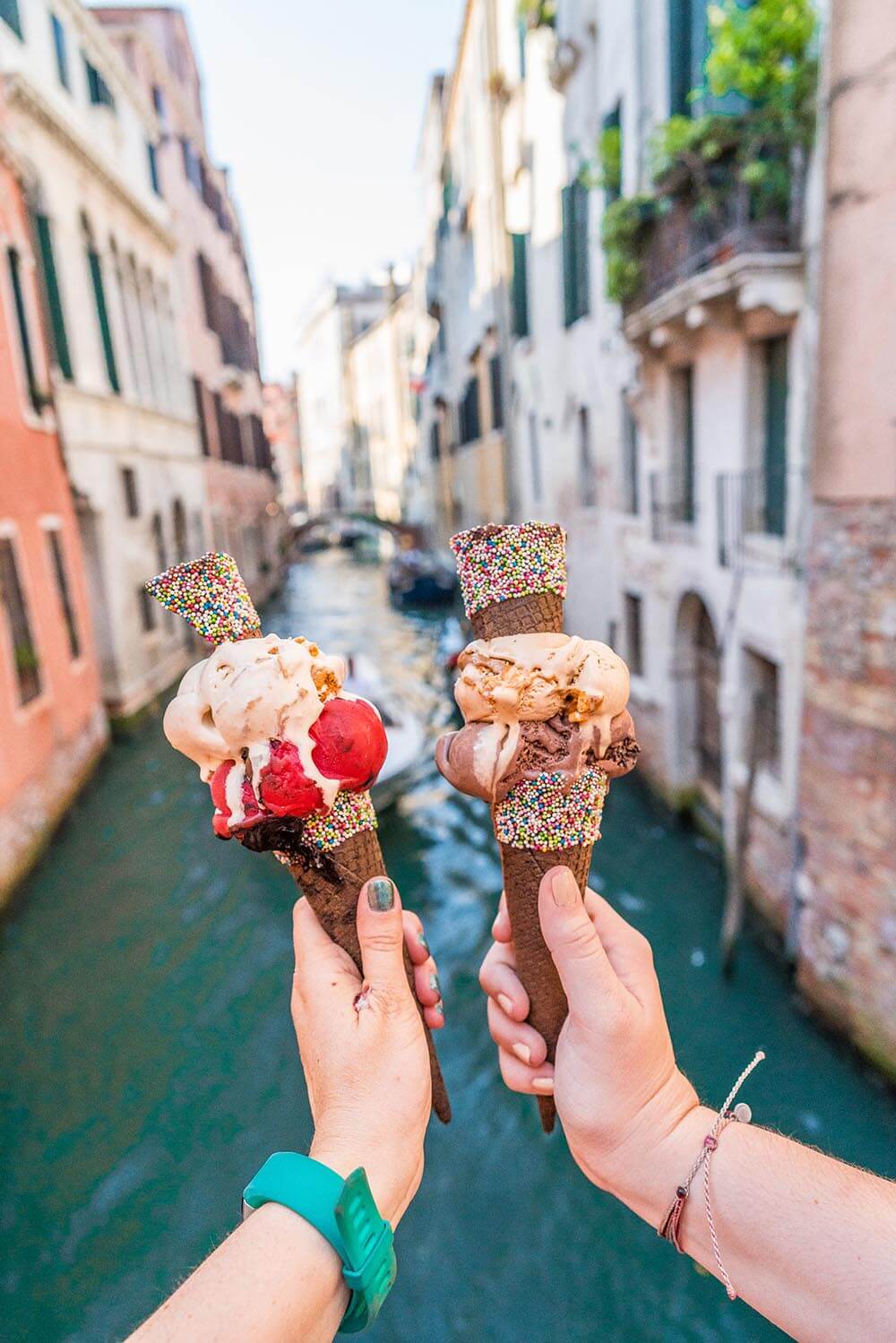 A little gelato history
Cool treats have dated all the way back to biblical times and it's a good thing it was so hot in the desert as it may have never been invented if everyone had air conditioning. It is thought that the Chinese taught the Arabs how to mix snow with syrups to combine a tasty treat, a first crude version of sorbetto.
Arab traders then passed down this skill to the Venetians in the middle ages. The Venetians then passed this on to the people in the south of Italy and we now have the true birth of sorbetto on the island of Sicily. Sorbetto comes from the Arabic, scherbet (sweet snow) or from the Turkish, chorbet (to sip), and was made with sugar, fruit juices, and snow (I don't know where they got snow in Sicily…this is all hearsay by the way).
It's unclear how sorbetto morphed into gelato by adding dairy, but sometime in the 1500s, Bernardo Buontalenti, a Florentine, brought gelato to the court of Caterina Dei Medici, and a star was born and the art of gelato making spread like wildfire across the European continent! The first person to sell gelato from Italy to the public, Francesco Procopio Dei Coltelli, actually opened a cafe in Paris called Café Procope, and now gelato is sold all over the world!
Now Italians consume over 4 kilograms of gelato each year! Can you blame them? I think my average might be even higher!
Gelato means frozen in Italian, but don't worry, everyone will know you mean ice cream if you say it!

What is the difference between gelato and ice cream?
Gelato versus ice cream: what's the difference? Many people who visit Italy think that gelato and ice cream are the same thing, but guess what, they're not. The difference between gelato vs. ice cream is that gelato has less air than ice cream making it denser. It also has less milk fat, which can coat the tongue and dull the taste buds. Many people think that this is why gelato, which contains less cream and is churned slower, tastes better than ice cream.
It can be said that ice cream is fat and fluffy (more fat and more air) and gelato is dense and intense (less air and more flavor). And while ice cream contains eggs, gelato usually does not.

What is gelato made of?
Most gelato starts with the same base which contains milk and sugar. It is slowly churned in a gelato maker while other flavors are added. Good gelato ingredients should be fresh, with no chemicals added.
Does gelato have dairy?
Gelato contains dairy. Sorbetto does not. Sorbetto is made with a water, sugar, and fruit base, but is made the same way as gelato. So anyone who is lactose intolerant should stick to sorbetto. It's actually my personal favorite since I love fruit so much!
Does gelato have eggs?
Not usually!  While most ice cream is made with egg yolks, gelato is usually not made with eggs at all.
How is gelato made?
There are several ways to make gelato, but almost all gelato shops will have a gelato machine. There are processes called Hot Press, Cold Press, and Sprint methods.
If you can find out which kind of process a gelato shop uses, it will give you a good idea of how good the gelato will be. Avoid gelato from places that use the Sprint method, as this uses a mix and allows for little experimentation and customization. Most touristy gelato places in Italy will use the Sprint process. You can read all about the different gelato processes here.

How do you find good authentic gelato in Italy?
Italy is full of gelato, but not all gelato shops in Italy are created equal! Be sure you know how to find authentic Italian gelato that will knock your socks off! Here are a few tips to help you find the best Italian gelato:
Avoid mountains of brightly colored gelato
Look for gelato in stainless steel tubs with lids. You should have to read the best Italian gelato flavors, not see them!
Look for signs that say gelato in casa, fatto in casa, or gelato artigianale. These words all mean that it is homemade, made in house, and artisanal. But beware, some shops will advertise this when it's not actually true!
Look for muted colors. Bananas are not bright yellow, so banana gelato should not be bright yellow either, but closer to white.

Taste test the gelato: As for un assaggio (taste) of pistachio gelato. Pistachio gelato is the most expensive gelato to produce if done correctly. If the gelato shop is cutting corners you'll be able to taste it in their pistachio gelato. If they're using real pistachios, you're good to go! If it looks too bright and doesn't taste quite right, then walk away. Using real pistachios is a sign that this gelateria is committed to making real gelato with quality ingredients, even at the expense of making a little less.

What are the best gelato flavors in Italy?
There are a wide range of flavors of gelato in Italy, and they are all pretty dang amazing! Here are some of the Italian gelato flavors you'll find in most gelaterie:
cioccolato fondente Amazing dark chocolate! If you're looking for regular chocolate, try cioccolato al latte.
Nutella If you know, you know! Delectable milk chocolate hazelnut!
bacio Very similar to Nutella, but usually with actual hazelnuts.
pistacchio Like I mentioned above, be sure you try this one before trying anything else! Pistacchio is the most expensive gelato to make and is delicious if done right!
mandorla Almond flavored gelato
nocciola It's Nutella, minus the chocolate…ok, so just hazelnuts, but it's still so yummy and almost always found at any gelateria.
fior di latte This is the base for any gelato; just creamy, sweet gelato with no added flavors.
cocco A classic, creamy, coconut gelato.
amarena fior di latte with cherries. yum!
fragola Strawberry gelato can be found at almost any gelateria and is one of the most classic gelato in Italy! Remember to find a fragola that is not hot pink, or light pink, but actual strawberry colored!
lampone Rich and delicious raspberry!
limone Lemon, I love this one on a hot day! Again, be sure you find one that is not neon yellow.
fico Fig Gelato. This is one of my favorites, but it is harder to find, but if you're in Italy in the summer, you might get lucky. The best fig gelato I've ever had was at Gelato del Teatro, which you'll read about below!
frutti di bosco technically this means fruits of the forest, but this berry gelato usually contains blueberries and blackberries.
mela Apple. This one is really yummy. I especially love mela verde (green apple).
stracciatella  This is probably my kids' favorite. It's just fior di latte mixed with hardened chocolate sauce. Sort of like chocolate chip ice cream!
ananas Pineapple. So good on a hot day!
mango  I'll let you figure this one out.
pompelmo This is my absolute favorite sorbetto in Italy, but it's hard to find. I've had it at Gelato del Teatro in Rome and Gelateria Santa Trinita in Florence. If you see it, try it!

How much does gelato cost in Italy?
The answer to this questions will vary from city to city, and from gelateria to gelateria. I would plan anywhere from €2 to €6, although I would say that the average is €3. Be sure you know the cost before ordering. There may be many options, but you can say, "I'd like a €3 cone please." I've read many articles that tell you to order your cones and pay first and then pick your flavors. More often than not I have not found this to be true. Maybe I'm doing it wrong or maybe I have so many kids they think I look too frazzled to ask. I don't know! Ask when you're ready to order if they want you to pay upfront or not, then report back to me, please!
However you order gelato and however much it costs, be sure to budget a good chunk of cash for your gelato allowance while you're in Italy!
Where to find the best gelato in Italy
I wanted a place where you could come to find the best gelato in Italy in one place! I've asked all of my friends who have visited Italy and had gelato (so that means everyone I know that's been to Italy I hope) what their favorite gelateria was and they've given me this giant list of amazingness!  If YOU have a favorite gelato shop in Italy, please let me know! I would love to share it here with everyone!
Map of the Best Gelato Shops in Italy
Here's a map of the best gelato shops all over Italy! Zoom in to see more gelato places in each city.
The Best Gelato in Bologna
The Best Gelato in Florence Italy
The Best Gelato in Rome Italy
Come il Latte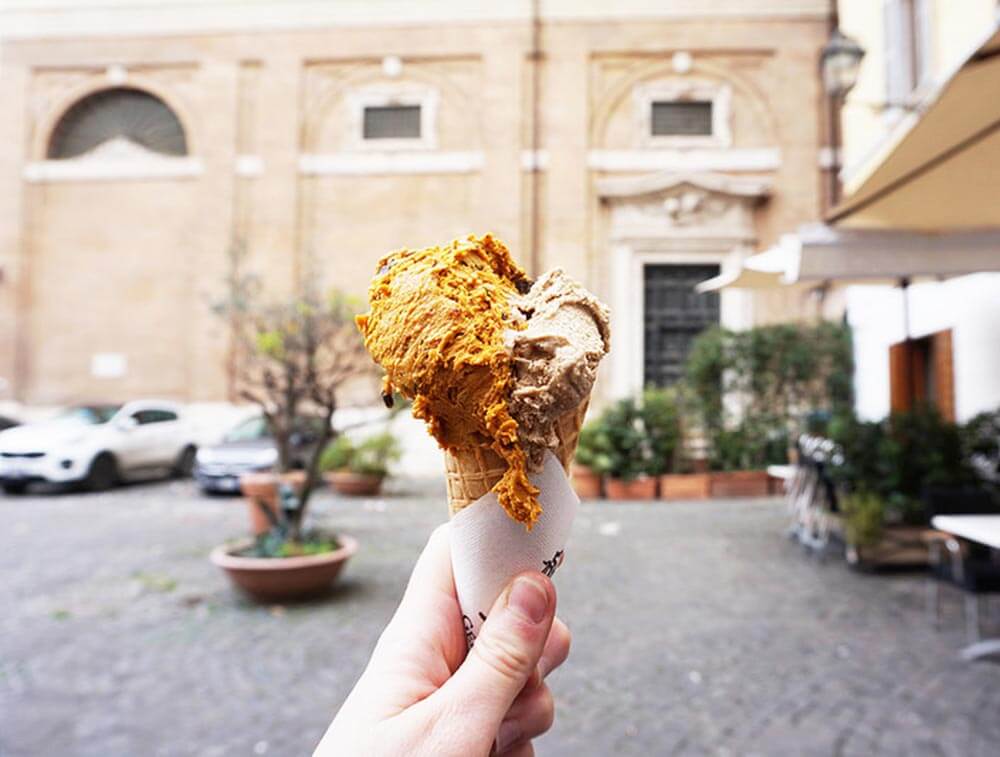 How do you spot real gelato? The secret is in the colors. Pistachio should be a muted green (not bright green). Banana should look almost gray (never yellow). And every other flavor should carry the color of the ingredient it boasts—never an artificial one. This is how I knew when I walked into Gelateria del Teatro in Rome that it was most definitely the real deal.
Hand-crafted gelato made with real ingredients. My heart tripped over itself in delight. And then I tried some and my heart tripped again. Long story short, I went back almost every day of my month in Rome and tried every single flavor they offered at the time—from creamy pumpkin to raspberry thyme. Every single one lived up to my expectations.
From Vicious Foodie
The Best Gelato in Milan
The Best Gelato in Modena
The Best Gelato in Pisa
The Best Gelato in San Gimignano
The Best Gelato in Venice Italy
Magnum
SUSO Gelateria
You'll probably recognize these beautiful cones from any Instagram picture geotagged "Venice." This decadent gelato shop does not hold back when it comes to the richness of their flavors or their lush toppings. Watch out though, real gelato melts super fast, so take your pictures and eat it up quickly. Be sure to grab a ton of napkins as well!
The Best Gelato in Turin