We just finished up a trip to Croatia and I did very little research before visiting. It's a spectacular country, but I didn't know much about it other than it's the newest European country in the Schengen Zone. So what is Croatia known for? While I was there and after my visit, I did a little digging. For each Croatian I met, I asked several important questions: 1. What's the number one thing you should do in Croatia if you only had one day? and 2. What is Croatia famous for? Here are the responses I got. Some of them might surprise you!
Here is what Croatia is known for:
Being a top summer destination for tourists
Being a Game of Thrones film location
Having over 1,000 islands
Having incredible, award-winning beaches
Plitvice Lakes National Park
Brač Stone
Zip Lining
Waterfalls
Ancient Roman ruins
Lavender
Honey & Cheese
Museum of Broken Relationships
Christmas Markets
Being Schengen safe haven (not anymore!)
Croatia is known for being one of the top summer vacation destinations in Europe
Croatia is an increasingly popular tourist destination, topping the charts of European countries to visit, especially in the summer. According to Croatia Week, they saw a 16% increase in tourism this year, which is huge for a small country. Their largest industry is tourism, so it makes sense that they are set up for visitors.
Croatia is famous for Game of Thrones
Croatia, and specifically Dubrovnik, really had a renaissance after being used as a filming location for the hit TV series, Game of Thrones. All around Dubrovnik, we saw several groups of people taking Game of Thrones tours, Game of Thrones souvenir shops, and lots of tourists taking pictures at iconic film locations. Old Town Dubrovnik, which is also a UNESCO World Heritage Site, has become a bit of a Mecca for fans of the show and is the most popular tourist destination in the south of Croatia.
Croatia is known for its islands
There are over 1,000 islands, islets, and crags off the coast of Croatia. Some of the popular ones include Hvar, Brač, Korčula, and Vis. Several Croatians we asked said that "visiting the islands" was the number one thing that makes Croatia famous. We took a boat tour from Split to 5 different islands, and I think being famous for its islands makes complete sense! They were all so beautiful and unique!
Croatia is known for its spectacular coastline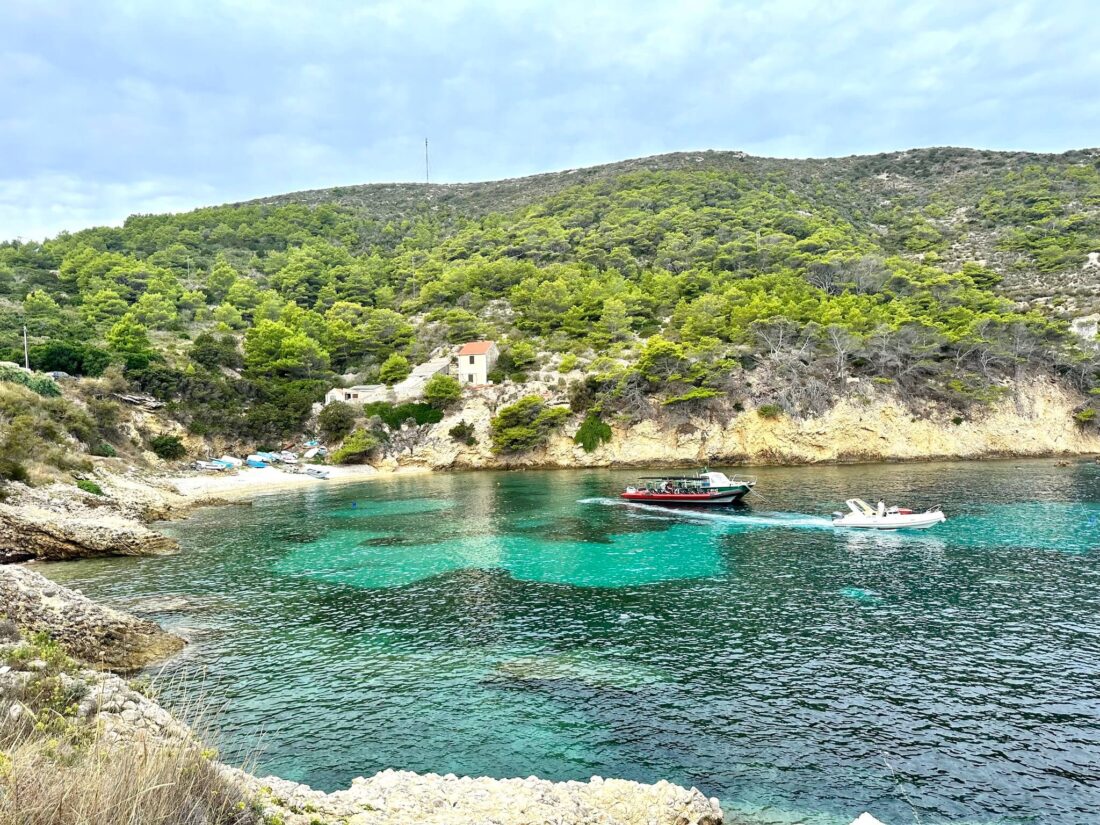 Croatia has over 4,000 miles of coastline, so it's no surprise that many of its beaches have won awards for being the most beautiful beaches in the world. The Adriatic coast and Dalmatian coast are particularly beautiful. Here are some of the most famous beaches in Croatia:
Podrace Beach
Zlatni Rat Beach
Dubrovnik Beach
Sakarun Beach
Nugal Beach
Croatia is famous for Plitvice Lakes National Park
And when you see pictures of this gorgeous national park, you can see why. It's stunning natural beauty is a huge draw and unlike anywhere else I've ever been. It's actually been declared a UNESCO World Heritage Site. Plitvice Lakes National Park is renowned for its cascading lakes interconnected by waterfalls. Formed by the deposition of travertine barriers, the park has 16 terraced lakes, crystal-clear waters, and diverse flora and fauna, including bears, wolves, and rare bird species, all set amidst lush beech tree forests and karst landscapes. It was truly a magical and other-worldly experience!
There are actually eight national parks in Croatia!
Croatia is known for its Brač Stone
Brač stone, or "Brački kamen" in Croatian, is a type of limestone that originates from Brac island, located in the Adriatic Sea. This limestone is notable for its quality, durability, and white or off-white color.
Brač stone has been used in the construction of many iconic buildings. One of the most well-known is the Diocletian's Palace in Split. Rumors also suggest that columns of the White House in Washington, D.C., might be made from Brač stone, though concrete evidence for this claim is lacking. But you'll see this gorgeous white shiny stone on the cobble streets, ancient buildings, all around the country.
Croatia is known for zip-lining
Cetina River Ziplining is on almost every best zip lines in the world articles you'll read. And it should be. It is incredible! At almost 1,700 feet high, the zips cover almost 7,000 feet between 8 cables that take you from the top to the bottom of the canyon where the aqua Cetina River flows. It's terrifying, exhilarating, and beautiful all in one. But this isn't the only zip line in Croatia. There are zip lines over the ocean, through Plitvice Lakes National Park, and through inland canyons. If you love zip lining, then Croatia has got you covered.
Croatia is famous for its waterfalls
When you think of Croatia, waterfalls might not be your first thought, but this small country has hundreds of monumental waterfalls! Here are some of the most famous waterfalls in Croatia:
Skradinski Buk (Krka National Park)
Roški Slap (Krka National Park)
The Great Waterfall (Plitvice Lakes National Park)
Rastoke Waterfalls
Mrežnica Waterfalls
Croatia is known for its ancient Roman ruins and rich history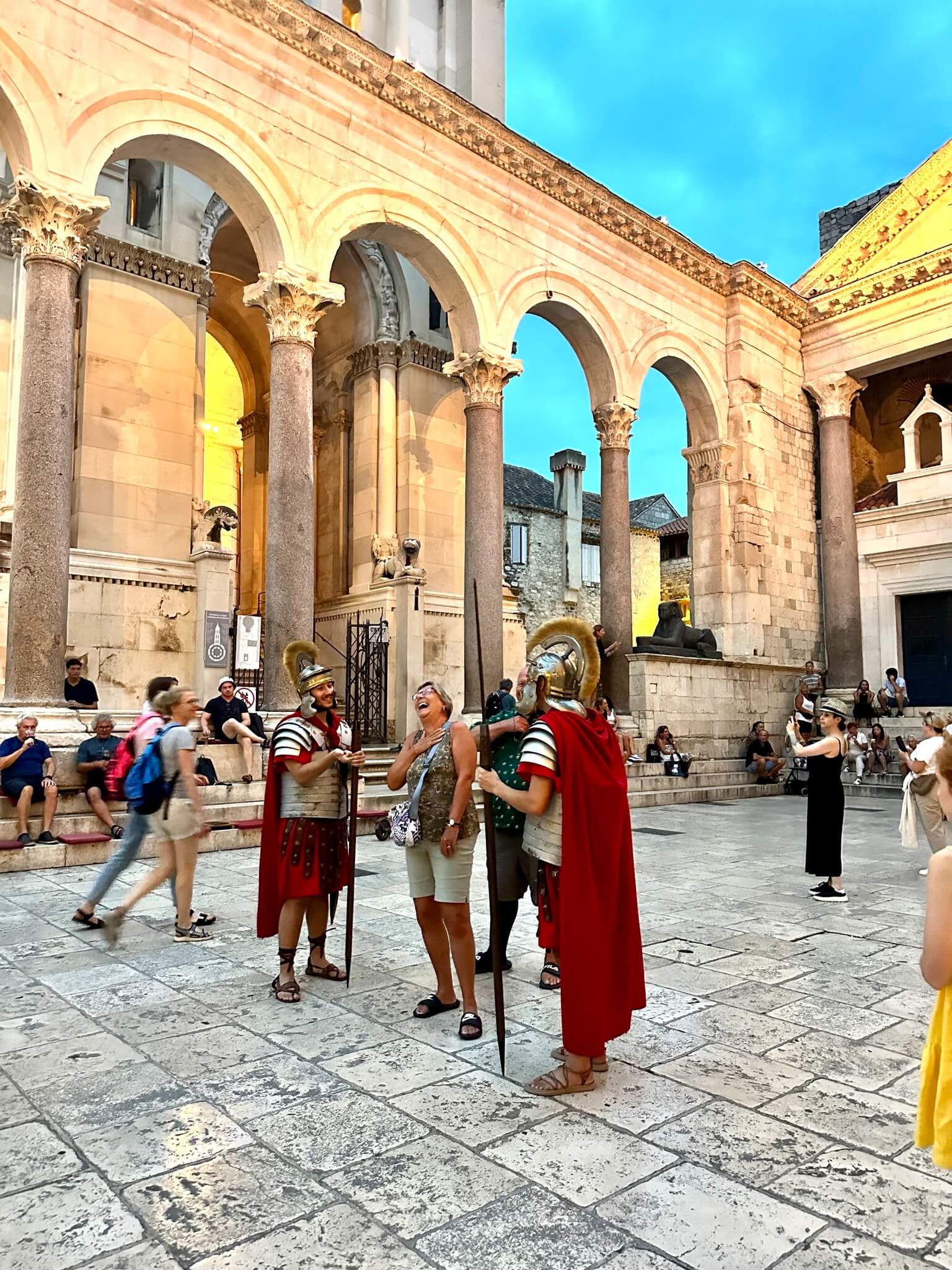 The Romans had their hands all over this place. You can find several Roman sites in Croatia. They were in Croatia from the third century BCE. And you'll find many UNESCO World Heritage Sites as well. Here are the most famous:
Diocletian's Palace in Split
The Roman Amitheater in Pula
The Roman Forum in Zadar
Andautonia near Zagreb
Croatia is famous for lavender
Croatia, particularly the island of Hvar, is well known for its lavender fields. Hvar is often referred to as the "Lavender Island" because of all of the lavender plantations. During the blooming season, the fields are gorgeous! The island produces high-quality lavender oil and various lavender products that you can see sold all over Croatia.
Croatia is known for its honey & cheese
One thing we saw all over the region surrounding Plitvice Lakes National Park was "Med & Sir" (honey & cheese) stands.
Croatia has a rich beekeeping tradition, and honey is an important part of its gastronomic heritage. Croatian honey is highly regarded for its quality, and there are several honey-related events and festivals throughout the country.
Cheese production is another significant part of Croatian gastronomy. The island of Pag, in particular, is famous for its "Paški sir," a hard, sheep's milk cheese that has a unique taste due to the island's specific microclimate and the diet of the sheep, which includes aromatic herbs enriched by sea salt carried by the wind. Whatever is going on with that cheese, it is delicious!
Croatia is famous for the Museum of Broken Relationships
I'd heard of the Museum of Broken Relationships when it was a traveling exhibit. It now has a permanent home in Zagreb. I don't think I've ever been to a museum where I've read every plaque and looked at every object. It was fascinating. The Museum of Broken Relationships is a collection of "things" that people hold on to after a relationship has ended, whether it was a breakup, divorce, death, or otherwise. The objects tell the story of the relationship. It is fascinating!
Croatia is an incredible country and you should definitely visit if you get the chance!
Croatia is known for its Christmas markets
Zagreb Christmas market in particular has been rated one of the best Christmas markets in Europe
If you're looking for a best European Christmas market that is fun, festive, and less popular than other markets, then it's a great choice.
Croatia is known for being a Schengen safe haven (not anymore!)
For many years Croatia was considered one of the most popular Schengen safe havens, a place to wait out your 90-day Schengen zone clock. But as of January 2023, Croatia has joined the Schengen zone, so expats may have to flee to other countries outside the zone.
Now that you know what this amazing country is famous for, I hope you're able to visit Croatia and fall in love like we did.