If you're wondering how to plan a family Europe backpacking trip, this guide to backpacking Europe will be essential. Discover why to go, how to go, where to go, and what to pack. You can also download my free backpacking Europe packing list.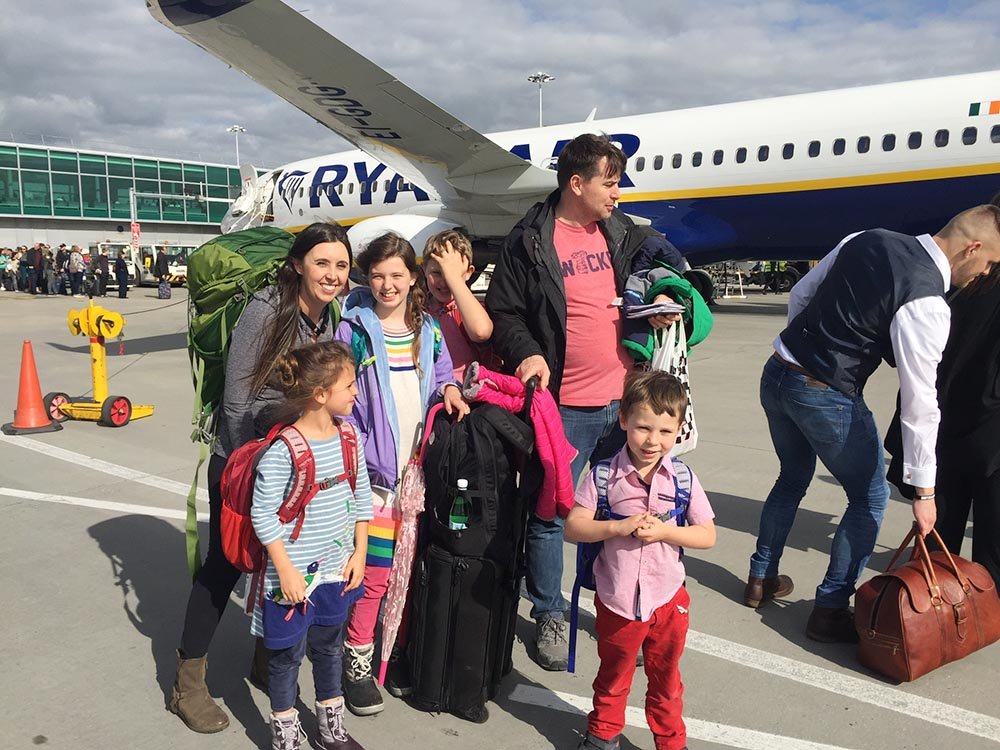 How to Plan a Family Europe Backpacking Trip
A few months ago I set off on a Europe backpacking trip with my four kids. First of all…my hats off to single moms! You're amazing! Having to mom alone for 3 months was HARD! And probably even harder while traveling through foreign countries. I've had about a million questions asking WHY we did it, and then asking HOW we did it. So I thought I'd answer them all here for inquiring minds. How to backpack Europe with kids…
Why take a Europe backpacking trip with your family?
There are many reasons to take a Europe backpacking trip with your family. I mean, it's Europe! So much to see, do, learn, and eat! But these are the main reasons I decided to do it.
1. To Save Money
I want my kids to see as much of the world as possible, but I have 4 kids, and they're expensive. Trust me, I have 3 in braces right now, they are expensive, and only draining my bank account more as they get older! Why did no one tell me this before I had kids?! Thanks, mom!
So, we've established that travel is expensive, but one of the biggest expenses of travel is airfare. Buying 5 flights to Europe is a heck of a lot cheaper than buying 20! Math! I decided it would be more cost-effective to buy flights to Europe and stay for several months to see as much as we could, rather than flying back and forth between the US and Europe all year long.
So I found cheap tickets to Europe, planned a 3-month backpacking trip (because why not), and off we went! For those interested, I detailed our backpacking Europe cost below.
Backpacking Europe Cost
How much does it cost to backpack Europe for three months you ask? I kept track of all our expenses and added them all up for you in this handy-dandy table! I think you might be surprised at how little we spent.
Expense

Cost

Expense

Cost

Flights to Iceland
$650 Total
Italy House
$1700

Iceland House

$800
Italy Trains
$300
Iceland Car Rental
$400
Italy Car Rental
$100
Iceland Food
$320
Italy Food
$400
Iceland Activities
$150
Italy Activities
$20

F

lights from Iceland to Scotland

$125 Total
Train from Italy to France
$360 Total

S

cotland House

$600
Paris Public Transport
$20

S

cotland Car Rental

$150
Paris House
$400

S

cotland Food

$300
Paris Food
$100

S

cotland Activities

$20
Paris Activities
$40

F

lights from Scotland to Greece

$57 Total
Train from Paris to London
$300

G

reece House

$200
London House
$400
Greece Car Rental
$100
London Public Transport
$40
Greece Food
$200
London Food
$100
Greece Activities
$0
London Activities
$100
Flights from Greece to Italy
$100
Flights Home
$800 Total
TOTAL
$9,352
So the total cost for 5 of us backpacking Europe for 3 months was $9,352. That's around $3,100/month or $1870/person. Not too bad eh?
We saved a lot of money and keep our costs down by renting houses instead of staying in hotels.
We wanted to stay around $3,000/month because we were renting out our house on Airbnb for around $4,000/month. So technically, we saved money by traveling Europe, just like we did last time we slow traveled Europe for a year. You can read more about how much we spent doing that here. 
Our backpacking through Europe cost was probably the same cost as some family's one week trip Europe trip. However, we did make some sacrifices to keep under our budget.
2. Resilience & Education
As many of you know, the main goal for us when we travel with our children is education. And I don't just mean learning the history of a castle we visit, but an overall education about the world and how to be a good human. We call this worldschooling and you can learn more about why we do that here and how we do that here.
If there's one thing that long-term travel teaches you, it's resilience. I wanted to teach my kids how to persevere and make sacrifices, while still having a good time exploring the world. I also wanted my kids to learn about all the amazing places we went to. We studied a lot of history and geography before we left on our Europe backpacking trip.
My kids definitely learned a lot on that trip. They learned to carry their own belongings, live with less, not beg for souvenirs, run when they needed to run, be kind to strangers, accept the kindness of strangers, be on their guard, and much much more!
We ran into a lot of difficult situations and they learned how to band together and be supportive of one another. They also learned that I am only human and can only do so much. This means that they learned how to help themselves.
Thinking About Taking a Family Gap Year?
Did you know that gap year aren't just for young adults graduating high school? They can actually be for families too. A gap year is a great way for your family to gain perspective, connect, and focus on what is truly important. I've got a great guide on how to logistically and affordably take a family gap year.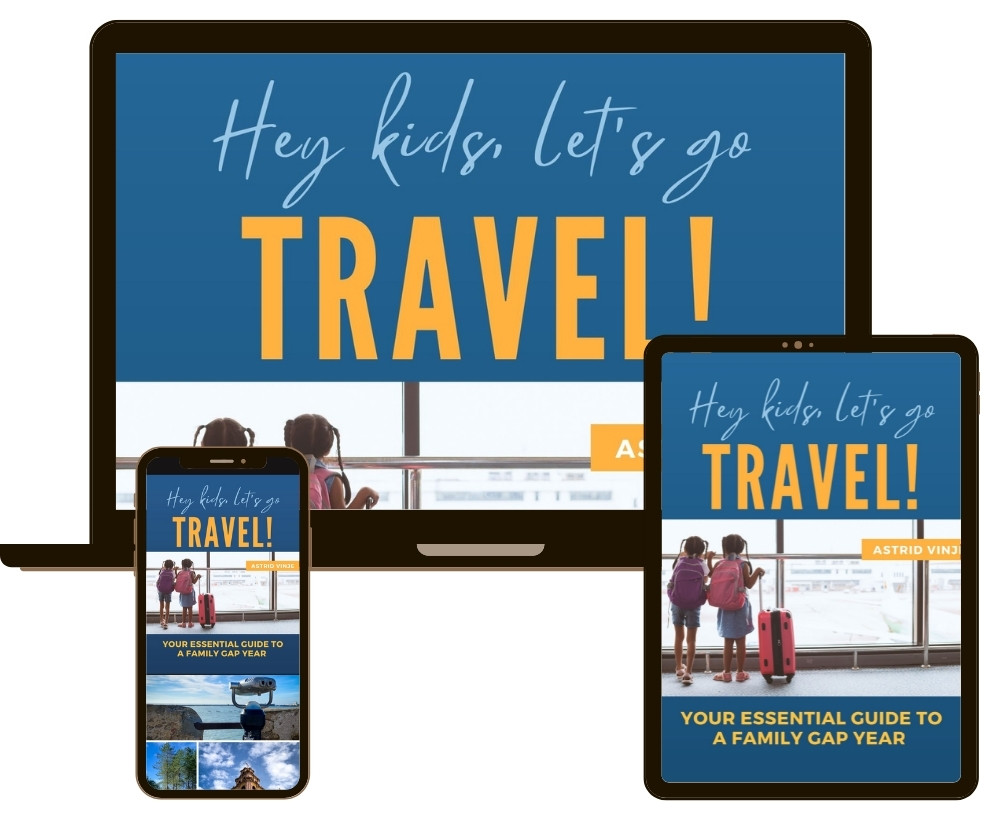 Where to go on a Europe Backpacking Trip with Your Family?
Now that you know why we went, I'll tell you our backpacking through Europe itinerary. Honestly, you can go anywhere in Europe, this is just where we chose to go for this trip.
Backpacking Europe Itinerary:
Week 1: Iceland
Week 2: Edinburgh, Scotland
Week 3: Outer Hebrides, Scotland
Week 4: Greece
Week 5: Florence
Week 6: Cinque Terre
Week 7-9: Sardinia
Week 10-11: Paris
Week 12: London
Gear You'll Need for Backpacking Across Europe
Before you even start planning your backpacking through Europe route, you'll need to make sure you have the right gear, otherwise, things can go very wrong. The main key is not to overpack.
Europe is a first world country and anything that you might need can most likely be purchased there! So don't stress over bringing your own diapers or tampons. I've outlined below the things that we brought with us to Europe that we couldn't have lived without.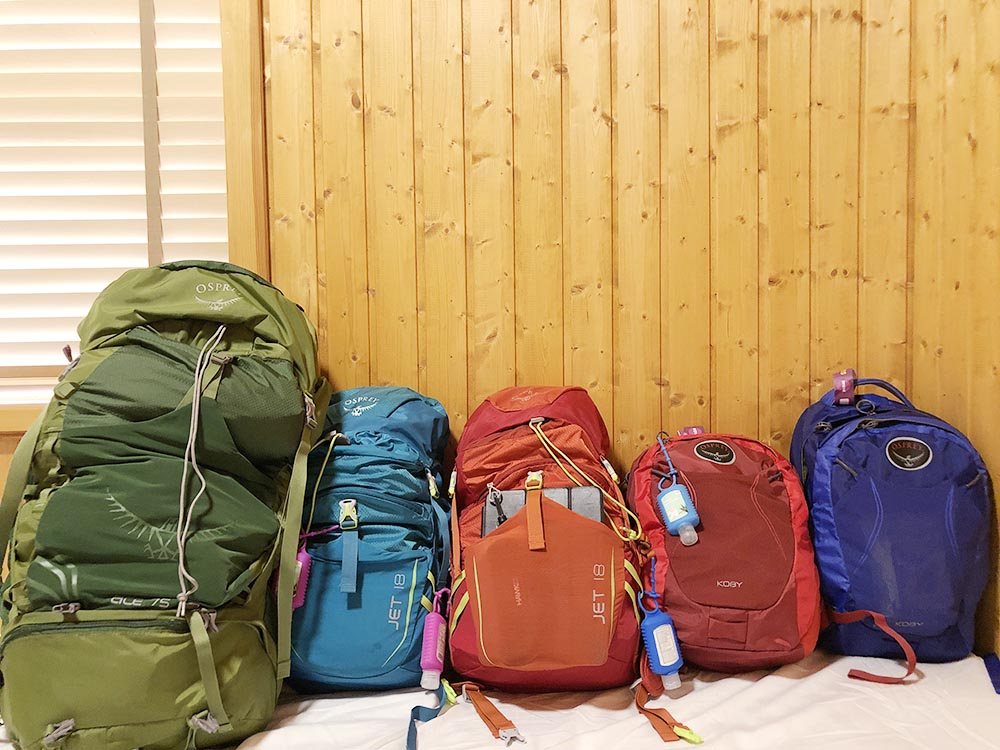 The Best Travel Backpack for Europe Backpacking Trip
Picking the right backpacks for our trip was essential! We would be carrying these packs several times a week, for several hours at a time, and for great distances. We would need to store them on trains, planes, taxis, buses, and cars. They had to be light when empty because we were going to pack these full of all our necessities for the next 3 months! I did a lot of research until I found the best backpack for Europe backpacking.
Backpacks for the kids
I'm not generally a brand loyalist, but when it comes to Osprey, I truly think they are the best backpacks for backpacking Europe! They are lightweight, durable, have lots of pockets and options for sinching and expanding, and most importantly, comfortable! Osprey has travelers and outdoor enthusiasts in mind when they design these.
I absolutely loved the Osprey Jet 18 backpacks for my kids. I spend a lot of time researching the best backpack for Europe and for kids. Osprey does an amazing job of making backpacks actually comfortable! Who would have thought?! The waist and chest straps that they provide are absolutely crucial to keeping kids comfortable while carrying all their gear through Europe for months.
These are not kids backpacking backpacks, but rather daypacks, as I feel the backpacking backpacks would be too much to carry for my kids. These Jet 18s surprisingly fit a lot in them.
I've recommended this backpack to several families backpacking with kids and they have all loved it! It's a great backpack for ages 5-18 due to its ability to squish down so small or expand larger. It also makes a great daypack for adults. I usually took one of these Osprey Jet 18s as a daypack during our travels. You can purchase the Osprey Jet 18 here.
Learn more about the best kids travel backpack options for all ages.
Backpack for Adults
Obviously, you'll need a bigger backpack while backpacking through Europe. You'll most likely be carrying the extra gear like laptops, cameras, and toiletries that the kids won't be using. This is my personal backpacking Europe backpack. I used this Osprey Ace 75 and it served me well. It's actually a kids backpacking backpack, but I am petite with narrow shoulders so it fit me well. This backpack has a lot of options for expanding and shrinking just like the Jet 18, but it's much larger. I would say it's around the size of a carryon suitcase. When filled to capacity it did get quite heavy though! You can purchase the Osprey Ace 75 here.
I often wished that the backpack had hidden wheels. Not until after my backpacking trip did I discover that Osprey DOES, in fact, make a backpack with wheels. Backpackers rejoice! If I did this trip over again, I think this is the best backpack for backpacking Europe! It's called the Soujourn Series and can be wheeled like a carryon suitcase or carried like a backpack, complete with waist and chest straps! The Soujourn comes in 80L, 65L, and 45L sizes. I think the 65 would have been what I would have chosen. You can purchase the Osprey Sojourn here.
If you're not child sized, I've had my eye on this Osprey Renn 65 which seems to have around the same specs as the Ace 75 (the Renn is a few inches shorter), but is made for women, which means the straps are curved to allow more room for your breasts! Winning! You can purchase the Osprey Renn 65 here.
Packing Cubes
Packing cubes will be absolutely essential to your packing and your sanity! They will help you to keep everything organized and compressed so that clothing fits nicely into the backpacks. My two little kids each had one medium-sized packing cube. My 10-year-old had a medium packing cube and one small packing cube, and my oldest had one large packing cube. There was really no rhyme or reason to this, it's just how it went down when I divided our cubes out.
We used packing cubes that I bought from Target, however, they were pretty flimsy, so after this trip, I invested in a set of these new packing cubes which have proved to be much sturdier! You can purchase packing cubes here.
Clothing for Backpacking Europe
What to pack for a Europe backpacking trip for kids
4 shirts/dresses
3 pants/shorts (depending on the season)
4 socks
4 underwear
1 pajamas
1 swimsuit
water shoes/sandals
hiking shoes/sneakers
heavy or light jacket depending on where and when you're going
warm hat or ball cap depending on weather
Here's the line up for what we packed for our Europe backpacking trip: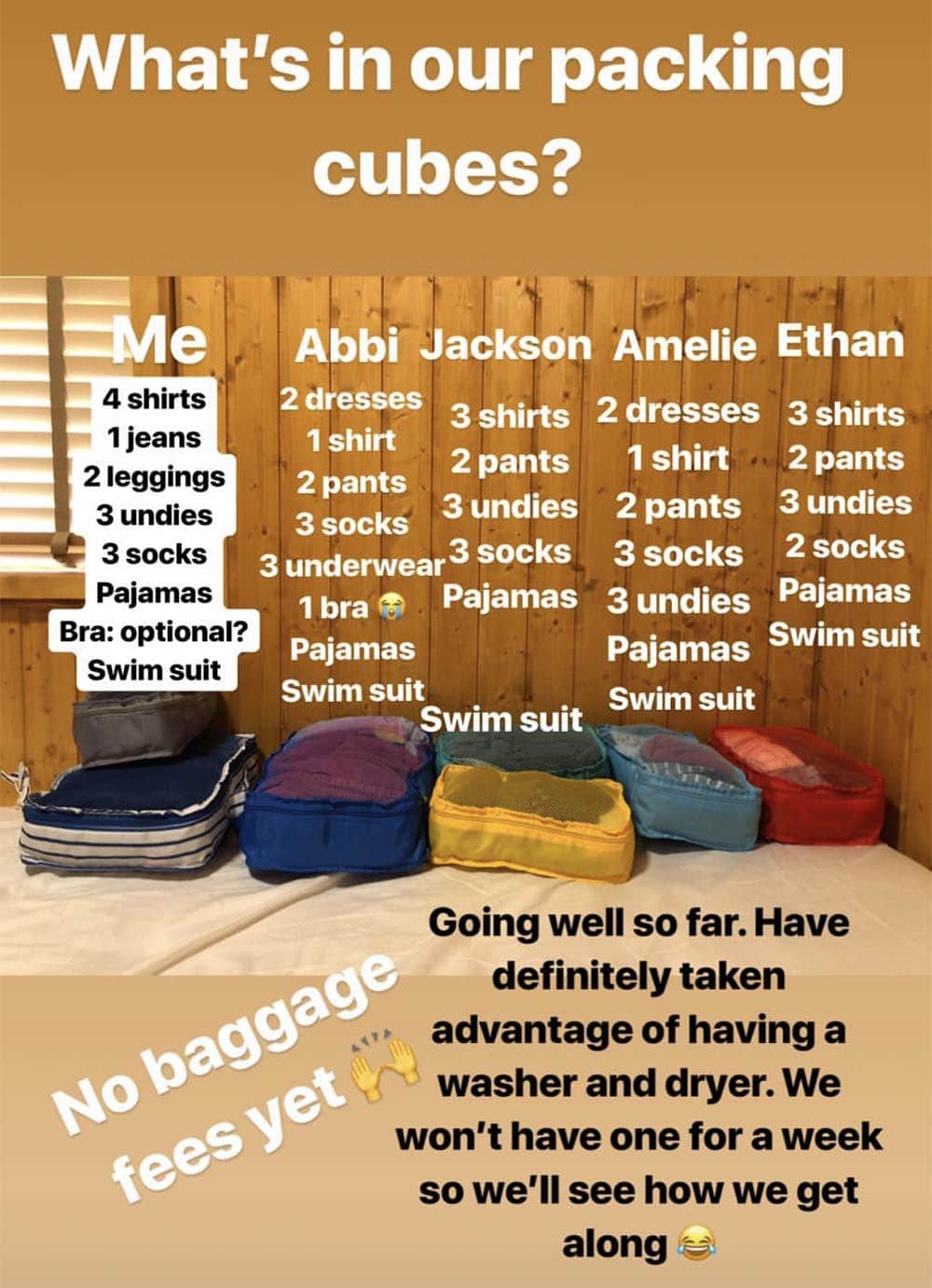 This is what went inside of each of the kids packing cubes, give or take a few things, plus what they wore on the plane (dress/shirt, pants, underwear, socks, jacket, etc.)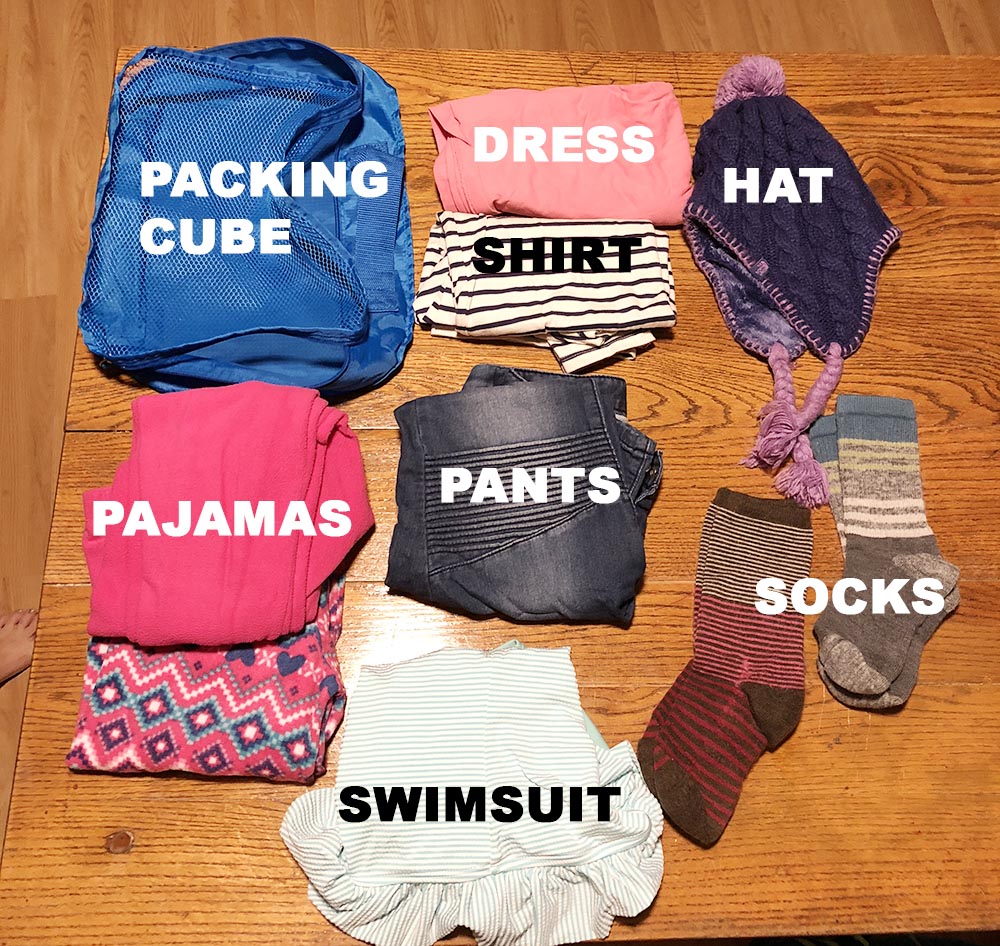 The packing cubes went inside of our backpacks along with a few other things:
Bag of snacks
Antibacterial
Boogie Boards
Games
Toiletries
Shoes
Binoculars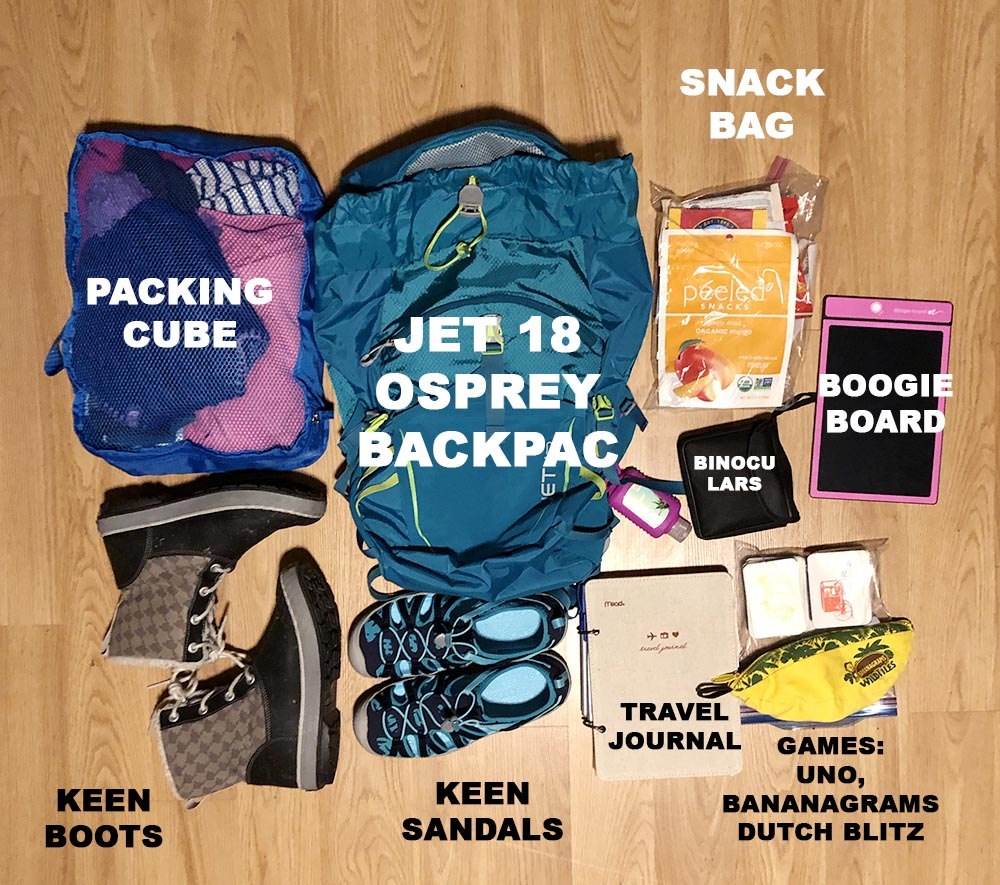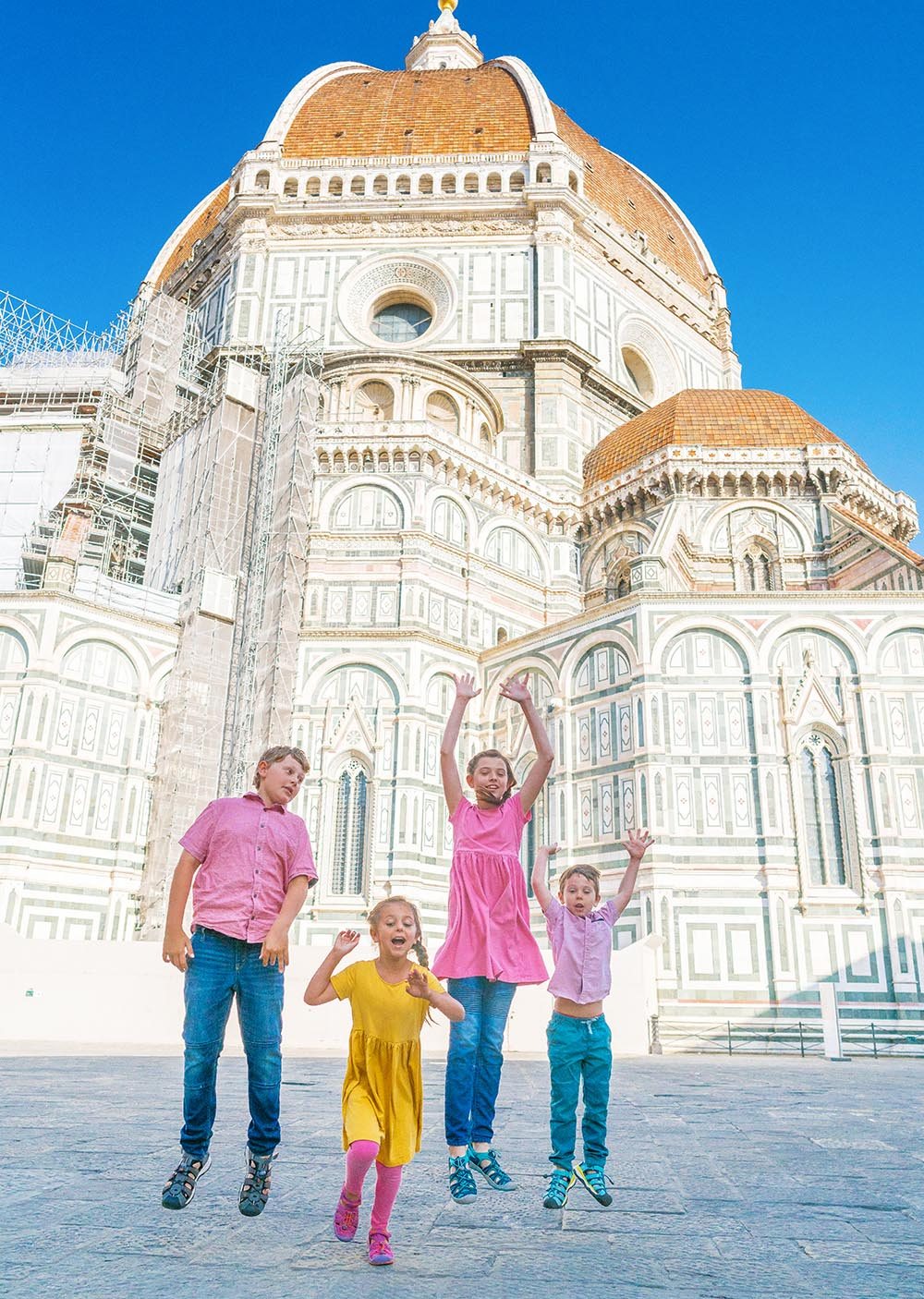 My favorite kids' clothes for backpacking Europe
Primary: We LOVE Primary. We've been using their adorable kids' clothes for the last 4 years since they first started. Their clothes are simple, logo-free, high-quality, soft, durable, affordable, and they wash and dry well. What more could you want from a clothing company? You can find them here. Use code WANDERLUST for a special discount.

KEEN Footwear: We love KEEN shoes for our kids. They only have 2 pairs of shoes each year. KEEN boots in the winter and KEEN sandals in the summer. We took both pairs on our Europe backpacking trip. The kids wore the boots during travel days to save room in their bags and wore their KEEN sandals while at our destinations. You can find their girls' KEEN sandals here, the girls KEEN boots here, the boys KEEN sandals here, and the boys KEEN boots here.
My favorite kids' activities, snacks, and games for backpacking Europe
Games: Having small, portable games for the kids is essential while backpacking through Europe. There will undoubtedly be long travel days on planes, trains, or boats. Games are also a great way to bridge the gap between language barriers. My kids have made many friends over a game of UNO! These are three of our favorite games for traveling.
Activities: Having these three things gave my kids plenty to do when they had to be by themselves. They're also great when everyone just needs to be separated! Some of my kids didn't love writing in their travel journals, but I'm so glad they have them now. It was fun to come home and put pictures in them later. Boogie boards are great because the kids can still draw, write, or play games like hangman or tic-tac-toe without having to carry around a bunch of paper. And of course, an iPad or Kindle is essential and can be loaded with e-books, games, and movies for those long plane rides!
Snacks: Of course snacks will be a necessity. You won't be able to pack snacks for your entire trip, and you'll be able to find plenty of food in the shops in Europe, but these are our favorite go-to's for traveling.
Dried Mangos
These are the best dried mangos out there with no sugar added.
Smart Sweets Gummy Bears:
Totally addicted to these and only 3 grams of sugar in the whole bag!
CLIF Bars:
These are great as an on the go meal, especially when breakfasts can be hard to find in Europe.
Here are even more tips for what to pack in kid travel backpacks.
What to Pack for a Europe backpacking trip for Women
3 shirts
1 dress
3 pants/shorts (depending on the season)
4 socks
4 underwear
1 pajamas
1 swimsuit
water shoes/sandals
hiking shoes/sneakers
heavy or light jacket depending on where and when you're going
warm hat or ball cap depending on weather
My favorite gear for backpacking Europe
To be completely honest, I don't have a ton of opinions about my own clothing. I really like wearing dresses for reasons like my undercarriage can breathe, no waistband to restrict trying delicious food in Europe, and they're much cooler. I buy my dresses from all over the internet and from lots of thrift store browsing, and almost always pack more dresses than pants!
However, I do have strong opinions about three items that are my absolute favorites!
Eddie Bauer Boots: These Eddie Bauer boots are quite possibly the best thing that have ever happened to me! Not only are they the most comfortable shoes I've ever owned (ask anyone I know…they've heard me rave about these boots), but they are waterproof, AND they come with a lifetime warranty. I bought a pair over 5 years ago and I wear through the soles about every year and a half because I wear them everywhere! When they wear out I just bring them to any Eddie Bauer store (even though I bought them on Amazon) and they give me brand new ones! They're the BEST investment I've ever made. You can buy them here.
TEVA Sandals: I love TEVA sandals for many reasons. They're durable, well made, cute, lightweight, waterproof, etc. But most of all I love them because they are comfortable, which is my #1 priority when picking shoes to travel through Europe for months with. I own several pairs of TEVA sandals, but these are the ones I'm wearing right now. They're pretty versatile and can go with hiking attire or a sundress to church. You can purchase them here.


Jean Jacket: I know, I'm like so totally 90s! Or 80s? Do jean jackets ever really go out of style? I got this jean jacket in a StitchFix box about 6 years ago! Are people still doing that? Anyway, I wore it for years and years until I finally wore out the elbows! Bless Amazon for carrying everything! It's super stretchy and comfortable (can you tell comfort is key for me?) and it literally goes with every outfit (I'm even wearing it in the picture above and didn't notice ha!) It's warm, but not too warm and the pockets on this jacket are angled in such a way that they hold my phone and wallet perfectly without falling out. Meaning I don't have to carry a purse! I know, it's the little things! I know it's just a jacket, but it's one of those things I would cry about if I ever lost! So, let's be twins! You can purchase my favorite jean jacket here.
Toiletry Essentials for Backpacking Europe
Dry Shampoo: It is crucial to bring a good dry shampoo! You never know what shower conditions will be like or how many travel days you'll have in between washing your hair. I've recently discovered this amazing Chia Seed Dry Shampoo by HASK and it has changed my life, meaning I no longer shower! It doesn't leave a white residue like most dry shampoos (how DO they do it?) and it's light meaning it doesn't leave my hair feeling like I just dumped a ton of baby powder in it. It sprays on in a sort hairspray-like consistency and it's just the best. I recommend brushing your scalp with vigor at night and then spraying it in. It sounds weird, but trust me! I have fine, thin, oily hair and have learned over the years how to deal with not being able to wash my hair daily. (sorry TMI) I only buy it in travel size because I travel so much. You can purchase it in a six pack here.
pH Balancing Wipes: Isn't this a fun topic?! While traveling, things can get messy and sweaty and as I mentioned above, showers may not always happen, especially if you're traveling by overnight trains! These pH balancing wipes are great for keeping everything clean and avoiding infections or fungal growth. Yes, I said it! Growing up and traveling with my grandma, she'd call this a "whore's bath." LOL! Ah, the memories! I like these "Down There Wipes." You can purchase them here.
What to pack for a Europe backpacking trip for Men
3 shirts
1 dress
3 pants/shorts (depending on the season)
4 socks
4 underwear
1 pajamas
1 swimsuit
water shoes/sandals
hiking shoes/sneakers
Heavy or light jacket depending on where and when you're going
Practical Things to Pack for Backpacking Europe
A really awesome Fanny Pack
I honestly don't know how I lived before I started using fanny packs. I mean, obviously, I used them in the 80s and 90s! I don't know why these ever went away, but I'm so happy that they've regained their coolness factor! It's so great not to have to carry a purse and put all the weight on my hips instead! Plus, they're so cute now! No more neon though, bummer! I'm obsessed with my faux leather "Fawny Pack" from Fawn Design. You can purchase yours here.
Portable WiFi Device
Unless you have a really great phone plan that has affordable international data service, you'll definitely need some way to connect your phone. I rely on my phone for so many things, but mostly I need my maps for getting around. Google maps and Apple maps both have great public transportation routes and information that are invaluable while backpacking through Europe. But they all require WiFi or cell service. I use Skyroam which costs $9/day and it's so worth it. I also love it because it acts as a portable charger as well! How cool is that! You can purchase a Skyroam Solis device here. Use code WANDERLUSTCREW for a special discount!
International Power Adapter
You'll want to make sure you have a good multi-country international power adapter that will work throughout Europe and the UK. While I prefer to have country-specific adapters for most of my trips, it's just not practical for a multi-country trip. I have this adapter and it's the best multi-country one that I've tried. I like that it has the extra USB outlets on the plug as well so that you can plug in two USB cords along with a regular plug for a laptop or curling iron. You can purchase this adapter here.
Portable Phone Charger
You'll definitely want a portable charger for your phone while backpacking Europe. With long days of travel and exploring, and using your Maps, your phone will die quickly. I love this portable charger. I've had it for years and it has never failed me. The best part of it is that it has cords built-in and has an iPhone cord and a micro USB cord so I can charge my phone, iPad, headphones, camera charger, etc. It's a little pricey, but it works so well an has lasted so long that I think it's a worthy splurge. You can purchase it here.
Portable Luggage Scale
For this Europe backpacking trip I invested in a portable luggage scale since I knew we would be flying lots of budget airlines that required you to keep your bags at a certain weight. It was definitely a necessity. Raise your hand if you've ever flown Ryanair! You'll know what I mean. You can purchase the one I used here.
Fitness Tracking Watch
I'd love a Fitbit, but unfortunately, it's beyond my budget. I found this Fitness Tracker Watch on Amazon years ago and I'm totally obsessed with it. It's only around $30 too, much cheaper than a Fitbit, but basically does the same thing. I loved it so much I bought my kids each one too. It's awesome because they like to compete for the number of steps each day. You can set a goal, like 20,000 steps and when you reach it you receive a "trophy." This has been an amazing motivator for me and my kids! You can purchase on here.
A great camera
With all the incredible sites you're about to see while backpacking Europe, you'll want to be sure you have an excellent camera, but one that is not huge. A few years ago I traded in my bulky DSLR Canon camera for a much lighter and smaller Mirrorless Sony. I have the a7rii and love it. You can find my camera here.
If that's not in your budget (I saved up for 8 years) then I would definitely get the Sony a6000. Much cheaper, even smaller than my camera, but still takes awesome shots! You can purchase it here.
I recommend using a 24-70 zoom lens for travel. It will give you good range with good depth of field. I like this Zeiss model. Don't get too caught up on the quality of cameras. The best camera is the one you have on you. If you only use your phone, that's great too!
If you would like some tips you can read my 12 tips for family travel photography.
Portable Wash Bag
Since you'll only be taking a few items of clothing to Europe in your backpack, you'll need to wash fairly frequently. Many times, you may not have access to a washing machine or you may not have time to sit around in a laundromat. It's helpful to have your own little portable wash bag and also your own powder detergent so that you can wash when you want to.
These are especially handy for washing your underwear in a pinch. We brought one and used it at least once a week! They take up almost no room, so even if you don't end up using it you won't feel bad, but they are seriously a necessity!
Laundry Detergent Packets
So you don't need to haul an entire package of laundry detergent around with you, these laundry detergent packets will be essential. I suggest packing at least 1 per week of your trip. If you don't have room, don't sweat it. You can always buy detergent in Europe! You can find these Sink Suds here.
Clothespins & String
Along with washing your own laundry, you'll need to hang dry your clothes. Having your own clothespins and string can be helpful for hanging drying laundry in random places. We've dried our clothes in the strangest of places before, but you can't have wet underwear! Purchase clothespins here and string here.
Travel First Aid Kit
You never know what's going to happen on the road. It's best to be prepared for anything. A small travel first aid kit takes up almost no space but can be invaluable. My daughter sprained her ankle in Iceland and had to have it wrapped for several days. Now if only I could pack crutches in that backpack! You can purchase one here.
Reusable Collapsible Water Bottles
I love my Hydroflask, but they are big and heavy and take up quite a bit of space. I like using these reusable collapsible water bottles when we are tight on space. You can purchase them here.
Eyemask and Earplugs
I'd say this is for the loud planes, trains, and unfamiliar and bright bedrooms, but let's be honest, this is really to block the kids out. Amiright?! Nevertheless, if you're backpacking with kids or without, these are essential items to bring with you. I love these eyemasks that look like bras for your eyes, but they're great because they allow room for your eyelashes, which has always been a major complaint of mine. And you can get earplugs for a few bucks. Purchase the eyemask here and the earplugs here.
Good Headphones for you and the kids
With all the traveling you'll be doing between destinations, you'll want to have some form of entertainment for you and the kids. Whether that's audiobooks, games, movies, or ebooks, you'll probably want a good pair of headphones that don't take up much space in your backpack. And you may have some days where you just need to tune each other out. I won't judge! Been there, done that!
I've had these LG Bluetooth headphones for about 3 years now and they're the best. I know everyone is raving about AirPods, but I cannot get those suckers in my child-sized ears apparently. This headset comes with several size options for the earbuds. You can purchase them here.
I like these Sony headphones for the kids. They take up a little more space, but they do fold up really nicely. They're great for younger ones who aren't quite big enough to use earbuds. You can purchase those here.
Backpacking Europe Packing List
If you'd like a quick printable backpacking Europe packing list, you can download this here. This backpacking Europe checklist will help you keep your stuff organized and ensure you don't leave anything behind.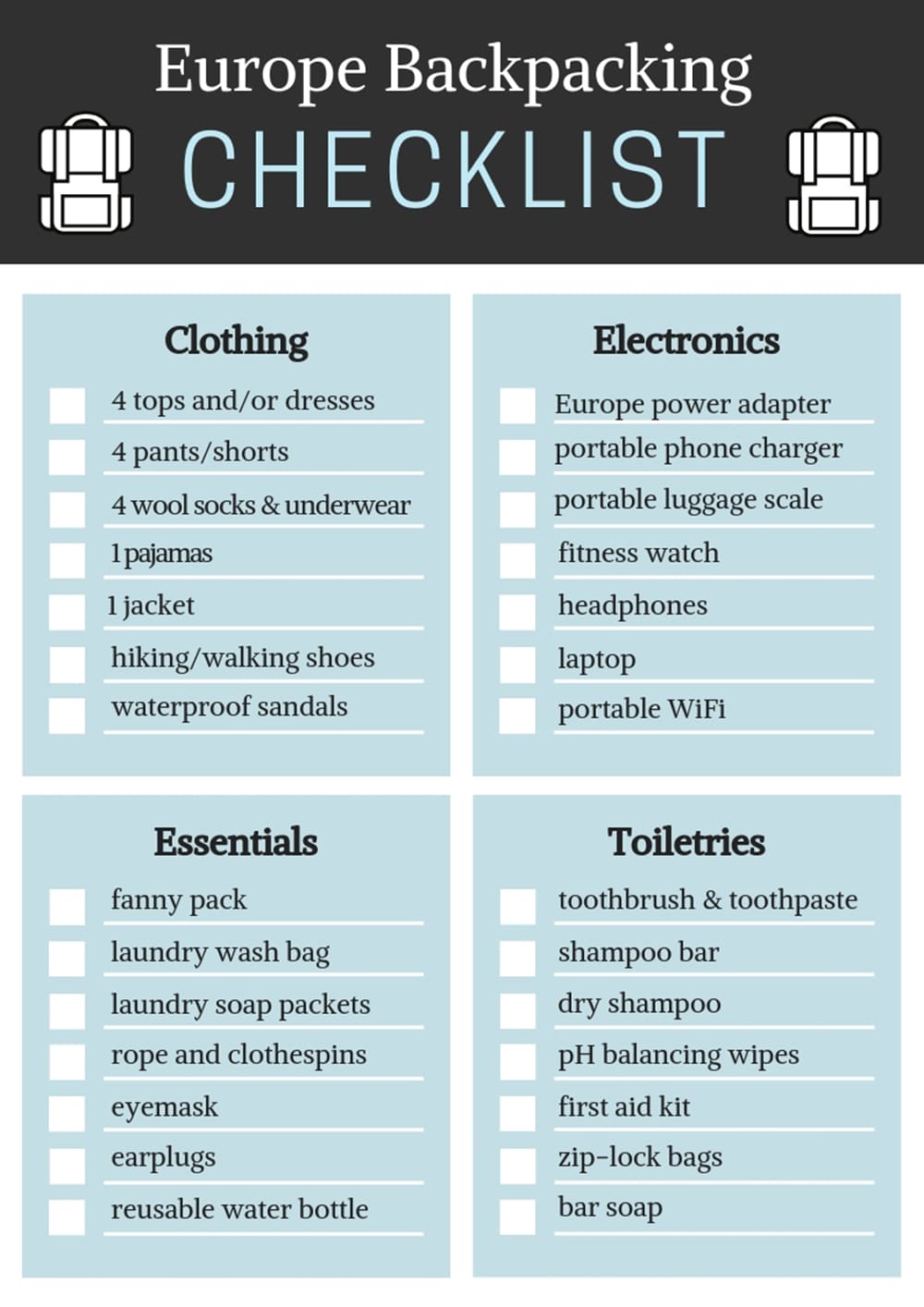 How to Backpack Europe with Kids
Before going, be sure to read my tips for visiting Europe. I learned a lot during our 3 months backpacking around Europe and I want to share my most important tips for backpacking Europe with kids so that you don't make the same mistakes I did. How to backpack through Europe without getting stressed:
Don't over-plan: Part of the fun of backpacking around Europe is being able to be flexible and enjoy the journey. It's difficult to do that when each day is scheduled out to the max. Make time to sit quietly by the ocean or to reflect in an ancient church. All totally easy things to do with kids right?!
Don't go too fast: I recommend spending at least one week in each stop. Unpacking and packing can be time-consuming and stressful. You'll also need to give yourself a few days to wash and dry the laundry.
Plan downtime: This is especially important if you'll be traveling at a fast pace. Kids and adults both need down days mixed in with travel and exploring days. Playing tourist is fun, but some days you might just need a day to rest, watch Netflix, and cook a meal at home. Incorporating some "real life" activities into your travel can help to prevent travel burnout or homesickness.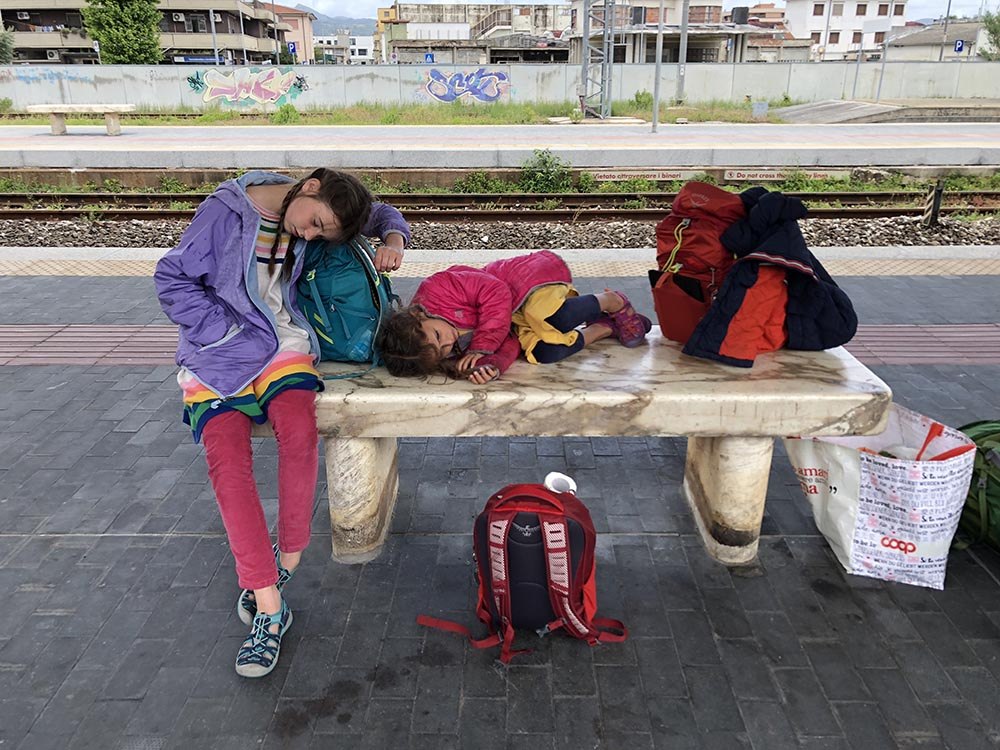 Give yourself plenty of time on travel days: Travel days always take longer than you think and they always take more out of you than you think. Give yourself plenty of time before flights and trains so that you're not stressed. You never know who will have to go to the bathroom just before getting on a bus!
Don't overpack: When packing for your Europe backpacking trip, be sure to have the kids try out their packs. Make sure they can walk around with them for at least an hour without breaking down.
Train for your Europe backpacking trip: Backpacking through Europe will be much more physically demanding than you might think. Even if you're not doing any hiking, just moving from one place to the next with your kids and all your stuff is taxing! Be sure you and your kids are in top shape before leaving. Take long walks with your packs, go on hikes, count your steps using a fitness tracker watch and see if you can get around 20,000 each day, which is probably the minimum you'll do for backpacking Europe.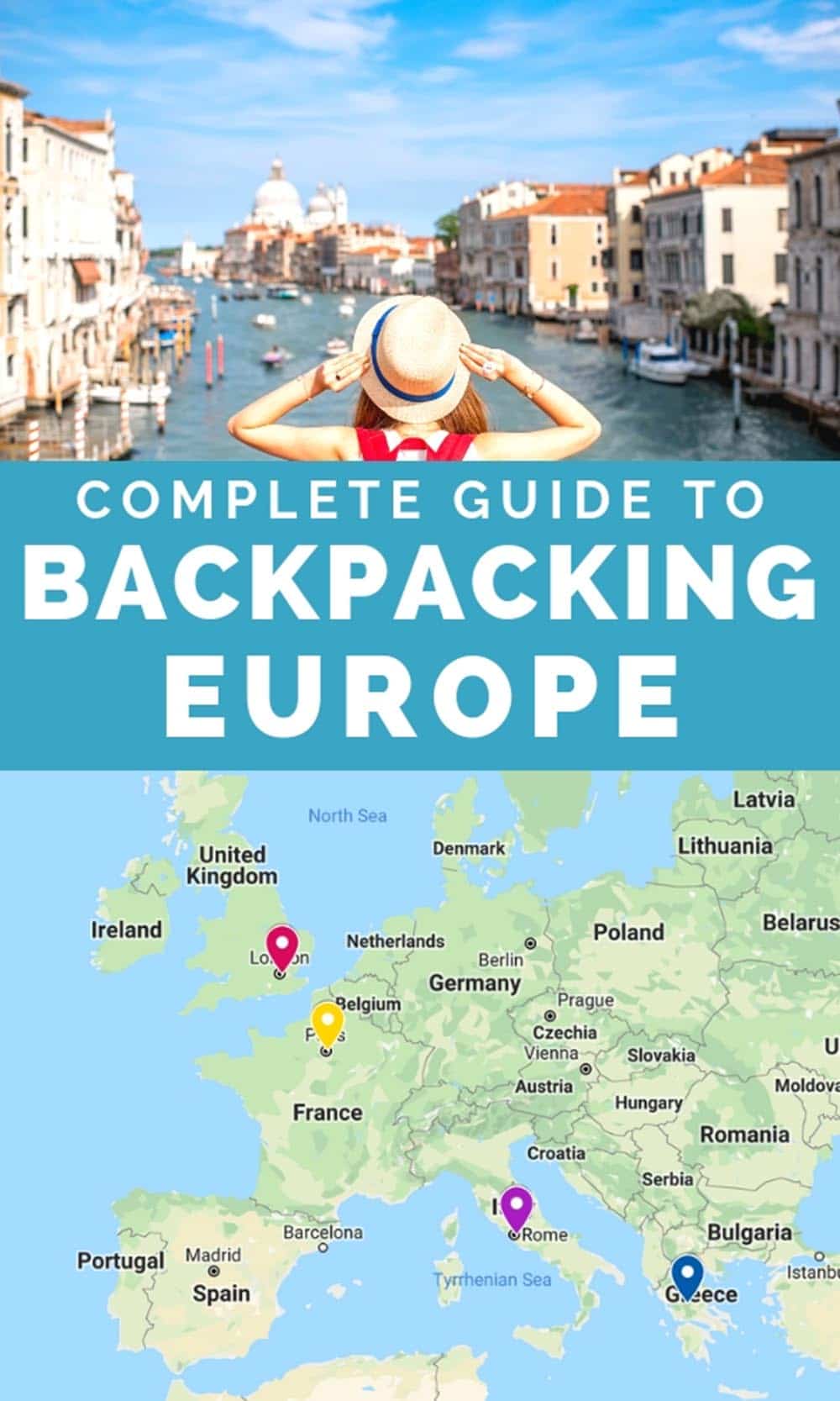 I hope you're feeling more confident about your Europe backpacking trip. It takes a lot of planning and a lot of patience, but you will have an incredible time. Just remember nothing always goes as planned, so don't get upset if that happens. Just roll with the punches and enjoy the journey!
If you need help planning your Europe backpacking trip, please get in touch with me via email, Facebook, or Instagram.