This post was sponsored by TripAdvisor who covered my tour in Rome, all opinions are always my own.
Things to do in Rome in One Day
Rome is a great place to start your trip to Italy. Many connections to other places in Italy go through Rome, and since many of the cheapest flights are to this incredible city, there's a good chance that you'll be able to visit Rome in a day at the very least. Rome wasn't built in a day, and it really shouldn't be seen in a day, but sometimes when you plan a trip to Italy, chances are you'll spend at least one day in ancient Rome, and it's best to have a plan with such a small window.
When I took my niece to Italy this summer, I knew we would only have one day to see the city and I was determined to make the most of it. Rome is quite a large city, covering nearly 500 square miles built over seven main hills. Don't worry, you' won't need to cover all of those miles in one day to get the most out of the city. There are so many things to do in Rome that it may be hard to pick and choose if you've only got one day. TripAdvisor offers hundreds of tours in Rome, offered by large companies and small local businesses that allow you to get the most out of your time in the ancient city.
Where to Stay in Rome
I always suggest that if you only have one day in Rome, try to stay as central as you can to the old part of the city, known as Centro Storico. Near Piazza Navona is a good location, as you can walk to many of the most famous sites, like the Trevi Fountain, Pantheon, Eternal City, Roman Forum, St. Peter's Basilica, Sistine Chapel and it's not too far from the Vatican museums when visiting Vatican City. This is a fantastic guide to help you decide where to stay in Rome.
Things to do in Rome in One Day
Get Up Early
If you've only got one day visiting Rome, wake up early! It will be worth it. Strolling the ancient streets as the sun rises is a beautiful thing. Plus you'll beat the crowds and get the best pictures! If you're staying near Piazza Navona you can easily walk through the square and admire the fountains. Then head to the Pantheon which is a beautiful site in the early hours. You can almost feel what it would be like hundreds of years ago!
From there, walk to Trevi Fountain. It won't be too crowded early in the morning but guaranteed you'll catch a few brides there at the right time of year. Toss a coin in the fountain if that's your thing.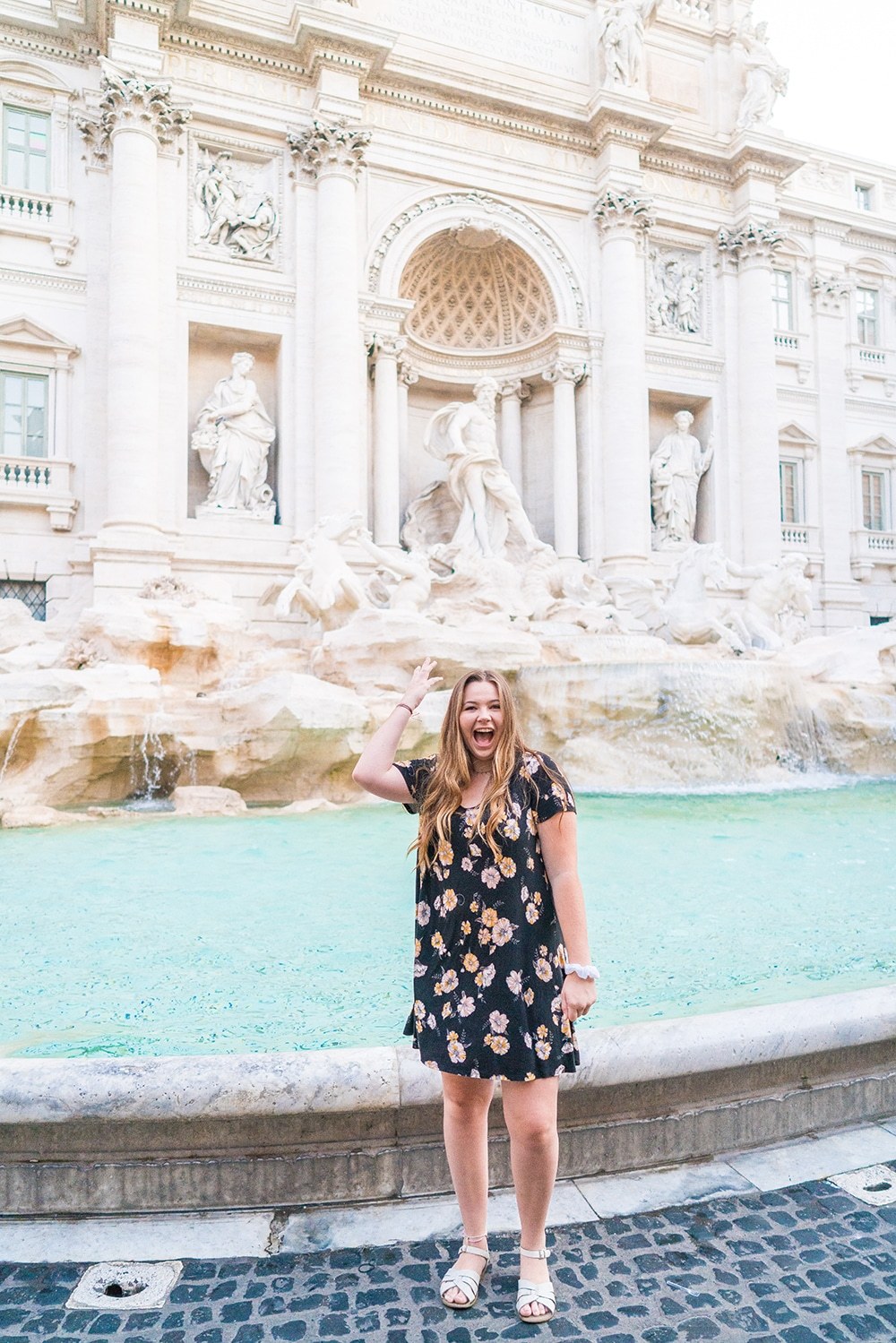 From the Trevi Fountain, walk to the Spanish steps and climb up before anyone else is there.
Stop for a hot chocolate or espresso (or if you're like me, gelato) on your way back to the hotel and then prepare for your next adventure!
Take a Vespa Tour Through Rome
Much of Rome can be done on foot if you're in good shape and don't mind walking long hours on cobblestone streets, but I recommend a faster and much more fun mode of transport to see the sites and roam around the city center. If you're going to see Rome in a day, this is the way to go!
If you really want to feel like a local Roman and see most of Rome in a short period of time, taking a Vespa tour of the city is a great choice. If you like the thought of zipping down windy streets and feeling the wind in your hair as you cruise by the Colosseum, but don't want the stress of driving a Vespa yourself, TripAdvisor offers an amazing Vespa Tour.
I booked our Rome Vespa Tour on Get Your Guide, which was a simple process. Our guides were right on time and picked us up directly from our hotel. Tours leave at 10 am, 3 pm, and 7 pm. I like to recommend doing the Vespa Tour first thing in the morning so that you get your bearings around the city.
I was a little nervous hopping on the back of the Vespa, but it was much more comfortable and felt safer than I had imagined. By the end of the tour, I was taking selfies and riding hands-free! I was really impressed with the amount of area we covered around Rome.
But the tour wasn't all riding. We took multiple breaks to stop and talk about interesting things around Rome. We didn't only cover the main touristic sites, but our guides took us to interesting historical places, hidden churches, and incredible views across Rome. I was really impressed by all the history that our guides knew. Not only did we have a blast riding around Rome, but we learned so much about the history and culture of Rome! This is the best tour I've ever done…anywhere! And that's saying a lot!
Book a Photoshoot
We always love to book a photoshoot when we're traveling. As a mom, it's tough to get in the photos since I'm always behind the camera. We love using Flytographer to capture our memories. You can get $25 off your shoot by booking with this link or using code WANDERLUST.
Take a Cooking Class
Rome is known for its incredible food. From homemade pasta, sauces, pizza, gelato, tiramisu, Suppri, artichokes, cheeses, fish, meat, bread, and more. Taking a cooking class in Rome provides you with a way to really connect with the food and the people of this city.
There's no better way to experience the food scene in Rome than by taking an authentic cooking class. For our class, we met at the famous Campo de Fiori, the oldest market in Rome, where we experienced how locals shop and tasted oils, vinegar, and truffles.
Our teacher was amazing!We then walked to the home of our teacher and learned to make pasta dough, sauce, and tiramisu. We learned different techniques for cutting pasta, and then, the best part, we ate our creations!
I've taken many cooking classes and this one has by far been my favorite! Sylvia was an amazing host and teacher and I'm so excited to take all my Italian cooking knowledge home with me. I love booking tours and classes on Airbnb because you get such an authentic experience! You can book Sylvia's cooking class here.
Eat Dinner in Trastevere
Spend some time walking along the Tiber River and then head to Trastevere, one of the oldest and most authentic neighborhoods in Rome, and eat dinner here. There are many amazing restaurants and the look and feel of the area is like a movie set, with laundry hanging from windows and narrow cobbled streets.
Finish the Day with Gelato
A trip to Rome, even one done in a day, wouldn't be complete without eating at least a few scoops of gelato. Your Vespa tour will include gelato, but at the end of the evening, I recommend walking to Gelato del Teatro from Trastevere (you'll work off your dinner by then) and grabbing a scoop from my favorite shop. If you're into Sorbetto like I am, then this place will be your favorite. Freshly made flavors like fig, peach, pineapple mint, lime basil, grapefruit, and more are staples here along with the more traditional Straciatella, Niocolo, and Fragola.
Obviously, there is so much more to do in Rome, but this is a great taste of the city for just one day. If you don't want to do a tour, you can also check out this list of free things to do in Rome. And if you're lucky enough to stay for a few more days, check out this itinerary for four days in Rome. And be sure to read this if you're visiting Rome with kids.
I hope you have an amazing day in Rome! It's definitely a city I could spend years exploring, but after several trips to this beautiful culture-rich city, this is my favorite one-day itinerary for Rome! Have you been to Rome? I'd love to hear what your favorite thing to do in Rome is? What would you do if you only had one day?
Best Tours in Rome
An exciting half-day tour of Eternal City, by Vespa! This tour allows you to discover the Eternal City in a unique and unforgettable way. While bustling in central Rome, you'll get to learn about the history of Rome, from ancient emperors to the modern metropolis, and get an insider's glimpse at some of the city's best-kept secrets.
Here are the highlights of this tour:
Travel in style and ease just like the Romans do
See ancient highlights and tucked-away treasures
Hop off to walk around monuments like the Trevi Fountain and Colosseum
Enjoy the personalized attention of a private guide
I've previously written this blog for all the great food tours you can find in Rome. Most are guided tours which includes a professional chef and instructor who will teach you about the local flavors and traditions.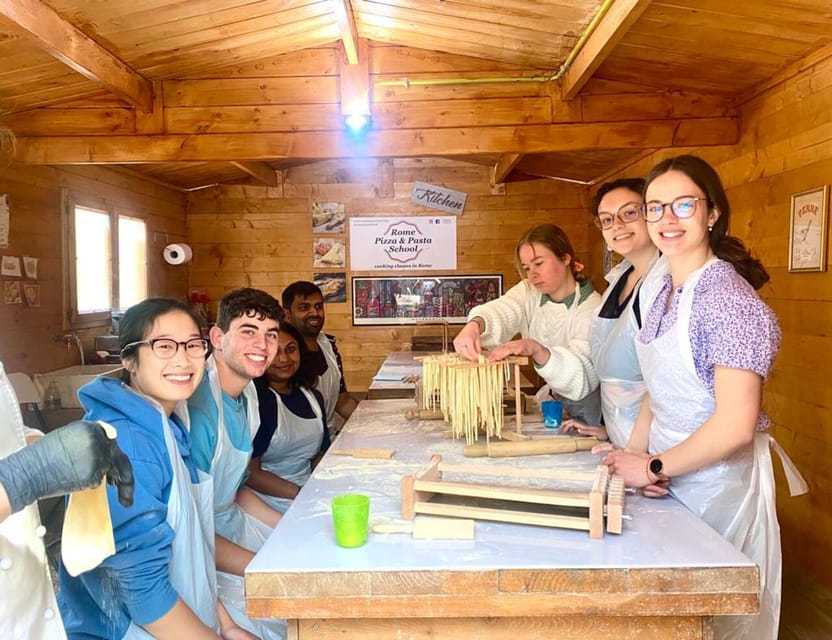 This cooking class tour is a must for all foodies. You will learn how to make traditional Roman pizza and pasta dishes in a professional kitchen with a chef by your side. You will also be treated to a wine-tasting session, and you will learn all about the local food and culture.
Things to do in Rome in One Day FAQ
What should I do if I only have one day in Rome?
If you only have one day in Rome, don't worry – you can still make the most of your time! Start by taking a walking tour of the city's iconic sights. You can visit the Colosseum, Roman Forum, Pantheon, Trevi Fountain, and more – all with a local guide to provide you with insider knowledge.
Can Rome be done in one day?
If you're going on a tour, you can definitely cover the main attractions within a day. However, if you want to see more of Rome's hidden gems or take some time to explore local neighborhoods, one day may not be enough to experience the full city.
How do you spend a perfect day in Rome?
One way to make the most of your time in Rome is to start with a walking tour. After that, you can visit some of the city's famous restaurants for lunch, and maybe even sample some of the local dishes.
What to do in Rome for 6 hours?
There are different tours that cover half or full days, but with only 6 hours, you can visit the Colosseum and Roman Forum. Within these sites, you can also explore some hidden gems like the Temple of Venus and Rome, the Arch of Constantine, Palatine Hill, and more.