The ancient city of Rome has so much to offer for kids. Education, good food, and beautiful artwork around every corner. Taking kids to Rome can be amazing. Just follow this Guide to Rome with kids.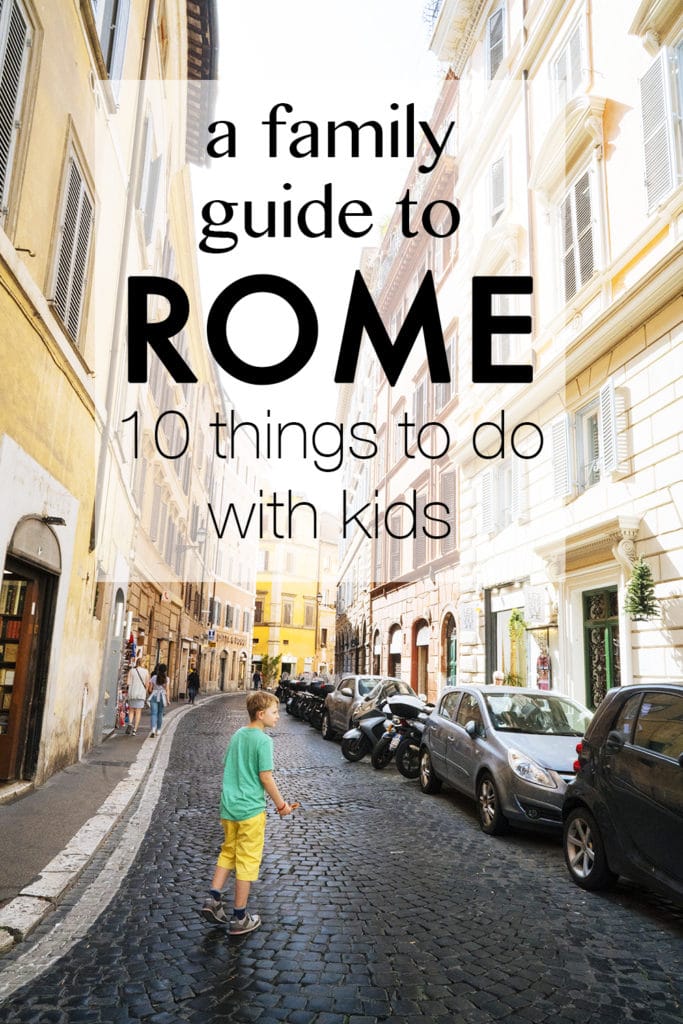 A Family Guide to Rome: 10 things to do in Rome with kids
Rome! One of the most visited cities in the world, full of great food, ancient sites, history and incredible works of art. There is also so much for families to see and do! We spent one week in Rome, but could have accomplished all we did in 4-5 days if we wanted to.
Where to Stay in Rome
Deciding where to stay in the Eternal City can be tough. It's built on hills and distances can be deceiving. You want to stay close to the sites you plan on seeing so you won't spend your whole trip walking or driving. I've written this detailed guide to the best places to stay in Rome that will be helpful.
The Best Things to do in Rome with Kids
We did so much during our time in Rome and our kids honestly loved it all. The abundance of gelato didn't hurt either. Here are our top 10 activities for your family trip in Rome:
1. Colosseum Tour with Dark Rome
I've never really been one for guided tours, preferring to wander at my own pace, which is also one of our travel tips whenever we go somewhere. But I've learned over the years that if I'm spending the time and money to take my family to these famous historical sites, then spending the extra time and money to take a tour is well worth it. We always try to book kid-friendly family tours where we can. The tour of the Colosseum with Dark Rome was fantastic.
Our guide was so great with the kids, giving them a good mix of fun and history. We all learned a lot and had lots of fun. The big bonus about booking tours is that you get to skip the lines!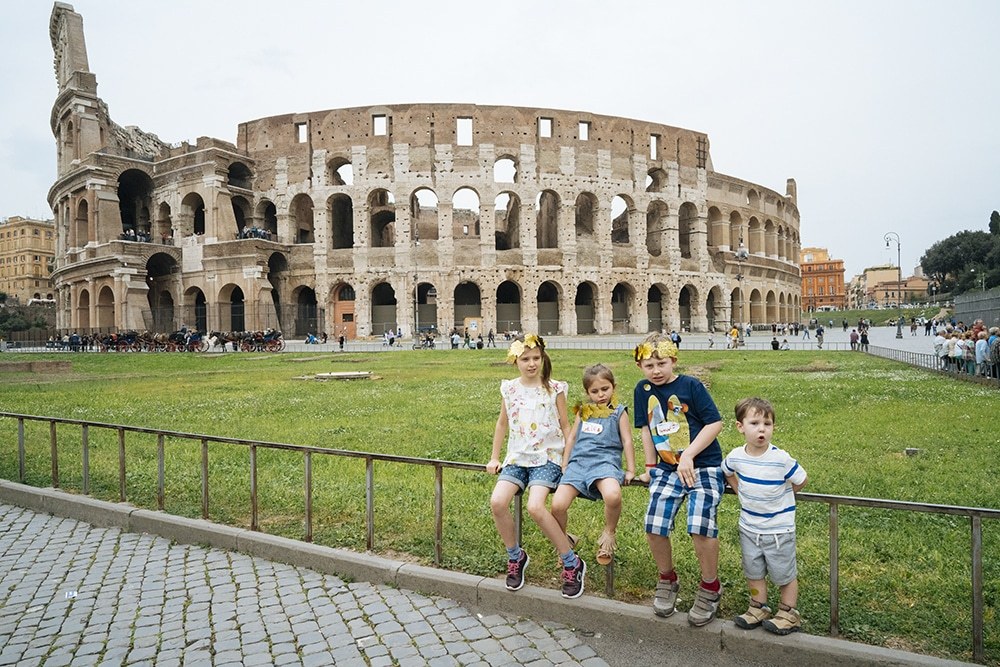 The kids all got laurel wreaths on the tour!

Our guide was so great with our kids, even holding up little man to get a better view of the ground floor.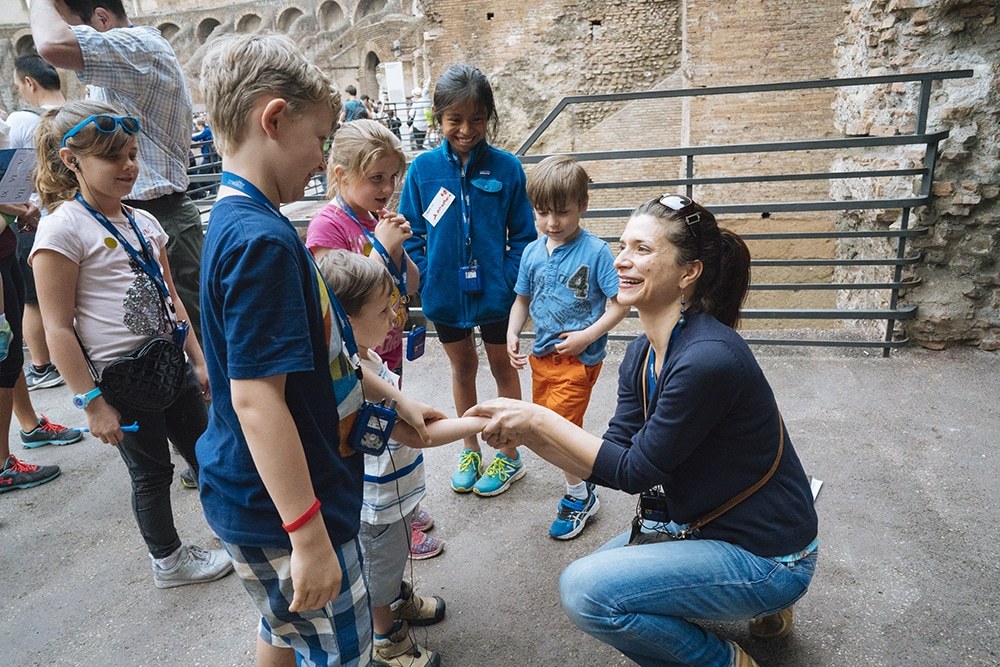 Lots of games to learn about ancient Roman history!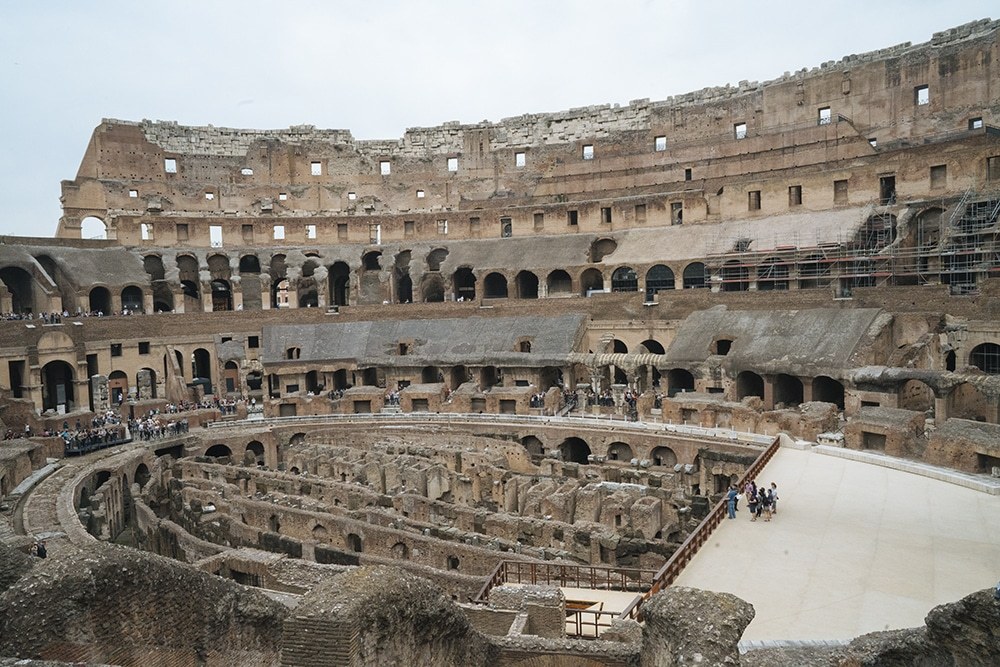 Little man not really so into his laurel wreath!
I suggest doing a bit of ancient Roman studies before going to Rome so your kids can make a connection when they are there.
2. Vatican Museum and St. Peter's Basilica
I wish we would have done a bit more research before visiting the Vatican Museum and St. Peter's. We had tons of tour sales people trying to get us to sign up for different tours and tickets here in Vatican City. It was so complicated and by the time we finished, I swore I would write a clear post about this so other families could be helped!
We ended up buying more expensive "skip the line" tickets, which I would never do again. We had to pick up the tickets in front of St. Peter's, then walk a mile to the actual entrance of Vatican museums (there wasn't even a line when we got there), then had to wait in a separate line to trade in our skip the line tickets for the "real" tickets! The whole situation was ridiculous! So I'm going to break it down for you here:
-Buying tickets to the Vatican Museum is the only way to see Michelangelo's Sistine Chapel. You have to walk through long halls (4 miles) of the museum, with interesting (and odd) artifacts and beautiful artwork to get there. You have to pay to enter the museum. It was 16 Euros for adults and 8 Euros for children when we went. The museum is closed on Sundays. You can find hours, prices and more here.
-You do NOT have to pay to enter St. Peter's Basilica. There is a line, but it moves quickly and is worth it.

You can find a more adult explanation of why all the genitals are missing in the Vatican here.
You can learn more about cheap Vatican tours here.
3. Campo de Fiori
This open-air farmers' market in the heart of Rome is open every day and constantly buzzing with fresh fruits and vegetables, beautiful flowers, meats, cheeses, pastas in all sorts of shapes, and more!
It's also a nice place to take a break in this public monument with a view of the ruins of ancient Rome. The kids loved all the sites, sounds and smells of the market! It's also really fun to wander this piazza at night.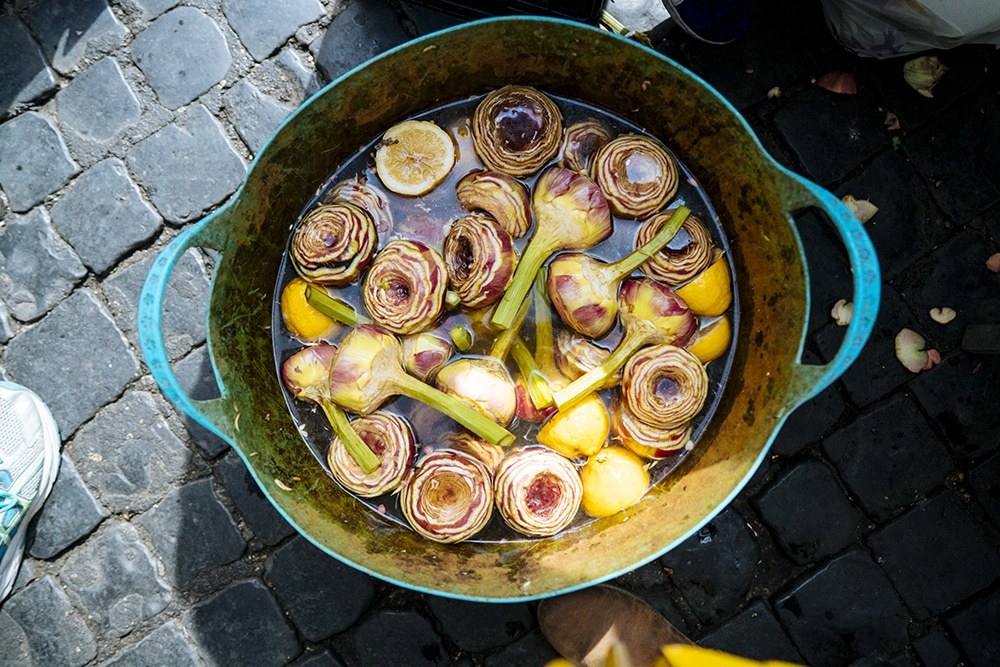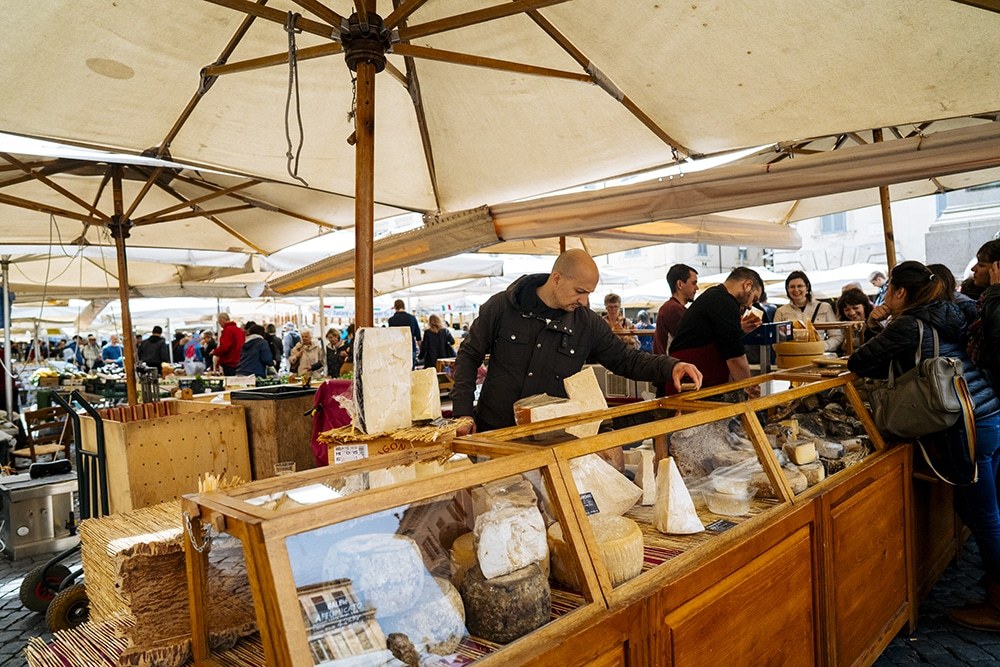 4. Trastevere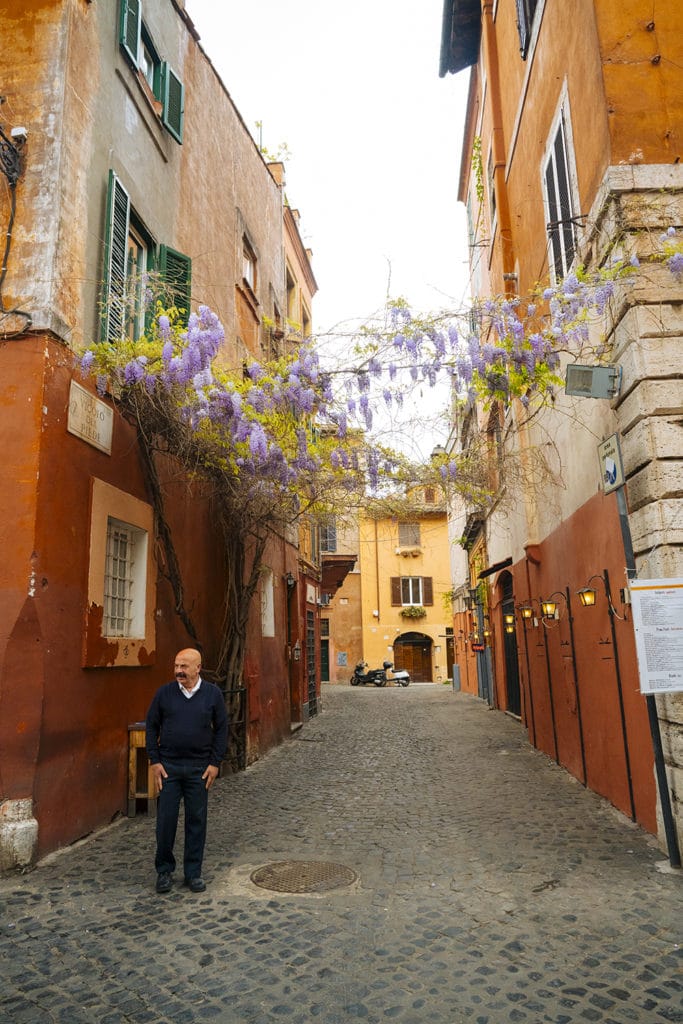 Wandering the streets of Trastevere gives you a taste of what Rome without all the tourist hustle and bustle is like. Old buildings, laundry strung across tight alleyways, bikes and scooters lining the streets, locals smoking out of windows, wisteria hanging everywhere and delicious cafes!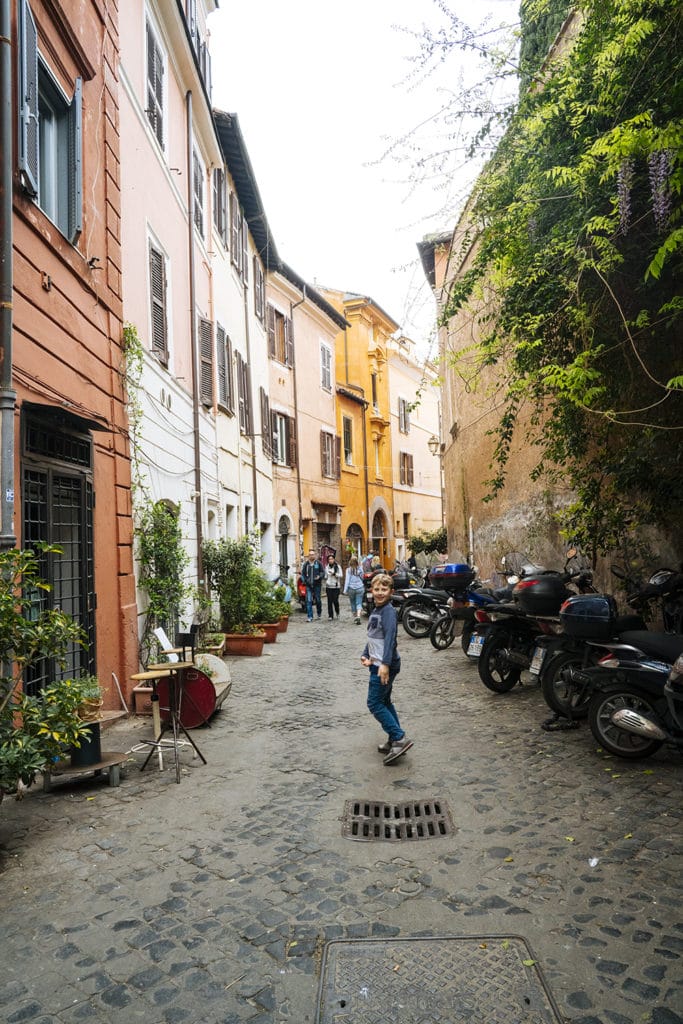 We ate at Grazi et Graziele…delicious!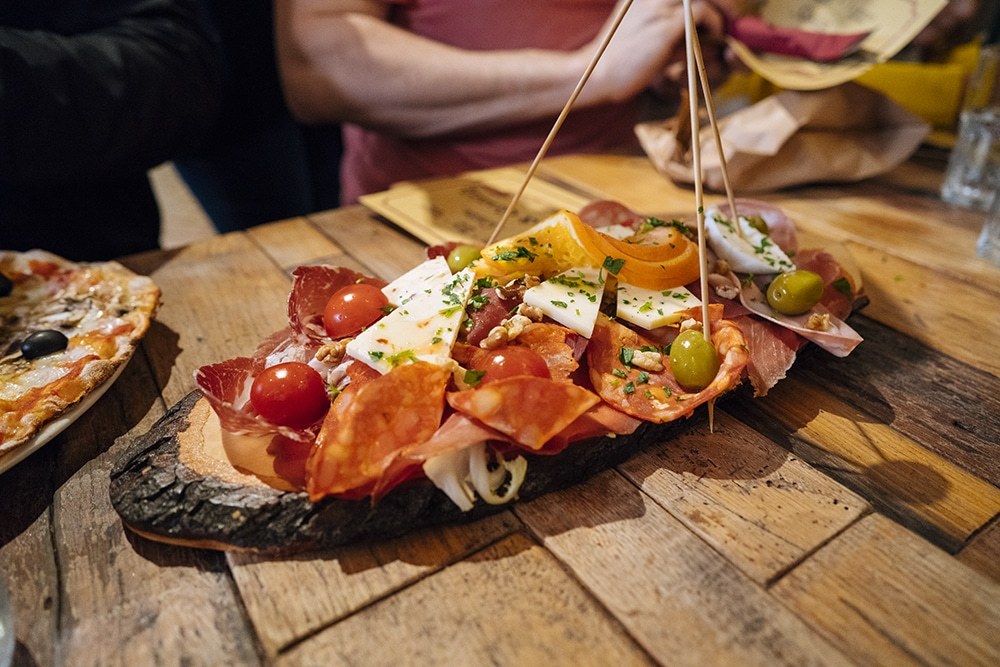 5. Fountains
Rome is full of beautiful fountains! The most famous and magnificent probably being the Trevi Fountain. When you ever visit Rome, make sure you check them out. It's crowded and crazy, but a must!
6. Villa Borghese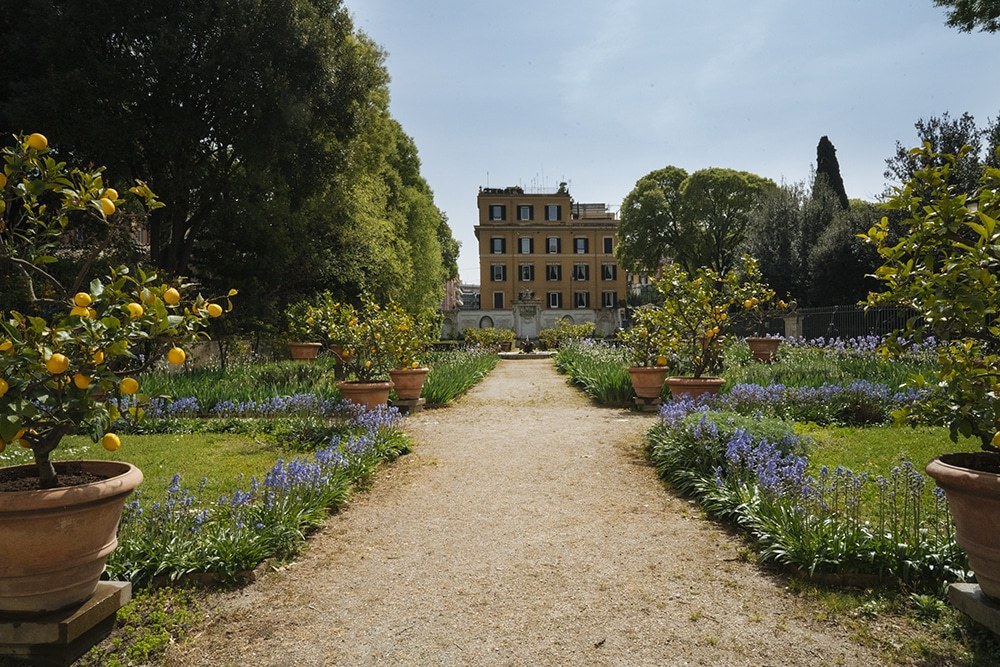 Besides gelato, this was probably the biggest winner for your younger kids and older kids. Rome's central park has so many school age kids things to do here.
You can ride a carousel, rent a golf cart or Segways, see a Shakespearean play at a replica of the globe theater, play in a fountain, or just stroll through the beautiful, lush gardens (with gelato in hand of course)!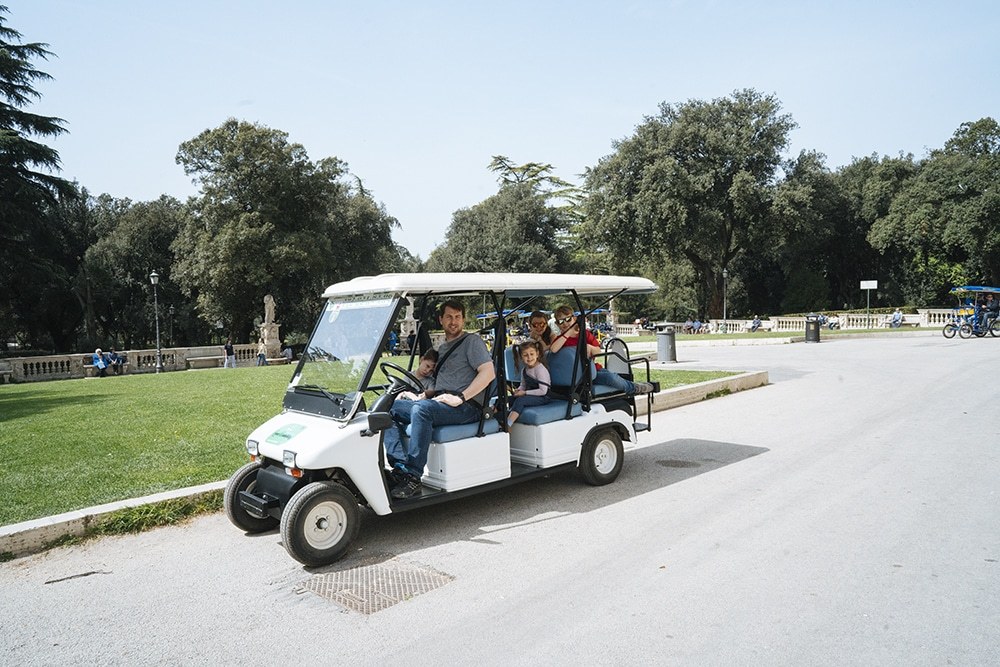 My kids really had fun roaming around here, I definitely recommend this as one of the kid-friendly attractions you can find in the area. It's a great way to keep them entertained with many family friendly activities!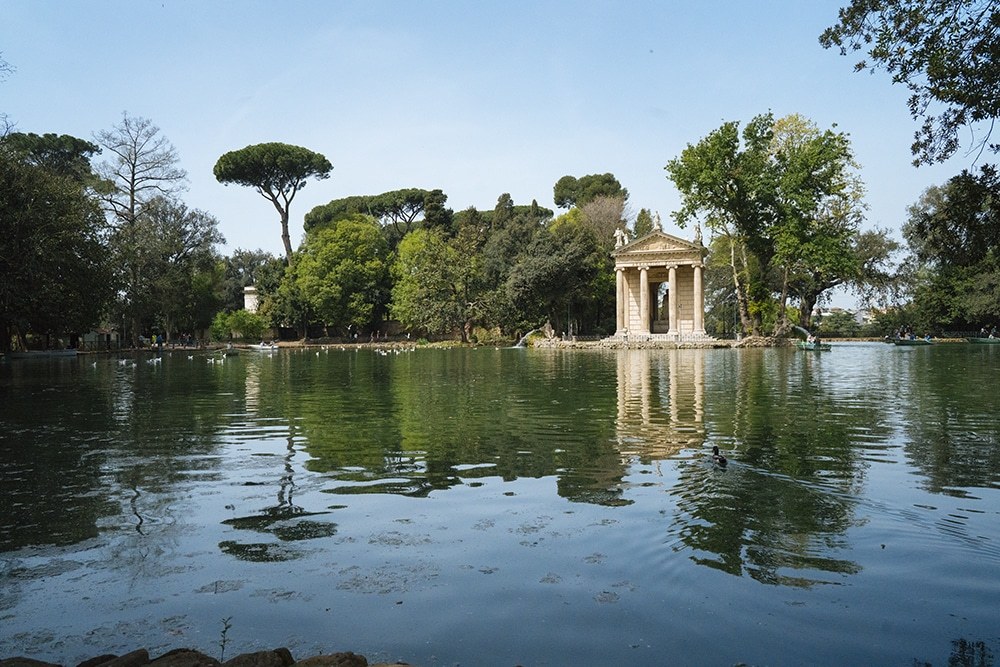 If you're visiting Rome with a baby or toddler, this is a great place to go in Rome to let them run off some energy before bedtime or even a good place to escape the city sounds for a nice stroller nap!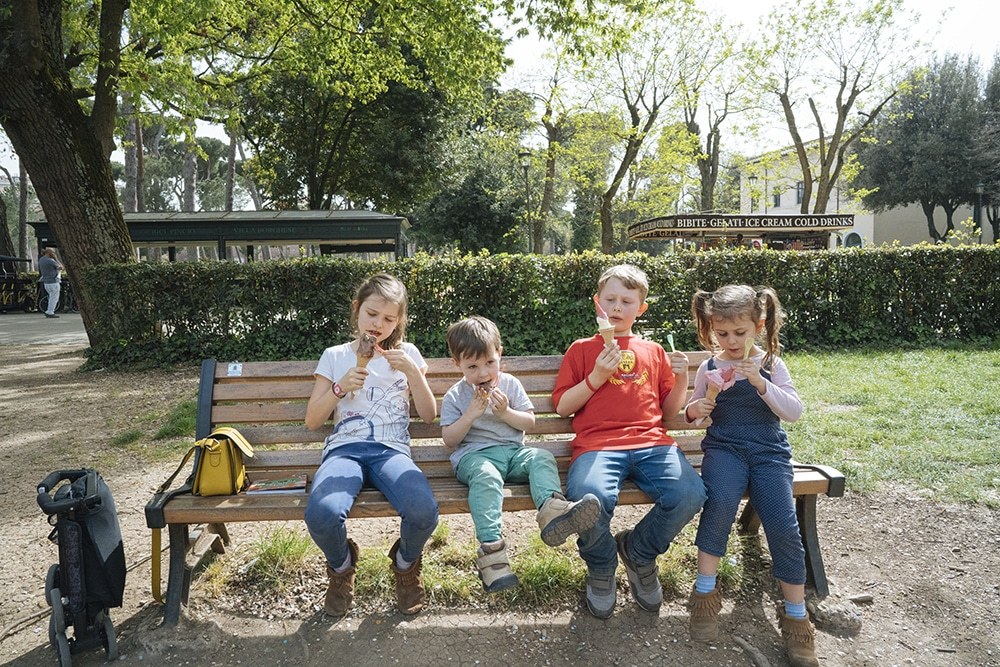 7. Pantheon/Piazza Navona
I was surprised at how you can just stumble upon ancient ruins in Rome and the Pantheon is no exception. It's just right there in the middle of Rome city center! And if you go around the corner, you'll hit piazza Navona which has an amazing church. We lucked out and saw a youth choir sing there!
The best thing about piazzas is that there are usually no cars so the kids can run wild and dip in the fountain!
8. Take an UBER Tour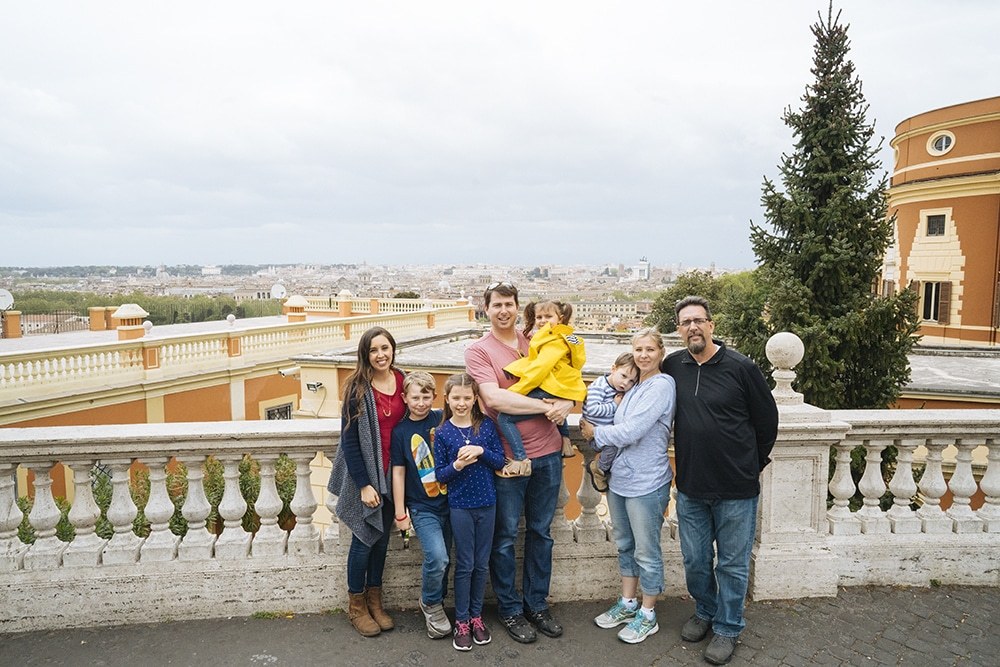 My very favorite thing to do in Rome with kids, besides eating of course, is an UBER Tour. We were exploring Trastavere and it started to drizzle. We were all a little worn out from a week of sightseeing and a little out of shape from a week of eating! We were just going to take an UBER back to our AirBnB, but saw "UBER Tour" pop up and we thought we'd give it a try. Our nice driver picked us up in a huge van that fit all 8 of us. He drove us around for about an hour and a half. He took us to all sorts of places that we didn't even know existed!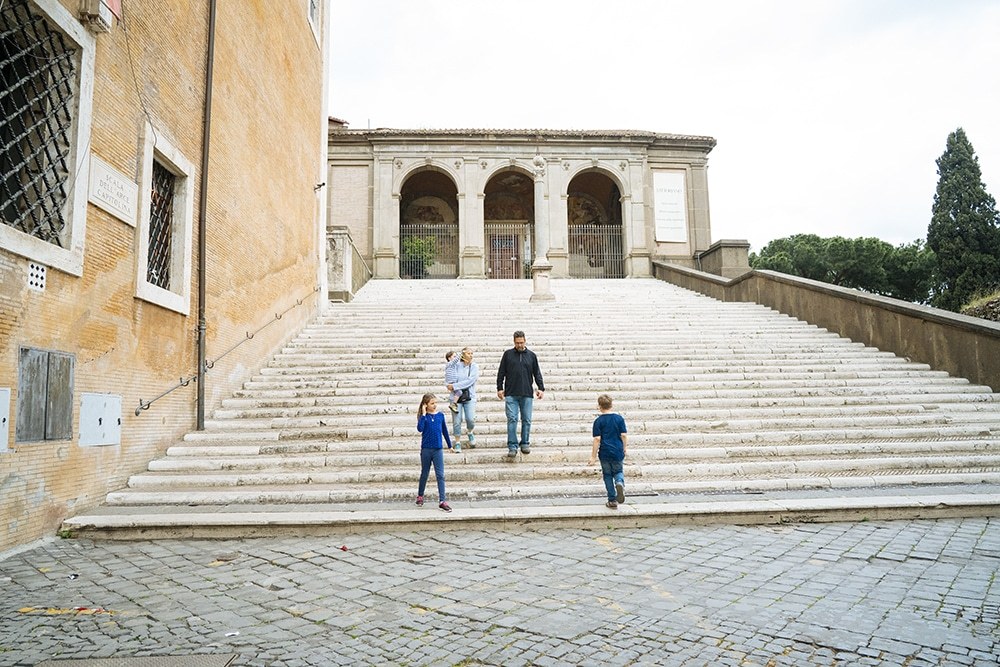 Small, old churches with amazing art, huge fountains overlooking the city, a secluded orange garden, and much more. I have limited pictures, because my babies both fell asleep in the back seat on my lap. I was totally happy to enjoy the views from the window. Our driver would stop at each spot, drop us off and make a loop to pick us up 5-10 minutes later. No parking, or waiting for the next tour bus and no getting out of the car if we didn't want to. The best part is that it is totally customizable. We just said, we've seen all the touristy stuff, show us something new! And he sure did. I thought it would also have been a great thing to do on your first day in Rome so you can get a feel for what you want to see and do and also to get a layout of the city, which is much more walkable than I originally thought. If you decide to do this, you can sign up for UBER and get $20 off HERE.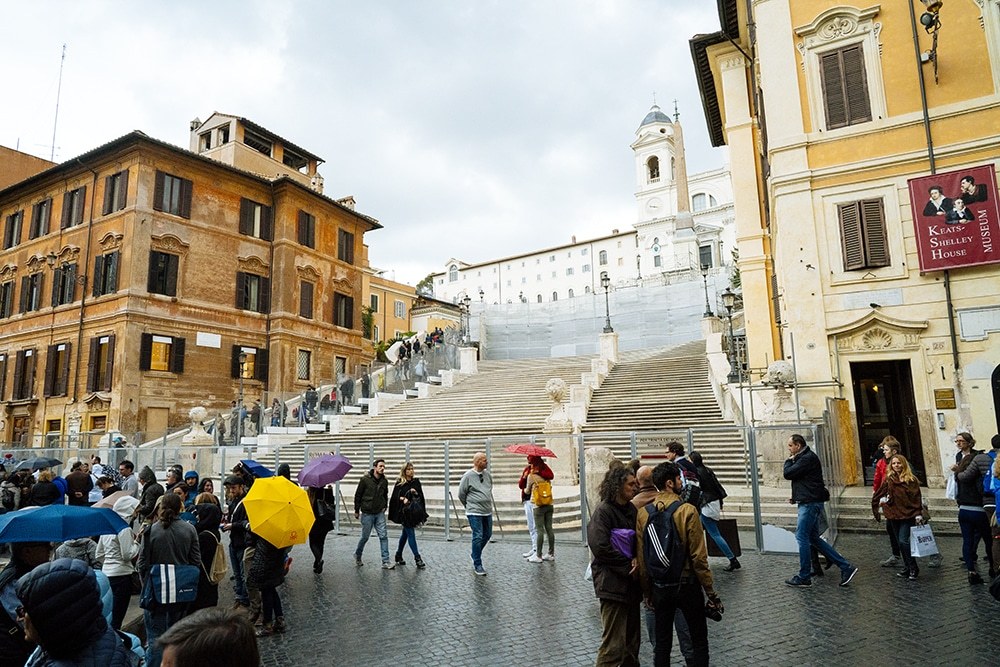 9. Drool Over Cars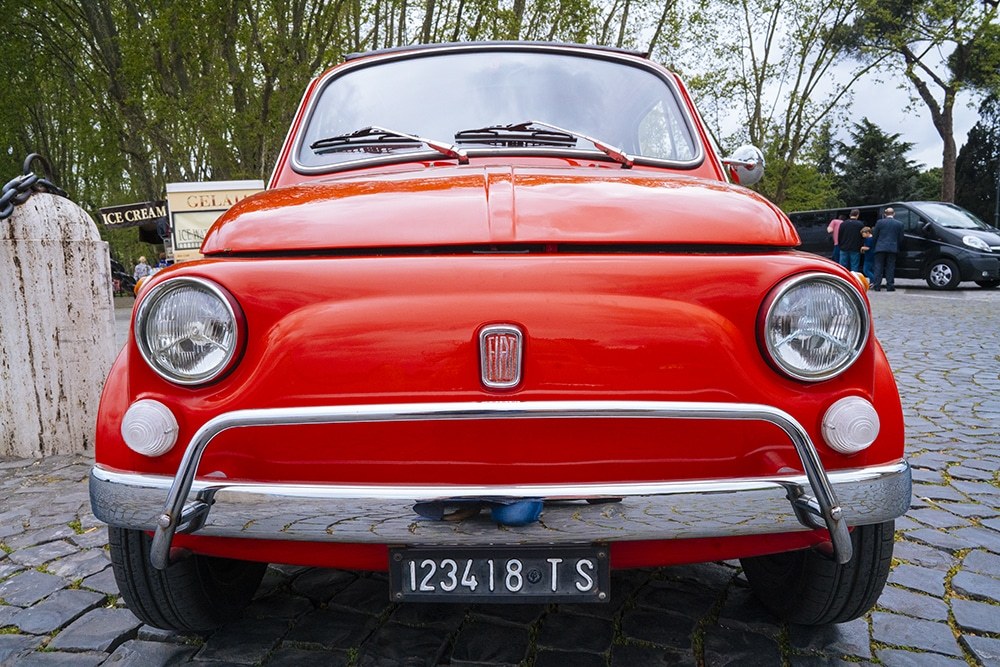 So many adorable cars in italy! Just wander and check out the many tiny cars, beautiful cars and scooters (also known as bees) and buzz all around the bumpy streets of Rome!

Your kids and especially your boys would love seeing these vintage-looking cars on the road!
For reference, here's how small these cars are! Aren't they so adorable?!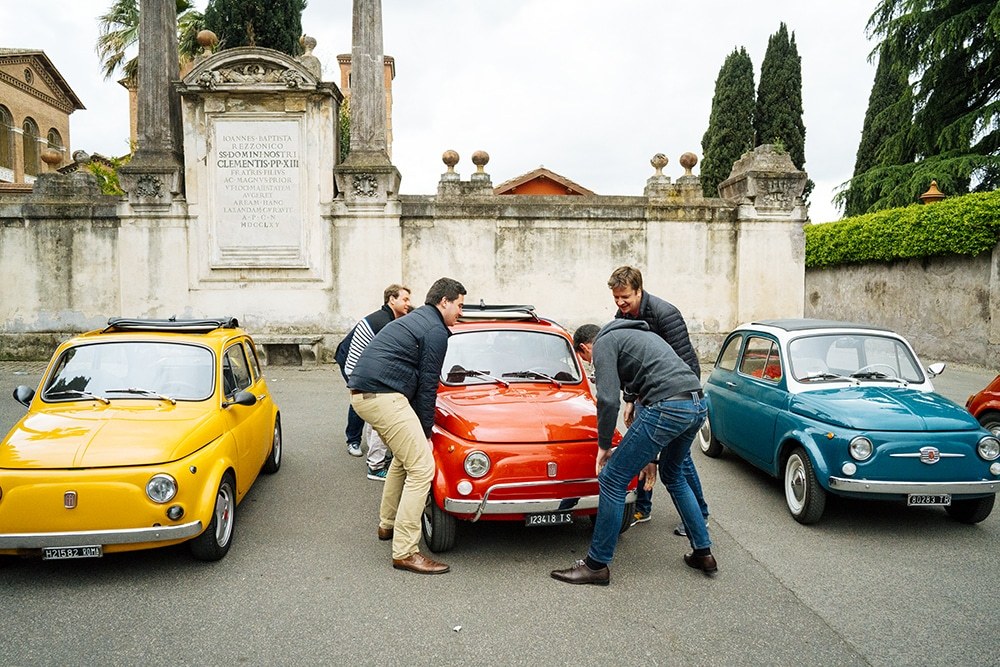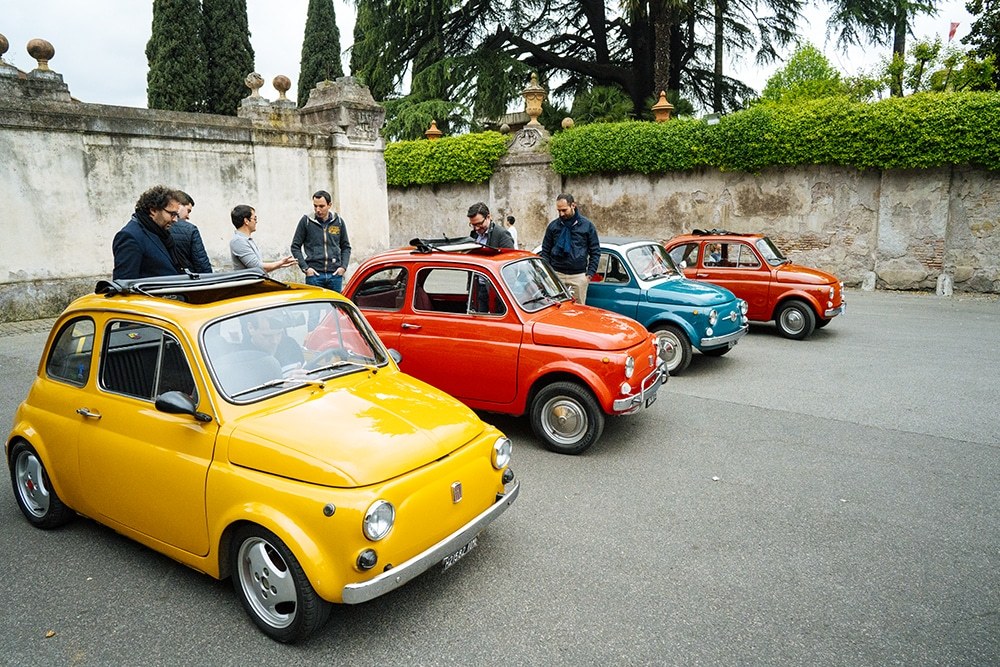 10. Food
I mean, what is the point of going to Rome if you're not going to EAT!? Pizza, pasta, cannoli, gelato…need I say more.


I found most of the restaurants to be about the same in quality and price. Here's a tip I use in all big cities to find those hidden gems and avoid tourist traps. Go to a busy tourist place then head directly 2-3 blocks OUT of that area.


Walk down little alleyways if you must. Also, using an app like Yelp is a huge help. Our favorite gelato stop was Gelato del Teatro. Check out my guide to finding the best gelato in Italy!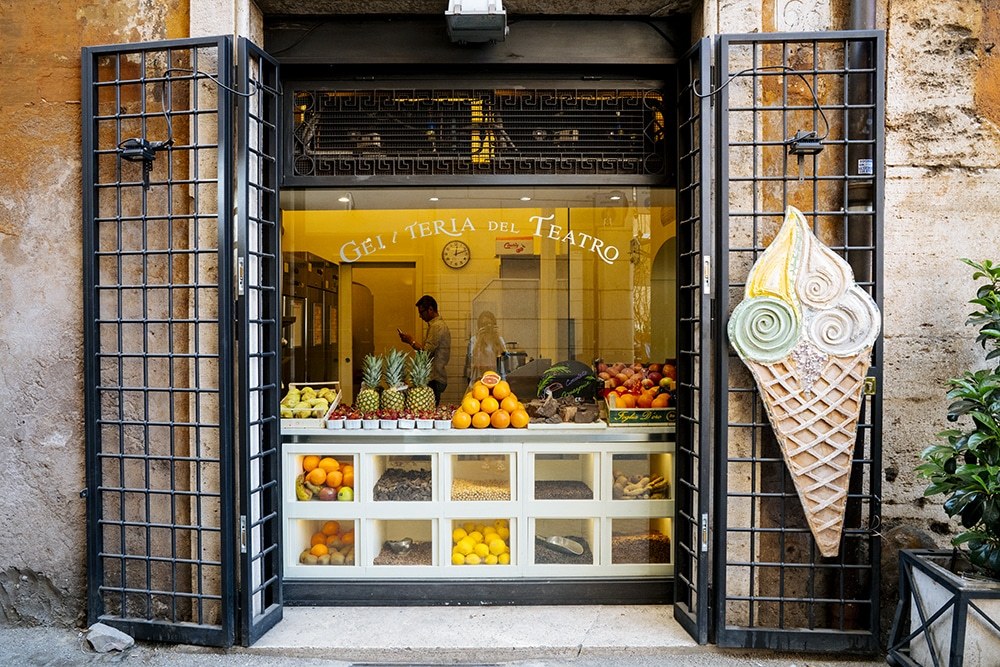 We probably went about 5 times during our week there. But whatever you do, don't leave Rome without sitting in a piazza in the sunshine and gobbling up something tasty and then wandering down twisted, narrow cobblestone streets, gelato in hand, dodging scooters as you soak up the smell of the Wisteria growing everywhere and the bright, dripping laundry strung from the windows!
Best Tours in Rome For Kids
Rome is an amazing city to explore! It's filled with ancient history, stunning architecture, and beautiful culture. If you're visiting Rome with kids, there are so many things to do and see. From visiting the Colosseum, Roman Forum, and Pantheon to exploring the Trevi Fountain, there are endless activities for young ones.
To make the most out of your visit, here are some of the best Rome tours for families traveling with kids!
Ancient Rome Tour for Kids: Discovering the Colosseum and Roman Forum
As I've mentioned earlier, from all the tours we've taken during our Rome trip, having a guided tour of the Colosseum was so worth it!
Ancient Rome Tour for Kids is a family-friendly guide tour you can take to one of Rome's most famous landmarks. This tour will take you back in time as your guide and tour leader tells stories about the Colosseum, Roman Forum, and famous archaeological sites nearby. These are what you can look forward to:
Explore the Colosseum and Roman Forum with hands-on, interactive activities
Led by a scholar specially trained to work with children
Colosseum and Roman Forum & Palatine Hill
It's a 2.5-hour tour by a licensed guide for kids and adults alike, perfect for those who are visiting Rome with kids.
Underground Rome Tour
The Underground Rome Tour is another great tour for kids, offering a unique experience. Kids will journey underground to explore the mysteries of Ancient Rome beyond what can be seen from the surface of the city.
It's a 3-hour tour joined by an expert archaeologist where you can expect to:
Explore the subterranean depths of Rome
Led by an expert archaeologist
San Lorenzo in Lucina and Vicus Caprarius
Vatican Tour for Kids
Another top-rated tour for kids is the Vatican Tour for Kids. This three-hour tour is guided by a family-friendly Ph.D. or MA-level art historian who will lead you through the famous Vatican Museums, Sistine Chapel, and St. Peter's Basilica.
These are some activities you can look forward to:
Discover the stunning artworks and frescoes of the Vatican Museum collections
Accompanied by a licensed guide, specializing in Classical History
Vatican Museums and Sistine Chapel
Rome Pasta-Making Class: Cook, Dine & Drink Wine with a Local Chef
What a great way to make your visit to Rome extra special by joining a cooking class while in Rome! The Rome Pasta-Making Class lets you experience an authentic Italian cooking session with a local chef.
Here are the highlights of what you can get from this tour:
Learn how to make fettuccine and ravioli from scratch with a professional chef at a private cooking school in Rome's Trastevere neighborhood.
Get to know your chefs and fellow pasta makers over prosecco and aperitivi.
Enjoy a live demonstration of the fine art of gelato making.
Have a relaxed, fun experience with a small group of 14 participants maximum.
Gain insider tips on Roman cuisine from a local chef so you can make the most of every meal during your stay.
It's an educational yet fun-filled tour that will surely make memories with your kids.
Have you been to Rome? What are your favorite things to see, do and eat? We'd love to hear from you!
More Resources
Rome in a Day
Rome in 3 days
Cinque Terre
The Ultimate Guide to Italy
How to Find the Best Gelato in Italy
The Best Places to Visit in Italy
10 Day Italy Itinerary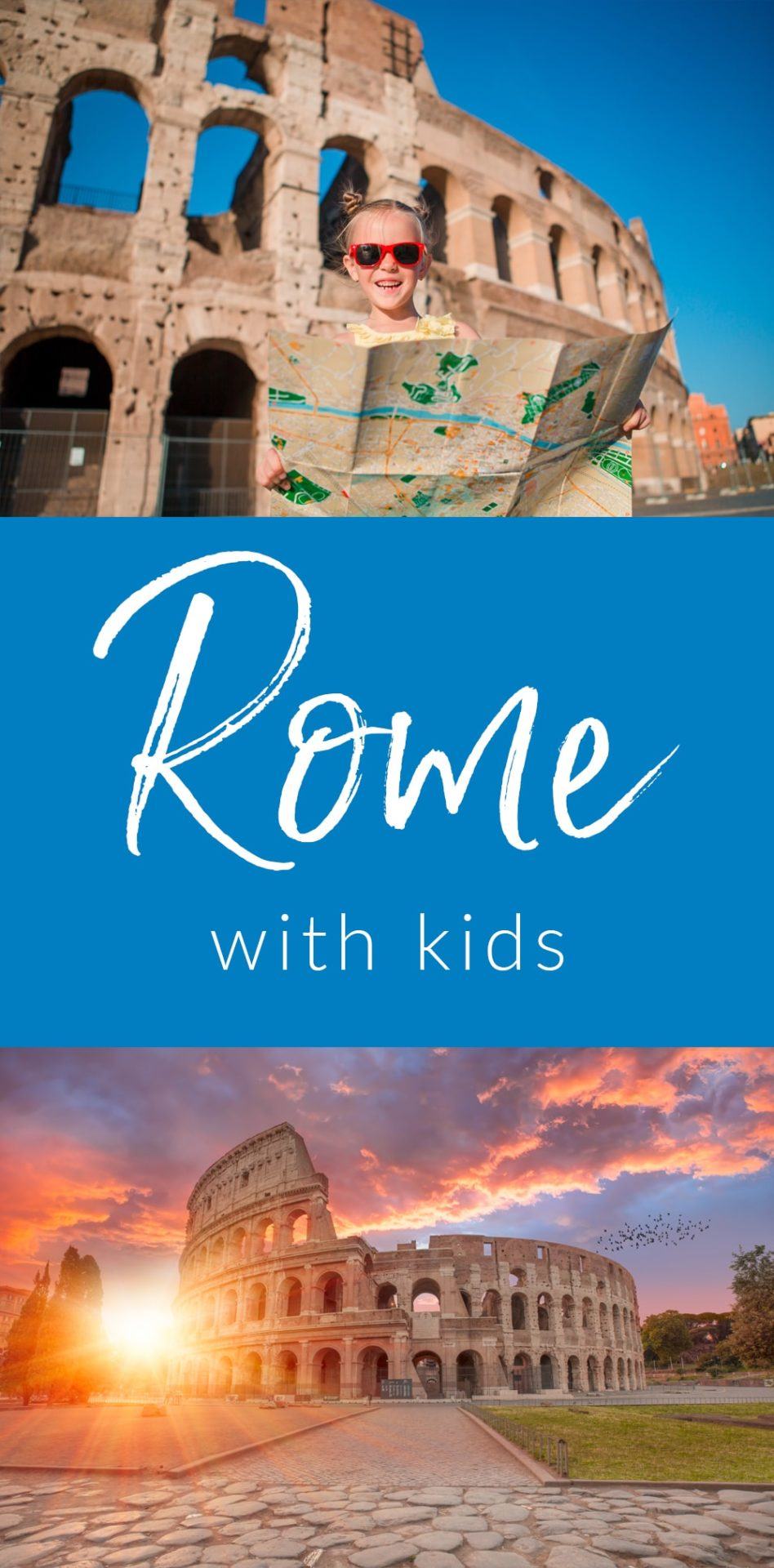 If you would like to follow along with us day by day you can follow @wanderlust.crew on Instagram or on Facebook or on Twitter or sign up for our newsletter! We would love to hear from you!