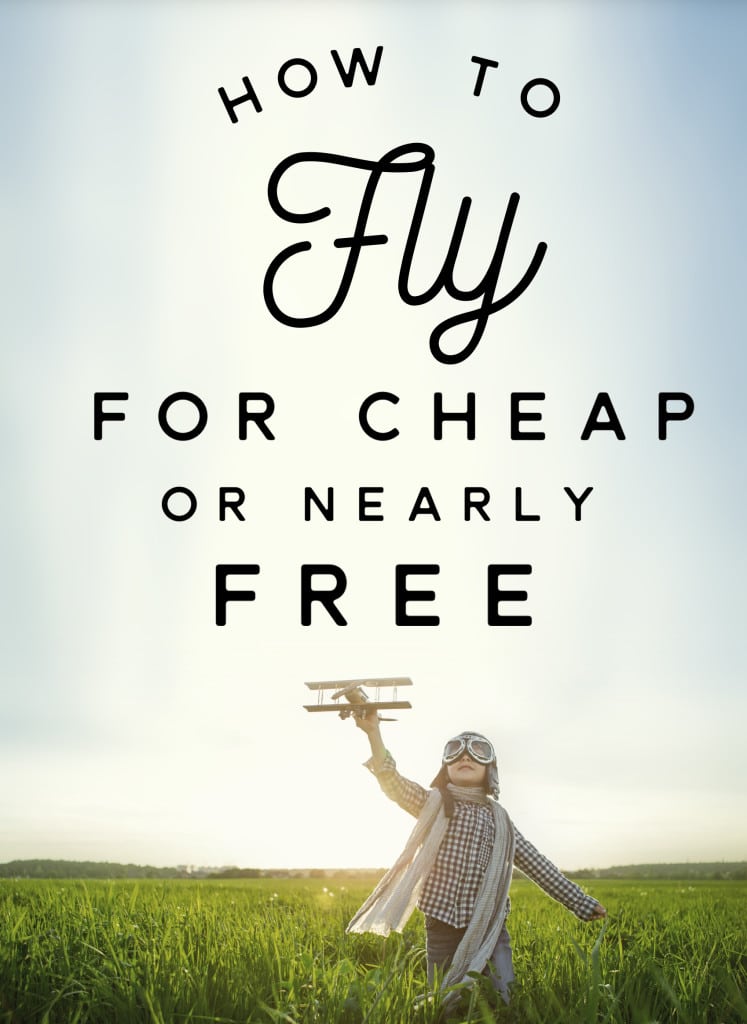 Want to know how to fly for cheap or nearly free? Even though we do a good amount of driving with our crew, we get asked a lot about finding cheap flights and being able to afford 6 tickets, and sometimes 7 if we are traveling with extra family!
Listen, I can't help you out with a lot of things, like how to pack super light, or how to survive a flight with a cranky toddler, how to get a good night sleep or how to have good skin! I CAN tell you how to find cheap flights, and I think that might make up for all I'm lacking. Although there's no magic bullet to getting cheap flights, I wanted to share my best tricks with you!
1. Be Flexible
My #1 tip to getting the best deals on flights is just to BE FLEXIBLE. Flexible with your travel dates and flexible with your destination. I realize this isn't for everyone. We worldschool our children and work from home, so obviously, we use this factor to our advantage. Another added bonus about this is that we get to see popular places when other tourists aren't usually there. I promise, it's better this way!
Hopper
I love Hopper! It gives you a detailed report of when to fly, including days, and what is a good deal to your destination.

Another great tool for finding cheap flights is Skyscanner. Especially if you know you want to fly somewhere for cheap, but you don't really care where you go. You can plug in your date range (usually a whole month) and your airport of origin and select "EVERYWHERE" in the destination tab. It will pull up the cheapest flights from your airport, list them by price order and organize them by country. I love that you can search one way and round trip flights. Download the Skyscanner App, which is really useful for finding cheap flights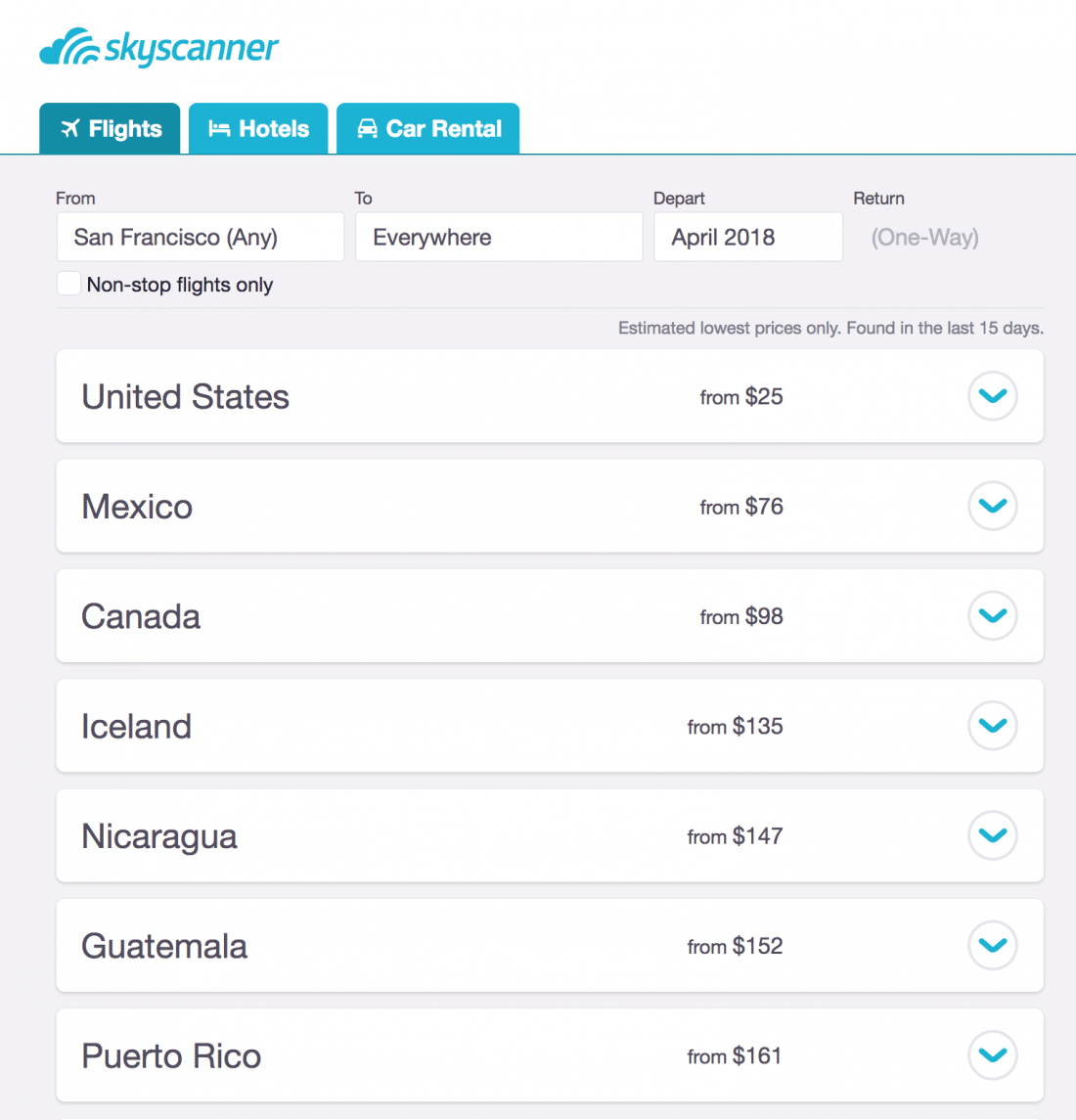 2. Explore Your Options
If you're flexible in your flight dates or destination or at least have a time frame or continent that you are interested, you can explore the best deals during these times and locations. There are several ways to do this, but I'll list my favorites:
Here you can enter a month or a season that you want to travel, the city that you want to leave from and a price max. You'll get a map full of the cheapest round-trip flights around the world during that time from your city.


Click on the price and you will see the dates and you can search the flights from there. This can get pretty addicting to play around with! You might find some new destinations on the map that you never knew you wanted to go to!

I seriously don't know how these guys find awesome deals, but they are probably the best I've ever seen in all my years of traveling! They catch a lot of mistakes that make airfare crazy cheap! Super easy to use. You can also follow them on Twitter and get alerts when they have new deals. They are the only notifications I have turned on on my phone! This is where being flexible really comes in handy!

When you find a deal you like and click on it, it will show you the dates, layovers, how to find it and other details. How cool is that?

3. Shop Around for Cheap Flights
If you don't have the luxury of being flexible and have exact dates and an exact location, then be sure to shop around for your best deal. There are plenty of flight search engines out there. My favorites are
CheapAir.com

Vayama

Kayak
Google Flights
Momondo
Skyscanner
Skiplagged
4. Get Creative to find Cheap Flights
Even if you can't be flexible with your dates and locations, you CAN be flexible with how you get there! Booking a direct flight might not always be your best bet. Sometimes your destination can be a layover for a cheaper flight to somewhere else!
I've found this especially true with London, Paris, and Iceland, which seem to be popular layover airports from the US. Skiplagged is a great way to find these flights. Say you want to fly to London, but there is a flight to Budapest that is cheaper and has a layover in London. You simply buy the flight to Budapest, but get off in London and don't get back on.
The one catch here is that you MUST travel with a carryon. Otherwise, your bags end up in Budapest while you're having afternoon tea in your airplane clothes! I'm not kidding, I've seen this happen on a cheap flight to New York (we were getting off in North Carolina: $200 ticket to New York vs. $1300 to Charlotte, NC) and the girl in front of us was doing the same thing. She got to the plane late and there was no room for her carry-on so they had to gate check it and it went to New York! So just be sure you're there on time and there's room for your carry-on bag.
DISCLAIMER: Also, this could possibly only work one way because if you buy a round-trip ticket and don't make it to your destination, they could possibly not let you back on for your return flight. I've never experienced this, but have heard that this might be a possibility. I personally think this is a scare tactic from the airlines. If someone knows otherwise, please let me know. But in my eyes, if you've purchased a ticket with them fair and square, I think they'll let you on the plane.
Skiplagged will also look at combining flights from several different airlines. Skiplagged was actually SUED by United Airlines for using this little trick (which they happily advertise on their site)!
You can see here that I searched for a flight from Washington DC to Istanbul, but the cheapest flight (by nearly $100) is actually to Cairo, Egypt with a layover in Istanbul.
5. Take the Round Trip Flight
Our family takes a lot of one way flights since we don't have a permanent home base. We only plan our travel about 1-3 months in advance and don't usually return to areas we've already been. But more often than not, when searching for flights, we've found the round trip flights to be less than or equal to the cost of one way flights. Crazy right? So if you're going one way, take the time to search for a round trip just in case!
Here are search results for a round trip Air Canada flight: $671

Here are search results for the same day and destination, but One Way…Holy Smokes! $2,800! I'll take the Round Trip please!
6. Clear your Cache
It's a little creepy, but airlines and flight search engines are watching what you are searching for. Clear your search history often! If you don't know how to do this, here's a helpful site that will walk you through it.
7. Buy and Fly on the Right Days
According to this study here are the best times to buy your flights:
Domestic (US): 54 Days
Mexico: 89 Days
Caribbean: 101 Days
Latin America: 80 Days
Europe: 151 Days
Middle East: 80 days
Africa: 166 days
Asia: 129 days
South Pacific: 70 days
Depending on what study you read, the best days to fly are Tuesdays, Wednesdays and Saturdays. Due to work, we almost always fly on Saturdays. People generally want to be at their destinations over a Saturday so it's usually not too crazy at the airports either!
8. Split Up Your Flight Searches
I'm not sure why this is, but sometimes when I search for tickets, the price comes up MORE per person when searching for 6 tickets, vs. searching for 3. So we will buy our tickets under 2 separate reservations. 3 and 3. Obviously, this will only work if you have 2 adults flying!
9. Take the Train
There are a lot of airports that connect easily to trains. It may be cheaper to fly to a different airport and take a train to your final destination.For example, if you want to go to Nice, flying into Paris and taking the train will probably be cheaper! You also get to see two places for the price of (or less than) one!
10. Try Random Airports
Not all airports are created equal. Though Airports like London Heathrow (LHF) and Milan Malpensa (MXP) have more flight options, better deals can often be found to nearby airports such as London Gatwick (LGW), London Stansted (STN), London Luton (LLA), and Milan Linate (LIN) or Milan Bergamo (BGY). Keep in mind transportation costs from these airports as well.
11. Don't be Afraid of Budget Airlines
Amazing deals can be found on budget airlines like Norwegian, Wow, Ryanair, and Easyjet. No, you won't be receiving the royal treatment, or even a free checked bag, but you will get to your destination at a fraction of the price. So, pick your priorities. Here are some deals we've found on these airlines:
Norwegian: $60 flights Boston to Ireland
Wow: $135 flights San Francisco to Iceland
Ryanair: $9 from London to Greece
Easyjet: $40 flights from Iceland to Scotland

12. Use Your Points
If you have airline miles or any kind of points credit card that you can use for air miles, rack these up and use them! We have a Chase Sapphire Card that we use to book our housing on then pay off at the end of each month. We earn double points on those bookings (because they are travel) so those points add up pretty quickly.
The great thing about the Chase Sapphire Card is that you can choose which airline or hotel travel partner membership program to use your points with. Depending on which travel partner you use, you can get a round-trip ticket to Europe for about 60,000 points. It sounds like a lot, but it adds up more quickly than you think. Plus there is usually a bonus when you sign up for the card. The current offer is 50,000 points if you sign up here. We were able to get all of our flights from London to DC using Chase Sapphire points and transferring them to our United MileagePlus account.
Another great option if you'll be doing a lot of flying within the USA, Mexico and Caribbean is the Southwest Companion Pass. I've considered doing this just so I can take one-on-one trips with my kids around North America. Read about how to get that here.
13. Subscribe to Fare Finding Emails
I subscribe to several fare finding emails. Some of them are so so and some I love. Here are the ones I use:
Next Vacay: Not a huge fan of this one. It's paid, but honestly, most of the flights they send me aren't that great and they also send me more flights NOT from my home airport than from my home airport.
Scott's Cheap Flights: He has a free service and a paid one. I use the free and there are still some really good deals.
Pomelo Travel: I like these guys as much as Scott's and they seem to share the same deals. They also have a free version and a paid version.
Fare Drop: These guys are newer and I've just started using them, but so far they've had the best deals I've seen. Subscription runs about $40/year, but you can try it for one month free. They've only sent me good deals from my home airports which I appreciate.
14. Cheapest Isn't Always Cheapest
Be sure to read the small print. Even if a flight seems cheaper, there are often additional or hidden fees. For instance, some airlines charge for any checked bag, others may allow you one checked bag for free. Often the cost of checked bags will vary with destinations. Some airlines charge for carry-on (yes, you read that correctly…mostly the budget airlines I mentioned above) and others, wait for it, will charge you for seat selections.
If you are traveling by yourself or with other adults and aren't concerned with sitting next to each other, this won't be an issue. But, if you are traveling with kids and need to be sure you're sitting next to each other or have an aisle seat, watch out for those fees as well. FYI Ryanair is awesome and kids and one adult get free seat selection! Here's a comparison of airline baggage fees and a list of airlines that charge for seat selections.
Further Reading
For more information about flying in Asia, check out this post by Mum Pack Travel!
For more information on finding cheap flights from the UK check out this post by Zena's Suitcase.
Or see this article about getting the best deal on your holiday from Flying with Baby.
That's all I've got! Do you have any great tips I should add? I'm always learning new tricks to save us money! Flying isn't always cheap and with a big family it can be really daunting to keep things affordable, but if you take the time and effort, you can make it happen!
If you would like to follow along with us day by day you can follow @wanderlust.crew on Instagram or on Facebook or on Twitter or sign up for our newsletter! We would love to hear from you!