This is the best Italy travel guide to help you plan your trip with ease and ensure you see the best that Italy has to offer, safely and efficiently!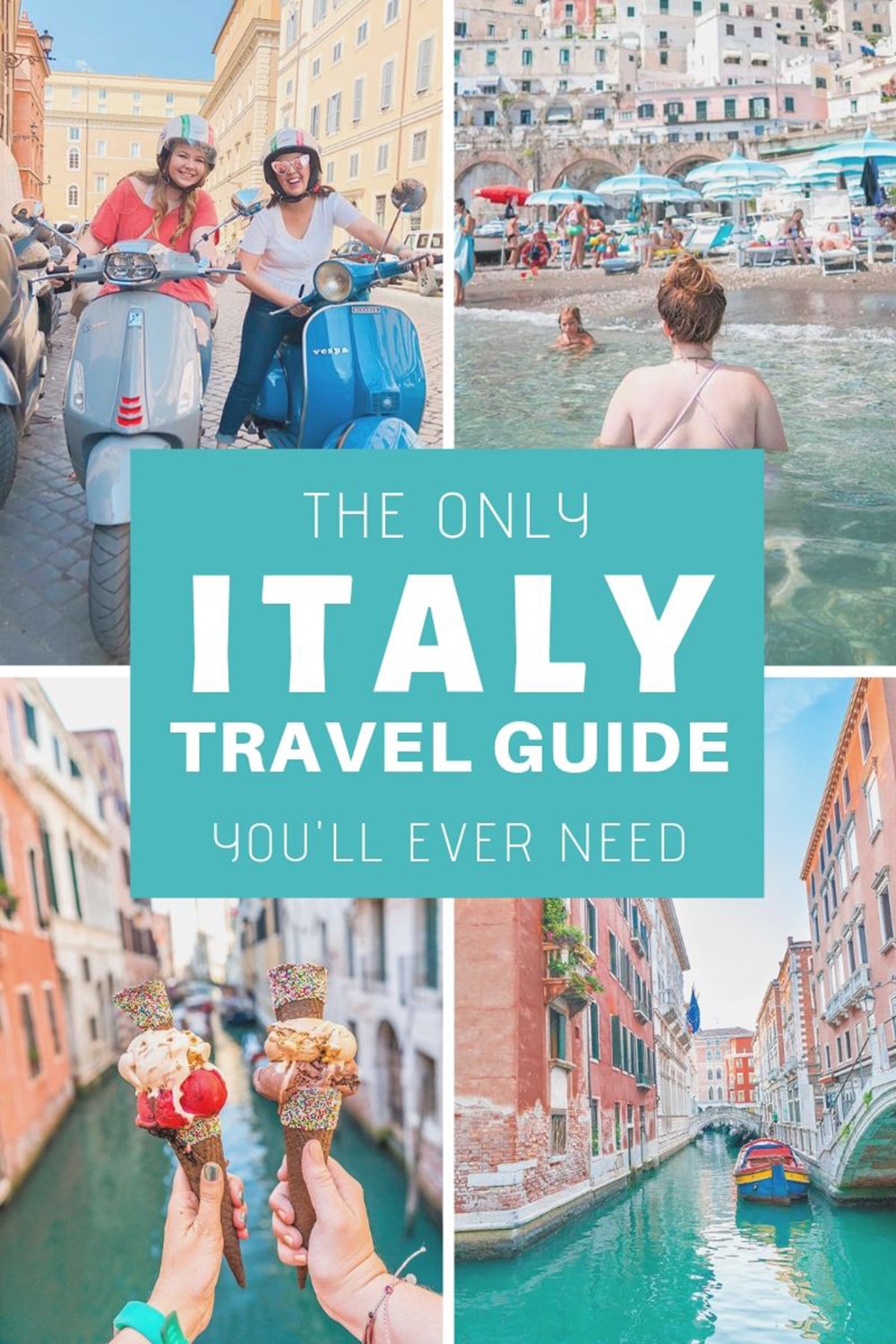 The Only Italy Travel Guide You'll Ever Need
This post contains affiliate links
Why Go To Italy
There are many reasons to visit Italy. I feel like I shouldn't really have to explain myself. I mean, have you ever had gelato? Top reason! Ok, not really, but it's pretty high up there for me.
Italy is a country that I just keep going back to. I don't necessarily plan it that way, but it just seems to happen! There is just so much to see and do in this wonderful country that it feels like a different trip to Italy every time I visit.
Italy is such a large country, full of many different people, history, cultures, and landscapes, that has given us so much historically, artistically, musically, and more. There's a reason that Italy is called the birthplace of the Renaissance.
The museums in Italy are some of the best in the world, boasting the most famous artistic pieces known to man.
Add all that culture (and gelato) to the fact that Italy has nearly 5,000 miles of coastline and gorgeous beaches, visiting Italy is a no-brainer!
Here are just a few reasons we love visiting Italy:
World class museums

Amazing Food

Beautiful Scenery

Historical Importance

Friendly People

Affordable Prices

Gelato (need I say more)
Obviously, there are so many more reasons to visit Italy, but this should be enough to entice you! It's an amazing place that you must see, but it's good to know all you can before you go. This Italy travel guide will help you find all the information you need for your trip.
If you'd like more information about planning your trip, join our Italy Travel Planning Facebook Group
Here are some fun facts about Italy
Pasta has been around since the 4th Century BCE

The fork was made popular in Italy

All 3 of Europe's volcanos are located in Italy

Marco Polo and Christopher Columbus were both from Italy

The country of Italy is only 153 years old

Pizza was invented in Italy

The Vatican is the smallest country in the world

There are 50 UNESCO World Heritage sites in Italy

Italy has almost 5,000 miles of coastline

Around 3,000 Euros are thrown into the Trevi fountain each day. It's given to charity.

The Best Books About Italy to Get You Inspired
I'm a huge reader and love reading almost as much as I love traveling! I have read so many books about Italy that have inspired me to visit and enjoy all that is has to offer. These are the books that have inspired me:
From Sand and Ash
This is one of those novels that really sticks with you. It's set in Rome during WWII and follows the lives of Christians and Jews as the Catholic church works to save and hide Jews inside churches and convents. It was a fascinating story and there are so few WWII books set in Italy, so I loved hearing this perspective.
Love & Gelato
So this is definitely a YA book, but the story is sweet (no pun intended) and it has a good message. It's set in Florence and the Tuscan countryside and is about a girl who moves from America into her new life after her mother dies.
Beneath a Scarlet Sky
I don't think I've ever read a more fascinating book based on reality! The whole time I was reading it, I kept thinking "no way, this can't be real," but it was. It's the true story of an Italian man during WWII who helped smuggle Jews across the Alps and into Switzerland. He was also a driver for a leader in the Nazi party and worked as a spy.
Eat, Pray, Love
This is really such a classic that will make you want to travel anywhere, but her time in Italy seemed especially precious!
Four Seasons in Rome
This is a great book set in Rome (obviously) and is a memoir by Anthony Doerr, the author of "All the Light We Cannot See" (a novel set in France). Anthony shares about his year in Rome with his wife and twin babies. If you're traveling to Rome with kids, this is a must read!
Inferno
All of Dan Brown's books make me want to travel, but Inferno is set in Florence and is particularly fascinating. I learned a lot about the art and history of Florence from this book.
Angels & Demons
Another great Dan Brown book, this time set in Rome, will teach you about art out in plain sight in the city of Rome. It mentions many fountains and sculptures that you may have previously just walked by.
If you want to see a list off 100 inspirational books that will make you want to travel the world, read here.
I love browsing the internet for advice on how to travel in Italy, but sometimes a tangible book can be a beautiful thing. Here are my favorite Italy travel books:
Rick Steves Italy 2019
I've always been a big fan of Rick Steves. Especially since he specializes in all things Europe and keeps his guides up to date! His Italy guide is top notch and once you know where you're going in Italy you can look into his more specific guides.
Lonely Planet Italy Travel Guide
Lonely Planet books are always a safe bet! The information is good, accurate, and kept up to date.
Getting to Italy
It's a great time to visit Italy right now. With so many cheap flights to Italy, it's much more affordable! A flight that would have cost you a thousand dollars 3 years ago now costs under $500! I keep telling everyone I know, if you've wanted to go to Italy, but couldn't afford it, the time is now!
The cheapest time to fly to Italy will be during the offseason like January and February, but you can still find killer deals to Italy during the rest of the year. I flew from San Francisco to Rome for $400 in August last year. I recently found a flight from New York to Rome for $200. If you want to hear my best tips and tricks about finding dirt cheap flights read this.

When is the Best Time to Visit Italy
The best time to go to Italy, in my opinion, is when the flights are the cheapest! That's just how I operate! But in all honesty, I think the best time to travel to Italy is during the shoulder season.
If you don't know what shoulder season is, it's the months before and after peak season which, for most destinations in the Northern Hemisphere, will be September to October and April to May. This is generally the best time of year to go to Italy for several reasons.
What Month has the Best Weather in Italy?
I think the best time of year to visit Italy also really depends on where you go in Italy. As mentioned before, Italy's climate is as diverse as it's culture.
If you're going to the Dolomites in January you will have a very different experience than if you go to Sicily in January. Winter in Italy can be very different depending on where you go.
Summer in Italy will generally be hot, especially in cities like Venice, Florence, and Rome. Summer in Italy might be a great choice for the Dolomites, or the northern lakes of Italy like Lake Como, Lake Garda, and Lake Maggiore where the mountain climates are more temperate and you have access to swimming and boating!
I find Italy in September really nice all over the country. You still have the warmth that you imagine Italy always has and all the tourist attractions are still open, but the crowds are much lighter thanks to traditional school schedules!
Spring in Italy is beautiful with blossoming wisteria abounding, but you are guaranteed to have less predictable weather, which usually means more rain and also spring break crowds.
When is the best time to visit Italy for Budget Travel?
I would say that for budget travelers, the best time to visit Italy is during the winter months, January and February in particular. Flights will be cheaper, hotels and Airbnb will be cheaper, and transportation will be cheaper.
But keep in mind this may not be the warm gelato-eating, sundress-wearing, beach-going kind of trip you may have dreamed of. So keep an eye out for good flights, and try to compromise with your time and money.
The short answer is that there is no best month to travel to Italy. Every time of year has something different to offer. Do your best to plan for affordable flights and lodging while picking a time that works for your schedule and your dream trip.
If you're looking for ways to save money for travel, read this. And if you want to learn how to save up to afford your dream trip, read this.

How Much is a Trip to Italy Going to Cost Me?
If you're traveling to Italy on a budget, it's important to remember that traveling can really cost as much or as little as you want it to. That's the beauty of this country. There is something for everyone, including something for everyone's budgets!
How much to budget for a trip to Italy?
Flights: $300-600 depending on the time of year and your location

Lodging: $50-$200/night depending on your budget

Transportation: $200-$400 for the entire trip depending on the length

Food: $20-$100/day depending on your taste, standards, and size of your group

Gelato: $20/day (oh wait, that's just me! But gelato costs between 2-5 euros depending on where you are, so plan accordingly and bring cash.)

What to Pack for Italy
If you're wondering What to wear in Italy, don't stress. Packing for Italy is pretty simple, especially if you're going in the warmer months. I recommend packing a few sundresses, pants, a light jacket, and very good walking shoes. Don't forget to pack your Italy power adapter, as you'll find two different types of plugs in Italy.
Here's a basic list of what to pack for Italy, but if you want a more in-depth list, you can see what we packed for our Italy backpacking trip here.
Italy Power Adapter
You'll want to be sure you have a good international adapter, but I also like having a specific Italy power adapter because many old Italian homes will have two separate kinds of outlets and I've found that the international adapter doesn't work as well in the old Italian ones.
Walking Shoes
If there's one thing you can count on in Italy, it's that you'll be doing a lot of walking. And you'll certainly need to if you plan on eating gelato every day! Italy is covered in hills and cobblestone streets, which make it so beautiful, but also rather difficult to walk through at times. You'll want to be sure to have some good walking shoes.
If you're visiting Italy in the summer, these sandals are amazing! I've had them for a few years now and they are comfortable to walk in for miles, but also cute enough to be worn with a sundress at church.
And if you're visiting Italy in the winter or if you'll be doing some hiking, these are the most amazing boots ever! I've had them for years and the best part is that they have a lifetime warranty from Eddie Bauer. I've walked through the souls of these boots after a few years and traded them in for new ones. They're super comfortable and totally waterproof!
Day Pack
You'll need a good daypack if you're carrying camera equipment and water around on all your activities in Italy. We love this Osprey daypack.
Fanny Pack
I'm still so baffled that these beauties ever went out of style! They are great for traveling and for allowing you to be hands-free, which is so important if you've got little kids to look after! It also puts the weight of your bag on your hips instead of your back and shoulders which will already be overworked from hauling your luggage all over Italy.
I love having a big fanny pack with everything I need accessible in front of me.
But I also love this smaller one for excursions that require less stuff!
Portable WiFi
You'll need some good WiFi when you go to Italy so that you can get around easily with your maps and stay in touch with your travel group. We love using Skyroam! You can use the code WANDERLUSTCREW for a special discount.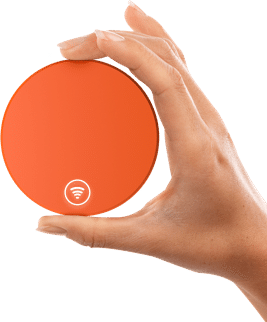 Portable Phone Charger
I cannot go anywhere without my portable phone charger! I love the myCharge line because the cords are all built in! I just bought one that has USBC connections so I can even charge my laptop with it!
Camera
I'm in love with Sony mirrorless cameras. They are so much lighter and smaller than DSLRs, but provide the same quality. The Sony a6000 is a great starter mirrorless camera!
Staying Safe in Italy
Italy is generally a safe country. It's always wise to be aware of any scams or high pickpocketing areas, and you must always be on your guard, especially when traveling solo or with kids. Be sure to read my 50 tips for traveling Europe like a pro.
Where to Stay in Italy
There are hotels, Bed & Breakfasts, and home rentals all over Italy and they are all pretty affordable. We've stayed in some seriously amazing places in Italy!
We stayed in Lake Como for two months in a huge gorgeous house with a view of the lake for $1,200 USD/month. I stayed in a beautiful Airbnb on a lemon grove with an ocean view in Sorrento where our host made us a homemade breakfast every morning including hand made fig tarts that I still dream about!
Our personal favorite way to stay in Italy, especially as a family, is with Airbnb. We've saved thousands of dollars by using Airbnb. If you've never tried it, you should! Here is a $40 coupon for your first stay.
Read this guide to using Airbnb before you even start looking for where to stay in Italy.
We've also had good luck with hotels in Italy. We stayed at an amazing hotel in Rome right on the Piazza Navona where the bed lifted up to reveal a spa-sized bathtub with jets for under $100 USD/night. Another of our favorite hotels was one that opened up to a magnificent view of the Colosseum. There is something for everyone in Italy.
You can find some of our favorite hotels in Italy here.

The Best Places to Visit in Italy – Where should I go?
Italy is a huge country by European standards. It's around the same size as the state of California. It's tough to know where to go in Italy: the ancient ruins of Rome, the museums of Florence, the canals of Venice, or maybe something a little more unique and remote.
The options are endless and you can really have any kind of Italy vacation depending on your preference. Choosing where to go in Italy is tough, but this list of the best places to visit in Italy should help.
These are some of the best cities to visit in Italy and some of my personal favorites:
Rome
As the capital of Italy and the center of what was once the Roman empire, Rome is an important historical and cultural icon that should be visited by anyone going to Italy. Not only is it important, but it is also beautiful and full of great food!
Rome is also a great place for families. With all of the museums and ancient ruins all over town it's a great opportunity for kids to learn some history while having a gelato! Read my guide to Rome for families here.
Rome is also a great jumping off point for anywhere else in Italy. Most affordable flights will take you to Rome, so even if you only have a short time there, read about what to do with one day in Rome.
Venice
Venice is a place like no other! With its busy canals and complete lack of cars, it's somewhere you have to see with your own eyes. Read my guide to Venice here.
Cinque Terre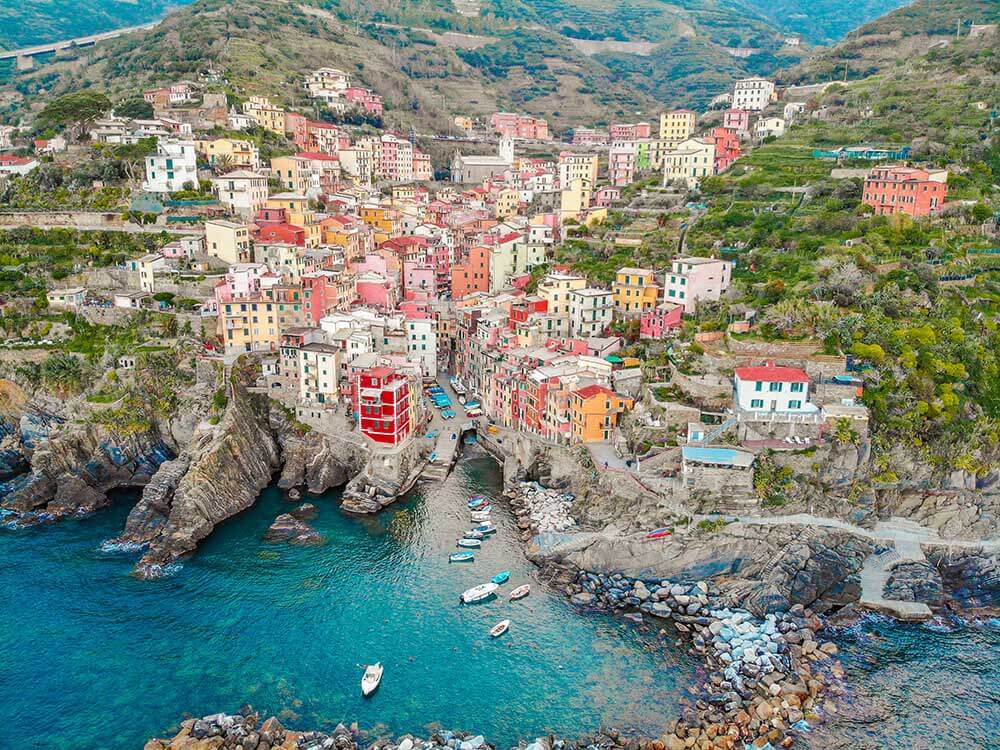 I love Cinque Terre! The land of five towns is frozen in time and absolutely gorgeous. It has a great mix of beach, history, architecture, and food. Read my guide to Cinque Terre here.
Lake Como
Lake Como Italy is one of my favorite places not only in the country, but in the world! We lived here for several months and I didn't want to leave. You can read about our experiences boating Lake Como and why its the perfect place for a family vacation.
Sardinia
One of the largest islands of Italy, Sardinia boasts some of the best beaches in Italy and is also a Blue Zone, which means that people who live here are some of the longest living people on Earth!
Getting Around Italy
Once you've purchased your flights to Italy and booked your lodging in Italy it's time to start planning your transportation between your Italy destinations. There are many ways to get around Italy including cars, trains, bikes, planes, and even boats.

Train Travel in Italy
One of the big reasons I keep coming back to Italy is that train travel in Italy is so affordable and fairly easy to use if you know what you're doing. Don't go to Italy without reading my guide to train travel in Italy! I truly think this is the best way to travel in Italy!

Driving in Italy
Driving in Italy is not like driving in the United States. It's not the worst place I've ever driven, but they definitely have their own set of rules. Just be very cautious and aware of other drivers, and get the full insurance on your rental car through the rental company or through your credit card company if they offer that.
I've rented cars in many foreign countries and have never had to show an international drivers permit until I tried to rent once in Milan. It has not happened to me again since, but it's good to read the fine print when you book a rental car, or you can just go into AAA and pick up an international driving permit for around $20. You don't need to take a test or anything.
The Best Things to do in Italy
Now that you've decided on your destinations, accommodations, and how you'll get around, it's time to think about what to do in Italy! The options are nearly endless, but I'm going to list my favorite activities in Italy:
Take a train ride

Ride on a Vespa

Take a Cooking Class

Spend time on the beach

Eat gelato every day (read my guide to finding the

best Gelato in Italy here

)

Try all the food

Speak some Italian

Explore ancient ruins

Take a gondola ride

Take a hike

Italy Itineraries
If you're not sure where to go and would like some Italy vacation ideas, I've put together some of the best Italy itinerary options. Sometimes the best way to see Italy is with a set itinerary that means you don't have to put too much effort into the planning.
I hope this has helped answer some of your questions about visiting Italy and I hope you're feeling more ready to start planning your own trip. Whatever you choose to do and wherever you choose to go, you are going to love this amazing country! If you need help planning your trip to Italy, please feel free to reach out! I do free trip planning and would love to help you! You can email me or get in touch on Facebook or Instagram
If you loved this, please pin it!