If you're spending Christmas in Europe these are 50 of the best winter destinations in Europe.

50 Amazing Places to Spend Christmas in Europe
If you gave me a choice to spend Christmas in Europe or Christmas in my dream destination that I've always wanted to visit for forever, guess what? I'd still choose Europe…every time!
So, of course, this year we've decided to spend Christmas vacation in Europe.
In my opinion, there's nowhere more magical at this time of year. If you're looking to get into the Christmas spirit and enjoy some festive, yuletide fun and food, Europe is the place.
Here's what you can expect to find in most European winter destinations at Christmas time:
Festive yuletide decorations: Europeans love to go all out with classy Christmas decor, not tacky like some of us Americans.
Amazing food: Each destination will have its own traditional delicacy just for Christmas time.
Friendly locals: How can one not be happy at Christmas time! I generally find the entire human population is jollier around this time of year, no matter what holiday you celebrate! There are so many winter solstice traditions and celebrations going on that many spirits are lifted.
Things to buy: Wherever you spend Christmas in Europe you're likely to find something to take home with you. Christmas markets dot the continent selling anything from potpourri garlands to ceramic houses.
For the most part, you can't go wrong in any European destination you choose in December. Even if you're looking for warmth, parts of Europe will have it this time of year.
But I go for the chilly nights, snow-capped mountains, festive Christmas markets, hot kinder punch, chestnuts roasting on an open fire, and decked halls! A winter vacation in Europe is my kind of vacation!
I was lucky enough to take a winter Europe trip last year to over 10 European Christmas markets from Paris to Budapest and it was amazing. Not everyone can drive all around Europe to see that many markets, so it's best to pick one country or area.
But it can be tough deciding where to go in Europe for Christmas! The struggle is real…can we talk about first world problems?? I've rounded up 50 of the best winter destinations in Europe for you right here to make your decision making a little easier. If you've been to Europe in winter, I'd love to hear where your favorites are!
Amiens, France
Amiens is a fantastic Christmas destination with an amazing Christmas market food. We visited for a weekend leading up to Christmas and spent most of the time exploring the Christmas markets. The markets are filled with family friendly activities and really great food and drink. We didn't eat at a restaurant even once with so many delicious options at the markets. Amiens has some of the best French Christmas markets in the country.
We also found Amiens' Christmas market stalls to be more eco-friendly than most, which we loved. We like Amiens more than some of the more famous neighboring towns for a Christmas adventure since it has the same atmosphere and authenticity but with far fewer tourists! The quaint French town is filled with beautiful parkland and cute villages. The centerpiece of the town is the stunning Cathedral Basilica. At the end of the day, you can go to the Cathedral to watch the light shows that are projected onto the side of the building for a magical end to a Christmas cheer filled day!
Where to stay in Amiens, France
From Travel Mad Mum
Amsterdam, Netherlands
Amsterdam is a beautiful place to visit at Christmas. Not only is it delightful to look at with Christmas lights making the canals sparkle and lots of cozy restaurants, bars and coffee shops (ones serving coffee, and ones serving other things!) where you can warm up in between wandering around the picture-perfect streets, but Christmas is actually one of the quietest times of the years for visitors.
When recent years have seen the number of travelers in Amsterdam sky-rocket, this is no bad thing and you can, therefore, take advantage of special hotel deals and no crowds in the most popular museums. There are a few Christmas markets scattered around the city during this season but I wouldn't come to Amsterdam at Christmas for these as they're mostly overpriced tourist traps, instead come to ice-skate on the special rink outside the Rijksmuseum (yes, a bit touristy but still a nice festive thing to do!), go to see Christmas carols performed at the Concertgebouw, and also warm up with Oliebollen (deep-fried dried fruit doughballs – yum!).
The other highlight of Christmas in Amsterdam is the Amsterdam Light Festival which is a series of art installations on the canals which you can cruise around on a tour boat or wander around if the weather doesn't put you off… or you could even do what the locals do and cycle!
From As the Bird Flies
Basel, Switzerland
Some of the best winter vacations in Europe can be found in Switzerland! With the snowy alps and festive markets all around, it's pure magic!
This was the year we decided to have a "European Christmas Market" experience. We visited France, Germany, Switzerland, Austria, Slovenia, Hungary and Serbia trying to visit as many Christmas Markets as we could. Part of our travels included a cruise down the Rhine River with some good friends. We disembarked at Basel Switzerland, an old medieval town resting on the banks of the Rhine River where the borders of France, Germany, and Switzerland intersect.
Each Christmas the enchanted forest in cathedral square comes alive for the Münsterplatz Christmas Markets. With over 180 vendors selling their specially prepared wares from handmade Christmas gifts, candles, glass baubles, dolls, wooden toys all competing for the attention of awestruck children whilst the adults' senses are flooded with the smells of many gastronomic delights.
Gingerbread, mulled wine, roasted chestnuts, grilled sausages, apple pie, hot gooey cheese (Raclette) are just a few to choose from. The trees are lit with large white stars providing illumination for the performers singing favorite yuletide carols. People huddled around glowing braziers sipping their mulled wine trying to keep the cold at bay. Good times, good friends and good memories.
Where to Stay in Basel, Switzerland
From A Hole in My Shoe
Belfast, Ireland
Belfast is a relatively quiet city when compared to the big names in Europe, but this definitely works to the advantage of Northern Ireland's capital city, which has come on leaps and bounds from its once-troubled past. And wintertime is always a special time in the city, when, in the run-up to Christmas, the city's bars are buzzing with a uniquely local festive charm.
Two of the better areas to explore would be the traditional pubs of the Cathedral Quarter, an area popular with the reveling city workers of Belfast, or, alternatively, the Botanic Area which is more popular with the students of Belfast.
But there is something for everyone during Christmas in Belfast, including the
Belfast Christmas Market
which takes over the grounds of the iconic City Hall building smack in the city center. As well as the lights and baubles decorating Victoria Square and surrounding shopping streets. And it is just a scenic and atmospheric city to explore around near the Lagan Riverside
From
It's Sometimes Sunny in Bangor
Berlin, Germany
Berlin is a fabulous place to spend your Christmastime, as the city is positively bursting with Christmas markets to explore! While shopping is great in the city at any time of year, a souvenir from Berlin is even more special if you pick it up at one of the city's famous Christmas celebrations.
And don't forget to grab a few gifts for friends and family back home! In my opinion, the loveliest Christmas market is the Gendarmentmark, which has entire makeshift restaurants onsite. On top of the traditional Christmas market fare, you can also indulge in an elegant meal while looking out at the gorgeous lighting and listening to music and festivities.
There are dozens of markets to choose from, so if you want you can go from market to market for days on end. Some of my other favorites include the markets in Spandau and at Charlottenburg Palace. Does anything seem more magical than a Christmas market outside of a palace?
Where to stay in Berlin, Germany
From History Fangirl
Bratislava, Slovakia
Quite possibly one of the best-hidden gems in Europe, Bratislava is the small capital of Slovakia and every year they roll out the glittery red carpet for Christmas in a big way with several markets, performances, and amazing food all around the city center. There's even ice skating!
Where to stay in Bratislava, Slovakia
Brussels, Belgium
During the holidays, Brussels holds a spectacular Christmas market event. The Brussels Winter Wonders takes place at the Grand Place in Brussels, at Place de la Monnaie, the Place Sainte-Catherine, and the Marché aux Poissons.
The Christmas Markets in Brussels are so unique, with a sound and light show at the Grand Place in the evening, and the giant Christmas tree to liven your holiday spirit. There are also fun fairground attractions for the kiddos. You will find a giant Ferris wheel, carousels, ice skating, and fun carnival games that will keep them busy for hours.
Let's not forget the food! The most delicious foods to sample here is the Salmon roasting on an open fire, the hot Vin Chaud, and of course the chocolates, frites, and waffles. There are over 200 chalets serving food, desserts, and some one-of-a-kind Christmas market souvenirs. The city really knows how to wow with its amazing Christmas decor and lights. It will definitely put you in the Christmas mood!
Where to stay in Brussels, Belgium
From Skylar Aria's Adventures
Budapest, Hungary
Budapest was a European Christmas destination that really took me by surprise. It's an absolutely beautiful city with friendly locals that really comes alive during the holiday season. Budapest has one of the most amazing Christmas markets I have ever seen. The main market is required to only carry handmade products and they are all very affordable. I bought most of my kids' Christmas presents at this market last year. You can learn more about Budapest here.
Colmar, France
Colmar France is one of the best cities to visit in Europe in winter!
Colmar is a fairytale town at any time of year, but at Christmas time it really kicks it up a notch! There are five Christmas markets all over town and the setting is just magical. Kids will love the life-size horses that gallop around a track while foam "snow" flies through the air.
There are also live animals at one of the markets at the nativity scene, so another hit for the kids. Another thing we loved about the Christmas markets in Colmar is the fact that there were so many unique, handcrafted items…unlike some other markets where most of the items are now made in China! You are close enough to visit the neighboring markets at Strasbourg and also to see the charming town of Riquewihr all festive for the holidays. If you want some Christmas magic, definitely head to Colmar at the holidays! A bonus is that they stay open until New Year's if you want to extend the festivities.
Courmayeur, Italy
Courmayeur is nestled in the Alps, in Italy's smallest region the Aosta Valley. Christmas is almost invariably a snow-covered affair with lots of visitors taking to the slopes to ski. Of course, if you aren't a skier there's still lots for you to do. Christmas Eve sees a giant celebration in the Town Square and Rhémy de Nöel, the Chimney Sweep Santa Claus of Courmayeur, makes a special appearance. Find the best places to spend Christmas in Italy here when you visit!
There is a giant Christmas Tree festooned with lights that sit in the center of the square, and there is a host of shops and restaurants for you to try. The town retains a traditional alpine charm that adds all the more to the atmosphere. You could go snowshoeing or cross-country skiing in beautiful Val Ferret, or get some elevated views of the Mont Blanc Massif by traveling up the famous rotating Skyway Monte Bianco Cable Car.
If you want to relax, head to the Thermal Spas at the nearby village Pre-Saint Didier. You can sit in a giant outdoor Jacuzzi, taking in the mountainous views while surrounded by snow! Just half an hour away is the region's capital, Aosta, and you can visit their traditional Christmas Market, Marché Vert Noël, set in the grounds of an ancient Roman Theatre.
Where to stay in Courmayeur, Italy
From A Girl and Her Dog on the Road
Edinburgh, Scotland
Edinburgh, Scotland is so magical at Christmas time. I'd say it's right up there with London for me. You can, of course, wander the festively lit streets and take in all the decor and visit the Christmas markets around the city. Edinburgh also has some fun rides brought into Princes Street Gardens which kids and adults of any age will love. Treat yourself to a holiday afternoon tea at the Dome with over-the-top Christmas decorations and treats!
Where to stay in Edinburgh, Scotland
Florence, Italy
While many places in Italy may not feel as festive as the northern parts of Europe, like Germany, Florence still has that yuletide charm with Christmas trees in many piazzas and also a creche, or nativity, in and around the cathedrals of the city. Florence also has a great Christmas Market and lights display!
Where to stay in Florence, Italy
Grindelwald, Switzerland
If it's a snowy Alpine Christmas experience you are after, look no further than the charming winter resort town of Grindelwald in Switzerland. Surrounded by a panorama of Alps, including the famous trio of Eiger, Jungfrau and Monch, Grindelwald is a real-life version of a Christmas card scene.
As one of Switzerland's most popular ski resorts, Grindelwald entices visitors all winter but no more so than at Christmas time when a festive atmosphere abounds. With fairy lights strung across the streets, Christmas trees decorated with brightly colored baubles and snow dusting the rooftops, it's hard not to get in the mood.
A small Christmas market is held a few days before Christmas (it will commence on 21 December 2019) where you can buy last-minute gifts and Christmas specialties. Traditionally the Swiss enjoy their main family meal on Christmas Eve but if you are staying in a hotel, you're likely to be able to enjoy a festive lunch on Christmas Day – just book well in advance.
You'll need to work off that Christmas lunch and there is no shortage of ways to do that in and around Grindelwald. Sledding, snow tubing, snowshoeing, curling and ice-skating are just a few activities you can partake in. Grindelwald is also home to the largest beginners ski area in the Jungfrau region, bodmiARENA. Then there's the First Flyer, an 800-metre long zip line that whisks you along at up to 84 kilometres per hour! For more gentle pursuits, why not enjoy a horse drawn carriage ride through the surrounding snow-covered countryside? However you decide to spend your Christmas in Grindelwald, you won't be disappointed.
Where to stay in Grindelwald, Switzerland
From Holidays to Europe
Heidelberg, Germany
Which German city has the best Christmas market you ask? Well, this is a question that can be debated all season, and there isn't really a right answer, but I will tell you my favorite. The adorable university town of Heidelberg, Germany has several amazing Christmas markets throughout the old part of the city at the base of Heidelberg Castle. Be sure to ride the funicular up the hill and tour the castle as well as catch the stunning view of Heidelberg. My favorite part of Christmas in Heidelberg is the giant Christmas Pyramid in the middle of town!
Where to stay in Heidelberg, Germany
Iceland
Spending Christmas in Iceland has many benefits. First of all, you're pretty much guaranteed a white Christmas, and you'll most likely get a chance to see the Northern Lights. Iceland is famous for having 13 Santa Clauses! And you'll find the cutest horses in Iceland. Icelanders also receive books for Christmas and spend all Christmas day reading. What a great tradition!
Ireland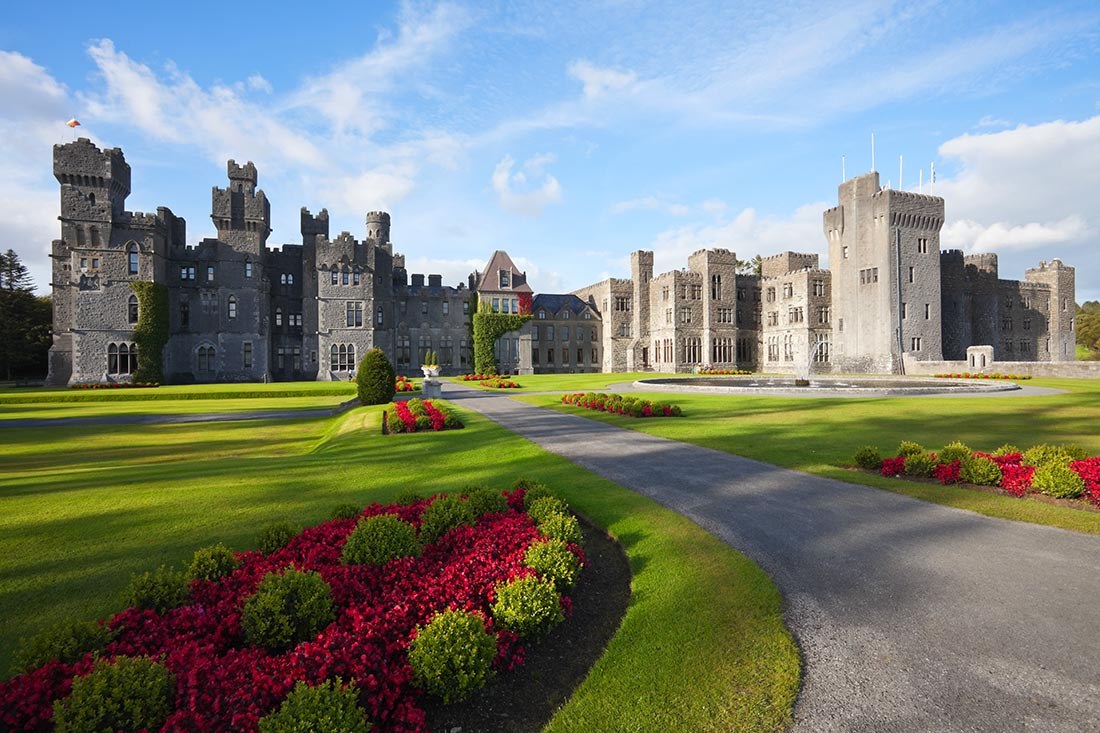 Ok so this is not a specific destination and I know Ireland is pretty broad, but did you know that you can go to Ireland and stay in a castle over Christmas? Pretty magical right? Check out Ashford Castle, Kildare Castle, and Adare Manor, among many others.
Lapland, Finland
If you are looking for a unique way to spend the Christmas holidays, then look no further than Lapland, Finland. Located in the North of Finland near the Arctic circle, Lapland is a magical fairy-tale winter wonderland with ice hotels, snow parks with sledding, and of course Santa Claus Villages to mail your letters and visit the Jolly Old Fellow himself.
Fly into Rovaniemi or take the overnight Santa train from Helsinki and be whisked into sparkling lights, peaceful Finnish forests, and an array of winter activities. Your kids will delight in dog sledding, reindeer sleigh rides, snowmobiling, visiting an Arctic Zoo, and chasing the elusive northern lights.
Little ones will also delight in the indoor Santa Park where they can train to be Santa's official elves, take a ride on a Santa train, see ice sculptures up close and decorate cookies just in time for the season. Read about all of these adventures in Lapland, Finland on my family-friendly blog.
Where to stay in Lapland, Finland
From Pack More Into Life
Leukerbad, Switzerland
Leukerbad is the perfect destination in Europe if you love the idea of a white Christmas in a picture-perfect Swiss village soaking in hot tubs and playing in the snow. Located at 1402 meters in the Swiss Alps, you aren't guaranteed snow on Christmas Day but there is a very good chance. If it's not snowing in town then there are two quick cable car journeys you can make to higher peaks where you will have snow including amazing views over the Swiss Alps to the Matterhorn.
The town itself is known for its hot springs and we spent some of Christmas Day soaking in the hot water surrounded by snow. Afterward, we went sledding on the slopes next to town which is an easy walk from anywhere in the village. The town mostly caters to local tourists so we liked that it wasn't full of English speakers like us. It also has many restaurants and it was no problem at all to have a traditional Christmas meal.
Where to stay in Leukerbad, Switzerland
London, England
In my humble, totally nonbiased opinion, London is one of the best places to spend Christmas in Europe. If you want a really classic, traditional, British Christmas (the best kind in my opinion), London will not disappoint! There are so many festive activities, bustling Christmas markets, and tasty treats around the city that you'll never want to leave. Our family was lucky enough to spend the entire month of December in this beautiful city, and I think I'd celebrate Christmas every year there if I could. Find out why Christmas in London is the best.
Luxembourg City, Luxembourg
One of Europe's smallest capital cities, Luxembourg City feels like it becomes one giant market at Christmas. Everywhere you look, there are lights, food stands, craft vendors, and musicians, as one market merges into the next. It makes every inch of old town Luxembourg City feel festive.
The Luxembourg City Christmas market is heavily influenced by the country's neighbors. That means you'll find food, decorations, and crafts commonly associated with Germany, France, and Belgium. The result is a fabulous variety of treats like German sausages, French crepes, and Belgian pastries added to Luxembourg wines and local food specialties like Luxembourgish potato pancakes called gromperekichelcher.
In addition to all the food, the market has a carnival-like atmosphere. You'll find a Ferris wheel, spinning Christmas tree rides, games, and even trampolines. An ice skating rink and lots of musical performances assure that you'll leave this market feeling very much in the Christmas spirit.
Where to stay in Luxembourg City
From Travel Addicts
Lviv, Ukraine
(Obviously not a safe place to travel right now)
The coziest and most romantic city in Ukraine – Lviv sees many visitors year-round. However, it acquires its unique and especially fabulous atmosphere when the holiday season comes. In the third week of December, the entire city starts getting beautifully decorated with lights, garlands, lantern and Bible-related decorations.
First of all, this holiday is about Jesus, so visitors should expect to see a lot of religious motifs. Locals with special awe honor the traditions and cultural features of this holiday. Despite the fact that Ukraine mainly celebrates Orthodox Christmas, in Lviv people celebrate it two times – on December 25th and January 7th. This is why if you are visiting within this timeframe, besides Christmas markets and free concerts, you'll be also seeing lots of traditional singing, dancing, and performances.
Special holiday-style church services begin in Lviv on December 25. Those who attend get treats such as pastries and sweets. The most striking traditional performances last from January 5th to 7th, during the time of Orthodox Christmas. I personally love coming to Lviv for Christmas because of this festive and even magical atmosphere. You can find Christmas markets and beautifully decorated cities all over Europe. However, in Lviv, Christmas is celebrated in a way that people celebrated it in the last century.
Where to stay in Lviv, Ukraine
From Road is Calling
Manchester, England
Manchester is a great place to visit in Northern England at any time of the year, but during the festive season, the Christmas market makes it extra special. The city was the first in the UK to host a Christmas market in 1999. Every year the event grows, and it has become the country's most significant festive market.
Throughout December there are 300 beautifully decorated European stalls spread across the city and a wealth of delightful food to enjoy. Stalls sell everything from handmade jewelry to Belgian Kitchenware and exquisite French soaps. Live music fills the city and marques house pop-up bars and restaurants.
There's also an area designated to family entertainment with LED light shows, fun rides, and street entertainment. Manchester also has an excellent selection of theatres with festive shows to entertain you. When you've done with all that Christmas shopping, you can head to one of the rooftop bars, and enjoy a cocktail. The twinkling festive lights throughout the city look stunning, and the giant inflatable Santa on top of the town hall reminds you that Christmas will soon be here.
Where to stay in Manchester, England
From Passport and Piano
Nice, France
While it might not seem like it, Nice and the Cote d'Azur are superb Christmas destinations. Throughout December, Nice creates a lovely festive atmosphere with ornamental street decorations and has the biggest Christmas market in the area. More than 60 chalets line Albert 1 Park selling crafts, decorations, local and international foods, beers, and mulled wine. There is Santa's house for the kids, a skating rink, and the historic Ferris wheel, which offers magnificent views over Nice and the Mediterranean. Then head 20 minutes to Monaco and see their Market at the port. They, too, have a Ferris wheel, chalets, and food stands, and the city pool becomes a vast skating rink. Startup by the Monte Carlo Casino and walk the route past the Hermitage Hotel down to the port. To top it all off, Nice is 90 minutes from the ski resorts of Auron, Valberg, and Isola 2000. Head up to the resorts for the day and enjoy skiing, skating, tobogganing, and more. You might even want to spend a few nights in the mountains. And while it may be cool in December, it will still be bright and sunny… Sunny enough to still work on your tan.
From Life On The Mediterranean
Paris, France
Sparkling decor, cozy cafes, and ice skating with the Eiffel Tower in the background: there are a lot of reasons to plan a trip to Paris at Christmastime!
Paris in winter, generally speaking, is a delightfully underrated experience where the crowds almost disappear, the city streets seem a bit more open, and the crepes seem even more appetizing (is there anything better to keep your hands warm on a cold December day?). Discover what other goodies there are to eat in France.
Christmas decor in Paris is an absolute treat: the famous tree in Galeries Lafayette and enormous light displays along the Champs-Elysses are only the beginning. The Christmas markets, of course, will be completely decked out!
For Disney fans, there's no better time to experience Disneyland Paris than at Christmas: the decor is magnificent, lines reasonable, and since most of the rides are indoors, they won't be impacted by the weather.
While a Christmas visit to Paris will almost certainly mean experiencing the city under a heavy blanket of clouds, that's no reason to stay away! Paris' many cafes (don't forget to stop by Angelina for hot chocolate!) and museums are waiting to welcome you home when the long walks along the cold Seine get to be too much.
From Our Escape Clause
Porto, Portugal
Porto is definitely not the first place that comes to mind when thinking about Christmas destinations in Europe. In fact, this coastal city located in sunny Portugal is rarely – if ever – associated with Christmas, but that is rather unfair. During the Christmas season, you can find not one but at least eight different Christmas markets spread across the city where you can buy handmade gifts by local handcrafters, second-hand items and Portuguese food delicacies.
There are usually two ice rings in Downtown Porto, much to the amusement of kids and their parents. Moreover, the City Hall of Porto organizes plenty of Christmas activities, such as Christmas choirs, classical music concerts, and even street plays. We may not have glue wine, but we fight the winter blues with some hot chocolate at Arcádia or Café Guarany. And do not forget to try queijo da Serra, the famous soft sheep cheese that every Portuguese family has at its Christmas table!
From Portoalities
Prague, Czechia
Prague has become increasingly popular over the last decade, and it's easy to see why. The old-world charm of the city is a huge draw, and it's even stronger at Christmas time. Prague boasts two famous Christmas markets in the city and it is festively decorated throughout. You can learn more about Prague here.
Rome, Italy
The capital of the Christendom, Christmas is a busy season in Rome, and as soon as the summer heat starts fading away leaving space to colder temperatures, the shift to a festive mood is very quick. Events, markets, and decorations make the city lively and rich in activities. In addition to the many things to do in Rome, during the winter festivities, visitors will find a big range of seasonal activities that raise the Yuletide spirit.
The main streets and piazzas in the city center are all spruced up with lights and decorations and shops will also do their part making their windows alluring and colorful. You will also see some pretty beautiful Christmas trees in many areas. Some of the best ones are in the central Piazza Venezia, in front of the Colosseum and obviously in Saint Peter's Square, where it will stand tall beside a picturesque nativity scene (presepe in Italian). You will find a nativity scene in every church in Rome, so whether you are visiting a famous landmark or a small and lesser-known worship place, rest assured you will find a local presepe.
Busy Christmas markets will populate the main squares around the city. Make sure you don't miss the one in Piazza Mazzini for goods like clothes, accessories and regional foods, and the historic one in Piazza Navona where kids will love sourcing for sweets, candies, toys as well as playing in the many stalls.
From Chasing the Unexpected
Salzburg, Vienna
Salzburg and the nearby villages can offer a wide range of experiences during the Christmas time. The Advent season in Mozart's city is like walking into a fairy-tale. The splendid Fortress above the city serves as a magnificent backdrop for the little wooden huts all across town.
The aromatic smell of mulled wine, punch, freshly baked apples, toasted almonds, and cotton candy wafts through the air. The Salzburg Christkindlmarkt at the Dom and Residenzplatz is one of the world's oldest: it is mentioned as far back as the 15th century.
But it is not only wine and punch that can keep you warm. The summery beer garden of Sternbräu is transformed into a romantic village of huts, where you can taste hot beer while shopping the usual Christmas holiday decor and handcrafted gifts. In contrast, make sure you participate in one of the wild, slightly eerie Krampus parades. Outside the city, it is a memorable experience to visit the Christmas Market in front of the world-famous Silent Night Chapel, where the Christmas carol was born.
Stockholm, Sweden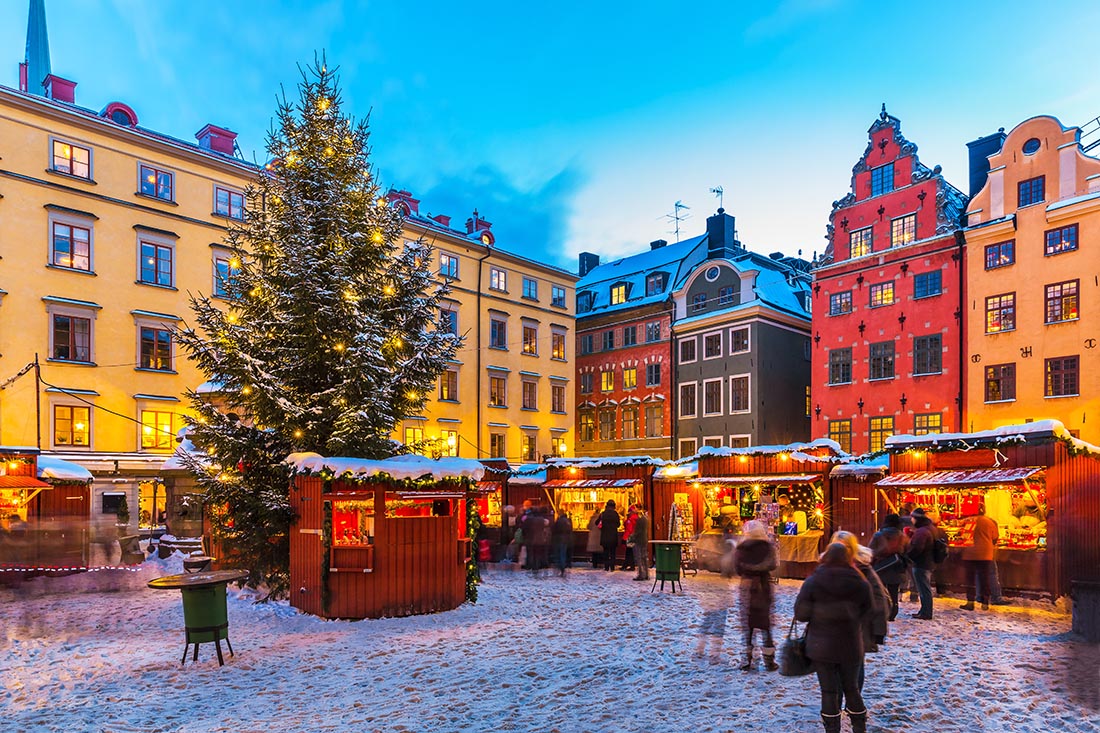 When I look back at all of our Christmas travel vacations a highlight for me has to be visiting the beautiful city of Stockholm, the capital of Sweden. Yes it gets dark early and it is cold – VERY cold but it embodies the perfect Christmas break for me. Although those looking for a white Christmas might be disappointed (although in the days we were there before Christmas we did indeed see a light dusting of snow)!
The city is one that does Christmas and Winter well. I love visiting Christmas markets but find some can be very busy and a bit samey but Stockholm offers something unique. There is a traditional and pretty standard Christmas market in one of my favourite places in Stockholm Gamla Stad, the historic heart of the city but there is also a very traditional market at the city's living history museum Skansen. Here you can sample traditional Swedish crafts, warm up next to roaring fires and hear a carol service in the restored church on site. Other highlights at Skansen include seeing how traditional Swedish life ws lived and walking around the Nordic zoo on site.
If you can time your visit to Stockholm in early December you can experience the festival of St Lucia where a girl is picked to represent St Lucia complete with a candle ridden crown. This is a truly Swedish sight!
From Wandermust Family
Strasbourg, France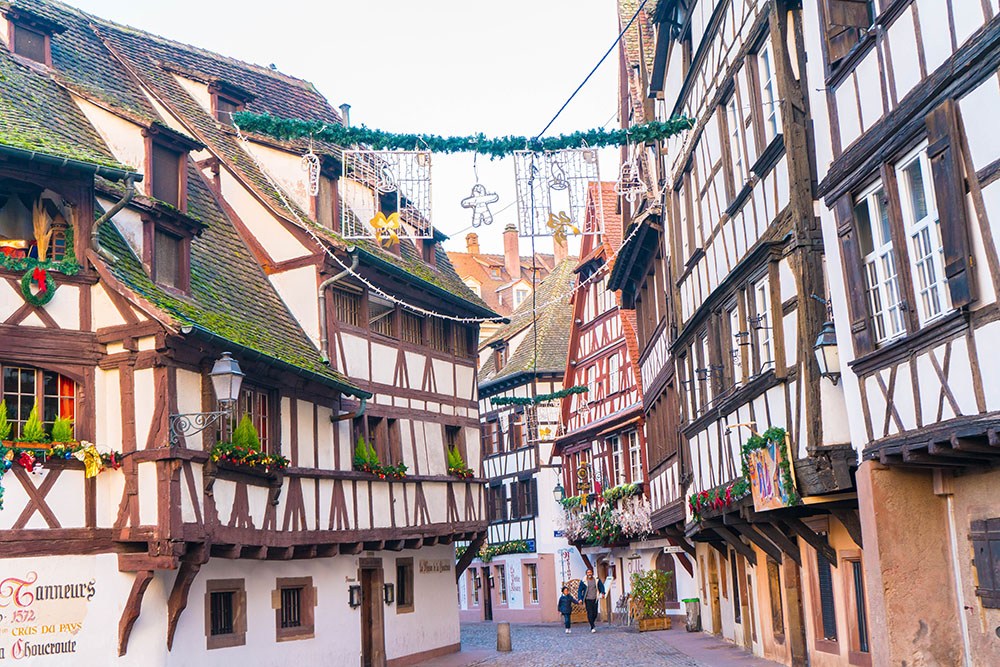 Christmas in Strasbourg, France is like a yuletide fairytale. This enchanting town in the Alsace region in France has earned its nickname as the Capital of Christmas with its festive decorations and undeniable Christmas Spirit. Strasbourg is one of the best places in Europe for Christmas if you want to see crazy decked-out streets oozing with festive charm!
And the setting for all of this Christmas cheer couldn't be more adorable, you'll find here the oldest Christmas market! Visit Petit France with beautiful half-timber houses and a little river running through the city center. Strasbourg also has a guest country to hold their own little market. One year it was Iceland and they even had Icelandic hot dogs. So that has me won over instantly of course! Strasbourg is one of the must-see places in Europe in winter, so don't miss it!
Where to stay in Strasbourg, France
Tallin, Estonia
Tallinn really comes alive over Christmas, especially in the old town area. Tallinn can be easily reached via ferry from Helsinki Finland aboard an extra special Christmas cruise. The cobblestone streets give way to a market square that hosts Christmas markets in the evening as the snow falls.
A small train offers rides to explore the town and local schools perform songs on stage in their native language. Trying the gloggi ( gluwein) is essential to keeping warm as temperatures can reach -15 over Winter. Other treats are sweets for the kids and various sausages and cabbage for the adults. There is a small rink to enjoy ice skating and many vantage points from the surrounding towers to witness Tallinns beauty.
Where to stay in Tallin, Estonia
From Smith's Holiday Road
Trentino, Italy
Val di Sole, in Trentino, Italy is just about the perfect destination for Christmas in Europe. Just imagine beautiful mountain peaks covered in snow; small scenic villages each with their own market and traditions; earthy food and the most welcoming people you can hope for; and needless to say, endless ski slopes of excellent quality and for any level of expertise.
The best place to enjoy the Christmas atmosphere in Val di Sole is Ossana, a small village where each year around 1000 nativity scenes are created and scattered around the village and inside the well-kept castle. They are all different – some tiny, some bigger, some wooden made while others use recycled material. Some nativity scenes portray the traditional version of the nativity, others an alternative one, with the representation of real-life events in the region. All of them are worth seeing.
Where to stay in Trentino, Italy
From My Adventures Across The World
Varese, Malta
Malta is by far one of the most renowned summer destinations in Europe. What people do not know is that one of the best periods to visit it is winter, especially during the Christmas holidays. First of all, the weather remains quite warm and you can have a break from the cold European or North American winter if you live there.
The temperatures hardly descend below ten degrees Celsius. A place that I particularly like is Valletta, the capital of Malta. This little gem of the Mediterranean stands on a peninsula one kilometer long and has beautiful architecture and its buildings luckily resisted the intense bombardments during World War Two.
In the weeks preceding Christmas, but also through all the following holidays, Valletta is lightened as its fellow northern cities. What makes it extraordinary is the mix of Christmas vibes and warm weather, which will at first look very weird. The same happens with the Christmas markets and other activities that will remind you of the cold winter you are escaping, nevertheless leaving you all the happiness of Christmas.
From Rest & Recuperation
Vienna, Austria
Vienna is a refined city full of culture and history. There are two popular markets in Vienna, the Rathausplatz and at Schonbrunn Palace. The largest and most popular Christmas Market in Vienna, Rathausplatz, receives nearly 3.5 million visitors per year and for good reason. With a Ferris wheel, fair rides, ice-skating rink, trinkets, and treats galore, this place is a Christmas wonderland. Rathausplatz wins for the best fun light display in my book! Be sure to ride the Ferris wheel and get some of the most delicious treats!
Where to stay in Vienna, Austria
Venice, Italy
Though Venice doesn't have a massive Christmas market or elaborate decorations, there's nothing more magical than Christmas in The Floating City. The crowds are not nearly as intense as during the peak summer season and you can experience the city in a completely different way.
The city's location on the sea prevents it from getting too cold, so you can comfortably wear your Christmas sweater, but don't have to don full "A Christmas Story" style snow gear. You can dine alongside locals at quaint Venetian restaurants (don't miss Corte Sconta for a fantastic fish feast), go to a Christmas concert at one of the city's many churches, marvel over Murano's beautiful glass Christmas tree, attend midnight mass at Basilica di San Marco, and enjoy a canal-side spritz without having to fight for a table.
For a special Christmas Day treat, I recommend getting a Bellini at Harry's Bar. Yes, you'll pay out the nose for it, but it's worth it to sip a cocktail alongside Venice's elite in this venerable institution. By the end of your trip, you'll wonder why anyone visits Venice during the summer…and you'll be keen to keep the city's Christmastime magic a secret!
Warsaw, Poland
Last January my husband brought me to Warsaw to attend a ballet. It was his Christmas gift to me and I was so excited to explore this beautiful city. What I didn't expect to see was that Warsaw was still full of festive cheer a month after Christmas! Not only is Warsaw the perfect place to enjoy the build-up to Christmas but it also is amazing for those wanting to extend the celebrations.
I think Warsaw is a perfect, yet underrated city for a festive weekend away. Not only is it an extremely cheap place to visit but it is so pretty, traditional, and quaint. Exploring Warsaw's Christmas markets should be top of the list. All throughout the city, you will find pop-up markets of different sizes with food, drinks, activities, and cute wooden chalet stalls to explore. There's a quaint and traditional vibe that feels a billion miles from the panic buying of Christmas shopping in other cities. The largest can be found at Warsaw's Castle Square.
Over December the city lights up with the annual Warsaw Christmas Light Festival. Trust me, these light installations are some of the best and most festive that I have ever seen and it is obvious just how much money goes into lighting up the city for Christmas. These are top quality!
In the center of the Old Town Square is an ice skating rink. Ice skating backdrops don't get much more romantic than the pastel-colored Baroque buildings in the Old Town Square. In fact, here, you will find the most Instagrammable spots in Warsaw. So grab yourself a mulled wine and enjoy this beautiful city during the festive season.
Where to stay in Warsaw, Poland
From All about RosaLilla
Wroclaw, Poland
Wroclaw is probably one of the best Christmas destinations in Europe. Still not as popular as Munich, Hamburg, and Nuremberg, the charming city of Wroclaw in Poland is the best place to spend your Christmas vacation at a cost that will not break your budget.
Find a hotel near Rynek where the yearly Christmas Market is held. Take a trip through a wonderland of beautifully decorated stalls and attractions as you breathe in the scents of pine, mulled wine, and gingerbread. As winters in Poland can be cold, the market has plenty of nooks for warming up. Make your way to a three-story house where you can warm up with a hot drink by a cozy fireplace and see a birds-eye view of the market from the terrace or make your way to the fireplace house that serves mulled wine.
During daylight, explore the city of Wroclaw by hunting the dwarves that are scattered all over the city and visit the charming Cathedral Island before making your way back to Rynek Square to catch the traditional Christmas parades, Christmas carols, and theatre performances.
Where to stay in Wroclaw, Poland
From Lazy Travel Blog
Wiesbaden, Germany
Germany is a great place to visit during the holidays. As a country with thousands of Christmas markets and castles dotting the landscape, it is a beautiful country to visit and explore.
Many people think of major cities in Germany such as Munich, Berlin, or Nuremberg when deciding where to go to see a traditional German Christmas market and spend the holidays. One lesser-known city, but perfectly situated right before UNESCO's Upper Middle Rhine Valley World Heritage Centre is the lovely city of Wiesbaden. The city center has a beautiful neo-Gothic church which is surrounded by the annual Christmas market for several weeks right up until the holidays.
The Wiesbaden Christmas market turns the city into a winter wonderland with hundreds of vendors. Beautiful twinkling lights rise up above the market and make it seem like an absolute sparkling night sky throughout the whole market.
Wiesbaden also has a rich history as a spa town and has well known hot springs in the middle of the city, and currently has over a dozen springs that still flow within the city. A well-known spa bath, the Kaiser Friedrich-Therme is a luxury spa bath and a wonderful place to visit when it is cold outside making it a top place to visit during the holidays as well.
Where to stay in Wiesbaden, Germany
From The Elusive Family
Zakopane, Poland
Zakopane in December is essentially a Christmas wonderland. The whole town feels like something out of a Christmas fairytale and it makes a perfect destination to spend the holiday season.
Zakopane is beautiful all year round, however, there is something extra special about it during the festive season. A popular winter vacation destination in Poland, Zakopane is a great place to visit for snow sports and family fun. There are pop up Christmas markets during December as well as their permanent market hall is a wonderful place to shop for unique Christmas gifts and souvenirs.
Zakopane is at the base of the Tatra Mountains, with plenty of opportunities for day trips and located just 2 hours from Krakow. Make sure to take the Funicular up Mount Gubałówka for stunning views and delicious traditional Polish food favorites.
Make sure you stick around for the New Years' Eve celebrations as well, when the center of town becomes a massive street party. Book early at one of the central restaurants and enjoy dinner and drinks in the warmth before the fireworks begin. Our Zakopane white Christmas and New Year is still our favorite Christmas memory!
Where to stay in Zakopane, Poland
Zagreb, Croatia
Zagreb, the capital of Croatia, is one of our favorite places to spend Christmas in Europe. The Zagreb Christmas Market, otherwise known as Advent in Zagreb, is definitely one of the most magical in Europe. It has been ranked the number one Christmas market in Europe for three years in a row and it's such a special time to visit the city. We love that the Christmas market in Zagreb is spread over the city in many different locations, so no matter where you go, there's something magical to find.
The city comes to life with beautiful decorations and lights, free entertainment, music, local food, and drinks. As it's cold at this time of the year, hot mulled wine is a great idea to warm up, as is hearty sarma, which are stuffed cabbage rolls, delicious! It's also hard to say no to the fritules, which are small Croatian doughnuts. A highlight is the outdoor ice skating at Ledeni Park, which is actually a circuit around the park. It's in such a beautiful area, and we had so much fun doing this even though our ice skating skills are poor at best.
Where to stay in Zagreb, Poland
From Almost Landing
Phew! I hope you found somewhere that you'll love! If you visit one of these I'd love to hear how it goes! If you're not going international this year, check out these amazing Christmas towns in the USA. Merry Christmas!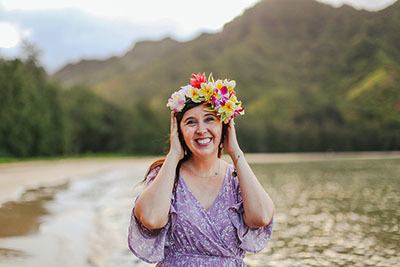 xo
Vanessa