Visiting Northern Ireland and looking to explore the capital city? Discover the best things to do in Belfast, from history, to adventure, to the best pubs in town.
When planning a trip to Ireland, many travelers overlook Belfast in favor of Dublin, the 'real' capital of Ireland, or other capital cities in the UK. Northern Ireland's capital city has a reputation for being a great place for nightlife and drinking but not somewhere to visit for culture or with your family.
Let's bust that myth right now: there are lots of awesome things to do in Belfast for absolutely every type of traveler and should be on anyone's Ireland itinerary.
Belfast has undergone an enormous transformation since the end of The Troubles from a no-go zone into a lively and welcoming city. Cobblestone streets lined with traditional Irish pubs and Gothic architecture await you in the Cathedral Quarter in West Belfast. Across the River Lagan in East Belfast, Belfast's Maritime heritage is celebrated in many cultural experiences in the Titanic Quarter.
The six hills surrounding Belfast city center offer so many places for outdoorsy people and families visiting Belfast to explore. It's a thriving student town with Queen's University with cool coffee shops and murals displaying Northern Ireland's history too.
This is a definitive guide to all of the absolute best things to do in Belfast city center and some day trip suggestions. It also includes where to eat and drink in Belfast Ireland, things to do with kids, and much more so you'll have the best time in Belfast! After reading this, you'll agree that Belfast is one of the best places in Ireland and it'll be on your bucket list too.
Don't have time to read a bunch of reviews and blog posts? Here are our top picks for visiting Ireland:
Get an Easy Ireland Itinerary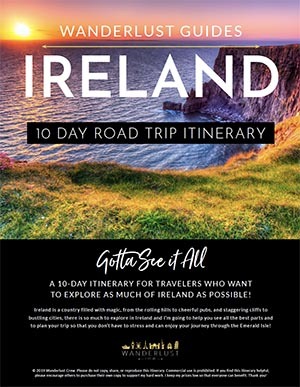 Our favorite hotels in Ireland
Our favorite tours in Ireland
Renting a Car in Ireland?
If you want to see authentic Ireland, I recommend you drive yourself. If you're renting a car, there are two companies we prefer to use: Rental Cars and Expedia Cars. We have had no issues with them and have been able to find the best prices available.
1. Belfast City Hall
Visiting a city hall probably wouldn't be high on your wishlist in other cities, but Belfast isn't like other cities! Belfast City Hall is one of the most beautiful buildings and one of the best things to do in Belfast.
Dating back to 1906, Belfast City Hall has an Edwardian and Baroque Revival architectural style. It was constructed in a grey Portland stone with columns and detailed sculptures on the facade and the interiors are just as ornate and lavish as the exterior.
This city hall isn't just one of the top things to see in Belfast because it looks pretty, but there is plenty to do here too. It's not only the home of Belfast City Council, but it also has a cafe and public artwork exhibitions. The Queen Victoria Memorial takes a prime position since she is the monarch that granted Belfast city status in 1888.
Outside of Belfast City Hall, you'll find several small memorial gardens that are worth strolling through. The Titanic Memorial Gardens list the names of those that perished on the Titanic ship in 1912. On the opposite side of the Titanic Memorial Gardens and Belfast City Hall is the Memorial to the World War I and World War II Soldiers and there are several statues too.
If you want to explore Belfast city center with a local guide on a walking tour, they usually meet in front of Belfast City Hall at 10 am, 12 pm, or 1 pm.
2. Belfast Zoo
One of the best things to do in Belfast with kids is to visit Belfast Zoo. It's too far north of Belfast city center to walk but buses depart from the city center to Belfast Zoo's nearest bus stop (Bellevue) every seven minutes.
Unbelievably, Belfast Zoo is almost as old as the country of Northern Ireland having been founded almost 100 years ago in 1934. After a revamp in the 1970s, it's easily one of the best attractions in the city with a diverse range of animals to support their breeding and conservation programs.
The pièce de résistance of Belfast Zoo is the walk-through rainforest house and their Asian elephants are also popular. Some of the other animals at the zoo include lions, reptiles, penguins, zebras, meerkats, giraffes, and gorillas.
If you're wondering what to do in Belfast with your children that will keep them occupied for a whole day, Belfast Zoo is the answer! Just seeing the Asian elephants will hold their attention for at least 15 minutes.
3. Titanic Belfast Experience
I'm not sure about you, but my kids (and in particular my youngest) are obsessed with the Titanic and the stories surrounding it. Yes, it's a bit morbid, but also fascinating, so I get it.
Not a lot of people know this, but the infamous 'unsinkable' ship, the RMS Titanic, which sailed across the Atlantic ocean before hitting an iceberg in 1912, was built in the dockyards of Belfast, Northern Ireland. This area is now known as the Titanic Quarter.
The Titanic Belfast Museum and Experience attempt to tell the story of the construction of the RMS Titanic with interactive displays, underwater exhibits, and even a theme park-like ride. They've even recreated some of the cabins and decks.
Really, the Titanic Belfast is a huge, state-of-the-art museum and it's one of the absolute best things to do in Belfast for kids and adults. You could spend all day wandering around the Titanic Museum with all the artifacts and activities there are. The gift shop alone is worth the visit!
If you only check out one museum during your trip to Belfast, Northern Ireland, make it the Titanic Belfast. There's a reason why the entire neighborhood which encompasses Belfast's docks around the River Lagan area is known as the Titanic Quarter!
4. Cave Hill Country Park
Belfast might be the capital of Northern Ireland, but it's almost completely surrounded by countryside. The 'Belfast Hills' is a group of six hills just outside the city center and these are Carnmoney Hill, Cave Hill Country Park, Divis and the Black Mountain, Slievenacloy Nature Reserve, Glenside Community Woodland, and Colin Glen Forest Park.
One of the best things to do in Belfast is to take a walk up Cave Hill Country Park. It's right next to the Zoo so you could easily do both in a day.
Cave Hill Country Park has lots of trails with gentle climbs and offers panoramic views across Belfast city centre and the coastline. If you want to know what to do in Belfast, Ireland that will get you outdoors, this is a great place to start!
5. Ulster Museum
The word 'Ulster' will appear a lot during your visit to Northern Ireland and it might seem confusing. It's simply the name of one of the four traditional provinces in Ireland before the division. The city of Belfast was in Ulster so, naturally, the city's local history museum is called the Ulster Museum!
Housed in a classical renaissance-style building, the Ulster Museum has tons of exhibits on local Irish history, art, and industry from the pre-historic era to the present day. The Ulster Museum is perhaps the only museum that displays Celtic crosses alongside replicas of props from Game of Thrones.
Ulster Museum is in south Belfast on the Queen's University campus so you will need to take a taxi or bus to get there, but it's worth the effort.
6. Belfast Castle
Doesn't every city in the UK have its own castle? It certainly seems that way and Belfast is no exception. Belfast Castle dates back to 1870 and visiting is one of the best things to do in Belfast. It's close to Cave Hill Country Park and the Zoo so you could spend one day just in this area of north Belfast.
Belfast Castle was built in the 'Scots Baronial' architectural style which was popular at the time. It features lots of turrets and a well-manicured lawn with stunning views out to sea. There's an adventure playground and an antique store at Belfast Castle too.
7. Grand Opera House
You might not expect to see a fancy theater on a list of what to see in Belfast, but the city has a number of beautiful, thriving performance venues. Whereas Ulster Hall is the go-to spot for live music, the Grand Opera House is where you can watch touring musicals, operas, and plays.
Built around 1895 and since restored, the Grand Opera House is a vision of plush red seats and ornate gold embellishments. If you're traveling to Belfast around Christmas, book tickets to see a traditional 'pantomime' performance. These are family-friendly, interactive shows often based on fairytales that are super popular in the UK!
8. Botanic Gardens and Palm House
On the banks of the River Lagan in the south of the city is where you'll find Belfast's Botanic Gardens. This sprawling estate is blooming with exotic plants and flowers from all over the world. Even the greenhouse at the Botanic Gardens (though it feels like sacrilege to refer to the Palm House as a greenhouse considering it's larger and grander than many houses!) is awe-inspiring.
Visiting the Botanic Gardens is one of the top things to do in Belfast whether you're visiting with your family, as a couple, or by yourself. Except maybe not on a rainy day! These Botanic Gardens and the Palm House date back to 1828 and it's so nice to see people still sitting on the lawn and enjoying picnics and conversations almost 200 years later.
9. Belfast Cathedral/St Anne's Cathedral
Of course, in order for Belfast to have a 'Cathedral Quarter' there must be an actual cathedral! St Anne's Cathedral is unique in that it doesn't have a single spire or bell tower that emerges onto Belfast's city skyline. It was only consecrated in 1904 which is modern by Irish standards!
It has a Romanesque Revival architecture style with an impressive Celtic cross on the church's exterior. Both names 'Belfast Cathedral' and 'St Anne's Cathedral' are used interchangeably and don't worry about adding it to your what to see in Belfast list because there's no way you can visit the city without passing this church.
Belfast Cathedral is open every day except Sunday and it's free to go inside so you should definitely have a peak.
10. Sir Thomas and Lady Dixon Park
One of the largest parks in the city, visiting Sir Thomas and Lady Dixon Park is one of the best things to do in Belfast on a sunny day. Sir Thomas was the son of the first Mayor of Belfast and Lady Dixon was a philanthropist who spent a lot of their wealth on the less fortunate in Northern Ireland around the turn of the 20th century.
Before Lady Dixon died in 1959, she donated the 130-acre land that would become Sir Thomas and Lady Dixon Park to the city. This park is home to two golf courses, woodlands, a rose garden, and a couple of mansions.
11. St Anne's Parish Church
St Anne's Cathedral is a Church of Ireland building, meaning it's a protestant place of worship. If you know anything about Irish history, you know that both catholic and protestant Christian faiths are represented in Belfast's local community.
If you're wondering what to see in Belfast aside from the cathedral, you can pay St Anne's Parish Church a visit. It's a much smaller, more modern church located in south Belfast but if you like to visit off-the-beaten-path places then St Anne's Catholic Parish Church ticks all the boxes.
12. Albert Memorial Clock
Victoria was the Queen of the UK when Belfast became a city, so there are a lot of buildings and institutions associated with her. Another monument you should add to your list of what to do in Belfast is the Albert Memorial Clock.
This Gothic-style clock stands on top of a 141ft (43m) tower in the Cathedral Quarter and it's dedicated to Prince Albert, the Queen's Consort. It has incredibly ornate details, including a statue of him, and it's hanging out in the middle of a traffic intersection! Incredible.
13. Belfast Lough
Are you ready for a very, very short Irish Gaelic language lesson? You might've seen the word 'loch' before which is the Scottish word for 'lake' but it's spelled 'lough' in Irish. They're both pronounced 'lock' no matter which way they're written.
The funny thing is, Belfast Lough isn't even a real lake! Belfast sits in an inlet on the northern coast of Northern Ireland so it might look like a lake but it flows out to sea. It's very picturesque though and one of the top things to see in Belfast.
Because it's somewhat sheltered, it's a great place to go sailing and you can hop on a boat tour in the Titanic Quarter. If you're a bird enthusiast, look out for curlews, redshanks, and great-crested grebes as they all nest on this coastline.
14. Crumlin Road Gaol Experience
Known to locals as 'The Crum', the Crumlin Road Gaol was a working prison from 1845 to 1996. If you're into dark tourism and want to know what to do in Belfast, the Crumlin Road Gaol has to be on your list. They host guided tours for visitors as well as paranormal investigations. The Crumlin Road Goal Experience really is one of the most interesting things to do in Belfast, so be sure to book it in advance.
15. St George's Market
If you want to buy local treats or souvenirs, shopping at St George's Market is one of the top things to do and things to see in Belfast for you!
This is a covered, 19th-century weekend market selling everything from cakes to cheese, fish, meat, skincare, and lots of other nick snacks. St George's Market is a huge building in the middle of the Cathedral Quarter so you can't miss it.
16. Victoria Park
One of the best things to do in Belfast, Northern Ireland is to stroll through parks because there are just so many beautiful green spaces in this city. Another is Victoria Park in East Belfast between the Titanic Quarter and Belfast City Airport.
This is an active park, home to the East Belfast Yacht Club, a BMX track, playground, and soccer (sorry, it's football in Northern Ireland!) fields.
17. HMS Caroline
The Titanic Belfast is just one famous ship produced in the city's maritime history. The SS Nomadic is actually on display in the waters of the Titanic Quarter, as is the HMS Caroline.
The HMS Caroline was a combat cruiser used during WWI that now lives permanently in Belfast and it's absolutely one of the best things to do in Belfast for history buffs and engineering geeks. You can explore inside the ship where everything is set up to resemble what the ship would have looked like 100 years ago.
18. Belfast Peace Walls
When The Troubles began in the late 1960s and tensions between Unionists and Republicans started to escalate, the British Army built 'peace line' barriers to separate the communities. There were over 20 miles of walls during the worst of the conflict.
Today, a section of the Belfast Peace Walls still exists in West Belfast but they are now political murals with images and words of hope and history. Seeing the Peace Walls for yourself is one of the top things to do in Belfast, Northern Ireland because not only is the artwork incredible, but it's an extremely important part of Belfast's recent history.
19. Colin Glen Forest Park
Colin Glen Forest Park is another of Belfast's six hills alongside Cave Hill County Park mentioned earlier. It's one of the best outdoorsy things to do in Belfast with kids because the hiking trails aren't steep at all and there are lots of tree sculptures on the paths.
Just don't walk too far and accidentally start to ascend the Black Mountain! You won't get very far with kids trying to hike up there.
At Colin Glen Forest Park you can even go ziplining and ride the mountain coaster! Colin Glen Forest Park boasts Irelan'ds longest zipline! It's worth a ride. You can book ahead here.
20. Stormont Estate Parliament Buildings
Never has a political building looked less like a political building. The Stormont Estate Parliament Buildings in East Belfast look like a wealthy neighborhood but they're actually home to the Northern Ireland Assembly and Northern Ireland Executive.
Basically, this is the government in Northern Ireland. Each department (health, justice, etc.) has its own building on this huge 224-acre estate.
It's one of the best things to do in Belfast, Northern Ireland purely because it's such a nice area. There's also a play park for kids, hiking trails, and lots of other cool things you wouldn't expect to see near parliament buildings.
21. Queen's University Belfast
Queen's University (named after the city's favorite monarch, Queen Victoria) is the most prestigious university in Northern Ireland and one of the best things to do in Belfast. You'll find the main campus welcome center right next to the Botanic Gardens.
One of the main reasons why you should stop by Queen's University is to see the glorious Tudor-style buildings. Feel free to walk through the courtyards and cloisters and check out some of the facilities like The Naughton Gallery.
22. Titanic's Dock & Pump House
Many visitors flock to the Titanic Museum, but one of the most underrated things to do in Belfast, Northern Ireland is to visit the Titanic's Dock & Pump House. Naturally located in the Titanic Quarter, this building was where the Titanic was built and departed Belfast for Southampton to commence its fateful voyage.
The Pump House offers tours of the facilities and models so you get a clearer picture of how a ship like the Titanic was built. Much of the original machinery and controls are still there too.
23. Ulster Transport Museum
So it's not the most exciting museum in the world, but you'd be surprised at just how many people consider the Ulster Transport Museum to be one of the best things to do in Belfast! Some car enthusiasts visit the city just to check this place out.
The Ulster Transport Museum is just a few miles northeast of the city in the town of Holywood (with one 'l') and includes every type of transport under the sun. They have authentic red double-decker buses, steam train carriages, cars, planes, and even horse-drawn carriages.
24. Victoria Square Shopping Center
If you need some retail therapy during your trip, the Victoria Square Shopping Center in the Cathedral Quarter is the best! It's one of the most popular things to do in Belfast, Northern Ireland for locals and it has all the top UK stores.
Victoria Square is a surprisingly pretty modern center and it looks stunning in the run-up to Christmas with tons of festive decorations.
25. Belfast Giants Hockey Game at SSE Arena
Do you love watching sports games? One of the things to do in Belfast at the weekends is to watch popular UK sports like cricket and rugby as well as soccer. But if you're a hockey fan or feel like doing something in Belfast a little out of the ordinary, you could catch a Belfast Giants game.
They are the city's elite ice hockey team and they play in the UK's ice hockey league. They play their home games in Belfast's SSE Arena so check out their upcoming game calendar to see if they have anything scheduled during your trip.
26. Northern Ireland War Memorial Museum
From The Irish War of Independence and the Belfast Blitz to The Troubles, this country has seen more than its fair share of unrest. If you want to learn more about the war history of Northern Ireland, visiting the Northern Ireland War Memorial Museum is one of the best things to do in Belfast.
It's located opposite Belfast Cathedral so it's in a super central location. You'll find lots of information and artifacts primarily from both world wars here.
27. Black Taxi Tours Belfast
There's no better way to learn about a place's local history than a guided tour from someone who has lived through that history. Belfast's Black Taxi Tours have become one of the best things to do in Belfast, Northern Ireland because they're so unique to the city.
Your tour guide will drive an iconic black taxi cab around Belfast's murals and other historic sites whilst explaining the troubled history of the city. What's extra special is that exactly half of the tour guides are Unionists/Loyalists who want Northern Ireland to remain in the UK and the other half are Republicans who want a united Ireland.
These tours are just one great example of how far Belfast has come in 25 years and how the city is thriving!
28. C.S. Lewis Square & Trail
If you ever read The Lion, The Witch, And The Wardrobe as a kid, you might know it was written by an author from the UK called C. S. Lewis. He was actually born in Belfast and the city has created a city square in East Belfast to celebrate him.
This is one of the best things to do in Belfast with kids as the square is full of sculptures relating to his most famous children's novel. There are often theatrical performances in this square during the summer.
29. Day Trip to Giant's Causeway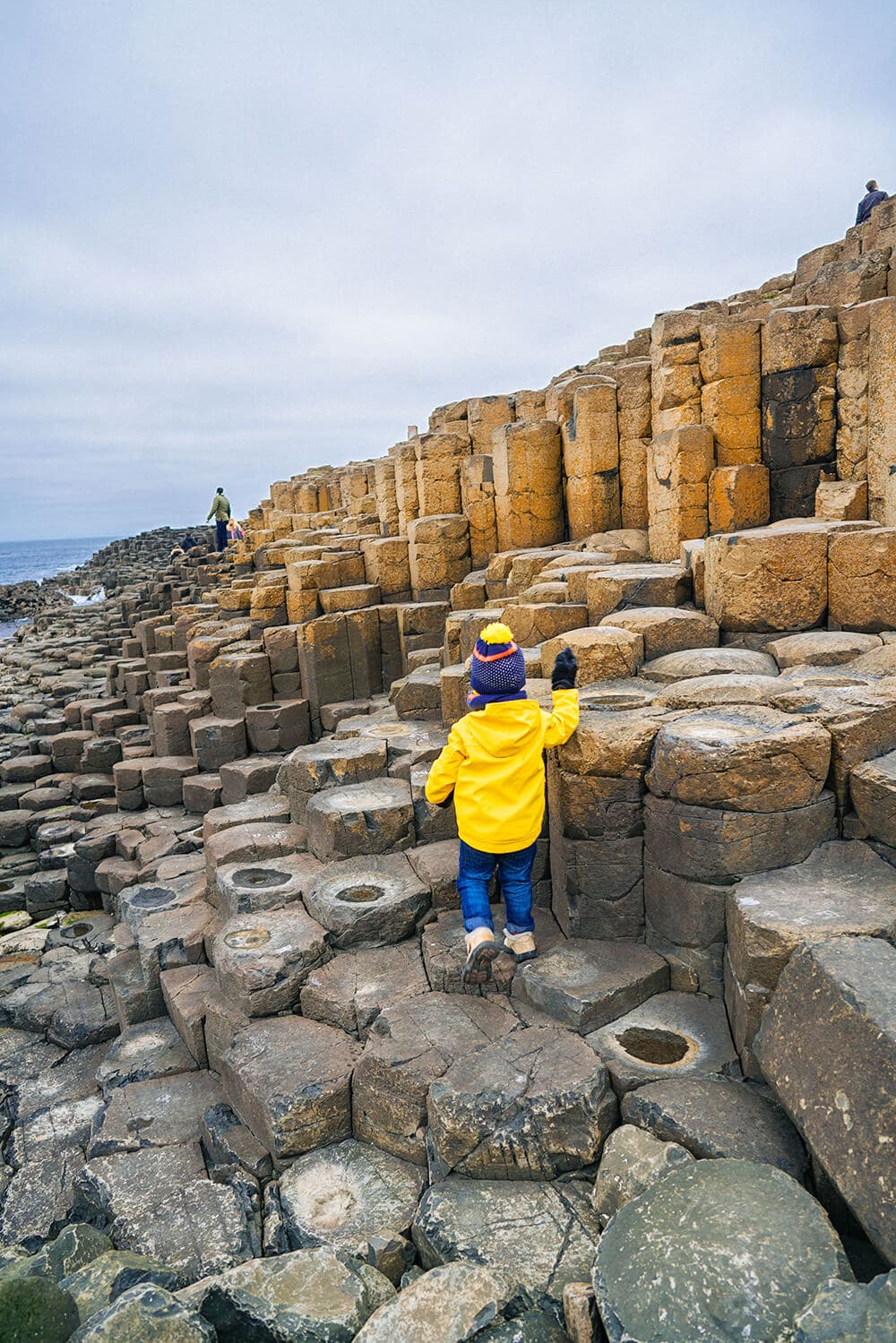 Belfast's awesome, but it would be a shame to travel so far and only see a small fraction of Northern Ireland. If you need day trip ideas, you really can't beat seeing the Giant's Causeway in real life.
This mythical UNESCO World Heritage Site is a coastline made up of interlocking basalt columns and they truly have to be seen in real life to be believed. Whilst visiting the Giant's Causeway, you can also visit the nearby Carrick-A-Rede Rope Bridge.
The history of the Carrick-A-Rede Rope Bridge dates back to 1755 when fishermen built a 20-meter long, 30-meter high rope bridge to climb across the rocks. Now, it's a fun tourist attraction and yes the bridge has been updated!
You can easily rent a car in Belfast city and drive to Giants Causeway, or you can book an organized adventure if you'd rather not drive.
30. Day Trip to the Game of Thrones Studio Tour
Northern Ireland is the official, proud home of the Game of Thrones experience and welcomes fans of the HBO show to visit the filming locations as well as the new Game of Thrones Studio Tour.
This experience is similar to the Harry Potter Warner Bros Studio Tour in that you can enjoy a guided tour through some of the set pieces, costumes, and props from the show. It's only a 30-minute drive from Belfast so it's a great idea for a day trip if you're a fan.
31. Game of Thrones Tour of Northern Ireland
If you're a die-hard GOT fan, you may want to look into taking a Game of Thrones Tour of Northern Ireland from Belfast. Embark on an exciting journey to the iconic filming locations from the hit series as you trace in Arya Stark, Sansa Stark and Jon Snow's footsteps. Take in spectacular sights like UNESCO-listed Giants Causeway while crossing over Carrick-a-Rede Rope Bridge – a feat that will surely stay with you for years to come!
32. Crown Liquor Saloon Pub
Belfast's Cathedral Quarter boasts so many amazing restaurants but one of the best places to eat in Belfast is the Crown Liquor Saloon Pub.
Crown Liquor Saloon is famous for its decor as it hasn't changed much since it first opened in 1820. Despite their ornate facade, you'll find traditional, crowd-pleasing pub food on the menu like pies, mashed potato, and hearty soups.
33. Folk Music at Fibber Magee Pub
Northern Ireland loves listening to folk music in pubs just as much as the Republic of Ireland does. One of the best things to do in Belfast for young adults and older adults alike is to tap your foot while drinking a pint and listening to traditional folk music.
Plenty of pubs have live folk music performances on certain nights of the week, but Fibber Magee has performances every night.
34. Established Coffee Shop
If you can't live without a decent cup of coffee in the morning, Established Coffee Shop in the Cathedral Quarter has got you covered.
They blend their own Irish and American roasts in their funky, industrial cafe. They also serve sweet treats and light bites if you're feeling hungry.
35. The Muddlers Club Restaurant
Foodies shouldn't leave the city without checking out the best of the best restaurants in Belfast, Ireland.
The Muddlers Club is a modern European eatery with tasting menus, wine, and cocktail pairings so you can enjoy a fabulous taste experience in the Cathedral Quarter.
36. Duke of York Bar
You can't leave Northern Ireland without sampling a dram or two of Irish whisky from one of the best bars in Belfast, the Duke of York Bar.
This Belfast institution opened in the 1980s and it has a ton of character. The whole place is decked out with old advertising signs from floor to ceiling and it's located on the cutest cobbled street with rainbow-colored umbrellas outside.
Things To Do in Belfast FAQs
Is Belfast in the UK?
The short answer to, "is Belfast UK?" is yes! Belfast is Northern Ireland's capital city which means it's part of the UK. The full name is actually The United Kingdom of Great Britain and Northern Ireland.
It received Belfast city status in 1888. Belfast became the Northern Irish capital in 1921 during the partition of Northern Ireland and The Republic of Ireland.
Is Belfast in Ireland?
This is a more difficult question to answer. Belfast is not part of The Republic of Ireland, also known as 'southern' Ireland or simply Ireland.
However, it is the capital of Northern Ireland and its locals are Irish, not British. Northern Ireland is part of the UK, not Great Britain. Culturally, the country shares ties with both Ireland and the UK.
If you're confused, learn more about the city's history by visiting Belfast, Northern Ireland!
What is Belfast known for?
Today, Belfast is known for being a fantastic location for a fun weekend city break. The Cathedral Quarter's nightlife and the Titanic Belfast experience are both big draws. Many travelers fly into Belfast City Airport or Belfast International Airport before embarking on Game of Thrones tours or visiting the Giant's Causeway UNESCO site.
Throughout the 20th century right up until the end of The Troubles in 1998, Belfast was a turbulent capital city. Thankfully, Belfast has moved on from its past and is an extremely welcoming and friendly place.
Explore the Best Things To Do in Belfast, Ireland on Your Next Trip
Not everything on this list of the best things to do in Belfast will appeal to you, but that's the beauty of Belfast!
Some will enjoy watching folk music with a glass of Irish whisky in their hand or hiking up lush green hills. Others will love watching their kiddos run through parks with cool statues in the Titanic Quarter or talking at length about the city's history and politics with a local on a walking tour.
There are tons of great places in Belfast, things to do, and experiences to have that will make you fall in love with this beautiful and underrated city.