Paris by Foot

With Dr. Scholl's
®
Custom Fit
®
Orthotics
#advertisement I received compensation from Dr. Scholl's® to write this post. All opinions are entirely my own. All opinions are mine alone. #CustomFitRelief #DrScholls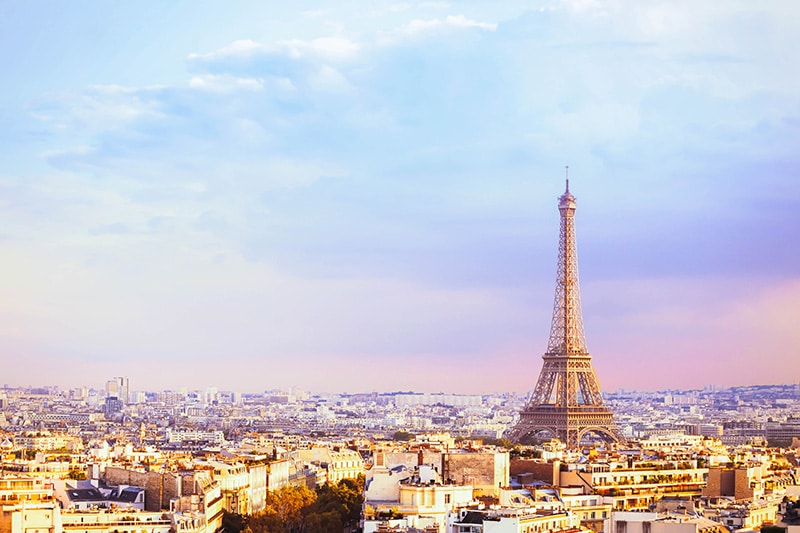 Ah, Paris! Is there anything more magical than the city of light? At any season, wandering the streets while munching on a baguette is pretty much the stuff dreams are made of.  Central Paris is a relatively "small" city, at just 40 square miles, and it is surprisingly walkable. With all the delicious culinary delights to be had along the way, you'll be glad you're walking!
If you're planning a visit to Paris with kids, read my Ultimate Guide to Paris with Kids.
Preparing for your self-guided walking tour of Paris
This self-guided walking tour of Paris will take you on a 10-mile route through the city and include the best Paris bucket list sites as well as some new surprises. Since this requires an extensive amount of walking, be sure to pack comfortable clothes and shoes.
Before going to Europe, I stopped by Walmart to visit the Dr. Scholl's® Custom Orthotics Kiosk and got a measurement for orthotics to wear in my boots. It was fast and easy and totally worth every penny! You just have to stand at the Orthotics Kiosk and follow the directions. It literally took about 2 minutes.
The instructions on the screen are easy to follow.
Remove your Shoes

Step onto the Orthotic Center

Push Start

Follow the directions on the screen

Get your Results

Purchase your Custom Fit Orthotics

Enjoy long walks through Paris!
The machine will tell you which Custom Fit Orthotics are best for your feet and they are available right there at the kiosk for you. I love that they are ⅔ size so they fit easily into my shoes without any trimming.  You can get a $10 rebate as well as a money-back guarantee!  You can learn more about Dr. Scholl's® Custom Fit Orthotics here.
We did a TON of walking around Europe, and these babies were a lifesaver on my feet and back.
Paris Walking Tour Map- Things to do in Paris
I've created this interactive map that you can download to your phone and use without WiFi. There are 3 separate layers. Layer 1: Destinations. Layer 2: Walking directions from Montmartre to Pont Neuf. Layer 3: Walking directions from Pont Neuf to the Eiffel Tower. This walking tour of Paris CAN be done in one long day, but feel free to break it up into more if you have the time.
This walking tour covers about 10 miles throughout Paris, but is broken up with lots of sites and food stops along the way! Have fun, and if you get lost, don't worry, that's half the fun!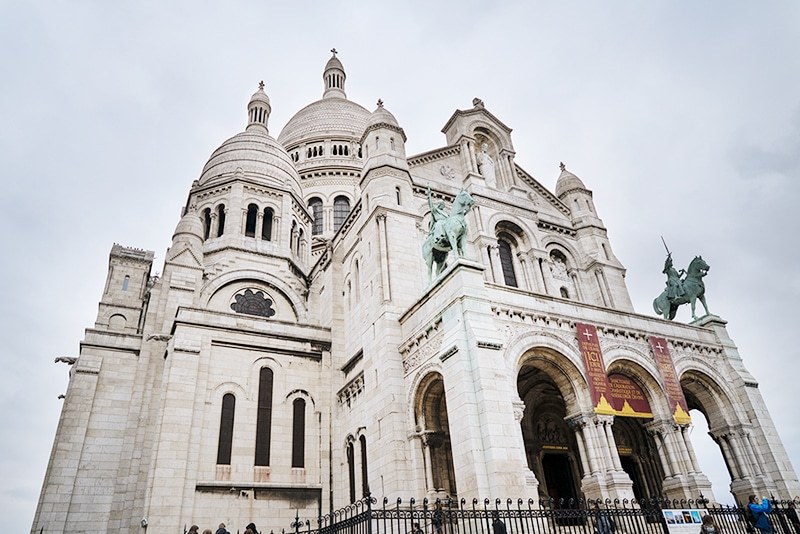 #1: Montmartre
Your journey will begin in this beautiful and historic part of Paris that is known for it's lovely narrow cobbled streets, and was and still is home to many artists, especially during the era of Impressionism such as Salvador Dalí, Amedeo Modigliani, Henri de Toulouse-Lautrec, Piet Mondrian, Pablo Picasso, Camille Pissarro, Claude Monet and Vincent van Gogh. I like to start here because it is the highest point you will see today, which means the rest of your day is essentially spent walking downhill!
It's a pretty long steep walk up to Sacre Coeur, but I love dawdling along the streets and stopping in the boulangerie to grab fresh bread and snacking while we make our way to the top. The view is worth it. I think half your time in Paris should be spent wandering the streets. It's the best part!
You can visit the Basilica of Sacre Coeur, walk the streets, have your picture painted (artists here must have a special license issued by the city which limits the number of artists allowed, so you know they will be good), stop and have a crepe or some frites and take the funicular, which has been running since 1900 (but has been updated) down the steps from Sacre Coeur if you don't feel like walking up or down over 300 steps.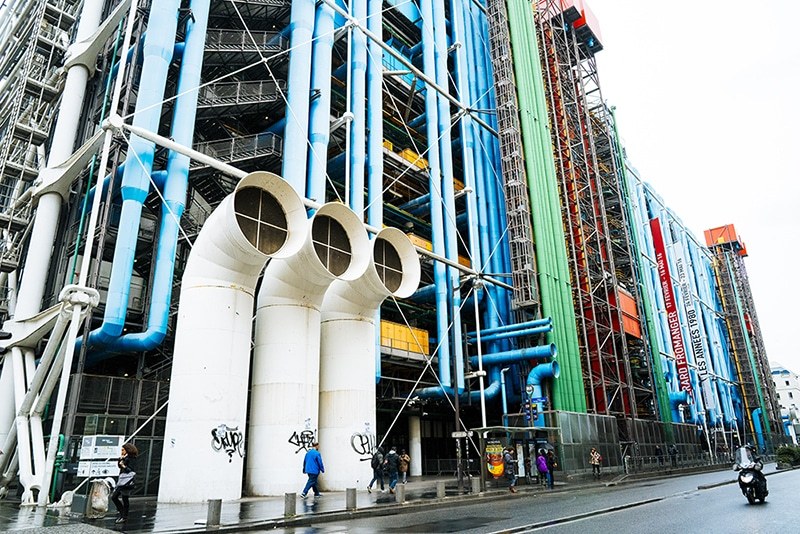 #2: The Centre Pompidou
The Centre Pompidou is an awesome piece of inside-out architecture that houses France's largest modern art museum and a public library. But the best thing about this building is that all of the functional external elements of the building are color-coded: green pipes are plumbing, blue ducts are for climate control, electrical wires are encased in yellow, and the red ones are circulation elements and health and safety. Even the escalators are on the outside of the building. How fun is that?!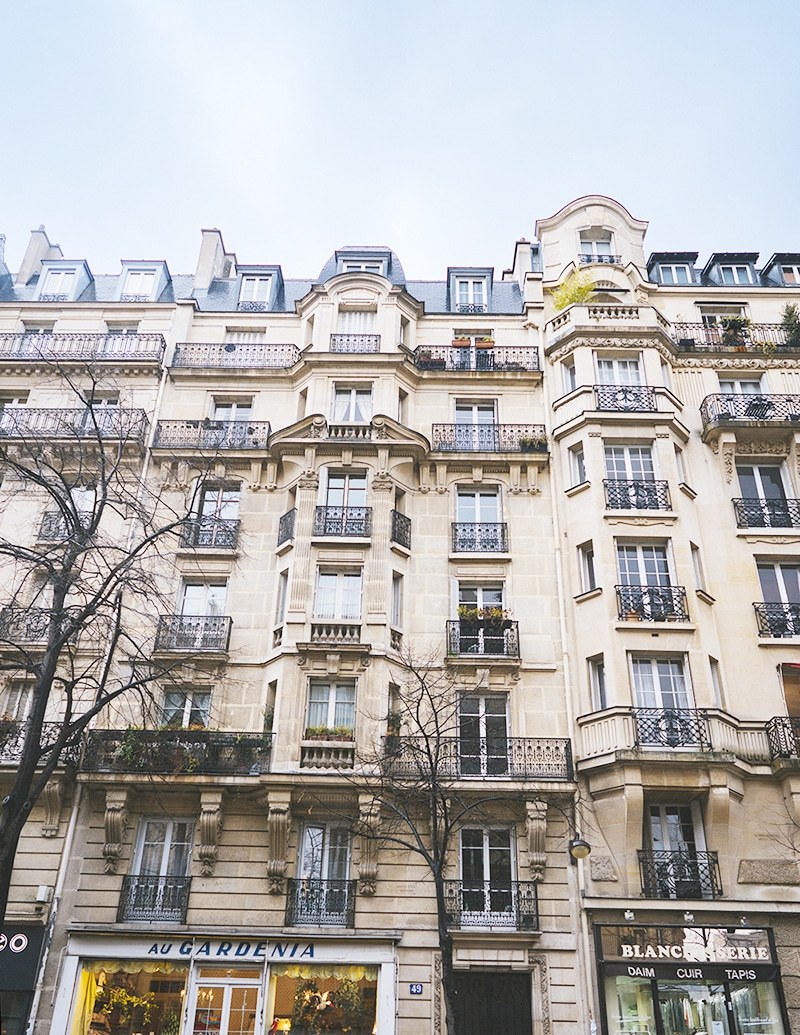 #3: Le Marais
One of the oldest neighborhoods in Paris, Le Marais is a cobblestone paradise of vintage boutiques and small bistros. Plan to hit Le Marais around lunch time as this eclectic neighborhood is known for its food! After lunch be sure to visit the picturesque square of Place des Vosges. The Picasso Museum is also located in Le Marais. Stop by Carette for a tasty afternoon treat!

#4: Ile de la Cite
No visit to Paris would be complete without hearing the bells of Notre Dame and seeing the breathtaking view from the tower! But there is much more to explore on Ile de la Cite. Wander over the Sainte Chapelle for the most glorious stained glass windows you'll ever see! Also worth a visit is Ile St. Louis next door.
#5: Pantheon
For another incredible view of Paris, take a guided tour up to the dome of the Pantheon, located in the Latin Quarter. The Pantheon, originally built as a church, is now a mausoleum to distinguished French citizens such as Voltaire, Marie Curie, Rousseau, Victor Hugo, and Emile Zola.
#6: Luxembourg Gardens
Walk the short distance to the Luxembourg Gardens and enjoy a stroll through the park where you can people watch and enjoy some nature in the middle of the city. There is also a fantastic playground.

#7: Saint-Germain-des-Prés
As you leave the Luxembourg Gardens, head to the neighborhood of Saint-Germain-des-Pres, renowned for its vintage and boutique shopping and bustling cafes.

#8: Pont Neuf
Cross over the Seine again via Pont Neuf, the oldest standing bridge that crosses the river in Paris, built in the 1500s.

#9: Louvre
It's time for a stop at the Louvre! The lines can get long, so if you plan to go inside, I would considering hiring a private tour through something like Paris Muse to get you through the Louvre without waiting in line and getting you a personal art history lesson. Be sure to grab eclairs from Eclair de Genie which can be found near the Louvre food court. Snap a selfie in front of the glass pyramids, which were a huge controversy during their construction, but are now Paris Icons.
#9: Tuileries Garden
Leaving the Louvre, stroll through the Tuileries Garden and enjoy an escape from city life on your way to the next museum…
#9: Orangerie Museum
The Musee de l'Orangerie is an art gallery full of impressionist and post-impressionist paintings from the likes of Monet, Cezanne, Matisse, Modigliani, Picasso, Renoir, Rousseau and more! If you're running short on time, pick between the Louvre and the Orangerie based on which art interests you more.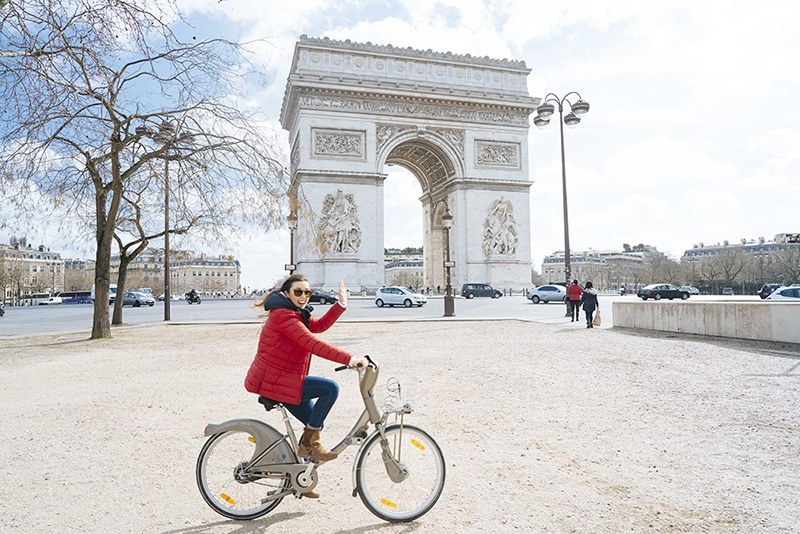 #10: Arc de Triomphe
Stroll all the way up the Champs Elysees (doing some window shopping while you're at it), see the craziest roundabout you'll ever see, and onto the Arc de Triomphe, which honors those who fought and died for France in the French Revolutionary and the Napoleonic Wars. The names of all French victories and generals are inscribed on the surfaces. At the base lies the Tomb of the Unknown Soldier from World War I.  You can climb the steps for another fantastic view of the city and of your next destination, the Eiffel Tower!
#11: Trocadero
Walk to Trocadero where you will have the best viewing and photo spot for the Eiffel Tower just across the Seine.

#12: Eiffel Tower
Your walking tour stops at the Eiffel Tower. Originally designed for the 1889 World's Fair, and only built to stand for 20 years, the tower came under extreme criticism from the citizens and artists of the day, but is now the most iconic structure in Paris, visited by over seven million people each year! Be sure to buy your tickets months in advance as they can book out. Also, consider scheduling a private tour. There are many that start at the Trocadero and walk you to the tower, all while teaching you about its history and skipping the lines.
I hope this walking guide to Paris was helpful and that you love your time in Paris as much as I have. It's truly one of those places that captures your heart if you do it right.
Paris is a city that is best enjoyed on foot and that can only be done with happy feet, so stop by Walmart and get your Dr. Scholl's® Custom Fit Orthotics before you leave! You can use this handy Custom Fit Kiosk finder to locate the store nearest you. Have an amazing time in Paris, and eat a croissant for me!