The Dutch capital of Amsterdam was a city that was on my forever bucket list but that just kept eluding me. We've visited every country surrounding the Netherlands, but somehow we just could never make it work. I was finally able to visit this incredible city for a week and I'm so happy I finally made it a priority! I fell in love with the old houses, meandering canals, and above all, the people.
I've met plenty of Dutch people and have some Dutch friends, so I was thrilled to finally see their home. I loved the people I connected with in Amsterdam and hope to come back again soon! It was just one of those trips that felt easy, with lots to do, but not stressful. For visiting mid-June I was surprised that it wasn't nearly as crowded as I thought it might be. Compared to visiting Paris or London during peak season, Amsterdam was a dream!
I put a lot of time and energy into researching the best Amsterdam Itinerary to maximize my time there. I was able to cover a lot of ground in Amsterdam, but also do several day trips outside the city center to explore more of the beautiful countryside of Holland.
I visited with two other friends, so it was easy getting around without kids to worry about. I will say that if I had very small kids, I would have been stressed about them getting run over by bikes. The whole bike situation there is intense! The locals are cruising. They know what they're doing, but it can make walking a bit hazardous. They should make you wear helmets if you walk! Ha! But seriously, just be cautious, especially while crossing the street, and don't accidentally walk into a bike lane.
Before you visit Amsterdam
Before visiting Amsterdam, try to learn what you can about Dutch culture and history. If you've been following me for any amount of time, you know that I love connecting my travels to books (why I run the British Book Club Tour) so it will come as no surprise that I read a few books to prepare for this trip. I also watched some shows and movies. Here is what I recommend reading and watching:
Why the Dutch are Different
I read the book Why the Dutch are Different and found it very insightful into the lives of the Dutch. This was a cross between a humorous memoir and a travel diary around Holland. The audio was great.
Midnight Blue
Midnight Blue was a great novel about a girl living in 17th Century Holland, a time when Amsterdam is at the peak of its power. It's a great historical fiction about the birth of the famous Delft blue pottery. If you're planning to visit Delft on a day trip from Amsterdam, definitely read this book.
Vincent and Theo: The Van Gogh Brothers
Vincent and Theo: The Van Gogh Brothers was a great easy read about Vincent Van Gogh and his brother Theo. I'll admit I didn't know a huge amount about Van Gogh, but it definitely made my visit to the Van Gogh museum more meaningful to understand a little more about his life.
The Hiding Place
The Hiding Place is a book I read in middle school that I wanted to re-read before my trip to Amsterdam. It's the story of Corrie Ten-Boom, a woman whose family hid many people during the German occupation of WWII. You can visit her home in Haarlem. I was glad I re-read it before visiting the house.
The Diary of a Young Girl: Anne Frank
The Diary of Anne Frank was another middle school re-read for me. We read it during the beginning of lockdown. It was good for my kids to get some perspective at that time. If you're visiting the Anne Frank House in Amsterdam, I highly recommend reading this or brushing up on it before you go. It will make your trip much more meaningful.
A Small Light (Disney+)
If you're visiting the Anne Frank House or the Resistance Museum in Amsterdam, you should definitely watch A Small Light on Disney+. It made my visit to the house so powerful. I felt like I was friends with everyone involved. The show is so well done, but will make you cry. I watched it on the plane ride over and was in the bathroom crying. Just a disclaimer, that it's less about Anne Frank's life and more about Miep Gies, the person hiding the family in the annex.
Amsterdam Travel Tips for First Timers
These are some quick tips that I'm either glad I did or wish I would have done before visiting Amsterdam.
Learn about the history of Amsterdam – You'll appreciate your time there more
Book a Flytographer shoot – Use code WANDERLUST for a discount
Set up Apple Pay – most places take contactless/Apple Pay
Watch out for bikes – especially when crossing the street
Get the Go City Card – It will save you money!
Be sure to check out these first-timer tips for visiting Amsterdam for more ideas.
Where to Stay in Amsterdam
We wanted to stay somewhere central in the Amsterdam city center, but also be near Vondelpark. We chose Hotel Alexander and it was absolutely perfect. Very walkable to public transportation and within walking distance of most sites we wanted to see, but also in a quieter neighborhood so that we didn't have the sound of nightlife while trying to sleep (getting too old for that).
It also had this massive replica of the Night Watch above my bed, which I thought was pretty comical. It was like staying in a mini Rijksmuseum. And speaking of…Hotel Alexander was designed by the same architect, Pierre Cuypers, who designed the beautiful Rijksmuseum. If you want some more hotel options, check out this good list of places to stay in Amsterdam here.
The Amsterdam Go City Card
We got the 3 day Go City Card for Amsterdam and it more than paid for itself. It was a great way to see several museums for free and also to get our Zaanse Schans card. You can buy the Amsterdam Go City Card here.
Planning Your Amsterdam Itinerary
Alright, now that you're ready to prepare for your trip, let's get down to planning out your Amsterdam trip! Here's what I did each day.
Day 1 – Van Gogh Museum & Evening Canal Cruise
Day 2 – Photoshoot, Pancake Class, & Haarlem
Day 3 – Rijksmuseum, The Milkmaid Project, A'Dam Lookout, Cheese Museum, Tulip Museum, Houseboat Museum
Day 4 – Zaanse Schans, Tony's Chocoloney, Foodhallen, Vondelpark
Day 5 – Delft & The Hague
Day 6 – Anne Frank House, Albert Cuyp market, 9 Streets, Resistance Museum, Microbe Museum, Red Light District
Amsterdam Itinerary Day 1 -Van Gogh Museum & Canal Tour
Morning – Arrive in Amsterdam
You'll most likely be arriving at Schipol Airport. You can take the train into the city, but we had so much luggage that we opted to take an UBER to our hotel. The UBER pickup is located across the street at the Sheraton, just a quick 2-minute walk. It cost around $20 USD and was worth not hauling luggage on public transportation.
Afternoon – Van Gogh Museum
We jumped right into one of the many amazing museums in Amsterdam on our first day. Be sure to Book the Van Gogh Museum in advance, it does sell out. When we arrived there were no tickets left for the day, so I was glad we had pre-booked. You can get your tickets here.
We had a few minutes before our entrance time so we grabbed lunch at Museum Square which sits between the Van Gogh Museum, the MoCo Museum, and the Rijksmuseum. There are several food stalls. I just grabbed a hot dog, which was nothing to write home about. The burgers looked great though.
Evening – Canal Cruise
You can't visit Amsterdam without taking a tour of Amsterdam's canals. There are many options for canal cruises, but I didn't want something that would be a large boat full of tourists, so I searched high and low for something more intimate. We decided on Pure Boats Amsterdam and it was absolutely perfect.
In fact, I ended up doing 2 tours with them. We took an evening tour before the sunset. They had a beautiful offering of cheese, crackers, nuts, and all-you-can-drink alcohol. I had apple juice in a fancy glass. It was perfect. Our guide was adorable. You get a totally different view of the city from the water and it's just lovely!
I ended up doing a morning tour with my friend who's flight was delayed and missed the evening tour. The morning tour was cheaper and shorter and also didn't have any snacks, but did have drinks included. If I had to choose, I'd pick the evening cruise. But if you're going with kids, then the morning cruise would be a great choice.
Dinner – Snacks from Stach
Since we had just flown in that morning, we were extremely exhausted and jetlagged. Instead of sitting down to a long dinner or eating something heavy, we opted to stop in at STACH, which quickly became one of our favorite snack stops and a great place to grab a treat or an iced chai! Lots of fun and local Dutch snacks to try!
Amsterdam Itinerary Day 2 – Photoshoot, Pancake Class, & Haarlem
Morning – Amsterdam Photoshoot with Flytographer
One thing about traveling with your family or traveling solo is that I'm never actually in many (or sometimes any) photos! When I get the chance, I always like to book a Flytographer session when I travel. Not only do you get amazing photos by a professional photographer, but you get to meet a local and get a little early morning private tour of your destination. I booked a session with Tania and she was amazing. Doing a photoshoot by yourself can feel super awkward, but Tania put me right at ease and made me feel lovely and confident. You can use code WANDERLUST to get a discount on your photoshoot.
Lunch – Pancake Making Class
This was one of my favorite things we did on our Amsterdam itinerary. I booked a Pancake Cooking Class with Eat With. We were welcomed into our host's home and given samples of traditional Dutch food like cheese and Applestroop (I'm obsessed) and pickled herring (I liked it more than I thought I would). Then our host taught us how to make Dutch Pancakes.
It was so fun to be welcomed into a local's home and to learn a new skill that I could take home with me. My kids would have loved this activity too. I went home and cooked them Dutch pancakes. I highly recommend booking this class. It was worth the money for the experience, and we got fed too!
Afternoon – Explore Haarlem
We took the train to Haarlem, which was easy to do. We had a tour of Corrie Ten-Boom's house and then explored the lovely town of Haarlem. There are many cute shops here and we just spent a few hours wandering and shopping before taking the train back to Amsterdam.
Dinner – Moeders
If you want to try truly Dutch food, you may have to look a little harder than you'd think! Have you ever tried Dutch food outside of the Netherlands? Probably not, it's because they're not well-known for their food. So instead of lots of Dutch food places in Amsterdam, you'll find a lot of international food choices, which is great, but also makes it harder to find traditional options. So we made a special trip to Moeders in search of traditional Dutch comfort food.
We visited Moeders, which means Mothers. It's a mother-themed restaurant serving classic Dutch fare. Everything we had was delicious, but I think would be even better on a cold winter night! It was a lot of meat and potatoes. But the special part of Moeders is the pictures of all the mothers on the walls! Bring a picture of your own mom to hang on the wall!
Amsterdam Itinerary Day 3 – Rijksmuseum, The Milkmaid Project, Houseboat Museum, & A'Dam Lookout
Morning – Rijksmuseum
Plan for several hours here and go in with a plan. Make sure you book tickets online in advance. Some of the most recognizable artworks are The Night Watch by famous Dutch painter, Rembrandt, and The Milkmaid by Johannes Vermeer, among many other beautiful works of art. Be sure to check out the Cuypers Library at the Rijksmuseum. It's the largest and oldest art history library in the Netherlands and it's absolutely gorgeous! If you have the Amsterdam Go City Card, the Rijksmuseum is included, but you still need to book your time slot.
Lunch – Winkel 43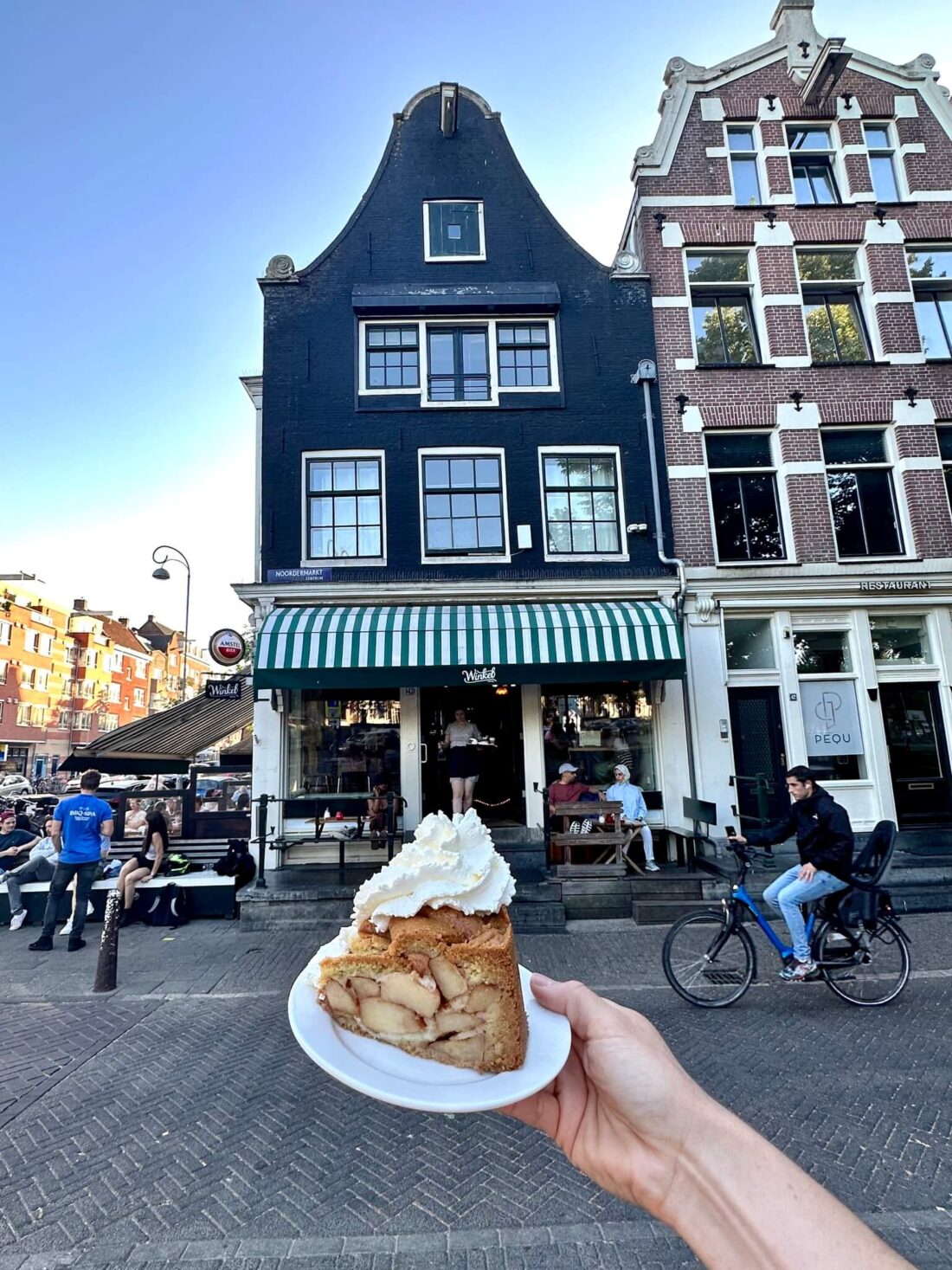 We went to Winkel 43 for lunch. The big draw here is the apple pie and I have to say that it actually lived up to the hype! The food was good too.
Afternoon – Cheese Museum, Tulip Museum, The Milkmaid Project, Houseboat Museum
Cheese & Tulip Museum
Take about an hour to see both the cheese and tulip museums. They're small and cute, but so Dutch that you just have to go! You can sample all kinds of cheeses and take some home with you. They're good outside the fridge for several days.
The Milkmaid Project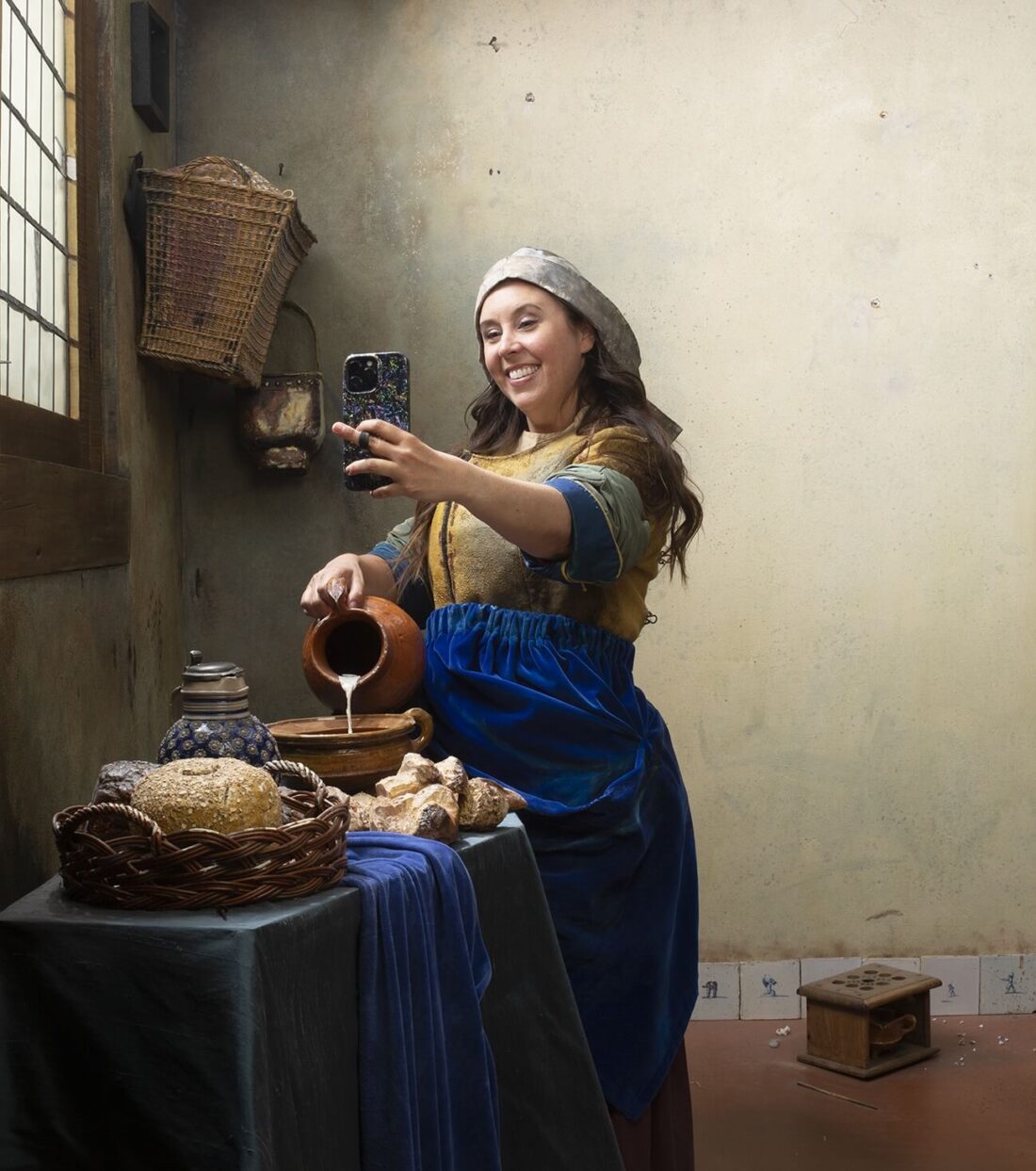 Now that you've seen Vermeer's The Milkmaid, head over the The Milkmaid Project and step inside a painting. I randomly happened upon this project just by walking by the studio. This art experience was created by famous photograher, Sander Veeneman, who has recreated the "set" of The Milkmaid. It's truly like stepping into a painting.
You can also recreate other paintings like Girl with the Pearl Earring or William of Orange. You can do group photos as well. Sander recreated Rembrandt's Night Watch with all of his neighbors. Even if you don't book a session, it's worth walking into the studio to see his work.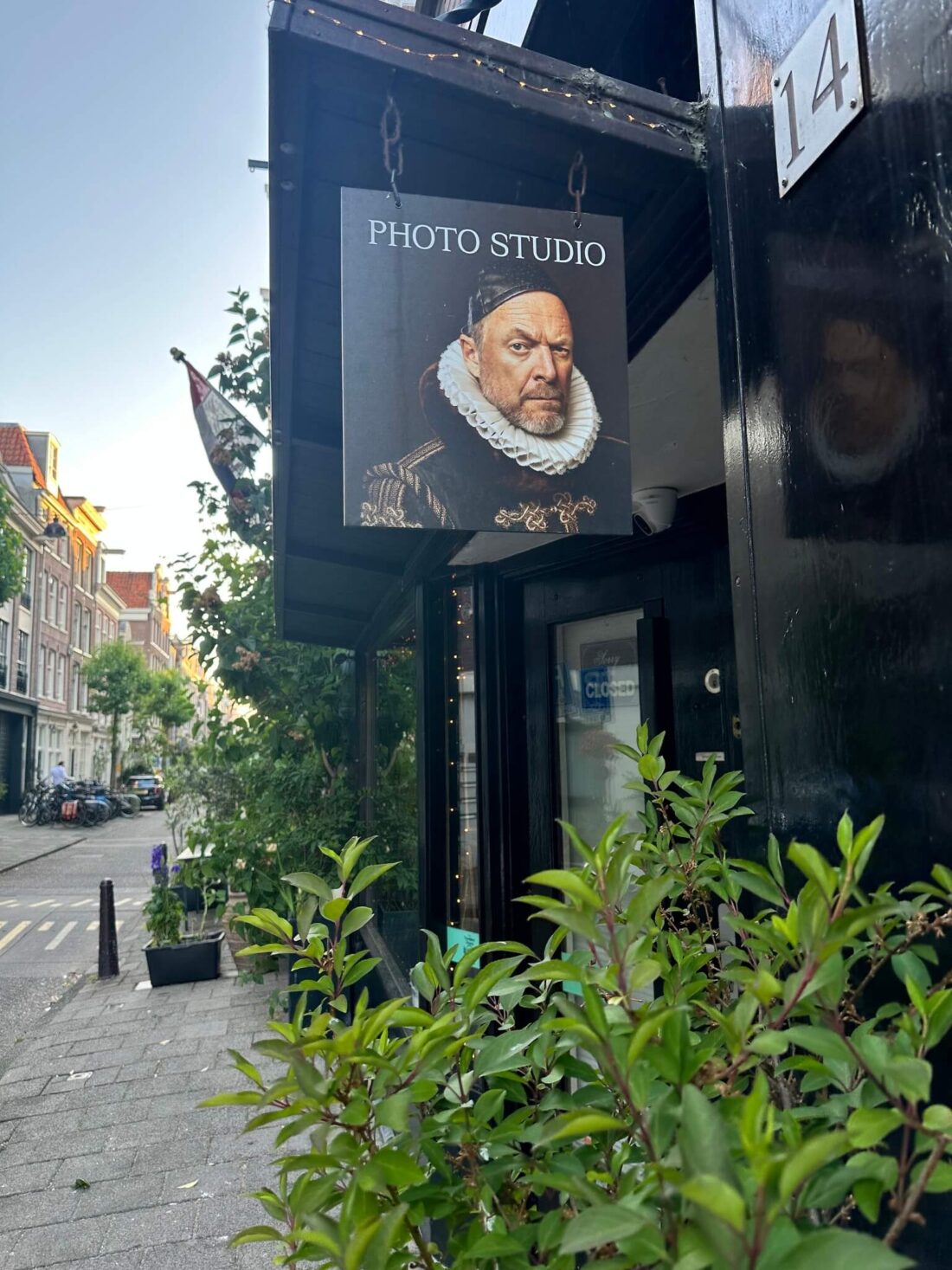 This was such an incredible experience just talking to Sander. His passion for this project and art was so tangible and I loved spending time with him talking about the project. The cost is €95 and well worth it for the experience. You'll get your own high-quality printed photograph to take home with you. Plan for about an hour for this experience and be sure to book ahead.
Houseboat Museum
Check out the Houseboat Museum. If you have the Go City card for Amsterdam, this museum is included. This is just an old houseboat that has been turned into a display so that you can see what living on a houseboat is like. You only need about 20 minutes to see it all.
Evening – A'Dam Lookout
A'DAM Lookout is a tall observation deck where you can see almost the whole city from above. To get here, you'll need to take the free foot ferry across the IJ. You can take the elevator up to the top for the views or book "Over the Edge" swing!
A'Dam Lookout is covered by the Amsterdam Go City Card, but you still need to book your time on the swing. It was quite busy up here, but it was fun to see the old city of Amsterdam from above.
Dinner – Meatless District
We wanted to try this vegan restaurant in Amsterdam that had good reviews. For vegan food, it was really good. The beet root hummus and bread were amazing. I had the vegan chicken caesar salad, which was so insane because the "chicken" really tasted like chicken. Check out Meatless District if you're into vegan food.
Amsterdam Itinerary Day 4 – Zaanse Schans, Tony's Chocoloney, Foodhallen, Vondelpark
On day 4, we left the city and took a day trip to Zaanse Schans, an adorable living history village that shows you what life was like in the Netherlands hundreds of years ago.
Morning – Rainbowls
We stopped at Rainbowls before heading to Zaanse Schans. We ended up loving it so much that we went back several times during our trip. They make amazing smoothie bowls, chia bowls, smoothies, and juices. It's also in a super cute and artsy neighborhood called De Pijp.
Afternoon – Zaanse Schans
After breakfast, we took an UBER to Zaanse Schans. Zaanse Schans is like a step back in time! It's an old living history Dutch village with windmills, wooden houses, and little bridges over canals. It's a great example of what life was like in the Netherlands in the past.
You could spend an entire day here, so give yourself enough time to see it all. It's quite spread out and there are some great photo ops. If you have the Go City Card, the Zaanse Schans card is included. Just stop at the visitor center first to pick up your Zaanse Schans card. Show your card at each windmill or museum for free entry.
Be sure to visit the cheese shop where you can sample so many different types of cheeses! The cheese can be unrefrigerated for several days, so you may want to take a few wheels home with you.
Tony's Chocoloney
This is a fun little touristy stop where you can pick up some Tony's chocolate. They have a cool way to get the chocolate out by using a lever. Be warned: the labels are all in Dutch, so be sure you're getting chocolate you want. This was a fun thing to bring home for my kids. They have a lot of flavors that you can't get in the US.
Dinner – Foodhallen
Head back into the city and stop at Foodhallen where you can get any kind of food you like! It's like a massive mall food court! Our favorite was the giant hummus plate! But they had everything from sushi to tacos. I have to say, Amsterdam does foreign food really well since their traditional food is probably not something you want to eat on a daily basis.
Evening – Stroll through Vondelpark
Foodhallen isn't far from Foodhallen, so we walked over and took a long stroll through Vondelpark, Amsterdam's main park. Since we were there in June, it stayed light until around 11:00 pm. It was fun to see so many people out and about so late at night. They call these the "white nights." These photos were both taken around 10:00 pm!
Amsterdam Itinerary Day 5 – Delft & The Hague
On our 5th day in Amsterdam, we ventured out of the city again. We specifically went on a Saturday so that we could visit the Antique Market in Delft. So if you decide to take a day trip from Amsterdam. to Delft, save it for Saturday.
Morning – Royal Delft
Today was another day trip day. We took the train to Delft early in the morning, which took around 45 minutes from Amsterdam Centraal, and walked to the Royal Delft Factory. I loved this factory tour. It was very well done, including a video, interactive museum, and you're actually able to walk through the actual factory and watch the talented Delft artists painting the pottery and dishes. It was really incredible. There is a nice cafe at the factory, so we had lunch here.
If you want to spend a little more time here, you can book a class and paint your own plate or tile to take home. I couldn't afford to buy anything at the gift shop, so a class might have been a better option for me!
If you plan to visit Delft, I recommend visiting on a Saturday so that you can explore and shop at the Antiekmarkt. We found so many great gems at this market, including more KLM houses for my collection.
Afternoon – Old Delft & Antiekmarkt
I'm now wishing that I'd bought more, because they were a great price here. I also got an antique Delft vase. I was glad that I had just gone to the Royal Delft factory because I knew exactly what to look for and how to pick an authentic piece. They were also much more affordable than purchasing something at the Royal Delft Factory.
I also purchased a pair of old used clogs which sit on my doorstep with flowers inside. It's a fun reminder of my time in the Netherlands. These were much cheaper than the tourist versions you can purchase at Zaanse Schans, so if you're set on getting a pair of clogs, I would definitely get some here. They were around $15 vs. $65 at Zaanse Schans.
There are lots of things to do in Delft including walking along the Oude Canal, visiting the Old Church, Vermeer Centrum (Vermeer lived and painted here), and wandering the old city center. Honestly, I really fell in love with Delft and probably could have stayed here for several days. It was a nice break from the business of Amsterdam and it's just so charming.
The Hague & Girl with a Pearl Earring
From Delft, we took the train to The Hague. This is the political center of the Netherlands. It's a fairly large and modern city. The real reason we were here was to visit the Mauritshuis Museum and see Vermeer's Girl with a Pearl Earring. This was a great art museum and I actually preferred it to the Rijksmuseum. It was smaller and more maneagable, it had great places to sit (I actually laid on the couch for a minute) and it had so much beautiful art that I actually really loved. Some famous works include Vermeer's View of Delft, Paulus Potter's The Bull, and Carel Fabritius The Goldfinch.
Dinner – Blauw
We took the train back into Amsterdam and had dinner at Blauw, an Indonesian restaurant. This was my first time having Indonesian food. It was really good! Everything is served family style, so there will be a lot of dishes on your table. We had all kinds of meats, rices, vegetables, and sauces.
Amsterdam Itinerary Day 6 – Anne Frank House, Albert Cuyp market, 9 Streets, Resistance Museum, Microbe Museum, Red Light District
The last day in our Amsterdam itinerary was all about World War II history. I saved the Anne Frank House until our last day and I'm glad I did. It was a very moving way to end our time in this beautiful city with a tragic history.
Breakfast – Pancake Bakery
I couldn't leave Amsterdam without having one more Dutch pancake! We stopped at Pancake Bakery and had a delicious banana Nutella pancake.
Morning – Anne Frank House
I was very excited to visit the Anne Frank house. I've been learning about her since I was 13 and it was such an incredible experience. I was so glad that I had done my research, re-read her diary, and watched A Small Light. It was worth it to have an experience that included so much understanding.
The house is very well done. It's reverent without being boring. It's sad, without being heartbreaking. An audio tour is included which was very well done. I definitely shed some tears. There's an amazing gift shop with great books. I bought a great book to help my kids study the Holocaust and Anne Frank. You can also see all the languages that her diary was published in. It was fascinating.
You must book your Anne Frank tickets well in advance of your trip! There are no last minute tickets, so don't even risk it, even during low season. Tickets are released 6 weeks before the date. I set an alarm and got up at 1:00 am to book our tickets. You can book a guided tour or a self guided tour. I wasn't able to get the guided tour because spots are extremely limited. But the self guided tour was very well done.
Shopping in De 9 Straatjes – 9 Streets
De 9 Straatjes or "The Nine Streets," are nine side streets in the heart of Amsterdam. The Nine Streets are located off the Prinsengracht, Keizersgracht, Herengracht, and Singel in the city center. We did a little vintage shopping here and I found a few cute dresses, skirts, and shirts. All pants I found were definitely made for the much taller Dutch!
Lunch – Albert Cuyp Market
We walked to Albert Cuyp Market for lunch. Albert Cuyp Market, located in the vibrant De Pijp neighborhood, is the largest and most popular outdoor market in the Netherlands. With over 260 stalls stretching along the Albert Cuypstraat, you can find all kinds of goods, from fresh produce, fish, and spices to clothes, accessories, and electronics. It's a great place to sample traditional Dutch treats like herring, stroopwafels, and fresh cheeses. It's open six days a week and is closed on Sundays. We had falafel and a fresh stroopwaffel.
Afternoon – Resistance Museum
After lunch, we headed to The Resistance Museum, a museum dedicated to those who fought against the Nazis during WWII. This museum has so much information about specific members of the resistance and it very interesting. It's really well done with videos and great labeling, but there is a lot of information. You may need to be ok with seeing about half of this, otherwise, plan on dedicating more than 2 hours to see all of it. Book your ticket ahead of time.
Micropia Microbe Museum
If you've had enough WWII history, you might want to consider Micropia. This Amsterdam museum is a museum all about microbes, which sounds weird, but it is actually super fascinating! I learned so much about the power of microbes. It's really close to the Resistance Museum, so if you have extra time, you could do both.
The Red Light District
It's up to you if you want to visit Amsterdam's Red Light District. I have mixed feelings about it. It's part of the culture, but also not something I agree with or want to promote. I decided to go since I was there without my kids. I would never take my kids.
It's just one of those places that you have to see to believe. There were women in windows in lingerie and men soliciting them. I just quickly walked through. It was very eye opening. If you want to avoid it, then I recommend taking notes of which streets are the busiest and avoiding those.
Dinner – Secret Garden
We wanted to end our time in Amsterdam with something fun and fancy. Secret Garden was beautiful inside. It was very expensive and the servings were very small, but the food was great. If you're very hungry, I'd maybe opt for something else, but this was fun to taste!
That was our Amsterdam itinerary. I'm really happy with what we were able to accomplish in just under a week in Amsterdam. I think 6 days in Amsterdam was a good amount of time. I felt like we saw most of the city and were able to take several day trips. I would love to return to the Netherlands and explore more of the countryside.
I was really surprised at how much I fell in love with the culture, and even the food, in this country. I'd love to go back and visit during Christmas time.
I hope this helps you lay out your own Amsterdam itinerary! Please let me know if you have any questions about the city or what we did.
Frequently Asked Questions about my Amsterdam Itinerary
How many days do I need for Amsterdam?
We had 6 days in Amsterdam and I think that felt like a good amount of time. There were a few more day trips I would have liked to take, so if you added a few more days, you could definitely fill them. But I really felt like I saw almost the entire city during our time.
Can I visit Amsterdam for 3 days?
Absolutely. If you cut out any day trips, I think 3 days in Amsterdam is a perfect amount of time.
What month should I visit Amsterdam?
I can't speak for all the other months, but June was incredible. We had perfect weather the whole time, but keep in mind that a lot of places don't have air conditioning, so it did feel hot in the hotel room. Once we had fans going it was fine. I would like to go back to Amsterdam in December to see the Christmas markets and the canals all lit up with Christmas lights.
Is 10 days too long for Amsterdam?
I think for seeing the historic center of Amsterdam itself, 10 days is too long. But 10 days would allow you to take many more day trips from Amsterdam, which would be ideal. And the longer you stay, the slower you can travel, which is always a plus.
I take day trips from Amsterdam?
Absolutely, and I highly recommend doing so. Amsterdam is great, but the Netherlands are so much more than Amsterdam. Take a few days out of your Amsterdam itinerary to explore the rest of the country.