Christmas in Strasbourg, France is like a yuletide fairytale.  This enchanting town in the Alsace region in France has earned its nickname as the Capital of Christmas with its festive decorations and undeniable Christmas Spirit. If you're looking to fall in love with Christmas this European destination is a perfect choice! But is it safe to go?

Christmas in Strasbourg, France: Is it Safe to Go?

The beautiful and quaint town of Strasbourg, France in the Alsace region of France is something you'd expect to see in a fairytale. A small river runs through the town, lined with ancient half-timber houses sporting pitched roofs. Not only is Strasbourg a site to behold all through the year, but at Christmas time it transforms itself into La Capitale de Noel or The Capital of Christmas, and once you've been to Strasbourg at Christmas, there is no denying its claim to the name.
I first visited this picturesque town eleven years ago, heavily pregnant with my second child and stopping to have contractions every ten minutes or so. Even though my labor-clouded memory is a little hazy, I still remember being completely amazed by the charm of Strasbourg and its unique culture. It lies along the border of France and Germany so its customs and way of life aren't quite French and aren't quite German, but definitively Alsatian.
For the past 300 years, the region of Alsace has been bounced back and forth between France and various German states, giving this area a distinct dialect and culture. The capital of Alsace is Strasbourg, thus affirming its legitimacy as the Capital of Christmas!
Christmas Market Terrorist Attack and is Strasbourg Safe?
Sadly, this year (2018) the Strasbourg Christmas market fell victim to an act of terrorism, as a gunman killed two people and severely wounded 14 others. It is said that Christmas markets have become targets of terrorism because they draw crowds and have ties to religion.
Many people have expressed concern to me over the last year that they don't feel safe traveling, including Christmas markets because of these acts of terror. While I understand their concerns and feel so saddened by these acts, I don't feel that we should stop traveling or put our lives on hold because of fear. These acts of terrorism can happen almost anywhere. We've seen them at concerts, airports, office buildings, daycare centers.
We cannot guarantee our safety anywhere in the world. Bad things happen to good people all around the world at any given time. Living our lives in fear and staying home as a precaution is letting terrorism win in my opinion. I would love to hear your thoughts on the matter. I for one, probably much to my mother's dismay, will not be postponing my travel until I feel safe. I won't put myself or my children in a war zone, but I also won't stay home in fear.

Strasbourg Christmas Market
I had the opportunity to revisit Strasbourg ten years later (not pregnant!) around Christmas time and it certainly lived up to its name! After spending two weeks doing a European Christmas Market Road Trip, Strasbourg, France was our last stop. While I absolutely fell in love with each market we visited, I can assure you we saved the BEST for last! The Christmas decorations were over the top, but at the same time elegant. Each shop had its own themed decoration, some even had moving parts and music. It was truly breathtaking. Add in the already charming appearance of the town and it was like being inside a snow globe!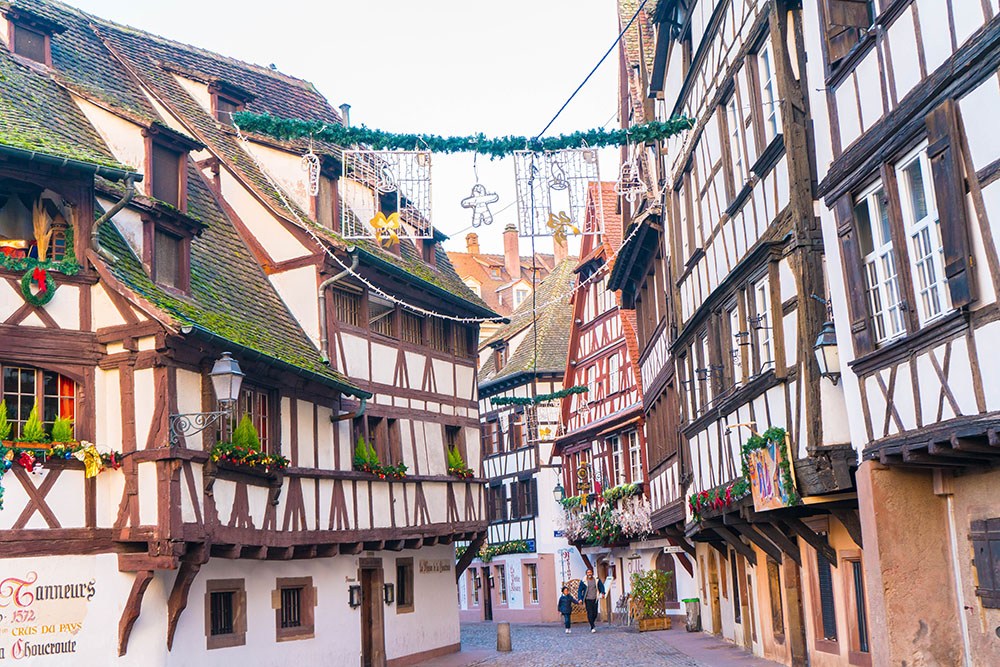 Another reason that Strasbourg is considered La Capitale de Noel is that it is actually the oldest and largest Christmas market in France, running since 1570, and one of the oldest in Europe! Known as the Christkindelsmärik, the town has continued this ancient tradition with over 300 stalls filled with Christmas wares, food, and treats.
There are actually several Christmas Markets in the town. Strasbourg is almost like an island, surrounded by offshoots of the Rhine River, and it is easily walkable. There is also a tram that weaves through the city providing easily accessible public transportation. Here is a step by step guide to using the Strasbourg Tram. 
But if you have the energy, I recommend walking as you will see so many hidden little alleyways and shops this way. I always say, "don't be afraid to get lost!"
What to Buy at the Strasbourg Christmas Market
This is France! Be sure to buy any pastries you see at the Strasbourg Christmas Market! You will not be disapointed. I also found some amazing loose leaf teas. I fell in love with the hot orange juice. It sounds weird, but it was delicious. I don't drink alcohol, but the hot wine looked beautiful and smelled amazing. I'm always all about the food and drink, but there were some beautiful ornaments and treasures to be found in the market as well.
Strasbourg Christmas Market Guest Country
Each year the Strasbourg Christmas Market hosts a Guest Country who bring their own traditional market to Strasbourg. Several stalls are filled with this countries food, goods, and more. Last year it was Iceland, where I ate my first delicious Icelandic hot dog (if you don't know what I'm talking about, read this) and purchased a beautiful Icelandic wool sweater. For someone who loves learning about new cultures, this was a highlight for me. This year's guest country at the Strasbourg Christmas Market is Finland and I bet its amazing!

The Crowds in Strasbourg and Petit France
The Strasbourg Christmas Market receives over 2 million visitors annually, but it didn't feel overly crowded to me. If you're looking to escape the crowds, you can wander over to Petite France, probably the most iconic view of Strasbourg, and it is just as charming in real life as it is in the pictures.
One morning I arose early and stopped by a boulangerie for a pain au chocolat and a chocolat chaud to warm me up, then meandered around Petit France and watched the parents walk or bike their children to the local ecole. Can you imagine seeing such sites while taking the kids to school? I think I could get used to that!
Money at the Strasbourg Christmas Market
Euros are used in France and I highly recommend taking out cash to use as most stalls only accept cash and coins. There were a few vendors who accepted cards, but having cash made it much easier and also allowed me to stay within my budget! Win-win! Amiright?!
Where to Stay in Strasbourg
If you're planning to stay in Strasbourg, book ASAP.  Hotels and Airbnbs book up far in advance! We stayed at this Airbnb which was incredible and literally opened its windows to the magnificent Strasbourg Cathedral. If you haven't yet signed up for Airbnb yet, you should! I think its the most affordable way to stay around the world.  Click here to save $40 on your first stay!
I recommend staying within the "island" of Strasbourg as this is where the Christmas markets will be. Petit France is a beautiful area to stay in and the Cathedral area is also very central to everything. You really can't go wrong. There are not many cars allowed downtown, so if you are driving to Strasbourg, park in one of the parking structures just outside the city center.

How to get to Strasbourg
The location of Strasbourg on the border of France and Germany means that you will have quite a few options for getting there. It is literally surrounded by international airports with good flights, like Paris, Zurich, Stuttgart, Frankfurt, and Basel. If you want to know how I score seriously cheap flights, read this.
Here are the times and costs (as of December 2018) of traveling to Strasbourg:
By Car
Paris, France – 5-hours
Stuttgart, Germany – 2.5-hours
Zurich, Switzerland – 3-hours
Frankfurt, Germany – 2.5-hours
Basel, Switzerland – 2-hours
By Train
Paris, France –  2-hours, €100
Stuttgart, Germany – 1.5-hours, €60
Frankfurt, Germany – 2-hours, €60
Zurich, Switzerland – 2.5-hours, €80
Basel, Switzerland – 1.5-hours, €50
I hope you make it to the Strasbourg Christmas Market someday! It really is the Capital of Christmas and worth a visit! Please be cautious, but don't let fear hold you back from seeing the world. If you have any questions about Strasbourg or about anything travel related, I'm always happy to chat! You can connect with me on Facebook or Instagram.
-Vanessa