If you're looking for something a little different this winter and your family loves the cold, check out the best winter vacations around the world.
Best Winter Vacations for Cold Weather Lovers

Best Winter Vacations for Cold Weather Lovers
While most families are heading to tropical islands for the winter to escape the cold and snow, the cold weather warriors are heading to colder climates in the far north and far south of the globe to find the best snow and ice on earth. I've compiled a list of the best winter vacations for cold lovers.
Preparing for the Best Winter Vacations for Cold Weather Lovers
If you're heading to your favorite cold weather destination this winter vacation, be sure to pack right! Weather can be unpredictable, but your clothing doesn't have to be! Have you ever heard the saying "there's no such thing as bad weather, only bad clothing?" It's so true! If you have the proper gear, the whole family will be warm and happy.
Now that you're all prepared to be warm on your cold-weather adventure, I've rounded up the best winter vacations for cold weather lovers, organized by continent. I'd love to hear your favorite winter getaways too!
North America
Yosemite National Park, California
With one of the most iconic views in California, Yosemite National Park is pure magic when the snow hits in winter!
New York City, New York
The only thing that could make visiting the Big Apple more fun, is seeing it covered in white. Ice-skate in central park, take a taxi through the snow, and marvel at the Christmas lights around the city!

Lake Tahoe, California & Nevada
Lake Tahoe is one of those places that remains beautiful and popular year-round, but in winter it really shines, with skiing, snowshoeing, winter hiking, and scenic drives.
Alaska
Alaska, the last frontier holds all the beauty for true cold lovers. Alaska receives around 100 inches of snow annually so it makes the perfect winter destination.
There are a lot of awesome activities you can do in Alaska in your winter trip such as ice fishing, river rafting, and exploring the diverse flora and fauna of the state.
Check out these other snowy holiday destinations in the USA
Banff, Alberta, Canada
Just as breathtaking in the winter as in the summer, Banff National Park in Alberta even offers ice-skating with an ice castle on Lake Louise.
Canada is also a great place to do cross country skiing and other winter sports. Check here some of the family adventures in Alberta Canada.
South America
Patagonia
As stunning as Patagonia is during peak season, it's even more stunning in the winter! Hike through a winter wonderland of glaciers, lakes, rivers, and snow-topped mountains.

South Georgia Island
This British overseas territory is where the famed Earnest Shakelton eventually found salvation, and where all of 30 humans and 300,000 King Penguins call home. The only way to get here is by a (chilly) two-day boat ride.
Europe
Hallstatt, Austria
Interlaken, Switzerland
Nestled in the Swiss Alps and beautiful any time of year, Interlaken, Switzerland really shines in the winter months. You can take a train to the highest point in Europe or watch hang-gliders jump off cliffs.

Lapland, Finland
Enter a winter wonderland where you can visit Santa, feed the reindeer, ride on a dog sled and see the Northern Lights.
French Alps
Nearly as majestic as their Swiss sister, the French Alps offer beautiful scenery and fantastic skiing.
Iceland
The land of fire and ice is mind-blowing in the winter! Explore ice caves and soak in steaming lagoons of Iceland while you take in the breathtaking scenery of this unique island nation.
Lake Bled, Slovenia
Lake Bled, Slovenia turns into a frosty dream in the winter, with Christmas markets, ice-skating rinks, and giant Christmas trees, there is plenty to do and see.
Lofoten Islands, Norway
Snowshoeing, skiing, northern lights and one of the world's largest cod-fishing events, the Lofoten Islands in Norway is the perfect cold weather vacation.
Sweden
Visit Sweden in the winter and enjoy loads of snow and northern lights! Take a winter safari and see moose, wolverines, wolves, brown bears, lynxes and musk oxen.
Asia
Hakkoda Mountains, Japan
Visit the "snow monsters" of the group of 16 mountains that make up the Hakkoda Mountains in Japan. Great skiing, gondola rides, and hot springs make this a perfect cold weather winter getaway.
Jigokudano Monkey Park, Japan
Buried in snow one-third of the year and known as "the only place in the world where monkeys bathe in hot springs," Jigokudano Monkey Park is definitely at the top of the list for unique winter vacations!
Harbin Ice & Snow Festival in China
The Harbin Ice & Snow Festival is known as the world's biggest winter festival, averaging 10-15 million visitors annually, and it's for good reason. This international ice sculpture carving festival is truly a sight to behold, with over 10,000 ice carvers hard at work and millions of LED lights illuminating them, it's no wonder this festival draws a crowd!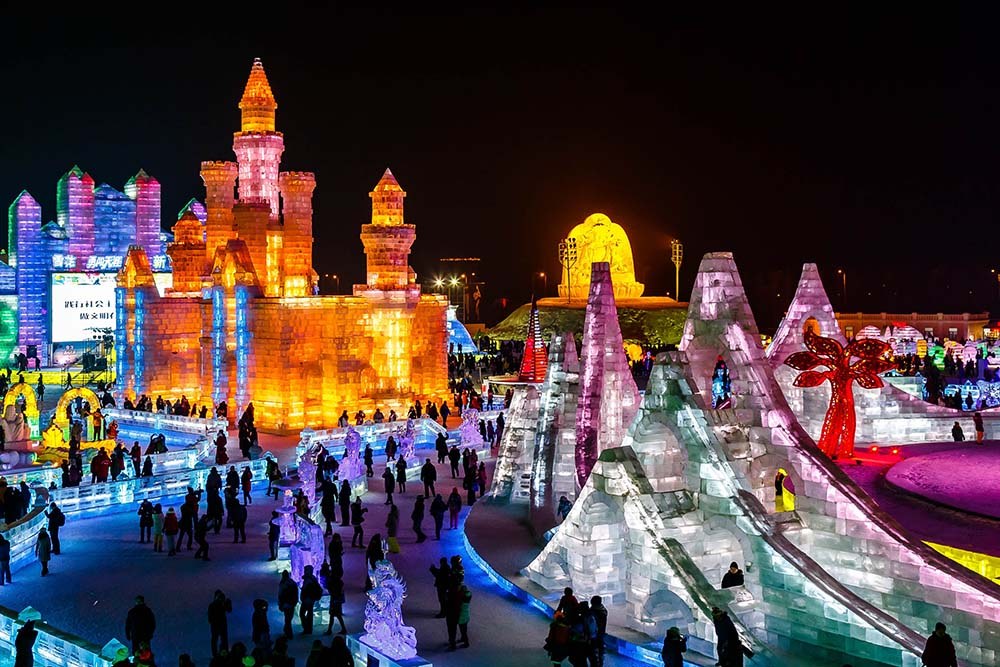 Best Winter Vacations in Oceania
Tasmania, Australia
One of the best places in Australia to find winter wonderland, Tasmania offers gorgeous, rugged beauty, crisp air and a chance to see the Southern Lights of Aurora Australis.
New Zealand
What better way to experience New Zealand's iconic snow-topped mountains than in the winter without all the tourists and high summer prices.
Antarctica
And the ultimate cold weather vacation: Antarctica! Although you wouldn't want to visit in the winter, the summer will be plenty cold!
Where is your favorite cold weather winter vacation? I'd love to know!
Best Winter Vacation FAQ