Christmas in London is a wonderland. The city really comes to life and has so much to offer during the festive season!
Christmas in London: A Guide to Visiting London at Christmas Time
There's really only one word to describe Christmas in London: MAGIC! I don't know if it's because London is home to my favorite holiday story, A Christmas Carol, or if it's my fascination with all things BBC or all the fantastic shopping, festive cheer, or just the atmosphere, but there's just something in the slightly smog-tinged London air during this season that makes me want to dance through the streets singing Christmas carols! Who wants to join me!? I love London and have been so many times before, but couldn't wait to spend Christmas day in this already fantastic place! After much research, we planned a few key things to do and see and left the rest open to exploring. Our kids had never been and I couldn't wait to show them around! 
Update: We've now spent 3 Christmases in London and it is still our absolute favorite place to be for Christmas! Even as teenagers, they loved it.
If you're planning on visiting London during any other time of the year, be sure to read my Family Guide to London or my Perfect London Itinerary. London is amazing ANY time of the year!
Books About Christmas in London
I wanted to get the kids excited about being in London for Christmas, so I ordered a few Christmas books that were set in England or London. Here are some of our favorites:
Where We Stayed
Of course, we stayed in an Airbnb. I was so worried about the cost of staying in London over Christmas. If you've been following our family for any length of time, you know we live nearly full time in Airbnb houses. Even the house in California that we own is rented out on Airbnb most of the year. For us, it's the best way to keep our full-time travel affordable and have a feeling of stability for our nomadic family. If you want to try Airbnb, here is a $40 coupon to get you started. Anyway, hotels were out of the question for our large family and I really wanted to be in a house for Christmas morning! Being stuck in a small hotel room can be depressing during the holidays. Our Airbnb host, Hannah, was so amazing and even put up live Christmas trees for us. I was feeling a bit bummed that it would be our first year without a Christmas tree, so I was so elated when we arrived and there was a beautiful live tree! We bought a few souvenir ornaments from Westminster Abbey to add a personal touch to the tree.

Our Airbnb was in Streatham Common on the south side of London, a quick 10-minute train ride to Victoria Station in central London. The house was an adorable old townhouse that we quickly fell in love with. There were fireplaces in every bedroom, a beautiful, fully equipped kitchen, and kids bedrooms with plenty of books and toys. Our host had kids the same age as ours, which was so nice! We probably could have skipped opening the Christmas presents altogether on Christmas eve because the kids had such a blast with our host's toys and books!
What to do for Christmas in London
We were staying in Central London for 3 weeks. It sounds like a lot of time for a vacation, but there is so much to do! We weren't able to squeeze everything in, so now we have a reason to go back for another Christmas! But here's what we did.
1. Kew Gardens
This was one thing that I booked ahead and I'm glad I did as it sells out quite quickly. This was a must for us. It's an outdoor Christmas festival within the massive Kew Gardens decorated with elaborate London Christmas lights and displays including singing shrubs (you just have to see it to believe it) and a light tunnel. It's even cooler than it sounds! There are vendors throughout the walk offering roasted chestnuts, mince pies and a special station for roasting exotically flavored marshmallows! You can visit with Santa, make a wish on the wishing tree, and kiss under the mistletoe canopy! There is a whole area with vintage rides including a carousel, pull swings, train, and slides; and booths where you can buy gourmet hot dogs, ice cream, and other yummies! It was an absolute Christmas wonderland and worth every pound we spent on it! Tickets are 16 pounds for adults and 10 pounds for kids 4 and up. There are different entrance times, so be sure to get your ticket ASAP to get a decent time!
2. Hogwarts in the Snow
My kids are total Harry Potter junkies! Since we started traveling, we have listened to the audiobooks every second we've spent in the car. So we bit the bullet and booked the expensive Hogwarts in the Snow at Warner Brother's Studio Tour. All the sets were decorated for Christmas. It was awesome and totally worth it if you're a Potter Head at all! Tickets are 39 pounds for adults and 31 pounds for children under 16. Under 5's are free. Don't skip on buying the Butter Beer or the Butter Beer Ice Cream! Soooo delicious!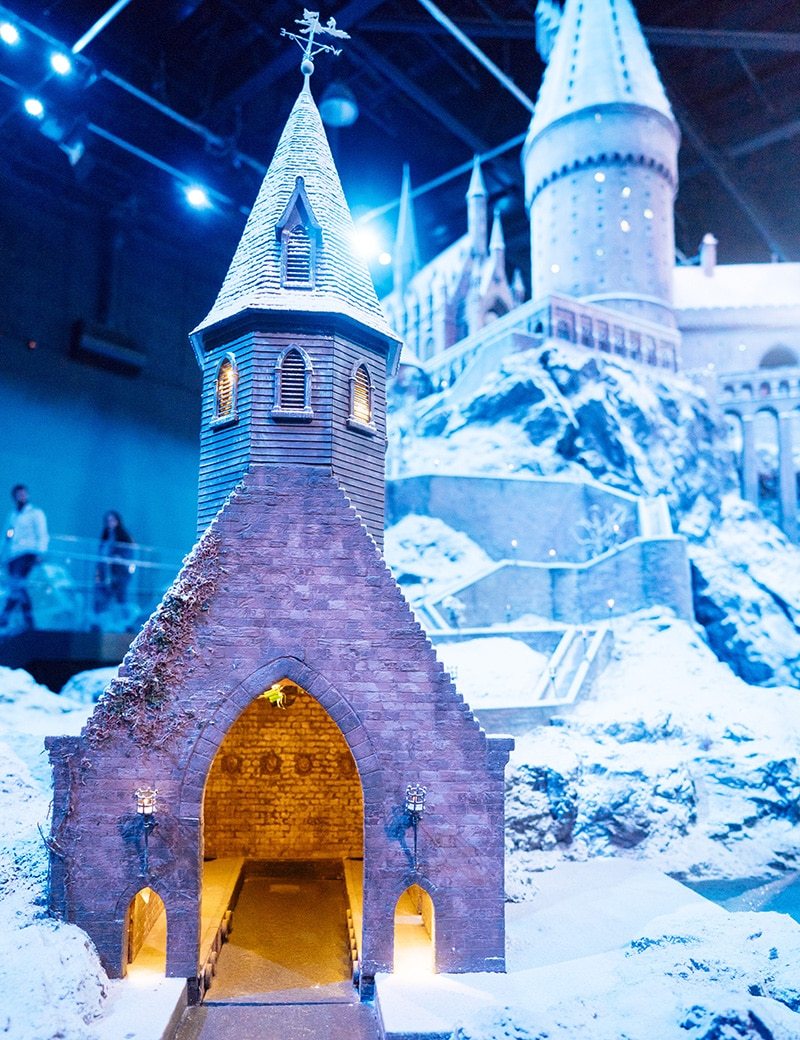 3. A Christmas Carol
This was a MUST for me! I love A Christmas Carol and have seen it almost annually since I was young. My birthday is a few days before Christmas and it's usually my birthday present to myself or from someone else if they remember! Seeing it in London, where the story was actually set was a dream come true for me!
We opted to skip the more expensive showing in the west end and chose the Rose Theater's production. The actors are all local and mostly teenagers. I have to admit, my expectations were low, but I was blown away. They had live on-stage music, amazing set design and simple, yet accurate costumes. The talent was astounding! I would go again in a heartbeat and recommend it to anyone. We took all 4 children (a little scary with a 5 and 2-year-old who are not very well behaved 95% of the time)! There was plenty of room in the theater to take them to a remote corner where they could still see but weren't bothering anyone.
4. The Snowman
I was told that this was a London Christmas Classic. There is a cartoon called The Snowman. I'm not sure which came first. It was really sweet and the music sticks in your head. It's not cheap, but worth the experience and a great intro to theater for young children. The best part is that there are so many kids in the audience that you don't have to worry about your kids making any noise. Tip: They sell ice cream during intermission so be sure to bring cash!
5. Harrods
Harrods at Christmastime is madness, but also a must! Even if you're not buying anything (because chances are you can't afford it, I couldn't!) it's fun to browse, especially the toy land which takes up nearly an entire floor of the massive store. You can purchase tickets to Santa's Grotto where you can sit on Santa's lap (well, your kids can) and get a special gift from him. Tickets go on sale in September and generally sell out the day they go up, so if you're planning ahead, mark your calendars now!
6. Selfridges
Selfridges is another huge department store on Oxford Street that is worth a visit. It's definitely a more modern department store, but they have an excellent Santa that walks around with an elf with a polaroid giving out free pictures of your kids with Santa! Their toy department is fun but doesn't quite rival Harrods. If you've ever watched the BBC show, Mr. Selfridge, then this is a must!

7. Fortnum & Mason
Probably my favorite place to shop in London, F&M is a foodie's paradise, especially at Christmas time! With cases chock-full of Turkish delight, marzipan fruit, glazed fruits, pastries, chocolates, truffles, and cakes, it's enough to make you go into a sugar-induced coma just window shopping! If you venture downstairs you'll find a high-end grocery store with smoked meats, fancy cheeses, baked goods and a huge alcohol section. If you go up one level from the ground floor you'll find the most beautiful tea sets and other kitchen goods that you just CANNOT live without (even if you're like me and don't actually HAVE a kitchen…but that's irrelevant)!

8. Oxford Street, Regent Street, Piccadilly Street, Carnaby Street
The most expensive streets you'll ever walk down! So many fun shops and the window displays are incredible! Just take a walk down any of these streets and marvel at the lights, decorations strung between buildings and the incredible artistry that goes into each shop!
9. Kensington Palace
Even during the regular season, Kensington Palace is one of my favorite places to visit in London. It's such an unexpected escape from the hustle and bustle of the city. And if you've seen Young Victoria or have read about Queen Victoria and Prince Albert, it is so touching to see bits and pieces of their lives and their love for one another! At Christmas time, Kensington Palace is transformed into a Victorian Christmas dream! Oh, how I would love to decorate my home in a Victorian Christmas style. So classy and beautiful!
There are also special choral and instrumental performances and presentations. We listened to a Victorian Brass Band play traditional Christmas carols. They explained the origins of the songs, talked about each instrument and let the children feel them and ask questions. Kensington Palace is a must see if you are going to London any time of year. You can also have tea at the Orangery Restaurant on the grounds. It's absolutely lovely! Oh how I adore a good afternoon tea! Something so special about it!
10. Eye Skate and London Eye
This is a rather "touristy" activity, but a fun one! If you plan to ride the London Eye, you can add on a timed ice skating ticket. Most people will ice skate at the Natural History Museum, but the line is always so ridiculous that we never made it. The London Eye has a small rink with lots of "push seals" for the little ones (or for moms who may not be as expert on the ice as me haha!) It only lasts for about 45 minutes, which was just enough time to let my kids fall enough times and be quite finished with ice skating until next Christmas!
11. Dickens Museum
I love the Dickens Museum any time of year, but the Christmas Decorations make it extra special. If you are a true Dickens fan they have plenty of his actual artifacts, including furniture, clothing, books and of course his writings. They also have the old bars from the Marshalsea Debtors prison where Charles' father was imprisoned when he was just a boy, shaping much of his view on the world and inspiring a great deal of his literary works.
I was totally surprised at how kid friendly the museum was. There are no ropes preventing you from entering rooms and many of the displays are hands on, including the children's nursery upstairs. There is also a "children's trail" that is given upon arrival that is very well done. I suggest reading "A Christmas Carol" before you go, or at least watching it…I like the Jim Carey version best because it follows the book closely, but is also entertaining for the kids. A Mupppet Christmas Carol is secretly my favorite though!
12. Outdoor Market
There are plenty of outdoor Christmas markets around London selling a large array of things. Portabello Road is always a safe bet…full of "anything and everything a chap can unload."
13. Pubs
Before going to London I thought pubs were just like bars in the US…places where grown-ups go to get drunk. Ok, well that's still partially true, but pubs in London (and the UK in general) actually have GOOD FOOD! And children are welcome. We ate at pubs several times a week during our time in London. Meat pies, fish and chips, Cornish pasties, burgers, sandwiches, roast, steak, salads…all sorts of deliciousness! One thing you MUST try at Christmas time is Figgy Pudding. Our favorite figgy pudding was at the Narrow Boat pub in Angel. We went back 3 times just for dessert! I wish they had it year round! Make sure to also try their mulled wine when you dine!

14. See a Pantomime
Pantomimes are difficult to explain. Think of a spoof on classic children's fairytales meets cross dressing actors. It's a little odd, but fun for the whole family and a London Christmas tradition. Check here for a list of the best Pantomimes in London this Christmas.
15. Ice Skating at the Tower of London
This is one of our favorite activities to do for Christmas in London. What an incredible backdrop to enjoy a little skate. Plus the hot chocolates there were fantastic.
16. Midnight Mass at Westminster Abbey
This was such a special experience and one I recommend doing even though waiting up can be really hard, especially for younger kids. If you're religious at all, it was really special, and even if you're not, I think think it can still be a unique experience you would enjoy.
17. Hyde Park Winter Wonderland
My kids loved this! It's basically like a county fair set up inside Hyde Park! It's pretty pricey, but worth it for all the fun. We did a few rides, got hot chocolate, and just enjoyed the ambiance and people-watching.
18. See a West End Show
London has so many great plays and musicals to see and they're much more affordable than seeing them in New York City. So it's a good opportunity to see at least one during Christmas in London. We have taken our kids to many shows in London, but their favorites have been Mary Poppins, Matilda, The Lion King, and The Play That Goes Wrong.
19. See a Concert at Royal Albert Hall
If you enjoy Christmas music, there's nothing more festive than seeing a concert at Royal Albert Hall. It's considered one of the best Christmas events in London and it's perfect for kids. They'll often have famous artists as guests, so it's worth looking into. 
20. Give Back This Christmas
If you're looking for some easy charity around London at Christmas, you can donate to the Light the World campaign. They are vending machines that allow you to buy food for people in need, a goat for someone in a village, a soccer ball, school lunches for children in need, some chickens, etc. It's a fun and easy way to give back to those in need during the holidays. You can find the Light the World machines near the Museum of Science at this address.
Festive Places to Stay in London for Christmas
Have a luxurious stay at The Savoy Hotel when you celebrate Christmas in London this year! What's great about this hotel is that it's only 0.5 km away from the London Christmas markets, making it super easy to explore. The hotel itself has lots of rooms to choose from, so this is the perfect Christmas getaway for everyone!
A 4-star hotel in London City Centre, the Wilde Aparthotels by Staycity Covent Garden offers comfortable and stylish apartments during your stay in London. It's also 0.5 km away from the London Christmas market and a few minute's stroll from Leicester Square and Trafalgar Square. The location is pretty convenient, so you can make the most of your time during the Christmas holidays.
Another top-rated hotel to visit in London is The Royal Horseguards. With its stunning views of the River Thames, this 5-star hotel is perfect for a romantic and luxurious Christmas getaway. It's 450 meters away from the London Christmas market and close to some of London's most iconic sights, including the London Eye, Big Ben, and Buckingham Palace which are all perfect London destinations for the Christmas season!
Festive Tours to Join in London for Christmas
No plans yet for your Christmas holiday? Why not join a festive tour and explore London in the most unique way possible! The Christmas Lights Tour by Vintage Bus Open Top is a great option for those looking to see the most beautiful Christmas lights in all of London.
Here are the highlights of this tour:
Enjoy the spectacular Christmas lights of London aboard an open-top bus
Marvel at the lights of Oxford Street and the window displays at Harrods
Listen to an amusing commentary that brings London to life
If you really want to feel the Christmas spirit in London, join the Magical Christmas Walking Tour. This tour will take you through some of London's most iconic streets and let you explore hidden gems that are often overlooked. You'll be able to explore the city while learning its rich history and culture all in one go, making this a great way to celebrate Christmas in London.
Here are the highlights of this tour:
Feel the magic and warmth of Christmas in London, the best season of the year
Discover Mayfair, London's most expensive and fashionable shopping district
See the famous Oxford Street and admire the festive shop window displays
Marvel at the Regent Street Christmas lights and be dazzled by the display
Visit the iconic Hype Park Winter Wonderland and get into the Christmas spirit
Enjoy local Christmas markets and beautiful lights in London with the Christmas Lights and Markets Tour. You'll get to explore two of the best markets for Christmas shopping while you discover the origins of Santa Clause and Scrooge. This is the perfect tour for those who want to get in the Christmas spirit but don't have a lot of time on their hands.
Here are some highlights of this tour:
Highlights
See London's Christmas lights
Enjoy a traditional mulled wine
Discover the secret Christmas garden
See the Christmas tree with 40,000 lights
Stroll through London's Christmas markets
Now you see for yourself, Christmas in London really IS magical! There is so much to do and see and taste, I wish it could be Christmas in London year-round! Have you done Christmas in London? Where is your favorite place to spend Christmas? If you're spending Christmas in London, I'd love to help you plan your trip! Get in touch on Facebook or Instagram.
And if you're heading to London during the rest of the year, check out my Family Guide to London. or my Perfect London Itinerary! And for even more info read here for Christmas in London with kids.
PIN THIS!
Christmas in London
Is it worth going to London during Christmas?
Definitely! I love celebrating the Christmas season in London. Seeing the city all lit up with festive decorations and witnessing the special holiday spirit in the air is always a memorable experience.
How is Christmas celebrated in London?
Just like in the movies, Christmas in London is celebrated together with groups of families, friends, and neighbors. There are festive Christmas markets, holiday-themed activities like ice skating, traditional carols and music concerts, Big Ben Christmas shows at night, and family-friendly events all around the city.
How cold is London during Christmas?
Between December and February, the average temperature is around 48°F (9°C), so it gets pretty cold, but not unbearably so. It's best to dress in layers and wear a warm coat when going out.