After living Scotland as a kid and bringing my family and friends back multiple times, I've definitely compiled an extensive list of things to do in Scotland from family-friendly activities to more luxurious or high adventure activities. I'll share my favorites with you.
Bonnie Scotland has been attracting history buffs and outdoor enthusiasts for centuries with its storied castles, heather-laded hills, dramatic coastlines, and friendly locals. Some of the best things to do in Scotland still revolve around the country's natural beauty and Scotland's history.
Visiting Scotland today is a wonderful blend of old and new. There are small yet dynamic and diverse cities dotted around the mainland. You can taste international cuisine in Inverness, watch live music in Glasgow, and attend festivals in Edinburgh. But the Scotland of centuries past is still alive and well in its mountains, lochs, beaches, and, of course, whisky.
Don't have time to read a bunch of reviews & blog posts? Here are our top picks for visiting Scotland:
Get an Easy Scotland Itinerary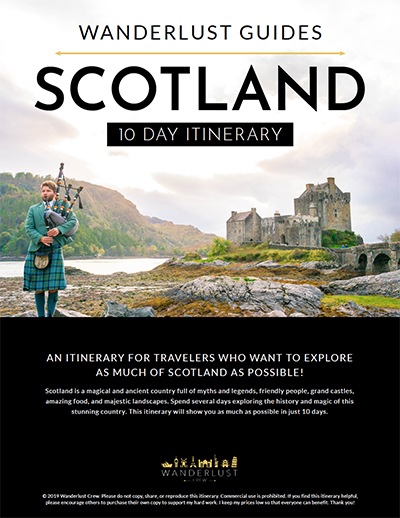 Our favorite hotels in Scotland
Our favorite tours in Scotland
Renting a Car in Scotland
If you want to see authentic Scotland, I recommend you drive yourself. If you're renting a car, there are two companies we prefer to use: Rental Cars and Expedia Cars. We have had no issues with them and have been able to find the best prices available.
Vacationing in Scotland means you will get to experience all of this and more. But with so many hikes and road trip routes, it can be difficult to know how to create an itinerary when it feels like there are 1,593+ amazing things to do in Scotland.
Dinna fash yersel'! (that means 'don't worry' in Scots). This list of only the absolute best things to do in Scotland will help you plan the most unforgettable Scotland vacation. So, grab your bagpipes and tartan kilt, and let's explore Scotland!
1. Delve into Scottish History at Edinburgh Castle
Sitting atop Castle Rock and looming above the Old Town of the Scottish capital, Edinburgh Castle is one of the key landmarks and tourist attractions in Scotland. It's a colorful thread in the tapestry of Scotland's rich history and you absolutely cannot visit Scotland without visiting Edinburgh Castle.
Dating back to the 11th century, Edinburgh Castle has a diverse past as it has acted as a royal palace, military barracks, fort, and now the home of Scotland's National War Museum. From Edinburgh Castle, you can see views over Princes Street Gardens and out to the harbor of Leith.
Like Rome, Lisbon, and Athens, Edinburgh is also built across seven hills and Castle Rock is only one of them. These are the other six:
Calton Hill
Arthur's Seat
Braid Hill
Blackford Hill
Corsorphine Hill
Craiglockhart Hill
Climbing these hills for epic views is some of the best things to do in Edinburgh, Scotland.
2. Check out the Kelvingrove Art Gallery in Glasgow
Though not Scotland's capital city, Glasgow is Scotland's largest city and is located in the Central Belt of Scotland on the west coast straddling the River Clyde. It's often mistaken for being purely industrial and having no culture, but the opposite is true. It's one of the best cities to visit in Scotland for art lovers because of the many galleries here, most notably the Kelvingrove Art Gallery.
The Kelvingrove Art Gallery is located in a huge park in Glasgow's trendy West End neighborhood. There are many works here by many famous artists (including a seminal piece by Salvador Dalí) but it's known for its huge collection of paintings in the Glasgow style.
The Glasgow style was an art movement in the city spanning the decades from 1870 to around 1910. Just some of the artists known for their contribution to the Glasgow style movement include Frances MacDonald, Margaret Macdonald Mackintosh, Herbert MacNair, and Charles Rennie Mackintosh.
Even if you're not interested in learning about the Glasgow style, there is plenty more at the Kelvingrove Art Gallery for art lovers of all movements. It's a popular day out for locals and one of the best things to do in Glasgow, Scotland for sure.
3. Visit Loch Lomond and the Trossachs National Park
Scotland has two national parks: Loch Lomond and the Trossachs National Park and the Cairngorms National Park. They are two of the best places to visit in Scotland if you love wildlife, walking along rolling hills, and beautiful scenery. I seriously love these areas of Scotland and they make me feel alive every time I go.
Loch Lomond and the Trossachs National Park is just north of Glasgow. It's home to the largest loch (lake) in Scotland by surface area, as Loch Ness is the largest by volume. Loch Lomond and the Trossachs National Park is a popular place for locals and tourists alike to go camping, cycling, walking, or hiking.
Ben Lawers might be the highest mountain in Loch Lomond and the Trossachs National Park but Ben Lomond is the favorite amongst hikers. It's 3,196 feet/974 meters tall and offers sensational views across Loch Lomond and the rest of the Trossachs National Park. Scaling Ben Lomond has to be one of the top things to do in Scotland and easy to complete on a day trip from Glasgow or Edinburgh.
4. Road Trip Around the North Coast 500
If you have time to visit the north of Scotland and you're renting a car, you should definitely drive the North Coast 500. The views are beyond stunning and it's a less-visited part of Scotland, so you'll see fewer tourists.
If you're renting a car, there are two companies we prefer to use: Rental Cars and Expedia Cars. We have had no issues with them and have been able to find the best prices available.
Though Scotland is an average-sized country, it boasts multiple diverse road trip routes. Road trips allow you to see more of the countryside of Scotland and travel at your own pace for a few days or more. One of the best road trips and things to do in the Scottish Highlands is to travel along the North Coast 500.
The North Coast 500 follows the coastal road around the Northern Highlands of mainland Scotland. It's a circular route starting and ending in Inverness which covers approximately 500, hence the name. In this part of the Scottish Highlands, you can see castles, remote beaches, lighthouses, caves, whisky distilleries, and even the most northerly point of mainland Britain.
If you want to take part in some cool outdoor activities in the Northern Highlands, the west coast is where you should allow most of your road trip time. Arisaig is a coastal town where you can try sea kayaking. Sandwood Bay is known as the most remote beach in the UK and is a nine-mile/14.5 km-round hike.
Here are some other road trip routes that allow you to pack in more Scotland sightseeing opportunities:
Southwest Coast 300
Angus Coastal Route
Fife Coastal Route
Argyll Coastal Route
You can also cycle most of these routes too.
5. Follow William Wallace's Footsteps at Stirling Castle
Do you love the movie Braveheart and want to know what to see in Scotland to find out more about the real heroics of the legendary William Wallace and Scottish independence? My grandma was obsessed with this movie, so I learned lots about William Wallace during my time living in Scotland.
Stirling Castle on the east coast is one of the best things to do in Scotland and one of the top tourist attractions in Scotland.
Dating back to the 12th century, Stirling Castle has had quite an incredible history. The Battle of Stirling Bridge in 1297 was one of the first battles in the war for Scottish Independence and was led by the legendary William Wallace.
There have been several brutal and bloody battles fought in and around Stirling Castle over the centuries but today it's a well-preserved and fascinating castle to visit. Because of its position on the edge of the city on a hill, you'll also find phenomenal panoramic views from Stirling Castle!
There are plenty more things to do in Stirling, Scotland than just visiting Stirling Castle. The William Wallace Monument and the Battle of Bannockburn 3D experiences are worth adding to the end of your Stirling Castle trip.
6. Spot the Loch Ness Monster on a Loch Cruise
You know it's a mythical and fictional creature, and yet… Something still tells you that you shouldn't go on vacation in Scotland without taking one of the boat trips on Loch Ness in search of the Loch Ness Monster. That 'something' is right! Loch Ness is one of the best places to visit in Scotland for first-timers.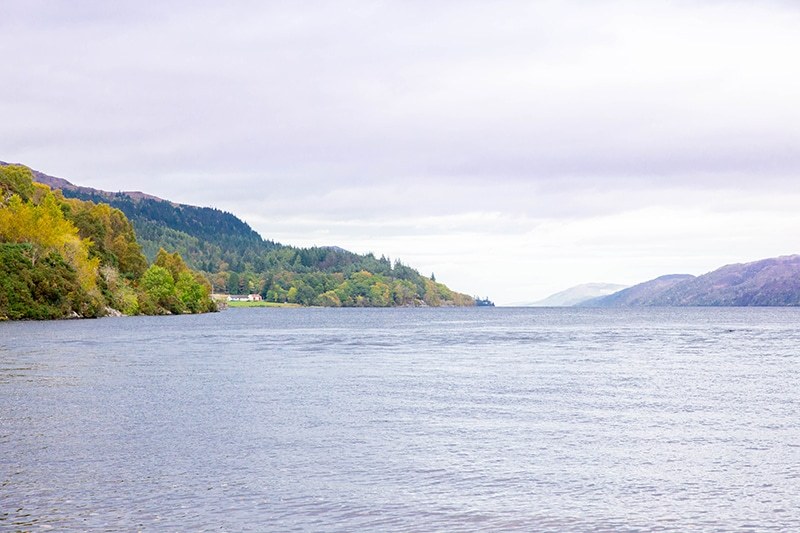 What Loch Ness lacks in large sea beasts, it makes up for with its impressive beauty and history. Loch Ness is one of the largest freshwater lochs in the country where you can take boat trips to learn more about the history of the illusive Loch Ness Monster as well as explore Urquhart Castle up close.
It's one of the top things to do in Scotland and a great introduction to the Scottish Highlands. Many tour companies offer day trips to Loch Ness and surrounding areas so it's super easy to slot into your itinerary.
Plus, you get to see a little bit of the best of the Northern Highlands: a castle (Urquhart Castle), a loch (Loch Ness), and traditional storytelling (the Loch Ness Monster). Choose a cruise that docks at Urquhart Castle so you get the chance to walk around.
7. Walk the Quiraing Circuit on the Isle of Skye
Out of all the islands in the Scottish Highlands, one of the most popular and top places to visit in Scotland is the Isle of Skye. Not only does it have unbelievably magnificent scenery, but this island on the west coast is also one of the easiest to reach thanks to the road bridge.
Its name means 'Cloud Island' which derives from the Norse word for mist. The Isle of Skye truly embodies the name of Cloud Island as you'll feel like you're floating on a cloud having the time of your life when you visit this place.
If you're going to visit the Isle of Skye, you need to spend a few days here at least. It has some of the most diverse Scottish countryside you'll see during your trip. A must-see in Scotland on the Isle of Skye is the Fairy Glen, along with the Quiraing circular hike, the Talisker Distillery, the Cuillin Mountains, and The Old Man of Storr.
8. Stroll Along Edinburgh's Cobblestone Royal Mile
One of the top attractions in Scotland is Edinburgh's Royal Mile. It's a street around one-mile long which stretches from Edinburgh Castle at one end to Holywood Palace at the other in the heart of Edinburgh's Old Town.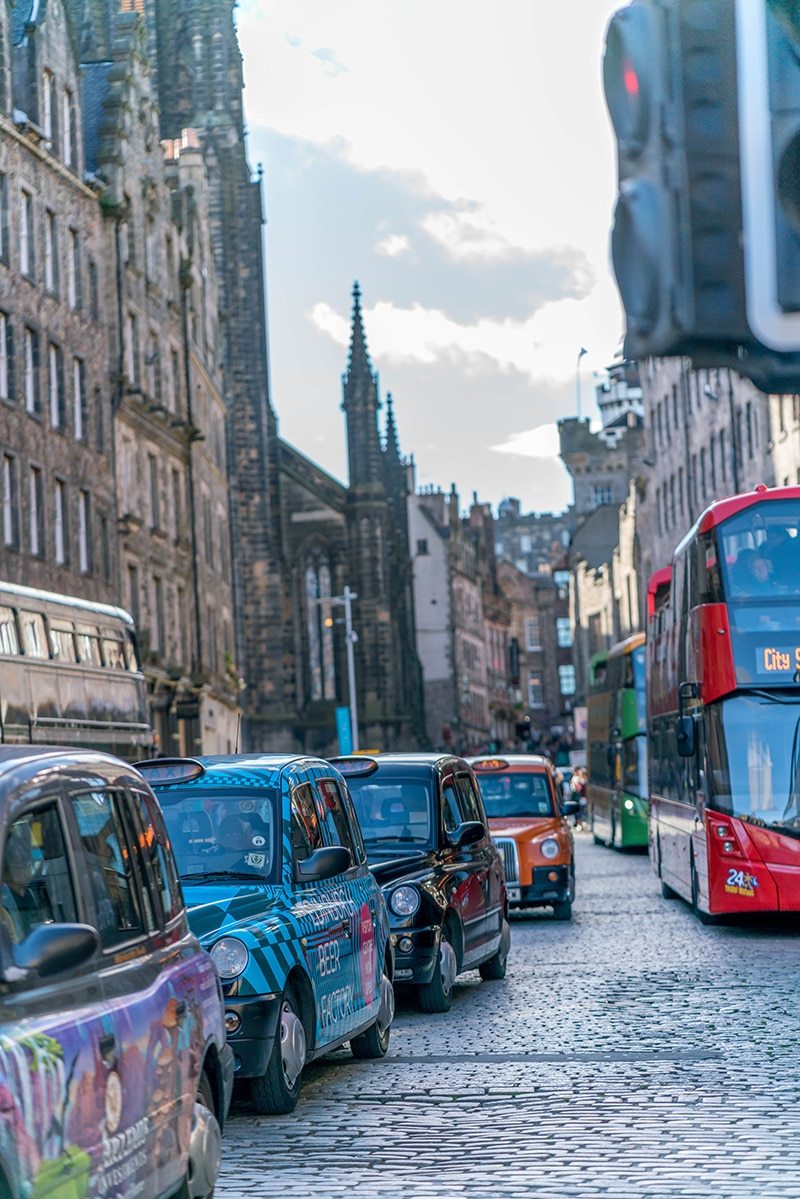 There are centuries of rich history along this cobblestone street including St Giles Cathedral and all of the winding, covered closes that shoot off the Royal Mile. Visiting the Royal Mile is included in any Scotland sightseeing walking tour as it's one of the most famous places in Scotland.
Holyrood Palace, in particular, has connections to the Scottish royal family as Mary, Queen of Scots lived here in the 16th century. Today, the estate of the British royal family owns Holyrood Palace though they rarely visit it.
Another reason why strolling up the Royal Mile is one of the best things to do in Scotland is because it's part of a UNESCO World Heritage Site.
9. Explore Inverness (the Unofficial Capital of the Highlands)
If you're road-tripping the Northern Highlands or want to take a ferry to Shetland or Orkney then you will inevitably pass through Inverness. Luckily, it's one of the best places to visit in Scotland and the unofficial capital city of the Scottish Highlands.
There is so much history in this area and it's definitely worth the stop!
Some cool things to do in Inverness, Scotland include visiting Inverness Castle, checking out the Culloden Battlefield, visiting the ancient Clava Cairns, and buying second-hand books from Leaky's Bookshop. It's a must-see Scotland activity because it's the largest bookshop in Scotland and is housed in an old church.
10. Hit a Hole in One on the Old Course at St. Andrews
Even if you're not into golf, you can appreciate it for it's history. As the birthplace of modern golf and still the location of golf's ruling body, St. Andrews is one of the top places to visit in Scotland for sports fans. There are seven golf courses on St. Andrews's Links alone and the British Golf Museum is located in this picturesque town.
If you love golf, then, of course, one of the bucket-list things to do in Scotland for you is to play a few holes on the historic Old Course. It's cheaper than you might think, too!
11. Climb Aboard the Royal Yacht Britannia in Edinburgh
If you've watched The Crown, you may recognize this famous yacht. Until 1997, the British monarchy had a private yacht and the last one was the Royal Yacht Britannia. When it was decommissioned, it was brought to the harbor of Leith just outside of Edinburgh where anyone can now visit. The Royal Yacht Britannia is officially one of the top attractions in Scotland and one of the best things to do in Scotland if you love all things royal.
The Royal apartments, dining rooms, living rooms, etc. are all perfectly preserved on the Royal Yacht Britannia. You get a free audio guide that will show you around the Royal apartments and give you stories about the late Queen Elizabeth and Prince Philip as well as other famous faces that graced the decks of the ship.
After your visit, you can enjoy refreshments in the Royal Deck Tea Room fit for King (or Queen). They serve homemade scones, sandwiches, and even champagne in the Royal Deck Tea Room so it's a great treat for a special occasion.
12. Follow The Burns Heritage Trail in Ayrshire
While living with my grandma in Scotland, she was working on her pHD in British literature. Robbie Burns was a favorite of hers (even though I couldn't understand much of his poetry). Robert Burns is a much-celebrated Scottish poet from the 18th century. He spent most of his formative years in Ayrshire on the west coast and there are several attractions in this part of the country that make up the Burns Heritage Trail.
If you love poetry and literature, it's one of the most interesting things to do in Scotland. There's a rich history attached to the work of Robert Burns considering he penned the poem which later became the lyrics to Auld Lang Syne, a popular New Year's Eve song.
The Burns Heritage Trail is a circular route that includes the cottage in Alloway where he was born and raised. A museum dedicated to his works and life, the Bridge over the River Doon which appears in his works, and sculptures inspired by his poems also appear on the Burns Heritage Trail.
If you're a big fan of Robert Burns, you can follow the Burns Heritage Trail all the way to his grave in the city of Dumfries as well as his other homes and inns he liked to visit.
13. Experience 'Scotland in Miniature' on the Isle of Arran
Just off the west coast near Glasgow, the Isle of Arran is Scotland's most southerly island and many say that it represents the best of Scotland in a smaller area. If you're struggling to know what to see in Scotland within a short timeframe, visiting the Isle of Arran might answer your problems!
Like other islands and regions of Scotland, it is overflowing with natural beauty and peaks like Goat Fell Mountain. You can also visit Lochranza Distillery after you submit Goat Fell Mountain which is Arran's tallest hill.
You can get to the Isle of Arran by car because there's a big bridge.
14. Follow the 'Castle Trail' in Aberdeenshire
You can't go to Scotland without visiting a Castle…that's just a fact! There are so many castles, it's nearly impossible not to bump into one.
Scotland is home to approximately 1,000 historic castles and they play an important role in telling the stories of the country's rich history. There is no other nation that has such a diversity and plethora of castles and they are some of the best Scotland attractions.
Whilst you'll find castles everywhere, Aberdeenshire is the Scottish county with the biggest concentration of castles and where you can follow the Castle Trail. By using the Castle Trail as your guide, you'll get to visit 19 castles of all shapes, sizes, and eras like Castle Fraser and the clifftop castle of Dunnottar Castle.
Whether the castles are ruined, ancient, opulent, or sparse, visiting them will always be one of the top things to do in Scotland.
15. Check out the Riverside Museum in Glasgow
Are you traveling to Scotland with your family and do you have car-loving kids? Check out the Riverside Museum along the Forth and Clyde Canal in Glasgow. This uber-modern and innovative exhibition space is one of the most exciting things to do in Glasgow, Scotland for motorheads. My boys especially loved this one.
In the Riverside Museum, you'll find cars, trains, vans, ships, and buses from many different eras housed in one giant warehouse. Not only is the Riverside Museum located in a beautiful place next to the River Clyde, but it also has over 100 interactive displays and is stroller-friendly.
16. Plan a Road Trip Stop to The Kelpies and Falkirk Wheel
The Kelpies are seriously impressive! If you're planning a road trip, you're probably looking for things to do in Scotland that are great places for fun, short breaks. Visiting the Kelpies and the Falkirk Wheel are perfect ways to slot in some little Scotland sightseeing trips (especially if you're heading north from Edinburgh) that aren't a huge detour.
The Kelpies are two steel structures based near the motorway/highway at Falkirk. They are 100-foot/30-m tall mythical horses designed by sculptor Andy Scott and are super cool to walk around.
The Falkirk Wheel is a rotating boat lift connecting the Union Canal with the Forth and Clyde Canal. Yes, this lift literally transports canal boats from a lower canal to a higher one and it's the only one in the world! You need to see it to believe it.
17. Spot Shaggy Highland Cattle in their Natural Habitat
Let me introduce you to my favorite animal! How can you not love them?
You've no doubt seen the cute and adorable shaggy Highland cattle on greeting cards or social media posts, but it's not the same as spotting them in their natural habitat in the Scottish Highlands. They're one of the most iconic Scotland attractions!
One of the most fun things to do in Scotland is to watch out of the window to see if you can spot any of these fuzzy beasts in farms as you pass. If you want a surefire place to see them, head to the farm outside of Culloden Battlefield near Inverness.
18. Have Fun While Learning at the National Museum of Scotland
The National Museum of Scotland in Edinburgh is one of the best museums and things to do in Scotland if you love learning. It not only covers Scotland's rich history, but it also has international and historic exhibits on everything from natural history to astronomy, and fashion.
They even have the first cloned sheep, Dolly, at the museum.
What makes the National Museum one of the best attractions in Scotland isn't just the exhibits but also the building. The National Museum of Scotland looks like an ornate, Victorian greenhouse with high ceilings and stone benches.
Don't miss the views from the roof terrace! It's one of Scotland's best-kept secrets.
19. Photograph the Iconic Eilean Donan Castle
It might not be the most-photographed Scottish castle in the country (that would be Edinburgh Castle) but the Eilean Donan Castle sure is photogenic and it's one of the top things to see in Scotland.
Originally a stronghold of Clan Mackenzie, Eilean Donan has attracted visitors due to its cinematic location on an inlet in the middle of a loch. Not only is it pretty, but it's also one of the best places to go in Scotland on a road trip. It's located right by the bridge to the Isle of Skye and also en route to the North Coast 500.
20. Ride a Jacobite Steam Train from Fort William to Mallaig
If you love the Harry Potter movies, then one of the must-see places in Scotland for you is the Jacobite Stream Train from Fort William to the coastal town of Mallaig over the Glenfinnan Viaduct. This bridge appears three times in the movies and is one of the most iconic filming locations from the whole series.
And yes, a steam train actually crosses that bridge in real life! It's called the Jacobite Steam Train and is one of the best attractions in Scotland. Because it only crosses the bridge twice a day during the peak summer months, book your journey to ride the Jacobite steam train well in advance.
Don't panic if you've left it too late to ride the steam train! You can still cross the bridge on a regular West Highland Line train service.
22. 'Bag' Munro Mountains in the Northwest Highlands
Scotland has an endless number of mountains and the many hills that cover the Scottish landscape are arguably the biggest tourist attractions in Scotland. But there are 282 mountains in Scotland that are extra special.
These are mountains that climb over 3,000 feet and are known collectively as Munros. They're named after the mountaineer Sir Hugh Munro who created the list. Ben Nevis is the tallest of the Munros and therefore the tallest mountain in Scotland reaching 4,411 feet/1,345 meters.
The average time to scale Ben Nevis and hike back down is around seven to eight hours. Ben Nevis is close to Fort William and the summit is only visible for around 30 days a year.
Hiking to the top of one of these mountains, especially Ben Nevis, is one of the most rewarding things to do in Scotland and offers magnificent scenery from the summit. But you don't need to climb up and down every single one to 'bag' a Munro.
One of the best places in Scotland to bag seven in just a few hours is the South Glen Shiel Ridge. Either hiking this ridge, or Ben Nevis, is a fantastic challenge to add to your Scotland itinerary.
23. Taste Scotland's Weird and Wonderful Cuisine
Eating as much Scottish cuisine as possible might not be at the top of your list of things to do in Scotland, UK. You've probably heard that some traditional Scottish dishes are a little weird, and you would be right.
But if you're wondering what to do in Scotland to truly appreciate and understand the culture, you need to taste some local delicacies. Here are some Scottish things to try whilst you're there:
Haggis, Neeps, and Tatties – Sheep's internal organs with turnip and mashed potatoes
Cullen Skink – Soup made from smoked haddock, potatoes, onions, and milk
Porridge – Oatmeal but the Scottish eat it with salt
Cranachan – Dessert with whipped cream, strawberries, oats, honey, and raspberries
Irn Bru – Extremely popular orange carbonated soft drink
Deep-fried Mars Bar – Literally a chocolate bar covered in batter and then deep-fried in oil
Scottish fried breakfasts, fish and chips, and other types of seafood like scallops and lobster are also popular in Scotland. Wondering where to visit in Scotland for the best seafood? Head to the Isle of Skye or the Fife Coast.
24. Witness Glencoe's Dramatic Beauty and Fascinating History
The dramatic vistas over Glen Coe are one of the top must-sees in Scotland. You absolutely cannot visit the Highlands without driving slowly through the valley to admire the best Scotland scenery. Luckily, you have to pass through Glen Coe to reach Fort William so if you're visiting the Highlands, it's almost a given you'll drive through.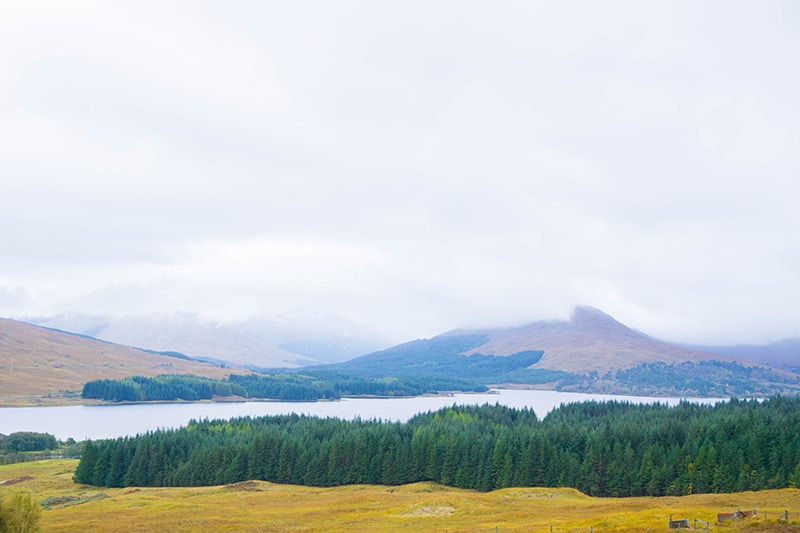 Glen Coe also has a prominent place in Scottish history because of the Massacre of Glen Coe in 1692. It involved the brutal and treacherous murder of around 30 members of the Clan Macdonald by members of the Cameron House, the Macgregors, and the Government due to, at best, a misunderstanding.
Remembering this piece of fascinating history as you gaze on the rocky, dramatic peaks will instantly transport you hundreds of years back in time.
25. Ski and Snowboard in the Cairngorms National Park
One of Scotland's two national parks, the Cairngorms National Park, has the closest climate in the UK to alpine making it an ideal place to visit for winter things to do in Scotland.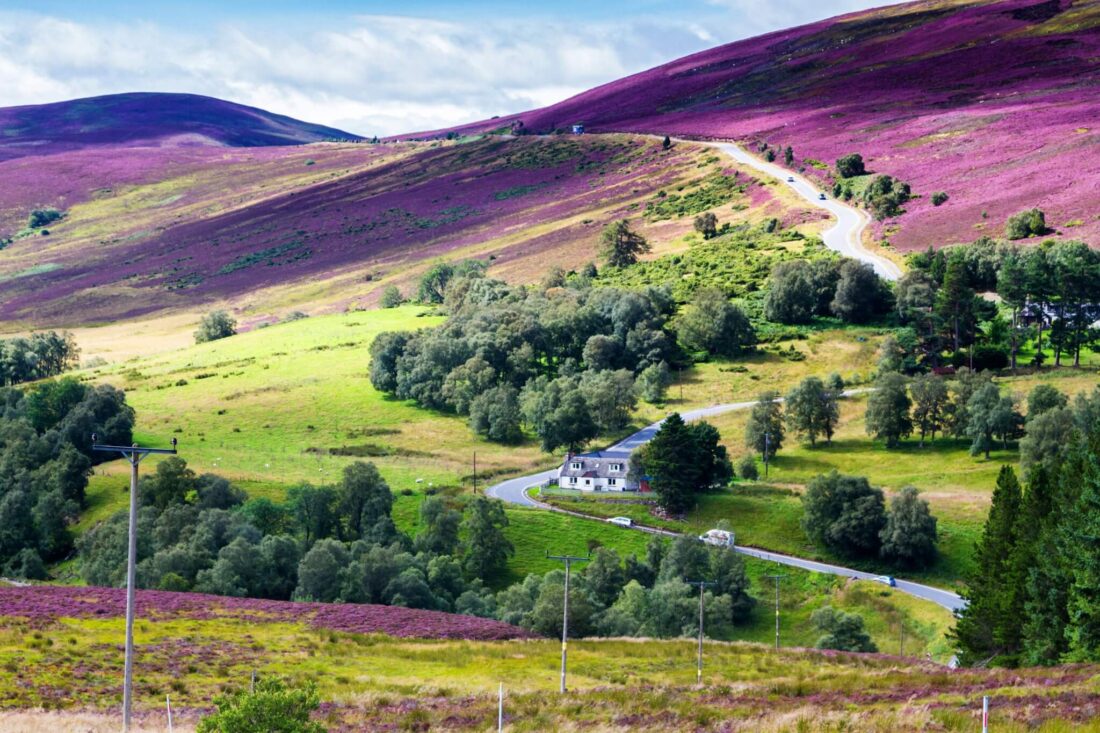 Glenshee Ski Center, Lecht Ski Center, and Cairngorm Mountain are the three ski resorts in the park. While the mountains here are not as high or large as those elsewhere in Europe like Switzerland or France, it's perfect for beginners and kids.
26. Visit the White Sandy Beaches of the Isle of Lewis and Harris
Scotland's islands and dramatic coastlines are covered in white sandy beaches to rival those in the Caribbean (sadly, the temperatures are much lower!). One of the best places to see in Scotland for nature lovers and beach bums is the white sands of the Outer Hebrides.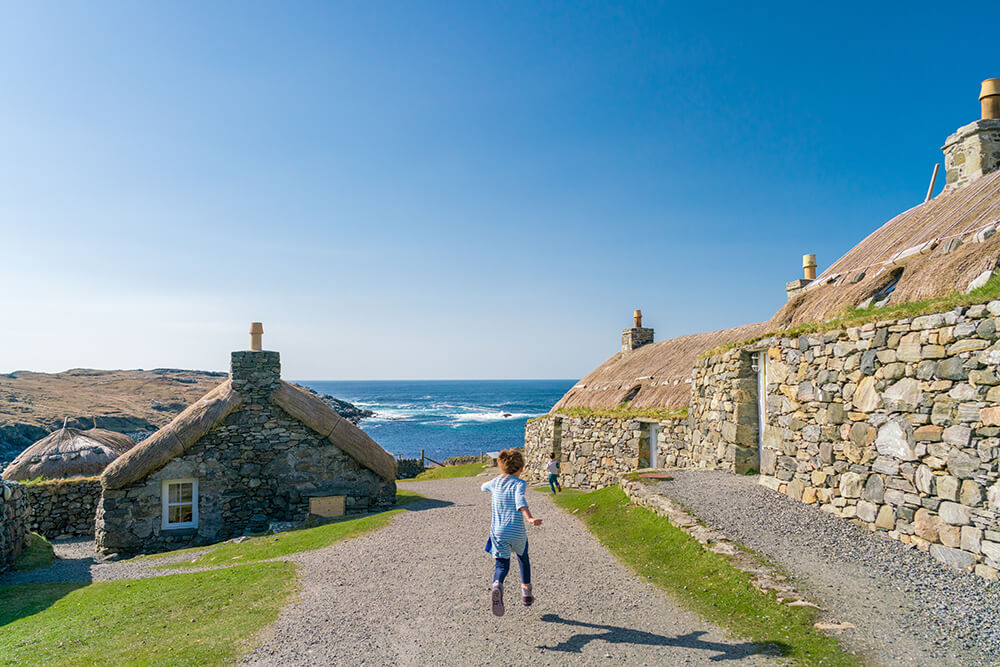 The Outer Hebrides are an archipelago of 70 islands but the Isle of Lewis and Harris is one of the largest and easiest to reach. Some of the best beaches in this part of the Outer Hebrides include Huisinis, Luskintyre, Seilebost, and Horgabost.
Other islands worth visiting in the Outer Hebrides, if you have time, are North Uise, South Uise, and Barra.
27. Sample Drams of Scottish Whisky on the Isle of Islay
Scotch whisky has a rich history as it dates back as far as the 15th century. Monks used to distill grain using winemaking methods when there were no grapes.
Today, there are over 140 commercial distilleries in five regions across the country. Tasting a drop or two of Scotch is a must-do in Scotland.
Want to know what to do in Scotland and where to go to try the best whisky? Head to the Isle of Islay off the eastern coast. It has its own whisky region and is famous for peaty and smoky whisky. Fèis Ìle, or the Islay Festival, is a popular whisky festival there.
28. Hike the West Highland Way from Milngavie to Fort William
Wondering what to do in Scotland that will allow you to hike as much as possible? Tackle one of Scotland's Great Trails like the West Highland Way.
This is a 96-mile/155 km multi-day trek from Milngavie just north of Glasgow to Fort William. The West Highland Way passes Loch Lomond, other lochs, and plenty of small mountain towns. It takes most people around six to nine days to complete the West Highland Way and while some camp along the route, most stay in guesthouses and hostels.
Of course, you need a reasonable level of fitness to attempt the West Highland Way but it's not as strenuous as you might think. Many people also hike this trail solo so you may even make friends too.
29. Celebrate Hogmanay in Edinburgh's Princes Street Gardens
In Scotland, New Year's Eve is called Hogmanay and the Scots absolutely love this holiday. If you want to celebrate this holiday with the Scots then the best place to visit in Scotland is undoubtedly Princes Street Gardens.
Every December 31st, the city of Edinburgh hosts a huge party on Princes Street and Princes Street Gardens with live music from amazing bands. Plus, it's BYOB (bring your own booze).
30. Explore the Old Caledonian Forest in the Grampian Mountains
Scotland doesn't have any primeval oak forests as the only surviving one in Europe sits on the border of Poland and Belarus. However, the Old Caledonian Forests are the next best things to see in Scotland for nature lovers which are similar to primeval oak forests.
Primeval forests are areas of woodland completely unaffected and untouched by humans. Old Caledonian Forests are the last of Scotland's native pine trees and there are 35 of these forests dotted around the Highlands.
One of the best examples of these forests is in the Grampian Mountains near Kingussie. There are also volcanic cliffs so you can really appreciate the history of the land in this part of Scotland.
31. Discover Scotland's Neolithic and Norse History in Orkney
Orkney is an archipelago of islands in Northern Scotland in the North Sea. If you're a fan of remote and lesser-touristed destinations as well as ancient history then it's one of the most ideal places to go in Scotland for you.
Orkney's 5,000-year-old Neolithic monuments are a UNESCO World Heritage Site thanks to the four sites of Skara Brae, the Ring of Brodgar, the Standing Stones of Stenness, and the Maeshowe chambered tomb. There are also 12th-century Viking carvings and remnants of the Viking age dotted around the 7o individual islands in Orkney.
You can either catch a ferry from Inverness to Orkney or fly to Kirkwall from Aberdeen, Dundee, Edinburgh, Glasgow, Inverness, or Shetland.
32. Try Gorge Walking at Bruar Gorge in Pitlochry
Sea kayaking, Munro bagging, coasteering, SUPing… There are so many outdoor activities and new things to do in Scotland that you might never have tried before. Gorge walking is surely one of the most unique.
Otherwise known as canyoning or ghyll scrambling, this activity involves walking through rocky riverbeds and streams. You may be jumping into big pools or even abseil down waterfalls with ropes.
One of the best places to try this is in Bruar Gorge in Pitlochry. If you book a guide then they will give you all the clothes and gear you need to stay safe, warm, and dry.
33. Spend the Night in a Real Scottish Castle
Sleeping in a Scottish castle is surely on everyone's bucket list and is truly one of the best, most unforgettable things to do in Scotland. While not every castle in Scotland is open for visitors, there are several stunning castles where you can book an overnight stay.
Some of the best castles open for guests are Leslie Castle in Aberdeenshire, Neidpath Castle in the Scottish Borders, and Dalmunzie Castle in Perthshire.
Things To Do in Scotland FAQS
What is the number one thing to see in Scotland?
There is an abundance of free tourist attractions in Scotland because it's such a naturally beautiful country. However, the most popular paid tourist attraction in Scotland is undoubtedly Edinburgh Castle.
Thanks to its picturesque setting on top of Castle Rock and its importance to Scottish history, Edinburgh Castle keeps visitors returning again and again.
How many days in Scotland is enough?
Planning the ultimate Scottish vacation and want to put most of the best things to do in Scotland on your itinerary? You will need to spend at least 14 days in Scotland.
But if you want to base yourself in a city (Edinburgh or Glasgow, for example) and take day trips, one week will give you a nice introduction to Scotland.
Is Scotland a cheap country to visit?
Scotland is not a cheap country to visit but that doesn't mean that you cannot explore it on a budget. Free camping (called wild camping in Scotland) is legal and many of the best things to do in Scotland are free. It costs nothing to bag a Munro, see Glen Coe, or walk along a white sand beach. You could also stay in cheaper cities (Inverness or Stirling, for example) than Glasgow or Edinburgh.
But if you want to visit stunning castles, taste whiskey, and rent a car then you will need to splurge a little. You should have an enjoyable trip with a mid-range budget of around £100 – 150 per person, per day (assuming you're traveling as a couple or family).
Unforgettable Things To Do in Scotland for a Memorable Trip
Those are all the very best things to do in Scotland so you can experience natural Scottish beauty and all the top cultural sites and places to visit. Thanks to the unpredictable weather year-round, there's no bad time to explore Scotland and you will no doubt have an unforgettable vacation whenever you go.