With so many incredible things to do in Jamaica, from the beaches to the mountains, you will not be bored discovering the beauty of this island and the magic of its culture and people.

Incredible Things to do in Jamaica
  I had the opportunity to visit Jamaica and was so surprised at how much there was to see and do on the island! There are so many things to do in Jamaica all across the island that it's a guarantee you will not be bored for one minute! Here are my favorite things to do in Jamaica:
Where is Jamaica Located?
If you're not familiar with your island geography, you may be wondering where is Jamaica located? Jamaica is located in the Caribbean just south of Cuba and just west of Haiti. Its ideal location makes for fantastic temperate weather and crystal-clear warm water.
The History of Jamaica
I always love to learn a little history of the destinations I visit before I go. Here is a very brief history of Jamaica. The islands original inhabitants were the Arawaks or Tainos from South America, who named their land "Xaymaca," meaning "land of wood and water." In 1495 the island was discovered and conquered by Christopher Colombus and its inhabitants subsequently destroyed.
Jamaica was colonized by Spaniards until 1655 when they were defeated by the English. When the defeated Spaniards fled Jamaica, they freed their African slaves and fled to Cuba. The descendants of these enslaved people comprise most of the inhabitants of the island today. These people were known as Maroons. Jamaica was visited by many famous nomadic pirates of the time such as Henry Morgan.
The African Slave trade has a long history in Jamaica with Spanish and English being the biggest participants, with slaves mostly working on sugar cane and tobacco plantations, many which still exist on the island today. The Africans rebelled whenever possible. 
On January 1, 1808, the Abolition Bill was passed and trading in African slaves was declared to be "utterly abolished, prohibited and declared to be unlawful". Emancipation and apprenticeship came into effect in 1834 and full freedom was granted in 1838. Jamaica was granted its independence from England on August 6, 1962, and remains a commonwealth of the United Kingdom to this day.
Jamaica has its own constitution and prime minister. With this long and convoluted history, it's no surprise that you will see South American, Spanish, and British influences in many aspects of Jamaican life.
Is Jamaica Safe?
While Jamaica is beautiful and has much to offer, there has been some unrest there lately, including travel warnings from the Department of State. It is advised to stay away from Kingston, Montego Bay, and Spanish Town due to crime.
However, hiring a local driver and guide can solve this problem. It costs around $100/day to hire a driver and guide that will take you around the island. These guides know where the safe areas are and where to avoid.
Where to Stay in Jamaica
Another way to stay safe in Jamaica is to stay in a resort. Luckily, Jamaica is full of beautiful all-inclusive resorts that are very safe. Here are a few of the best resorts in Jamaica:
Moon Palace is truly a paradise within paradise! This all-inclusive resort provides several world-class restaurants, casual restaurants, indoor and outdoor pools, a wave pool, a dolphin experience, a water slide, pristine beaches, an incredible kids club, and amazing entertainment. Their rooms are all luxurious with incredible views of turquoise waters. You won't want to leave!
The Best Place to Stay in Jamaica with Kids
FDR Resort is unlike any resort I've ever seen. I would rank it as one of the best family resorts in the world. The biggest selling point for anyone traveling to Jamaica with kids is that each room comes with its own "vacation nanny!" The nannies can even come on your excursions with the whole family! Playgrounds and arts and crafts, family-style dining, and just all-around fun make this place very special for families.
11 Unforgettable things to do in Jamaica
Once you've decided where to stay in Jamaica, it's time to plan what to do. With so many things to do in Jamaica, it can be hard to choose, but these were my favorites!
1. Climb a Waterfall

Of all the things to do in Jamaica, this may be the most unique! Head to Dunn's River Falls and do one of the coolest things of your life, by climbing straight up a waterfall. This experience can be a little tricky, so using a guide may be preferable, especially if you're going with small children. Children must be 36 inches or taller to climb the falls. If climbing from the bottom isn't for you, there is stair access to a large pool of water with falls to play in near the guide station. Watch my video of Bucket List Things to do in Jamaica
https://www.viator.com/tours/Montego-Bay/Blue-Hole-Secret-Falls-and-Dunns-River-Falls-Combo-Tour/d432-11943P80
2. Float Down a River

Float down the River on inner tubes at Chukkah Good Hope, an old sugar plantation, where your river guide will give you a mini history lesson on Jamaica and teach you how to speak Jamaican Patois so you can learn to speak like a local. After your river tour, take a dive into the river, colored green from limestone.
3. Zipline Through the Jungle
One of my favorite things to do in Jamaica or any destination really, is ziplining. There are tons of ziplining options on the island, but my favorites are at Chukka and Mystic Mountain. This is a great activity for ages 6 and up. Chukkah is a great starter course for someone who's never been before or for kids, as the lines aren't too steep, high or long, but still fun for more experienced zippers and the scenery is gorgeous!
4. Go Off-Roading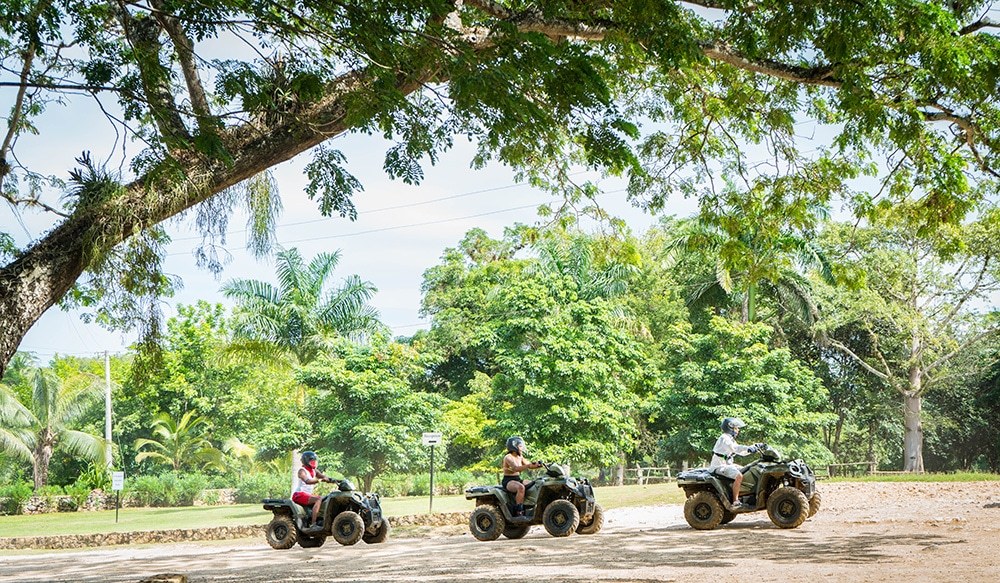 Hop on an ATV and prepare to get muddy! Yaaman near Ocho Rios and Chukkah Good Hope near Montego Bay offer guided ATV Tours.
https://www.viator.com/tours/Montego-Bay/Rastasafari-Experience-from-Montego-Bay/d432-87804P2
5. Learn to Cook Jerk Chicken & Festival
One thing you must try in Jamaica is Jerk Chicken. You can also find Jerk Pork, which is equally delicious. Scotchies restaurant makes incredible jerk chicken, smoked on logs of sweet wood for hours and has a nice outdoor seating area. Jerk chicken is made with a combination of spices including the signature scotch bonnet pepper. The only thing better than eating jerk chicken is learning how to make it for yourself!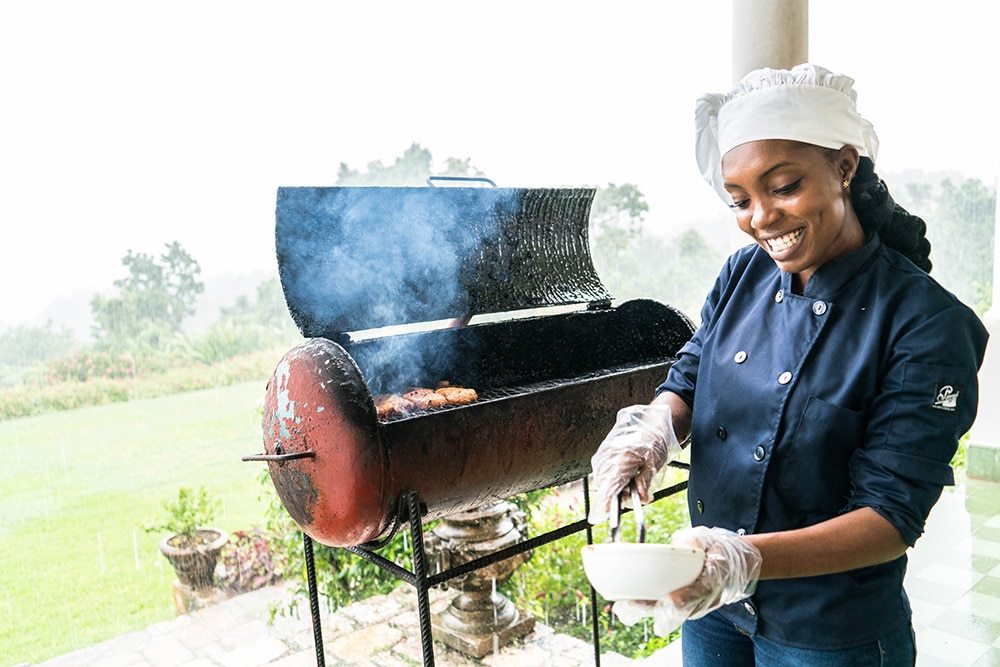 At Yaaman, you can take a fun and educational (and slightly bumpy) tractor ride up the hill to the big house and take a cooking class on the back porch, with sweeping views of the coastline. Learn step by step how to prepare and cook jerk chicken, callaloo, coconut cream sauce and the famous festival bread.
6. Go Down a Waterslide

At Chukka you can spend all day on the waterslide, pool, and waterfall cliff jump. It's a relaxing atmosphere on a beautiful old sugar plantation. Or, if you're looking for a view with your waterslide, Mystic Mountain offers a gorgeous coastline panoramic from its pool and waterslide.
7. Listen to Reggae Music

Blast Reggae from the radio and try to find a reggae band to listen to live if you can! Moon Palace in Ocho Rios has live shows several nights a week, including a Bob Marley Tribute band.
8. Join the Jamaican Bobsled Team
Relive your favorite moments from Cool Runnings and head to Mystic Mountain in Ocho Rios and slide down the mountain in your own bobsled!
9. Go to the Beach
And of course…go to the beach! You're in the Caribbean after all and the water is warm and clear, the sun is bright and you're in the land of "all right." Check out the best beaches in Jamaica.
10. Eat ALL the Amazing Jamaican Food
I was really surprised to totally fall in love with Jamaican cuisine. It was so unique and delicious and I've had a lot of fun experimenting with Jamaican cooking at home. Here are my favorite things to eat in Jamaica.
Jerk Chicken: Probably the most well known of all Jamaican Food, jerk chicken is a simple grilled chicken marinated or dry rubbed with a special jerk blend. It's nothing short of amazing!
Curry Goat: Goat is a very tasty delicacy and a big part of Jamaican cuisine and culture.
Ox Tail: Ox Tail is popular in many Caribbean countries and its so good! Most Ox Tail will be served with the bone-in.
Ackee and Saltfish: Not my thing, but you've gotta try it.
Run Down: A popular one-pot dish usually made with meat and rice.
Callaloo: Cooked leafy vegetables.
Festival: Deep fried bread dough made with cornmeal, sugar, and flour.
Bammy: A flatbread made from cassava.
Patties: The Jamaican answer to the American burger, a patty tastes sort of like a ground beef taco filling inside of a British pasty.
Plantains: Looks like a large banana, tastes nothing like one!
Pepperpot Soup: Very popular soup made with scotch bonnet peppers.
Produce: Jamaica is a tropical island with many fruits and vegetables growing on it. Take advantage of fruit stands on the side of the road and pick up some bananas, passion fruit, sugarcane, and molasses.
11. Explore the town of Kingston
12. Go Snorkeling
Jamaica has some incredible snorkeling opportunities. You can snorkel right off the beautiful beaches, but the best way to get to great snorkeling is to book a snorkel boat tour.
https://www.viator.com/tours/Montego-Bay/CATAMARAN-CRUISE-NEGRIL-BEACH-RICKS-CAFE/d432-3316P59
13. Take a Guided Tour
https://www.viator.com/tours/Montego-Bay/Best-of-the-West-Jamaica-Island-Experience/d432-3991P33
https://www.viator.com/tours/Montego-Bay/Ultimate-Thrill-Seekers-Pass-and-Adventure-Falls/d432-3991P46
14. Book a Photoshoot
You can't leave this beautiful island without capturing your memories. Be sure to book a photoshoot for you and your family. We love using Flytographer and book a shoot for every trip we take. As a mom, I'm often not in any or many photos, so this is a great way to get in front of the camera without having to rely on my husband's photography skills.
You can get $25 off your first photoshoot by using this link or using code WANDERLUST to get your discount.
I hope you have the most amazing time and take advantage of all the things to do in Jamaica! It's such a warm country with the kindest people and the most amazing scenery. I love helping my readers plan their trips and experience destinations to the fullest. Please connect with me on Facebook or Instagram and let's get your trip planned! -Vanessa