There are so many things to do in Jamaica, from the beaches to the mountains, you will not be bored when you go to Jamaica!


Things to do in Jamaica
I had the opportunity to visit Jamaica a few weeks ago and was so surprised at how much there was to see and do on the island! There are so many things to do in Jamaica all across the island that it's a guarantee you will not be bored for one minute! Here are my favorite things to do in Jamaica:
1. Climb a Waterfall

Of all the things to do in Jamaica, this may be the most unique! Head to Dunn's River Falls and do one of the coolest things of your life, by climbing straight up a waterfall. This experience can be a little tricky, so using a guide may be preferable, especially if you're going with small children. Children must be 36 inches or taller to climb the falls. If climbing from the bottom isn't for you, there is stair access to a large pool of water with falls to play in near the guide station.
Watch my video of Bucket List Things to do in Jamaica
2. Float Down a River

Float down the River on inner tubes at Chukkah Good Hope, an old sugar plantation, where your river guide will give you a mini history lesson on Jamaica and teach you how to speak Jamaican Patois so you can learn to speak like a local. After your river tour, take a dive into the river, colored green from limestone.
3. Zipline Through the Jungle
One of my favorite things to do in Jamaica or any destination really, is ziplining. There are tons of ziplining options on the island, but my favorites are at Chukka and Mystic Mountain. This is a great activity for ages 6 and up. Chukkah is a great starter course for someone who's never been before or for kids, as the lines aren't too steep, high or long, but still fun for more experienced zippers and the scenery is gorgeous!
4. Go Off-Roading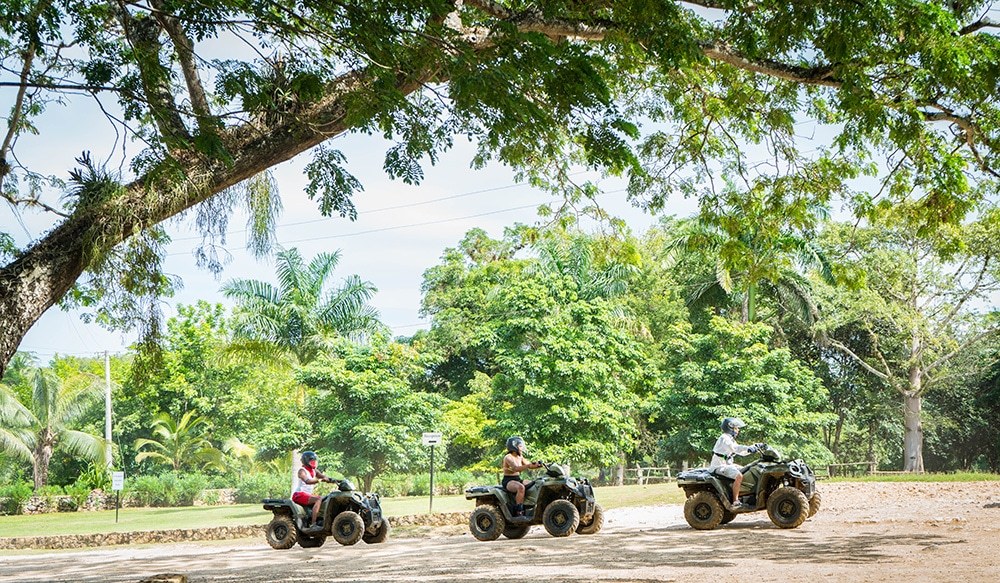 Hop on an ATV and prepare to get muddy! Yaaman near Ocho Rios and Chukkah Good Hope near Montego Bay offer guided ATV Tours.
5. Learn to Cook Jerk Chicken & Festival

One thing you must try in Jamaica is Jerk Chicken. You can also find Jerk Pork, which is equally delicious. Scotchies restaurant makes incredible jerk chicken, smoked on logs of sweet wood for hours and has a nice outdoor seating area. Jerk chicken is made with a combination of spices including the signature scotch bonnet pepper. The only thing better than eating jerk chicken is learning how to make it for yourself!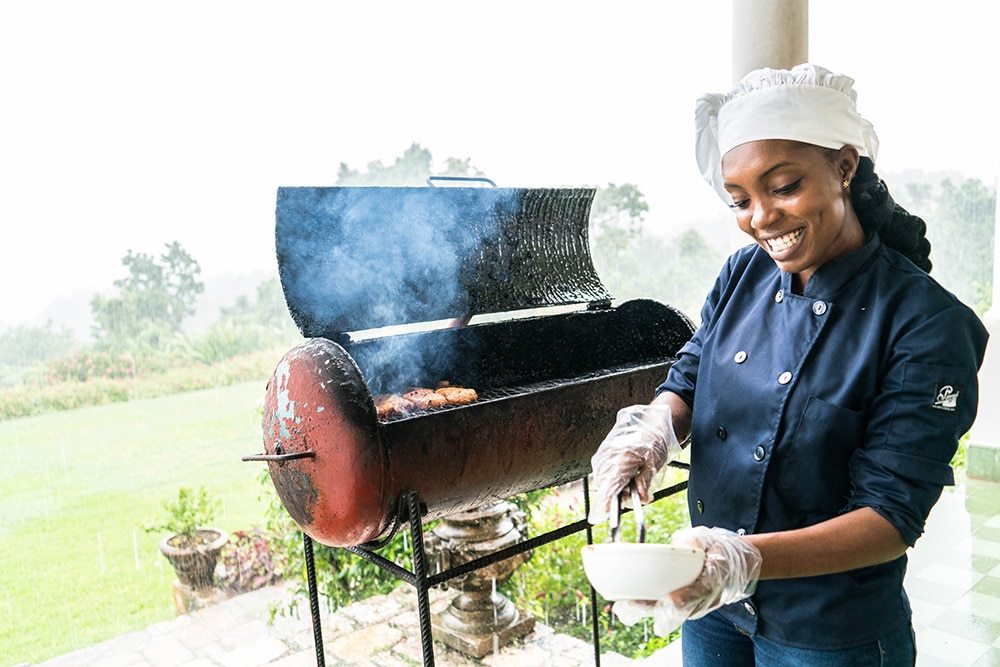 At Yaaman, you can take a fun and educational (and slightly bumpy) tractor ride up the hill to the big house and take a cooking class on the back porch, with sweeping views of the coastline. Learn step by step how to prepare and cook jerk chicken, callaloo, coconut cream sauce and the famous festival bread.
6. Go Down a Waterslide

At Chukka you can spend all day on the waterslide, pool, and waterfall cliff jump. It's a relaxing atmosphere on a beautiful old sugar plantation. Or, if you're looking for a view with your waterslide, Mystic Mountain offers a gorgeous coastline panoramic from its pool and waterslide.
7. Listen to Reggae Music

Blast Reggae from the radio and try to find a reggae band to listen to live if you can! Moon Palace in Ocho Rios has live shows several nights a week, including a Bob Marley Tribute band.
8. Join the Jamaican Bobsled Team
Relive your favorite moments from Cool Runnings and head to Mystic Mountain in Ocho Rios and slide down the mountain in your own bobsled!
9. Go to the Beach
And of course…go to the beach! You're in the Caribbean after all and the water is warm and clear, the sun is bright and you're in the land of "all right."
I hope you have the most amazing time and take advantage of all the things to do in Jamaica! It's such a warm country with the kindest people and most amazing scenery. I love helping my readers plan their trips and experience destinations to the fullest. Please connect with me on Facebook or Instagram and let's get your trip planned!
-Vanessa