London is my favorite city in the world with an endless list of things to do. If you're wondering what to do in London follow this guide of 115 Awesome Things to do in London to have the best time!

115 Awesome Things to do in London
I'm planning a little getaway to London this spring with my daughter. It's our favorite city and we are obsessed with all things British. We lived in London for a few months and have visited about 10 times. I can't wait to take her again. We'll be seeing several plays and eating our way through London's incredible afternoon teas! The list of things to do in London is extensive and could go on forever, but I wanted to share my top 115 Awesome things to do in London with you before I go again. If you've been to London, I'd love to hear your favorites!
Here are a few things to know about before you go to London:
Getting to London
There are some great flight deals to London right now. I just bought tickets for $330 round trip. If you want to know how I'm always finding great deals, read How to Fly Cheap or Nearly Free.
Where to Stay in London
There are many great places to stay in London including hotels and Airbnbs. When I want to save money I usually book an Airbnb. If you've never used Airbnb, use this $40 coupon to get you started. If you really want to treat yourself, my favorite hotel in London is the Marriott County Hall. It's a gorgeously renovated building in the shadow of the London Eye. It's a great location to many London sites and seriously so beautiful. They also do an amazing full English breakfast and afternoon tea! You can find the hotel here.
Getting Around London
One of the best things about London is that it is so easy to get around. The public transportation is affordable, clean, and easy to navigate. If you're new to public transportation, don't be afraid as it's one of the easiest cities to get around. My best tip is to use google maps which will pretty much lay things out for you step by step. For more information, you can read my Guide to Getting Around London.
The Cost of a Trip to London
This will vary widely depending on your level of luxury you're after, how many activities you want to do, transportation, and food needs. You can learn more about a trip to London cost here.
Other London Resources
London with Kids
Perfect London Itinerary
Getting Around London
Paddington's Guide to London
Christmas in London
Pin this for later
115 Awesome Things to do in London
Now that you know how to get to London, where to stay in London and how to get around London, you're ready to plan your activities. Because this list is so extensive, I've divided these 115 Awesome Things to do in London into categories that you can click to below.
The Classics
1. Big Ben
This iconic building and tower are not to be missed in London. It's just as impressive in real life as it is in pictures. Currently (2018) it's covered in scaffolding.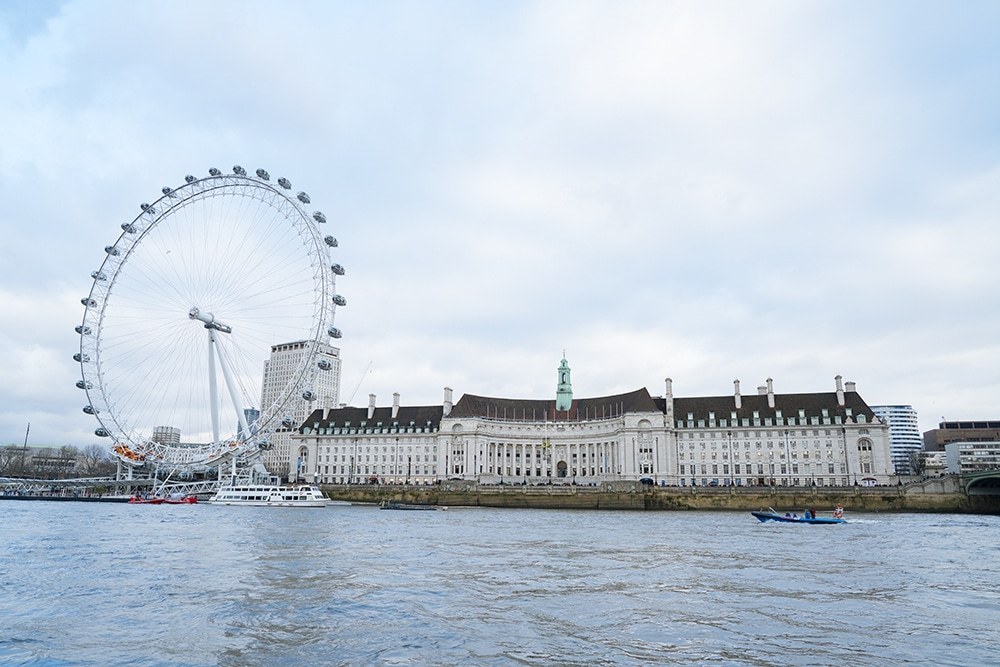 2. Take a Ride on the London Eye
This is cliche, but something you should definitely do on your first trip to London. you can get a great bird's eye view from the top, but it is slow and can be crowded.

3. See St. Paul's Cathedral
There has been a St. Paul's church at this site since 300 AD. The church has been burned and rebuilt 3 different times. The current St. Paul's was the tallest building in London for over 200 years. It's one of the most iconic buildings in London and truly beautiful. You can climb its 3 galleries and view panoramic London from the top of the dome. You can book tickets here.
4. Tower of London
One of the most classic things to do in London, the Tower of London is not to be missed. So much history lies within these walls. See the crown jewels, old weapons, and armor, and learn about the old zoo! You can book your tickets here or purchase the Royal Historic Palaces Pass which will get you into the Tower of London, Kensington Palace, Kew Gardens, Hampton Court Palace, Banqueting House, and Hillsborough Castle.
5. Climb Tower Bridge
Not only does Tower Bridge make for great photo ops, but did you know you can actually go inside the bridge? Walk (or lay) across the glass floor and watch the cars and boats go by while trying not to hyperventilate. It's actually way more fun than I'm making it sound. Book tickets here.
Be sure to catch the bridge when the middle lifts to allow large boats passage underneath. You can find the Tower Bridge Lift times here.
6. Take a Tour of Shakespeare's Globe
Get in touch with London's early literary roots by visiting the replica of Shakespeare's Globe, or if you're there from April-October, catch a play. You can even pay 5 pounds to be a "Groundling" and stand on the floor, just like the old days, but no sitting, or even leaning, allowed for the entire play! Book tickets here.
7. Take That Iconic Phone Booth Shot
You can't leave London without getting your picture taken in one of the iconic red phone booths! You just have to!
8. Ride Public Transportation
This may not sound like a fun thing to do, but in London it really is. Especially riding on the London double-decker buses can be a real treat, and a great way to see the city while you go from place to place.
9. Explore Picadilly Circus
This is a quick stop, but explore Picadilly Circus, where the main roads of London meet and you'll be greeted by lights, music, and restaurants.
10. Take a ride on the HoHo Bus
Take the Hop On Hop Off (HOHO) Bus tour of London. This is a great activity to do on one of your first days in London as it will give you a great overview of the city before you explore more on foot and by public transit. You can find bus tickets here.
11. Visit Trafalgar Square
Designed as a cultural public square, Trafalgar is just that. Watch the buskers performing there and see the world's smallest police station.

12. Explore Notting Hill
Wander down the colorful streets of Notting Hill, stopping into shops along the way and taking Instagram-worthy pictures.
13. Visit Westminster Abbey
If you're interested in history, this place is a treasure trove of famous dead people including Charles Dickens, Isaac Newton, and Charles Darwin. Included with your ticket price is an audiotour. There's also a great children's trail, but I'd recommend it for 8 and up. You can buy discounted tickets here.

14. Take a Tour and Have Tea at the Palace of Westminster
Did you know that Big Ben isn't just an iconic London photo op? The tower and the Palace of Westminster attached to it is actually the home of Parliament, made up of the Houses of Parliament: The House of Lords and House of Commons. The Parliament building offers several tours including a guided family tour. You can even combine a tour with afternoon tea with a view of the River Thames. You can book your tour here.
15. Ride a Boris Bike
Rent a Boris Bike for 2 pounds an hour and see the city on bike. Watch out for taxis and buses! Read more about how to get around London on a bike here.
Download App Android | Download App Apple
16. Take a London Bike Tour
If biking the city alone sounds a little scary to you, take a guided bike tour around London and enjoy seeing the city's sites with an experienced guide. Book a bike tour here.
17. Catch a West End Play
London is a great place to catch a show. You can get cheap last-minute tickets at TKTS it Leicester Square. My favorites are Matilda, Mama Mia, Cursed Child, The Play that Goes Wrong, Lion King, Aladdin, Hamilton, and Wicked.
18. Go Ice Skating
There are multiple places to go ice skating in London during the winter including the Natural History Museum and the London Eye.
Food & Drink

19. Afternoon Tea at the Ritz
Tea is essential when visiting London. It's one of the best things to do in London in my opinion. There's just something special about getting dressed up and being fancy while sipping on tea and tasting delicious sandwiches and scones. Plus, I'm 100% addicted to clotted cream. If you don't know what that is, you'll find out soon enough. These are some of my favorite tea spots in London

20. Afternoon Tea at the Orangery at Kensington Palace
After you visit Kensington Palace, hop over to the Orangery for some afternoon tea. It's one of the most beautiful venues for tea and the food is delicious.
21. Afternoon Tea at Claridges
Nothing is more classic than having afternoon tea at Claridges. The decor and food are both beautiful.
22. Afternoon Tea at the Potion Room at Cutter & Squidge
This popular London bakery has transformed its basement into the Potions Classroom at Hogwarts and you're in for a surprise for your afternoon tea! Snape may not be there in body, but your potions master will guide you through a journey not to be forgotten!
23. Brick Lane Beigel Bake
Open since 1977, this Brick Lane bakery serves up 7,000 amazing bagels a day. Once you taste them you'll believe it! The first time I went by accident, took one bite as I walked down the street, then immediately did a 180 and went back and bought more!
24. Have Sticky Toffee Pudding
Please do not leave London without having one of these. It is my absolute favorite dessert in the UK!
25. Eat Chicken Pie
Seriously so good! Most pubs will carry these and they are so worth the calories.

26. Eat Steak and Ale Pie
Another pub staple, Steak and Ale Pie is a must.
27. Grab a Sausage Roll or Cornish Pasty from a Train Station
This is probably the fastest and cheapest food you'll find in London, but it will not be disappointing. Cornish pasties and sausage rolls are a quick, easy and delicious meal on the go.
28. Have a Medieval Dinner
If you're looking for a different kind of London dining experience, this entertaining medieval banquet will be sure to tick that box! Join Kind Henry VIII as you dine on an authentic 4-course medieval feast while being entertained by special court jesters. Make reservations here.
29. Have a Full English Breakfast
No trip to England is complete without a full English breakfast. Comprised of many types of meats, mushrooms, tomatoes, potatoes, and toast, it's a heart attack, I mean heaven, on a plate!
30. Cereal Killer Cafe
Grab a bowl of cereal, or a pop tart, or anything from the '80s or '90s really, at the Cereal Killer Cafe, a kitschy little shop that serves "breakfast" all day and will help you take an acid trip back a few decades into your childhood.
31. Try a Sunday Roast
On Sunday mornings, many pubs and restaurants will serve up a delicious Sunday roast.
32. Eat Pub Food
Even if you don't drink (like me), pub food is actually quite delicious! Grab a meat pie or fish and chips as well as some sticky toffee pudding.
33. Eat Fish and Chips
No trip to London is complete without a trip to a chippy for some crispy, greasy fish and chips.
34. Eat Indian Food
I know this may not seem logical, like "go to India to have British food," but you'll get some of the best Indian food in London. Try out the places on Brick Lane.
35. Dine in the Dark
Try a new dining experience at Dans le Noir?, a restaurant that aims to encourage participants to re-evaluate their approach to eating. Served by blind waiters in complete darkness, you are sure to have a unique experience and the food looks, er, sounds, smells, and tastes, great!
Palaces
36. Kensington Palace
Visit Kensington Palace and play dress-up! Yes, that's right, you can play dress-up in a palace in London. Does life get any better than this? Explore centuries of history in this beautiful palace which still contains residences where members of the royal family live. Book tickets here or purchase the Royal Historical Palaces Pass.

37. Buckingham Palace
It wouldn't be a trip to London without a visit to the Queen. Be sure to peek at the palace, but you may want to consider skipping the changing of the guard if you're under 6 feet tall. I was stuck staring at people's backs the entire time.
38. Hampton Court Palace
Tour Hampton Court Palace where you can explore the world of Henry VIII. This grand palace was home to many royal Stuarts and Georgians as well. Be sure to check out the UK's oldest surviving hedge maze and if you're in London during the winter, take the after hours Ghost Tour. Book tours and tickets here.
Parks and Gardens
39. Take a Swim at Hamstead Heath Ponds
Bathing ponds in the middle of the wild green space of Hampstead Heath, where you can splash about any time of year. In fact, it's the only place in the UK to offer life-guarded open-water public swimming all year round.
40. Walk a Creek at Lowtide
Take a guided walk at low tide around Deptford Creek which is one of the last natural creeks to survive in the UK. The creek is home to freshwater and saltwater plants and animals, birds, butterflies and over 120 species of wildflowers. Reservations are necessary and you can book here.
41. Serpentine Gallery
The Serpentine Gallery is a lovely lakeside gallery exhibiting modern and contemporary art through outdoor sculptures and exhibitions. During the summer the Serpentine Gallery invites a different architect to design an outdoor space for visitors to relax in.

42. Explore Regents Park
Home to the London Zoo, a lake to boat in, and beautiful rose gardens, Regents Park is one of the most beautiful places in London for a respite from the city. Be sure to visit Queen Mary's Garden where you can see more than 85 different varieties of roses. The roses can be seen year round, but nothing beats an English garden in June!
43. Hunt for Dinosaurs at Crystal Palace Park
Once the grounds of the Crystal Palace, which burned down in the 1930s, this park is now home to many Victorian dinosaur sculptures. You can rent a boat, explore the maze, visit Capel Manor Urban Farm, or see the ruins of the old Crystal Palace aquarium.

44. Stroll Through St. James Park
Stroll St. James park and spy a view of Buckingham Palace and the Park's famous inhabitants, pelicans!
45. Sky Garden
Visit London's highest public garden and enjoy spectacular views of the city. The Sky garden is free to visit, but you'll need to book a ticket here. Check out more free things to do in London.
46. Barbican Conservatory
The Barbican Conservatory is the second largest greenhouse in the city within the Barbican performing arts center. Here you will find many exotic fish and more than 2,000 plant species.
47. Walk through Hyde Park
Hyde Park is glorious and huge! Get lost in the park, visit the Princess Diana Memorial, and if you've got kids, the Princess Diana Playground.
48. Visit Kew Gardens
Kew Gardens houses largest and most diverse botanical and mycological collections in the world and will blow your mind. If you're they're for Christmas in London, you'll be lucky enough to see it come to life with lights, music, and festivities.
49. Richmond Park
Have you heard of Richmond Park? Did you know that it is actually London's biggest royal park? This former hunting ground hasn't changed too much over the years. You can even find wild red and fallow deer. You can rent a bike or fly a kite here.

50. Hang Out in Covent Garden
While not really a garden, but a former fruit and vegetable market, Covent Garden is now known for its shops, restaurants, and performances which you can experience daily. I always recommend catching dinner here before seeing a west end show.
Animals
51. Visit the Animals at the London Zoo
Hang out with the 720 animals at the London Zoo. Book tickets here.
52. Sleep with the Lions
Did you know you can sleep at the London Zoo? You can stay the night at Gir Lion Lodge near the Asiatic lions. One night in one of the little huts cots about £438 for two adults, and includes a two-course dinner, a full English breakfast in the morning, free parking at the Zoo, an after-hours tour and a complimentary drink upon arrival. It's definitely pricey, but a once in a lifetime experience! Book here.
53. Grant Museum of Zoology
If you haven't had enough of Zoo-life after hanging with the lions for the night, visit the Grand Museum of Zoology, full of animal skeletons, taxidermy specimens and creatures preserved in fluid. Find the jar of little moles and the large elephant skull. It's weird and kind of gross, but worth a visit for animal enthusiasts. And best of all, it's free! So if you have to step out to lose your breakfast, at least you won't lose your money.
54. Spitafields City Farm
Think you can't experience farm life in the big city? Think again! This beautiful urban farm full of animals near Brick Lane is a great place to go for some animal therapy. Stop at the shop and buy fresh eggs and vegetables or volunteer at the farm.
Views
55. Take in the View from the Shard
Enjoy breathtaking 365-degree views from the 72nd floor of one of London's most iconic buildings. You can even walk outside on the highest viewing platform. Book your tickets here.
56. Take in the View from Primrose Hill
This hill on the northern side of Regent's Park provides a beautiful view of London. The surrounding neighborhood is also home to Paddington Bear.
57. Up at the O2
If you're looking for a view that comes with an adrenaline rush, climb over the iconic roof of the O2 arena. Book tickets here.
Shopping & Markets

58. Buy Fabric at Liberty
This designer department store with a long history is known for its floral and graphic prints. The multi-level half-timber flagship store is really a site to behold.
59. Visit Fortnum & Mason
This is probably my favorite store in London! If you're into gourmet food or housewares, this place is for you! Find the most beautiful tea sets, try everything at the candy counter, and shop at the very pricey gourmet grocery store downstairs. If you're lucky they'll be giving out samples.
60. Go Window Shopping at Harrods
Even if you can't afford a single thing they sell, it's fun to wander the aisles of Harrods and pretend! Check out the toy section, even if you don't have kids.
There are tons of amazing markets in London. Read this guide to London markets for more info.
61. Columbia Road Flower Market
Columbia road transforms into a huge flower market each Sunday. You can find locally grown plants and flowers that are sourced globally, as well as antique shops and pubs in the area.
Hours: Sundays 8am-3pm
62. Explore Portabello Road Market
Probably the most popular and well-known market in London, this Notting Hill gem is where you can find some of the best antiques in London!
63. Explore Borough Market
This is probably the best market for foodies. It's one of the oldest and largest food markets in London with more than 100 stalls selling bread, meat, fish, cheese, vegetables, cakes, and more! Most of the food sold here is grown or made locally.
Hours: Monday- Thursday 10 am – 5pm, Friday 10am-6pm, Saturday 8am-5pm and closed on Sundays.
64. Old Spitafields Market
This covered market in Spitafields is where you can find great fruits and vegetables in over 70 stalls. It's over 350 years old and is open daily.
Hours: Sunday-Friday 10am-5pm, Saturday 10am-6pm.
65. Camden Lock Market
Once a shipyard, Camden Lock Market vendors now sell vintage clothing and local arts and crafts.
Hours: 7 Days a Week 10am-6pm
66. Leather Lane Market
Leather Lane has a bit of something for everyone from food to antiques to art.
Hours: Monday-Friday 10am-4pm
67. Brick Lane Market
Brick Lane, known as the curry capital of the UK, is home to many Bengali immigrants and also claims one of the best and biggest flea markets in London. Come for used furniture or clothing and be sure to grab a famous curry! Also located in Brick Lane are the Cereal Killer Cafe and Brick Lane Beigel Bake, two of my favorite food spots.
Hours: Go on Sundays for the flea market
68. Real Food Market
This health food market is a welcome break after all the fish and chips and meat pies you'll be eating.
Hours: Wednesday-Friday 12-7pm
69. Selfridges
The second largest store in the UK after Harrods, Selfridges is considered the father of the modern department store. Harry Gordon Selfridge founded the store in 1904 and revolutionized how we shop today.
70. Hamleys
Hamleys is the largest and oldest toy store in the WORLD, founded by William Hamley in 1760, and has seven floors and 50,000 rows of toys! Stop in and be a kid again as you wander the aisles and maybe even pick up a souvenir.
Museums
71. National Gallery
The National Gallery is conveniently located in Trafalgar Square and is completely free! It houses over 2,300 works of art including world-famous French Impressionist pieces like Van Goh's "Sunflowers" and Cezanne's "Bathers." On Sundays and holidays, the National Gallery offers free sessions for families where children can practice their art skills surrounded by masterpieces.
72. Horniman Museum
Famous for its giant over-stuffed walrus, the Horniman Museum is a little gem full of natural artifacts and a lovely garden.
73. Sleepover at the National History Museum
If visiting the beautiful London National History musuem durinf the day isn't enough, kids can spend the night with "Dino Snores for Kids." You can book tickets here.
74. Visit the Dickens Museum
One of my favorite museums in London, the Dickens museum is set inside of Dickens' London home and showcases some of his original writings and artifacts from his life. You can even see the bars from the Marshalsea prison where his father was held during Charles' childhood.
75. Explore the Victoria & Albert Museum
The world's leading museum of art and design, the V&A houses a permanent collection of over 2 million objects and spanning 5,000 years of art from around the world. Don't miss Tipoo's Tiger, the 3D Printer gun, and the jewelry gallery.
76. V&A Museum of Childhood
This museum dedicated solely to children and the history of toys and play is a beautiful tribute to our little people. Catch their exhibit all about pirates! Entrance is free.
77. Visit the British Museum
This beautiful museum is huge, ancient, and free. As the UK's largest museum, it's worth dedicating several hours to. Book a guided tour to learn about some of the most interesting things in the museum, or go on your own.
78. Visit the Churchill War Rooms
See where Winston Churchill directed military campaigns and the defense of the country during World War II by visiting this perfectly preserved, once-secret, location. This is also where Churchill gave many of his famous radio addresses. It's incredibly intense and inspiring to see.
79. Museum of London
As you might guess, this museum is dedicated solely to documenting the history of London. Learn about London when the Romans ruled and every little detail you never knew about the city.
80. London Transport Museum
You know how fond I am of London Transportation and this museum is an excellent tribute to the capital's world-famous transport system, displaying it in an interactive way that is fun for all visitors. Explore underground engines, "drive" a red bus, and hang out in a black cab.
81. Visit the Science Museum
One of my kids' favorite museums in London, the Science Museum is huge and free. Be sure to see the first Apple computer and Apollo 10.
82. Dennis Sever's House
This still-life drama museum-like house has been set up to showcase life in Spitalfields between 1724 and 1914. The setups are beautiful! Tours are Monday, Wednesday, and Friday evenings.
83. Greenwich Royal Observatory
Situated on a hill overlooking the River Thames, the Greenwich Royal observatory is famous for the Meridian Line, the reference point for GMT (Greenwich Mean Time) since 1884, runs across the courtyard.
84. Experience the London Dungeon
In this haunted-house-like experience, you can explore the London of the olden times and experience the dangerous streets and unsavory characters. It's a real dive into London's less glamorous past. Book tickets here.
London On the Water
85. Cruise the Thames
You don't even need a booking to do this. Simply use your Oyster Card to ride the public water bus along the Thames river. It's great to see the city from the river and ride under all those famous bridges.
86. Take a Dinner Cruise on the Thames
The only thing that could be better than cruising down the River Thames is Cruising down the River Thames while eating dinner! Enjoy a meal with a view of some of London's most iconic sites. Book cruises in advance here.
87. Explore Southbank
We really love this part of London. It's right by the London Eye and has such a fun nightlife. There is a roller rink called BUMP, a skate park, and a hot chocolate stand called Beltane & Pop (they sell "adult" hot chocolates too). You also get an up-close view of The London Eye and Big Ben across Westminster Bridge all lit up at night!
88. Explore the Cutty Sark
The Cutty Sark is the world's last surviving tea clipper. Explore this beautiful old ship on the Thames.
89. Row, Row, Row Your…Cow?
Take a ride in Moo Canoes, spotted canoes or kayaks that you can paddle along the Thames and even stop for a meal. You can also book private tours. Moo Canoes is open during the (sort of) warmer months of April-October.
90. Go White Water Rafting
Wait, what? That's right, you can go white water rafting, kayaking, or canoeing in London at the Lee Valley White Water Center, which was built for the 2012 Olympics.
91. Walk the Canals of London
Did you know that London has its own canal system and that it's a fantastic place to escape the city and go for a stroll? Be sure to hit Little Venice and some of the smaller lesser known canals.
92. Stroll Along the Thames
The Thames is the lifeblood of London and has a long history of supporting the city. It may not be the cleanest river, but strolling along its banks is magical. Southbank is particularly awesome and comes to life in the evenings.
93. Say Hi to the Fish at Sea Life London
View sea life from all over the world right in the center of London. Book tickets here.
Quirky
94. Face Your Fear of Clowns
If you don't have Coulrophobia (fear of clowns, yes it's a real thing), or if you do and want to face your fears, visit the Clown Gallery in London. Back in the day no two clowns were allowed to have the same face make up, so the practice of painting clown makeup onto an eggshell began. This creepy museum has a collection of 200 of these eggs along with props and costumes worn by some of Britain's most famous clowns! This museum is only open the first Friday of every month from noon to 5pm. So be sure to mark your calendars…or don't!
95. Visit the House of Dreams (aka Nightmares, jk)
Artist Stephen Wright is covering every available surface of this home in mosaics made of, well, garbage? and calling it House of Dreams. It's wild and weird and beautiful and only open a few days a month.
96. Check out the Street Art
London is full of beautiful and interesting street art. Wander the streets and snap some photos of your favorites. If you want to know where to find some of the best street art in London, book a walking tour with an expert.
97. Visit God's Own Junkyard
This quirky collection of neon signs showcases designs from the 1960s and even has some from the movies! Be sure to grab a bite at the Rolling Scones Cafe afterward!
98. Attend Circus School
During the summer, Gorilla Circus Flying Trapeze School sets up camp in Regents Park. Sign up and face your fear of heights!
99. Relive the Terror with Jack the Ripper
Explore the legend of Jack the Ripper on this historical, yet spooky walking tour of London. This tour uses nifty hand-held projectors to help recreate the atmosphere of Victorian London as you retrace Jack's footsteps and learn about his history and the not-so-pretty side of this era. Book the tour here.
100. Visit Sherlock Holmes' House
Visit the famous address 221B Baker Street, London. Although Sherlock Holmes and Dr. Watson were only fictional characters, their address is protected by the government due to its special architectural and historical interest.
101. Hang with Fake Celebs at Madame Tussauds
If you can't find any real royals or celebrities in London, visit Madame Tussauds and see their wax counterparts.
102. Highgate Cemetery
This beautifully gothic and overgrown cemetery housing 170,000 dead, may sound like an odd choice for a list of things to do in London, but Highgate Cemetery is one of London's seven great Victorian cemeteries. To visit, you must book a guided tour during the week or you can visit during the weekend and join a tour. Visit famous residents Karl Marx, Douglas Adams, and Christina Rosetti. Entrance to the cemetery is £4.
103. Go Down the Tallest Slide in the World
Head about 45 minutes out of the city center and go down The Slide at ArcelorMittal Orbit, the world's tallest and longest tunnel slide. At 178 meters high, it's a once in a lifetime experience! You must book in advance as The Slide does sell out. Book tickets here.
104. Visit Eel Pie Island
Visit this private little island on the Thames river. Eel Pie Island is home to a nature reserve and artists studios and is open several times a year to the public where you can visit the quirky studios.
105. Mail Rail
This underground train line was built by the Royal Post Office a hundred years ago and used up until 2003. It was used to move mail through the city and you can now visit the Mail Rail and take a ride on the electric tube train! Book tickets here.
106. Daunt Books
This beautiful bookshop has an amazing main room with stained glass windows. It's a great place to step out from the business of the city and read a chapter of a good book.

107. Stanford's Travel Book Shop
If you love travel and you love books, this place is for you. Find any travel book you can imagine and take a peek at their beautiful collection of globes.
108. Word on the Water
Quite possibly the quirkiest bookshop you've ever been to, Word on the Water is a floating purveyor of books on a 100-year- old Dutch barge moored on Regent's Canal in King's Cross. There is even a children's section.
109. Go Skiing
No, it doesn't really snow in London, but you can still go skiing or snowboarding at Chel-Ski on a giant dry snow treadmill.
110. Take a Loo Tour
Take a potty tour of London. That's right, you can take a toilet-themed tour from London Loo Tours, which states "Our classic route runs from Waterloo to the West End, exploring the potty politics of public toilets. From stories of intrigue to practical tips, this tour is an investment in your bladder future! Never be caught short again!" Book a tour here.
111. Cross Abbey Road
If you're a fan, head to the famous Abbey Road zebra crossing and recreate the Beatles album cover, which drivers will really love. You can also visit Abbey Road Studios where the Beatles recorded most of their songs along with Pink Floyd, Aretha Franklin, Adele, and other famous friends. You can take a Beatles London Walking Tour or, if you want to go on your own, here are directions to get to the exact crossing:
Abbey Road by Tube:
Take the tube to St John's Wood tube station (Jubilee Line, zone 2)
Cross Finchley Road
Walk down Grove End Road
At the end of Grove End Road, turn right onto Abbey Rd and you will see the crossing
Abbey Road by Bus:
Take bus number 139 or 189 from central London
Get off at the 'Abbey Road Studios/Grove End Road' bus stop (Stop R), walk just past the studios to the crossing.
112. Tour London in a Mini Cooper
Any time there is a vintage car involved, I am 100% IN! Take a two-hour tour of London in one of these classic cars. Book your tour here.
113. Explore China Town
While quite small, London's Chinatown is full of Chinese culture with bilingual street signs, lion statues, colorful pagodas, and Chinese gates. Find London's best authentic Chinese food and shop at Asian supermarkets.
114. Take a Ghost Bus Tour
If you want a glimpse into London's dirty past, this Ghost Bus Tour will take you around London and show you the darker side of the city's history. Book tickets here.
Harry Potter
115. Take a Harry Potter Walking Tour
Take a tour of the Harry Potter film locations. You can see the buildings that contain the Ministry of Magic, stand on the bridge blown up by Death Eaters, and walk through Diagon Alley! You can book a tour here.
116. Visit Platform 9 3/4
Continue on your Harry Potter theme and visit Kings Cross Station and get your picture taken at platform 9 3/4, then buy your Harry Potter paraphernalia at the shop.
117. Tour Harry Potter Studios
If you're really committed to your love of Harry Potter, take a trip outside of London and visit the Warner Brothers Studios where Harry Potter was filmed. It's an incredible experience. You'll need to book your tour in advance here, as it does sell out, especially during the holidays when the studio turns into Hogwarts in the snow. Don't forget to get your Butterbeer!
Bonus!
Visit Carnaby Street
Every year Carnaby Street has a different light display. This year it is a tribute to the band Queen with a Bohemian Rhapsody theme.
118. Follow Paddington's Guide to London
If you're traveling with kids, or even if you're just into Paddington, this Paddington's Guide to London is so much fun.

119. Take a Day Trip from London
While there are enough things to do in London to last you a lifetime, sometimes it's nice to get out of the city and take in the beautiful English countryside. Luckily there are many options within just a few hours drive from London. Here are some of my favorite day trips from London:
I hope you have an amazing time in London! It really is such a special place. Please let me know if you have any questions or if I can help you plan your trip. Feel free to reach out on Facebook or Instagram.
-Vanessa