The Azores Islands Itinerary
The Azores islands are a stunningly beautiful and diverse archipelago in the middle of the Atlantic ocean. They are part of Portugal, even though they aren't really that close to Portugal. I feel like they are sort of the Hawaii of Europe, but with fewer tourists and more rain.
You may have heard of Madeira, another amazing island that is part of Portugal, but the Azores are their lesser-known cousin.
I'll be totally honest, I didn't actually know they existed until about 2 years ago. But ever since I saw pictures of these amazing islands, I knew it was somewhere I needed to go! This year is our 15th wedding anniversary. Since our first child was born on our 2nd anniversary, we've never really done anything much for our anniversaries. But the last few years have been sort of stressful and we promised ourselves an epic vacation for our anniversary gift to ourselves this year.
So when we started thinking about where we wanted to go, I immediately thought of the Azores! I'm happy to report that it was the best decision ever. We were both totally blown away by the islands' beauty, the kindness of the people, the history, and the amazing food!
The Azores islands offer all the beauty of tropical islands, but also has the old European flare that I absolutely love!
I had an amazing response to these islands on Instagram, and many people, like myself, had never heard of these islands. But they deserve to have the spotlight on them, because the Azores is an awesome destination and has something for everyone!
I wanted to share our itinerary here with you so you can see what we did and how much we were able to see in just a short week.
Here's a video of our trip highlights. Such a dream come true!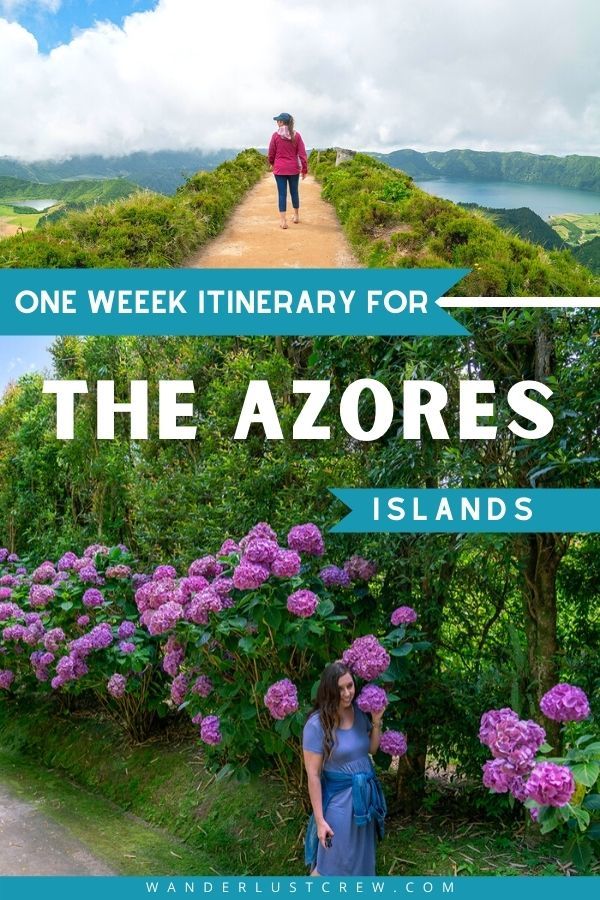 Azores Islands Packages
If you're looking to go to the Azores, but don't want the hassle of booking your airfare, accommodation, car rental, or tours, AND you want to save money, then Azores Getaways has some seriously amazing packages and deals! I honestly think they are the best bang for your buck. Their prices really can't be beat for a package tour.
Their deals start as low as $499/person. That includes airfare, hotel, and car! Insane! And they often occasionally have sales on top of that, so keep an eye out! Click here for a list of the Azores Getaways itineraries and deals.
This Sao Miguel Island package looks amazing!
Azores Islands Weather
Let's talk about the weather in the Azores. The Azores definitely has seasons, but they are much milder than you'll find in other parts of Europe.
How cold does it get in the Azores Islands?
Well, not that cold. Even in the dead of winter, the coldest it gets at night is in the low 50s (11-12 celcius) and it's in the mid 60s (17/18 celcius) during the day. The summer temperatures are even nicer at around low 60s (17/18 celcius) at night and mid 70s (24/26 celcius) during the day.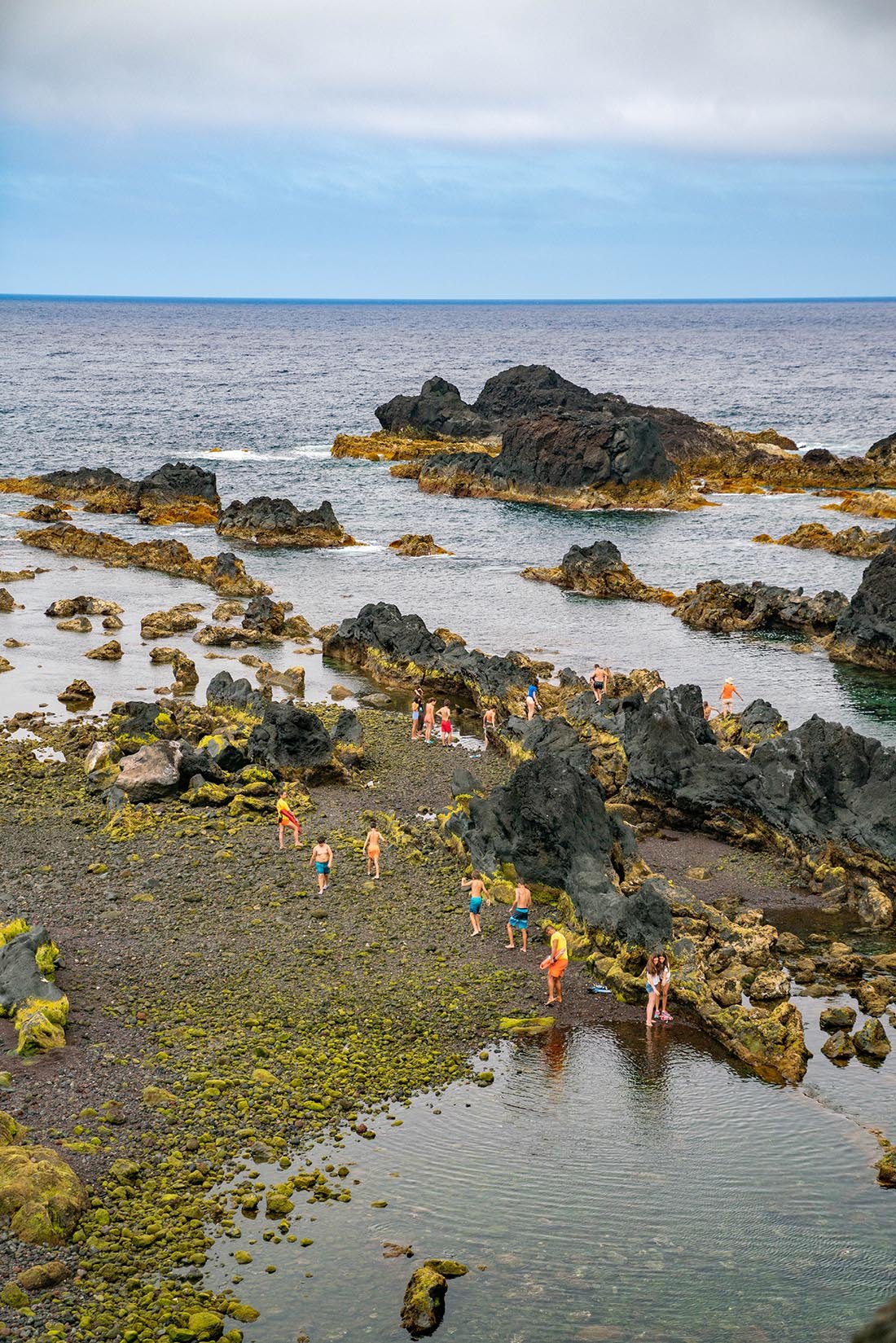 So with the weather only fluctuating about 20 degrees Fahrenheit throughout the year, it's a very mild climate. However, it does rain a lot! I mean look at these pictures! All that green, all those flowers, and all those lakes? How do you think they get like that? Rain! It rained almost every day we were in the Azores Islands in July, but there was never a crazy downpour and the light sprinkle wasn't too cold. We found that it mostly rained in the afternoon, so it's best to get up early and prepare for some rain later in the day.
What is the best month to visit the Azores?
This is a tough question to answer because I think the Azores would honestly be lovely year-round, but I think visiting Sao Miguel especially in the summer is quite magical because of the hydrangea bloom! If you've seen any pictures of the Azores islands before, particularly Sao Miguel, you'll see massive hydrangea blooms everywhere! These gorgeous flowers, that are actually an invasive species brought over from Japan, cover the island during the summer months, turning it into a colorful island of blues, pinks, and purples. The blossoms differ in color due to the content of the soil.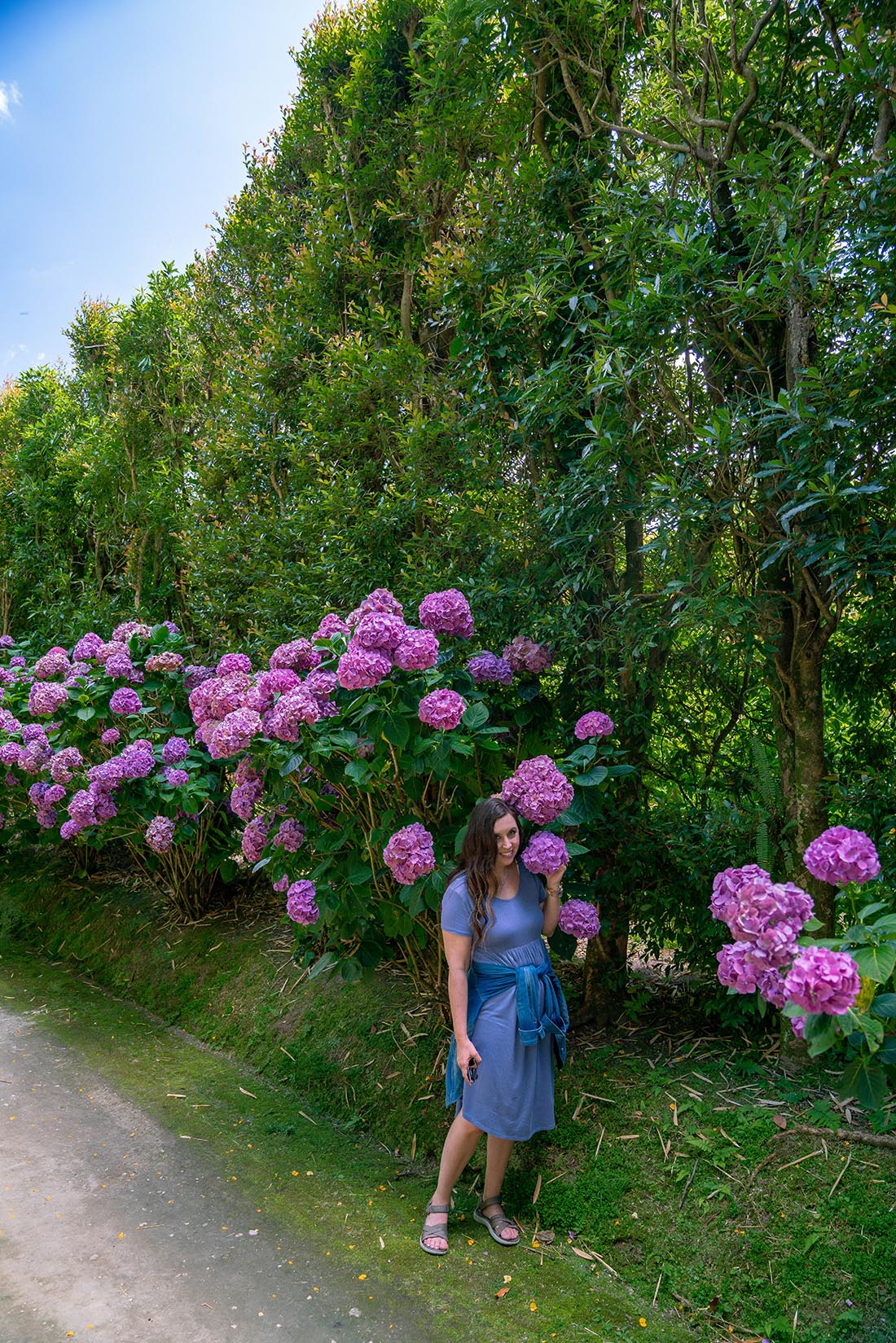 The hydrangeas blooms between June and September. This is also when the weather will be warmest. We were in the Azores islands in the middle of July and it did not feel crowded or touristy at all. The tour companies all seemed happy to have us there and were grateful for the tourism.
That being said, they did say that tourism is really slow there in the winter. So if you are really crowd averse, or want to save some money, It might be a good idea to visit in the off-season or at least shoulder season.
The Azores Islands Itinerary
Day 1 – Sao Miguel Island
We flew to the Azores Islands from New York JFK on Delta. The Azores Portugal has 2 direct flights from the US. One on Azores Airlines from Boston and one from New York on Delta. It was a quick flight, just under 5 hours and felt like flying across the US. It's probably the shortest flight to Europe that you can take, along with Iceland.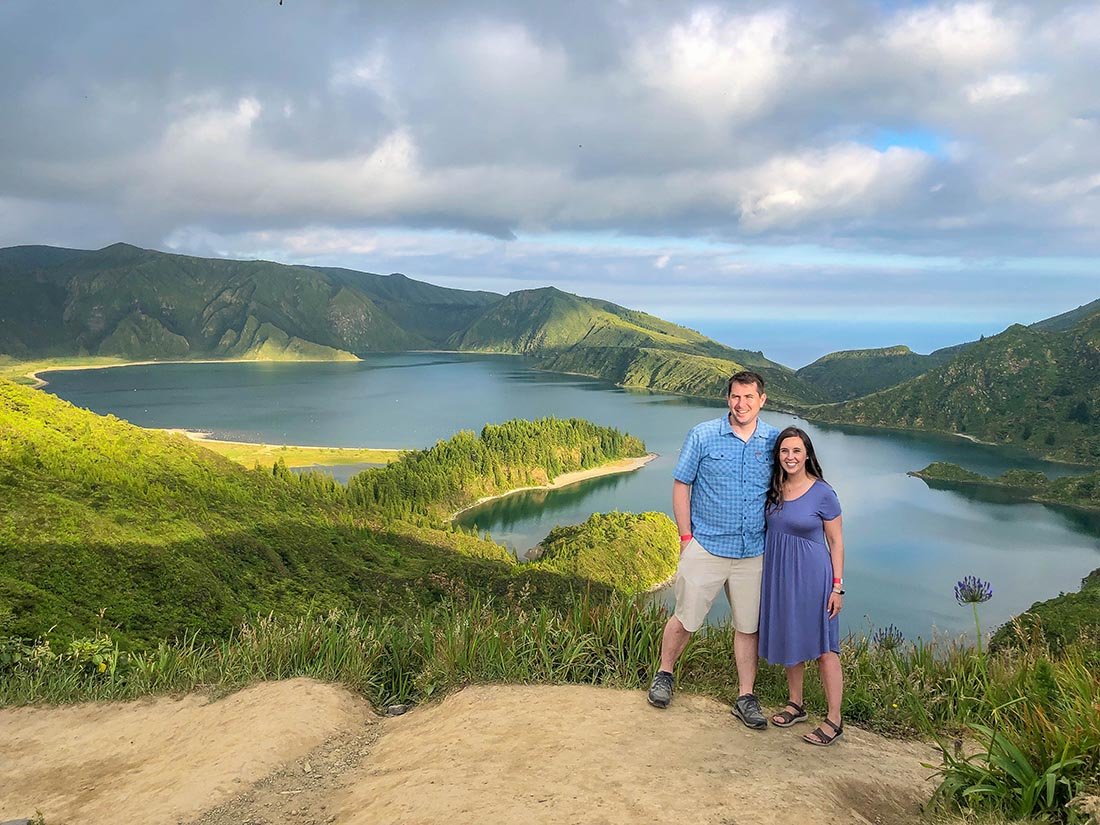 We flew to Ponta Delgada, which is the main town of Sao Miguel island, the largest islands in the archipelago. I didn't think I'd really like Ponta Delgada, just like I don't really like Honolulu (the Hawaii comparisons continue), but I really loved it. The city is old, built in the 1600s and is freckled with old churches all over the city. The sidewalks in Ponta Delgada are beautiful and really showcase how these islands use the resources around them in their lives. They are made from lava stone and marble, both of which are abundant on the islands. The black and white streets and buildings are really unique and lovely.
We arrived around 7am, picked up our rental car and went straight to Ponta Delgada while we waited for check in time for our hotel.
Morning – Ponta Delgada
Here is what we did with our morning in Ponta Delgada:
Climb the bell tower
Explore the ancient churches
Visit the fort
Shop at the market for fresh fruit and vegetables
Shop for cheese and bread at Rei do Queijos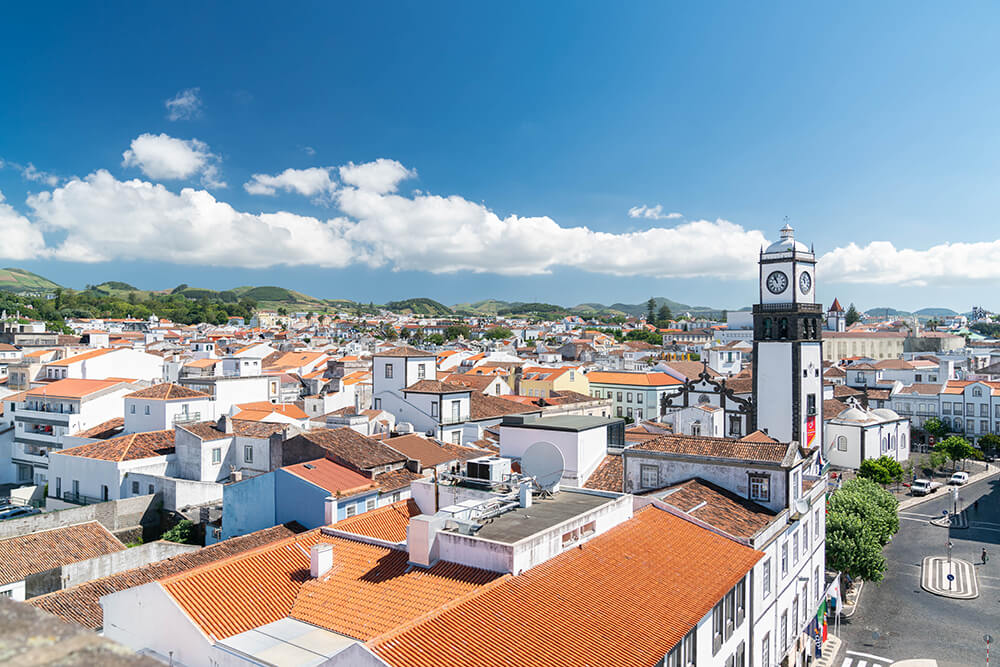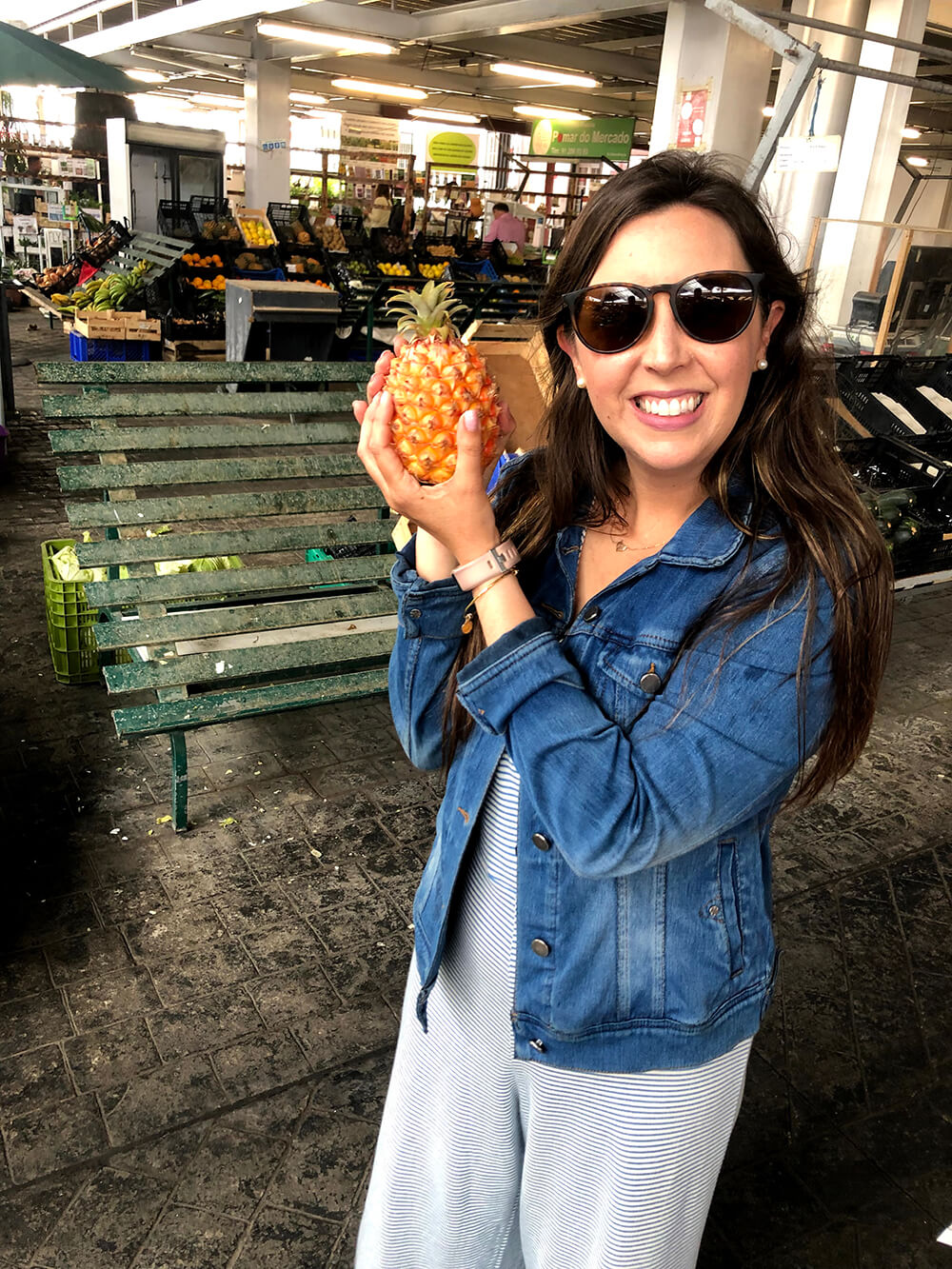 After spending the morning in Ponta Delgada, we headed to our hotel in Furnas, which is about 30 minutes from the city and a beautiful drive. If you visit during the summer months, you'll be able to witness the mind-blowing hydrangea bloom!
Afternoon – Furnas
We checked into our hotel in Furnas. We stayed at the Furnas Boutique Hotel, which was absolutely amazing and has its very own thermal pools, spa, saunas, and therapeutic showers. This hotel felt like such a treat and the location to everything in Furnas was perfect. If you stay here you'll also have access to the amazing A Terra restaurant, which has an amazing included breakfast, and also great food for lunch and dinner. You can book the Furnas Boutique Hotel or just eat at the amazing restaurant!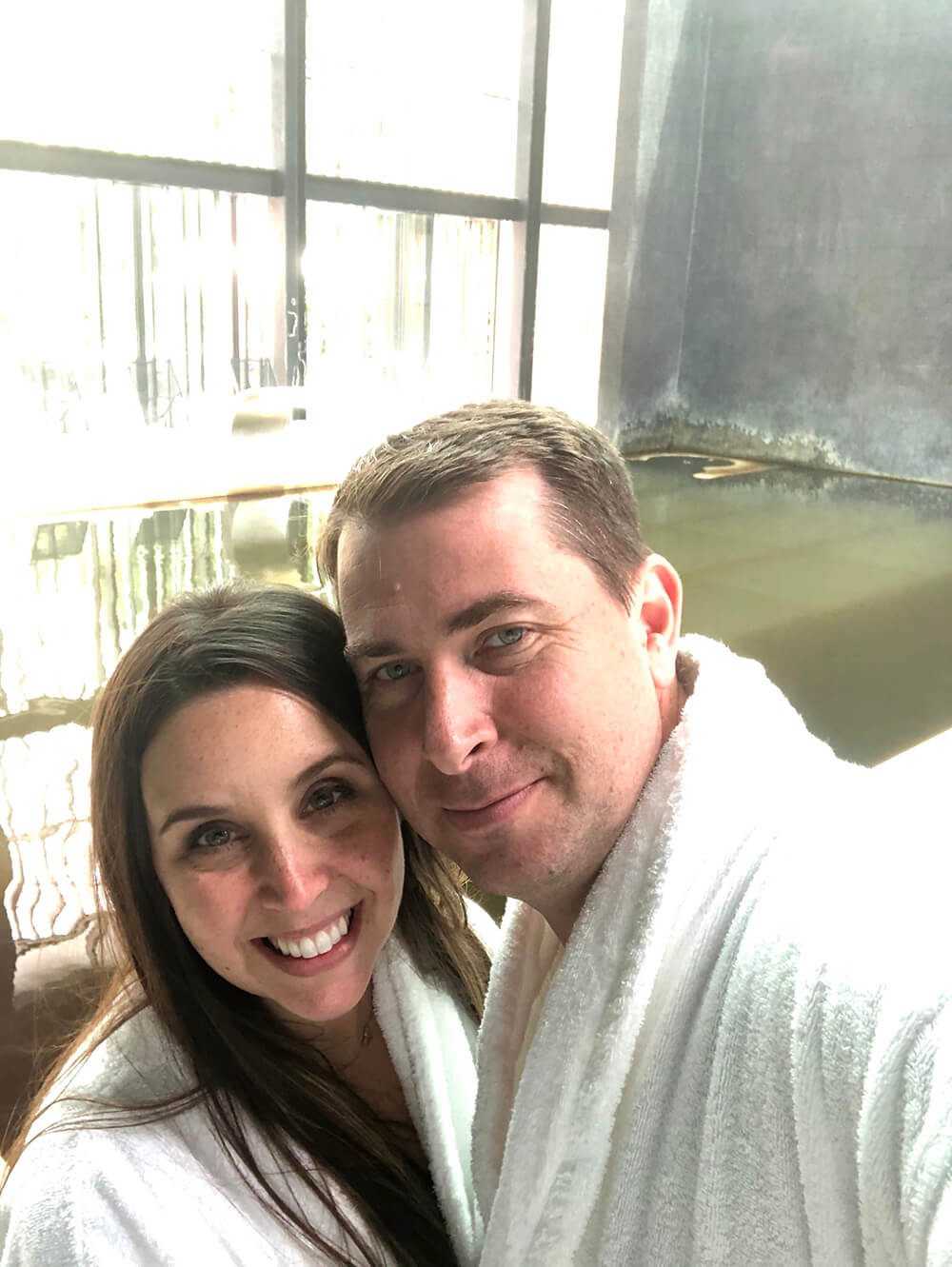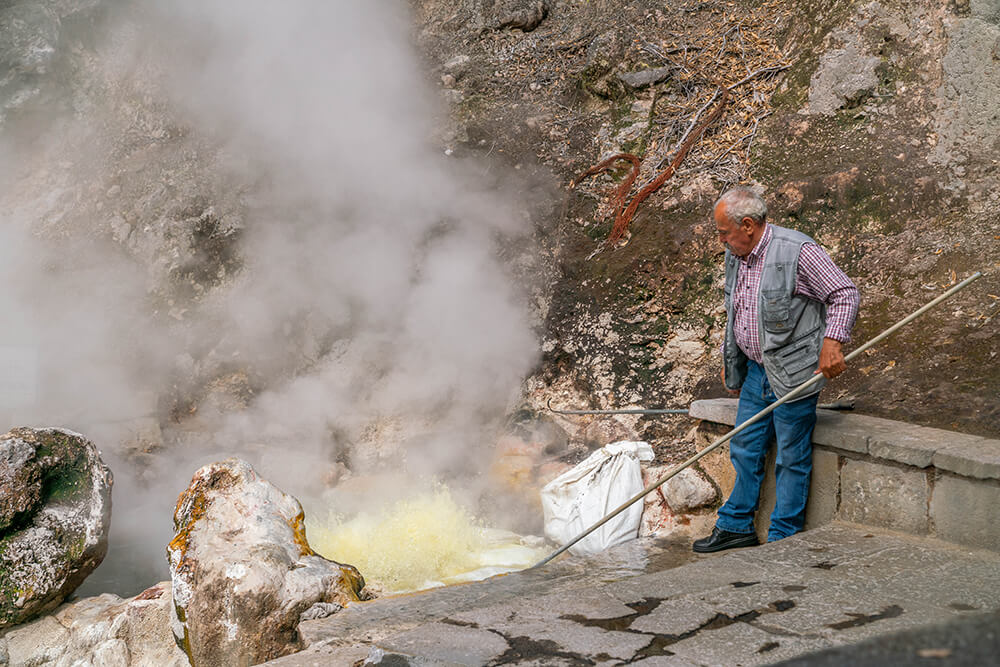 We wandered around the small town of Furnas, where you can watch the locals cook cozido and corn in the caldeiras, which are steaming and boiling water holes! It's really quite something to see! There are even water spouts coming out of the mountains where you can drink the pure water. I passed on that one, but Paul tried the sparkling mineral water. He said it was really bubbly. So crazy!
We tried corn cooked in the caldeiras and bought some fresh homemade bolos levedos, which is one of our favorite things to eat in the Azores!
After working up an appetite by walking around the caldeiras, we stopped into one of the local restaurants for some cozido that was cooked right there! It's like a meat and vegetable stew that you have to try while you're in the Azores.
Evening – Lago das Furnas
After dinner we drove over to Lago das Furnas, which is one of the three main lakes on Sao Miguel island. The lake is absolutely gorgeous and so tranquil, especially at sunset. There are more caldeiras here and you can also rent kayaks and paddle boats. We opted to just take a stroll around the lake over to the beautiful Chapel of Nossa Senhora das Vitórias church along the shore. It was commissioned by a wealthy land owner on Sao Miguel when his wife passed away from a terminal illness.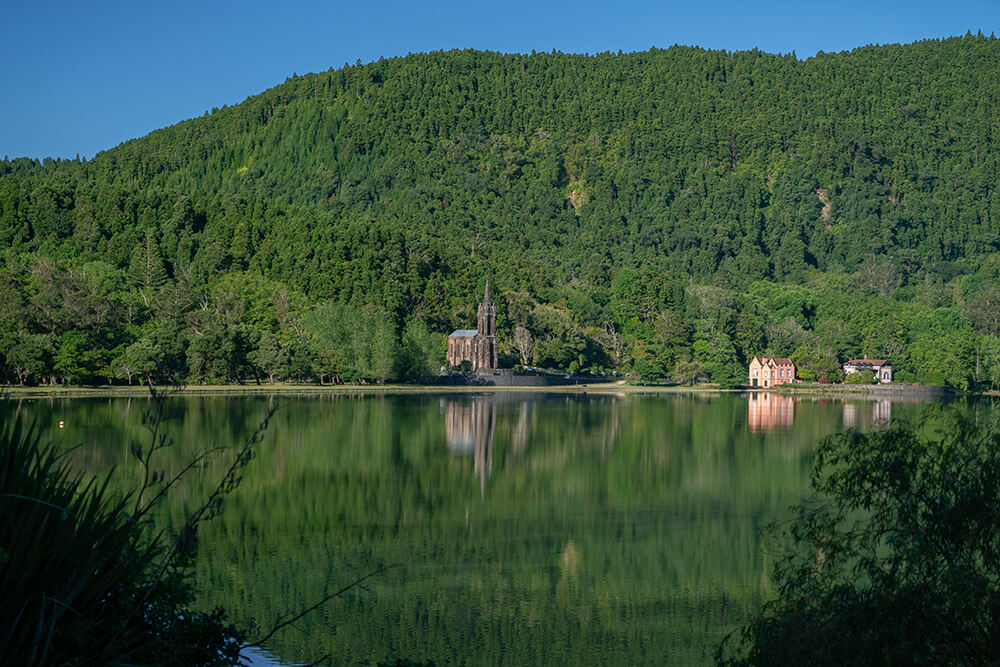 Then we headed back to the Furnas Boutique Hotel and took advantage of the awesome thermal pools. I especially loved the hot and cold plunge pools. They also have an outdoor thermal pool and an indoor thermal pool. I got some noodles and floated in that one for about an hour. It was honestly the most relaxing thing I can remember doing since before becoming a mom 13 years ago haha! I'd go back to this place just for the pools.
Day 2 – Eastern Sao Miguel
Morning – Terra Nostra Gardens
On the morning of day 2, we explored the beautiful Terra Nostra Gardens. I could have stayed here all day, but we spent about 3 hours! There are also hot springs here, but we opted not to swim since we were checking out of our hotel, and also because we had our own private pools back at the hotel.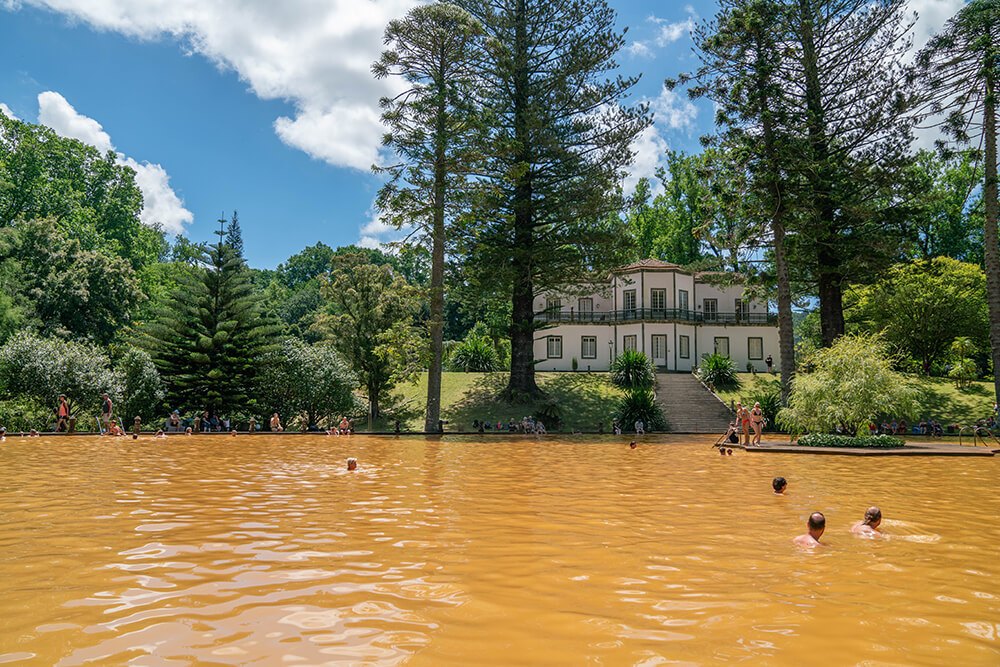 Also the water here is very brown because of the high iron content. I don't recommend wearing a light colored swimsuit here! The gardens are stunning and only cost 8 Euros to enter and to swim if you want! If you eat at the Terra Nostra Restaurant or stay at the Terra Nostra Hotel, which looked amazing (I know because we accidentally went into the lobby looking for the garden entrance), then you can wander the gardens and swim for free.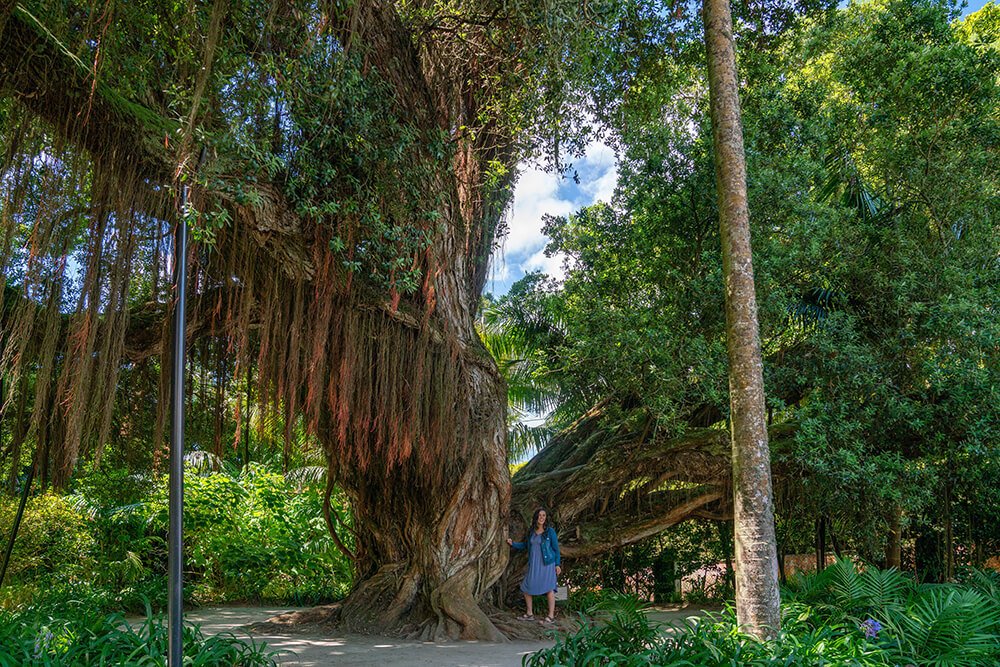 Afternoon – Explore Eastern Sao Miguel
Exploring the Mountains and Forests of Sao Miguel
We spent the afternoon just driving around the eastern side of the island. We drove through tiny farm towns along the coast, taking in the views of the Atlantic Ocean and the cows that get to enjoy that view every day. We opted to take the tranquil route through the mountains of eastern Sao Miguel and were not disappointed. Did you know that the Azores Portugal have their own redwoods? The sequoias were brought there hundreds of years ago and now cover the mountains of Sao Miguel. They are used for lumber all over the island.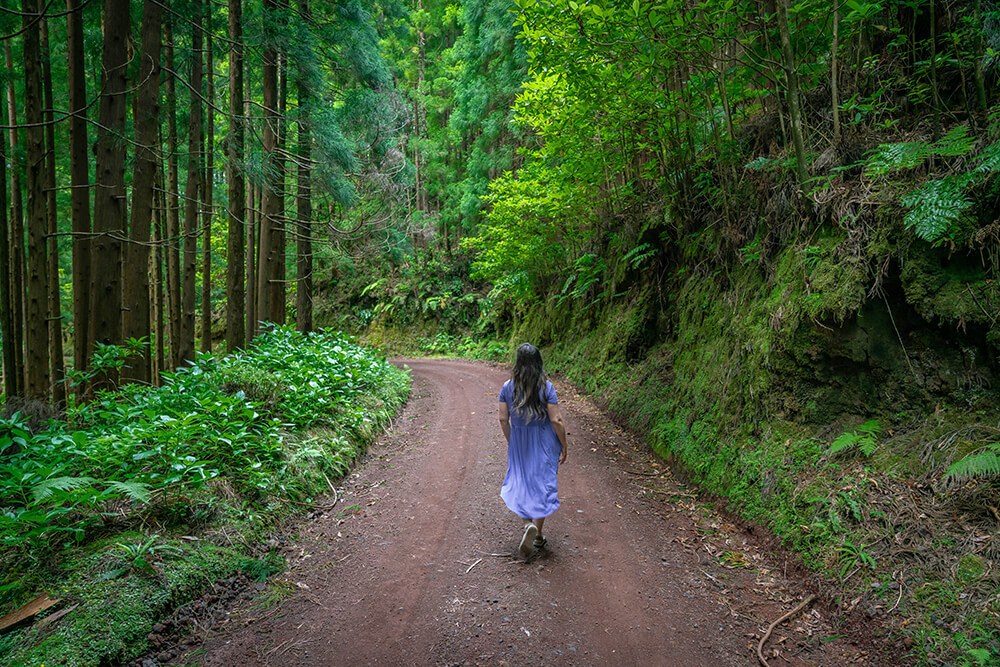 Velha Hot Springs
We honestly didn't do too much planning for this trip. Actually Paul planned the whole trip, which was super impressive, and he did a great job. But we didn't want to have our days too planned out. We like to be surprised occasionally and Velha Hot Springs were a total surprise to us! We passed by this on our way to Lagoa do Fogo and had to stop and check it out.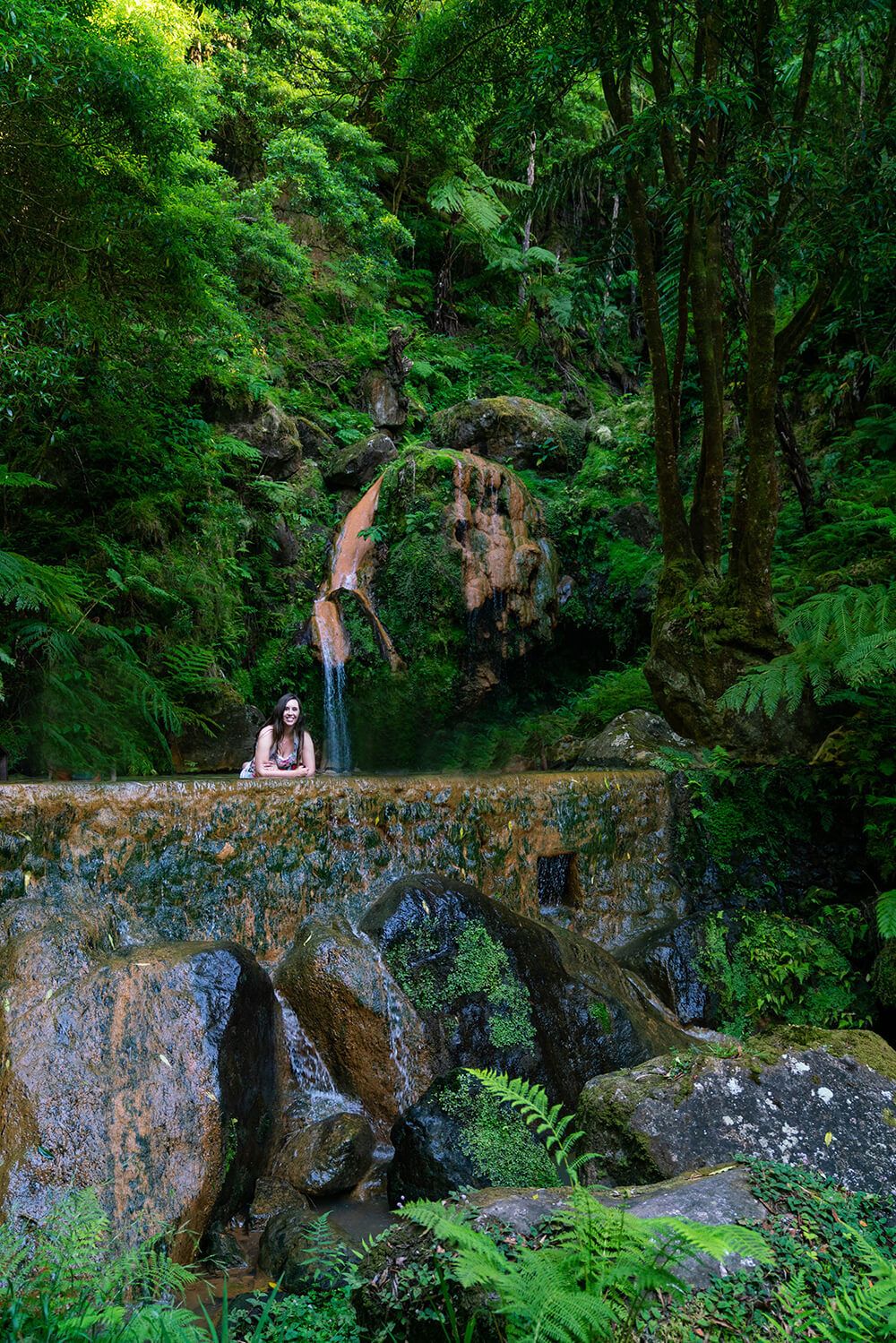 These are beautiful natural hot springs set in the jungle. There is even a waterfall. It's a must see in Sao Miguel! There are four separate pools at different temperatures. We started in the coldest one with the waterfall then moved down to the warmer ones. There are bathrooms and changing rooms with lockers here (wish we would have known this before we changed awkwardly in our car (we forgot we aren't teenagers anymore). We didn't bring towels, but there was a vendor outside selling towels for 5 Euros. Entrance to the hot springs was 8 Euros to swim and 5 Euros to walk in and look. Totally worth it, even if you only walk around. So pretty here!
Lago do Fogo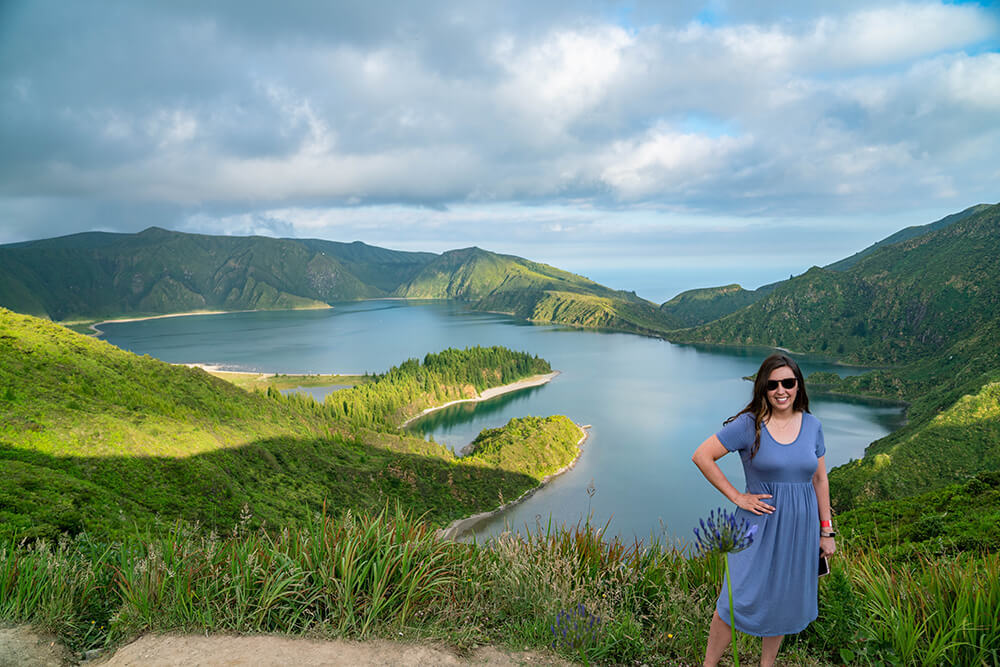 This was a stunning stop on our way back into Ponta Delgada. It's an easy lookout stop, but you can also hike into the lake. That's the only way to get there. The hike looked intense, but I imagine you'd have the lake to yourself if you make it down.
Evening – Ponta Delgada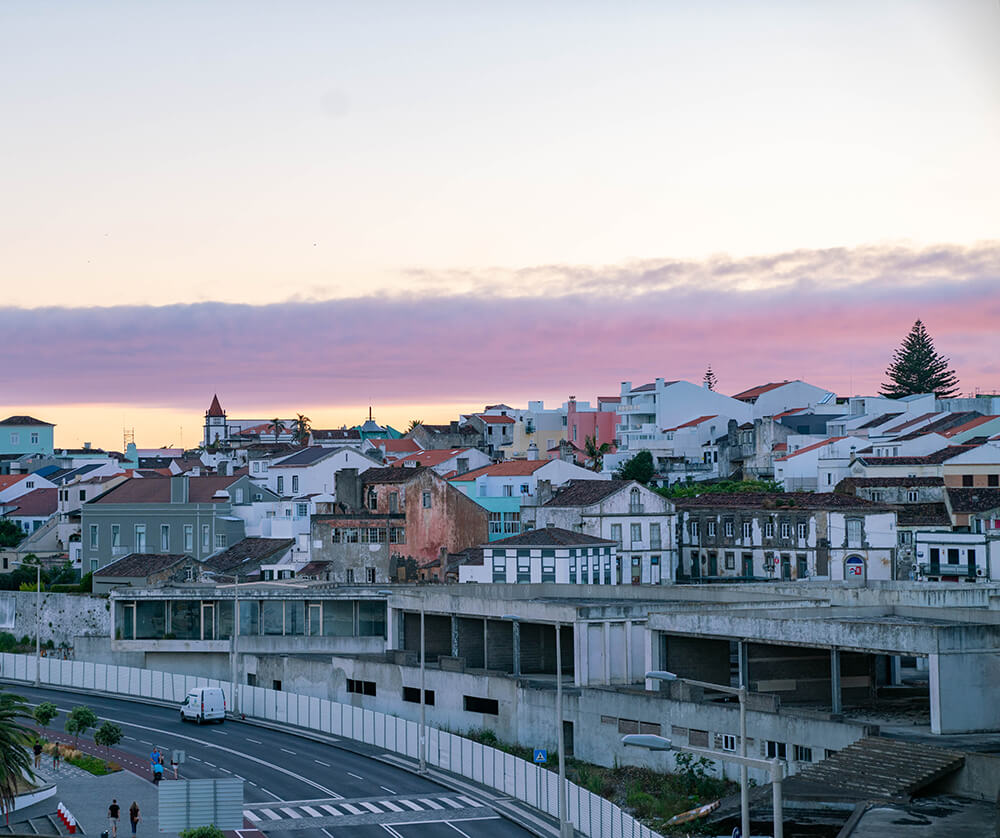 We headed back to the city and spent the night in Hotel Azor which was also amazing! There was a rooftop pool where we enjoyed sunset views of the city. We ordered virgin pina coladas (so good) and room service, which was really good and just what we needed after a long day of exploring. Our room at the Azor was massive, like over 1,000 square feet with a huge living room, huge bedroom, and two bathrooms. We had one of the corner suites that had a huge balcony with gorgeous city views.
Day 3- West Sao Miguel
Breakfast – We ate breakfast at the Azor, who is owned by the same company as the Furnas Boutique Hotel, which meant they also had the same amazing breakfast! Seriously bacon and Pastela de Nata for breakfast…does life get any better than this?
ATV Tour with ANC Azores Adventures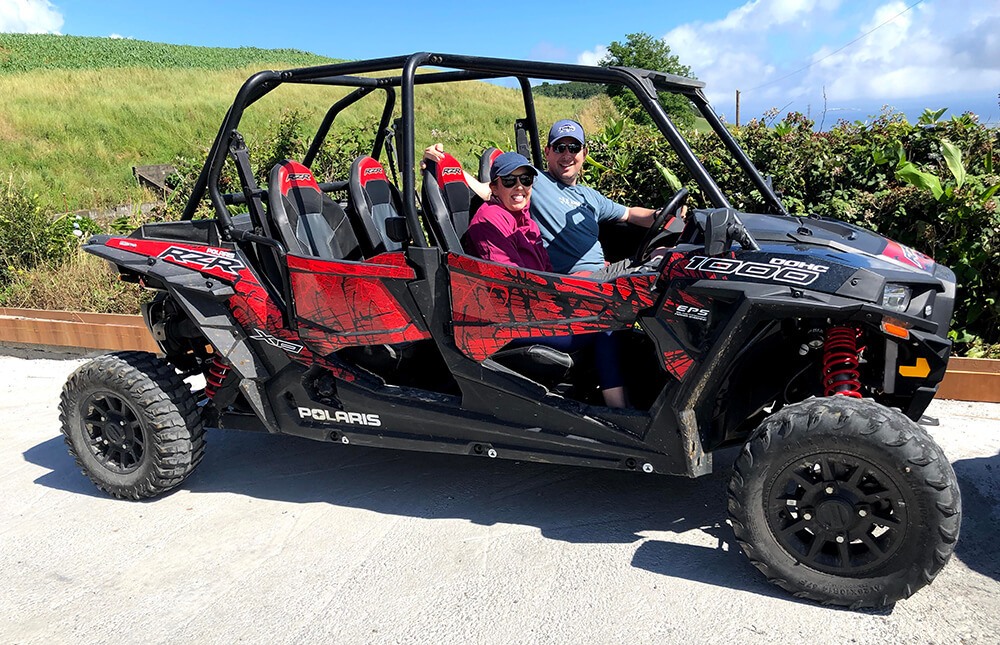 We checked out of the Azor (goodbye beautiful room) and headed to ANC Azores Adventures for a day full of fun and exploring the west side of Sao Miguel island. We traded in our rental car from ANC for an ATV buggy! This was the perfect ride for exploring many of the farm roads and back roads of the island.
The morning started out a little wet and chilly, but we still had some beautiful views and were able to see so much of the island. Our guide Ruben was with us the whole time and guided us through the lesser-known parts of his island. He was born and raised here and even took us to his hometown, where we met some of his friends. It was a great local experience. He answered all of my many many questions about the island, and learning from him what life is like here was an amazing experience.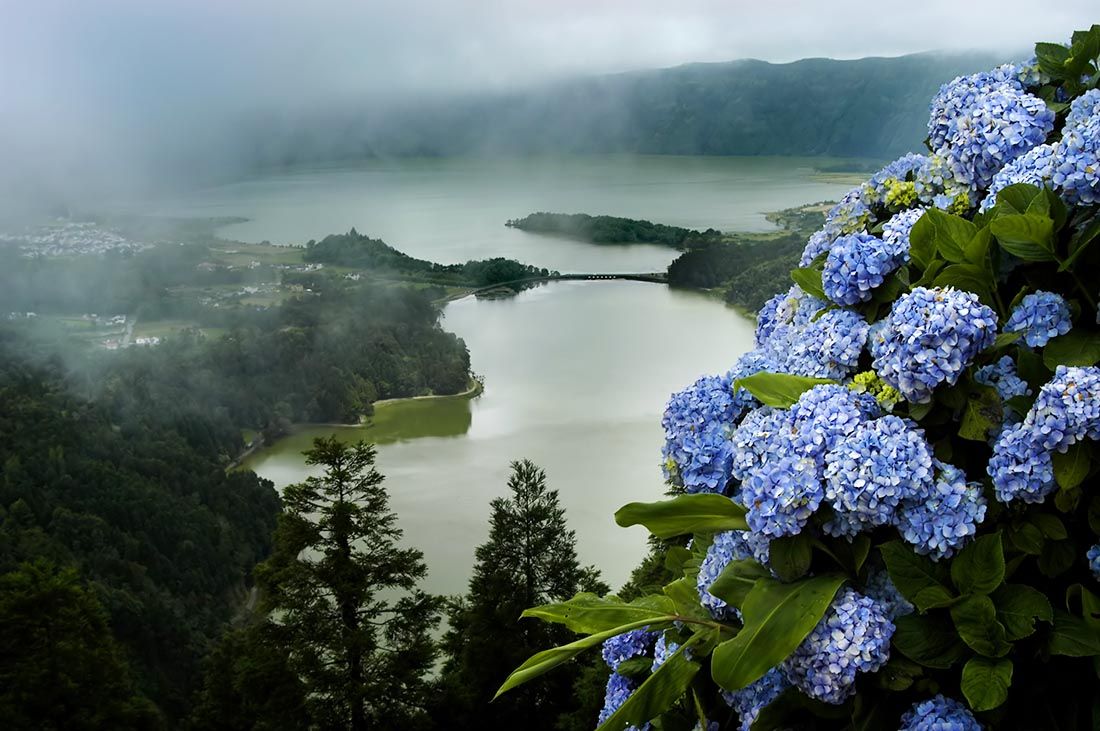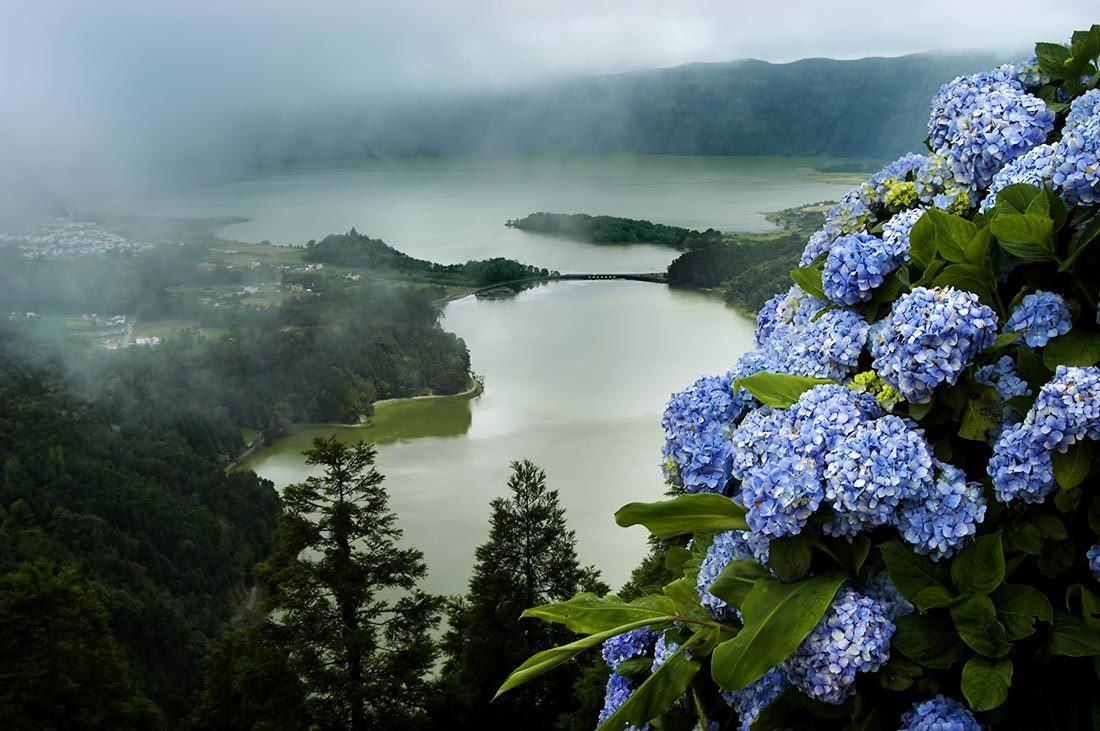 Paul drove the whole time and loved all the off-roading. The buggy handled the crazy dirt roads much better than a rental car would have and allowed us to see views and sites that we wouldn't have been able to see on our own. I highly recommend taking a full-day tour with them. It was a splurge for us, but totally worth it.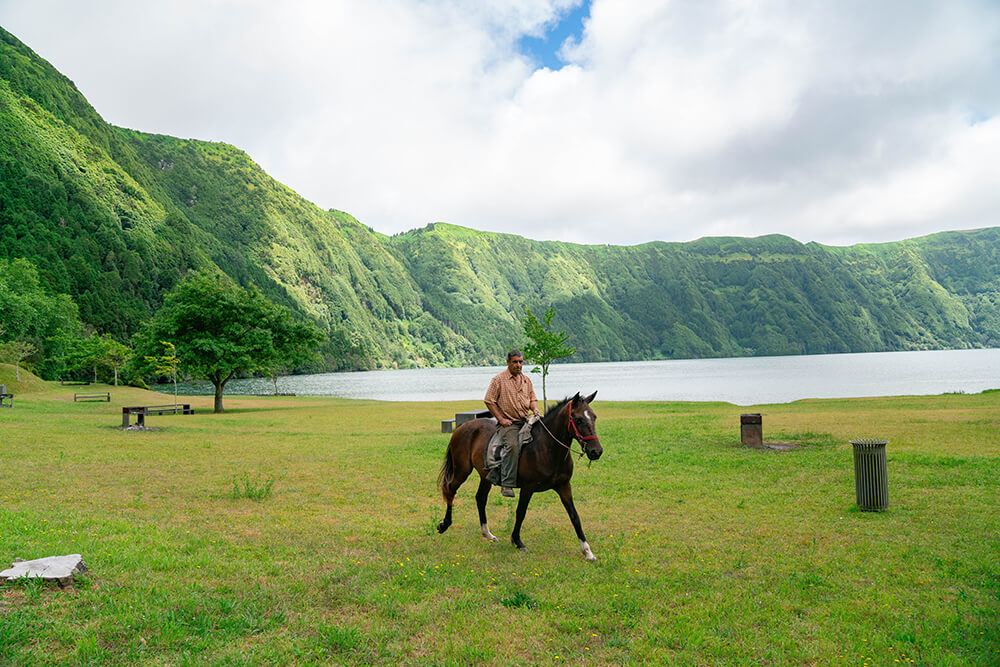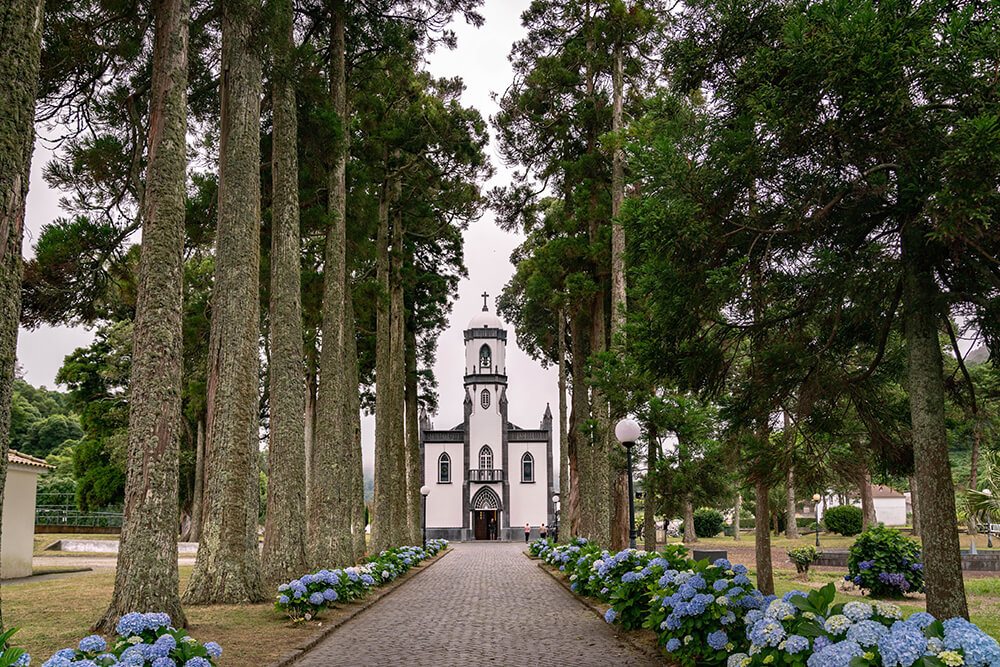 After exploring the west side of Sao Miguel, we headed back to the Azor, where our bags were being held. We relaxed in the lobby for about an hour before heading to the airport. Taxi rides to and from the airport are 10 Euros.
Evening – Fly to Terceira
We took an evening flight to the island of Terceira island. You can fly inter-island in the Azores on SATA Airlines. The airline was great and the planes were nice and the flights all went smoothly. You can check bags for free on SATA and you'll want to because normal carry-on bags won't fit in the small overhead compartments on the tiny planes.
We arrived in Terceira around 9pm, picked up our rental car. We checked into our hotel, the Cruceiro, which was located in the island's main town of Angra do Heroismo. The hotel was really nice, and probably one of the nicest on the island. The rooms were really nice and spacious with great bathrooms and beautiful décor. Its located right downtown and walkable to most things you'll want to see in Angra.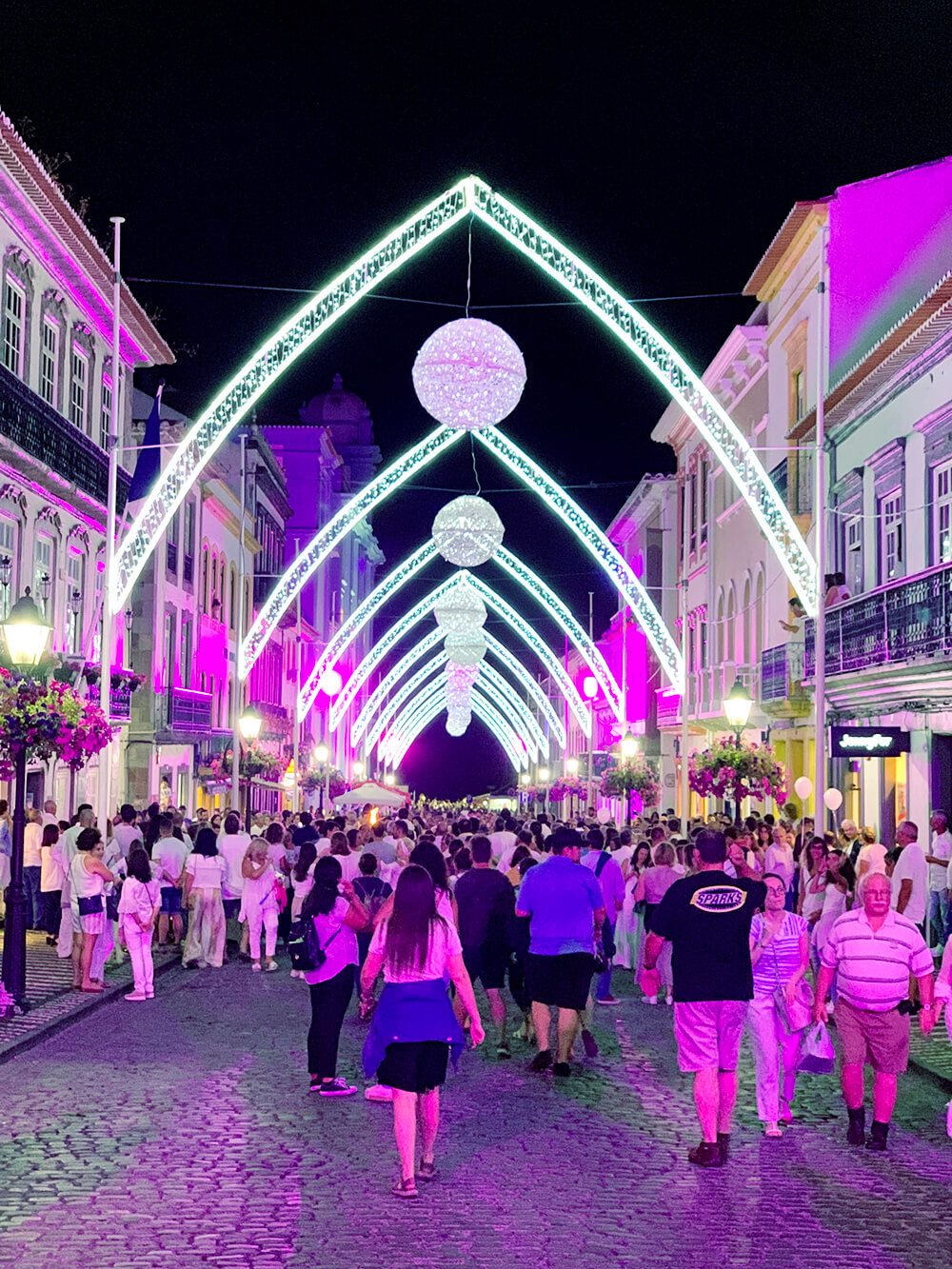 It's great if you love nightlife, or if you're there during any festivals. We just happen to be on the island during a big music festival and also during the "White Party" where everyone wears white and parties until 4 am. So, it's great if you're not into sleeping! Ha! We just rolled with it and decided to stay out late and party with the locals.
We even went and bought white clothes so we could fit in. I kept asking what the purpose of the celebration was for, but the only response I got was "for fun!" And it was definitely fun. Bands play in the streets, shops are open late, vendors sell ice cream, coffee, and of course cheese!
Day 4 – Terceira Island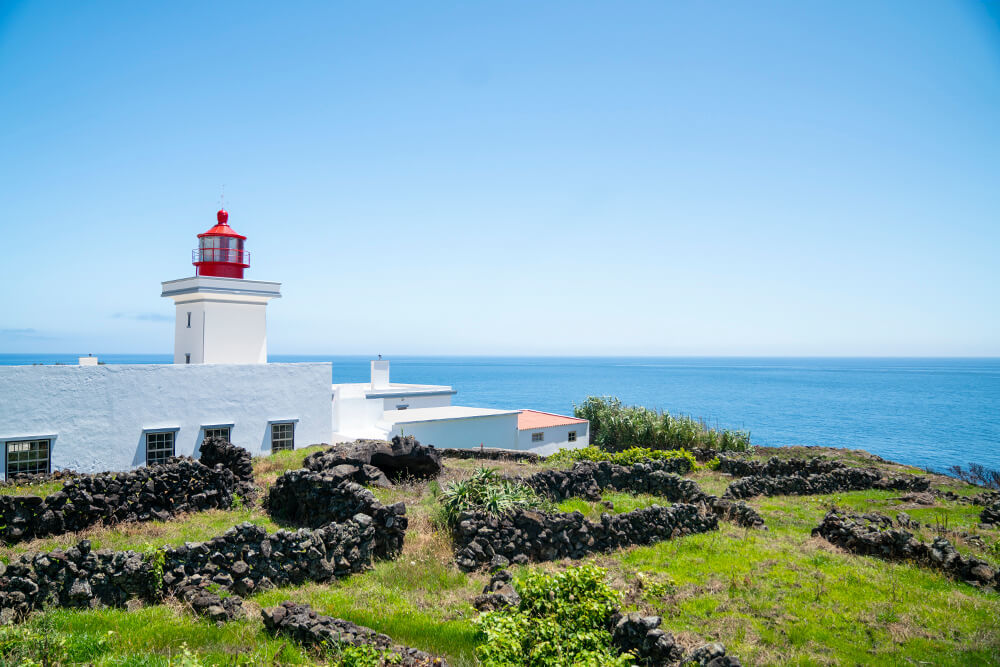 We took the whole day and explored Terceira island. There was so much more to explore on this tiny island than I ever thought possible! Terceira is considered the "cultural center" of the Azores, and the island definitely had an older feel to it.
Visit Old Churches and Ancient Frescoes in São Sebastião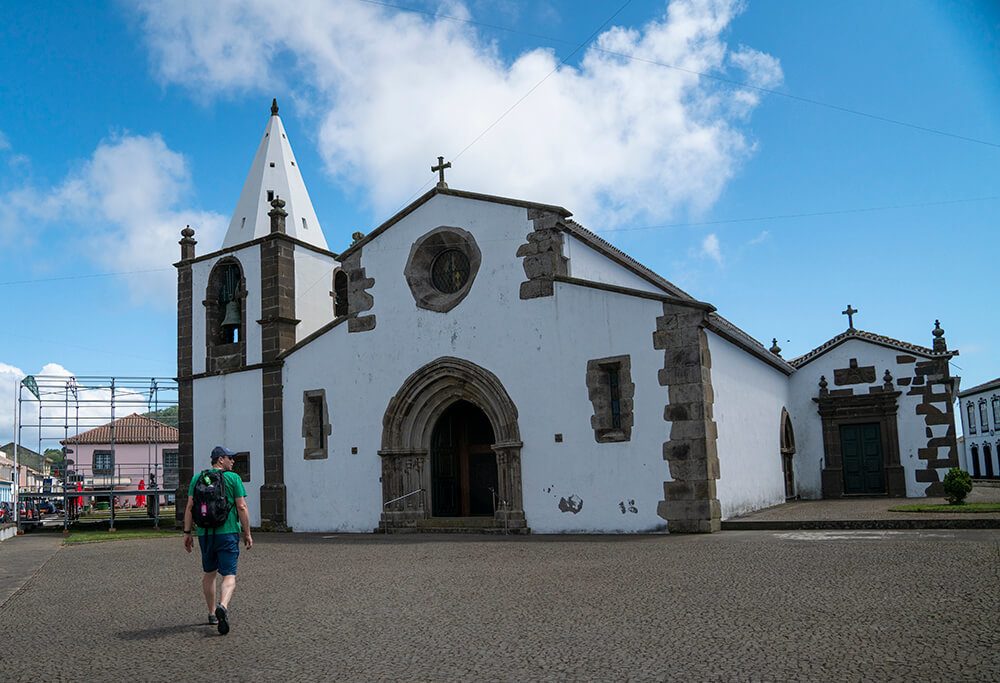 We visited the town Sao Sabastiao where we visited a church that had frescoes dating back to the 1600s! It was amazing to see how long they've lasted. We also ate at a restaurant that was recommended to us by a local called Os Moihnos. The restaurant is set in an old millhouse and was so unique. We tried the Altasca, which is a braised meat, that was so tender and delicious.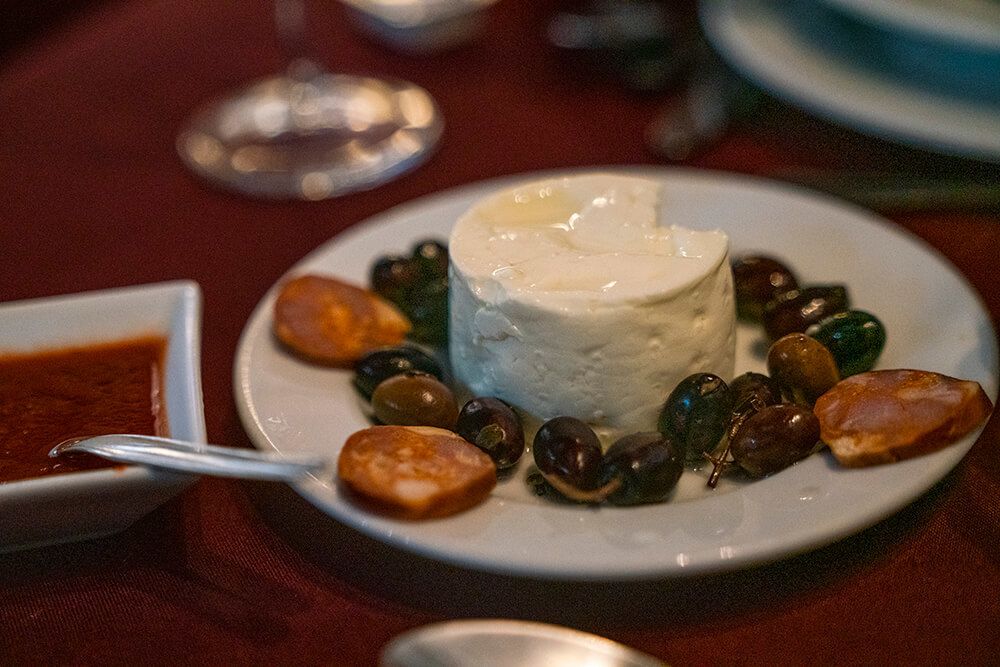 We drove around the island counter clockwise, exploring a huge volcano that you can go inside of, more caldeiras, lakes, and lava tubes that we explored with hardhats! The island is so different from Sao Miguel, but just as beautiful.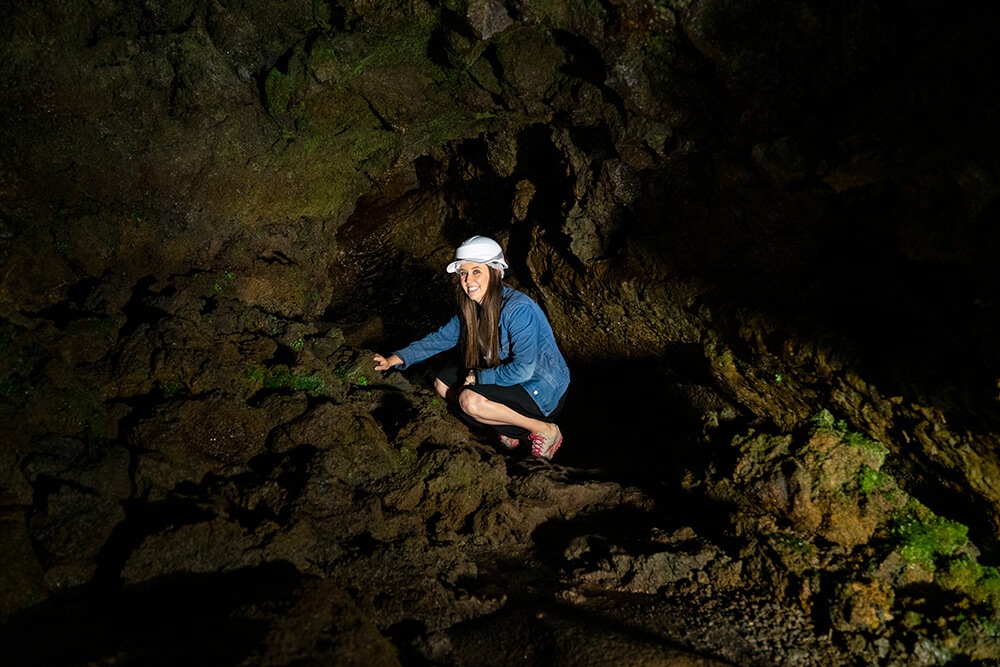 Must-see Sites in Terceira:
Explore Angra do Heroísmo, Terceira's main city
Relax at Duque da Terceira Garden
Go to the beach at Prainha da Praia da Vitória
See the view from Miradouro do Facho
Catch another view from Serra do Cume
Hike Monte Brasil
Visit old churces and ancient frescoes in São Sebastião
Go inside the Algar do Carvão lava tube
Visit the Ponta das Contendas Lighthouse
After our long day of exploring the beautiful Terceira, we crashed back at the hotel and fell asleep to the music of the bands playing 90s music outside our window. How romantic!
Day 5 – Fly to Faial
We got up early on day 5 and took some photos around the lovely town of Angra do Heroismo then headed out to the airport for our final island in the Azores.
We landed in Faial and took a taxi to the main town of Horta where we met our guide, Rui, who owns the Blue Tuk tour company. It poured during the first hour of our tour, but Rui was prepared with big rain coats and blankets for us. It was actually quite romantic and it was nice for both of us to just snuggle up in the back of the comfortable tuk tuk and not have to drive.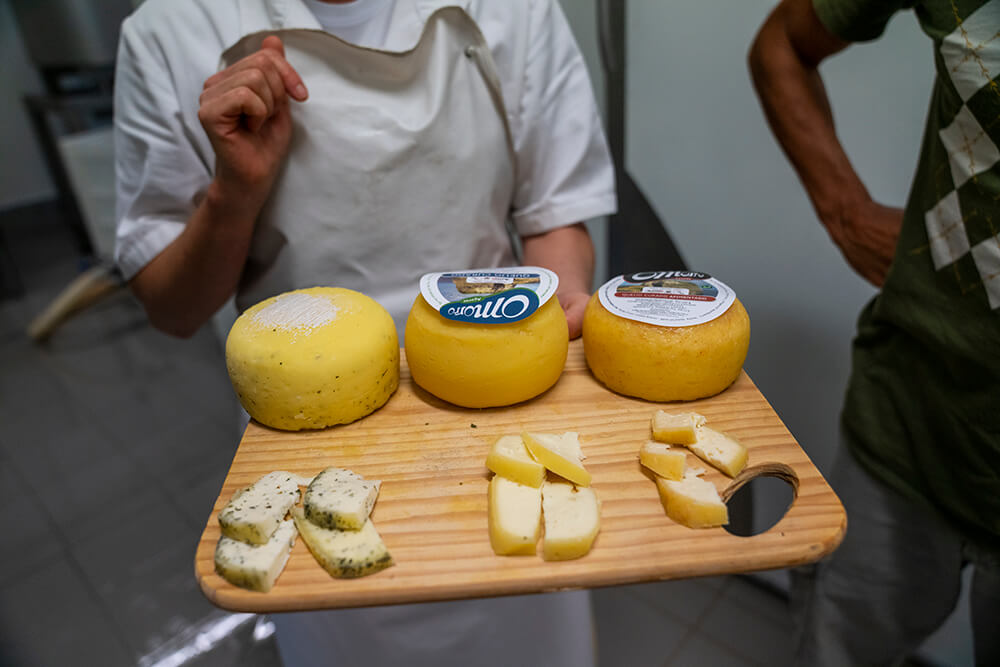 We got to visit a cheese factory, where Rui is also the graphic designer, and get a private tour and sample some cheese. This ended up being our favorite cheese, and apparently it's even sold in the US. I'm on the hunt for it now. It's the Do Morro cheese company. Seriously so good!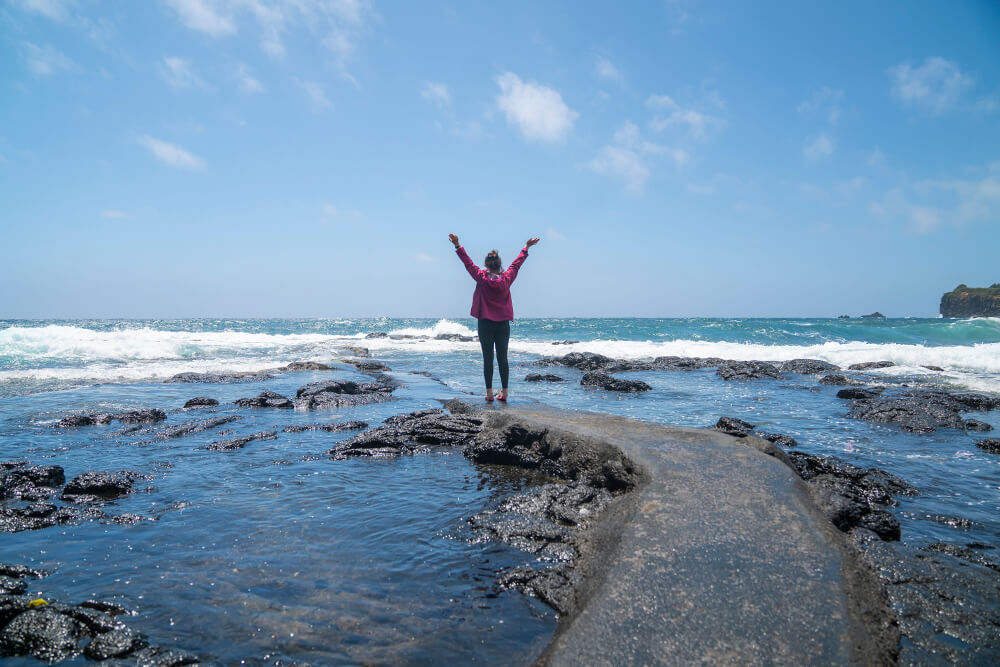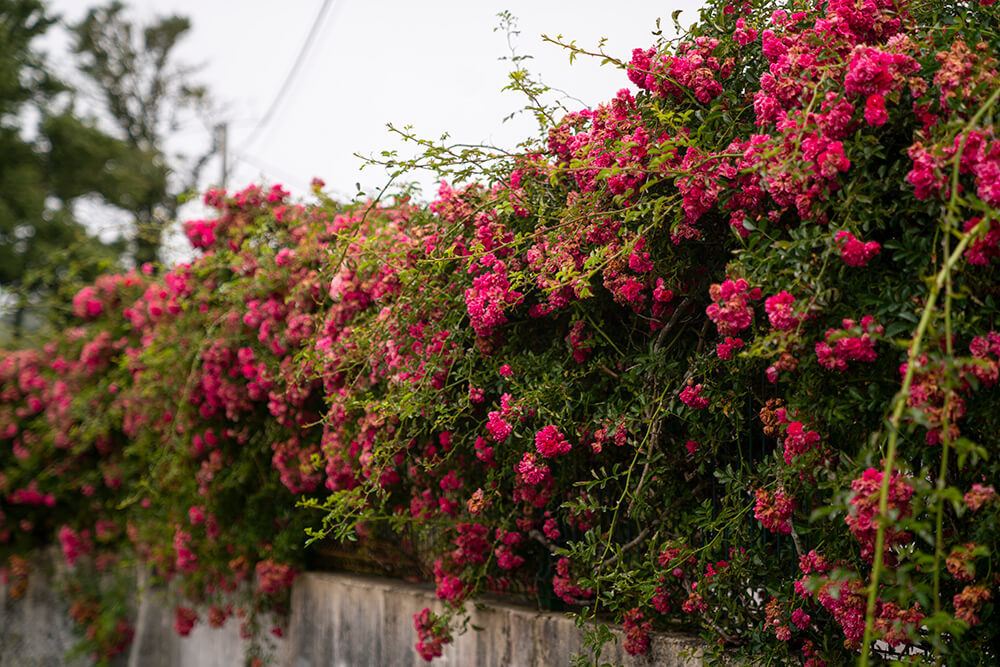 I would say out of all the islands we visited, Faial felt the most natural to me, with lots of open space, and not a ton of people. The most stunning place we visited in Faial was Vulcain dos Capelinhos, a volcano that erupted in 1957, destroying hundreds of farms, and triggering a miss migration of Azoreans from the islands and into the US, Canada, and Brazil.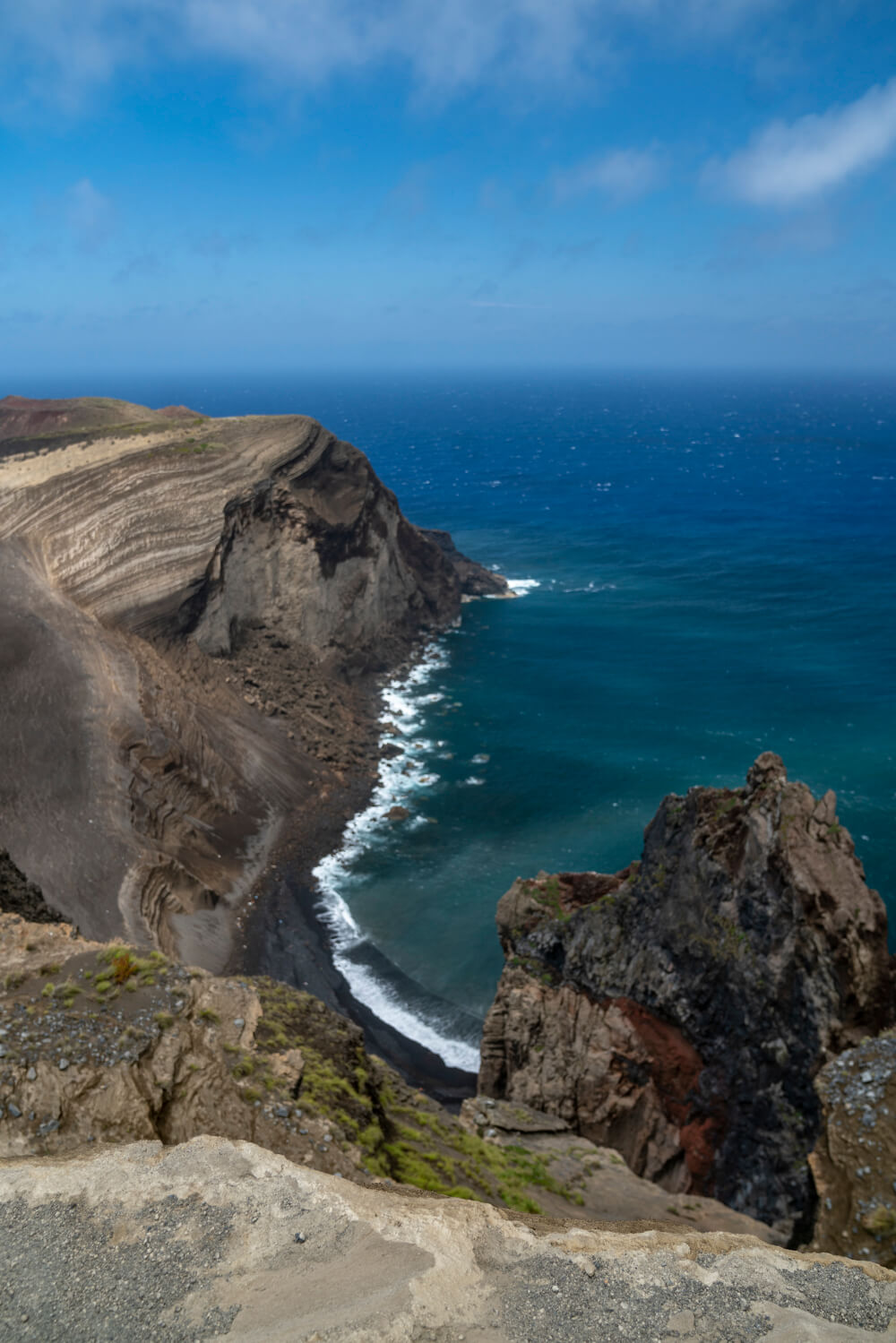 But seeing the new land that was created by the volcano was pretty amazing! You can hike to the top of the cliff for incredible views. It was VERY windy when we hiked up, and I was terrified, but the hike was worth it!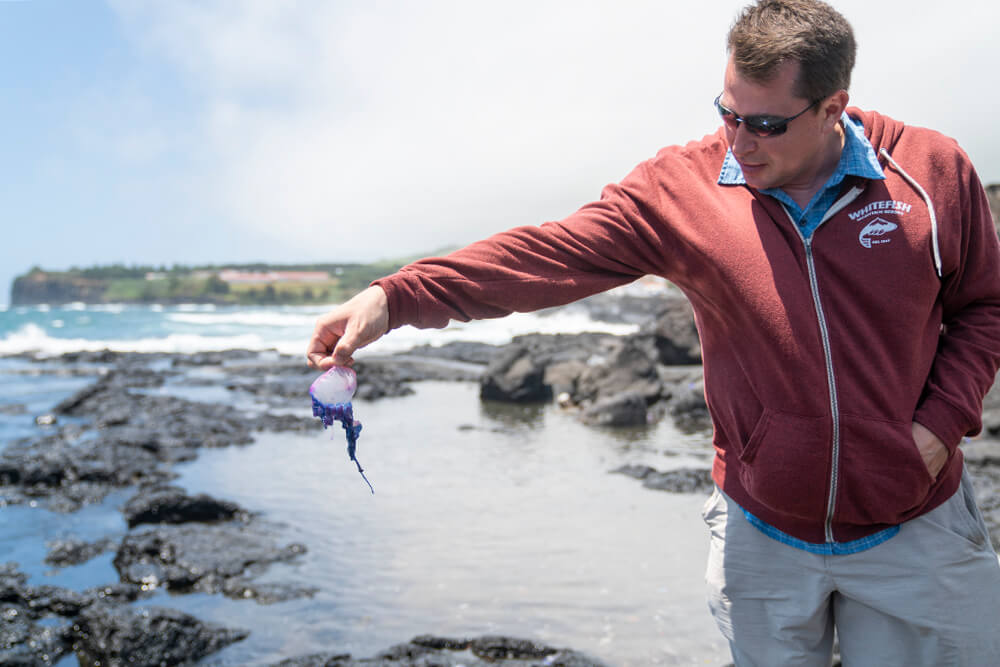 Faial is also covered with natural pools where you can swim on nice weather days. Just watch out for the Portuguese Man of War, which are very dangerous, and very painful if you get stung! Since Faial had just experienced a storm, there was a huge influx of them.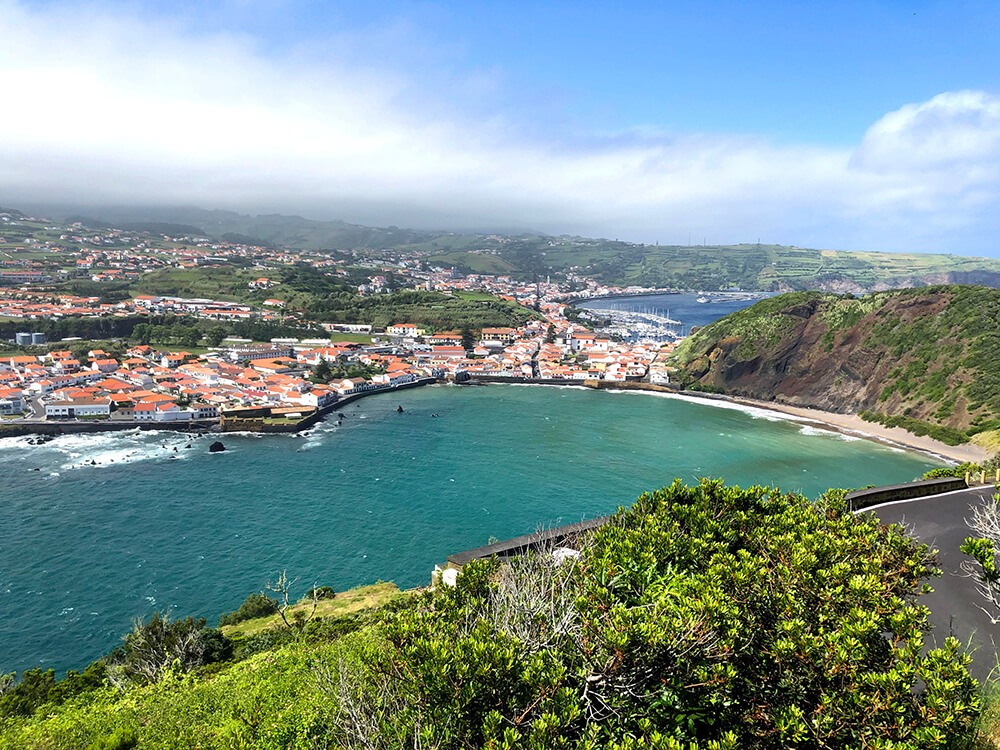 We came back into Horta where we took the Tuk Tuk up to Mote da Guia, which offered amazIng views of the town. I wish we had more time to visit the Whaling Musuem. It looked really interesting Whaling used to be one of the biggest industries in the Azores Islands until around the 1980s.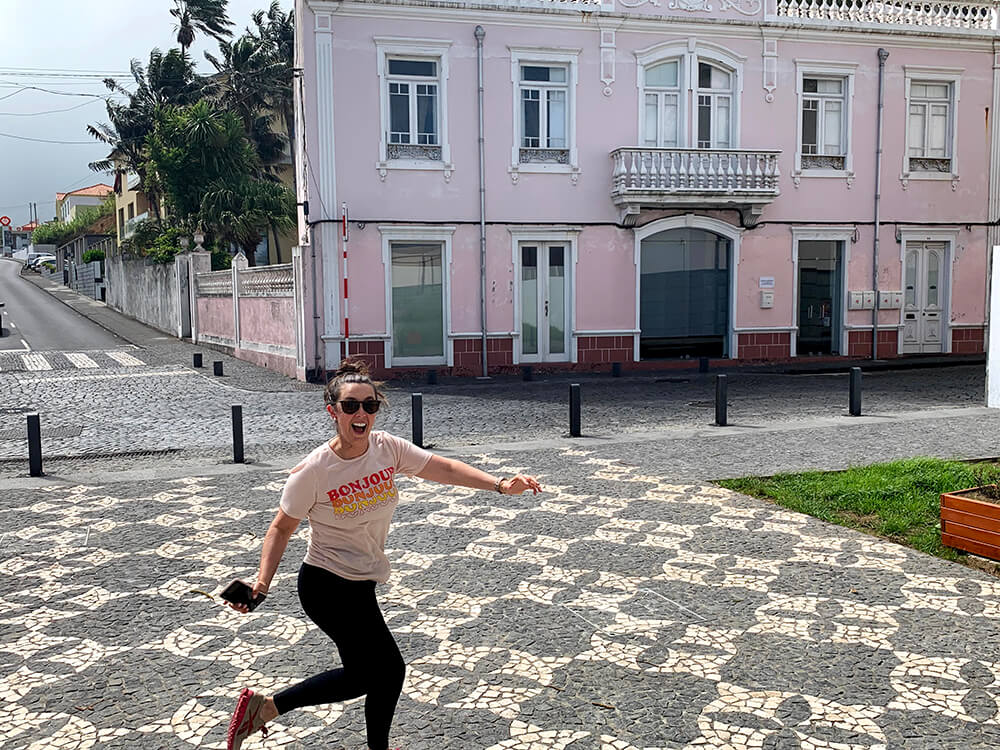 Rui was a great guide and I learned so much about the history and culture of Faial from him. We loved exploring this tiny island and if I were to go back, I would take the ferry and go visit Pico and Sao Jeroge which you can see from Faial.
Evening – Fly back to Sao Miguel
We just had a quick day trip to Faial, but honestly we did cover most of the island, even with some rain. I'd love to come back and just relax here and take the kids to the natural ocean pools. We flew back to Sao Miguel and checked into the Grand Hotel Açores Atlântico
Day 6 – Ponta Delgada Chill Day
The hotel was nice with a great location across the street from the marina. We had planned to do a whale watching tour the following day, so this is why we stayed here, however, the weather was bad the next day, so we couldn't go whale watching. We were bummed, but honestly, it was amazing just to have a day with nothing scheduled to just relax.
We walked back to the market, bought more fresh fruits and veggies, cheese, and bread, and just snacked in the hotel room while watching Stranger Things…I know, we are so exciting, but after 15 years of marriage what do you expect! We snuggled in the hotel and went out when the rain broke to wander downtown. We tried out some Azorean street hot dogs, malasadas, churros, and gelato. We grabbed an Azorean burger, which is pretty much my new favorite food. Read my Azores food guide for more info on this!
For dinner, we ate at the most amazing restaurant, Tasquinha Vieira. It was a great way to end our trip. We flew back to New York in the morning (after a delay and a few complications involving me accidentally changing our flight to the following day…thanks for fixing that one for me Delta).
Honestly, this trip was exactly what we both needed. We were able to explore and be adventurous while also enjoying some luxury and relaxation with some good old togetherness.
We were able to really thoroughly explore three islands in such a short amount of time.
I loved our trip together and we kept saying we need to bring the kids back! I can't wait to explore the rest of the islands in the Azores.
I would repeat this trip in a heartbeat and luckily, you can copy this exact trip. If you need any help planning your trip, please get in touch! I'd love to live through your trip until I can make it back myself!