This is the Ultimate Guide to Visiting Alaska with Kids.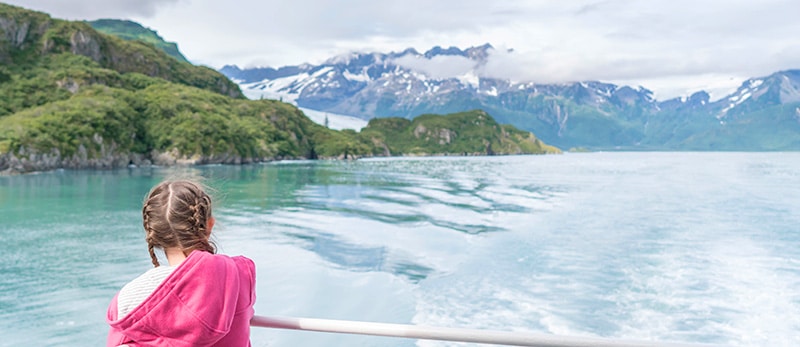 What to do in Alaska with Kids
Salmon and glaciers and bears oh my! The last frontier, the stunning Alaska, the United State's northernmost and second youngest state is full of natural wonder, breathtaking scenery, and adventure for the whole family.
Whether you're going alone or heading to Alaska with kids, you will find that the state offers adventure for the young, old, and in between. Our family was lucky enough to be in Alaska for two months this summer, where we created some of our favorite memories together and ticked some major things off our family bucket list! Our Alaska family vacation is something we'll never forget!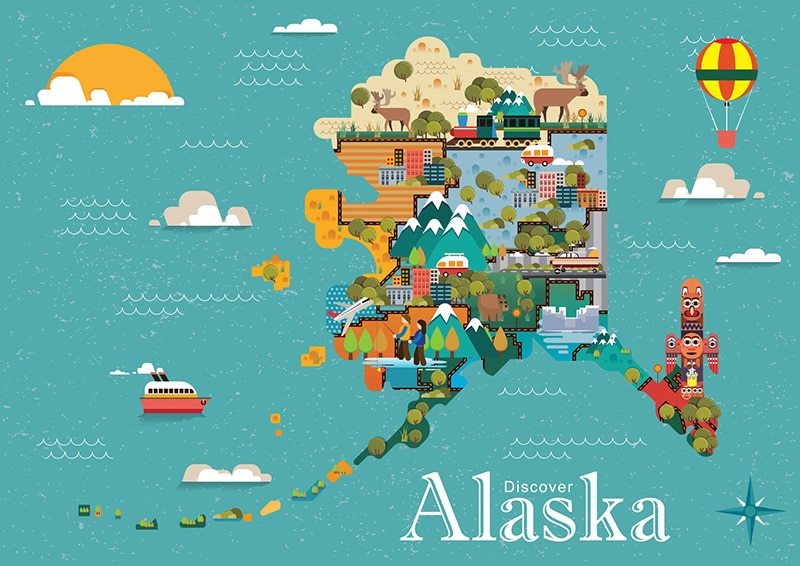 Alaska is not somewhere you just show up unprepared, especially with kids. When you visit Alaska, you need to be prepared, mentally and physically, no matter the time of year you decide to go.
This post may contain affiliate links
Make Planning Your Alaska Family Vacations Easier
If you want to streamline your Alaska trip planning, this is an incredibly helpful guide to help you map out your trip to Alaska with kids. It provides day-by-day itineraries and explanations of activities and the best way to get there along with accommodation guides and more!
Alaska Vacation Packages for Families
Sometimes you can find great deals on Alaska family vacation packages. I like to use this website to book flights, hotels, cars, and tours in one place to save money. It can take a lot of stress out of your vacation and usually everything is fully refundable, so it's worth looking into.
Alaska vacation packages for families.
Preparing for your Trip to Alaska with Kids
Before heading up to the great north, be sure to prepare yourself and your kids for Alaska. It really is a place like no other, and the way of life, climate, and wildlife may be very different than what your family is used to.
Wildlife
Alaska allows you to see wildlife typically only seen in zoos, out in the wild, such as bears, moose,

and more. Prepare your family for what you might have the opportunity to see and how to stay safe when you see them. I'll talk about that more below.

Way of Life
Many people who live in Alaska fish and/or hunt. This may be a completely new concept for kids coming from an urban area and it's good to prepare them for that.

Educate Yourselves About Alaska
As part of our Worldschooling curriculum, we made sure to learn as much as we could about Alaska before and during our trip there. This consisted of lessons, games, books and audiobooks all about Alaska! Here are some of our favorite books about Alaska for kids:
When to Visit Alaska: The Best Time to Go to Alaska with Kids
I often get asked when the best time to go to Alaska is, and because I'm such a total wimp, and don't love the snow, the best time for me is in the summer when the temperature is milder and there is no snow. I don't know if there is a specific best month to visit Alaska. But if you're hoping to catch northern lights or enjoy winter sports, then definitely choose a different time. We were there from July to September and by September it was already getting pretty cold.
What to Pack for Your Family Trip to Alaska
Alaska, even in the summer months can get COLD! If you're coming from a warmer climate (we came from a California summer!), prepare yourself and your kids mentally and physically. You will definitely want layers and good waterproof equipment and shoes. Going to Alaska is amazing, but it also takes some prepping and research to know what to pack for Alaska. Here is some of our favorite gear that we used in Alaska:
Shoes
Nothing is more important to have in Alaska than good, warm waterproof shoes. I'd say it's even more important than a jacket, in the summer at least! These are the shoes we wore in Alaska and they served us well!

Kids: We love KEEN boots for the kids and buy a pair every winter! They are warm, comfortable, easy to put on, waterproof, durable and affordable.
Men: Paul swears by his North Face Shoes. He is really hard on shoes and these last him for about two years, which is seriously a record for him. He replaces them every two years with the same pair.

Women: I'm totally obsessed with these BOOTS from Eddie Bauer! I wore them all over Europe for a year, all over Alaska and the Pacific Northwest for months and even in California. They are cute, waterproof and the most important factor for me: comfortable! I have extremely sensitive feet that get tired easily and I can wear these all day long with no problem! People ask me about them all the time and these are the boots I recommend to everyone. I even have two pairs. One I keep in Europe and one for the US! This is not sponsored, I have no affiliation with Eddie Bauer, I just REALLY love these boots!
UPDATE: They now make these boots in tall, and they're AMAZING! Find them here.
Coats
If you're going to Alaska in the summer, you probably won't need parkas or anything, but you'll want good coats that are waterproof and windproof, especially if you're spending any time on a boat. This waterproof, windproof, fleece lined jacket is amazing!
Socks
Along with good shoes, thick and warm socks are essential, especially if you'll be doing any hiking in Alaska. We love these adorable wool socks for the kids!
And I get my socks at Costco. I've tried a hundred different types of wool socks, and I am obsessed with these! My husband makes fun of me for my sock collection which consists of only these socks! But they are so comfortable, not itchy at all, and they last forever.
Alaska with Toddlers
Our youngest was 3 years old the first time we went to Alaska so I wanted to mention what it's like visiting Alaska with toddlers. Alaska is a high adventure place where you'll want to do lots of hiking and adventurous things. He was able to keep up with most of the hiking, but there were definitely some more high-adventure activities that we couldn't do with him. So if you have older kids that may want to be more adventurous, you may want to consider trading off or finding a sitter. I also recommend bringing a really good hiking backpack if you have a reluctant hiker. We like this one.
Hiking in Alaska
Going to Alaska means doing pretty large amounts of hiking. This can be a little daunting for kids, but with the right preparation, it can be really fun and it's one of the best things to do in Alaska to keep them entertained and learning. Here are some tips for making hiking enjoyable with kids:
Comfortable Shoes

and

socks

are a must!

Pack a

Good Water Bottle

or

Water Backpack

to keep everyone hydrated

Pack High Protein Snacks such as

Clif Bars

or nuts

An Activity Tracker

helps kids keep track of how much work they've put in and also helps keep track of time.

A GPS tracker

is a great idea in case any of your kids get ahead of you or wander off. It's just great peace of mind in general!

Wear Bear Bells to alert bears of your presence in the area

Set realistic goals for yourselves and your kids. If you don't think they can handle a 10-mile hike, don't plan it.

Start small and begin hiking before you go to Alaska to test their endurance.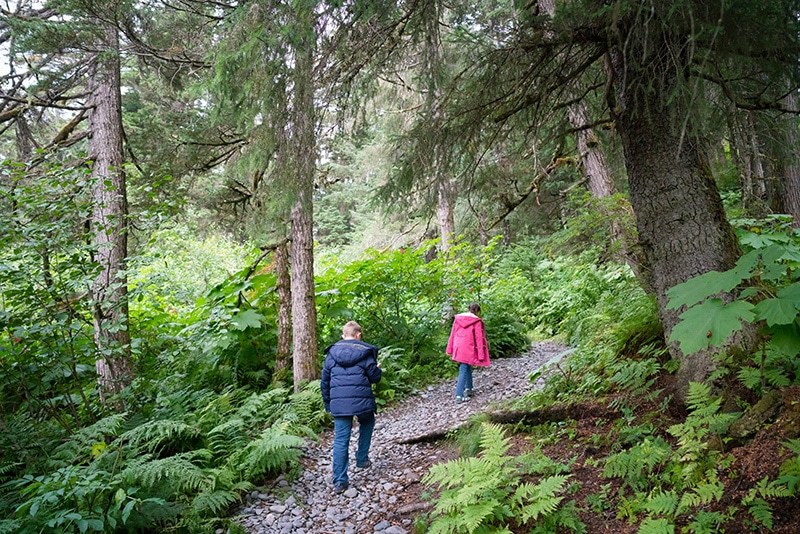 Where to Go on Your Family Trip to Alaska
Your next step is deciding where to visit in Alaska. Alaska is HUGE. It's the largest state in the U.S. and there's just no way to explore the entire state in one visit. Focus on one region. We stayed mostly in the Anchorage and Seward area, otherwise known as Southcentral Alaska, so I will focus on that area.
There is so much more in Alaska for kids and families. From the Inside Passage to the Far North, but I believe and have heard from many others, including locals, that you can truly experience so much of what Alaska has to offer just by exploring the Southcentral Alaska region. There are so many things to do near Anchorage even, that you can easily base yourself there. Here is a helpful map of the regions of Alaska: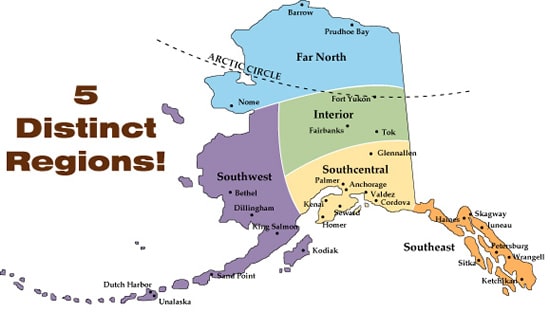 How do you get to Alaska?
The way you get to Alaska depends largely on where you want to go and what you want to experience. There are several unique ways to get to Alaska.
What to do in Alaska: The Best Places to Visit in Alaska with Kids

If you want to know what to see in Alaska, these were our favorite activities in the Southcentral Region:
1. Take the Bear Aware Class at REI

Before you arrive in Alaska, sign up online for the Bear and Moose Aware Class at REI in Anchorage. It's free and they offer vital knowledge regarding Bear and Moose safety in the wild. This made us feel more confident about hiking in more remote areas of Alaska. Be sure to purchase bear bells to hike with while you're there.
2. Alaska Reindeer Farm
Without a doubt, this was the coolest and closest encounter that we've had with Alaskan animals. I'd recommend it for any family trip to Alaska. Did you know that the only difference between reindeer and caribou is that reindeer are domesticated and caribou are wild?
You will learn so many other interesting facts about reindeer, caribou, elk, moose, and really anything with antlers! When we went, we even got to watch a baby moose being bottle-fed. It was the cutest thing ever! Your guide will take you into the reindeer stall and allow you to safely hand-feed the reindeer. It's pretty incredible/gross, but something the kids will remember their entire lives. It was honestly one of the most fun things to do in Alaska.
3. Kenai Fjords National Park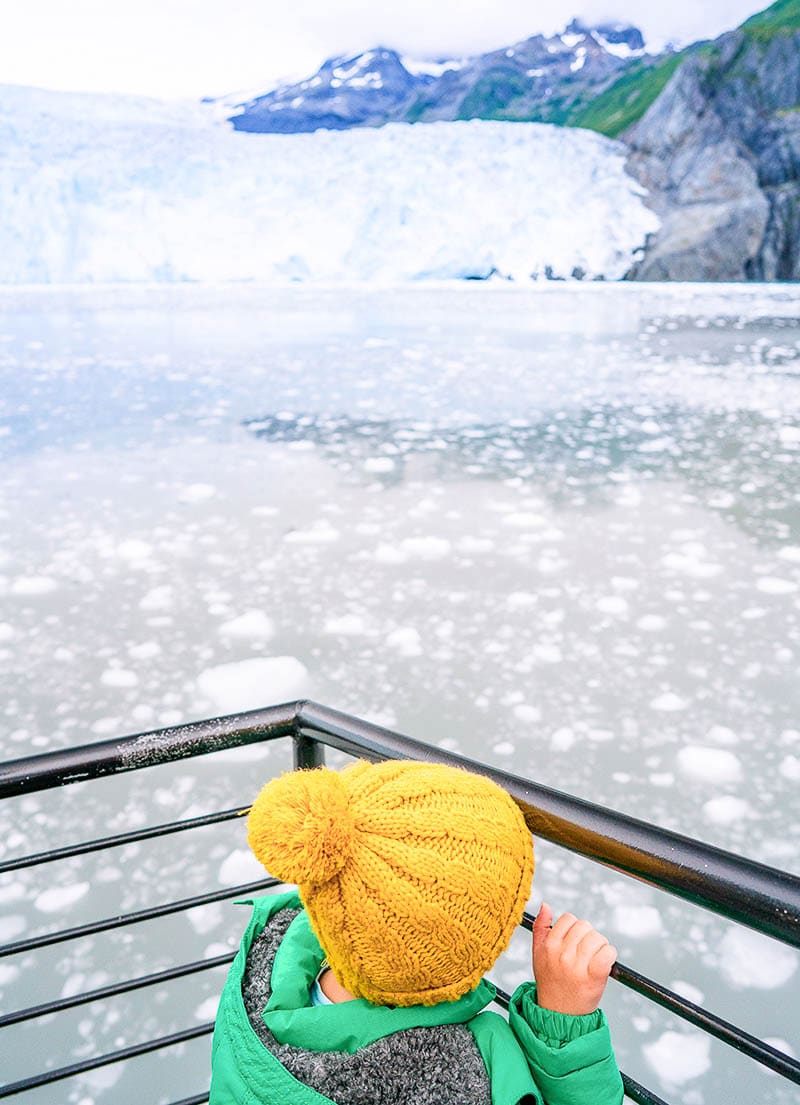 When I asked my kids, they said that this was their favorite thing we did in Alaska! It was my favorite too. We drove 2 hours from Anchorage to Seward and hopped on a ship with Major Marine Tours. The kids loved having a National Park Ranger on board to help them earn their Junior Ranger Badge. We learned about glaciers, icebergs, glacial calving, whales, salmon, sea otters, puffins, seals, sea lions, and were able to see all of these on our cruise.
The highlight for the kids was when the Rangers brought a big chunk of ice on board that they estimated to be about 200 years old. We all got to inspect it, then the chef chipped away at it and made glacier Shirley Temples for all the kids! There was an incredible lunch on board of prime rib and fresh salmon! Don't skip this tour!
We were lucky enough to see many otters, seals, and puffins, and even had humpback whales surrounding our boat! It was one of the most magnificent things to see in Alaska and something that we'll never forget. It does get quite cold on the water, even in the winter, so be sure to dress appropriately and prepare for wind or rain. The great part is that if you want to, you can see almost everything from inside the ship, through the large windows.
If you have nice binoculars, I recommend bringing them. I actually think it's worth getting binoculars just for visiting Alaska. There is so much amazing wildlife to see and you can get a better look with a good pair. We really like these ones for professional birding. It's guaranteed that you'll have some amazing Bald Eagle sightings! But they do have a few large binoculars for you to use on board, which was really nice.
The Kenai Fjords themselves are also just so incredibly gorgeous. Be sure to bring your camera. Even if we hadn't seen any wildlife or had a park ranger on board, I still think it's one of the best places to see in Alaska, and it's best seen from the water.
4. Hike Winner Creek Trail
This was probably our second favorite activity in Alaska with kids! This is a fairly easy 2-mile hike to an elevated river crossing with a hand tram that can be pulled across the gorge! It's equal parts terrifying and fun!
If you have younger kids or more reluctant hikers, I recommend taking a different route to the hand tram than most people will tell you. Drive and park at Cooper Mine and hike in 1 mile to the hand tram. Most hikers leave from the Alyeska resort, and while the hike is beautiful, the majority of it will be uphill on the return trip. There is an occasional shuttle that runs from Cooper mine and back to the resort, so if you can time that right, you could hike from Alyeska resort to Cooper Mine and take the shuttle back.
Watch along the trail for wild blueberries and raspberries that will provide a delicious snack on your journey. Be sure to study berries before you go, to be sure you're picking the right ones. Don't pick the bright red berries.
This area of Alaska, and the Alyeska resort and surrounding areas is one of the most beautiful places to see in Alaska. Dont skip this hike. It's honestly easy enough that almost anyone can do it.
5. Alaska Wildlife Conservation Center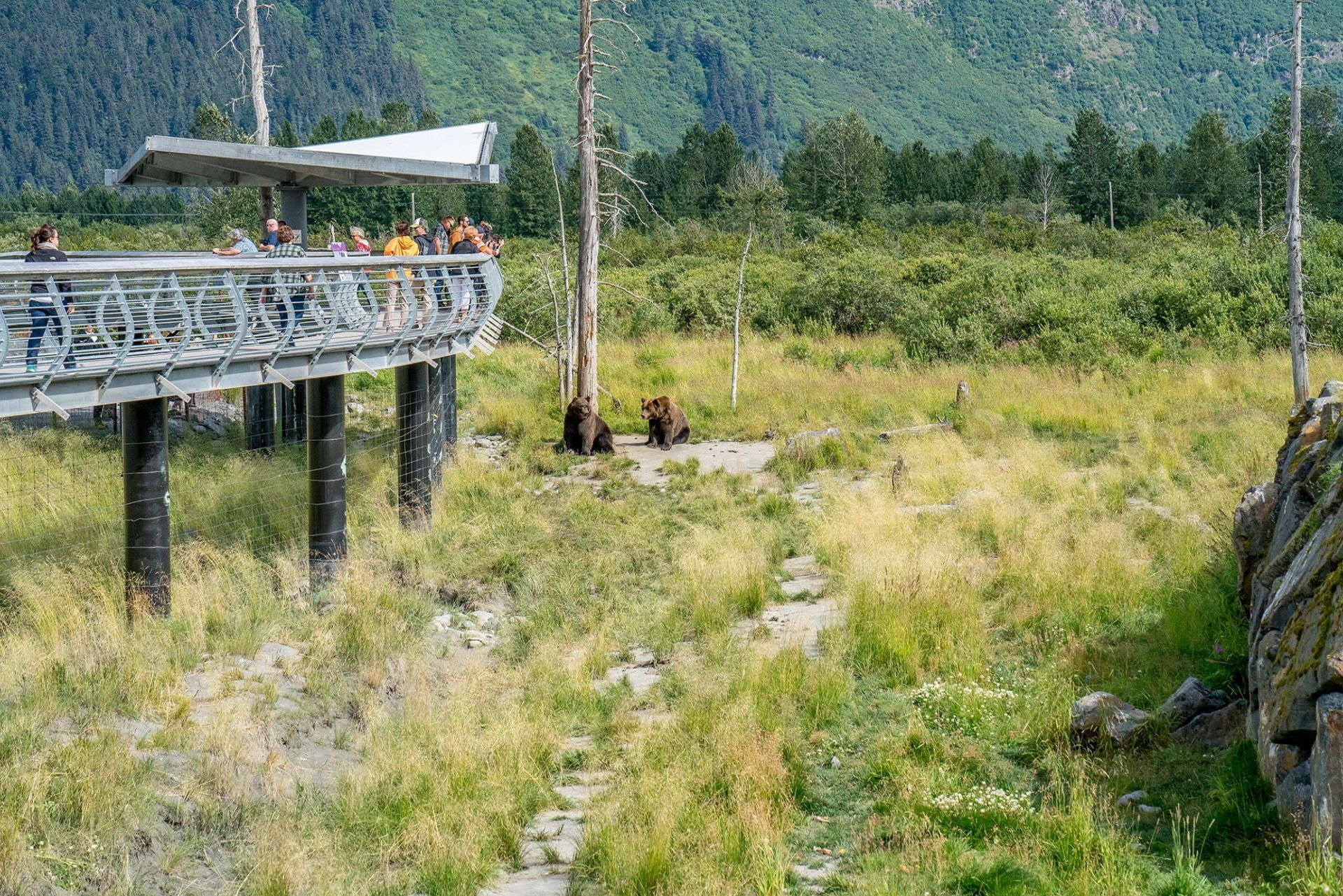 This is a great opportunity to see a variety of Alaskan wildlife up close. You can choose to walk or drive through the conservation center, which is a nice option for a cold, rainy or snowy day. You can see musk ox, reindeer, elk, porcupine, foxes, eagles, owls, black bears, brown bears, and grizzly bears.
It's a great learning experience. Be sure to walk the bridge over the bears and if you time it right you can watch them eat their lunch, which usually consists of fruits, vegetables and several pounds of salmon, which is donated by local fishermen.
6. Eklutna Lake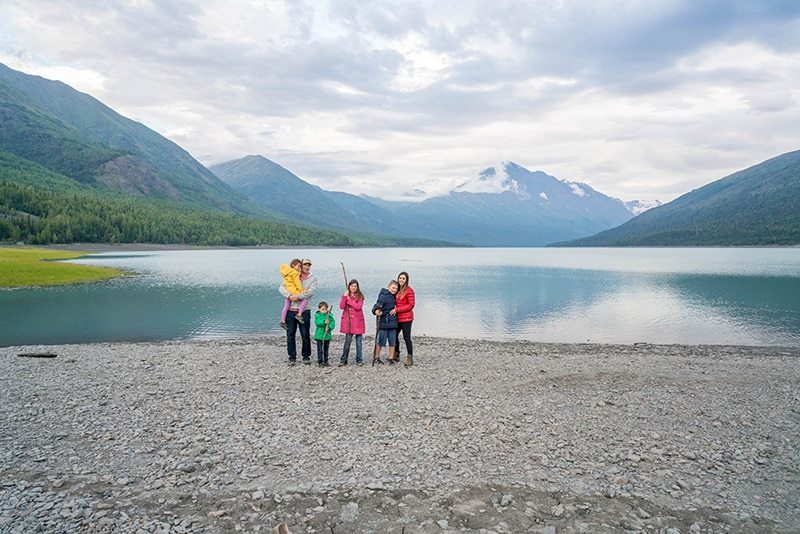 This beautiful glacial lake has an otherworldly feeling about it. Wander around its shores and take in the serene beauty. This is where Anchorage gets its drinking water, so it's some of the cleanest water in the area. If you're brave, you can take a dip! It's somewhere you must see in Alaska if you love glacial lakes.
7. Thunder Bird Falls
This beautiful waterfall is an easy hike in and can be viewed from the top or bottom of the waterfall easily. The trees leading to the falls are truly stunning.
8. Whittier
The town of Whittier, which consists of a population of about 200 people, most of whom live in a single building, has a long and important history. First used by the indigenous people, and later by the Russian and American explorers, it was also an important military facility during WWII and the port became the entrance for United States soldiers into Alaska.
It's also one of the top things to do in Alaska if you're visiting on a cruise. Most cruise ships will port in Whittier and have shore excursions into Anchorage or into Kenai Fjords National Park.
It's an interesting place with a bit of an eerie feeling about it. To enter the town, you must pay to drive through a tunnel that is shared with the trains that run in and out of the port. Entrances are timed so be sure to arrive on the hour or half hour, otherwise, you'll have to sit and wait for your time to enter the tunnel. Whittier is also a popular cruise port, so be aware that the town could either be nearly empty or crawling with cruisers.
9. Watch the Bore Tide
A bore tide is a tidal phenomenon in which an incoming tide forms a wave of water that travels up a river or narrow bay against the direction of the river or bay's current. There are about 60 bore tides that occur all over the world, but the Alaska Bore Tide or Turnagain Arm Bore Tide is one of the most impressive due to the incredible scenery surrounding it and its impressive longevity and distance.
Another reason for this being one of the most popular bore tides in the world is that you can literally watch it from the comfort of your car. Drive south on the Seward highway about 20 minutes and pull off anywhere near the Turnagain Arm and you will get a show of a lifetime if you time it right. Beluga Point is an excellent place to watch it. Find bore tide times here.
10. Drive From Anchorage to Seward

If you're looking for a beautiful drive with breathtaking views, the drive from Anchorage to Seward is absolutely stunning! Even if you don't make any stops, you'll see some incredible scenery and wildlife. You'll find the Bore Tide and Winner Creek Hike, both mentioned above, on this drive.
Anchorage Museum
I wasn't sure how this museum was going to be for kids, but we actually had a blast here and no one wanted to leave! It's actually one of the top 10 things to do in Alaska, and one of the best things to see in Anchorage.
It's a hands-on history, art and science museum all rolled into one! They have a great kids section full of volcano explosions, bubble fun, and learning toys and electronics that will keep your little ones entertained for hours.
We loved the Smithsonian exhibit, which holds more than 600 native Alaskan artifacts from different time periods and regions of Alaska. My animal lover was enchanted by the Iditarod exhibit and we also found ourselves engrossed in an hour-long Russian documentary about the Bearing Straight! Find more information and tickets here.
11. Moose's Tooth Pizza
If you're looking for foodie things to do near Anchorage, a trip to Moose's Tooth is a must! It's been voted the best pizza in Alaska, and I would have to agree. My favorite was the Apricot Pizza, which tastes way more delicious than it sounds.
12. Go Fishing
Something that you absolutely MUST do if you visit Alaska is go fishing! We went as a family several times while we were there and learned so much! The life of salmon is just incredible! Depending on what time of year you go to Alaska, you'll be fishing for different species of Salmon. Here is a rough Salmon schedule for you:
Alaska's Salmon Schedule
Late May-Early July: King Salmon (this is the biggest salmon species, also known as Chinook)
June – Late July: Sockeye Salmon (this is the most commercially fished salmon)
Mid-July – August: Pink or Chum (probably the least desirable species for taste)
July – October: Silver Salmon (this is the latest running species, also known as coho)
If you've missed the salmon season, you can always opt for sea fishing and find halibut.
The fish in Alaska are plentiful and if you're an impatient angler, there's no better place to try your hand. Our favorite place to take the kids fishing was in Seward, at a place called Lowell Point. It was easy to get to and there was safe, shallow water that the kids could play near.
Be sure to look into rules and regulations before fishing in Alaska. As an adult, you must buy a fishing license. You can purchase one almost anywhere, but we got ours at The Fish House, which is a great resource in Seward. For more information on fishing, where to fish, how to fish, and what to fish for, check out Take Me Fishing, which is an amazing resource for all things fishing!
Fishing is just something you must do in Alaska, and I really don't think you should leave without at least trying it! Our kids did amazing both shore fishing and deep sea fishing. I was so proud of them for having patience and trying something new.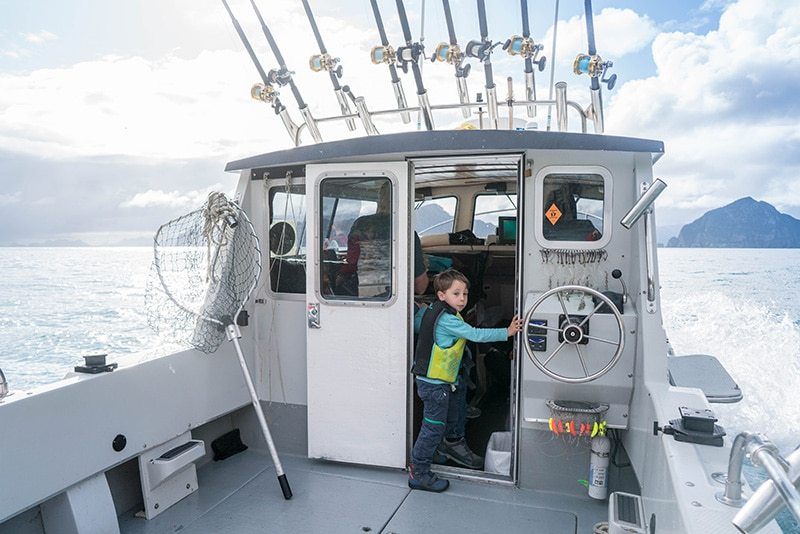 If you'd rather get out on the ocean and fish, try booking a charter. We went out with all 4 kids through The Fish House and had absolute blast. We only caught one Silver Salmon, but we were going at the end of the season, so we were happy with that! There are so many charter options in Seward, Homer and beyond. Check out Take Me Fishing to find the best charter option for you.
13. Alaska Zoo
I'm not generally a huge zoo fan, but I was pleasantly surprised with the amount of conservation work the Alaska Zoo performs. The highlights for us were the harbor seals, who loved kissing the glass for us, the giant polar bear (man, I never knew how huge those things were) and the bear cub nursery, which houses orphaned bears of all species and boy are they adorable!
14. Denali National Park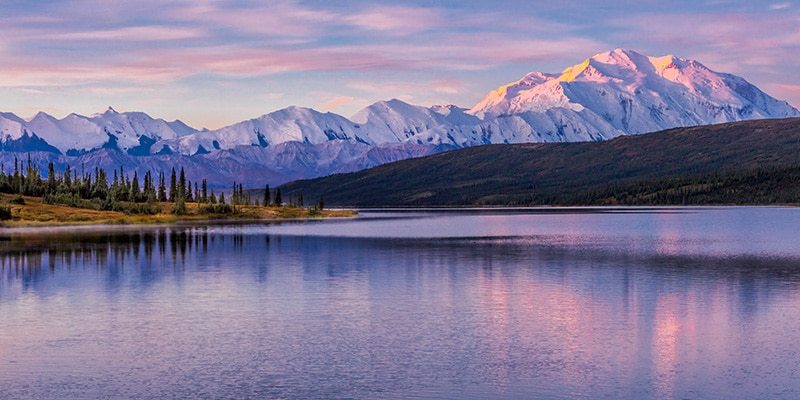 Home of America's tallest mountain, Denali (formerly known as Mount McKinley), Denali National Park is a nature lover's dream and not to be missed when you're in Alaska. Prepare your kids for some epic hikes and wildlife sightings, from bears to Moose, to Eagles and more!
Denali National Park has a wide variety of Park Ranger-led activities and excursions throughout the park including nature walks and dog sled demonstrations.
If you happen to be there on a clear day, you might be lucky enough to see the elusive Denali which is covered by clouds the majority of the year. Only 1 in 3 visitors will see the peak, but it's still worth a trip! You can drive or take a train to Denali. Whichever you choose, you're promised a magnificent view. It's one of the best places to go in Alaska for nature lovers.
15. Find the Perfect Souvenir from Alaska
Don't leave without a reminder of how amazing your trip was. If you go fishing, your charter should be able to ship your fish home for you. But if you're not into fishy souvenirs, discover the best souvenirs from Alaska from Ulu Knives to Mukluks!
Make Planning Your Alaska Family Vacation Easier
Now that you've gotten plenty of ideas for your family trip to Alaska, you may be ready to do it all on your own. But if you want to streamline your Alaska trip planning, this is an incredibly helpful guide to help you map out your trip to Alaska with kids. It provides day-by-day itineraries and explanations of activities and the best way to get there along with accommodation guides and more!
Whatever you choose to do in Alaska with kids, you're guaranteed to have an amazing time and see things that you've never seen before! This Alaska summer vacation will be something that my kids remember for their entire lives! If you need help planning your trip to Alaska please get in touch on Facebook or Instagram. I really love helping you plan your trips!
PIN THIS!