This comprehensive guide to getting around London will help you understand and navigate the London Public Transport System so that you can spend more time enjoying the city instead of deciphering Underground maps!
How to Get Around London: A Guide to the London Public Transport System
First of all, if you've decided on visiting London, let me congratulate you on your excellent taste. It's my favorite major city in the world and one of my all-time favorite destinations. While there are a million things to do in this amazing city, I want to be sure you know how to get around London before you go.
Our family spent several months living in London without a car and also several months living outside the city, and we have also been back to visit several times. Using London public transport is one of our favorite things to do in London and I think it's actually part of the fun of this city and what makes it so special. While the London transport system is as extensive as the human nervous system, it can also be simplified and easy to use.
Since it's such a huge city, getting around London can consume a good portion of your trip, but I'm going to share some tips that will help you to understand your options and make the most of your time. Sometimes transportation in big cities can be kind of a drag, but in this city, it's all so iconic, clean and easy that it makes getting around London part of your true experience. Here are some tips to help make getting around London life go smoothly.
Don't have time to read a bunch of reviews and blog posts? Here are our top picks for visiting London:
Wanderlust London Guide
If you're traveling to London, you'll want to have a solid itinerary that will help you organize your time in the best way possible and maximize your time and money. I've created this 5-day London itinerary that will help you see the best sites in London along with some hidden gems. It contains open-and-go day-by-day schedules and expert advice from me!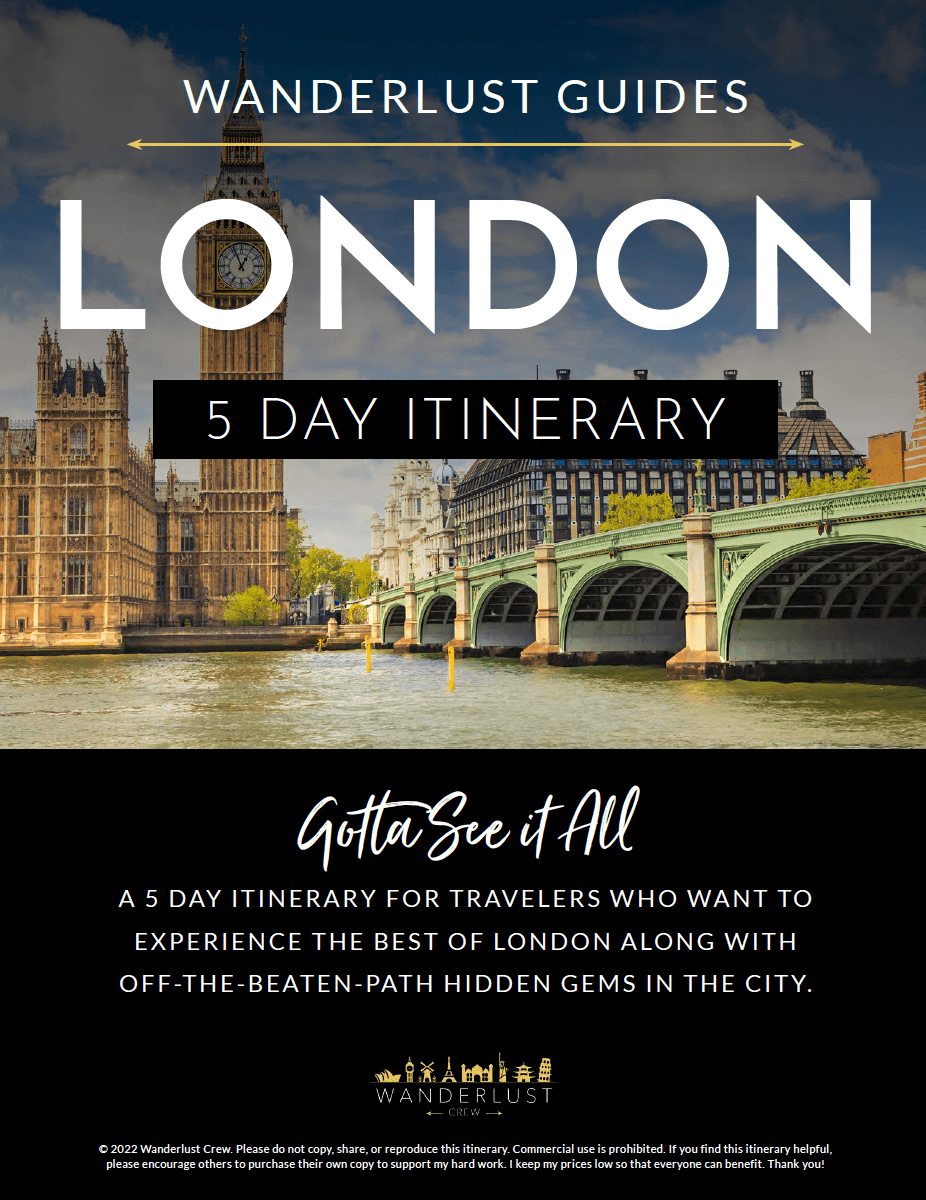 Our favorite Hotels in London
Must Have: London Pass
Our Favorite London Activities
How to Get Around London: The London Public Transport Zones
London is conveniently…or maybe just confusingly…divided into 9 different zones that determine your fare on most public transport. The zones are circular with 1 in the center and 9 being the outer circle. Zones 1 and 2 are contained in central London. In the London transportation system, the fare generally gets more expensive the more zones you cross.
How Much Does it Cost to Use London Public Transport?
Getting around London is fairly affordable, especially if you're traveling with kids, since ages 10 and under ride anything that uses an Oyster Card for free, including the Underground and the Bus. Fares for riding each mode of transportation differ. The London buses cost around £1.5 per ride. A single tube fixed price is £2.40 with an Oyster card, but the card has a daily cap and even weekly cap which you can see in the chart below, which means that if you're riding London public transport all day long you are saving a ton of money.
OYSTER CARD PRICE CAPS 2018 – COMPARED TO TRAVELCARD PRICES

Zones
Crossed


Oyster Daily
Price Cap

Oyster Weekly
Price Cap

Zone 1-2

£6.80

£34.10

Zone 1-3

£8.00

£40.00

Zone 1-4

£9.80

£49.00

Zone 1-5

£11.60

£58.20

Zone 1-6

£12.50

£62.30
Different Types of London Public Transport
Underground
Black Cabs
Buses
River Bus
Overground
DLR
National Rail
Tram Link
Heathrow Express
UBER
Biking
Walking
I know that list seems long and scary, but don't be worried, it's great to have options and you don't need to use all of these! I'm going to break down each option so you'll know the ones that will work best for you.
1. The London Underground
The most well known, and most used London public transport is the London Underground, also known as "the Tube." It is the oldest underground transportation network in the world, first opening in 1863, and carries over one billion passengers a year. The system is vast, with over 250 miles of track and over 200 stations.
The London Underground is the best way to get around London if you want to move quickly across a large area. And thanks to its efficiency, trains are usually on time.  You can easily find "Tube Stations" all around the city that will allow easy access to its 11 different colored lines. The stations are easily recognizable with the big red circle with "UNDERGROUND" written across it.
Trains generally run at least every 10 minutes between 5 am and midnight, some lines offering 24-hour lines. You can plan your journey on the London Underground here or you can use Google Maps on your phone. To ride the London Underground, you'll need a ticket or an Oyster Card. Oyster cards are plastic credit card like passes that you can "top up" (add money to) at any time. 
They work on the underground, bus systems, and some National Rail. Children 10 and under ride the bus and tube for FREE! To buy your Oyster card, find a machine in any Tube station or ask an attendant. To ride the Tube, hold your Oyster Card over the indicated area on the barriers on your way in and out. The barriers will automatically deduct your fare from your card.
2. Black Cabs
Of course, you can't leave London without getting a ride from a London Cabby. The cabbies are required to take a difficult test to get this job. It can take years to study and pass the test and they must know the streets of London like the back of their hand! If you want to know about something you pass, ask the cabby, he most likely knows a bit about everything! London cabs seat 5 in the back.
They can get quite expensive so we try to save them for a rainy day (literally). Some cabs take credit cards, but about 80% of the ones we took were cash only. Fares are metered and paid upon completion of the journey. As a common courtesy, it's always a good idea to go to the passenger window of the cab before getting in and telling them where you're going to be sure they are willing to go there, especially if it's far.
When the Taxi sign is lit, the cab is empty. To hail a cab, stand on the curb and hold your hand up. Also, look for designated Taxi pick up spots and be sure not to stand on a "zebra crossing" because they are not allowed to stop there.

3. Bus
My personal favorite way of getting around London is in the iconic red double-decker buses. With over 2 billion journeys a year taken by bus in London, this is the most popular mode of transportation in the city, and for good reason. Here are a few reasons why I think the bus is the best way to get around London:
Cheap: There is a set fare per journey, so even if you're going from one end of the city to the other, your fare is still only 1.50 pounds! Also, kids 10 and under ride free!
Convenient: There are literally bus stops on almost every corner of London and the buses run continuously throughout the day and night, even stopping where there may not be an Underground station.
Accessibility: If you're getting around London in a wheelchair or with kids in strollers, the bus is the most easily accessible mode of transportation, lacking the necessity of stairs. If you have a stroller you can just wheel it right on to the bus.
Oyster Card: You can pay for the bus using your Oyster Card by simply touching it to the yellow reader. You only need to use it at the beginning of your journey.
The View: Riding the bus in London provides you with incredible views of the city and allows you to see more of London while in transit than you otherwise would by being underground on the Tube. Yes, it's slower than the Underground due to being restricted by traffic, but I think the trade-off is worth it.
4. River Bus
Guess what else you can use your Oyster Card on? That's right, you guessed it: the riverboats of London known as the Thames Clippers River Bus. I feel like this is one of the most underutilized modes of transportation in London. Maybe because it's a little pricer or because the boats don't run as frequently as the buses or the Tube, but the riverboats can be a convenient way to get across the city while seeing it from a truly unique perspective.
5. Overground
The London Overground is pretty much the Underground, but, you guessed it, above ground (even though much of the Underground is also above ground). The overground is fairly new and basically covers areas that the Underground does not. You can use your Oyster Card on the Overground and the fare system with zones is the same as the Underground.
6. DLR (Docklands Light Rail)
This fully automated rail system (without any drivers) services mostly the East and South of Central London near the docklands area of London. It works just like the Underground and Overground and you can use your Oyster Card.
7. National Rail
What?! More trains? Yes! Most national rail services consist of several different lines that connect London to the rest of the country. Many commuters use these rail lines to commute from the suburbs surrounding London. Your Oyster Card will not work on National Rail lines and children 10 and under are not free, but usually ride at a discounted rate. There will be machines at the station where you can purchase rail tickets and usually a ticket office where you can talk to a human.
8. TramLink
This small tram system services South London, so if you're staying there you'll need to know about this one. The TramLink has a fixed fare and works like the bus so you only need your Oyster Card on the way in, not the way out.
9. Heathrow Express
If you're coming to London you're most likely flying into Heathrow Airport, London's largest international airport. If so, taking the Heathrow Express is the fastest way to get into the city center. Don't make the newbie mistake of taking a cab all the way into London! Book your tickets ahead of time online here to get the best deal. Fares range from £5-£32 depending on when you book.
10. Ride Share
UBER: UBER is regularly used and accepted in London. It's an easy way to book and pay for transportation and you can now split fares with your travel buddies. It's not quite the same experience as riding in a Black Cab in my opinion, but just as efficient. When we were there we found the price to be about the same, but you don't have to worry about having cash on you for UBER at least. If you've never used UBER, don't worry it's fun, safe, and easy. Here's a coupon for $5 off your first ride.
Free Now: Despite its name, Free Now is not free, but it will save you a few pence! What I like about Free Now is that you can call a regular car or a black cab, which is much easier than trying to hail one down on the street! I've also found it to be a bit cheaper than UBER. Download Free Now for Apple. Download Free Now for Google.
11. Biking
Biking around London can be a really fun and inexpensive way to see the city and get you from place to place on a nice day. The bikes with "Santander" written on them are affectionately known as "Boris Bikes" after Boris Johnson who was the Mayor of London when the bike program launched.
The bikes only cost £2 to access the bikes and the first 30 minutes are free. You could technically bike somewhere for 30 minutes, check in your bike, then check out a new bike and ride it for 30 minutes and so on, potentially paying only £2/day for your bike. There are 750 docking stations and 11,500 bikes to rent around London. You can use a credit card or the app to pay for your bike.
London has also recently put in millions of pounds to creating more bike lanes around the city to help the environment and the flow of traffic. They've done a nice job and you'll see dedicated lanes for bikes all around the city, and especially in the most congested areas.
If you want to know how to get around London on a bike, you can learn more about the London Bike Scheme here.
12. Walking
Walking is a great way to see a lot of London. Most things in central London can be seen by walking and it's a great way to make more room for all those delicious foods you'll be eating! Plus, if you're on a budget it's the best way to get around London. Be sure to check the distance between you and your destination on Google Maps. You'll be able to see a different view of London by walking the city. London is full of beautiful parks and they can make great short-cuts and lovely walks.
What is the Best Way to Get Around London?
While there's no right or wrong answer to this questions, I definitely have my favorite ways of getting around London. As I've stated above, the bus is my personal favorite way to travel in London, but the Underground may be the fastest. If you're lucky, you'll have the chance to use every mode of transportation during your time there.

Do You Need an Oyster Card to Travel in London?
Having an Oyster Card in London is not strictly required, but I would highly recommend getting one. A London Oyster Card is the cheapest way to get around London, it covers journeys across London's public transport networks including the Tube lines, buses, overground train station, and DLR, and can be used any time of the day throughout the week.
It makes life easier and will be more affordable. There is actually a price cap currently of £9.80 for zones 1-4. So you know that you won't be paying more than that each day you are in London, regardless of how many times you ride. This article from London Toolkit about the London Public Transport fares was really helpful.
Go Contactless
Use your contactless card, phone, or watch to pay for the tube map. Now riding the tube and bus is even easier with contactless payment. Just use your card, phone, or watch as you would when making a purchase. Be sure to "swipe" in and out using the same contactless card so you'll be charged the correct fare.
Tips for Getting Around London
Buy an Oyster Card or Prepare Contactless Payment in Advance: Having an Oyster Card is a great option as it will allow you to ride multiple forms of transportation around London without having to purchase single-ride tickets.
Download Google Maps App and use it! Even if you have to look up directions before you leave wifi. I recommend using google maps public transit directions. These have almost never failed me! The app gives you train or bus times and even track numbers, alternate train times, bus stop letters, and exit names.

Google Maps will also provide you with several options for public transportation around London. You can see below that to get from the Tower of London to Westminster Abbey using public transportation you have the option to take the Underground or the River Boat.Along with detailed public transport maps and directions, Google Maps will also provide detailed walking directions from the transit stop to the destination.

Mind the Gap: Those signs everywhere that say "Mind the Gap"…they're no joke! During my last trip to London, my nephew got stuck in the gap. It was pretty scary, so just be careful.
Stand on the Right: When riding on the escalators, stand on the right or walk on the left.
Travel During Off Peak: Try to avoid using public transportation between 7-9 am and 5-7 pm when trains and buses are crowded.
Try New Things: Don't be afraid to try different types of transportation like riverboats.
More London Resources
If you need more help planning your trip to London, check out these great resources!
7 Day London Itinerary
London With Kids
Paddington's Guide to London
Christmas in London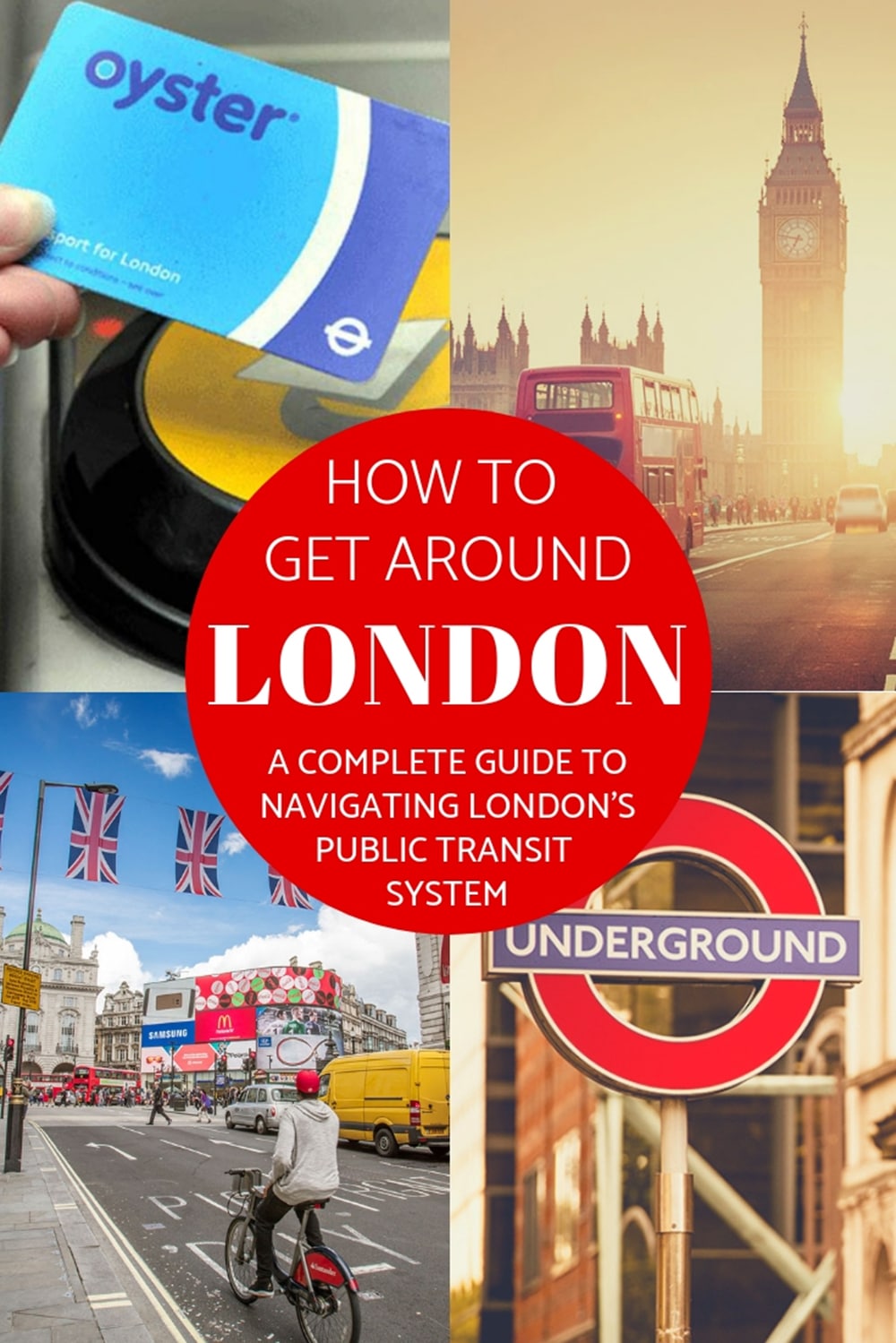 FAQ on How to Get Around London
What is the cheapest way to get around in London?
There are several ways to get around London on a budget. The best way to save money is by taking public transportation such as the Tube, buses and overground trains. You can also rent a bike or walking is always free. Getting an Oyster card and using contactless payment are great ways to pay for your journeys. Additionally, look out for special offers and discounts when travelling.
How much is Oyster card?
The current price is £7 and £9.80 for zones 1-4. You can always top up your Oyster card with cash whenever you need.
How much is a 3 day Oyster card?
It costs £20 for the Visitor Oyster card. This allows you to save £1.75 for a single journey with £5.25 as a daily cap. That's why many tourists and even locals opt for the Visitor Oyster card when travelling around London.
Is it easy to travel around London?
Yes, as the underground stop is usually within walking distance from most places, it makes traveling around London easy. Trains always arrive in 10 minutes and the system is well connected. Additionally, there are Uber rides that are perfect for sharing in groups and other taxi services.
I hope this guide to getting around London has been helpful. You are going to love this city, and now that you know how to navigate it you'll feel more comfortable and be able to enjoy seeing the sites without stressing about how to get between them. If you have any questions about how to get around London, please ask! You can message me on Facebook or Instagram. -Vanessa