Follow Paddington Bear from deepest, darkest Peru all the way to the busy streets of London to find his favorite spots in this Paddington's Guide to London.
Paddington's Guide to London
If you or your little one is a fan of the British classic, Paddington, either the books or the movie, you'll love Paddington's Guide to London. The marmalade-loving bear, Paddington, has wiggled his way right into our family's hearts, from his adorable books to the hilarious movies, and made our favorite city, London, even more special to us!
Check out my other guides to London
You can also read Michael Bond's Paddington's Guide to London book to take with you to London.
Since we'll be living in London for a few months this Spring, I wanted to write a guide that would follow Paddington Bear through his favorite city. Paddington's dream since he was a little bear cub was to visit London, but when he arrives, he finds it a bit different than he had imagined. Through his warm heart and curious nature, Paddington finds a deep love for his city by making meaningful connections with its inhabitants and finding a family of his own in the quirky, yet lovable Browns.
Paddington Bear gets to visit some of the most charming and iconic sites in London.
1. Paddington Station- Statue and Shop
Let's start where Paddington's adventures in London all began, Paddington Station. This iconic London terminus has been in operation since 1838, servicing the Great Western Railway and the world's first underground railroad, the London Underground beginning in 1863.
Paddington finds his way from "deepest, darkest Peru" to Paddington Station and is found by the Browns with this note attached to him: "Please look after this bear, thank you." You can find a statue of Paddington Bear under the clock on platform 1 as well as a shop where you can find all things Paddington Bear!
2. The Brown Residence 32 Windsor Gardens (Primrose Hill)
After the Browns find Paddington, they bring him home to 32  Windsor Gardens in Notting Hill. This fictional address doesn't exist in real life, but you can visit the affluent neighborhood of Primrose Hill where the movies were filmed, for a glimpse at the rows of beautiful houses.
If the weather permits, you can also climb up to the actual Primrose Hill and fly a kite, have a picnic or play at the children's playground. Here you will find one of the best views of central London!
3. Natural History Museum
Home to the first movie's villain who wants to try some taxidermy on innocent Paddington, The Natural History Museum of London is also home to 80 million artifacts, including specimens collected by Charles Darwin.  
4. The London Underground
Ride the Tube and Mind the Gap just like Paddington during his first days in London. But be careful not to get your snout stuck in the barriers or take a tumble down the escalator while carrying a dog! Read the Ultimate Guide to London to learn all about transportation in London and how to ride the Underground.
5. Gruber's Antiques on Portobello Road
You can't visit the fictional Gruber's Antiques, but you can visit Portobello Road and all its amazing and quirky shops. Go on a Friday, Saturday or Sunday to see the most street stalls open, selling antiques, vintage clothing, food from around the world and other miscellaneous treasures!
6. Take a Ride on the London Bus
You will see these iconic red double-decker buses all over London, and they are, in my opinion, the best way to get around London. It's best to ride INSIDE the bus, rather than cruising on the back from a skateboard like Paddington, but that could be fun too! Read The Ultimate Guide to London for directions on how to ride the bus like a pro!
7. Buckingham Palace
Pay a visit to the queen or at least the Queen's Guard at Buckingham Palace, where Paddington seeks shelter under the sentry box at the front gates. Spoiler alert: there are no sentry boxes in reality, but you can still watch the changing of the guard!
8. Tower Bridge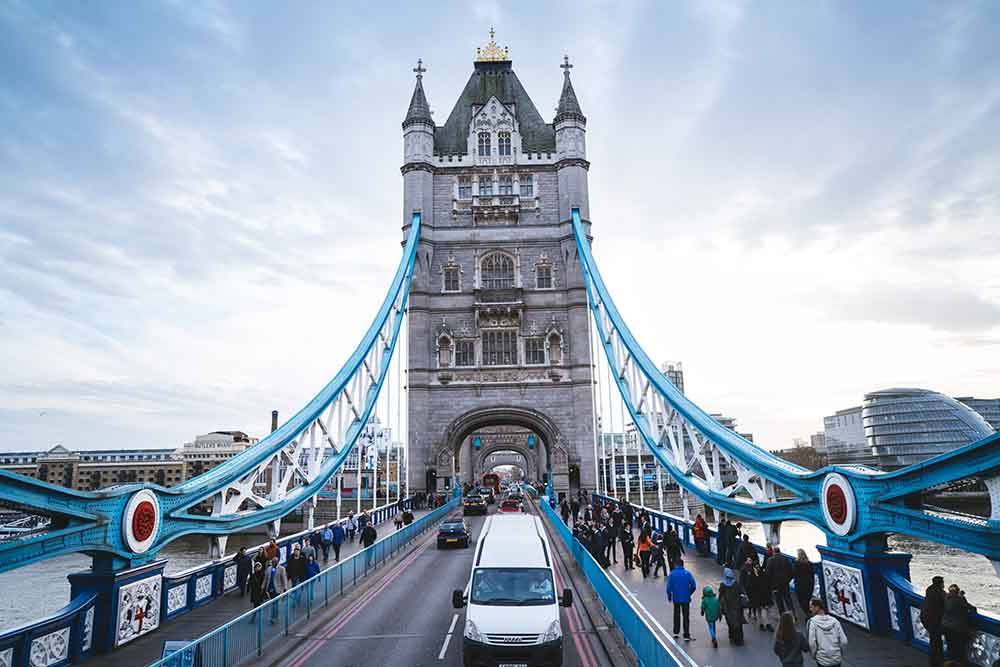 Found in Paddington's London Popup Book from Paddington 2, Tower Bridge is the first stop on villian Phoenix Buchanan's treasure hunt. Tower Bridge, not to be confused with its unassuming neighbor, London Bridge, is the iconic suspension bridge just a stone's throw from the Tower of London. While seeing the bridge from the ground is impressive, don't skip going to the top and walking across the glass floor and checking out the museum inside.
9. Piccadilly Circus
The next stop on Paddington's London Popup Book is Piccadilly Circus, a circular junction that joins several major streets in the West End and is known as the Times Square of London. Piccadilly Circus is within walking distance of many London theaters and famous shopping and restaurants.
10. Big Ben/Houses of Parliament
Next stop, Big Ben and the Houses of Parliament. "Big Ben" is actually the name of the bell inside the tower and the tower is called the Elizabeth Tower. But everyone lovingly refers to this part of the houses of parliament as "Big Ben" and it's one of those iconic pieces of architecture that does not disappoint in real life. The best views are found on Westminster Bridge. Watch out for selfie sticks!
11. St. Paul's Cathedral
Next stop on the treasure hunt is St. Paul's Cathedral, where Phoenix Buchanan (Hugh Grant), dresses up as a nun to sneak into the cathedral. Fear not, you won't have to dress up like a nun to gain entrance to St. Paul's.  
12. Science Museum
Jonathan Brown's favorite museum in London, the London Science Museum has been around since 1857 and is free to the public. Check out the Victoria and Albert Museum next door as well.
13. Little Venice and Canals of London
Where Paddington chased the book thief on "dog-back," Little Venice is one of London's best-kept secrets! It's a great place to escape to when the hustle and bustle of the city become too much. The canal was started in 1812 and crosses through Little Venice, Regents Park, London Zoo and Camden. If you're lucky you'll catch a narrow boat going through a lock. It is truly fascinating. Be sure to find the Puppet Theater Barge, which has been putting on unique performances for children for over 35 years. Learn more about the barge here.
14. The Serpentine and Hyde Park
The location of Mrs. Brown's swim club the Serpentine, where she is training to swim to France, is a 40-acre lake in Hyde Park. Be sure to walk over the Serpentine Bridge, visit the children's pool, or rent a pedal or rowboat. While in Hyde Park, visit Kensington Palace and the children's room inside. Read more about visiting Kensington Palace with kids in the Ultimate Guide to London.  
15. Where to Stay in London? Brown's Hotel
Paddington already has a home in London with the Brown family, but if you need a place to stay Brown's Hotel might fit the bill for your stay. Founded 175 years ago by Lord Byron's butler, Brown's hotel is where Agatha Christie was once a guest, Rudyard Kipling completed The Jungle Book and Alexander Graham Bell made the first ever phone call in Europe. That's not all that makes it special though.  In the family suites, you will find sheets embroidered with princesses or pirates, and a play tent, toys, and cookies with your child's name waiting in the room. There is a special children's library and kids can also expect cookies and milk at bedtime!  Children 10 and under eat free at Browns Hotel. 
16. Marmalade Ice Cream
As you know, Marmalade is Paddington's snack of choice! Stop by The Nest Ice Cream Van or Ruby Violet for a Marmalade ice cream!
I hope you enjoy your Paddington tour through London! Be sure to pack an extra marmalade sandwich for emergencies and, like aunt Lucy says, always use manners!