Trips to Ireland and Scotland are some of my favorites to help plan. Both countries are some of my favorites and they can be easily combined. This Scotland and Ireland itinerary will help you plan the best trip!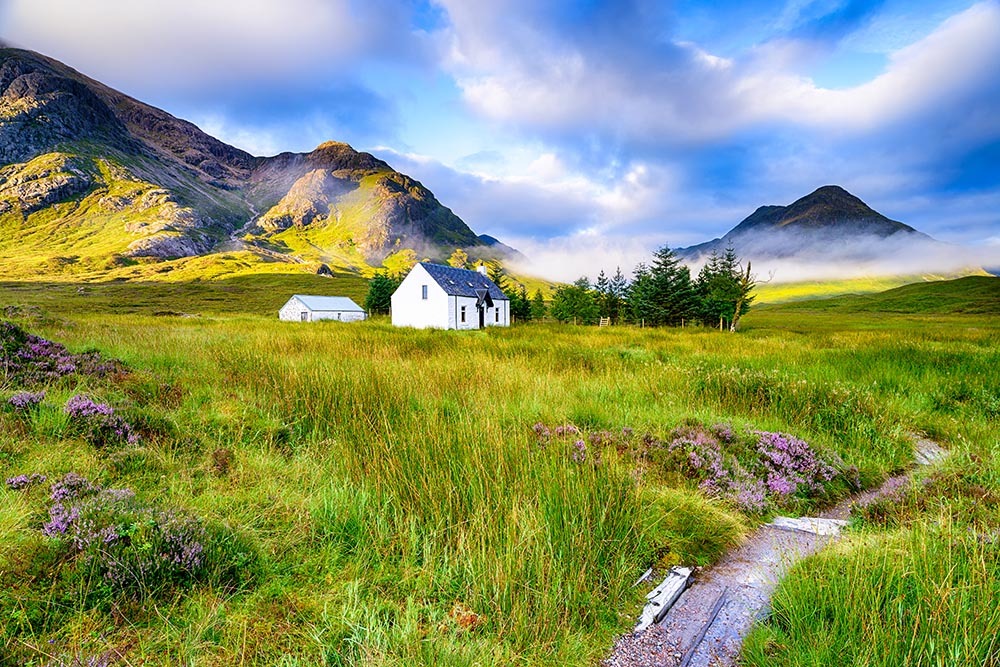 The Perfect Scotland and Ireland Itinerary
This post contains affiliate links.
Should I go to Scotland or Ireland?
I often get asked by my readers which trip they should take, Ireland or Scotland? While both destinations are amazing and beautiful with so much to offer, and I always try to help them make the right choice for their needs, I don't think this has to be an either-or choice. If you're really struggling with the Ireland vs Scotland debate, why not choose both? When you use this itinerary to travel to Ireland and Scotland you're getting the best of both worlds within two weeks.
Best Time to Visit Ireland and Scotland
The best time to visit Ireland and Scotland is usually off-peak in shoulder season between April-May and September-October. If you go to Ireland and Scotland during these times you'll avoid the crowds, but still be able to enjoy nicer weather than in the winter.
Getting Between Scotland and Ireland
Trips to Ireland and Scotland offer the best of both worlds and can be done affordably too. Getting from Ireland to Scotland is easy and affordable. There are many companies that offer Ireland and Scotland tours that are great, or you can choose to take the trip on your own.
Fly between Scotland and Ireland
There are plenty of cheap flights from Ireland to Scotland and from Scotland to Ireland. You can fly with Ryanair for as little as $21 USD! Honestly, that's cheaper than the cost of a nice dinner! So if you really are having a hard time deciding between Ireland and Scotland, go ahead and do both!
Learn how to find cheap flights to and from Ireland and Scotland by reading my guide to flying for cheap or nearly free here.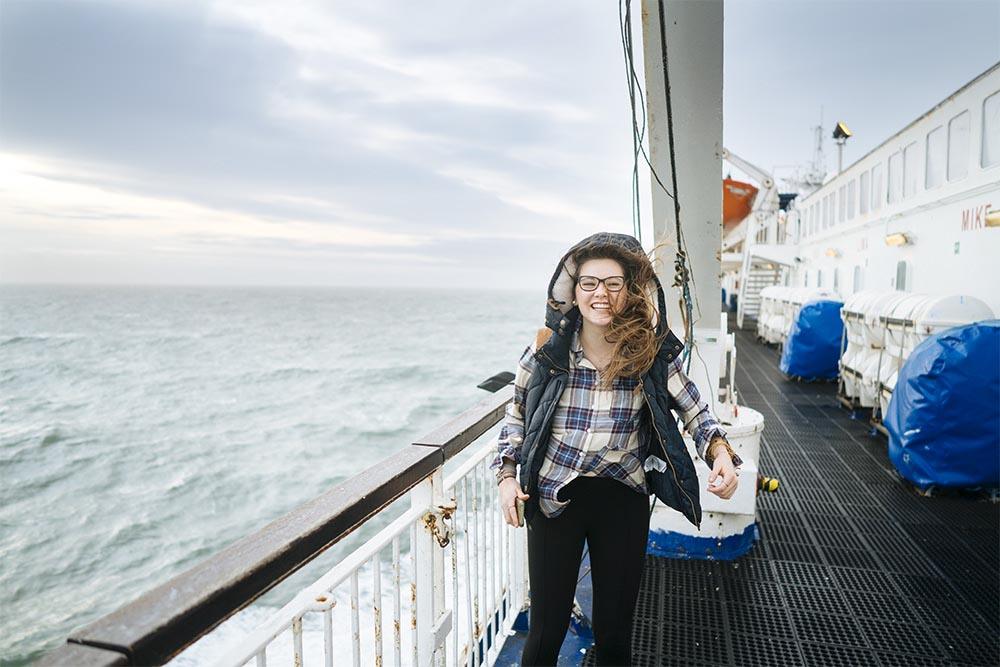 Ferry from Ireland to Scotland
If you have your own car or are using this itinerary as part of a larger European trip, you might also consider taking the ferry from Ireland to Scotland or vice versa. This would also work if you're planning to fly in and out of the same airport. However, if you are flying into Scotland or Ireland and plan to fly out of a different airport, I would not recommend taking the ferry. Especially since flights between Scotland and Ireland are so cheap! If you do decide to go for a rental car in one country and leave it in the other, it will cost you at least $1500 USD ($500 for a cross border fee and $500 for a one-way rental fee). And then you have the cost of the ferry on top of that which is a few hundred dollars. While sailing across the North Chanel is truly beautiful, It's not worth the expense if you will be renting a car.
Ireland and Scotland Tours
Visiting Ireland and Scotland can seem a little daunting on your own and tours can be a great way to go if you're feeling a little nervous about it. These are some great Ireland and Scotland tours that will help you get a great overview of these two destinations:
Ireland Scotland Map
This interactive map should help you plan your Ireland and Scotland itinerary. You can click on each destination to find more information.
Scotland and Ireland Itinerary
I outline a great Ireland and Scotland itinerary below, but if you want to skip all the planning and simply use this downloadable, printable, detailed itinerary, you can find it here.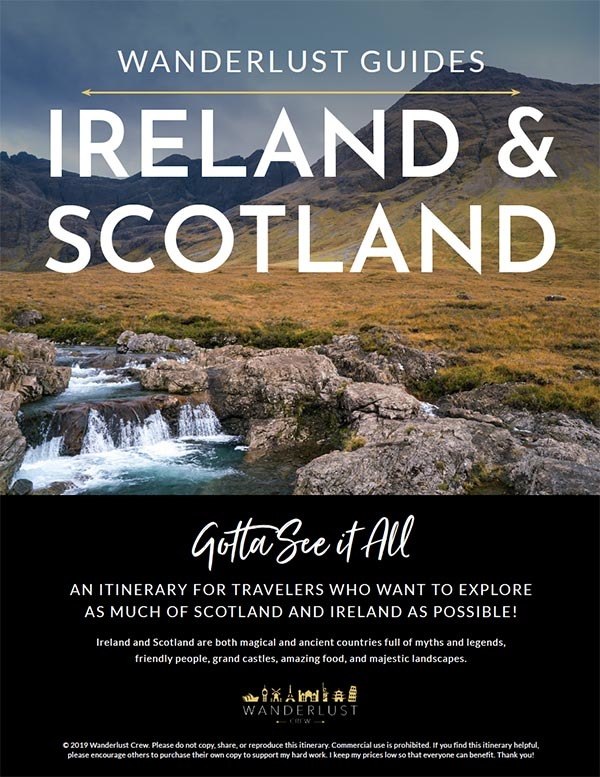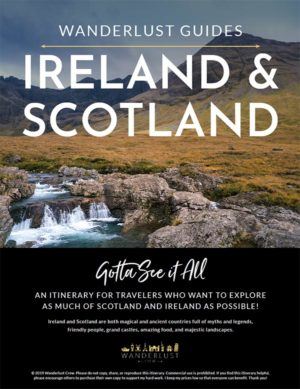 Get the Full Itinerary I'm giving you a detailed day-by-day Ireland and Scotland itinerary. You can do this itinerary in any order you wish, but this seemed the most logical to me. This itinerary begins in Ireland and ends in Scotland, where you can choose to fly home from, or simply fly back to Ireland for a round trip ticket. The choice is yours. I recommend flying in and out of wherever you can  get the best deals.  I generally find Ireland cheaper to fly to from the United States but have occasionally found great deals to Scotland as well.
Ireland
Ireland could literally take you years to explore! So if you're planning a trip to Ireland, I'm giving you just a week in this itinerary of things to do in Ireland, but I think it will show you some of the best places to visit in Ireland in a short amount of time. If you're interested in a longer, more detailed trip to Ireland, you can check out my full  Ireland Itinerary. 
Day 1: Arrive in Dublin
For the first day of your Scotland and Ireland vacation, arrive in Dublin airport and adjust to the time change. Dublin is Ireland's capital city, so you're sure to visit places while you're here. Keep yourself awake until a reasonable hour (between 8 pm and 11 pm) and wake up early the next morning.

Day 2: Explore Dublin
Now that you're hopefully feeling well-rested and not too jet-lagged, it's time to explore the capital of the Republic of Ireland. Don't miss these stops in Dublin:
St. Patrick's Cathedral
Dublin Castle
Christ Church Cathedral
Trinity College Library
St. Stephens Green
Lunch at Avoca Wool Shop & Cafe
Little Museum of London
Take a Bus Tour of Dublin
Howth Cliffs
Phoenix Park
Day 3 & 4: Take an overnight Trip to the West of Ireland
Take an entire day to explore the west of Ireland. If you're self-driving it will take about 3.5 hours to get to the west coast known as the Wild Atlantic Way. If you're feeling nervous about driving in Ireland there are several great day trips from Galway that will take you to the west for this 2-day trip.  This amazing tour  explores the Cliffs of Moher, the Burren, and Killarney National Park, with an overnight stay in Dingle.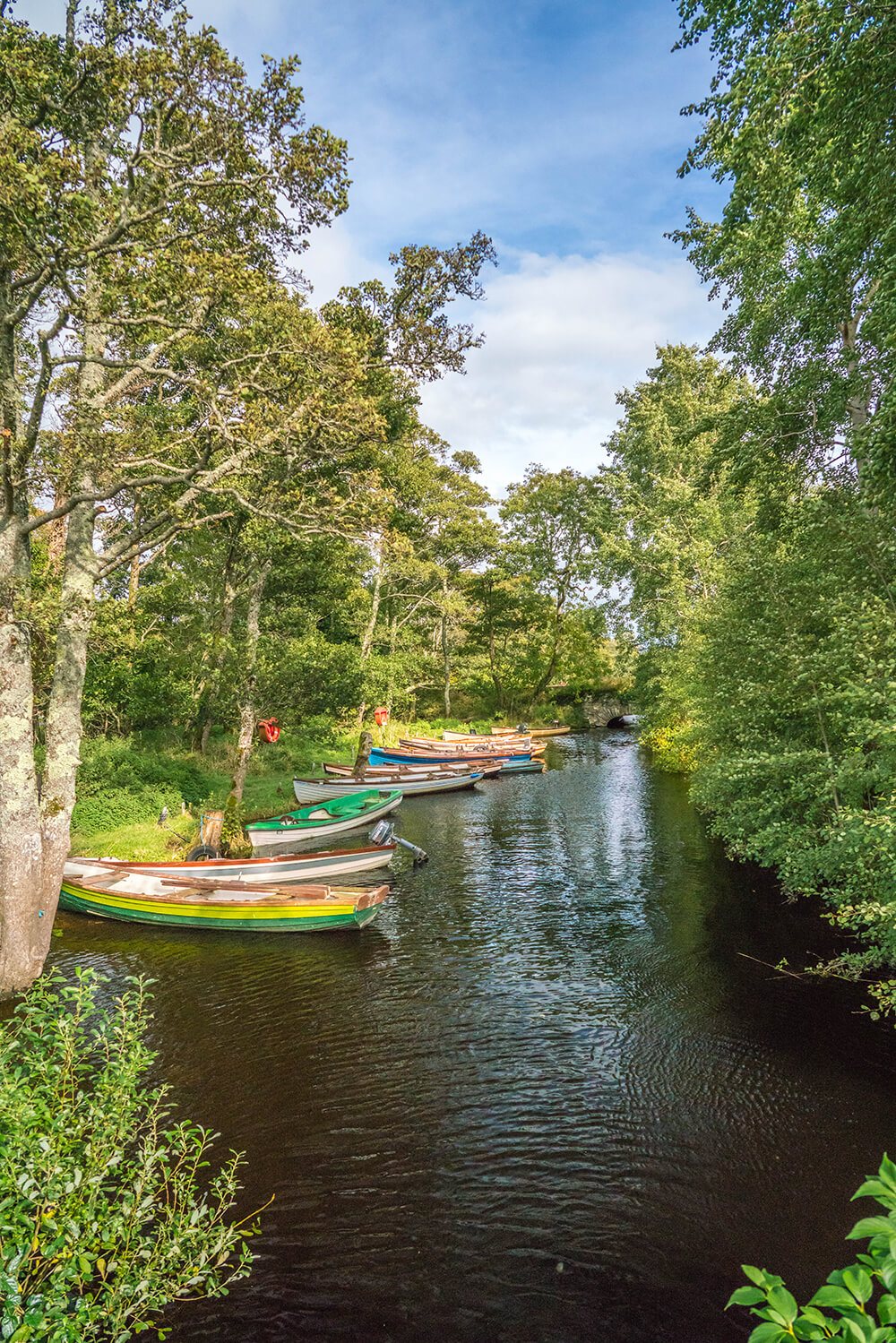 Don't miss these stops on your trip to the West:
Killarney National Park (learn more about Killarney here.)
Muckross House & Traditional Farm
Muckross Abbey
Killarney Town
Cliffs of Moher
The Burren
Galway
Blarney Castle
Day 5: Wicklow Mountains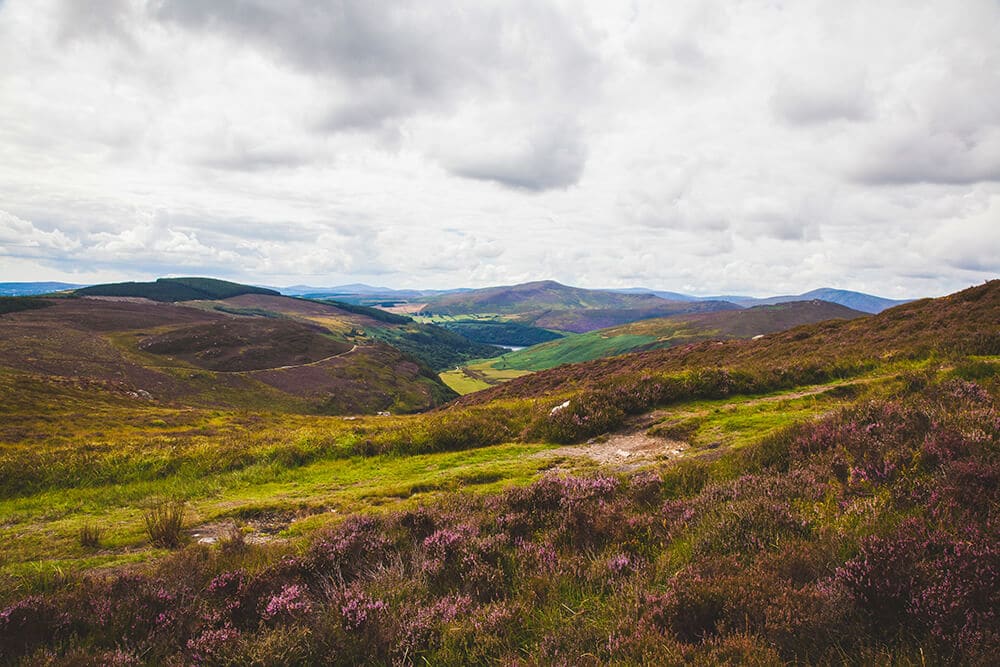 Spend a day in the beautiful County Wicklow. Be sure not to miss these:
Powerscourt Estate: Dating back over 200 years, these are some of the most beautiful gardens in all of Ireland
Glendalough: Beautiful lakes surrounded by stunning mountains!
Silver Strand Beach: A beautiful and secluded beach
Wicklow Gaol: This old jail is a great place to learn some interesting and sad Irish history.
Wicklow Town: Adorable Irish town
Day 6 & 7: Northern Ireland and back to Dublin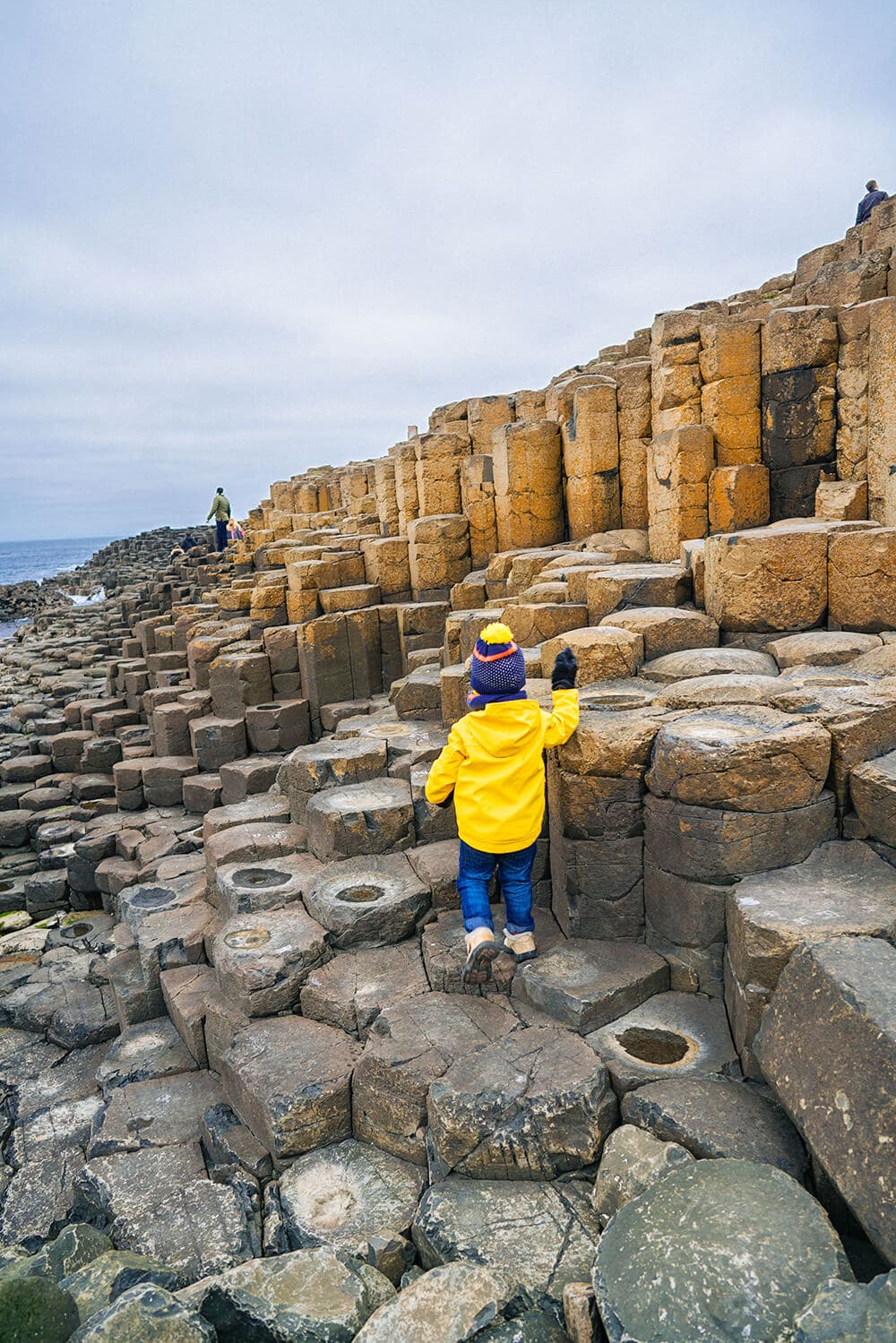 Spend two days in beautiful Northern Ireland! You can take the three-hour drive yourself or take this great two-day tour that will take you to all the best sites. Be sure not to miss these:
Carrick-a-Rede Rope Bridge
Giant's Causeway
Dark Hedges
Belfast
In between your exploration, make sure you also visit the city center and get to experience local dishes and listen to traditional Irish music while you're in town!
Scotland
Now that you've enjoyed a full week in Ireland, it's time to hop over the Irish Channel and visit the beautiful and rugged Scotland! Most flights will take you into Edinburgh where you can either rent a car or spend a few days in the city then do some tours in the highlands. If you want to experience a great overview of the country, you can do my full Scotland Itinerary.
Days 1-2: Explore Edinburgh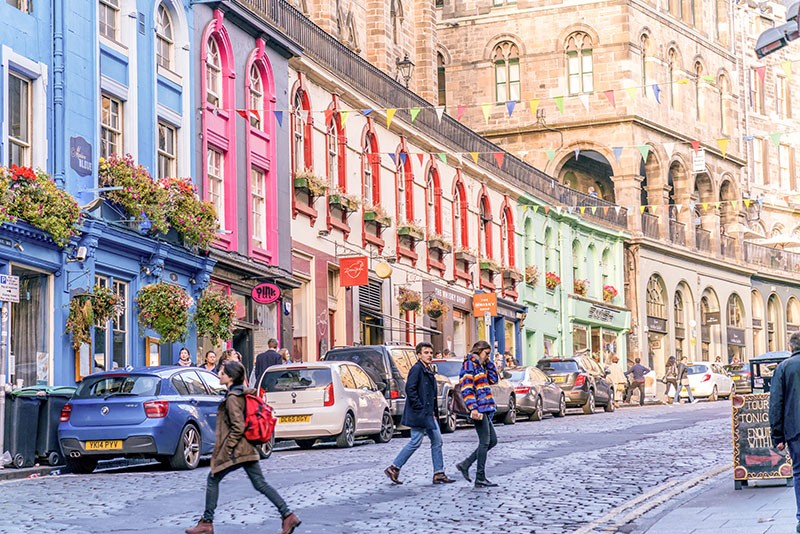 I normally like to advise people to get out of the big cities and explore the countryside, but Edinburgh has so much to offer that I think it's worth spending at least 2 days here. You can learn about what to do in Edinburgh in my detailed guide here, but be sure not to miss these top spots:
Edinburgh Castle
Holyrood Palace
The Royal Mile
St. Gile's Cathedral
Scott Monument
Grass Market
Princes Street Gardens
Take a Harry Potter Walking Tour
Visit the Elephant House Cafe where JK Rowling ate
Victoria Street
Hike Arthur's Seat
Calton Hill
Cairngorms National Park
If you've ever dreamed of staying in a castle, be sure to check out these awesome castle hotels in Scotland.
Day 3: Scottish Highlands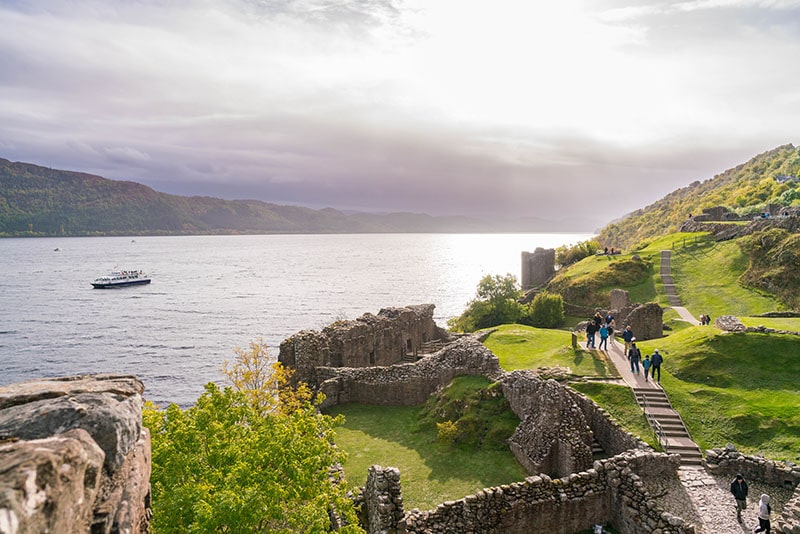 Spend day 4 exploring the highlands of Scotland. Visit Inverness and try and find the Loch Ness Monster! You can drive here or take this easy day tour from Edinburgh. Be sure to read my guide to the highlands and don't miss these sites:
Inverness
Loch Ness
Urquhart Castle
Glencoe
Fort William
Days 4-6: Isle of Skye
You can't visit Scotland without taking a trip to visit the breathtakingly beautiful Isle of Skye. It's rugged beauty and history combined with its rugged island charm is sure to win your heart! Driving to the Isle of Skye can be a little scary if you don't know what to expect. The roads are one lane so you must share the road with oncoming traffic. If you're not comfortable driving in those conditions, it might be a good idea to take a tour to the Isle of Skye.
Rabbie's does an amazing 3-day tour that comes with your own comedic kilted tour guide to take you through the Isle of Skye while learning all about its interesting past and natural wonders. You can find the tour here.
Be sure to read my complete guide to the Isle of Skye before going.
Whether you decide to drive to the Isle of Skye on your own or take a tour, don't miss these sites:
Kilt Rock
The Quiraing
Old Man of Storr
Neist Point
Dunvegan Castle
Portree
Fairy Pools
Fairy Glen
Eilean Donan Castle
Museum of Island Life & Flora MacDonald's Grave
Day 7: Depart from Edinburgh
On the last day of your Scotland and Ireland vacation, travel back to Edinburgh and either fly home from there or fly back to Dublin to fly home.
I hope this itinerary will help plan many trips to Ireland and Scotland. They are both such amazing destinations and I know you'll love them! If you need help planning, please feel free to reach out Facebook or Instagram, or send me an email me [email protected]
Pin this for later