Visiting the Emerald Isle and looking for the best things to see and do? Discover unforgettable and unique things to do in Ireland!
If you're planning to visit the Emerald Isle, you might be interested in Irish culture or the island's rich history. Perhaps you want to walk the mind-blowing landscape and see the magnificent natural beauty of Ireland. You can do all of this and more with the best things to do in Ireland!
We love Ireland and had the privilege of living there several years ago, so it holds a special place in my heart. We loved exploring the island. There are so many things to do in Ireland and you can't ever do it all, but I wanted to share my favorites, both iconic and unique!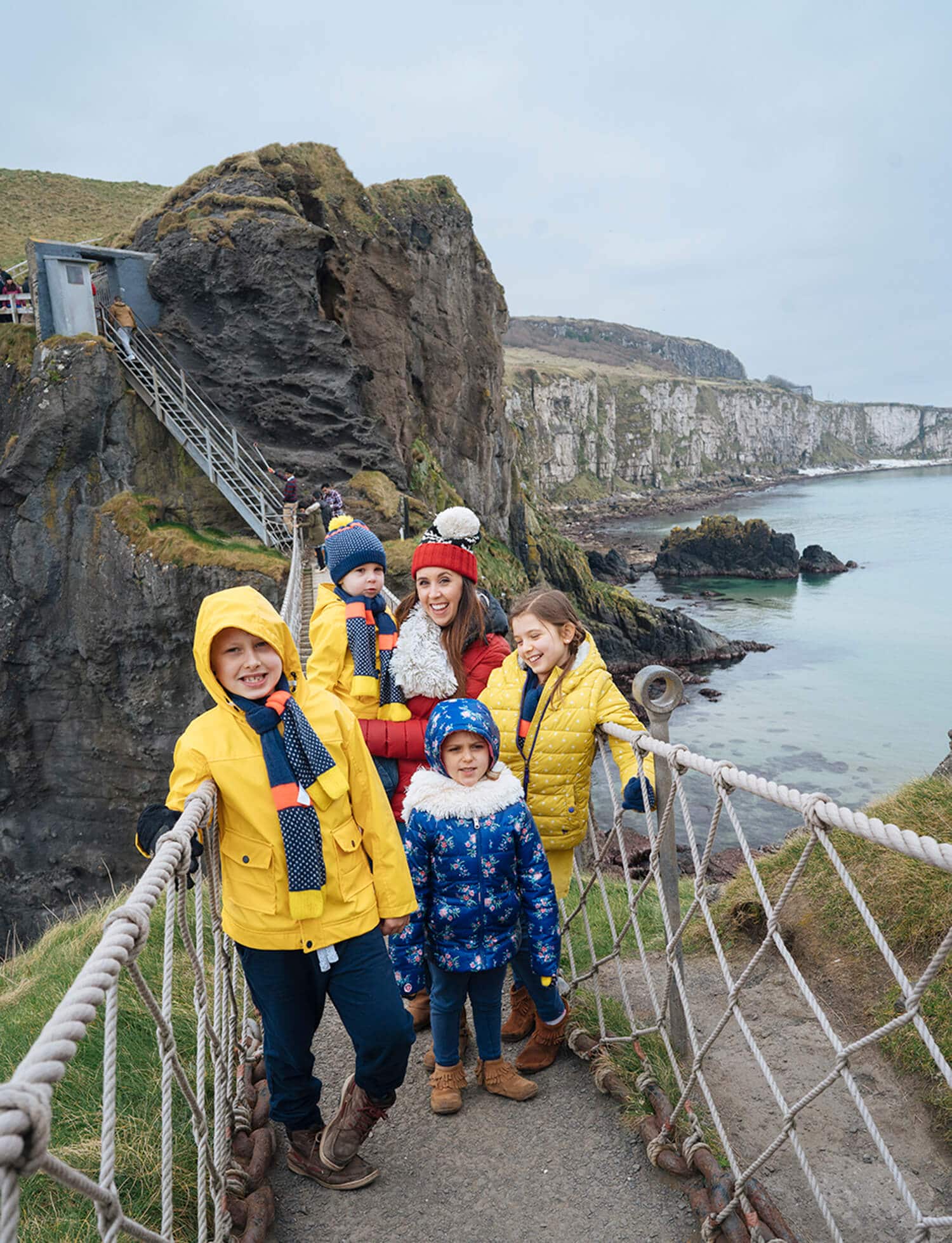 You'll find historic castles, ancient ruins, and modern metropolitans all a short drive from one another. In Ireland, you can attend a soccer game in Dublin and be photographing glacial lakes the next day! There are sheer coastal cliffs and rolling grasslands dotted with whispers of forgotten structures.
It can be overwhelming to decide what to do on your Ireland vacation, but I've got you covered with my list of 20 essential things to do in Ireland.
Don't have time to read a bunch of reviews and blog posts? Here are our top picks for visiting Ireland:
Get an Easy Ireland Itinerary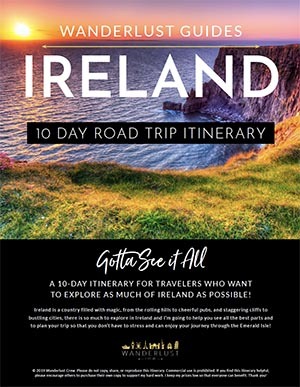 Our favorite hotels in Ireland
Our favorite tours in Ireland
Renting a Car in Ireland?
If you want to see authentic Ireland, I recommend you drive yourself. If you're renting a car, there are two companies we prefer to use: Rental Cars and Expedia Cars. We have had no issues with them and have been able to find the best prices available.
Check Out 20 Top Things to Do in Ireland
There isn't one place to find the best things to do in Ireland, with ancient castles and major tourist attractions everywhere! You can stay in luxury hotels in one of the major cities, or you can enjoy a small inn or B&B in a small town in the countryside. Both make great bases for exploring all the top sites in Ireland and soaking up Irish culture.
The Republic of Ireland takes up most of the island of Ireland in the Atlantic Ocean. England and Wales are located off its eastern coast, with Northern Ireland being part of the UK. There are things to see in Ireland across both regions, and you can move across the border freely. While most of the things to do on my list are in the Republic of Ireland, I've included a handful of the Northern Ireland attractions that can't be missed!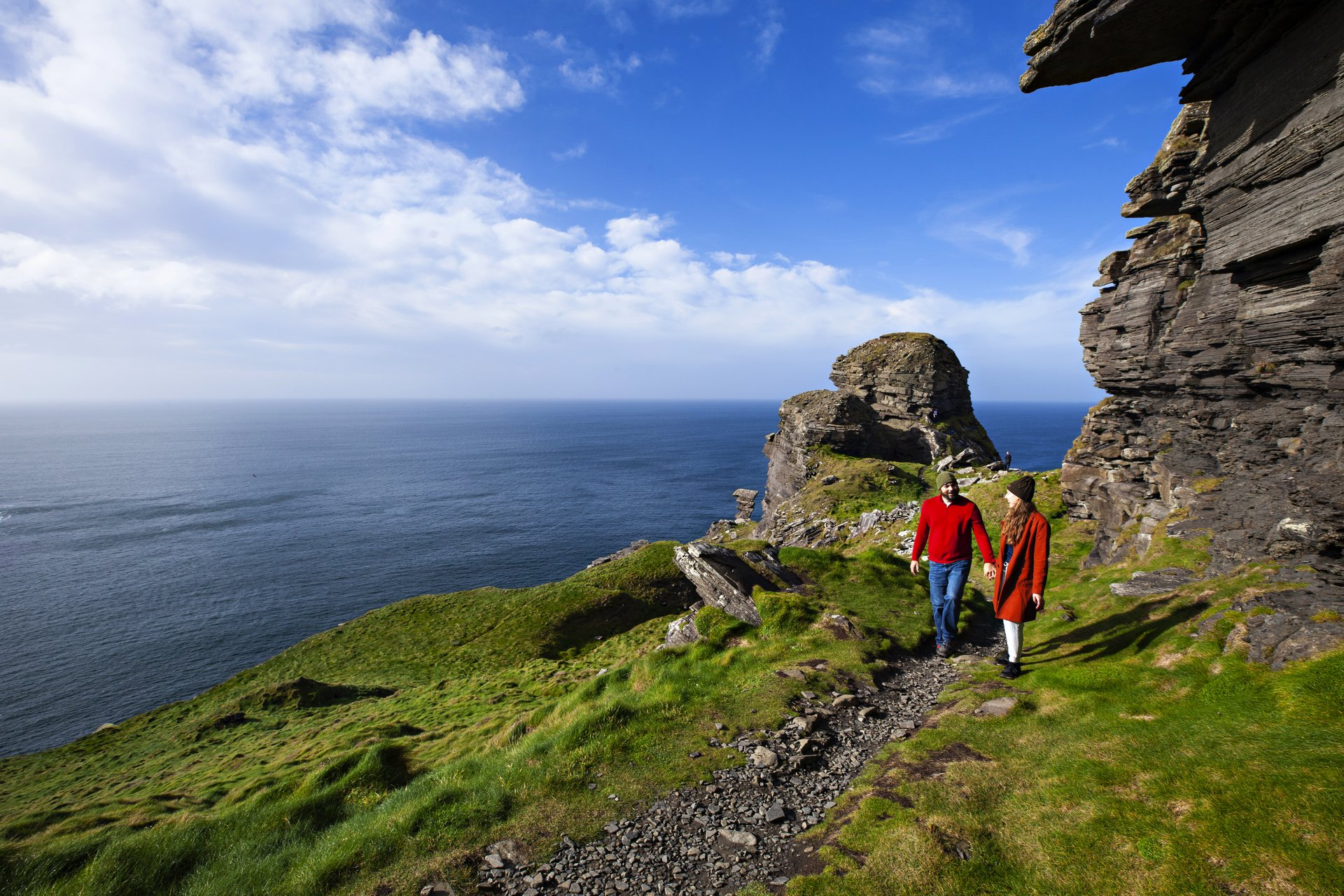 Book a Photoshoot
We always love to book a photoshoot when we're traveling. As a mom, it's tough to get in the photos since I'm always behind the camera. We love using Flytographer to capture our memories. You can get $25 off your shoot by booking with this link or using code WANDERLUST.
1. See the Cliffs of Moher
You'll find the Cliffs of Moher as part of the Burren and Cliffs of Moher UNESCO Global Geopark at the center of County Clare on the west coast. This is one of the best things to do in Ireland, and it's no surprise! The cliffs run 8km or 5 miles along the coast with heights from 200 to over 700 feet at some spots.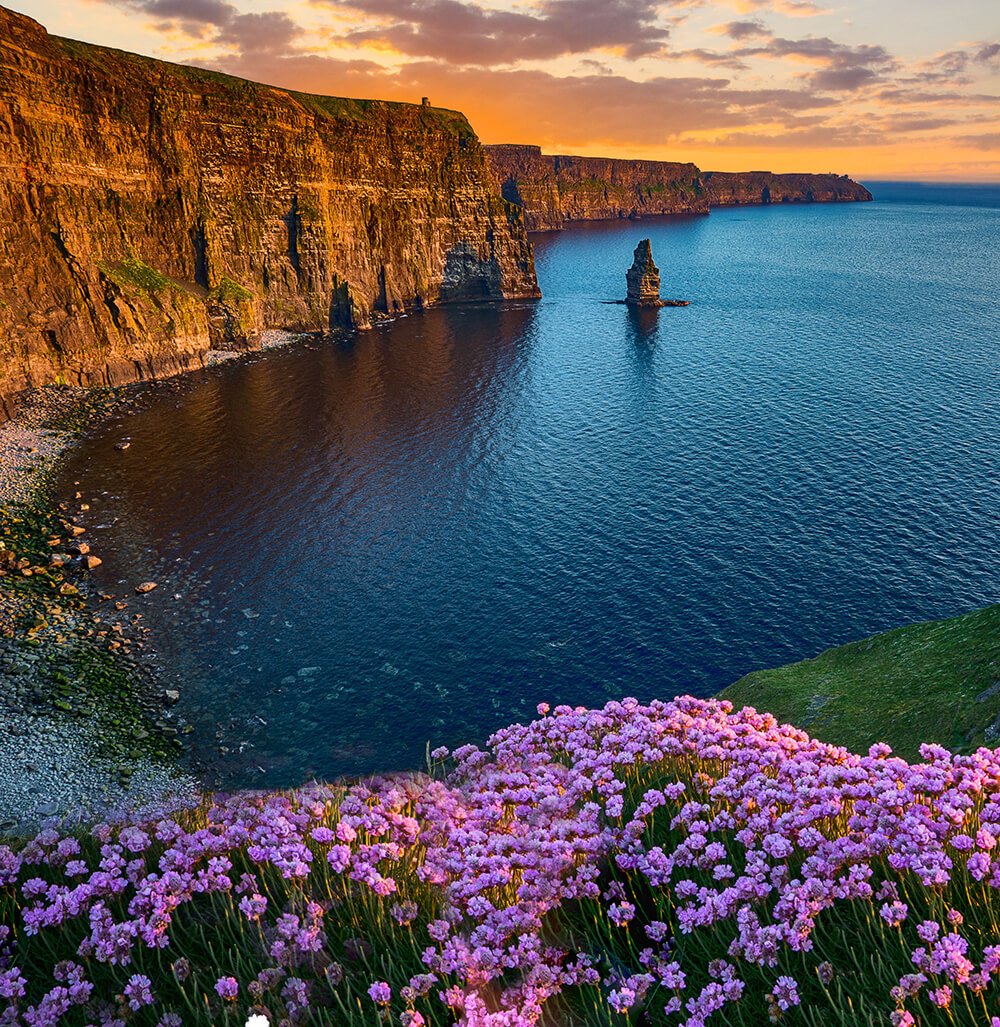 The most popular attraction in Ireland, the Cliffs of Moher host over 1 million guests every year. Fans of Harry Potter might recognize this site as a filming location from Harry Potter & the Half-Blood Prince!
You can take tours from the visitors' center to the main viewpoints, including the Burren and O'Brien's Tower. Or you can explore the magnificent cliffs along the coastal walk that runs 20km through the park.
Order a picnic box from the visitors' center and have a picnic with stunning views or find out about self-guided audio tours. And nearby in Doolin, you can take a ferry to the Aran Islands or check out the Doolin Caves.
2. See the Poulnabrone Dolmen
Also at the Burren and Cliffs of Moher UNESCO Global Geopark are a variety of geological sites that tell the earliest Irish history. This includes Poulnabrone, the oldest ancient ruins in Ireland.
This megalith tomb sits on the breathtaking Burren limestone plateau, which is worth a visit in itself! Poulnabrone dates back almost 6,000 years and during that time it was used as a tomb for an impressive 600 years. The structural limestone slabs you see were once supported by smaller stones mounded over them.
Exploring the plateau is one of those unforgettable and unique things to do in Ireland. You'll work your way along limestone structures called clints that were formed through water erosion during the last ice age.
You can pick up itineraries of the geological sites at the geopark visitors' center. And make sure to check out other ruins from different periods spread across the Burren. There's an old church, medieval ring forts, and wedge tombs that are almost 1000 years younger than the Poulnabrone Dolmen!
3. Go Hiking in Ireland
For avid hikers visiting Ireland, you will not be disappointed. The island is a nature lover's paradise. You can go on day hikes and overnight trails through a national park. Go on coastal walks or explore historical sites on walks through the rolling Ireland countryside.
Wicklow Mountains National Park in County Wicklow is a great place to start, with a variety of natural walks and mountain trails for every skill level. Take a hill walk to enjoy the waterfalls, lakes, and milling history of the region. Or you can camp in the park during an overnight hike.
Burren National Park in Clare County has 7 different trails and a green road. These trails are all graded moderate to very difficult and range from 30-minute paved walks to 3-hour hikes.
And for a true test of endurance, head to the Slieve League Cliffs in County Donegal. These coastal mountain cliffs are nearly triple the height of the Cliffs of Moher! They're harder to get to, which is probably why they're not as popular with tourists. But a challenging hike to the summit will reward you with unbeatable views.
4. Explore the Mourne Mountains
The Mourne Mountains of County Down in Northern Ireland is another place to go for even more outdoor activities with magnificent scenery. The range is made up of 15 granite peaks across 1300 acres in the southeastern region of Northern Ireland.
The entire area is dappled with lakes, streams, and reservoirs, as well as historical sites and walking trails. When you see the vast landscape, you'll understand why it inspired C. S. Lewis's The Chronicles of Narnia. The Mourne Mountains have also been filming locations for shows like Game of Thrones and Vikings!
Some popular activities include hiking, mountain biking, and tours of the ruins and dams, but that's just the beginning! You'll find all kinds of tourist attractions across the Mourne Mountain range, from horseback riding, fishing, and camping, to visiting local villages, farms, and county parks.
5. Marvel at Giant's Causeway in Northern Ireland
A must-see in Ireland is the natural phenomenon that is The Giant's Causeway. You'll find this geological site along the Causeway Coastal Route on the northernmost shores of Northern Ireland. The fascinating basalt columns were designated a UNESCO World Heritage Site in 1986 and you can begin your visit at the visitors center a short walk away.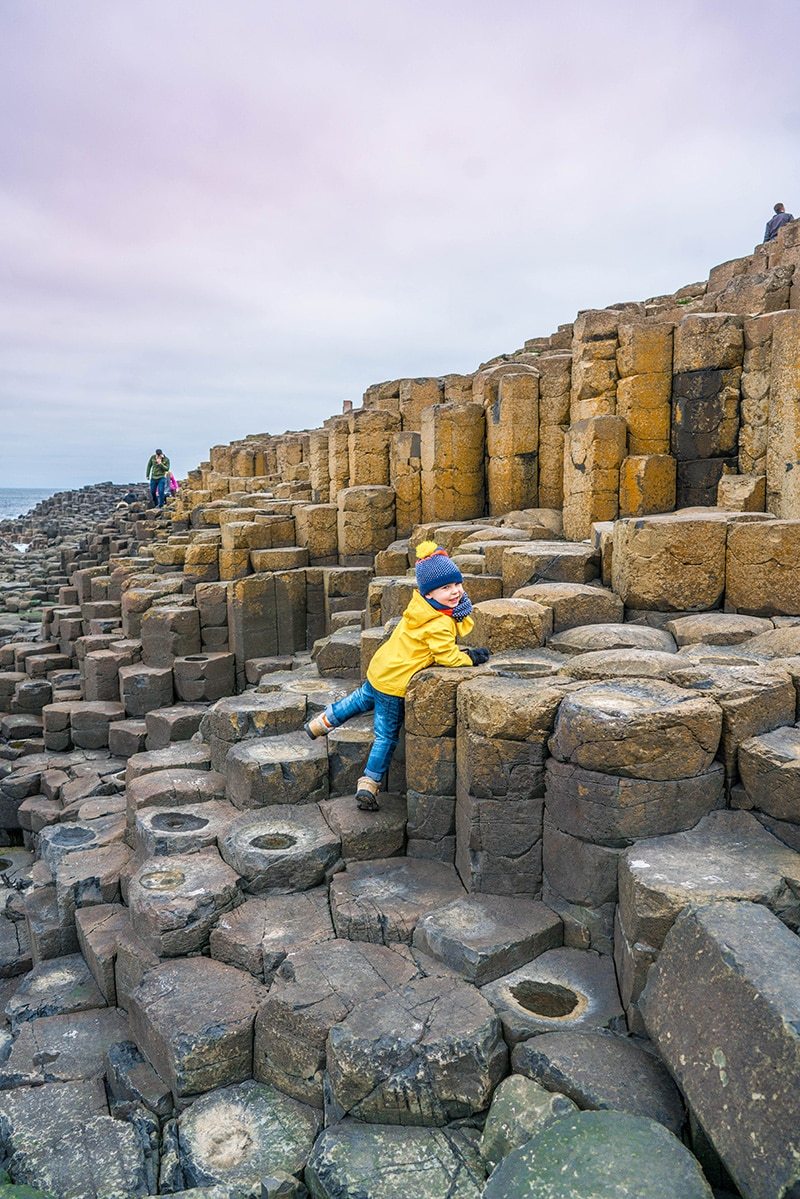 The Giant's Causeway has its roots in Irish mythology. The story goes that an Irish giant named Finn McCool built a causeway to face his enemy, a Scottish giant named Benandonner. After beating Benandonner in a fight, McCool sent him back to Scotland and destroyed the causeway, leaving the formations you see there today!
From the visitor's center, you'll take a scenic walk along the coast to the site. It feels larger than life, and it's not hard to see a giant creating it! If you look, you can even find a rock that looks like a boot. They say Benandonner left it behind when he ran back to Scotland.
6. Explore Dingle Peninsula
Heading all the way south, the Dingle Peninsula of County Kerry offers many of the top things to see in Ireland. The 5-mile-long peninsula juts into the Atlantic Ocean with stunning views and all kinds of things to do.
You could rent a car and just go between the towns and villages for an amazing time! The town of Dingle should be at the top of your list with its collection of great eateries, pubs, and shops. A lot of dolphin tours launch from the marina here, too.
You can hike Connor Pass, mountain bike between villages, or rock climb the cliffs on the coast. The Eask Tower and Rahinnane Castle are must-sees for those interested in Celtic ruins. Or for museums, you can visit the Celtic Prehistoric Museum or The Famine Cottages.
This is a great place to look for tiny B&Bs, cottage rentals, and inns to stay in. And along the coast, you'll find several beautiful sandy beaches. The most scenic ones are Coumeenoole Beach and Clogher Strand.
7. Take a Ferry to Skellig Michael
From Portmagee on the west coast, you can take a ferry to one of the more touristy Ireland attractions. But you won't regret this trip! Skellig Michael is the larger of the two Skellig Islands. It's a striking splinter of black rock and greenery among the water and fog of the Atlantic.
Some visitors come for the walking paths and stunning scenery. Others come to see the mystical ruins of a medieval monastery. This is the best place to see puffins and other sea birds, too! And boat tours and guided walking tours are offered seasonally.
Also, bring your Star Wars aficionados here if you're for cool things to do in Ireland! This is where scenes from 2 of the most recent movies were filmed, reintroducing fans to Luke Skywalker.
8. Ride the River Shannon
For a unique way to see Ireland, consider a boat cruise along the River Shannon. This is the longest river in Ireland and runs through the middle of the island, from the Atlantic Ocean at Limerick to the Lower Lough Erne of Northern Ireland.
How you travel the waterway is really up to you! If you want to rent boats, there are quality cabin cruisers available many places between Portumna and Carrick-on-the-Shannon. Just dock at towns along the way and explore. From end to end you'll find the most popular Ireland tourist attractions, from castles and churches to lovely natural areas.
You can find great canoe trips and rentals everywhere from Limerick up to Drummanmore. Or if you prefer to let others take the helm, book a multi-day boat cruise from Carrick-on-Shannon. For day cruises, check down around Limerick.
9. Drive the Ring of Kerry
Back on land, you can have an Ireland adventure by renting a car and going on a road trip! The Ring of Kerry is popular with drivers and avid cyclists alike. It's a loop route around the Inveragh Peninsula that's easy to navigate and covers 179km or 111 miles.
You could easily drive it in 1 day, but if you choose to add this activity to your list of best things to do in Ireland, I suggest taking at least 2! That's because you'll want to stop at a lot of places along the way.
The ease of this route and all the popular sites make driving the Ring of Kerry one of the best things to do in Ireland. Most people start in Killarney. While you're there, make sure to stop at Ross Castle and check out the Torc Waterfall in Killarney National Park.
Pull over and take in the sites at Rossbeigh Strand Beach or enjoy the colorful shops of the village of Kenmare. And if you're interested in well-preserved medieval structures, visit the Leacanabuaile Ring Fort. Nearby there's also the Cahergall Stone Fort that dates back to 600 AD!
You can also find top-notch tours along the Ring of Kerry. This 7-hour private tour takes your crew to the best sites along the route, including on Valentia Island.
10. Tour the Wild Atlantic Way
If you have the time and want to truly road trip across Ireland, the best way is along the Wild Atlantic Way. Considered one of the most scenic drives in the world, it follows 2500km or 1553 miles. It runs from the Inishowen Peninsula of County Donegal in the north all the way down and around to Kinsale in County Cork.
This is a great way to take in some of the biggest tourist attractions in Ireland as well as just enjoy the serene and striking countryside of Ireland. I suggest taking at least 7 days to do this route with stops along the way. But to truly get some good sightseeing along the Atlantic Coast Drive, aim for 2 weeks!
Some of the best stops along the Wild Atlantic Way include the over 150 viewpoints along the verdant and rocky coast. There are cliffsides, beaches, and islands. You can find castles, forts, monasteries, and prehistoric ruins. Climb lighthouses, tour historic homes, and explore fishing villages!
The Wild Atlantic Way is the perfect way to see the east coast of Ireland. And if you wanted to see Northern Ireland, you could take another road trip on the Causeway Coastal Route Drive along the north coast.
11. Take in the History of Dublin
So many of the best things to do in Ireland are right in Dublin, the Green Isle's capital city. If you can swing the high price tag, I totally recommend staying in Temple Bar or the Medieval Quarter. That way, you're close to all the big tourist attractions, like Trinity College, Dublin Castle, St Patrick's Cathedral, and the River Liffey.
This central downtown region is ideal if you're interested in Irish history. You can visit a variety of museums or hunt down remnants of the old city walls that were built in the 11th century. It's also where you'll find Francis Street, Dublin's epicenter for antique shopping. And Temple Bar is a pleasure to explore with its trendy retail shops, lively pubs, and great restaurants.
If Riverdance is on your Ireland bucket list, book a show at the Gaiety Theatre. Or visit the Guinness Storehouse, where you can tour the plant and have a beer tasting at the onsite Gravity Bar. Across the river, you can also go for a cocktail-making class and whiskey tasting at the Jameson Distillery on Bow Street. And a bit further out, the Dublin Zoo in Phoenix Park is absolutely impressive.
12. See More Cities and Towns
You may prefer to stay in a quiet town outside of the capital city of Dublin, or perhaps you just want to see more of the best cities to visit in Ireland. The City of Cork in County Cork, Ireland's second-largest city, is a must! You'll want to explore historical landmarks like the Cork City Gaol, or just walk the Victorian Quarter. And make sure to stop by the English Market in Old Town.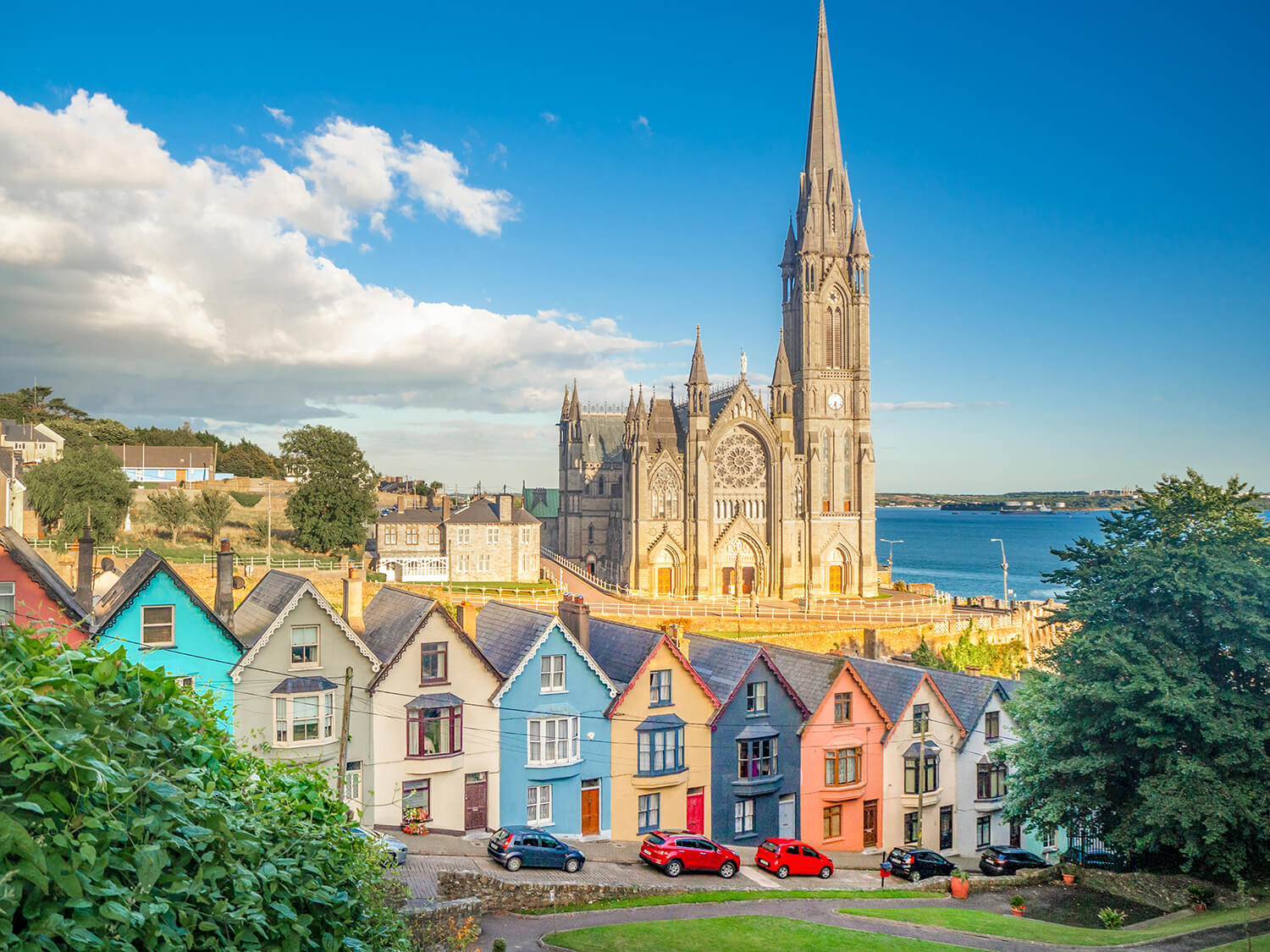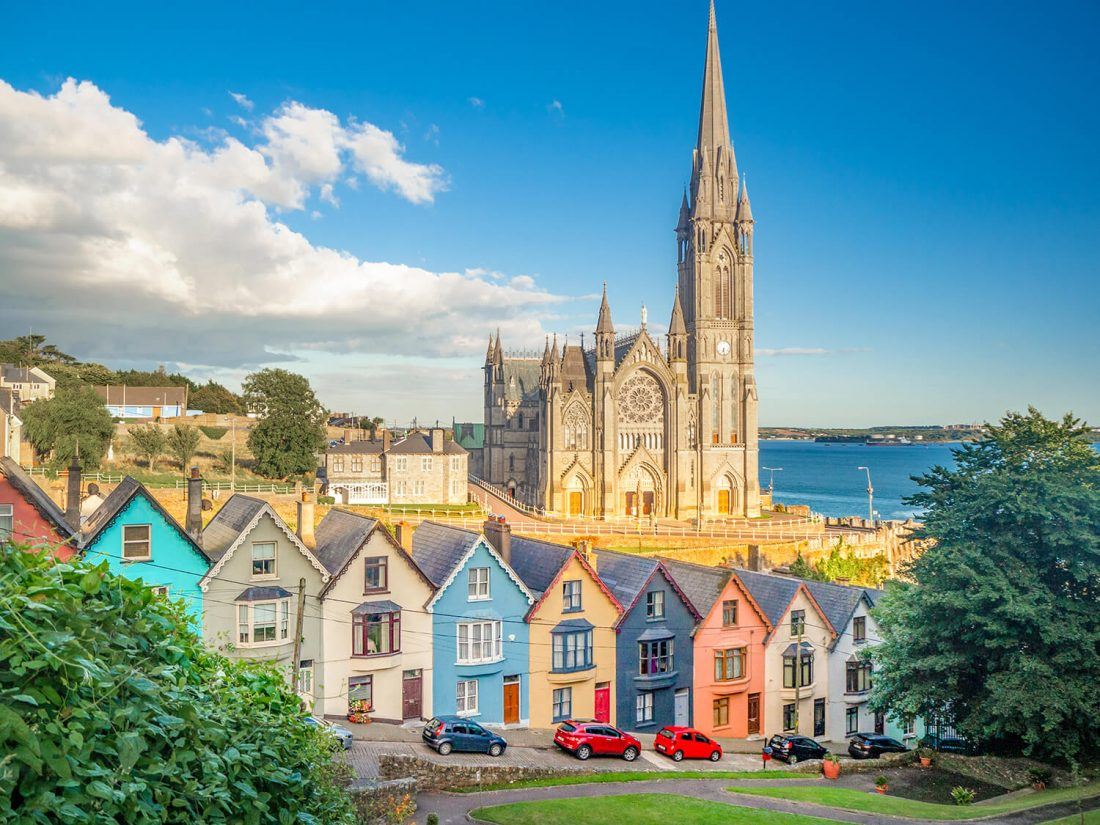 Or take your pick when it comes to the best towns to visit in Ireland! Across the island are smaller medieval towns with big personalities. Visit Kinsale in County Cork for the food and culture. You'll love the colorful buildings lining the streets, and the Kinsale Jazz Festival draws a crowd every year. But Kinsale's most famous for being the "gourmet capital of Ireland" with some of the best restaurants in the country, especially for seafood.
Doolin in County Clare has a cool spa with a Victorian pump house and some great pubs. Or if you prefer to explore a non-touristy spot, Union Hall is a sleepy little fishing village that's great for experiencing village life in Ireland. The Drombeg Stone Circle is here, and the B&Bs and inns are very charming.
13. Visit a Castle or Even Stay in One!
With layer upon layer of history and changing rulers, one of the best things to do in Ireland is to visit as many ancient castles as you can! It's a great way to get a feel for Irish history, and the structures are absolutely beautiful.
Plus, they cover both ends of the spectrum. You'll find abandoned ruins on private property dating back to the days of the Bonnie Prince and medieval castles that double as museums that you can tour. And there are beautifully preserved Victorian castles that still hold state offices.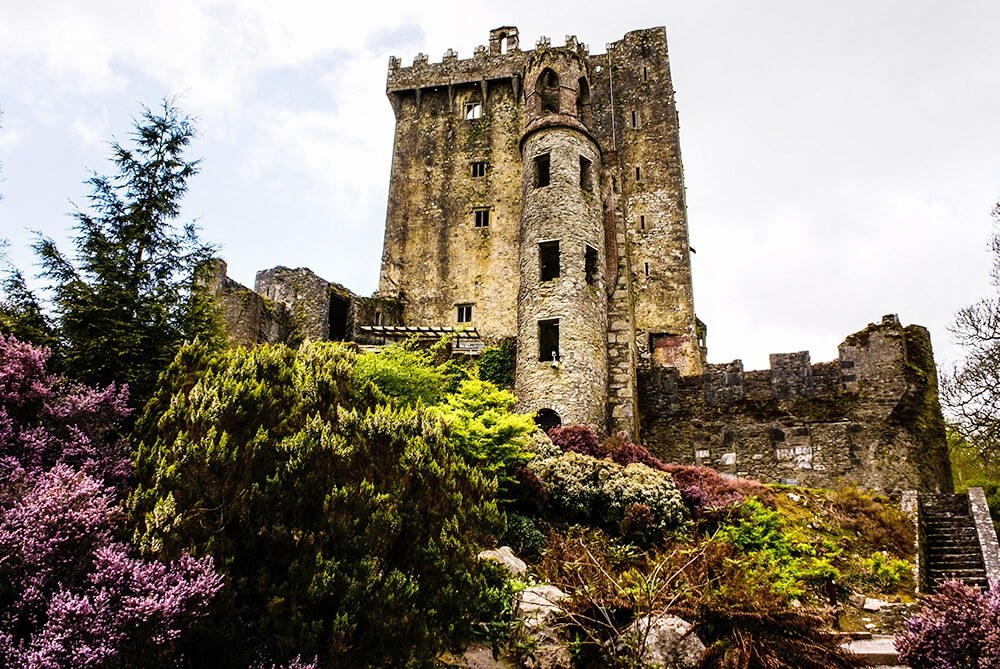 A great place to start is at the stunning Dublin Castle, which you can tour for a small fee. And if you're there in December, check out the Christmas market! Blarney Castle is another popular tourist attraction, and you won't regret a visit. The castle ruins from the 15th century are fun to tour and learn about. You can see the legendary Blarney Stone and walk through interesting gardens on the property.
Many of the small medieval towns have castles, but perhaps none as significant at the Rock of Cashel. This is where Saint Patrick was believed to preach Catholicism for the first time in Ireland. It's also breathtaking to see the 12th-century ruins with Gaelic and Romanesque features.
Doonagore Castle in County Clare feels like something out of a fairytale book. It's not open to the public, but if you're going to be near the Cliffs of Moher, you'll want to take time to stop by and see it. Or visit Leap Castle to experience the most haunted castle in Ireland! Just knock on the front door, and for a small fee, the owner will give you a tour and tell you the harrowing history of the castle.
And in Northern Ireland, outside of Ballycastle on the coast, you can visit the ghostly ruins of Kinbane Castle. It's a quick hike down to the limestone cliffs where the ruins are located. You can read a historical plaque that tells you about the ruins and get some good pictures.
You can even stay in a castle in Ireland if you like! Explore Castles you can stay in here.
14. Visit Kilmainham Gaol
Located in Dublin, Kilmainham Gaol is definitely one of the most unique things to do in Ireland. It's a moving experience for anyone who appreciates Ireland's struggle for independence. The prison opened in 1796 and closed in 1924, and today functions as a museum that you can tour.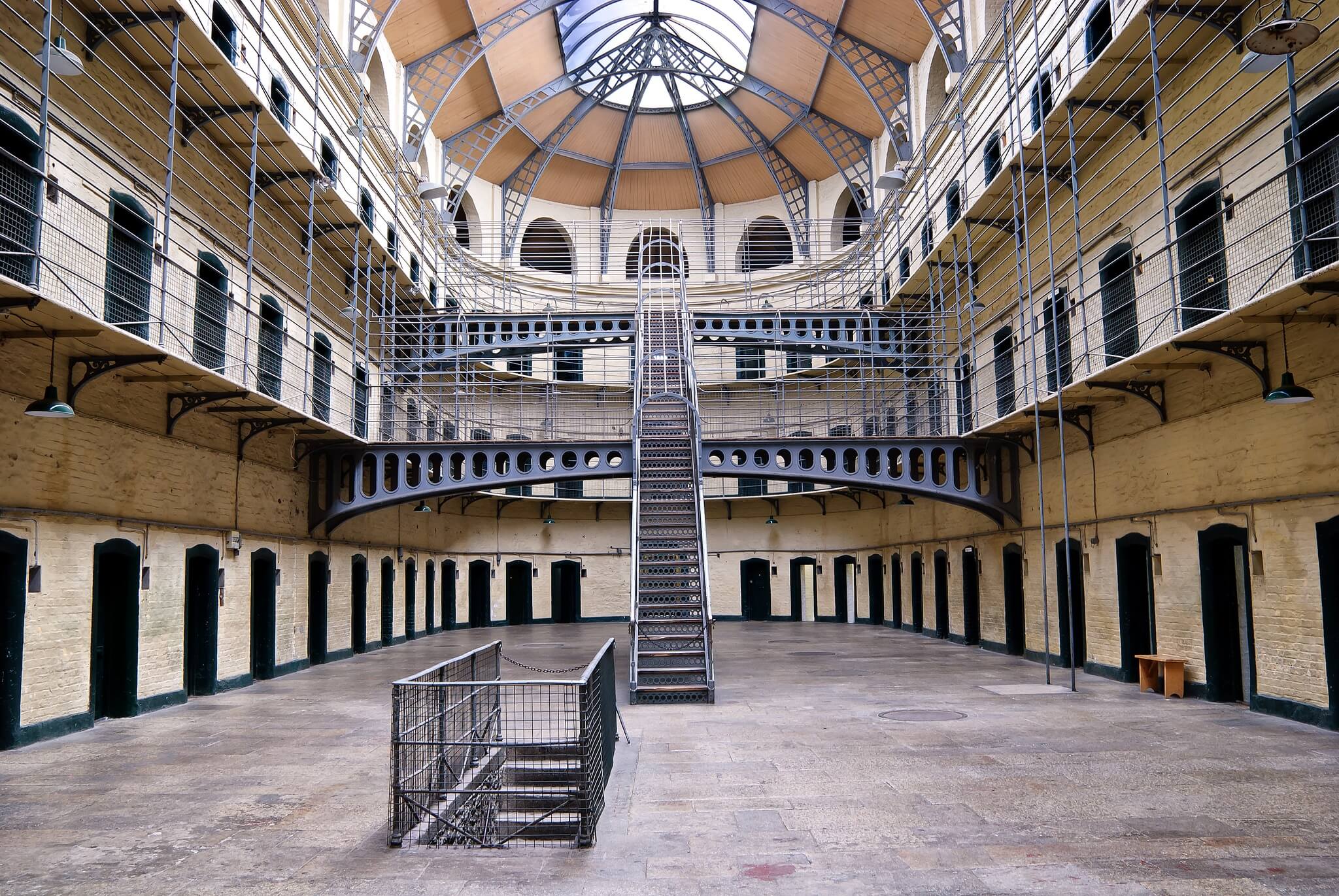 Kilmainham Gaol held all manner of prisoners, from petty thieves all the way up to political prisoners involved in some of the biggest events in Ireland's history. When you visit, you'll learn about Ireland through the lens of the prison, from the Irish Rebellion of 1798 to the Irish Civil War.
The hour-long tour covers the east and west wings of the prison as well as the museum that features rotating exhibits. You can buy tickets online, but book early because they often sell out days in advance.
15. Relive History at Glencolumbkille Folk Village
If you're heading to County Donegal and looking for fun things to do in Ireland with kids, check out the Glencolumbkille Folk Village. This is a living history museum maintained by the local community that speaks the Irish language.
For a small admission fee, you can visit and walk around a small village featuring thatch-roof huts set to periods of the 18th, 19th, and 20th centuries. There's also a grocer, a pub, a schoolhouse, and a small fisherman's hut. It's interesting to see how rural people lived in Ireland in the last few centuries. But keep in mind that this is a seasonal stop, open from Easter through October 31st.
This is a very old region, with settlements recorded as far back as 2000 years. The property also highlights ancient cairns, or standing stones, that offer remnants of the earliest tribal settlers to Glencolumbkille!
16. See Brú na Bóinne (Bend of the Boyne)
Brú na Bóinne Complex in County Meath is one of the must-see things in Ireland. The site features 3 megalith structures that date back to the Neolithic period, making them older than the pyramids in Egypt! Certified as a UNESCO World Heritage Site, the Bend of the Boyne Park is considered one of the most significant finds in Irish and European history.
Your visit to the site begins at the visitors' center, which has a front desk where you can sign up for tours, as well as a museum with exhibits. The sprawling park sits near the Boyne River north of Dublin. Plan 3 to 4 hours here and wear good shoes. You'll be walking the hilly park and seeing the massive structures up close!
There are different tours for each of the megalith monument sites, called Newgrange, Knowth, and Dowth. Newgrange is the most impressive and features passage tombs you can walk through. Keep your eyes peeled because the grounds have beautiful examples of prehistoric art. And if you come during the winter solstice, you can see the sun shining through the tomb pathway!
17. Visit a Church
Ireland is home to a rich religious history, and there are many churches and cathedrals throughout the country that are worth a visit. Here are just a few of the best ones:
St. Patrick's Cathedral, Dublin: One of the most famous landmarks in Dublin, this Anglican cathedral is named after Ireland's patron saint and has been in continuous use for over 800 years.
Christ Church Cathedral, Dublin: Another famous cathedral in Dublin, this one is also over 800 years old and has a mix of Gothic and Romanesque architecture.
St. Mary's Cathedral, Kilkenny: A stunning example of Gothic architecture, St. Mary's dates to the 13th century and features intricate stonework and beautiful stained-glass windows.
St. Colman's Cathedral, Cobh: Located in the picturesque town of Cobh, this Neo-Gothic cathedral was completed in 1915.
St. Fin Barre's Cathedral, Cork: Found in Cork City, St. Fin Barre is known for its striking French Gothic architecture and beautiful interior design.
Knock Shrine, County Mayo: A major pilgrimage site in Ireland, this shrine is dedicated to the Virgin Mary and commemorates an apparition that took place in 1879.
There are so many churches and cathedrals worth seeing in Ireland! Each one has its own architectural style and unique history.
18. Watch Gaelic Football at Croke Park
The Gaelic Athletic Association (GAA) is one of the most popular sporting organizations in Ireland, and you can attend a game at Croke Park, the GAA's headquarters in Dublin. It's one of the best things to do in Ireland if you want to experience Irish culture firsthand.
The GAA promotes uniquely Irish games, including Gaelic football, which combines elements of soccer, rugby, and basketball. At different times of the year, you can also attend hurling competitions and other Gaelic games. Attending a GAA game at Croke Park can be a highlight of any visit to Ireland, offering a unique blend of sports, history, and tradition.
It's tons of fun, with fans singing in the stands, post-game celebrations in the local pubs, and an electric atmosphere all day long! Make sure to visit the GAA Museum onsite to learn about the stadium's history.
19. Experience Irish Pubs
Whether it's post-game, pre-game, breakfast, lunch, or dinner, any time is great for experiencing the hospitality and culture of traditional Irish pubs. It's one of my favorite things to do in Ireland because of the friendly locals, cozy atmosphere, and live music. Pubs are also the best place to enjoy a traditional Irish meal.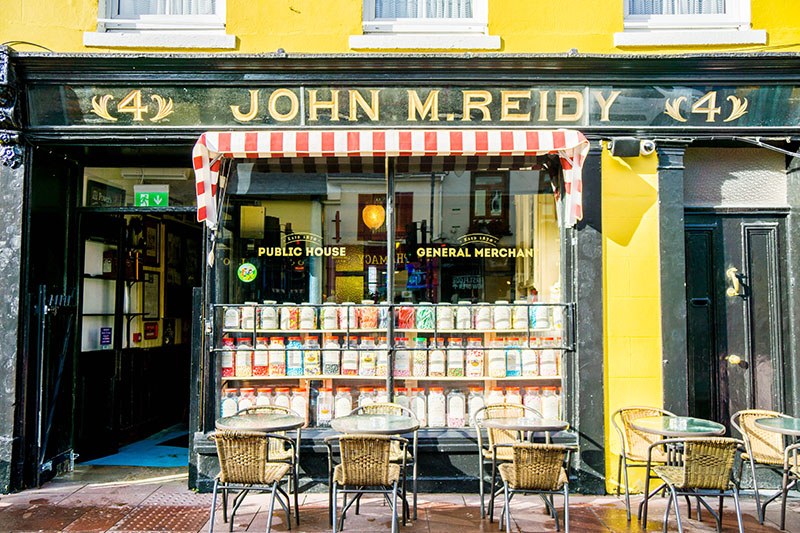 One of the best Irish pubs in Ireland is The Brazen Head in Dublin. It claims to be the oldest in Ireland, dating back to 1198. You'll find it on Bridge Street in the heart of Dublin's historic district. Enjoy traditional Irish food and drink while you listen to live music and Irish storytelling.
There's also Dick Mack's, located in the charming town of Dingle on the Dingle Peninsula. This pub has been serving locals and visitors for over 120 years and is known for its impressive whiskey selection.
And Gus O'Connor's Pub in the seaside village of Doolin is a hidden gem and a must-do in Ireland. It's popular if you're interested in the traditional Irish music scene. Come for a draft while you enjoy live music sessions.
20. Sample Irish Food
The best of Ireland, like any culture, is experienced through its food. You'll notice that most of the traditional Irish cuisine is made up of seafood, meat, dairy, and locally grown produce. Not a lot of fruit grows on the island so it's mostly a lot of savory dishes! And bread usually accompanies meals, as do potatoes.
As cliché as it sounds, Irish stew and soda bread are iconic for a reason! And you should sample an Irish Breakfast at least once. It's a hearty meal that usually includes bacon, black pudding, eggs, baked beans, mushrooms, grilled tomatoes, and more.
If you see smoked cabbage and bacon on the menu, it's much less boring than it sounds! Beef and Guinness stew is a must, especially if you're there during the colder months. And then there's Boxty, an Irish version of potato pancakes that's eaten any time of the day.
Also, a special note for seafood lovers: Don't skip over your opportunities while visiting Ireland! You'll find seafood fresh off the boat, like local oysters. And Irish smoked salmon feels like a delicacy. Try it with eggs for breakfast.
FAQ on Things to Do in Ireland
While you're planning what to do in Ireland, check out some frequently asked questions asked by travelers like you!
What is the top thing to do in Ireland?
Over a million tourists visit the Cliffs of Moher in Ireland every year! You'll find them along the west coast of Ireland in County Clare. They're a beautiful example of Ireland's natural beauty. Enjoy the striking cliffs and check out the walk trails nearby. It's also a popular destination for guided tours.
Are 4 days enough for a trip to Ireland?
You can check off many of the best things to do in Ireland in 4 days if you use your time wisely. I suggest making your base Dublin and planning 1 full day of exploring the rich history of the city. Then you still have 2 whole days to enjoy the countryside with must-sees in Ireland like Kilkenny, the Cliffs of Moher, and the Wicklow Mountains National Park.
What are the best months to visit Ireland?
Summer is Ireland's high season when the island enjoys the mildest weather and most attractions are open. If you want to avoid crowds but also avoid the coldest months, I suggest either March through May or September through November.
Can you see the Northern Lights in Ireland?
Yes! The best place to see the Northern Lights in Ireland is the northernmost tip of Ireland, between Dunree and Malin Head in Inishowen. That's because this northern part of Ireland has much lower light pollution, giving you a better chance to see it. Come in the early spring or early fall for the best chances of viewing them, though winter is also a good time.
What's the best way to get around Ireland?
Train travel is the best way to get around over all. It's the best way to travel between cities. Buses are best for exploring cities and will take you to almost every smaller town in the country. You can drive with a US driver's license if you're comfortable driving on the left side of the road. However, the costs related to rental cars are so expensive that most people stick to public transit.
Have an Adventure at the Biggest Ireland Attractions
You can pick and choose among the best things to do in Ireland to create the Irish vacation of your dreams! It's a magical place where modern life exists alongside some of the oldest structures in the world.
There are film location sites from box office hits and medieval buildings across every county. Ireland's rich history is everywhere, the culinary scene is unique, and it's a great place to get outdoors.
Whether you want to stay in the big city or disconnect in a remote town, you can do it in Ireland. Walk the roads between villages or take a road trip around the entire island. I hope my list inspired your next trip to the Green Isle!