The Isle of Skye Scotland is one of the most stunning places on Earth. With sweeping views of mountainous landscapes, windswept moors, and dramatic coastlines, it's no wonder that the Isle of Skye is a must visit in Scotland!
What to do in Isle of Skye Scotland
If you're coming to the Isle of Skye Scotland, don't miss these unbelievable sights! From surreal natural landscapes to ancient castles, the Isle of Skye has it all!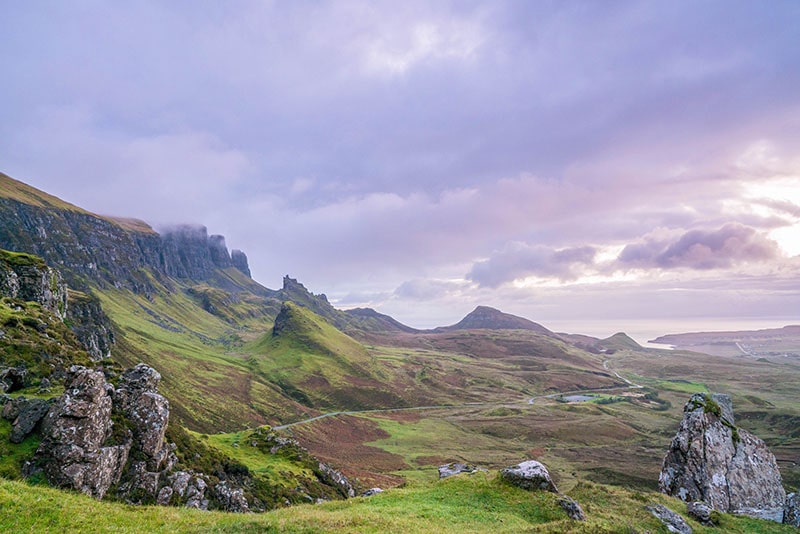 About the Isle of Skye Scotland
The Isle of Skye is one of the islands of the Hebrides in the northwest of Scotland. Full of dramatic landscapes, ancient ruins, quaint villages, friendly people, unpredictable weather and more sheep than people, the island is a world of its own that hasn't changed much in the last several hundred years.
Where to Stay on the Isle of Skye
There are plenty of small Isle of Skye hotels and Airbnbs throughout the island, which is small enough to stay anywhere and still have easy access to all the sights. Finding a place to stay is surprisingly affordable.
I stayed in a small hotel in Uig for $60/night. It was nothing fancy, but had everything I needed. If you need more recommendations for where to stay on the Isle of Skye, you can read my the Best Places to Stay in Scotland.
How to get to Isle of Skye- Is there a bridge to the Isle of Skye?
Yes there is a bridge! The Isle of Skye is easily accessible by car via the Skye Bridge which connects it to mainland Scotland. It's about a 5 hour drive from Edinburgh, about 3 hours from Inverness and 3 hours from Glasgow.
Take a Tour of the Isle of Skye
If you'd rather not worry about driving to the island or on the island, you can take a tour through Rabbies. They will pick you up in Edinburgh and take care of all the details, all while entertaining and educating you in small tour vans. This tour will take you from Edinburgh to Isle of Skye, so you don't need to stress about driving.

Driving on the Isle of Skye
Driving on the Isle of Skye can be a little tricky. First of all, you'll be driving on the left of course, and almost all the roads are "one track roads" meaning that both directions share one lane. There are passing places which are labeled with "passing place" every few hundred feet.
If you see a car coming and you're near a passing place, pull over to the left. If the passing place is on your right, stop on the left hand side of the road and let the oncoming car pass through the passing place. Do not cross over and pull into a passing place on the right!

Things to do in Isle of Skye
You could honestly wander around the Isle of Skye without a set itinerary, just taking in all the sights and be totally satisfied. The uniqueness and color of the landscape is just breathtaking! Here are some of the most amazing things to see on the Isle of Skye Scotland.
Isle of Skye Map
Kilt Rock

This giant sea cliff which resembles a kilt with pleats is a sight to behold, especially at sunrise when the sun reflects off the rocks. This is easily accessible with a parking lot overlooking the rock.

The Quiraing

This supernatural mountainous area must not be missed. You can park and observe its beauty (bring your camera) or you can walk the Quiraing which is amazing!

Old Man of Storr

Created by a massive ancient landslide, this large pinnacle rock can be seen for miles around on a rare clear day. You can take the 6.5 mile hike up to the top if you're up for it.

Neist Point

The stunning cliffs at Neist Point alone are worth the trip there, but you can also walk down the path and view the lighthouse.

Dunvegan Castle – The Most Beautiful Isle of Skye Castle

This Castle has been owned by the Chief of Clan McLeod for centuries. The Chief and his family still visits the castle. You can tour the grand castle, but the true magic of Dunvegan Castle lies in its gardens and wooded pathways.

Portree

The capital of the Isle of Skye, Portree is a quaint and colorful town with great restaurants. Be sure to eat at Marmalade and try the sticky toffee pudding, which the chef has perfected over the last 20 years!

Fairy Pools Isle of Skye

One of the most photographed places in Scotland, the Fairy Pools take a bit of effort to get to. About a mile walk through stunning scenery, you will be greeted with blue pools and waterfalls.

Eilean Donan Castle

While not technically on the Isle of Skye, you will pass Eileen Donan Castle on your way to the island and it is not to be missed.

Flora MacDonald Memorial Grave

Take a drive up to Kilmuir Cemetery and visit Flora MacDonald's memorial. Flora MacDonald was a famous Jacobite woman who aided Bonnie Prince Charlie in escaping following the battle of Culloden. She dressed him as a woman and smuggled him onto the Isle of Skye. Coincidentally, I found her grave while searching for my ancestors' grave which is just a few feet away!

Don't miss these incredible sights on the Isle of Skye. There is so much to do in Skye, but whatever you choose to do, you won't be disappointed. There's no place like it on Earth!
If you're looking to visit Scotland, but want to take the stress out of planning, be sure to check out my Scotland Itinerary that takes you day by day through the highlands of lowlands of this amazing country!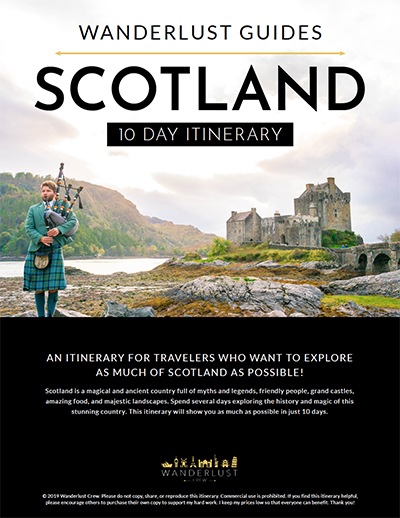 If you have any questions feel free to comment below. I hope you have an amazing time on the Isle of Skye!