The Isle of Skye Scotland is one of the most stunning places on Earth. With sweeping views of mountainous landscapes, windswept moors, and dramatic coastlines, it's no wonder that the Isle of Skye is a must visit in Scotland!
Don't have time to read a bunch of reviews & blog posts? Here are our top picks for visiting Scotland:
Get an Easy Scotland Itinerary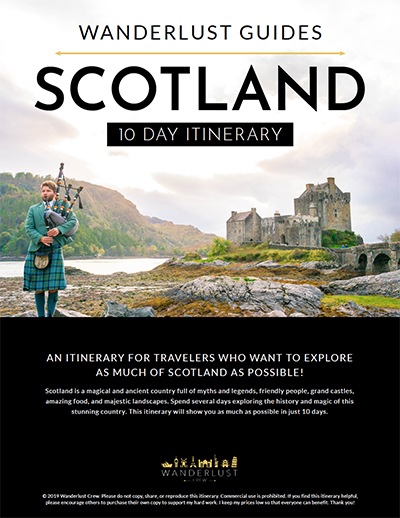 Our favorite hotels in Scotland
Our favorite tours in Scotland
Renting a Car in Scotland
If you want to see authentic Scotland, I recommend you drive yourself. If you're renting a car, there are two companies we prefer to use: Rental Cars and Expedia Cars. We have had no issues with them and have been able to find the best prices available.
What to do in Isle of Skye Scotland
If you're coming to the Isle of Skye Scotland, don't miss these unbelievable sights! From surreal natural landscapes to ancient castles, the Isle of Skye has it all!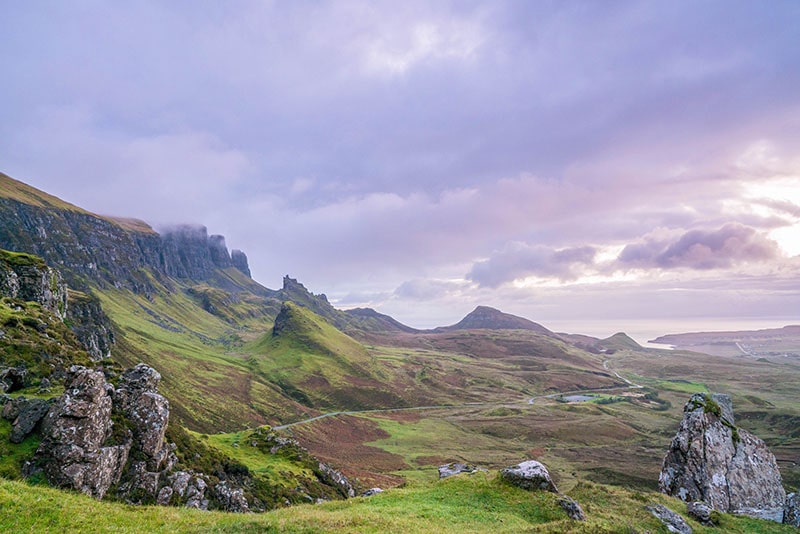 About the Isle of Skye Scotland
The Isle of Skye is one of the islands of the Hebrides in the northwest of Scotland. Full of dramatic landscapes, ancient ruins, quaint villages, friendly people, unpredictable weather and more sheep than people, the island is a world of its own that hasn't changed much in the last several hundred years. Skye island Scotland is one of the most breathtaking landscapes in world and also contains some of the most ancient geology. It's so old that you can even see dinosaur footprints on the beach. 
Where is the Isle of Skye
The Isle of Skye Scotland is located just northwest of Inverness and can be reached fairly easily by a rental car. You can hit some great sites like Inverness along the way. It's one of the only islands that can be reached by bridge so you don't need to worry about booking a ferry to visit.
Where to Stay on the Isle of Skye
There are plenty of small Isle of Skye hotels and cottages throughout the island, which is small enough to stay anywhere and still have easy access to all the sights. Finding a place to stay is surprisingly affordable.
I stayed in a small hotel in Uig for $60/night. It was nothing fancy, but had everything I needed. If you need more recommendations for where to stay on the Isle of Skye, you can read my the Best Places to Stay in Scotland.
How to get to Isle of Skye- Is there a bridge to the Isle of Skye?
Yes there is a bridge! The Isle of Skye is easily accessible by car via the Skye Bridge which connects it to mainland Scotland. It's about a 5 hour drive from Edinburgh, about 3 hours from Inverness and 3 hours from Glasgow.
Take a Tour of the Isle of Skye
If you'd rather not worry about driving to the island or on the island, you can take a tour through Rabbies. They will pick you up in Edinburgh and take care of all the details, all while entertaining and educating you in small tour vans. This tour will take you from Edinburgh to Isle of Skye, so you don't need to stress about driving.
Best Tours in Isle of Skye
A full-day tour of different tourist attractions in the Isle of Skye and Eilean Donan Castle, such as the Kyle of Lochalsh, Portree, Trotternish Peninsula, Cuillin Mountains, and Loch Ness. You'll be able to learn a lot from geological formations, crumbling coastlines, and wind-swept valleys along the way.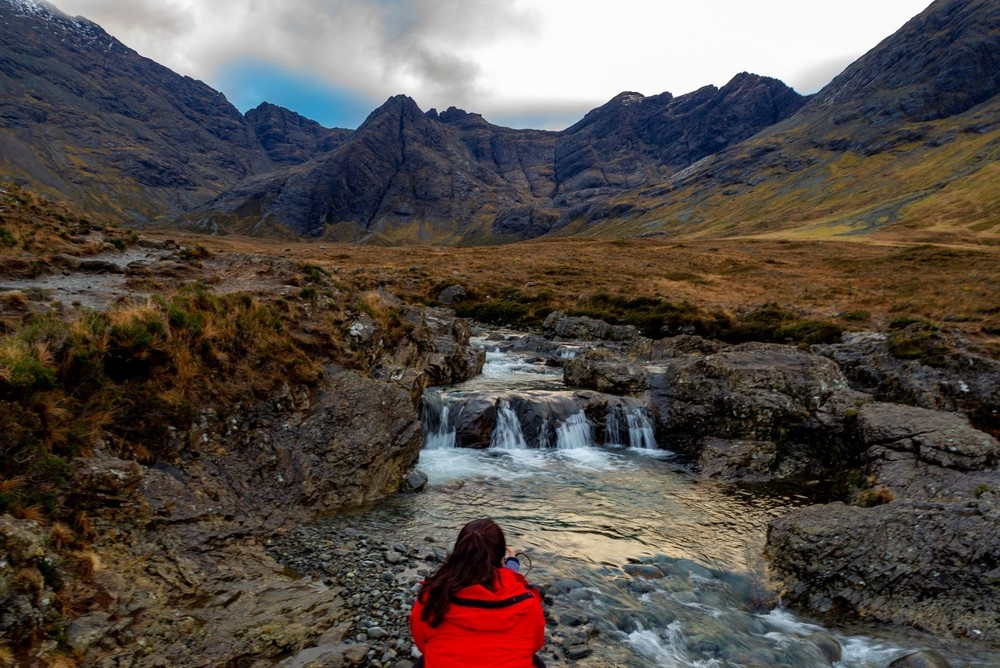 Another full-day tour, this one takes you around the fairy pools of Skye and other top attractions. You will first witness the stunning views of the Northwest Highlands and then arrive at the Isle of Skye. While there, you can explore the magnificent Fairy Pools and Cuillin Hills, and also see famous Scottish locations such as Loch Ness and Eilean Donan Castle.
This tour lets you explore the main attractions on the mystical Isle of Skye on this day trip from Portree. You will have the opportunity to visit Fairy Pools, Talisker Distillery, Neist Point, Dunvegan Castle, and Fairy Glen.
Some of the highlights of this tour includes:
Bathe with the fairies at the Fairy Pools
Enjoy a dram of Single Malt Scotch at Talisker Distillery
Take in the breathtaking scenery at the Quiraing from Neist Point
Fall in love with Dunvegan Castle
Take a leisurely stroll in the stunning nature of the Fairy Glen

Driving on the Isle of Skye
Driving on the Isle of Skye can be a little tricky. First of all, you'll be driving on the left of course, and almost all the roads are "one track roads" meaning that both directions share one lane. There are passing places which are labeled with "passing place" every few hundred feet.
If you see a car coming and you're near a passing place, pull over to the left. If the passing place is on your right, stop on the left hand side of the road and let the oncoming car pass through the passing place. Do not cross over and pull into a passing place on the right!

Things to do in Isle of Skye
You could honestly wander around the Isle of Skye without a set itinerary, just taking in all the sights and be totally satisfied. The uniqueness and color of the landscape are just breathtaking! Here are some of the most amazing things to see on the Isle of Skye Scotland. 
Isle of Skye Map
Use this Isle of Skye map to plan your route around the island. I like to make a counter-clockwise loop leaving from Portree, but you can go whichever way you like.
Kilt Rock
This giant sea cliff which resembles a kilt with pleats is a sight to behold, especially at sunrise when the sun reflects off the rocks. This is easily accessible with a parking lot overlooking the rock.

The Quiraing
This supernatural mountainous area is one of Skye's must-visit tourist attractions that you should not miss. You can park and observe its beauty (bring your camera) or you can walk the Quiraing which is amazing! I would definitely spend some time hiking around here if you have the time. The morning is particularly beautiful here. 
An Corran Beach for Dinosaur Footprints
Head down to An Corran Beach for a picnic and to find dinosaur footprints! Scientists recently discovered footprints and fills in this are. It's best if it's low tide, so check the tide schedule before going. It might be worth coming back later in the day. Check the tide schedule here: Tide Schedule
Skye Museum of Island Life
This is a really quick stop. It's a small museum that is just a couple houses filled with artifacts, but it's interesting to see how people once lived here. Walking into this museum is like stepping back in time to an old Highland village.
The museum, which consists of seven traditional thatched cottages, offers visitors a unique experience and a true insight into island life 100 years ago. Opened in 1965, the aim of the museum was to completely preserve a township of thatched cottages, each depicting the conditions that 19th century crofters faced.
There's also a cute little gift shop and you can visit Flora MacDonald's grave. One of the most romantic characters in Scottish history, Flora MacDonald is famous for helping Bonnie Prince Charlie escape from Scotland after the defeat of the Jacobites at the Battle of Culloden in 1746. My 3x Great Grandparents are also buried in the cemetery here. 
Old Man of Storr
Created by a massive ancient landslide, this large pinnacle rock can be seen for miles around on a rare clear day. You can take the 6.5 mile hike up to the top if you're up for it.
Neist Point
The stunning cliffs at Neist Point alone are worth the trip there, but you can also walk down the path and view the lighthouse. While the walk down is an easy one, the concrete path does get quite steep at times. From the path you will see stunning views of the high cliffs and the lighthouse itself. The walk is 2.2 kilometers round trip.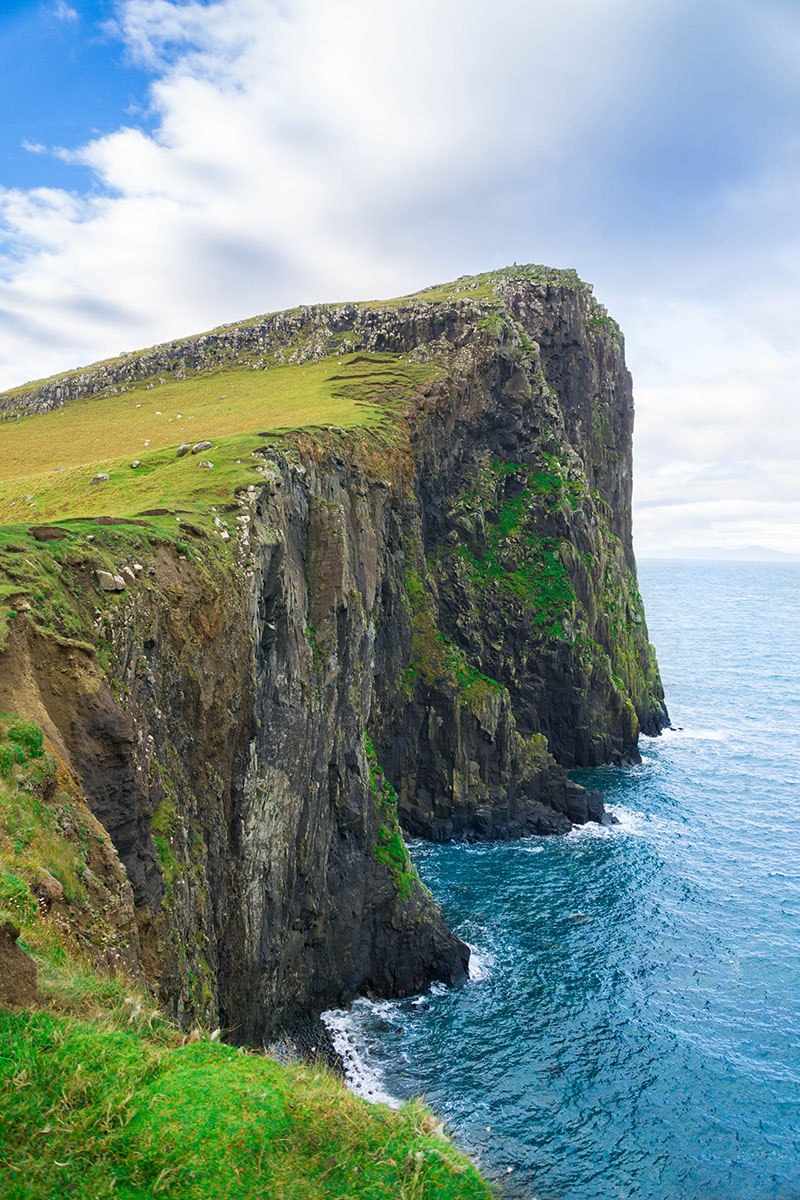 Dunvegan Castle – The Most Beautiful Isle of Skye Castle
This Castle has been owned by the Chief of Clan McLeod for centuries. The Chief and his family still visits the castle. You can tour the grand castle, but the true magic of Dunvegan Castle lies in its gardens and wooded pathways. Inside you'll find the famous Fairy Flag that is known to have magical properties!
Since you'll be there in the summer you should be able to catch the seal tour from the castle. The seals are fun to see and it's a quick trip. You can just book it there. There is a nice little cafe across the street from the castle (where you'll park) You'll probably be hungry by now. Stop for some afternoon tea and scones. Seal Trips £10.00 each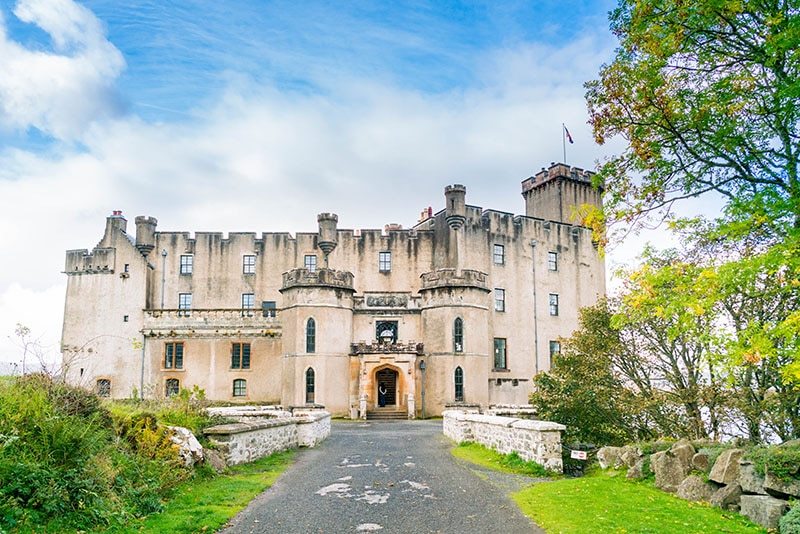 Portree
The capital of the Isle of Skye, Portree is a quaint and colorful town with great restaurants. Be sure to eat at Marmalade and try the sticky toffee pudding, which the chef has perfected over the last 20 years!
Fairy Pools Isle of Skye
One of the most photographed places in Scotland, the Fairy Pools take a bit of effort to get to. About a mile walk through stunning scenery, you will be greeted with blue pools and waterfalls. 
The legend follows that a local Clan MacLeod chief married a fairy princess, giving rise to many fairy place names on the Isle of Skye. Legend also says that Fairy Pools attracted selkies and the mythological creatures, disguised as large seals during the day, would come to the beach at the foot of Glen Brittle where they would shed their skins and change into human form for the night, to bathe in the pools under the light of a full moon. You can swim, but it's cold!
If you're coming here by car, you can find the Fairy Pools car park 15-minute walk away to the first of the pools. So be sure to bring your walking shoes.
Eilean Donan Castle
While not technically on the Isle of Skye, you will pass Eileen Donan Castle on your way to the island and it is not to be missed.
This castle is recognized as one of the most iconic images of Scotland. Situated on an island at the point where three great sea lochs meet and surrounded by some incredible scenery, it is little wonder that the castle is one of the most visited and important attractions in the Scottish Highlands. Although first inhabited around the 6th century, the first fortified castle was built in the mid 13th century and stood guard over the lands of Kintail. Since that time, at least four different versions of the castle have been built and rebuilt as the feudal history of Scotland unfolded through the centuries.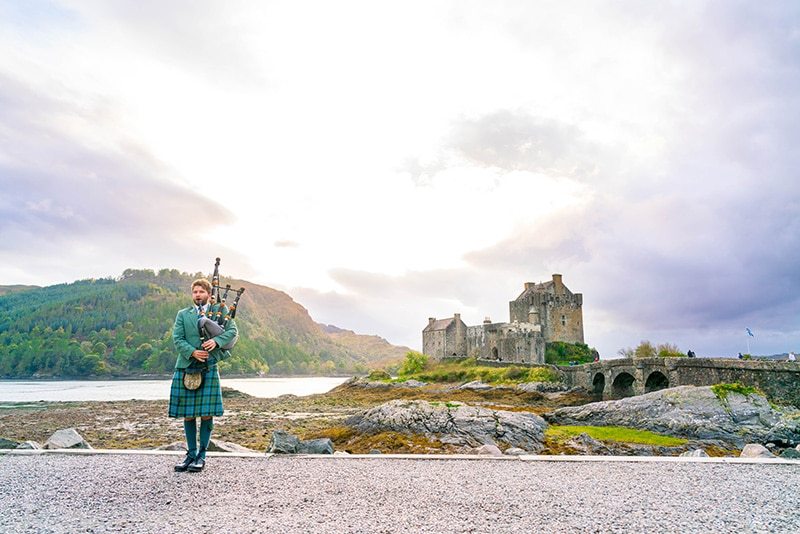 Flora MacDonald Memorial Grave
Take a drive up to Kilmuir Cemetery and visit Flora MacDonald's memorial. Flora MacDonald was a famous Jacobite woman who aided Bonnie Prince Charlie in escaping following the battle of Culloden. She dressed him as a woman and smuggled him onto the Isle of Skye. Coincidentally, I found her grave while searching for my ancestors' grave which is just a few feet away!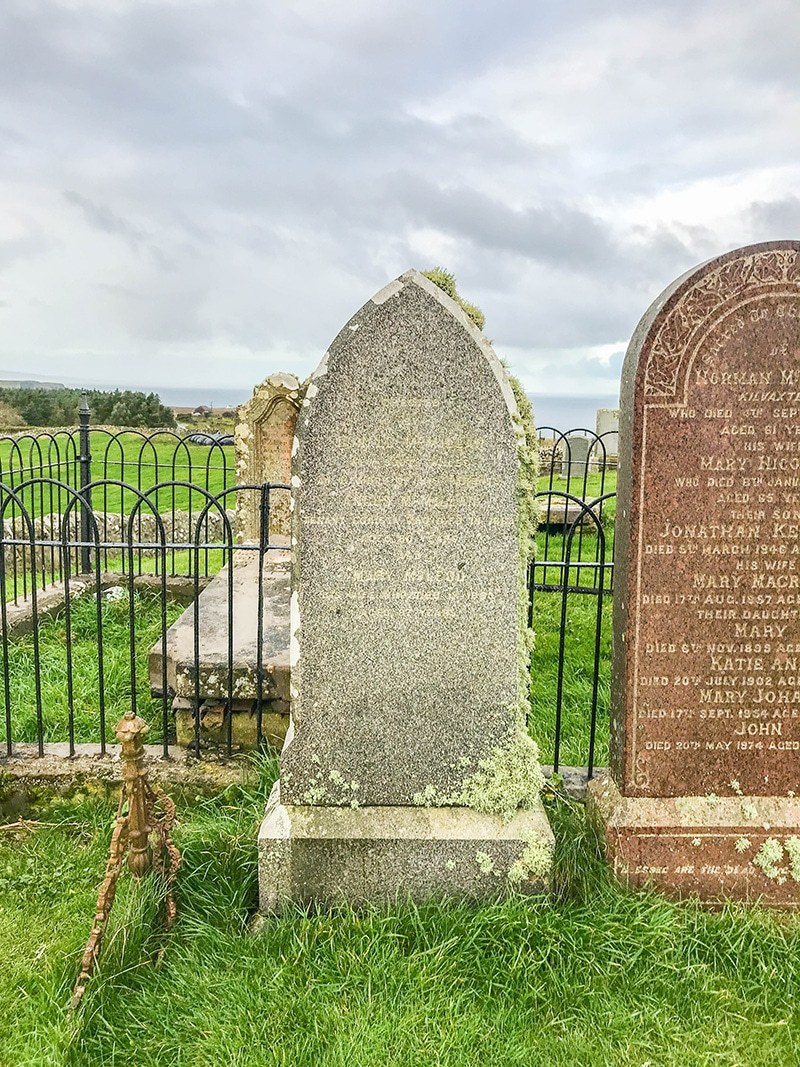 Fairy Glen
Above Uig, is the Fairy Glen – a Quirang-like landslip in miniature.
The road winds around small round-topped grassy hills with lochans or little lakes, more like ponds, in between which gives the glen an otherworldly feel. One of the hills still has its basalt topping intact which, from a distance, looks like a ruin and has been called Castle Ewan.
No one really knows why. You can climb to the top where there is not much room, but does have amazing views. On the low cliff behind Castle Ewan, there is a very small cave where it has been said pressing coins into cracks in the rock will bring good luck.
Other Things to do in Isle of Skye
These are other activities and locations you can visit when visiting Skye.
Armadale Castle and Gardens – explore the ruins of this historic castle, located just off the coast of Skye. Take a stroll around the beautiful gardens and don't forget to visit the gift shop for some souvenirs.
Neist Point Lighthouse – if you want breathtaking views, then this is the place to go. Located on the most westerly point of Skye, this lighthouse offers stunning views of the surrounding landscape and sea.
Go on a Boat trip to Loch Coruisk – going on a boat trip from Elgol is the easiest way to get to Loch Coruisk. You'll get to see the freshwater loch surrounded by the Cuillin Mountains, with its striking views and wildlife.
Visit Skye Highland Games – every summer, Skye hosts the Highland Games. This event features traditional Scottish sports like tug of war and caber tossing, as well as music, dancing, and more. The games are a great way to experience Skye's culture firsthand.
Don't miss these incredible sights on the Isle of Skye. There is so much to do in Skye, but whatever you choose to do, you won't be disappointed. There's no place like it on Earth!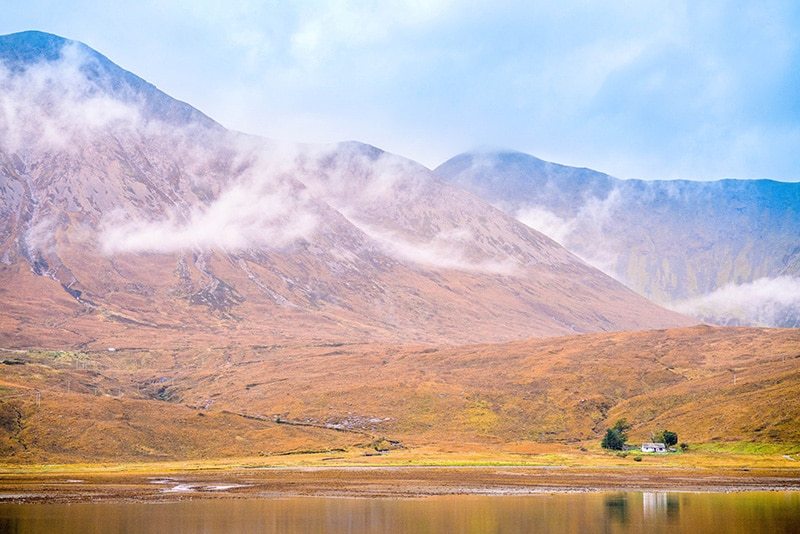 If you're looking to visit Scotland, but want to take the stress out of planning, be sure to check out my Scotland Itinerary that takes you day by day through the highlands of lowlands of this amazing country!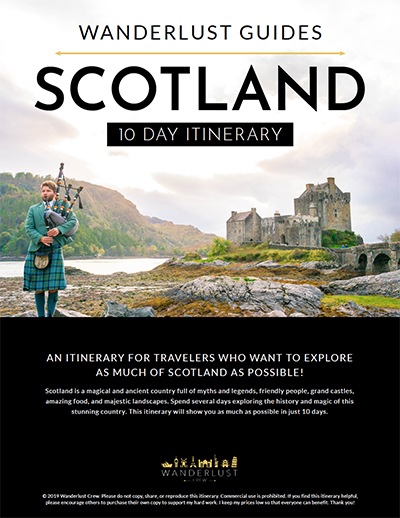 Get the Itinerary If you have any questions feel free to comment below. I hope you have an amazing time on the Isle of Skye! 
Things to do in Isle of Skye FAQ
Is 2 days enough for Isle of Skye?
You can totally spend only two days in the Isle of Skye and still be able to experience a lot of attractions. However, if you want to really get the most out of your visit, you should spend at least 3 days exploring the island.
What is famous about the Isle of Skye?
The Isle of Skye is famous for its stunning landscapes, fascinating wildlife, and interesting cultural heritage. From the majestic Cuillin Mountains to the beautiful Fairy Pools, the Isle of Skye has plenty to offer.
Is Isle of Skye worth seeing?
Yes, absolutely! The Isle of Skye is one of Scotland's most popular destinations and it is definitely worth seeing. It's a place to learn a lot about their cultural heritage, and folklore, and of course, to get some amazing views.
How do you spend 2 days on the Isle of Skye?
I personally would recommend spending two days on the Isle of Skye by going on tours, this way, you'll get to make the most of your time and you'll be able to see the most popular attractions.