The holidays in the Big Apple are truly a magical time of year. From festive lights and decorations to ice skating, shopping, and holiday shows, there are plenty of ways to experience Christmas in New York City. Whether you're visiting for the first time or making an annual trip, here's an overview of some of the best things to do during Christmas in NYC.
I'll help you find the best:
Way to Stay Warm in NYC for Christmas Season
Christmas movies set in NYC
Hotels in NYC for Christmas
Christmas Lights in NYC
Ice Skating in NYC
Christmas Markets in NYC
Christmas Shows in New York City
Prepare for Cold Weather During Christmas in New York City
There's no denying the fact that Christmas in New York City will be cold, and quite possibly rainy. Let's be real – NYC in winter is nothing short of FREEZING. December temperatures usually fluctuate from 20-45°, but the strong winds make it feel much worse, especially when you get a big gust between buildings!
The cold can be hard to deal with. Trust me, I grew up in San Diego and am not a native to the cold. I've had to teach myself how to deal over the last few years. This is especially important if you're visiting NYC with kids. I'll share what works for me.
The best way to deal with this is to be prepared with the proper clothing and the proper mindset. I love the book There's No Such Thing as Bad Weather which teaches readers to cope with the cold and that as long as you're dressed properly, there's no excuse not to go outside. Here are some NYC packing essentials:
Is Christmas a Good Time to Visit New York?
Is it worth going to NYC in December when it's cold and possibly rainy? It depends on your tolerance for inclement weather, but the answer, for me, is a definitely YES! I find so many people asking this question because they are afraid of the cold and the crowds. But with all the magic that Christmas in New York City offers, I wouldn't pass up an opportunity to visit.
Spending Christmas in New York City with Kids
If you're bringing your kids to NYC at Christmas, they're definitely going to have a good time. There are so many things to do in NYC with kids, and it is an even more magical place during the holidays. If you're looking for a good itinerary, I highly recommend using the NYC Kids Itinerary.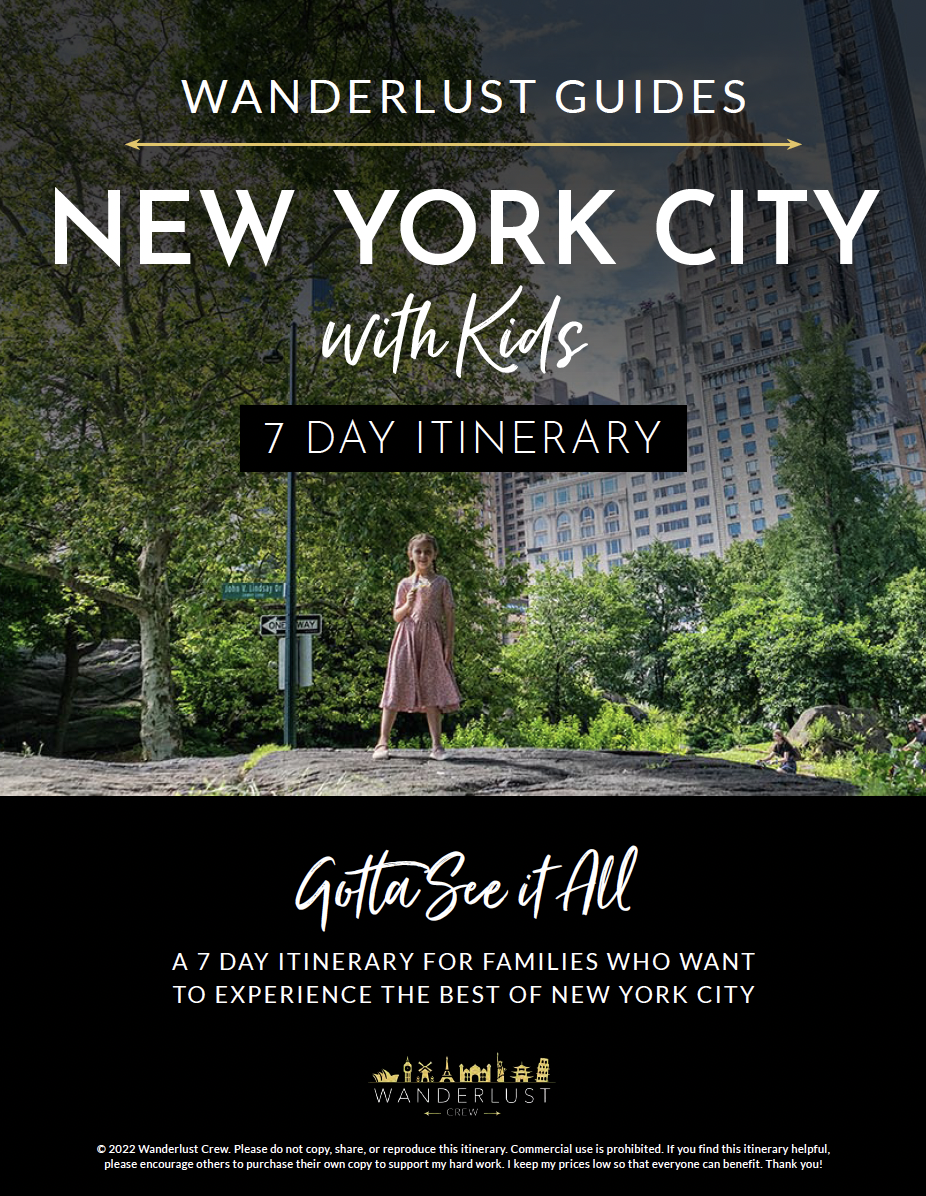 Christmas in NYC Movies
There's nothing like watching some cozy Christmas in New York movies to get you ready for your visit. I love to binge a few on the plane ride there to get me in the holiday spirit! Here are some of my favorites:
Elf
Miracle on 34th Street
Something From Tiffany's
Home Alone 2: Lost in New York
Scrooged
Dash & Lily
Serendipity
You've Got Mail
Stay at the Most Festive and Best Hotels in NYC for Christmas
If you're spending Christmas in NYC, I highly recommend staying at one of these festive hotels for a great location and holiday ambiance. Here are my favorite hotels in NYC Christmas picks:
St. Regis New York
The holiday decor at the St. Regis exudes timelessness, from its iconic nutcrackers by each side of the 55th Street entrance to its charming garlands and ornaments along banisters and walls. During this festive time of year, families with kids can take part in delightful activities like gingerbread decorating while admiring a sparkling Cognac Room makeover. Check availability.
The Plaza Hotel
This is one of the best hotels in new york city for Christmas, but it will cost you an arm and a leg! If you can't stay here, at least try to book tea at the Palm Court for a special occasion. The fame of The Plaza for its Christmas festivities has even inspired a documentary on British TV.
But what sets this hotel apart from the rest? Maybe it's because their team works diligently all night on Thanksgiving to give the entire building festive vibes, so guests can wake up to an amazing surprise in the morning. Or maybe it's due to one of their special holiday packages they offer- like getting a six-foot tall Christmas tree in your room or having a Home Alone 2 theme (given that it is featured as one of the film's main locations). Check availability.
The Pierre
During the holidays, The Pierre is adorned with festive trees and garlands in every corner of the hotel. However, what truly makes it a special place during Christmas time is its scrumptious hot chocolate served at the Art Deco bar and lounge offering high tea in the afternoon and cocktails during evening hours. Check availability.
The Carlyle
When you walk into The Carlyle's black-and-white, Art Deco lobby in the winter season and find it bedecked with garlands, trees adorned with silver decorations, ribbons and lights – nestled amongst its plush yellow arm chairs – you won't want to leave.
As if this isn't enough of a reason for visitors to stay longer than necessary throughout December: Santa even shows up on Christmas Day! And don't forget about Cafe Carlyle either; their cabaret nights during the holiday are definitely worth checking out. Check availability.
Waldorf Astoria New York
Celebrating Christmas in style, the Waldorf hotel on Park Avenue – like other New York hotels – adds a majestic 16-foot tree to its lobby. Adorned with 3,000 gold Magnolia leaves and lights, this golden masterpiece is further complemented by garlands of glittering gilded Magnolia leaves along the banisters and delightful wreaths throughout. Check availability.
The signature bronze World's Fair Clock is trimmed with hand-blown glass ornaments for an extra special touch. To complete the picture outside, 6 six-foot wreaths are decorated with over 6,000 twinkling lights that light up Park Avenue creating a breathtakingly beautiful festive display!
Ritz -Carlton Central Park
During the wonderful holiday season, The Ritz-Carlton creates a delightful atmosphere around its close proximity to Central Park. Enjoy wreaths and garlands adorned with stunning blue ornaments and golden leaves throughout the lavish lobby. To truly experience all this magical place has to offer, book one of their spectacular Park View rooms or suites for magnificent views of ice skaters gliding across the frozen lake! Check availability.
Lotte New York Palace
The Palace is the ultimate destination for a Christmas holiday. Greeted by a magnificent 30-foot tree behind its iron gates, The Palace elevates the spirit of Christmas with its partnership to the iconic Radio City Christmas Spectacular show.
If you book two nights or more at The Palace, you can enjoy their exclusive package that includes popcorn and beverage vouchers from the show plus an exclusive Rockettes tote! It's close to Radio City Music Hall, so a nice easy walk if you're combining both. It's also right by Saks Fifth Avenue, so it's a great location to enjoy the Saks Light show as well! If you don't stay here, you should at least stop into the lobby to see the gorgeous trees at the top of the stairs. Check availability.
The Penninsula
The Peninsula's holiday decor is nothing short of mesmerizing, sure to delight those who pause for a glimpse from the street. This hotel goes above and beyond, decking their exteriors with hundreds of feet worth of garland, ornaments, twinkling lights, small trees filled with poinsettias and winter flowers – even two reindeer statues! In the merry lobby you can find Victorian carollers singing on Fridays and Saturdays throughout December – an old fashioned Sweet Shoppe will also be available for any young guests looking for some delicious treats. Check availability.
The roof bar gets a Swiss chalet makeover and, for big spenders, there's a Nights Before Christmas package that includes an in-room Christmas tree, gingerbread playhouse, candy cane scavenger hunt and much more.
The Standard East Village
From late November to March, The Standard, East Village customarily turns its outdoor garden into a magical winter wonderland. Though 2020 has required them to reduce some of the features they normally offer like heated yurts and fondue dishes, there is still plenty of festive fun left on tap!
If you're lucky enough to visit this Christmas Day then don't miss out on A Very Decimo Christmas in their tenth-floor restaurant; you'll be treated with an exquisite Mexican/Spanish feast plus a complimentary Champagne cocktail upon arrival. Check availability.
Dream Downtown
Stepping into the eccentric and fashionable Meatpacking District, prepare to be amazed by the holiday decorations at this one-of-a-kind hotel. In prior years they've converted their rooftop bar into a 'Midwinter Night's Dream', featuring a candlelit tunnel and sweet candy cane cocktails–not to mention an alpine lodge lobby with taxidermied polar bears, snow leopards, moving penguins in tuxedos manning an outdoor ice bar! Check availability.
View the Best Holiday Decorations and Christmas Lights in NYC
There's no doubt that Christmas in New York City offers the best Christmas decorations with holiday window displays, holiday wreaths, bright lights, giant Christmas ornaments, and massive Christmas Trees. The city just does Christmas spirit right! Here are some of my favorite places to see Christmas lights in New York City.
Rockefeller Center Tree
If you're looking for a quintessential New York City experience this holiday season, look no further than the Rockefeller Center Tree Lighting Ceremony. Each year, thousands of people gather in Midtown Manhattan to watch as a massive Norway Spruce (the biggest Christmas tree in New York City) is lit up with thousands of twinkling lights.
The tree-lighting ceremony includes performances by popular artists, making it a great way to kick off your holiday celebrations. Make sure to get there early; it's one of the most popular things to do in New York City at Christmas time! If you're not going to be there in time for the actual lighting of Christmas tree in NYC, don't worry, it'll be there all season for you to visit. The Rockefeller Center Christmas tree is huge and beautiful and worth seeing.
Dyker Heights Christmas Lights in Brooklyn
The history of Dyker Heights' Christmas display began in the mid-1980s when homeowners started decorating their houses for the holidays. Each homeowner had their own style and ideas for decorations; some were classic designs while others were more creative or over-the-top. As word spread about the fantastic light shows in Dyker Heights, tourists flocked to get a glimpse at this winter wonderland.
Over time, the displays grew larger and more elaborate as homeowners tried to outdo each other with their decorations every year. Nowadays, it's not uncommon to see entire lawns covered in inflatable snowmen and reindeer, life-size nativity scenes featuring Mary and Joseph, towering Christmas trees encased by spotlights, and even animatronic Santas and snowmen performing choreographed songs.
Exploring Dyker Heights Christmas lights is easy and there are plenty of ways to make it fun for everyone involved! One popular option is booking a guided tour with an experienced guide who will walk you through all the best spots in Dyker Heights so you don't miss a thing.
Another option is downloading an app like Light Finder NYC which will provide you with maps showing where all the best displays are located so you can craft your own route around the neighborhood at your own pace.
Of course, you can always just take a taxi or UBER out to Dyker Heights and wander around. There are several trucks that sell hot chocolate and popcorn. Please just be respectful of peoples' homes and yards and don't litter or trespass. Also, be sure to dress warmly, it will take you several hours to see the lights. They just keep going and going!
Explore the Dyker Heights Tour
Hudson Yards Mall
Hudson Yards Mall is a magnificent center of shops and restaurants situated beside the spectacular Vessel. Visiting any time of year provides an enjoyable adventure, yet during the holidays it becomes even more special because Hudson Yards adorns its space with nearly two million Christmas lights!
Shine On, an incredible light and audio installation, graces this shopping haven for all to enjoy throughout the holiday season. If you have young children, then be sure to include them on your visit – they will surely love it!
Macy's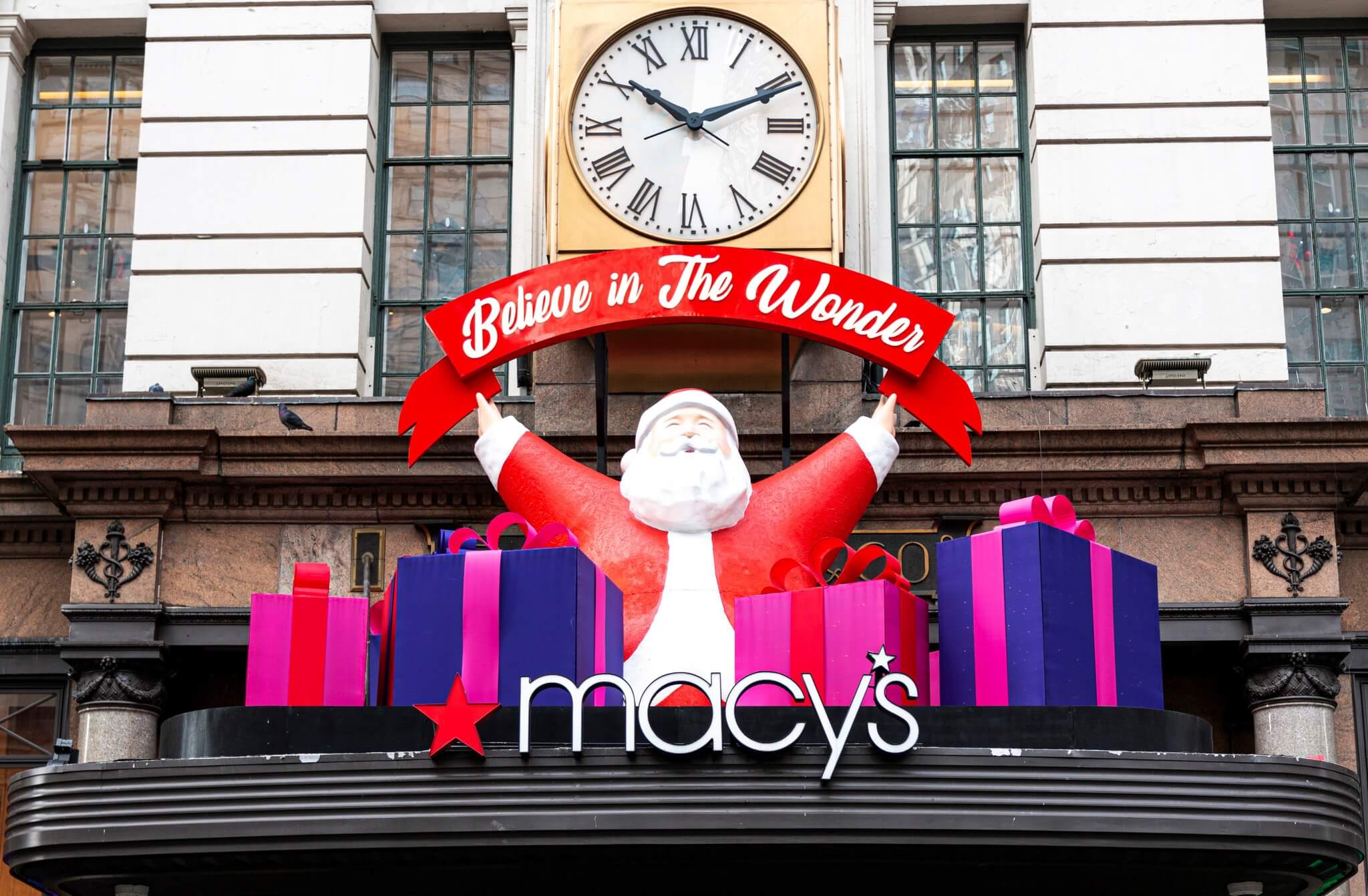 Spanning a full city block, the biggest Macy's in the world offers more than just incredible Christmas lights and window displays — it is an experience. Visiting for some of the best holiday illuminations around NYC should be at top of any itinerary, with a bit of retail therapy thrown in too! Their legendary Santaland event on their 8th floor features one-of-a kind Christmas light shows that will leave you dreaming all year round. Make sure to mark your calendars–the largest Macy's in the world has everything you need this winter season!
Stroll through delightful the village, Santa's workshop and loads of other festive attractions before having a personal encounter with Kris Kringle himself! It gets even better as this entire experience is absolutely free to revel in- just remember to book ahead. For those that can't make it to Santaland, Macy's also sets up some of the most spectacular holiday lights around its New York City store.
The Highline Winter Lights Display
This year, The High Line is featuring Winter Lights by Genesis. I'm hoping these come back next year because they are gorgeous. You can visit this between 15th and 16th street, right near Chelsea Market.
Saks Fifth Avenue Light Show
From the dazzling lights of Saks 5th Avenue to all of the other incredible Christmas displays you'll see in New York City, none can compare with the spectacular holiday light show offered at Saks. As beautiful music resonates throughout the area, both adults and children are mesmerized by its beauty. This experience truly elevates your holiday spirit as it transports you into a world that feels like pure magic!
Witness the mesmerizing and sensational New York Christmas lights extravaganza, which occurs every 10 minutes from 5-11 pm each evening. Prepare for a bustling audience as this extraordinary display of illumination is one of the most sought-after attractions during this festive period. Don't miss out on your chance to witness these dazzling lights – stick around long enough and you're sure to experience all of their grandeur!
Radio City Music Hall
Radio City Music Hall's festive display of NYC Christmas lights has made it a sought-after destination for movie scenes, such as Home Alone 2 and the Godfather. Visitors swarm to this iconic location every year to capture photos in front of its majestic beauty. It isn't just Radio City that is lit up; 6th Avenue and 50th Street spotlights an array of delightful illumination—bright enough for you to witness with your own eyes!
Go Ice Skating at Christmas in New York City
Ice skating in NYC is a Christmas tradition not to be missed. Luckily there are several rinks around the city to choose from.
Ice Skating at Bryant Park
No visit to NYC during the holidays is complete without taking a spin on an outdoor ice rink—and Bryant Park is one of the best places to do that. This picturesque spot just steps away from Times Square is transformed into a winter wonderland thanks to its 17,000-square-foot outdoor ice rink.
With plenty of nearby restaurants and shops, it's easy to spend an entire day here enjoying all that Bryant Park has to offer. You can even rent a private igloo to stay warm while you're off the ice. Skate rentals are $15/pair. If you have your own skates, you can skate for free, but you do need to book a session. More information here.
Central Park Ice Rink – Wolman Rink
This iconic outdoor skating rink offers breathtaking views of the Manhattan skyline and the perfect opportunity to get into the holiday spirit. Let's take a closer look at what makes skating at Wollman Rink such a unique winter experience. Skating under the stars with views of the iconic Manhattan skyline is an experience not to be missed. The rink itself is surrounded by tall trees, adding to an already picturesque setting.
Wollman Rink offers several amenities for visitors including food & beverage options, a skate shop, and locker rooms where you can rent skates or store your own belongings while on the rink. There are also several public restrooms scattered throughout the park for your convenience. And if you don't feel like bringing your own skates, they have rental options available.
Rockefeller Ice Rink
It's hard to say which ice skating rink is the most iconic in the city, but the Rockefeller Ice Rink definitely makes the top of the list. There's just something magical skating within view of that magnificent Rockefeller Christmas tree. You can also rent your own skates here and enjoy the beautiful decorations.
Go Shopping & Discover the Best Christmas Markets in NYC
NYC is always a great place for shopping, but there are even more opportunities to discover during the holidays. If you're looking for some unique gifts or just shopping for yourself, the Christmas markets in New York City are a must!
Union Square Holiday Market
The Union Square Holiday Market takes place each year from Thanksgiving through Christmas Eve and offers visitors an array of unique gifts handmade by local artisans. Whether you're looking for jewelry, clothing items or home decor pieces, you can find something special for everyone on your list (including yourself!).
Plus, with live music performances throughout the day and plenty of delicious food options available (hello hot cocoa!), this market makes for a perfect afternoon outing when you're looking for something special during your holiday stay in NYC. More information here.
Winter Village at Bryant Park
From festive lights and decorations to ice skating rinks and markets full of handmade gifts from local artisans, there are plenty of ways to experience Christmas in New York City.
Whether you want to attend one of the iconic tree lighting ceremonies or simply explore all that this magical city has to offer during this special time of year — make sure you take advantage every minute! With so much going on throughout December —it will be hard not fall completely head over heals with Christmas in NYC!
Grand Central Terminal Holiday Market
Grand Central Terminal is a must see in New York City any time, especially when you're visiting NYC with kids, but it's especially beautifully decorated and lit up during the holiday season with a gorgeous red and green ceiling and a festive Christmas Market offering boutique gifts.
Columbus Circle Holiday Market
Columbus Circle, at the southwest corner of Central Park hosts an annual holiday market that's full of unique vendors selling trinkets, gifts, and tasty food! After spending some time wandering Central Park, stop in for some hot chocolate and churros.
Chelsea Market
Chelsea Market is a fun, year-round market that was previously the Nabisco Factory, where you can shop, eat, and explore. There is fun holiday decor and festive shopping during December, so it's worth a stop for the holiday season.
FAO Schwarz
If you've got kids who love toys, a visit to FAO Schwartz is a must! It's one of the best things to do in new york city during Christmas for kids and adults! This massive toy store will entertain them for hours. Be sure to say hi to the toy soldiers out front and play the big floor piano from the movie BIG! I also love the tiny dollhouse display!
See Christmas Shows in NYC
The Radio City Christmas Spectacular Featuring the Rockettes
If you're looking for the most festive holiday show in New york city, the Rockettes Christmas Spectacular does not get any more festive! With Santa Claus, the Nutcracker, and the Nativity story all rolled into one show, combined with amazing dancing from the Rockettes, this show really puts you in the mood for Christmas!
The Rockettes Christmas Spectacular is held in the gorgeous and history Radio City Music Hall which is absolutely massive. The grand scale makes it even more impressive. Be sure to purchase tickets in advance. Book Here
A Sherlock Carol
This is a clever show that combines Charles Dickens' A Christmas Carol and Sherlock Holmes. It's a bit of a sequel to A Christmas Carol and it's very charming and sweet with a cast of only 6 people and a basic set. Book Here
Nutcracker at the New York City Ballet
If you're a fan of the ballet and want to see a holiday season staple, the New York City Ballet's The Nutcracker is a great choice. The NYC Ballet is one of the top in the world, and it's amazing to watch them dance to these classic holiday season songs. Be sure to book tickets well in advance. Book Here
Christmas Restaurants in NYC
There are some amazingly festive restaurants that go all out during the holiday season. You'll need to book some of these months in advance, but the over the top decor is worth it! Here are some of my favorite Christmas restaurants in New York City.
Rolf's German Restaurant
If you're searching for the perfect Christmas restaurant in NYC, your search ends with Rolf's. This Gramercy favorite is popularly recognized for its yearly act of turning into a Germanic winter paradise complete with an overwhelming display of beautiful ornaments, lights and Kris Kringles! Apart from their festive atmosphere, they are also known to serve delectable schnitzel, pork chops and beef stew dishes. Visit Rolf's now to enjoy both impeccable cuisine accompanied by one-of-a kind seasonal vibes!
Tavern on the Green
For the past century, Tavern on the Green has been one of New York City's most iconic and beloved Christmas destination. Nestled in Central Park's West side, this chic restaurant offers a unique and festive experience like no other – from its beautiful 20-foot tree to its various holiday decorations that are sure to put you in the spirit of festivities! Whether you're looking for an unforgettable night out or simply want to admire one of NYC's best Christmas trees, make Tavern on the Green your go-to spot this year!
Lillie's Victorian Establishment
Step into the magical world of Lillie's, with locations in both Times Square and Union Square. It is one of NYC's most renowned restaurants this festive season due to its delectable New American pub fare, creative cocktails, and awe-inspiring decorations!
Everything from ornaments to holly boughs to Nutcrackers fill the barroom creating a cozy yet opulent atmosphere for guests. And let us not forget about their giant animatronic teddy bears that add an extra layer of holiday cheer! So make sure you come experience all that Lillie's has to offer when searching for the best restaurants in NYC for Christmas!
Other Christmas Things to do in NYC
NYC Walking Tour
Let's be honest, New York City in Christmas time can be a little overwhelming, especially if it's your first time. One of the best things to do in NYC around Christmas is to take an holiday themed NYC Walking Tour. It's a really fun and easy way to see all the highlights without getting overwhelmed or lost. Be sure to book early, this small group walking tour is very popular.
Drink Lots of Holiday Hot Chocolate to Stay Warm
Since it's definitely going to be cold, I recommend sampling all the hot chocolate you possibly can! I have several favorites around the city:
Cafe Maman (several locations)
The Little One (Lower East Side – the malted dark chocolate cardamom hot chocolate is the best thing I've ever had)
Max Brenner (several locations)
Jaques Torres
Levain
Li-lac Chocolates
Angelina
Venchi
Dominique Ansel
Ladurée
No Chewing Allowed (Bryant Park Popup also selling yummy french truffles)
Serendipity 3 – Known for their frozen hot chocolate, his one will make every hot chocolate list in New York City, but I don't love it because it's a crazy long wait and they have a $20 minimum spend which I find very annoying. Visit if you must.
Hop a Ride on the Holiday Nostalgia Train
Every weekend in December, the Metropolitain Transport Authority (MTA) works with the New York Transit Museum to bring back a vintage eight car subway train that allows locals and visitors to feel like they've stepped back in time. These cars are from the 1930s and have rattan seating, ceiling fans, and period advertisements displayed.
They're just absolutely delightful. You don't need to book ahead or pay a special fee. It's the same cost to ride the Nostalgia train as it is to take the regular subway. Find more information here on when and where to hop on board. It's one of my favorite Christmas things to do in New York City.
Take a Carriage Ride through Central Park
Taking a carriage ride through Central Park is one of the most iconic things to do in NYC at Christmas time. You can usually find plenty of the carriages in park or you can book ahead online to be safe. The horses in Central Park are a bit of a controversial topic. The regulations around horses in the city are very strict, however, how well these are enforced, I am not sure. Do your own research and make the decision that feels right for you.
Ride a Carousel
There's something nostalgic about carousels, even when it's not Christmas time in New York City. But it's especially fun to ride these when they're decked out for the holidays. The Central Park Carousel is particularly festive and a great choice for Christmas time in NYC with kids.
Take a New York City Christmas Cruise
Embrace the holiday cheer and take a boat tour of Manhattan's iconic sites aboard a vintage yacht! You'll be surrounded by festive decorations while you listen to Christmas music and sing carols. Enjoy your favorite adult beverage or hot drink as you cruise in comfort inside an enclosed, heated observatory.
Don't forget to grab a cup of hot cocoa for the perfect touch on this enchanting experience for Christmas in NYC. Be sure to book ahead, this cruise sells out quickly. Check sailing times here.
Browse the Holiday Window Displays
Department stores really go all out during Christmas in NYC! Be sure to at least window shop down Fifth Avenue. Here are some of my favorite holiday window displays.
Bergdorf Goodman
Saks Fifth Avenue
Macy's
Bloomingdale's
Stroll Through Central Park, a Magical Winter Wonderland
Taking a walk through central park any time of year is magical, but it's especially beautiful at Christmas time, especially if you catch it in the snow! It's so picturesque and peaceful, although cold.
I hope this guide to Christmas in NYC was helpful and you'll find so many wonderful things to see and explore during this magical time in the city. Have anything to add to this? Let me know in the comments!