Killarney, Ireland is one of the best destinations in Ireland if you're looking for a cultural, natural, and gastronomical experience. From hikes to ice cream, discover the best things to do in Killarney.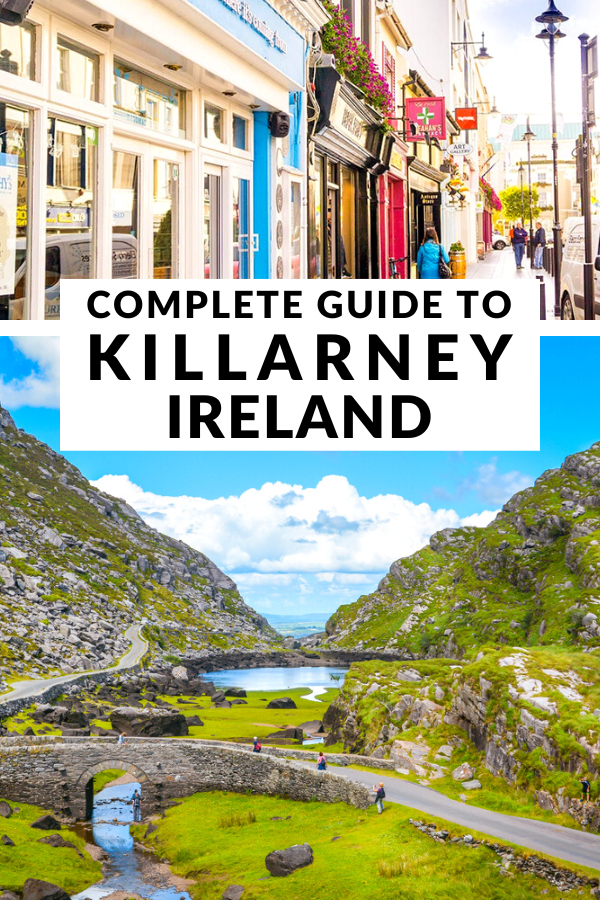 20 Unforgettable Things to Do in Killarney

, Ireland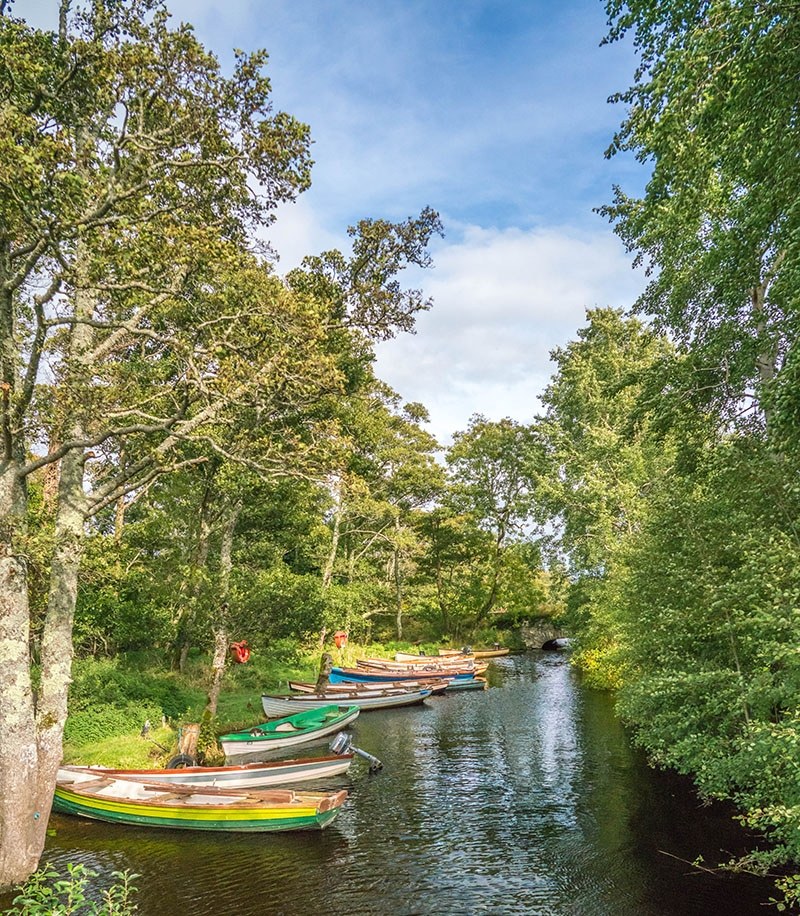 If you've followed me for a while, you know that Ireland is one of my very favorite countries and a seriously special place for me. Every time I return, it feels like coming home. I've had lots of emails from my readers about finding The Perfect Ireland Itinerary for 2 weeks which definitely includes Killarney! Even if you're only visiting Ireland for 7 days, I recommend putting Killarney on your list. It's one of those amazing places that should not be missed!
I had the chance to spend a week in Killarney with my girlfriends and colleagues and it was like being in high school again, minus all the drama, bad hair, and acne (ok, maybe there was still some bad hair…and a little drama).
Before I arrived, I wasn't really sure what to do in Killarney. I knew it was a beautiful area, but I was surprised at what a FUN place it was and how much there was to do! Killarney is a beautiful hidden gem nestled in the heart of Kerry in Ireland's southwest corner near the ring of Kerry. When people say "Killarney" they often mean Killarney National Park, but the town and surrounding areas of Killarney have even more to offer.
If you want to know what to do in Killarney, then keep reading. I'll be talking about 20 of my favorite things to do! But here is a quick list of all Killarney popular tourist destination:
Rent a Bike Ride

Explore a Castle

Take a Boat Ride

Explore a Secret Castle

Walk to a Waterfall

Tour a Farm

Tour a Mansion

Visit a Pub

Listen to Live Music

Discover that Ireland is a Foodie Destination

Make Room for Dessert

Take a Bus Tour

Take a Ghost Tour

Visit a Spa

Take a Hike

Go Kayaking

Go Golfing

Explore Abbey Ruins

Go Fishing

Ride in a Jaunting Car
Getting to Killarney
We bought our tickets from Boston to Ireland for $60/person! If you are new to finding cheap flights, please read How to Fly for Cheap or Free. Flying to Ireland is one of the cheapest ways to get to Europe from the US. With airlines like Aer Lingus and WOW offering extremely affordable flights to Ireland, it is going to become a more popular destination in the years to come.If you're flying into Dublin, you can take the Dublin Coach from the airport for around 20 Euros per person or rent a car. It's about a four-hour drive from Dublin to Killarney.
Roadtripping Ireland can be a wonderful experience. Consider flying into the Shannon Airport (SNN), as it is smaller and there are often great flights on Aer Lingus to Shannon. There is no direct shuttle from Shannon Airport to Killarney, but if you're renting a car it's about a 2-hour drive.
The closest airport to Killarney is Kerry. Flights are frequent and affordable from London to County Kerry.
Where to Stay in Killarney
Killarney offers a wide array of hotels for couples, solo travelers, and families.  The Gleneagle has apartments that are great for families and in a prime location for visiting the town and the National Park and other attractions. There are also many Home Rental houses in the area that are a great choice for families who want to cook their own food and have a little more space.
Rent a Bike 
Rent a Bike and cruise the beautiful, hilly paths when visiting Killarney National Park. You can find bike rentals at Killarney Rent a Bike on the main road.
Explore a Castle
Head to Ross Castle, an ancient castle ruin dating back to the 15th century. Entrance is free and the views of lakes from here are incredible. Once you've explored Ross castle, you'll want to visit these other incredible castles in Ireland. Have you ever wanted to sleep in a castle? Check out these affordable castles you can actually stay in!
Take a Boat Ride
From Ross Castle catch a boat on the Lough Leane and ride out to Innisfallen Island to see the wild deer who call this island home and the ancient ruins of a 6th century Innisfallen Monastery. If you're lucky you'll be able to grab a boat with a boat dog in it like this beauty! We took two boats while we were in Killarney and each one had an adorable dog!
From Ross Castle catch a boat on the Lough Leane and ride out to Innisfallen Island to see the wild deer who call this island home and the ancient ruins of a 6th century Innisfallen Monastery. If you're lucky you'll be able to grab a boat with a boat dog in it like this beauty! We took two boats while we were in Killarney and each one had an adorable dog!
Explore a Secret Castle
If you didn't get your fill of castles after seeing Ross Castle, Head down to the Lake Hotel and walk along the path that leads to the lake where you will find stunning castle ruins. Visit the ruins in the evening to catch a breathtaking sunset and see the castle lit up after dark.
Walk to a Waterfall
Killarney is full of natural beauty and Torc Waterfall is just one of its gems. Drive past the park entrance and take the short walk up to the waterfall. You can even take a dip if you're in the mood and don't mind freezing cold water.
Tour a Farm
Muckross Traditional Farms is a wonderful place where you can learn how to milk a cow, make your own butter, learn about the traditional farms on Irish farming and farm life, and experience how life would have been for small Irish farmers in the early 1900s. This could be an all-day activity in Killarney and a perfect place to take the kids.
Tour a Mansion
If you're after something more extravagant, Muckross House is a Victorian manor that offers a one hour guided tour throughout the home. Queen Victoria and Prince Albert visited here during the 1800s and the preparation for their visit took a mere 6 years!
You can even see a traditional wool weaver hard at work and buy gorgeous handmade products in the house. If you don't want to do the tour, walking around the grounds is free. There is also a fantastic cafe next door.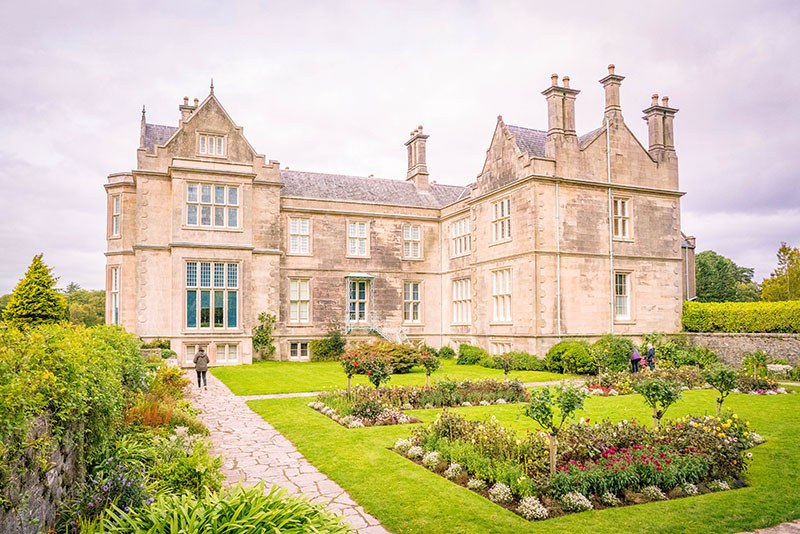 Another mansion you can tour around is the Killarney House. The place surrounds the gardens Killarney House and has a beautiful lake view. The house itself is an incredible building that stands out from the rest of the town with its architecture.
Visit a Pub or Two or Three
I don't drink, but I love going to pubs in Ireland. They generally offer plenty of nonalcoholic beverages such as a Virgin Mint Ginger Mojito and other fun drinks. Check out Reidy's, which is four pubs in one. You can usually find live music, dancing, and fun in the pubs. Pubs in Ireland also usually sell "pub food" like fish and chips, meat pies, and steaks.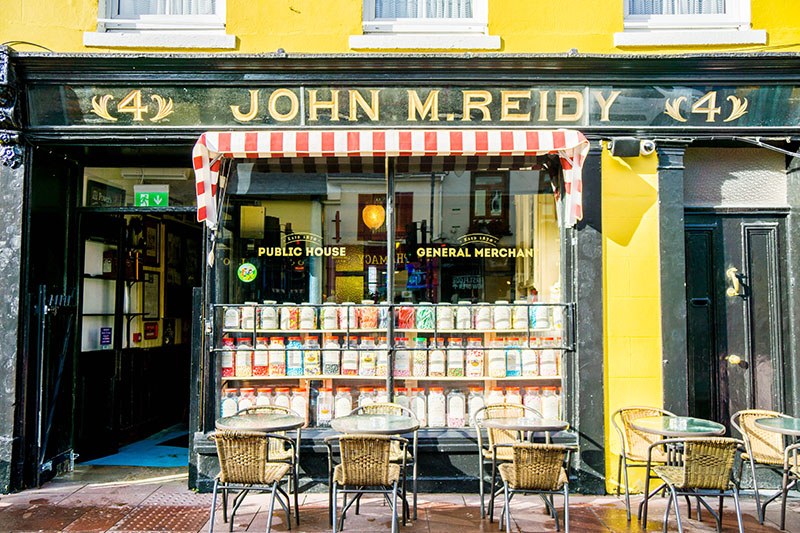 One famous pub you should definitely check out is the Killarney Brewing Company which is in Muckross Road. It is right outside Killarney town, with views of the magnificent MacGillycuddy Reeks, Gap of Dunloe, and the Lakes of Killarney.
Listen to Live Music
You can often find live music to be had on the streets of Killarney or in the pubs. If you're not sure where to go, just ask the locals, they are friendly and more than happy to point you in the right direction. Or just follow your ears…the Irish like it loud!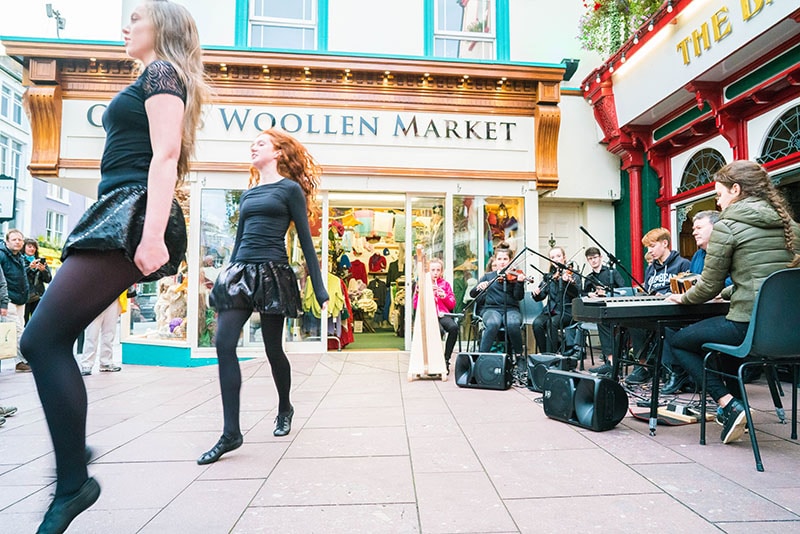 Discover that Ireland is a Foodie Destination
When you think of Ireland, gourmet food might not be the first thought that comes into your head, but over the last decade, Ireland has been making a name for itself in the foodie department with it's locally sourced fish, meat and fresh produce. Authentic and delicious cuisine can be found all over Killarney. Some of my personal favorites were Laurels, for a nice sit-down restaurant and Quinlin's Fish and Chips for amazing seafood (hello crab claws)!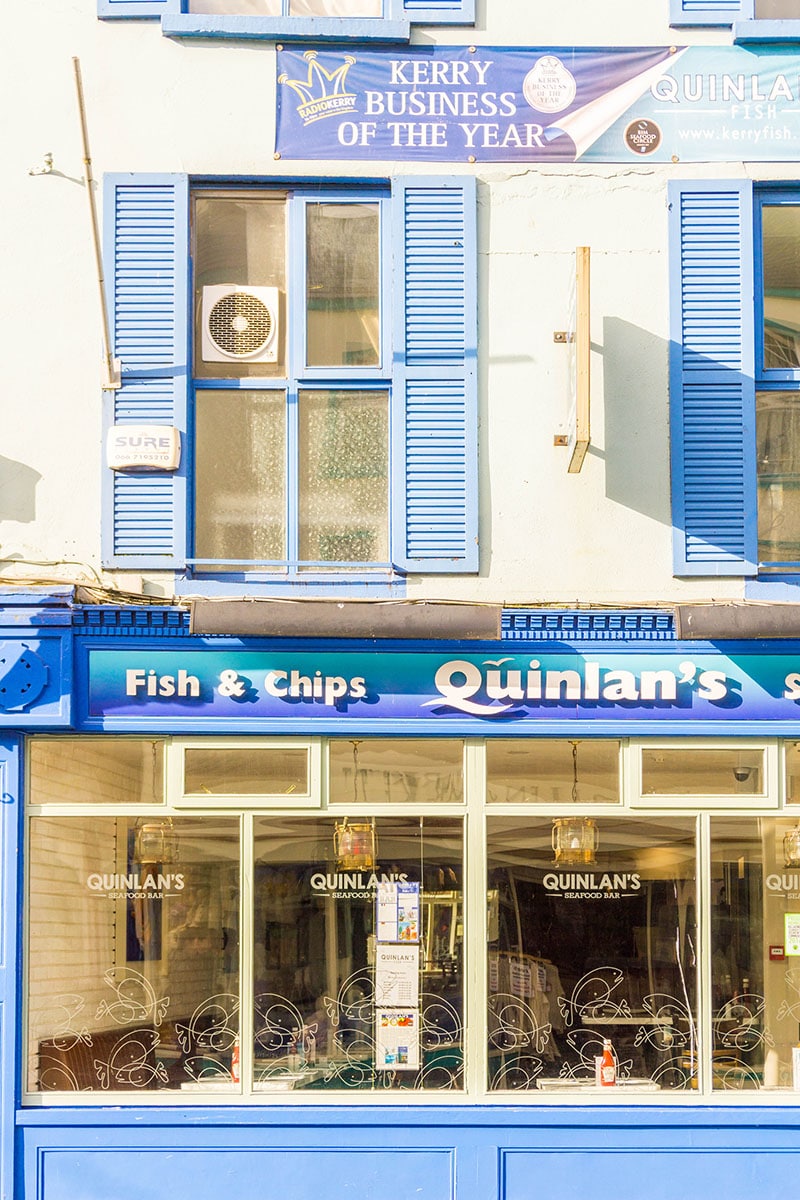 Also, make sure to walk around Killarney Town Center for local street food stalls, cafes and eateries.
Make Room for Dessert
Head over to Murphy's Ice Cream for some of the best and most unique ice creams in the world. Rated as one of the world's best ice cream's by Conde Naste, it's worth the wait (and the weight)! Try the Sticky Toffee Pudding combo, the toasted Irish soda bread flavor, or the Irish Sea Salt, their most famous flavor, whose salt is collected locally from the ocean. One of the scoopers told me they had done that batch themselves! There are lots of great places to eat dessert in Killarney, but this is the one that kept me coming back on a daily basis, much to my jeans' dismay!
Take a Bus Tour
Take a few hours to get acquainted with Killarney by taking a Hop on Hop Off (HOHO) bus tour. Or experience day tours from Killarney.
Take a Hike
Killarney is a beautifully hilled area offering plenty of hikes for all skill levels, ages and interests. Try one of these hikes.
The Ladies View in Killarney is one of the brilliant places to hike within Killarney Town. It's situated on the Ring of Kerry and the place is named after Queen Victoria's Ladies-in-Waiting who were captivated by the beauty of the landscapes.
The views from here are breathtaking and one could spend a great time walking around, taking pictures or simply admiring the beauty of nature.
Go Kayaking
Killarney is surrounded by several lakes. Take advantage of being on the water by taking a kayak tour and seeing its beauty from a new perspective.
Go Golfing
Killarney offers an amazing golf course with stunning castle and lake views. Check out Killarney Golf and Fishing Club.
Explore Abbey Ruins
Be sure to visit the Muckross Abbey ruins. It's an incredible sight and is open to the public to explore at will.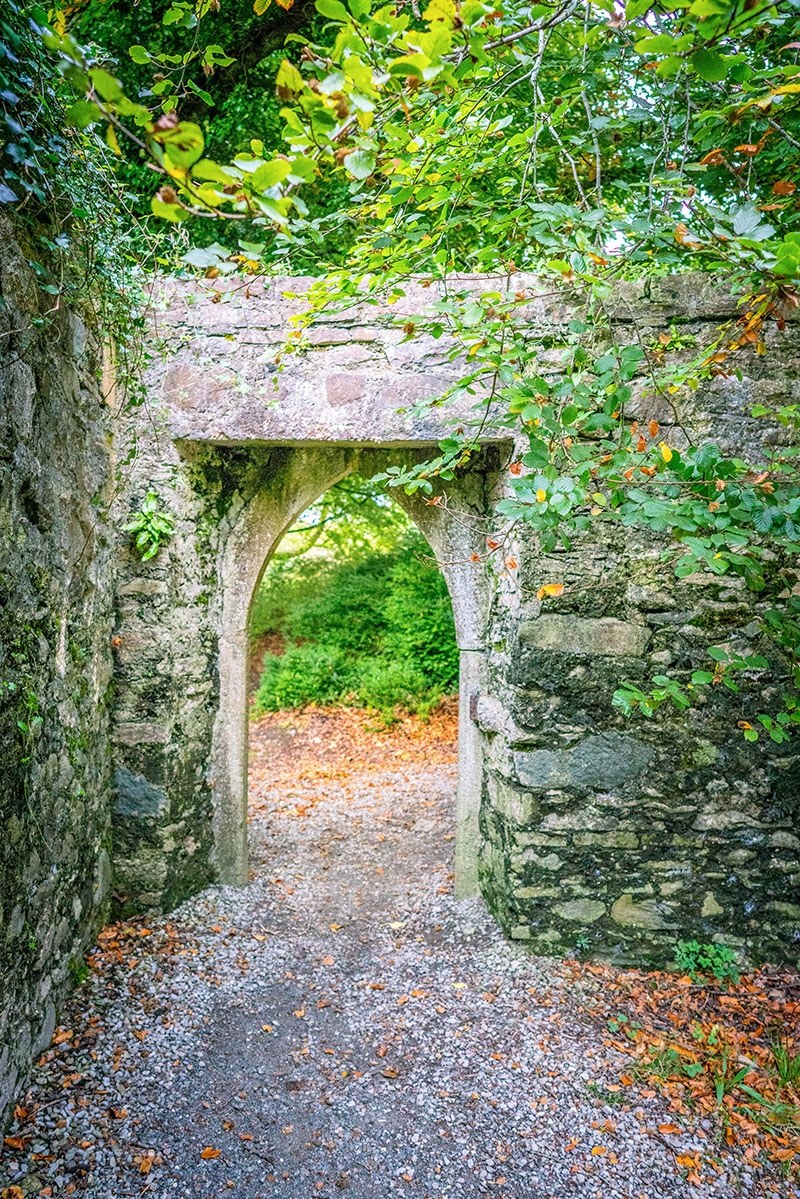 Go Fishing
Take advantage of the ample water surrounding Killarney and try your hand at fishing with Killarney Fishing Adventures.
Go for a Ride in a Jaunting Car
Part of the charm of visiting Killarney is feeling like you have stepped back in time. Besides all of the castles, old manors, and farms, you will see horse and buggies sharing the road with cars. Be sure to catch a ride on one of these through the park or through the town. These are all family owned and have been for years. The teamsters are all knowledgable locals who will gladly share the love of Killarney with you! The horses are treated better than my children as they get every 3rd day off from work.
Check out some of the Best Hotels in Killarney Ireland
Before you head off to town, you will want to find a place to stay. There are plenty of hotels in Killarney that provide amazing experiences. Here are a few of our top favorites:
Located in the city center of Killarney, Killarney Towers Hotel is a convenient base for exploring the area. It's a great choice for families, as they offer an indoor pool!
The hotel offers a range of modern and comfortable facilities such as a fitness centre, restaurant, bar, and free WiFi, and they even arrange golf and horse riding or hill walking by request. It's undoubtedly one of the best hotels in Killarney for an unforgettable stay.
If you're searching for a relaxing and peaceful hotel experience, the Dromhall Hotel is the perfect choice. This hotel has a spa to be pampered with massages, body wraps, or aromatherapy treatments.
The hotel also offers a range of activities to enjoy, such as a pool, bar and lounge, and private picnic area. Plus, the on-site restaurant serves up delicious local dishes for you to enjoy – all in a stunning setting overlooking the lakes of Killarney.
A 4-star family-friendly hotel in Killarney city center, the Great Southern Killarney is home to a range of modern amenities. This hotel offers spacious and comfortable guestrooms, an indoor pool, 2 tennis courts, a full-service spa, a sauna, a playground for kids, a gym, and 177 rooms.
Plus, the hotel has open outdoor space to do a barbecue grill and is nearby the national park. With all these features and more, the Great Southern Killarney is definitely one of the best hotels in Killarney to consider for your stay especially when we talk about activities.
Another great hotel in Killarney Ireland is the Lake Hotel. Situated on the shores of Lough Leane, this hotel offers stunning views of the lake and the surrounding mountains.
The hotel offers a range of modern facilities such as a library, hot tub, sauna, steam room, and gym. Plus, you can enjoy delicious meals at the on-site restaurant or relax in their bar with a cocktail.
Our Best Tours in Killarney Ireland
Killarney is a great place to base yourself in Ireland because there are tons of amazing tours that leave from Killarney. This is especially important if you don't want to drive while you're in Ireland. Here are some of our favorite tours in Killarney.
A romantic and family-friendly way to experience the beauty of the Lakes of Killarney, this boat cruise takes you on a journey around Killarney's largest lake, Lough Léin. A modern cruise that's heated and has glass comfort for the best view, this tour is one of the top attractions in Killarney.
Here are the highlights of this tour:
Cruise the Lakes of Killarney in the comfort and safety of a glass-covered, heated boat
See wildlife such as Red Deer and White Tailed Eagles
Enjoy the panoramic views of Killarney National Park on the Lakes of Killarney
Drift by the 6th-century Innisfallen Monastery founded by Augustinian monks
See Ireland's highest mountain and learn about its ancient forests
If you want to experience both the Gap of Dunloe and the Lakes of Killarney, then this tour is perfect for you. This tour takes you on a journey through the Gap of Dunloe, a scenic mountain pass with breathtaking views. It's a unique way to discover Gap of Dunloe by foot or horse and carriage.
Here's what you can expect on this tour:
Discover the amazing Lakes of Killarney on a boat tour
Enjoy a 2.5-hour walk through Gap of Dunloe
View Old Weir Bridge from the boat
Meet the local and knowledgeable boatmen
A chill-out way to explore the Gap of Dunloe is on this tour. This Gap of Dunloe tour lets you experience the scenic mountain pass on foot. It's a 5-hour tour that takes you through the Gap's winding pathways, giving you a chance to take in its lush green landscapes and stunning views with an expect guide along the way.
Here's everything you can expect on this tour:
Explore the dramatic terrain of the Gap of Dunloe
Enjoy round-trip-transportation from Killarney
Discover the facts, folklore, and history led by an expert guide
Visit Lord Brandon's Cottage and Ross Castle
Journey by foot, boat, and an optional pony/cart ride
When you decide what to do in Killarney, whatever it is, you're sure to have an amazing time! It's a fantastic destination for families, children, couples, girls trips, guys trips, or solo trips!
Honestly, you just can't go wrong in Killarney. I'd love to know what you get up to and as always, if you have any questions about Killarney I'm more than happy to help out! Connect with me on Instagram or Facebook! Look here for even more Killarney inspiration. Want to save this for later? Pin it and follow me on Pinterest where I have loads of great resources for traveling Ireland and beyond!
Follow my Ireland Board on Pinterest for more Irish Inspiration:

What are some popular outdoor activities to do in Killarney, Ireland?
Killarney offers a wide range of outdoor activities, including hiking in Killarney National Park, exploring the Gap of Dunloe, cycling the Ring of Kerry, boating on the Lakes of Killarney, and golfing at one of the many picturesque courses in the area.
Are there any cultural attractions or historical sites to visit in Killarney, Ireland?
Absolutely! Killarney is home to several cultural attractions and historical sites. Some notable ones include Muckross House and Gardens, Ross Castle, St. Mary's Cathedral, and the Killarney National Park Education Centre. These places provide insight into the rich history and heritage of the region.
What are the best family-friendly activities to enjoy in Killarney, Ireland?
Killarney offers various family-friendly activities that cater to all age groups. Some popular options include visiting the Killarney Falconry, taking a horse-drawn carriage ride through the national park, exploring the Torc Waterfall, enjoying boat trips on the Lakes of Killarney, and experiencing the magic of the traditional farms at Coolwood Wildlife Park.
Can you recommend any indoor attractions or museums in Killarney, Ireland?
If you're looking for indoor attractions, Killarney has a few options to offer. The Killarney House and Gardens showcases beautiful art and exhibits, while the Muckross Traditional Farms allow you to step back in time and experience rural Irish life. Additionally, the Kerry County Museum in Tralee, just a short distance away, provides an in-depth look into the history and heritage of the region.
Are there any unique experiences or hidden gems to discover in Killarney, Ireland?
In addition to the well-known attractions, Killarney has some hidden gems worth exploring. One such gem is the Old Kenmare Road, a scenic and less-traveled route that offers breathtaking views of the surrounding countryside. Another unique experience is attending a traditional Irish music session at one of the local pubs, where you can immerse yourself in the vibrant local culture.