Do you dream of an incredible Scottish holiday and experience living like royalty? Then explore the best castles to stay in Scotland! There are several Scotland castle hotels, each with a unique character and fascinating history. In this guide, I'll show you the best castle hotels in Scotland and what you can expect from them.
I got the chance to live in Scotland as a little girl, and I remember falling in love with Scotland, especially the many castles that dot the entire country. My grandma probably took me to nearly 100 castles during our time there. For such a small country, Scotland sure has an abundance of castles! I've since taken my family back, and they've fallen in love with castles as well. And surprisingly, you can even sleep in a castle, and even more surprisingly, some of them are actually affordable! So I wanted to share some of my favorites with you.
As many know, Scotland is home to world-class whiskey distilleries, the Loch Ness monster, beautiful beaches, and rugged Highlands. But one of the best features throughout Scottish history is Scotland's sheer number of castles and manor houses.
Some of the castles in Scotland have lost their former glory, but many have been transformed into castle hotels. So if you are planning a trip to Scotland and want a more unique European holiday, I highly suggest booking a Scottish castle hotel.
There are many castle hotels in Scotland, and you can easily find ones near the capital city of Edinburgh or in the Scottish countryside and highlands with idyllic views. These castle hotels also vary in rates and amenities, so it's good to check out the options listed below and find ones that best suit your needs and budget.
Don't have time to read a bunch of reviews & blog posts? Here are our top picks for visiting Scotland:
Get an Easy Scotland Itinerary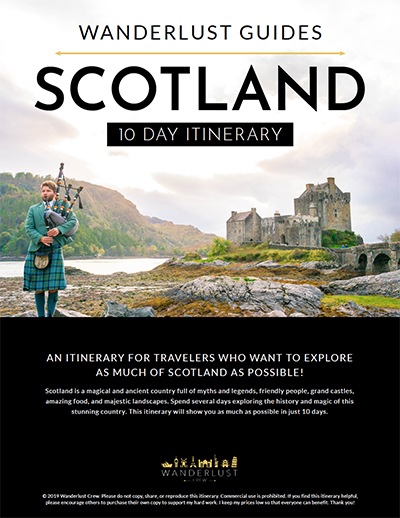 Our favorite hotels in Scotland
Our favorite tours in Scotland
Renting a Car in Scotland
If you want to see authentic Scotland, I recommend you drive yourself. If you're renting a car, there are two companies we prefer to use: Rental Cars and Expedia Cars. We have had no issues with them and have been able to find the best prices available.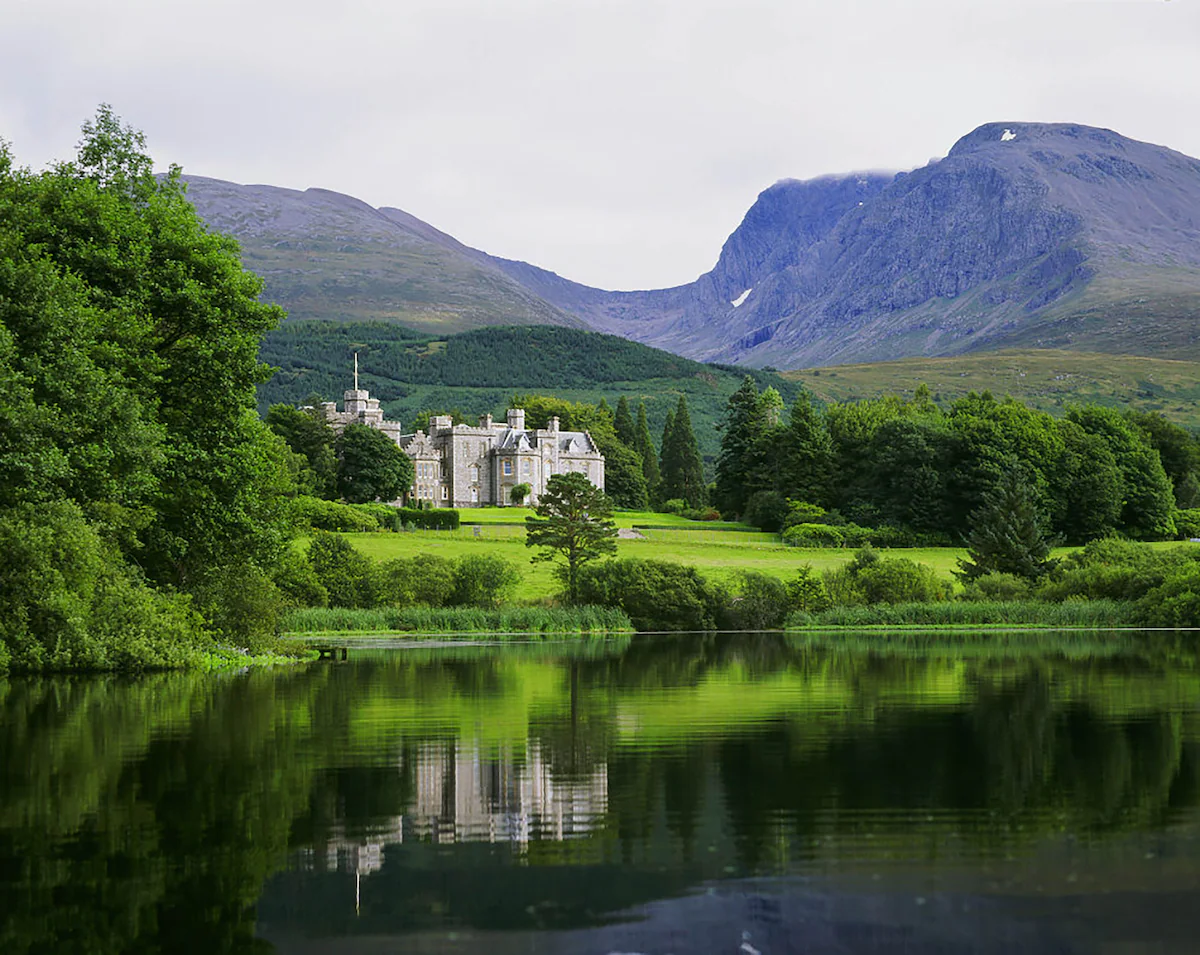 Just a few miles away from Fort William lies the Inverlochy Castle Hotel. This beautiful castle hotel earned the praises of Queen Victoria when she stayed there in 1873 and said she had never seen a lovelier or more romantic spot. Inverlochy Castle Hotel is located in the Scottish Highlands, on the foot of the tallest mountain in the country, Ben Nevis.
This 19th-century baronial mansion has everything you'd want in a fairy-tale-like holiday. The castle hotel features a rich, lush landscape, a pristine lake, and a charming Scottish countryside feel. You'll find the ruins of Inverlochy Castle, Ben Nevis Distillery, and Aonach Mor Ski Resort near the castle.
Inverlochy Castle Hotel aims to provide personalized and intimate castle stay. With only 17 rooms and suites, each decked in period furnishings and opulent decor. You get unobstructed views of the private loch and the magnificent castle grounds while enjoying modern amenities like free WIFI, a personal safe, comfortable slippers and robes, and luxurious bedding.
During the day, you can explore the walled garden and indulge in outdoor activities in Fort William, such as clay pigeon shooting, horseback riding, mountain biking, and archery. When you return to the castle hotel, enjoy a luxurious fine dining experience at the on-site restaurant or treat yourself to a delightful afternoon tea.
Dalhousie Castle Hotel is one of the best castle hotels near Edinburgh. While this stunning castle hotel is located in a rural area and sits on 800 acres of private land, it's surprising that it is only eight miles away from the capital. So if you're looking to stay in a castle in Scotland that's away from the hustle and bustle but close enough to the big city, this Scottish castle fits that bill perfectly.
This 13th-century castle has accommodated some of the most prominent figures in Scottish history, including Queen Mary, Queen Victoria, Sir Walter Scott, King Edward, and Oliver Cromwell. The castle hotel boasts a unique combination of modern facilities and luxurious touches, such as fluffy bathrobes, high-quality bedding, and name-brand toiletries.
Book one of the castle suites and sleep in four poster beds, with separate living areas, exquisite furnishings, and sweeping views of the castle grounds. Explore the nearby attractions: Craigmillar Castle, the Palace of Holyrood House, and the National Museum of Scotland. Dine in the Dungeon Restaurant and indulge in sumptuous traditional Scottish cuisine. Visit the modern spa facilities to relax and rejuvenate before turning in for the night.
With its opulence, excellent customer service, and ideal location, there is no doubt that Dalhousie Castle Hotel is one of the best castle hotels in Scotland.
Crossbasket Castle Hotel is a magnificent 17th-century castle transformed to become one of the best castle hotels in Scotland. Indeed, Crossbasket is one of the best castles to stay in in Scotland, particularly near Glasgow.
Dine at the famous Michel Roux Jr Restaurant, take a tour of the grounds and the stunning views, and enjoy a pleasant and luxurious stay at the finest suites.
Crossbasket Castle Hotel boasts luxurious accommodations, featuring nine suites decked in period furnishings, antique chandeliers, and fantastic views of the grounds and river. The Lindsay Tower Suite is impeccable, with four poster beds, plush chairs, oversized windows, and spacious bathrooms.
The castle hotel offers many experiences, from swimming and tours of Ayrshire and distilleries to outdoor activities like fishing, shooting, and golfing. With its elegant ambiance and top-notch service, Crossbasket Castle Hotel has also become one of the best castles in Scotland to stay in for weddings and important life celebrations.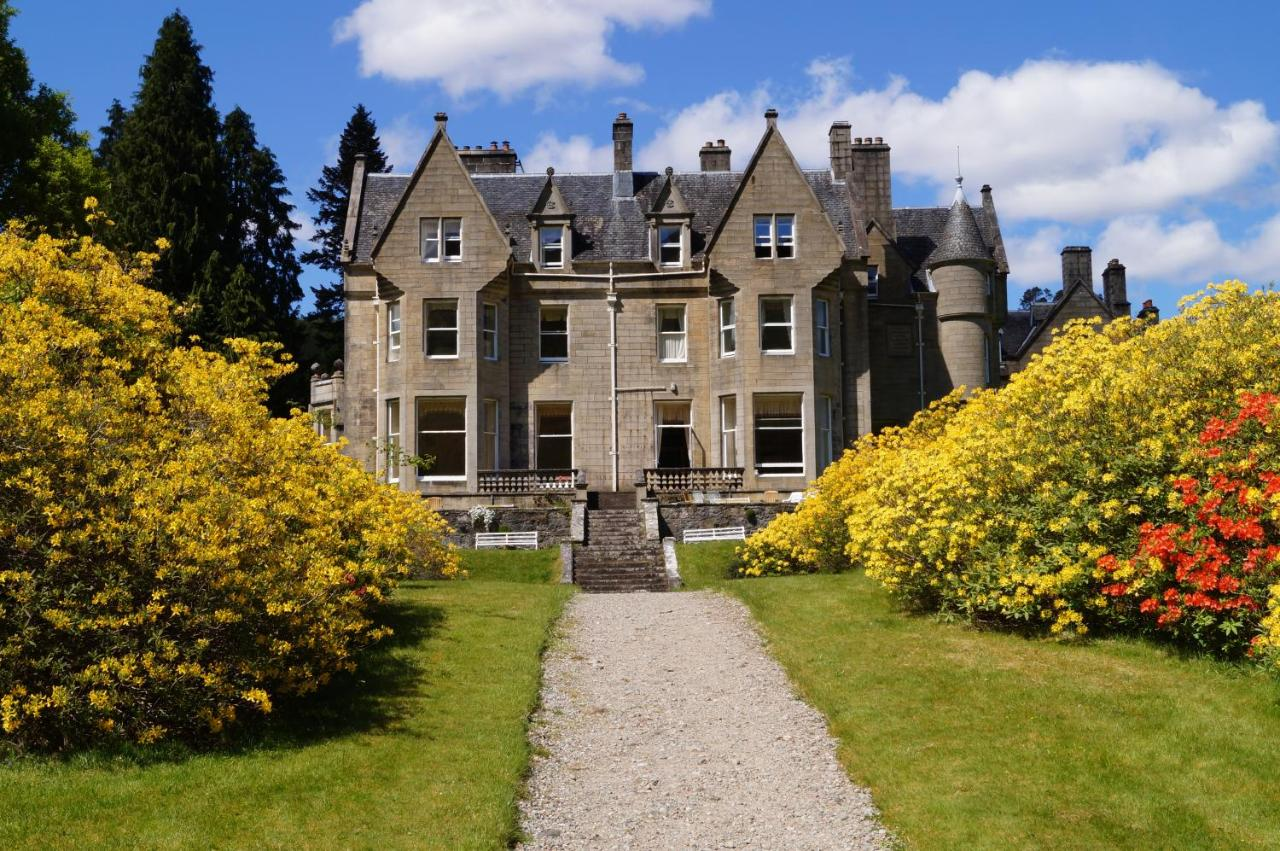 Glengarry Castle Hotel is an impressive castle hotel located in the Scottish highlands. Glengarry Castle Hotel lies between Ben Nevis and Loch Ness shores, giving you the best mountain and lake vistas. Unlike other castle hotels in Scotland, Glengarry is a family-run country-style home offering comfy and pleasant accommodations in the Highlands.
There are 26 guest rooms in Glengarry, each individually designed and equipped with a coffee maker and private bathroom, and some have four-poster beds. Tall windows, spacious beds, free WIFI, and high-quality linen are some of the best features of this Scotland Castle hotel.
The hotel's desirable location brings you close to some of the finest attractions in the area, including Loch Ness, Inverness, Fort William, Isle of Skye, and Eilean Donan Castle. Indulge in a meticulously-prepared three-course menu when you return to the hotel and cap the night off with a glass of whisky.
If you're looking forward to staying at a castle in Scotland, the stunning Baronial-style Glenapp Castle Hotel is one of your best options. Glenapp Castle Hotel is a five-star accommodation in the beautiful rural area of Ayrshire. Glenapp Castle sits on a 30-acre private property featuring a walled garden, lush forests, a Victorian Glasshouse, and spectacular sea views.
The Glenapp Castle Hotel is a five-star luxury hotel offering the best stays in Scotland. Featuring period furnishings and interiors, rich decor, and magnificent artwork. The 17 suites occupy the first and second floors of the castle, while the superb Endeavor Suite has its own floor, comprising four grand bedrooms, a bathroom with a sauna, library, and media room, and its own kitchen, dining, and living room.
The grounds of Glenapp Castle Hotel offer a wide variety of things to do, so much so that guests do not even have to wander far to find entertainment. You can explore various walking routes, enjoy a gin and whisky tasting, play croquet and golf, go fishing, swim, forage, or try archery or falconry. After a busy day of exploring, indulge in a 3 AA Rosette fine dining experience at the castle, featuring a 7-course or 3-course meal.
Looking to stay at a castle in Scotland, away from the hubbub of the city, and experience an intimate holiday with your loved ones? Glengorm is a Scotland bed and breakfast castle, so while it has a majestic vibe, it also feels homier than other castle hotels in Scotland.
Glengorm Castle Hotel is located on the northern coast of the Isle of Mule. It is remote, so you must ride the Oban Ferry from Glasgow or Edinburgh. Once you get to this Scottish castle hotel, you'll find beautiful self-catering apartments with stunning French doors, attractive seating rooms, and a well-equipped kitchen. Each apartment has spectacular views of the Atlantic Ocean or the grounds.
Glengorm Castle Hotel is one of the most intimate castles you can stay in in Scotland. Here you can seemingly disconnect from the rest of the world and pass the time by reading a book before a roaring fireplace or admiring the ever-changing beautiful views from your bedroom windows.
Sherbrooke Castle Hotel is one of the best Scotland castles to stay in Glasgow. Located in the stunning neighborhood of Pollokshields on the Southern side of Glasgow, you can't miss the attractive structure of the baronial-style castle built with rich red sandstone.
This 18-room castle hotel's excellent location perfectly combines urban and rural vibes. The rooms have modern amenities like free WIFI, a coffee machine, a private bathroom, a shower, and a bathtub. If you're looking for a most luxurious stay, opt for the Tower Suite, which comes with a separate lounge.
The on-site restaurant at Sherbrooke Castle Hotel provides all-day meals, afternoon tea, and an extensive selection of wines and drinks. In addition, this Scottish castle serves delectable Scottish fares sourced with fresh and locally-sourced ingredients.
The garden is the most romantic spot in the castle and has always been a famous wedding venue in Scotland. You can explore many attractions outside the castle, including Bellahouston Park, Ibrox Stadium, and Scotland Street School Museum. Meanwhile, Glasgow International Airport is only a 19-minute drive away.
Fonab Castle Hotel and Spa is located near Loch Faskally and overlooks the River Tummel in the Scottish highlands of Perthshire. It is interesting how Fonab marries the old and new, easily making it one of the best Scottish castle hotels. Original castle features, such as delicate fabrics and antiques, blend seamlessly with modern touches, including an indoor pool and a fitness center.
Fonab offers one of the most elegant castle stays in Scotland. The rooms are designed with floor-to-ceiling windows, affording you the most splendid vistas of Ben Vrackie and Loch Faskally. The rooms have massive beds, an en suite shower, Egyptian cotton bedding, and a deck or patio for your comfort and convenience. The epitome of luxury is the Penthouse affords you the panoramic scenery of the Perthshire Highlands while the 7″ Dickens Nickel bed serves as the room's centerpiece.
Explore the best things that Pertshire has to offer. Try clay pigeon shooting, white water rafting, salmon fishing, and bungee jumping. Then, return to the castle, get a spa service, and choose from a wide range of treatments. The spa's best facilities include a swimming pool, thermal room, sauna, and steam room.
Dining at Fonab Castle Hotel is also something to reckon with, giving you even more reasons why it's an excellent castle in Scotland to stay in. Enjoy a seven-course meal at the hotel's 3 AA Rosette Sandeman's restaurant, pairing those sumptuous dishes with a handpicked selection of wines.
Situated in Ardnamurchan Estate in West Scotland is the 13th-century Mingary Castle. Mingary is a fantastic castle to stay in in Scotland, with its secluded location, as it overlooks the Sound of Mule, enveloping the castle's surrounding with breathtaking beauty.
The castle's location can be accessed via a ferry. From Fort William, you'll pass through the Glenfinnan Viaduct, a setting for several scenes in Harry Potter movies.
Staying in a castle in Scotland like that of Mingary provides an unforgettable, luxurious experience. The four suites are donned in authentic décor, four poster beds, and an en suite bathroom. The MacDonald Suite is the most extravagant, featuring a wood-burning stove and an open fireplace, an ideal nook for reading a book.
Mingary Castle Hotel's dining experience is also superb. The on-site 2 AA Rosette restaurant serves five and eight-course meals made with seasonal produce and locally sourced ingredients. Meanwhile, the castle's outdoors serves as a natural playground for various activities, such as wildlife adventures, visiting the Ardnamurchan Lighthouse, and exploring the terrific beaches on the Ardnamurchan peninsula.
Barcaldine Castle Hotel is the famous black castle, one of the few ancient castles you'd find on the Scottish mainland. The castle was renovated in 1897 by Sir Duncan Campbell and has become one best castles in Scotland that are hotels.
Barcaldine Castle Hotel sits on the shores of Loch Creran and offers breathtaking views of the surroundings. Being one of the best Scotland castle hotels, Barcaldine Castle offers impeccable accommodations in its six opulent suites distinct from each other.
The Breadalbane Room, the most sophisticated suite, has a massive four-poster bed, oak flooring, and a spacious bathroom. From your windows, you'll find exquisite views of Lake Creran and the snow-tipped Glencoe mountains far beyond.
You can book one suite or have the castle all to yourself. The Great Hall on the first floor has a roaring stone fireplace, the perfect spot for entertaining guests during winter. Barcaldine Castle serves a full Scottish breakfast, but you can also explore the surrounding areas of Oban to find fantastic restaurants and cafes.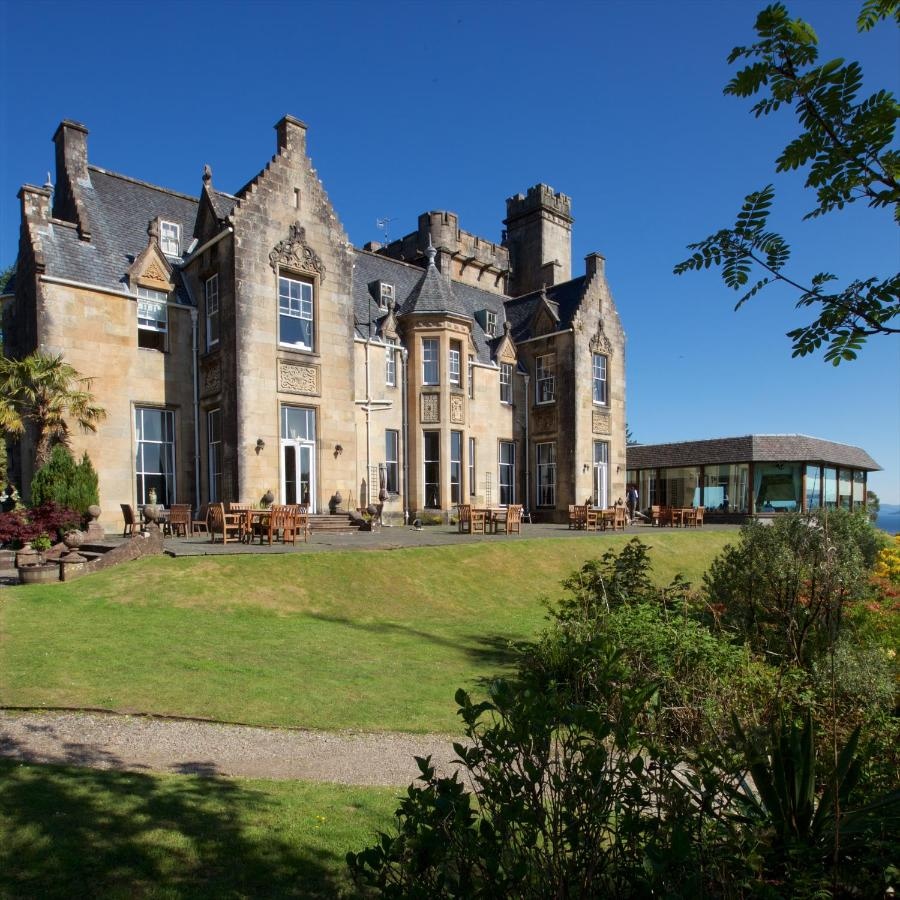 Stonefield Castle Hotel is located in western Scotland, on the banks of Loch Fyne. The 19th-century castle has a baronial structure and has maintained most of its features throughout the years, such as the marble fireplaces and ceilings.
Stonefield Castle Hotel offers one of the most impeccable Scotland castle stays today. Sitting on 60 acres of beautiful woodlands, Stonefield Castle Hotel is close to the charming fishing village of Talbert and Mull of Kintyre Peninsula,
The 19th-century heritage of this Scottish castle can be seen in antique furnishings, lavish decor, and stone fireplaces. The bedrooms promise the most comfortable stay, featuring Egyptian cotton bedding, luxury toiletries, free WIFI, and a hairdryer. You'd want to press "pause" on time and relish the breathtaking views outside.
The hotel staff is happy to arrange outdoor activities to make your stay unforgettable. You can go pigeon shooting, fishing on Lake Fyne, and playing golf. As you return to the castle after a full day of exploration, help yourself to a fine dining menu that often includes freshly caught seafood. After that, find a cozy spot at the lounge and enjoy a glass of whisky before turning in for the night.
Looking for a romantic getaway by staying in castles in Scotland? Cornhill Castle Hotel is only one hour drive from Glasgow and Edinburgh, offering a superb castle stay that you'll always look back to.
Cornhill Castle sits on a 10-acre property overlooking the River Clyde and the Scottish countryside. It offers the perfect accommodation should you want to escape the busy city and go into a tranquil retreat within the confines of this magnificent mansion.
You can expect a fairy-tale-like stay in Cornhill Castle Hotel, as you stay in one of the 12 guest rooms with luxurious beds, massive en suites, dressing tables and chairs, and some with fireplaces.
When you've finally, yet reluctantly decided to leave your bedroom, visit the hotel's Ghillie restaurant and enjoy delicious meals made from fresh produce and locally sourced ingredients. Don't miss the wild brown trout, one of their bestsellers. Experience the hotel's impeccable gin, and whisky keep for a nightcap, sourced straight from the Wee Farm Distillery.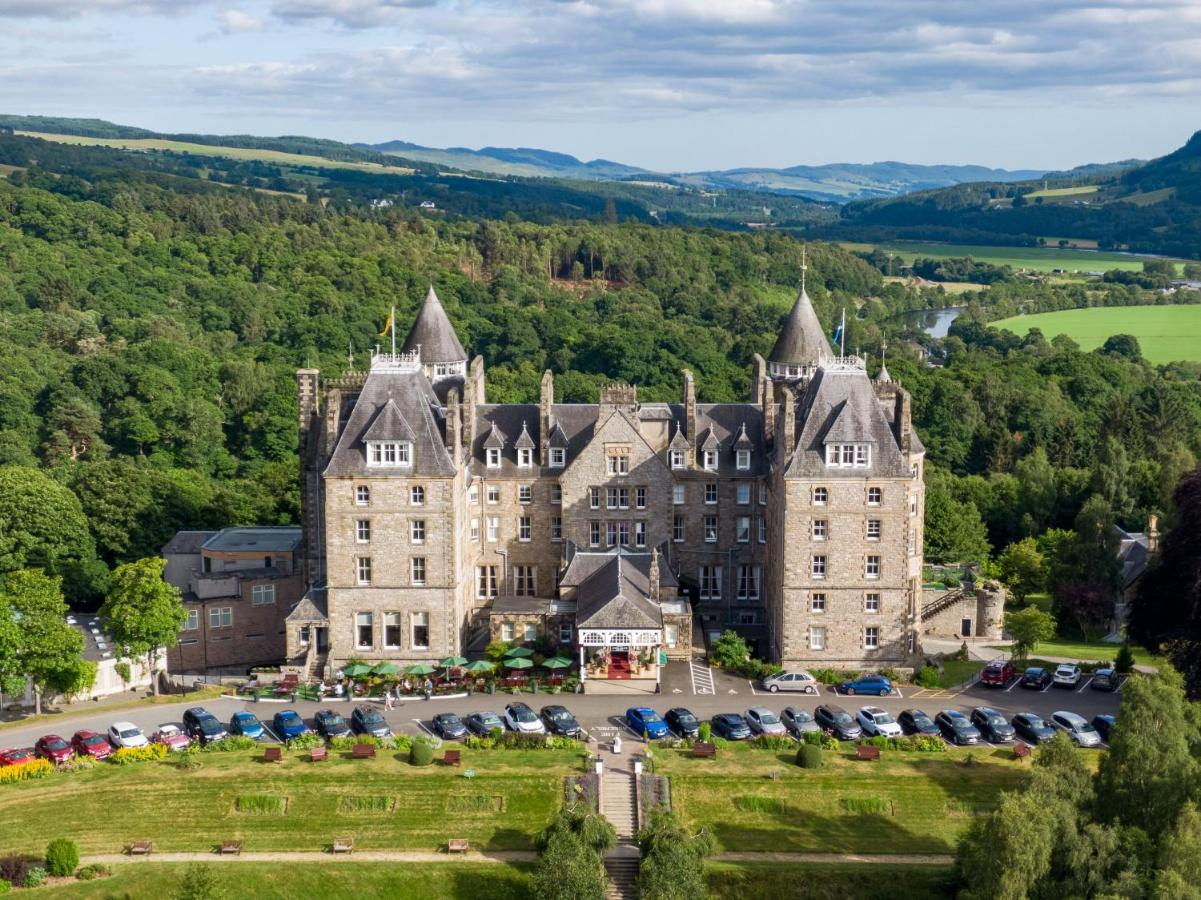 Situated in the town of Pitlochry stands the glorious four-star Atholl Palace Hotel, overlooking the charming village and its lush parklands. Atholl Palace Hotel is only one hour from Edinburgh Airport, offering beautiful castle stays that exceed expectations.
The guest rooms in Atholl Palace Hotel are known to be quirky and distinctive. They've retained their original features but complemented with the highest accommodation standards.
There are several rooms to choose from, whether you're a solo traveler, a couple or a small family, or a group of friends. You'll enjoy top-notch amenities like coffee/tea-making facilities, private bathrooms, and captivating views of the mountains, gardens, or valleys, depending on which room you get.
Leisure facilities at Atholl Palace Hotel are also superb. The water in their swimming pools comes from the original source and is filtered through the volcanic rocks of Ben Vrackie. Additionally, there are other indoor facilities, including a gym, sauna, steam room, and spa bath.
As for the dining experience, you can only expect the best. The Verandah restaurant caters to all meals of the day, using local Perthshire produce. The well-curated menu includes a selection of game and seafood dishes. So indulge in your satisfying meal while admiring the beautiful views of Tummel Valley.
How much does it cost to stay in a castle in Scotland?
The cost of staying in a Castle hotel in Scotland varies greatly. There are luxury castle hotels that will cost you thousands of dollars a night and also more affordable castles as low as $150/night.
What castles in Scotland can you stay overnight?
Any of the above castles allow you to stay overnight.
Are there any castles in Scotland that you can stay in?
What castle in Scotland is a luxurious hotel?
Final Thoughts
If you're like me, who fancied fairy tales as a little girl, you've probably also wondered, "When will I ever get the chance to stay in a real castle?"
Now you can! You can look up all the best hotel castles in Scotland I've mentioned above and find one that speaks to you. So whether you're looking for a unique stay near Glasgow or Edinburgh or find a secluded accommodation where you can enjoy an intimate, private stay, there will always be something for you!
So if you're ready to take your Scottish vacation to a new level and do something extraordinary, go ahead and book one of those charming and glorious castles in Scotland, you can stay in. You can never go wrong living like royalty at least once!