This first-timer's Japan itinerary is perfect for your first visit to this incredible country. Discover the amazing things to do, food to eat, and places to visit in Japan in this complete guide.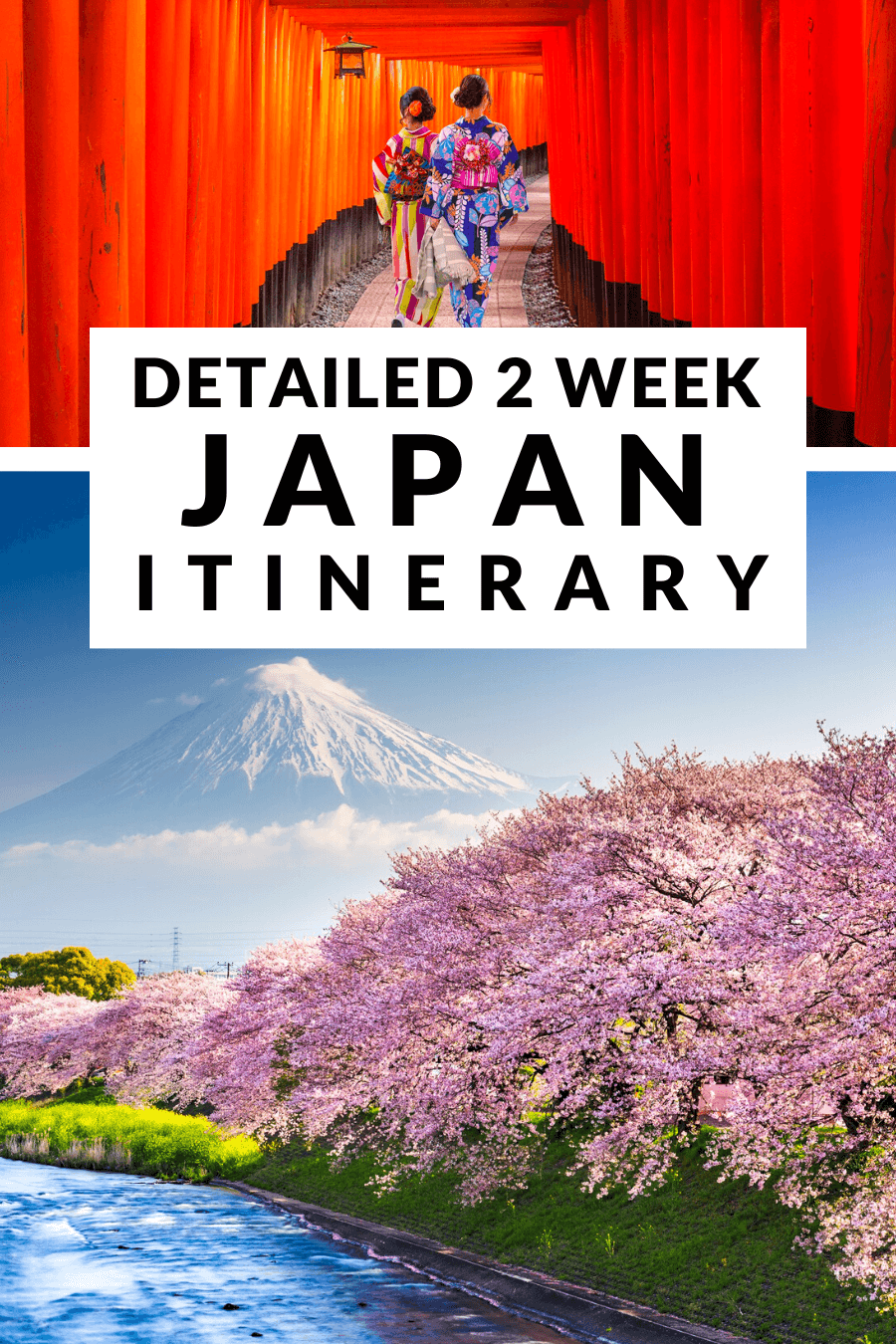 The Perfect First Timer's Japan Itinerary: The Best Places to Visit in Japan
This post contains affiliate links.
I'm so excited to share this Japan 2 week itinerary with you! We just booked tickets to go back to Japan again in 2024 and I'm so excited to revisit all of these places and add some new ones too! This will be our second Japan trip, and I can't wait!
I have two good friends who live in Japan and they'll only be there for another year, so I knew that my time to go to Japan was now! This was my first stop in Asia and I couldn't have been more excited! While we've spent years in Europe, Asia has always eluded us, so I knew it was time!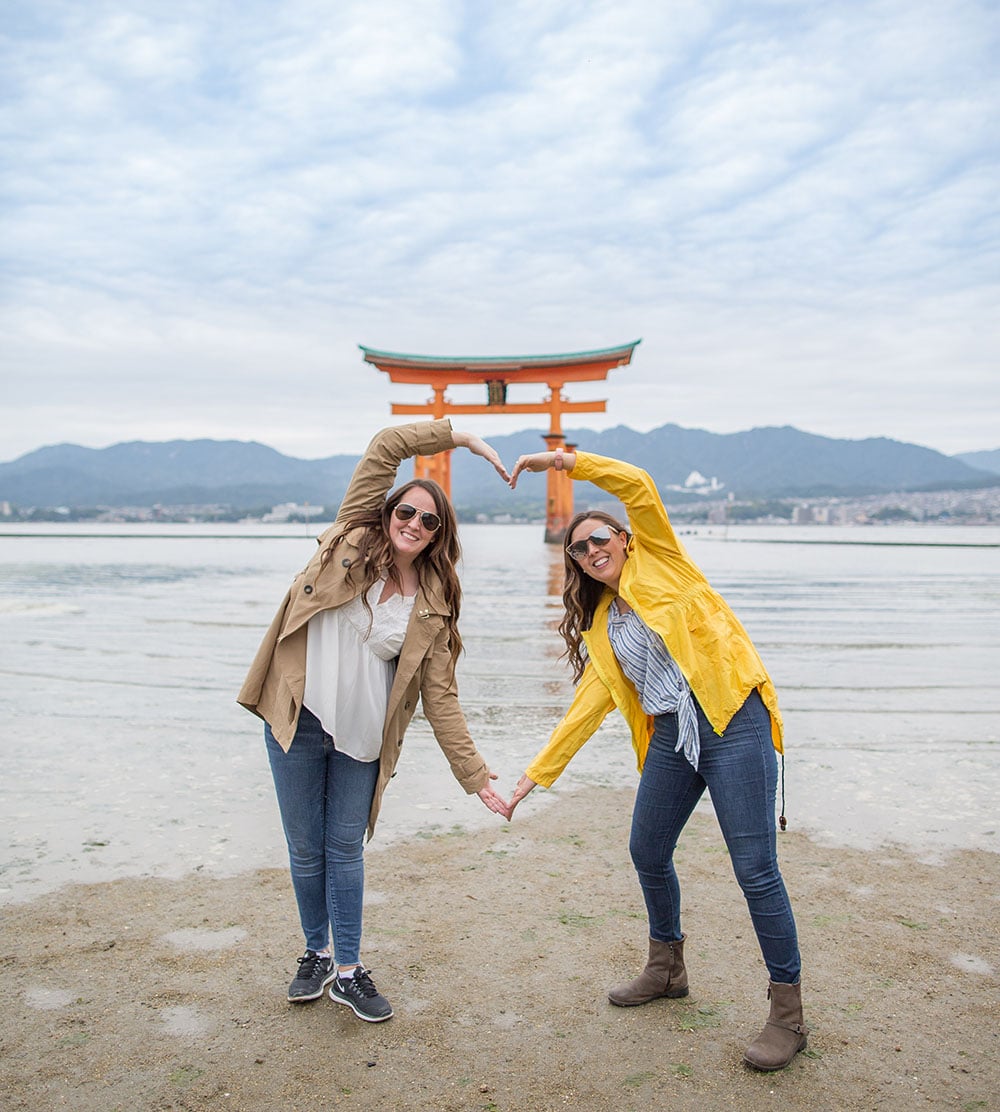 Be sure to check out our Japan Trip Planner to help you get started. It's a great step-by-step guide to help you plan your trip.
I'll be totally honest and tell you that I was very anxious before my trip. New continent, new language, new culture, new food. Just a fear of all the unknowns to be honest. But rest assured, once I got to Japan I was feeling great about it all. It really helped to have friends who knew the culture too and I loved these tips for visiting Japan!
Did you know that Japan is one of the safest countries in the world? If you didn't, don't feel bad, I didn't either. I think the number one thing I was totally shocked by was that almost none of the bikes in Japan had locks on them! I saw maybe 3 our entire time there.
The Japanese people are so kind, respectful, and helpful. I was chatting with a British ex-pat in a Japanese garden one morning and he said: "You couldn't get mugged in this country if you tried!" I'm pretty sure he was right. I never once felt unsafe during our time in Japan.
My friend's 5-year-old daughter goes to "Yo Chien" or Japanese Primary School and she said that the entire first year of school is dedicated to learning how to be a good person. They serve each other, clean the school, learn manners, and generally learn how to be a respectful human being and be a productive member of society. I think that is definitely more helpful than knowing their ABC's at 5 years old! There is just so much that we can learn from Japanese culture and its definitely a country worth visiting.
There are so many amazing and unique things to do in Japan. If you're going for the first time and looking for the perfect Japan trip, I've created this Japan itinerary that will explore the basic sites that are easily accessible by train or a bullet train and offer some of the best cultural, culinary, and fun experiences the country has to offer. While there is much more to explore in Japan, this is a really good starting itinerary.
Getting to Japan
Getting to Japan was fairly easy. Flying to Asia from the US can be pricey, but if you know how to get cheap flights, there are always good deals to be found. I spent quite a lot of time perfecting my cheap flight finding skills, so be sure to learn about it here. I spent $600 on tickets from San Francisco to Tokyo.

What to Pack when you Visit Japan
What to pack for your trip to Japan depends on what time of year you're going and where you'll be traveling to. I went the first two weeks of October and it was HOT! It rained on and off several of the days that we were there, but was still very warm and very humid. However, if you go to Northern Japan(great to try hot springs), the weather will be cooler. My friend lives in Misawa and they get huge snowfalls each winter. There is incredible, and affordable, skiing in Northern Japan as well.
If you're going anywhere between April and October though, this is what I recommend taking to Japan
Here's what I packed for our own trip to Japan in October:
2 sundresses
1 pair of jeans
1 pair of leggings (for the plane mostly)
1 skirt
3 shirts
1 jumpsuit
1 jean jacket (that I hardly used)
1 rain jacket (I brought this one and it is great because it's light but totally waterproof)
1 umbrella
1 pair of sandals (a pair that can get wet in the rain…these are my favorite travel sandals ever)
1 pair of boots (I wore these only one time and regretted it)
I think if you are sticking to Tokyo and south of Tokyo, this list would be appropriate from April to October. I honestly wish I would have packed more sundresses. I felt like almost everything we did could be done in a dress and it was much cooler!
Where to Stay on your Japan Trip
We were lucky and got to stay with friends at a Military Hotel for about $50/night, but we also stayed in VRBOs around the country. They were affordable, clean, and in good locations. As always, be sure to read reviews and the fine print before booking a VRBO. We love VRBO and use it around the world. I've also compiled this list of great and affordable VRBOs in Japan:
There are also some great hotels in Japan if VRBO is not your thing!
Money in Japan
The currency in Japan is the Yen. Converting Japanese Yen to US Dollars is really simple.
100 Yen is Equal to about $0.70 USD
1000 Yen is Equal to about $7 USD
Bills from the ATM or from an Airport Money Exchange come in 10000 , 5000, and 1000 increments. The coins come in 500, 100, 50, 10, 5, and 1 increments.
Most places in Japan accept cards. Just beware of any international transaction fees. We use the Chase Sapphire Card to earn double points on travel and to avoid fees while traveling. There were definitely some places that did not accept cards, so be sure to have cash on hand.

What to Know Before you go to Japan
Japan is a completely different culture than what visitors may be used to. Anywhere you go in the world, it's a good idea to learn about cultures and the best practices of your destination. You don't want to accidentally offend anyone or make an embarrassing mistake. Be sure to read my top 20 tips for visiting Japan.
Getting around Japan How to Use Your Japan Rail Pass
This is probably the most important information I can tell you about visiting Japan. Getting from city to city in Japan is NOT cheap! A train ticket from Tokyo to Hiroshima can cost around $180. That's a little steep for my taste, but I knew I wanted to see more than just Tokyo.
The good news is that Japan offers an affordable "Japan Rail Pass" that makes traveling around the country extremely affordable for tourists. Read more about how to buy and use your JR Pass here: How to Use Your Japan Rail Pass.
Best places to visit in Japan
For your first Japan trip, it's best to see a variety of places, but not move too quickly. For a somewhat small country, Japan packs a lot into a small geographical area. For the first time you visit Japan, I recommend seeing all the basic sites like Tokyo, Miyajima, Osaka, Hiroshima, and Kyoto. While there are many more places to visit in Japan that are just as incredible, these areas will be easily accessible using the Japan Rail Pass and are accustomed to tourists.
You can also check out some of these Japan tour packages to see what else you might be interested in. It's a great way to see the country if you're not up to planning your own Japan itinerary.
Japan Itinerary Map
You can use this interactive map to navigate the best places to visit in Japan on your first visit.

Tokyo
No trip to Japan would be complete without visiting the Japan's capital city, Tokyo. As polite, respectful, and mild-mannered as the Japanese are, it can also be a fun and quirky culture. Tokyo is definitely evidence of this. This huge city is full of light, color, and craziness all around mixed in with serious businessmen and women going to and fro. If you want to learn more about Tokyo, read my guide to visiting Tokyo here: Complete Guide to Tokyo
Day Trip to Mount Fuji
Mount Fuji is a great place to take a day trips to from Tokyo. It's a beautiful site and you'll want to try to plan this on a clear day if you can, however it takes a few hours to go here from Tokyo. Be sure to read this for a complete itinerary for a day trip to Mount Fuji.

Miyajima
This island's name literally means "island of shrines," and is Japan's third most popular site. On Miyajima Island, you will be greeted by friendly deer and beautiful scenery. Read more about this UNESCO World Heritage site in my article here: What to do on Miyajima Island

Hiroshima
Famous for being the tragic first target of the nuclear bomb during WWII, Hiroshima is a city full of history and new beginnings that is worth seeing when you visit Japan. It is heartbreaking and heartwarming at the same time. Visiting Hiroshima was hard, but I think it's so necessary. Read about my time in Hiroshima here: Complete Guide to Hiroshima Japan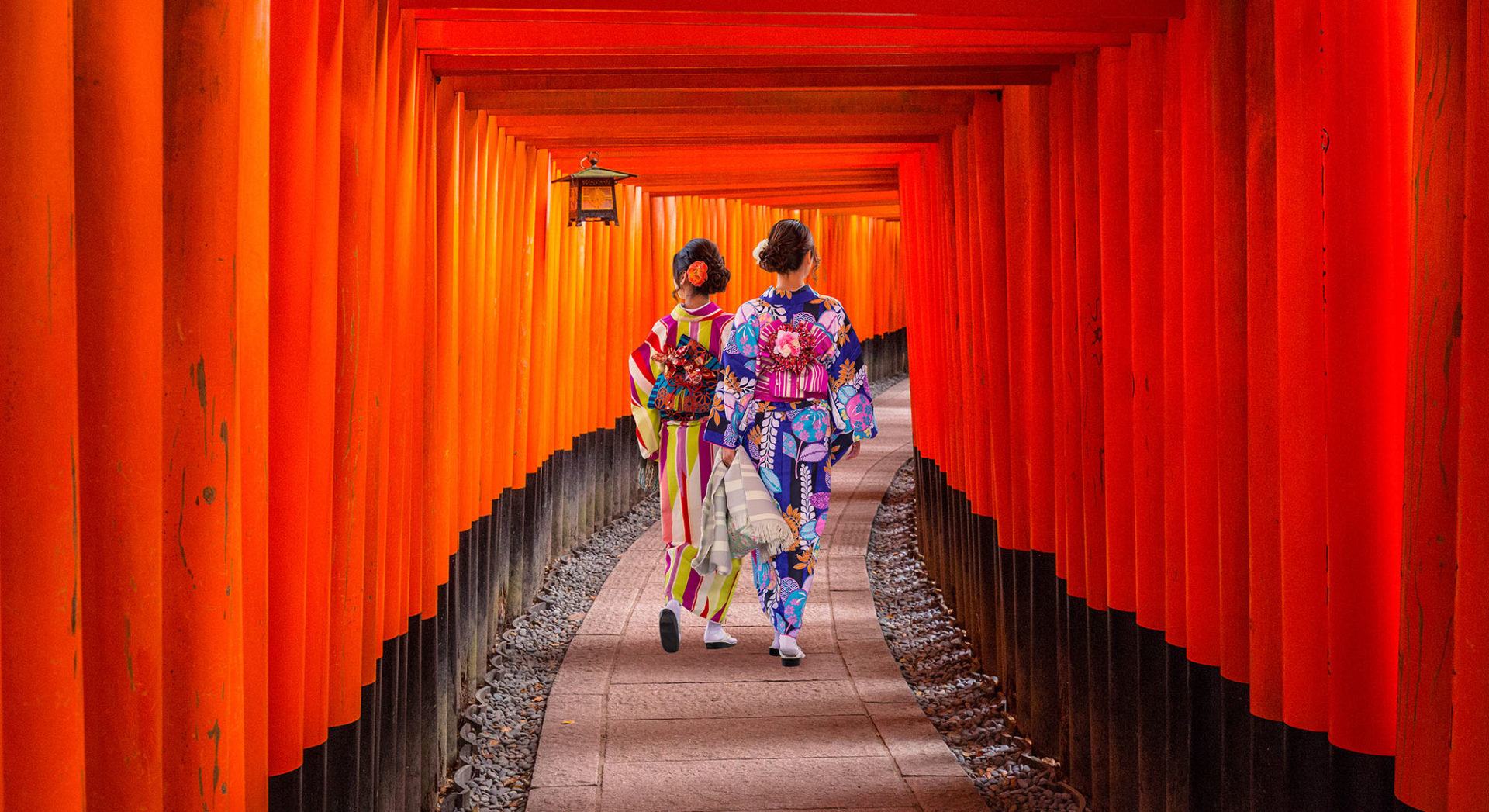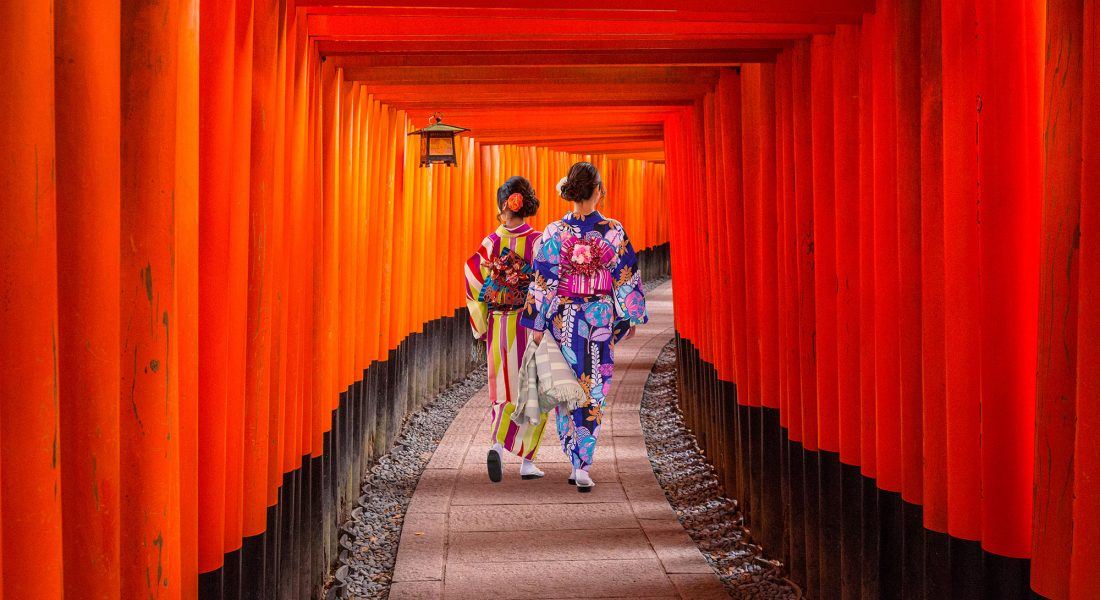 Kyoto
Kyoto, known as the old capital of Japan is beautiful and unique for a reason. It is one of the only places in Japan that was saved from bombing during WWII and therefore has much preserved older architecture that is not seen in other areas of the country like Hiroshima, Nagasaki, and Tokyo. Kyoto is also home to some of the last remaining Geisha in Japan. Many visitors like to come to Kyoto and rent Kimonos and walk the city. The prefecture of Kyoto is large and there is much to do. Plan at least a few days here. Learn more about what to do in Kyoto with kids here and what to do in Kyoto as a solo traveler here.
Nara
There is much to do and see in the city of Nara, including the Himuro Shrine, and Isuien Garde, but it is famous for Nara Park where wild deer roam free and are unafraid of humans. Nara is a really easy day trip from Kyoto or Osaka and a favorite with kids! You can read more about visiting Nara here.
Osaka
Osaka is a great place to base yourself in Japan with Kids if you plan on visiting both Nara and Kyoto. It's central to both and an easy train ride away. Osaka is also a great place for kids with Universal Studios, Legoland, Osaka Aquarium, Omigachi Park, Tennoji Zoo, and plenty of animal cafes around the city! You could definitely spend several days in Osaka and still not see it all. Learn more about Osaka for kids here.
What to Eat in Japan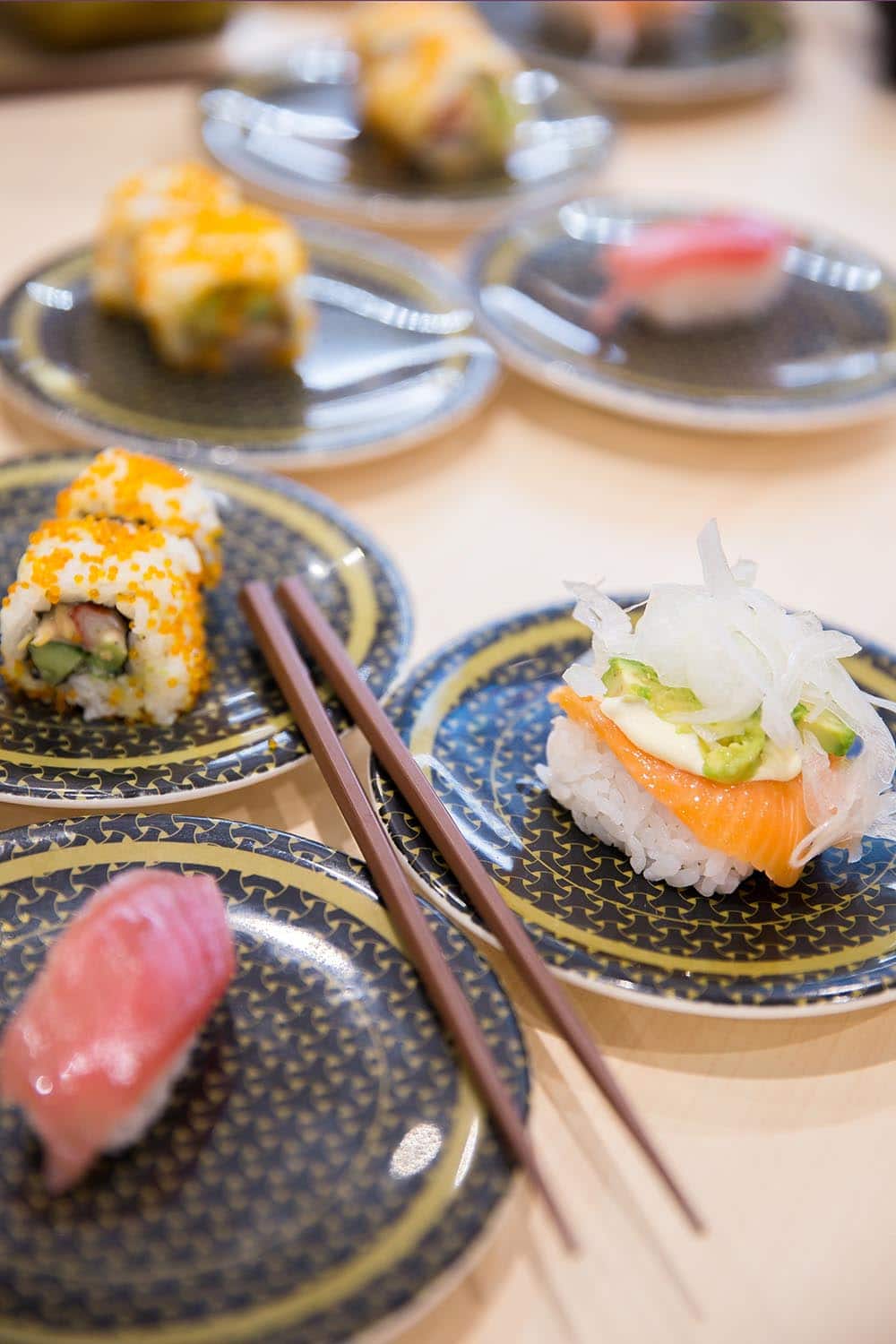 Blending many influences from the east and west along with ancient traditions, Japanese cuisine is some of the tastiest in the world. After visiting Japan for several weeks and eating my way through the country, I compiled this list of 25 foods you must try in Japan Don't skip foods that might seem different or strange to you, especially their street food, you may just find something that you love. Be brave and have fun!
I absolutely loved my first time in Japan and grew to have a deep respect for the country and its people. I can't wait to get back and bring the whole family next time. With so many things to do and places to visit in Japan, I think a trip back is definitely necessary, but I think this is a great first timer's Japan itinerary to get you started.
Japan Itinerary FAQ
How do I fill out a travel itinerary for Japan?
To start, you near to specify your date of arrival, flights, and any other information required on your itinerary. Once you have that, you can then add details such as the duration of stay in each city, transportation options, and the attractions and activities planned. Make sure to include important contact information (such as your hotel address or phone number) so that it is easy to find if needed. Additionally, it's a good idea to list any applicable fees and schedules, as well as the items you plan to bring with you. Finally, make sure to double-check all details for accuracy before submitting your itinerary so that your trip is uninterrupted.
What do I need to know before Travelling to Japan?
Just like traveling to other countries, you need to make sure of your Visa requirements, have a travel insurance, and check the local customs. It is also important to research the currency exchange rates to budget properly as well as understand Japan's language and culture. There are certain laws, such as no smoking indoors or in public spaces, which you should be aware of before travelling. Finally, it's always best to have an itinerary ready for your trip so that you can make sure everything runs smoothly.
How many days required for Japan tour?
If you're traveling for the first time, 7-10 days will provide you with enough time to get a feel for the country. You can take in some of the must-see attractions, visit popular cities, and explore other regions too. Of course, if you want to fully immerse yourself into Japan's culture then it might be worth planning a longer trip with 14 days or more. That way you'll have enough time to take in more sights and have a relaxed, enjoyable experience.
What are the rules for visiting Japan?
Currently, there's no need to present a vaccination certificate upon entering Japan. However, it is important to take into account all the safety measures and regulations in place for visitors. You should also be aware of Japan's laws regarding certain activities such as underage drinking and smoking before you arrive. Additionally, you should make sure to double-check your travel plans (including any visa requirements) before departing for your trip.
More Resources for Japan
25 Foods You Must Try in Japan
Guide to Miyajima Japan
Guide to Hiroshima Japan
Guide to Tokyo Japan
Guide to Nagoya Japan
Guide to Osaka Japan