Wondering what to do in Tokyo? Discover the best sites and most exciting things to do in Tokyo Japan.

What to do in Tokyo Japan
No trip to Japan would be complete without visiting the capital city of Tokyo. As polite, respectful, and mild-mannered as the Japanese are, it can also be a fun and quirky culture. Tokyo is definitely evidence of this. This huge city is full of light, color, and craziness all around contrasted by serious businessmen and women bustling on their way to work and serene ancient temples and shrines.
If you're going to Japan and seeing more than just Tokyo, explore my Japan first timer's guide and itinerary.
Getting Around Tokyo
Getting around Tokyo is easy, especially if you plan on having a phone with your service turned on or using a portable WiFi device. If you're using a Japan Rail Pass, the Tokyo metro will be covered. Read more about why you may NOT want to use your JR Pass in Tokyo here. You might end up wanting a Tokyo Metro Pass and using your Japan Rail Pass for the rest of the country.
Where to Stay in Tokyo
I was lucky enough to have military friends who hosted us in the military hotel in Tokyo, which was very affordable. But for the rest of our trip we stayed in Airbnbs or Hotels. See this great list of where to stay in Tokyo and where to stay in Tokyo with kids.
What to Eat in Tokyo
One of the best things to do in Tokyo is to try ALL the food! Seriously, this city is a foodie paradise! You can find anything from gourmet steak to quirky desserts! Be sure to read this guide to food in Japan.

What to do in Tokyo Japan
There are so many things to do in Tokyo. It could possibly take you a lifetime just to get through the list of this big city. I was there for only a week and was able to see a lot, but could have stayed forever, I loved it so much! But these were my favorite things to do in Tokyo Japan:
Harajuku
If you want to see some wacky sites, be sure to head to Harajuku for some sugar and fun. Known for its funky shops and sugar overload, Harajuku will overstimulate your senses and have you laughing at the same time! It's just one of the craziest things to see in Tokyo and you will not forget it!
Keep an eye out for some amazing Japanese street fashion, also known as Harajuku style. Harajuku style is a fun, colorful mix of punk and pink that is very popular among Japanese teenagers seen mainly around the Harajuku district.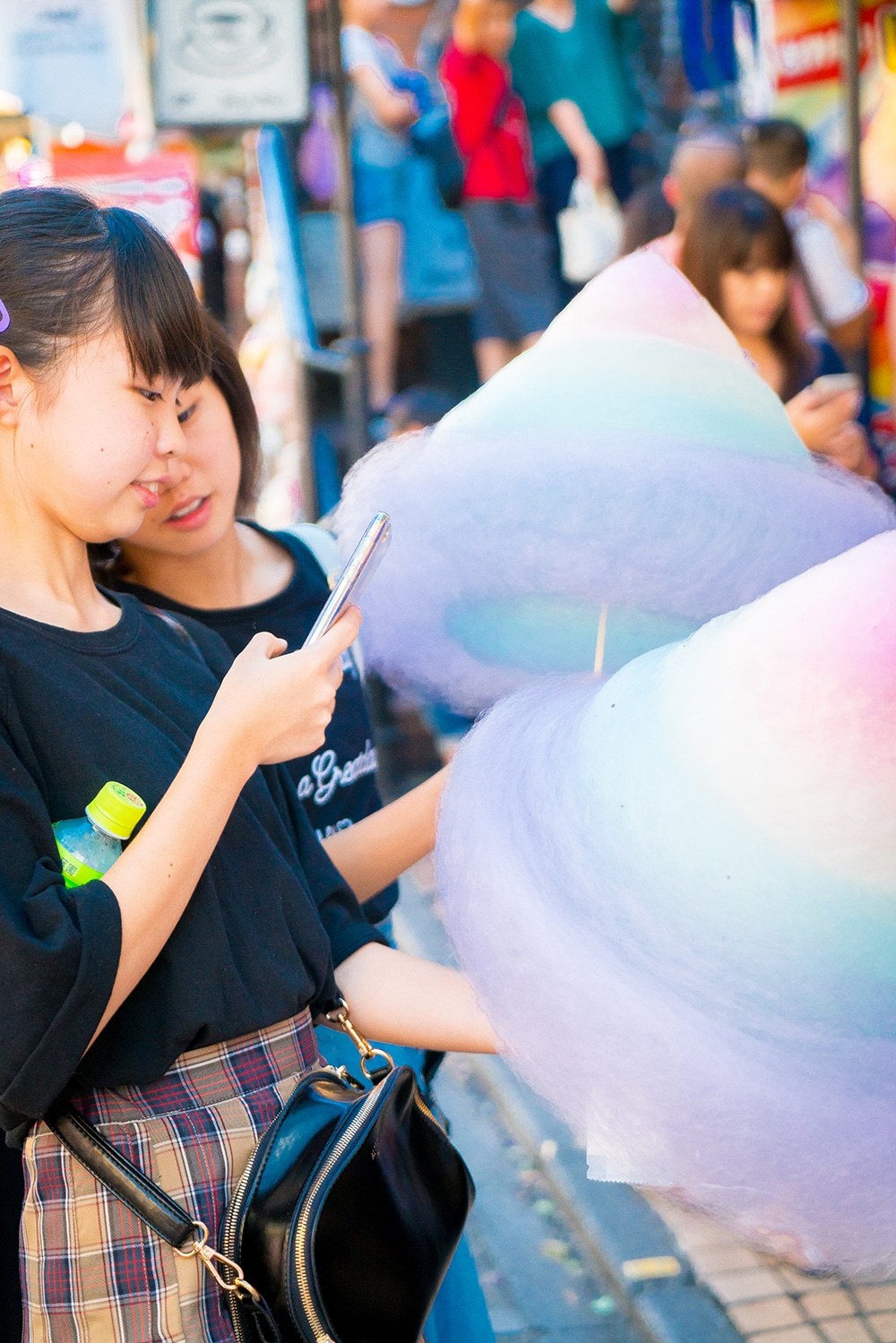 You can find the main street for Harajuku on Takeshita street, which will be teeming with Harajuku girls, funky shops, and colorful food!
Some of my favorite stops in Harajuku were the giant rainbow cotton candy, rainbow ice cream, rainbow slushies, and jiggly Japanese pancakes from Rainbow Pancake.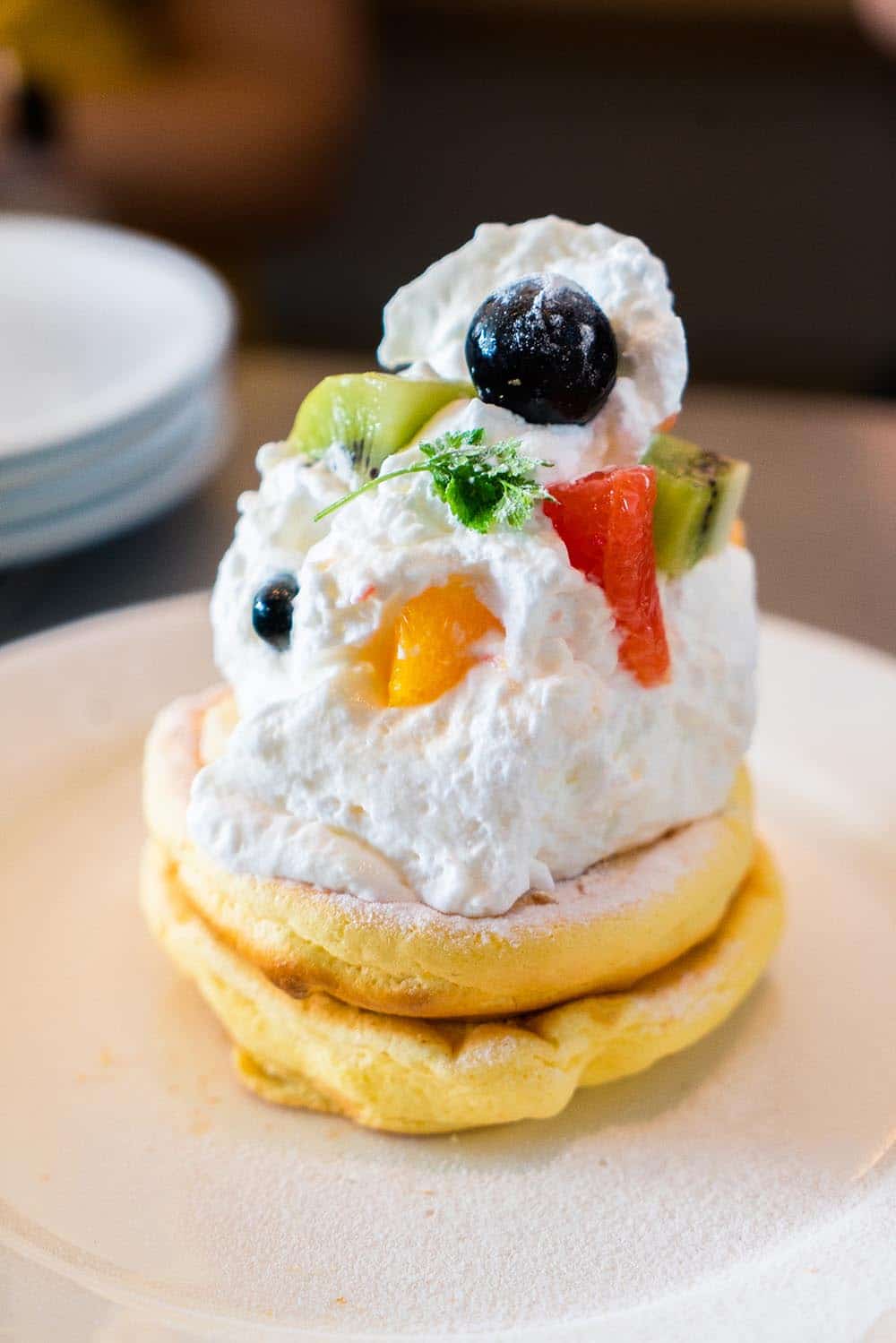 You may hear a lot of Japanese saying "kawaii," this just means "cute."
Be sure to check out these incredible places to have high tea in Tokyo too!
For a list of foods you MUST try in Japan Read my Japan Food Guide Here: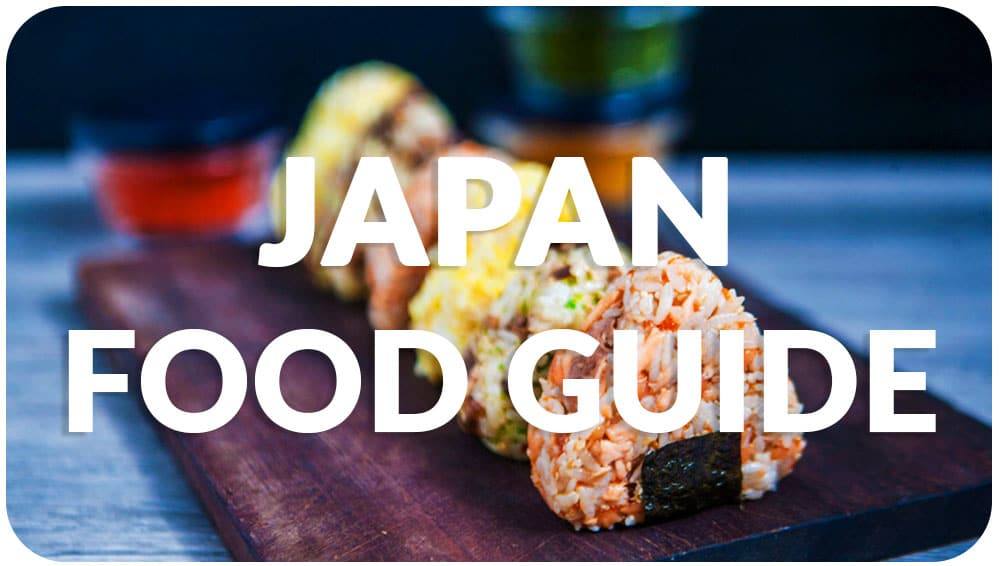 Take a Cooking Class in Tokyo
Even better than eating all the amazing food in Tokyo is learning how to make your own Japanese food! These are a few of my favorite in-home cooking experiences in Tokyo: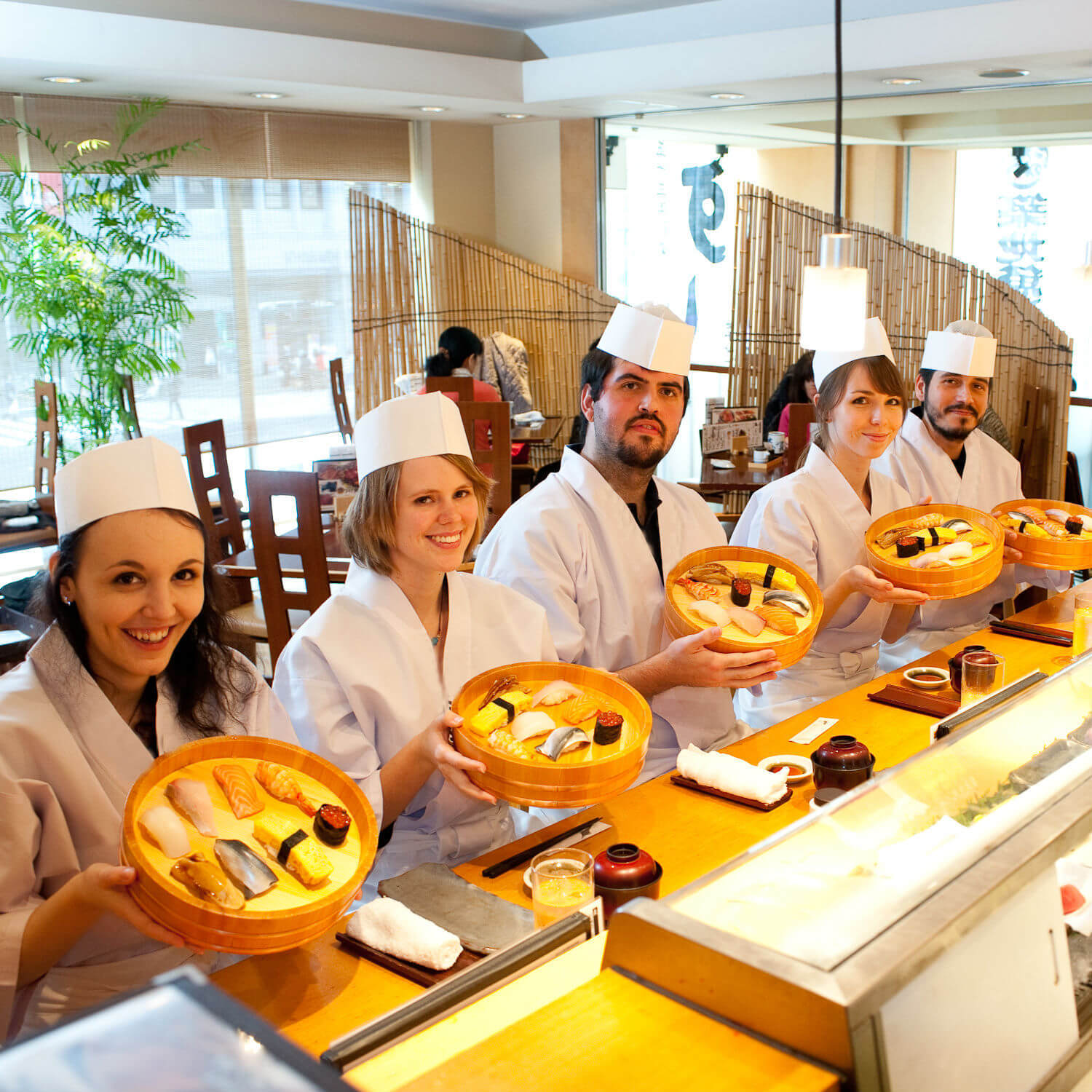 Noodle & Ramen Making
Gyoza Making
Udon Noodle Making
Sushi Roll Workshop
Meiji Shrine
In the heart of the city, right next to Harajuku lies Tokyo's Meiji Shrine and temple. Covering 170 acres of beautifully forested land, the Meiji Shrin complex is sort of like Tokyo's Central Park. The original shrine was constructed in 1920, destroyed in the air raids during WWII and rebuilt in the 1950's.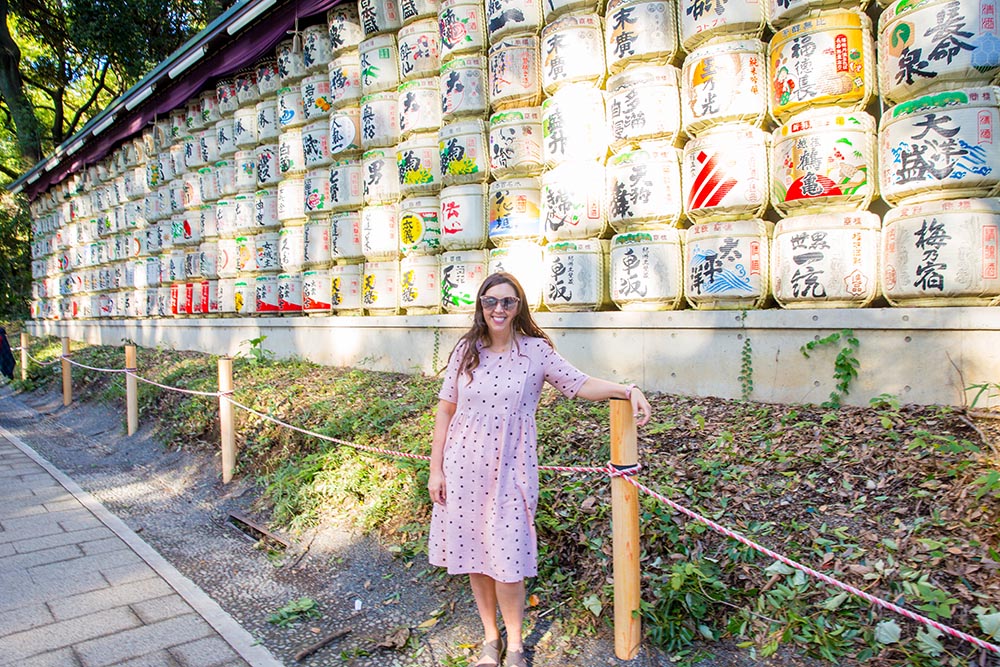 When you visit Tokyo be sure the visit the Meiji Shrine and leave a prayer or well wish on the wall. Also be sure to check out the beautifully covered sake barrels.
Mario Kart Tokyo
One of the most fun things to do in Tokyo was the Mario Kart Tokyo tour, also known as "Maricar." We dressed up in Mario costumes and drove go-carts around the streets of Tokyo. I'll be honest, to the mom in me, this felt a little unsafe, driving on the freeway with no helmets, etc. but it was such a blast! I was laughing the entire time, it was just so crazy! I'd say this is one of the top 10 things to do in Tokyo.
Mario Kart is a bit of a splurge, but honestly, this is a once in a lifetime experience and one you don't want to miss in Tokyo! You can book your Mario Kart Tokyo tour here. I've been dying to take my kids back here and do this, it's a perfect thing to do with teens in Tokyo if they're 16+ and have a driver's license and international driver's permit.
Note: You must be 18 or older and have an international driver's permit. You can easily get one of these for $20 at any AAA office.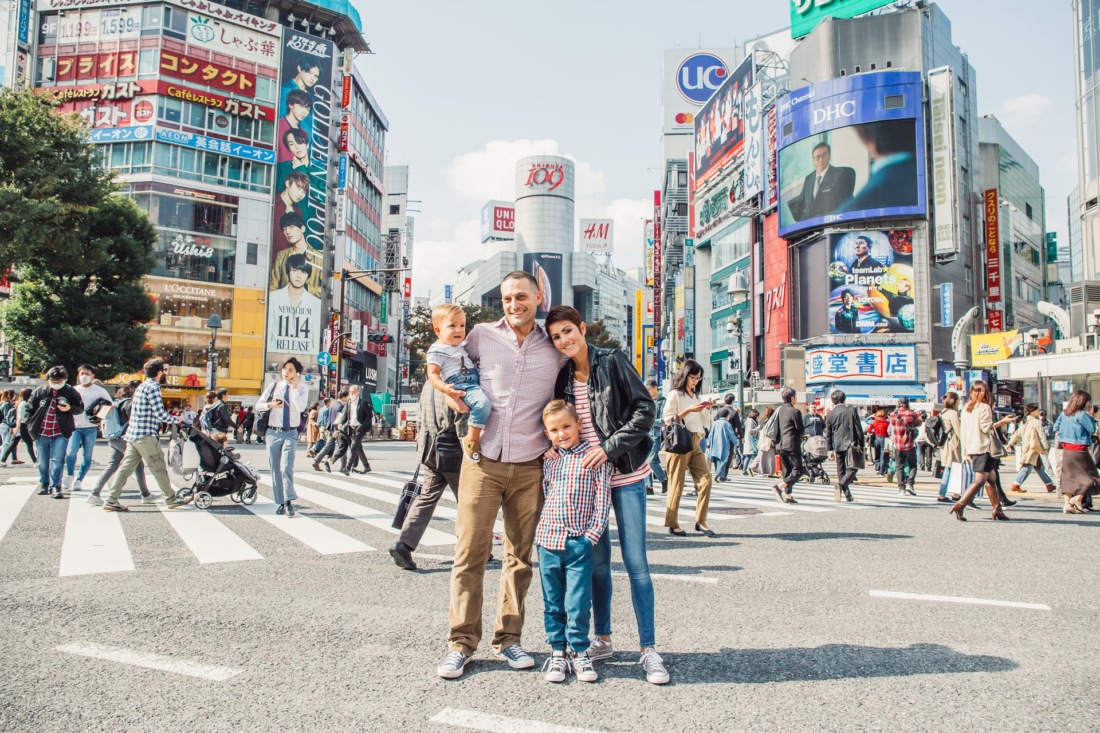 Book a Photoshoot
We always love to book a photoshoot when we're traveling. As a mom, it's tough to get in the photos since I'm always behind the camera. We love using Flytographer to capture our memories. You can get $25 off your shoot by booking with this link or using code WANDERLUST.
Digital Art Museum teamLab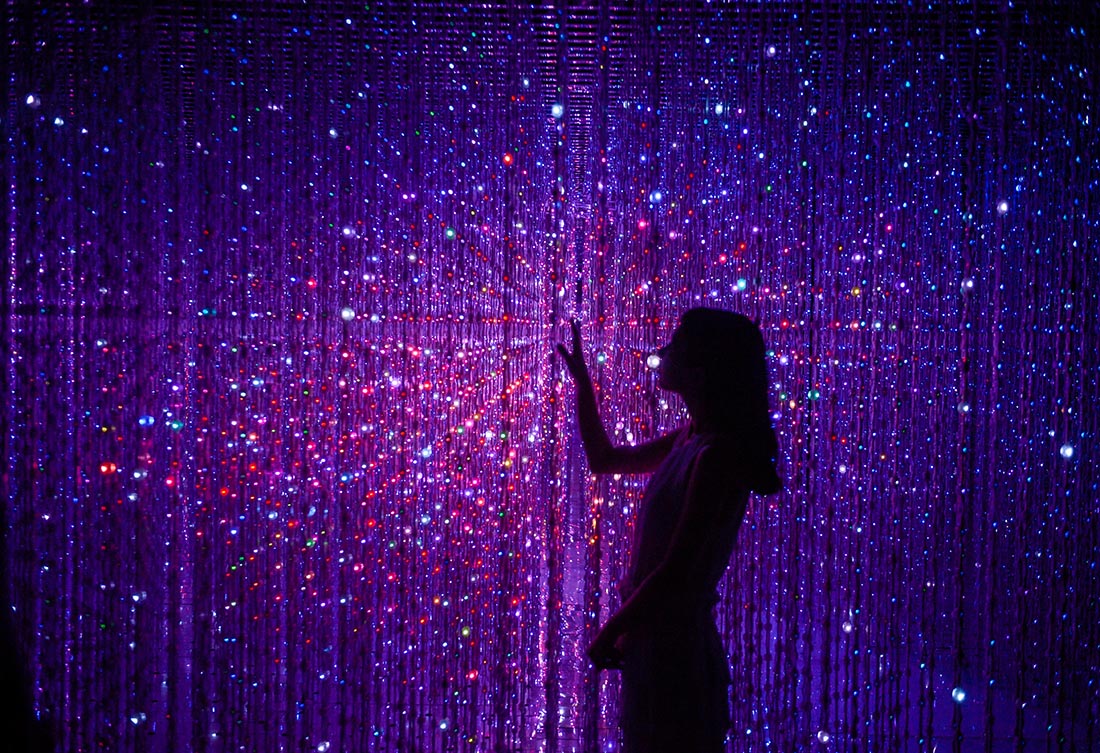 This one of a kind digital art museums is one of my favorite things to do in Tokyo. Not only can you get some really cool pictures, but it is also a great place to go to escape the heat of the summer or cold of the winter. Wander 100,000 square feet created with 520 computers and 470 projectors. The digital art will take your breath away! You can book your tickets here.
Shibuya Crossing
This is one of the top things to do in Tokyo! Considered the busiest crosswalk in the world, hosting 2.4 million passengers a day, Shibuya crossing is a must do in Tokyo. I highly recommend going at night as this is when it's the busiest and most exciting. Cross it a few times and take a video to say you've done it. It's quite the experience. When you book a Mario Kart Tokyo tour you can also book the route that goes through Shibuya crossing, which I highly recommend!
Catch a Bird's Eye View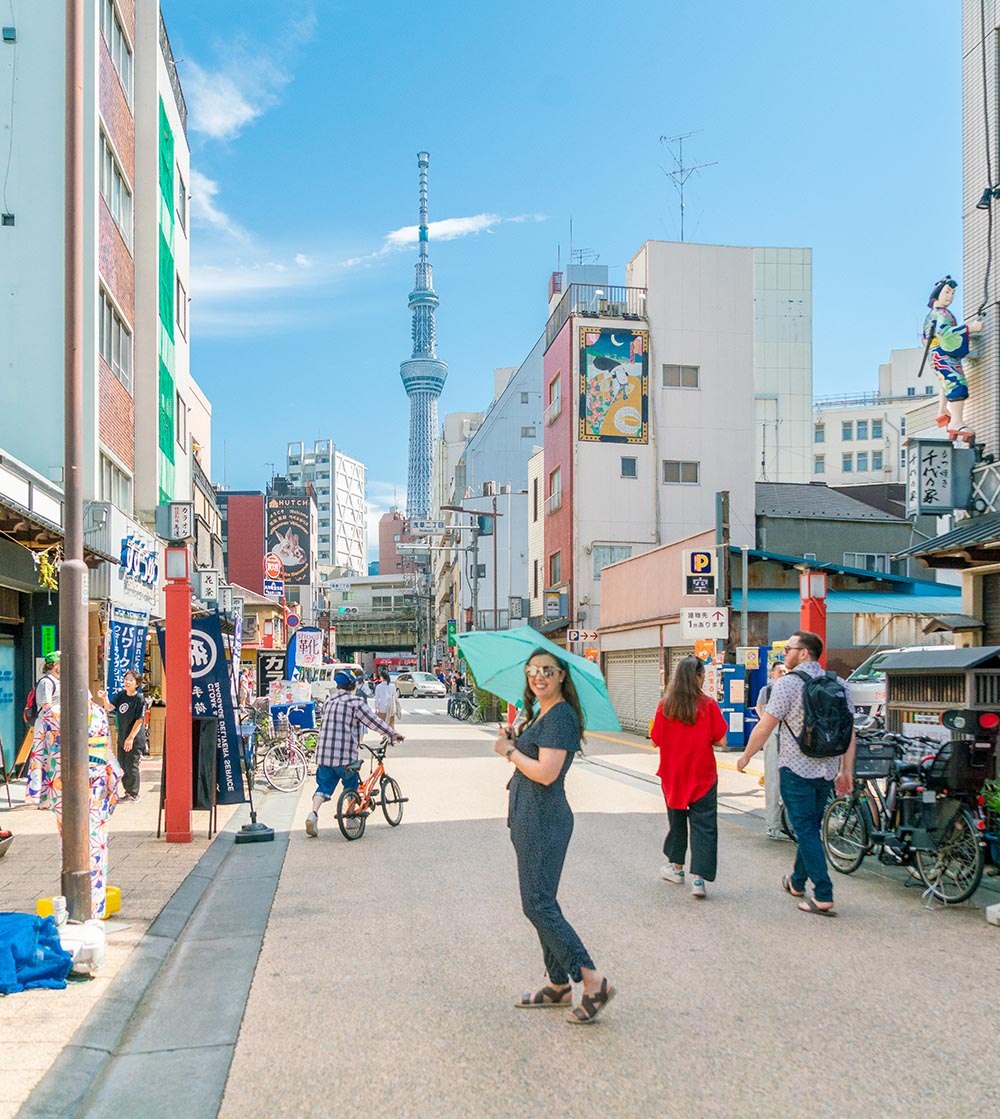 There are several places in Tokyo to get a good view of the city. Tokyo Tower and Tokyo Skytree are the most famous. You'll recognize Tokyo Tower from almost any picture of Tokyo as the iconic Japanese Eiffel Tower.
Another good option is the Tokyo Skytree near the Tokyo Metropolitan Government Building, which is the tallest tower in the world and the second tallest structure, second only to the Burg Kalifa in Dubai. Both towers cost around $20 USD to enter and I think they're worth the experience.
Shinjuku
Shinjuku feels like the Vegas of Tokyo. It's a little wild and very bright and colorful. Go at night to see all the lights. You'll find a lot of interesting themed restaurants and shops here like the Robot Restaurant.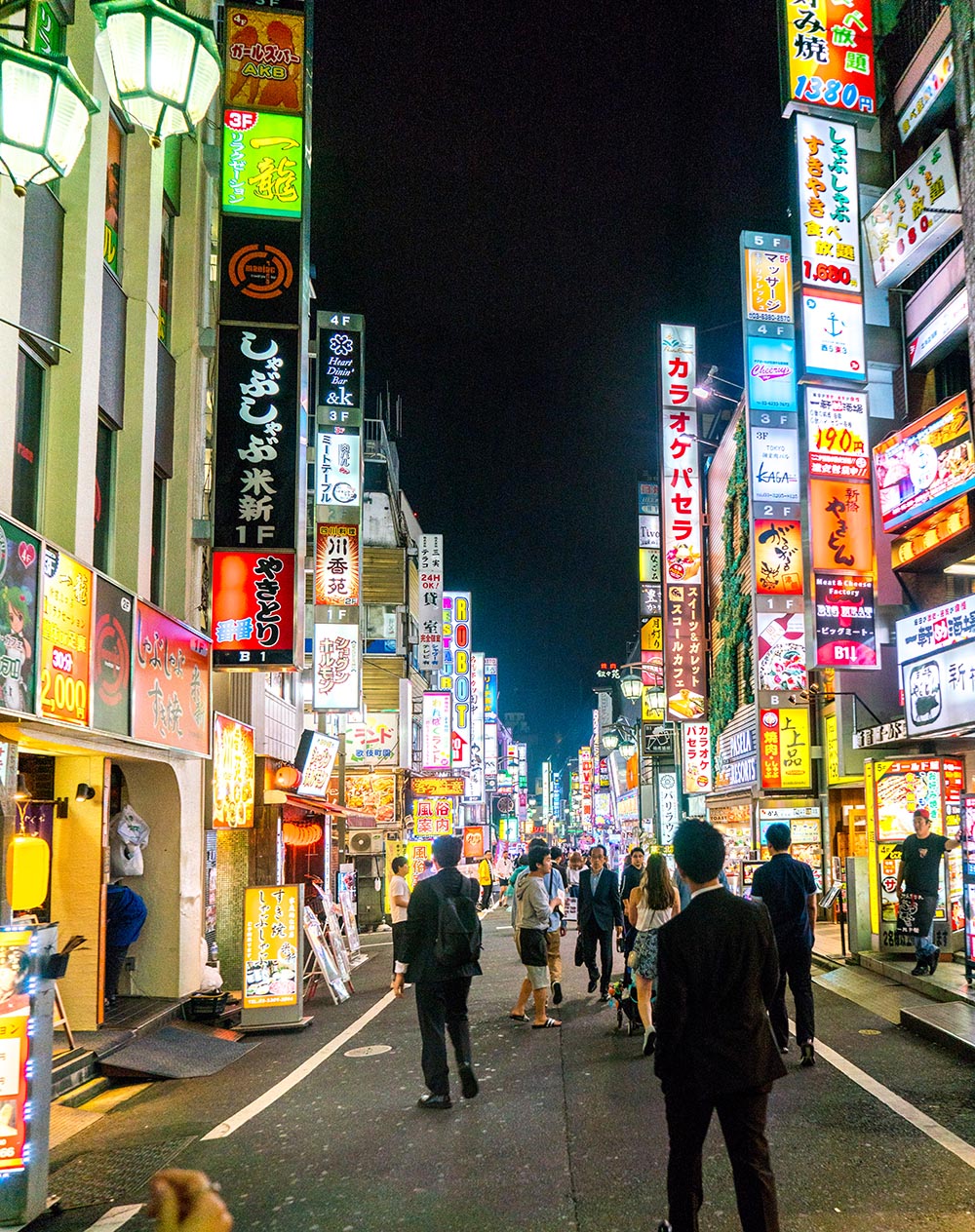 Robot Restaurant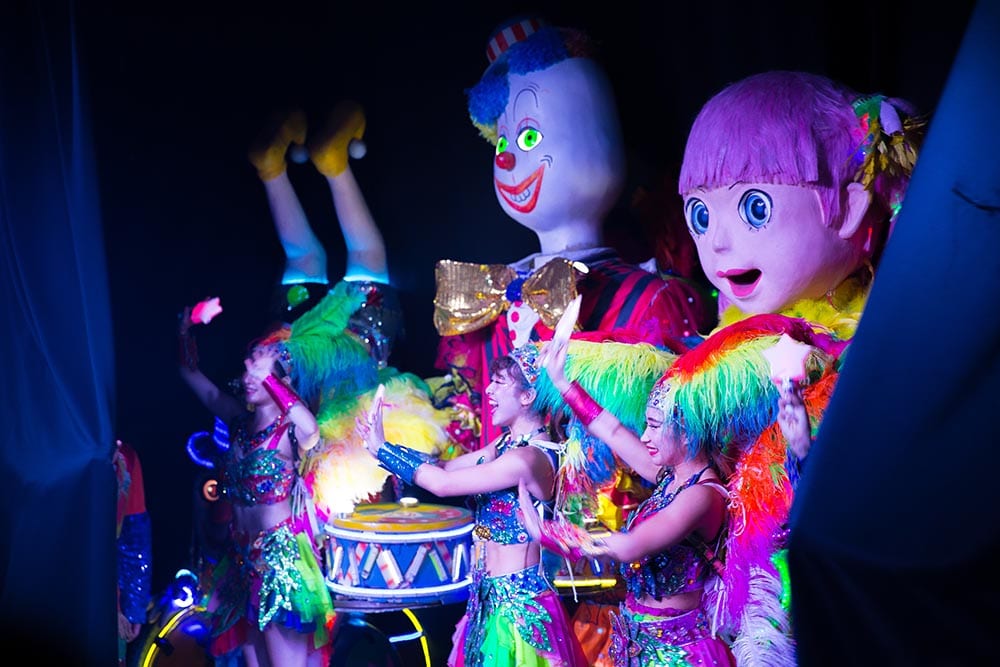 Note: Robot Restaurant is now closed. This was recommended to us by several people living both in and out of Japan and let me tell you, it was wild and worth every Yen! Don't go to the Robot Restaurant expecting a decent meal. You go for the experience, and what an experience it is. The only way I can really describe it is like watching a Vegas show while dropping acid. Not that I really know what that's like, but I can only imagine. You can book tickets to the Robot Restaurant here.

Asakusa
This district in Tokyo is a beautiful area full of temples, shrines, and tons of shopping. Like much of Tokyo, the area was destroyed during WWII and rebuilt post-war. Be sure to try the food in the stalls and the giant lantern at the entrance.
Tokyo Disney Sea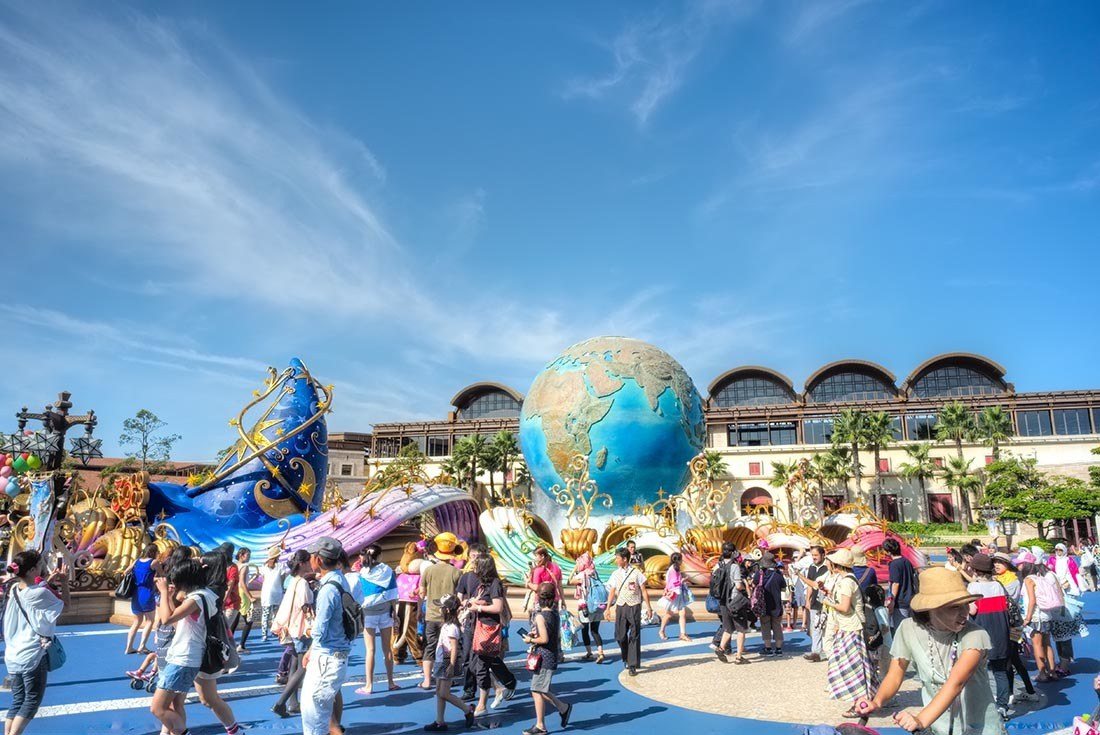 A trip to Tokyo would not be complete without spending a day at Disney Sea. Many have said that this is the best Disney park in the world. The Japanese really go all out with characters and food so I can definitely see why!
You can book your tickets to Tokyo Disney in advance here. Tokyo Disney is surprisingly more affordable than Disneyworld or Disneyland!
If this doesn't keep you busy, check out these 51 fun things to do in Tokyo.
Best Hotels in Tokyo
Are you visiting Tokyo and not sure where to go? These hotel recommendations are helpful as you plan your trip!
Toggle Hotel Suidobashi TOKYO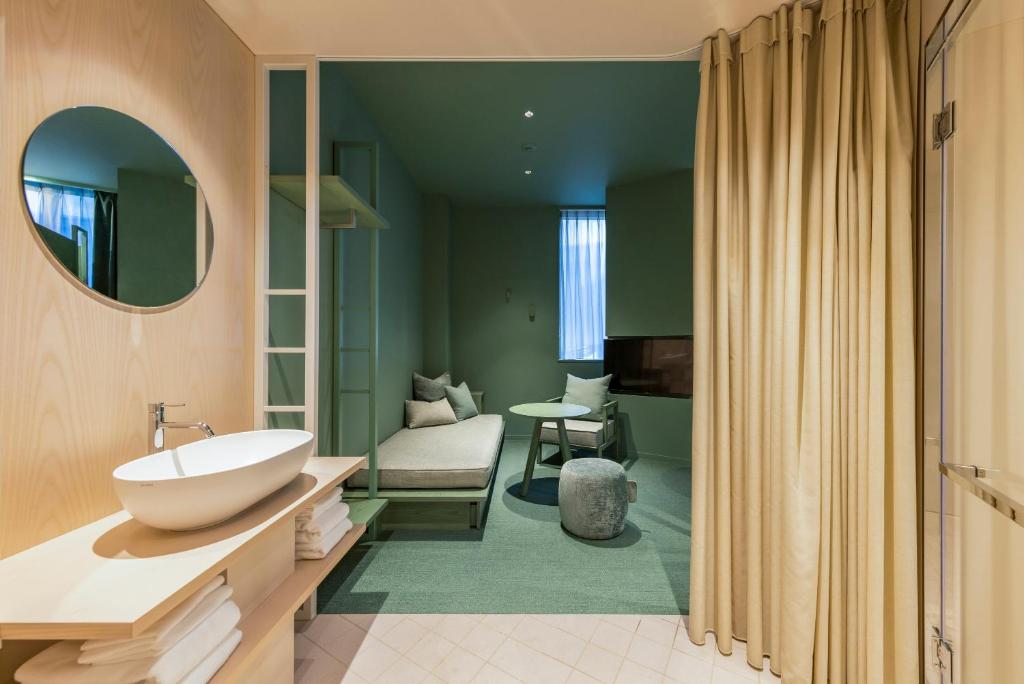 Located in Central Tokyo, the toggle hotel suidobashi TOKYO is a 4-star hotel that offers air-conditioned rooms, shared lounges, free WiFi, and a terrace in each room.
The rooms here are often small in size, yet they offer comfortable beds and amazing views of the city. Each room includes a desk and a flat-screen TV that guests can use to watch movies and shows. If you ask me what's the major pros of this hotel, the location. It's in a very convenient location near many shopping street and sightseeing. This hotel is great for backpackers and solo travelers who want a good deal while being the in the center of Tokyo.
Andaz Tokyo Toranomon Hills- a concept by Hyatt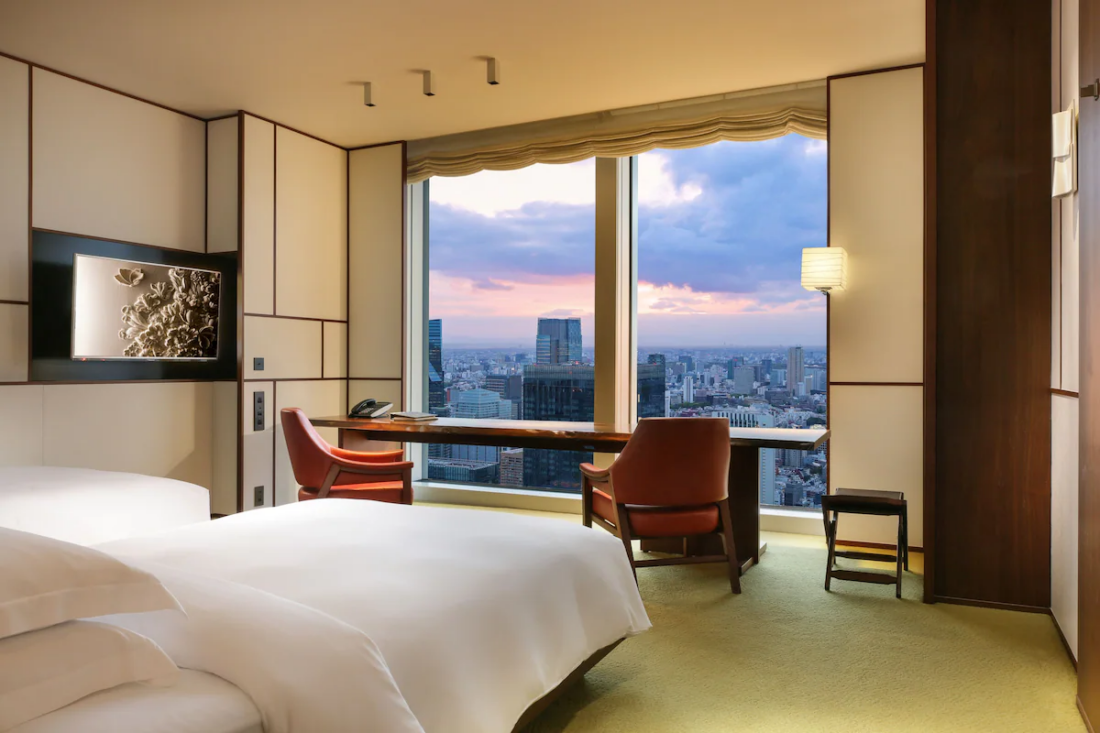 The Andaz Tokyo Toranomon Hills opened in June 2014 and is the 12th Hotel branded by Hyatt. Well, if you know Park Hyatt Tokyo, you know how high the standards are for this one in particular.
This 5-star luxury hotel is right by the Tokyo Imperial Palace and Meiji Jingu Shrine. In this hotel, they offer an indoor pool, full breakfast with a surcharge, comfortable rooms complete with modern amenities, a restaurant and bar, and an impressive view of Tokyo city. Plus, the concierge team is very helpful and provides excellent customer service.
The Prince Gallery Tokyo Kioicho, A Luxury Collection Hotel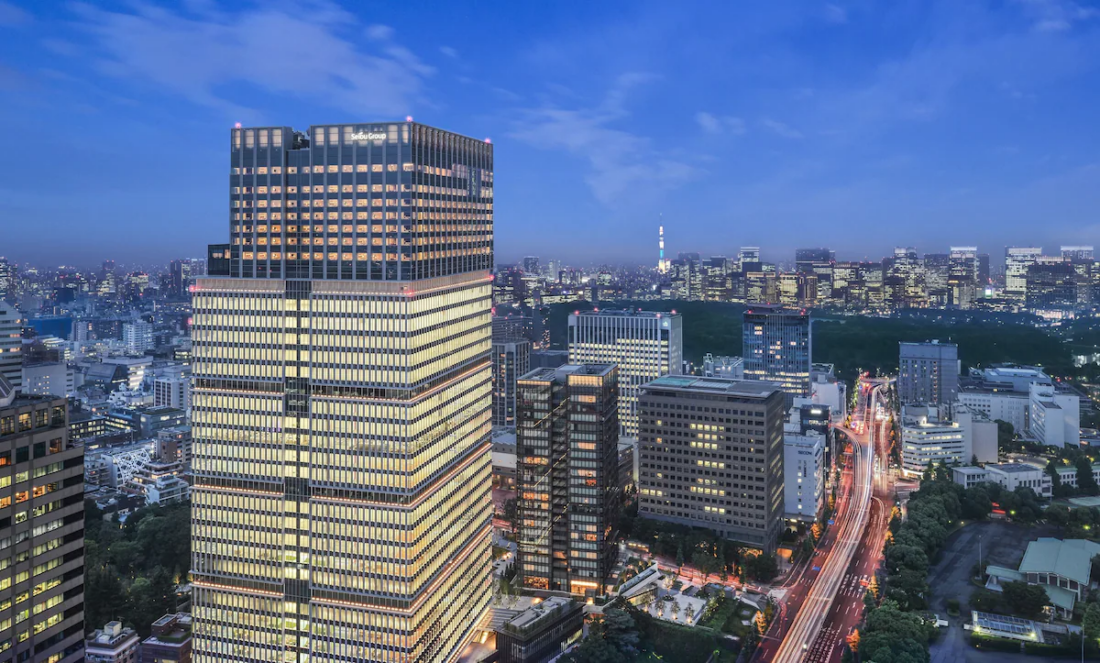 This one is located in the Chiyoda neighborhood, so it's close to Tokyo. What's great about this hotel is that it's conveniently connected to the rail/subway station, which if you're going here from Tokyo, you can just take a train from Tokyo station.
The Prince Gallery Tokyo Kioicho is a 5-star hotel near Tokyo Imperial Palace and Tokyo Tower. It has a modern design, spacious rooms with hardwood floors, and floor-to-ceiling windows to give you a stunning view of Tokyo.
Hilton Tokyo Hotel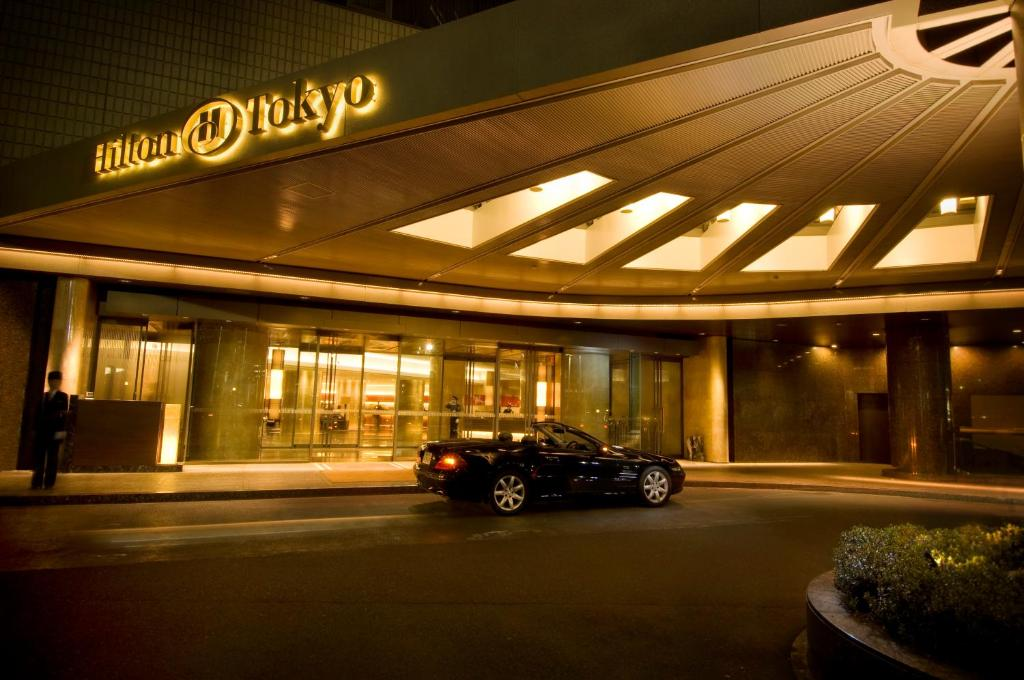 Nearby Shinjuku Central Park and the Shinjuku Skyscraper District, the Hilton Tokyo Hotel is another great option for a stay in Tokyo. This Hilton hotel is within walking distance of the shopping, entertainment, and business districts of Tokyo. It offers free access to its indoor pool, sauna, and fitness center. Plus, their restaurant serves delicious traditional Japanese cuisine and offers a buffet breakfast.
It also has modern rooms with great city views, comfortable beds, and amenities like free WiFi, a flat-screen TV, an electric kettle, and complimentary tea. This hotel is connected to the Tochomae Subway Station, the hotel is a 5-minute walk from the Tokyo Metropolitan Government Building.
Best Tours in Tokyo
Tokyo in a Day Tour with Yanasen and Asakusa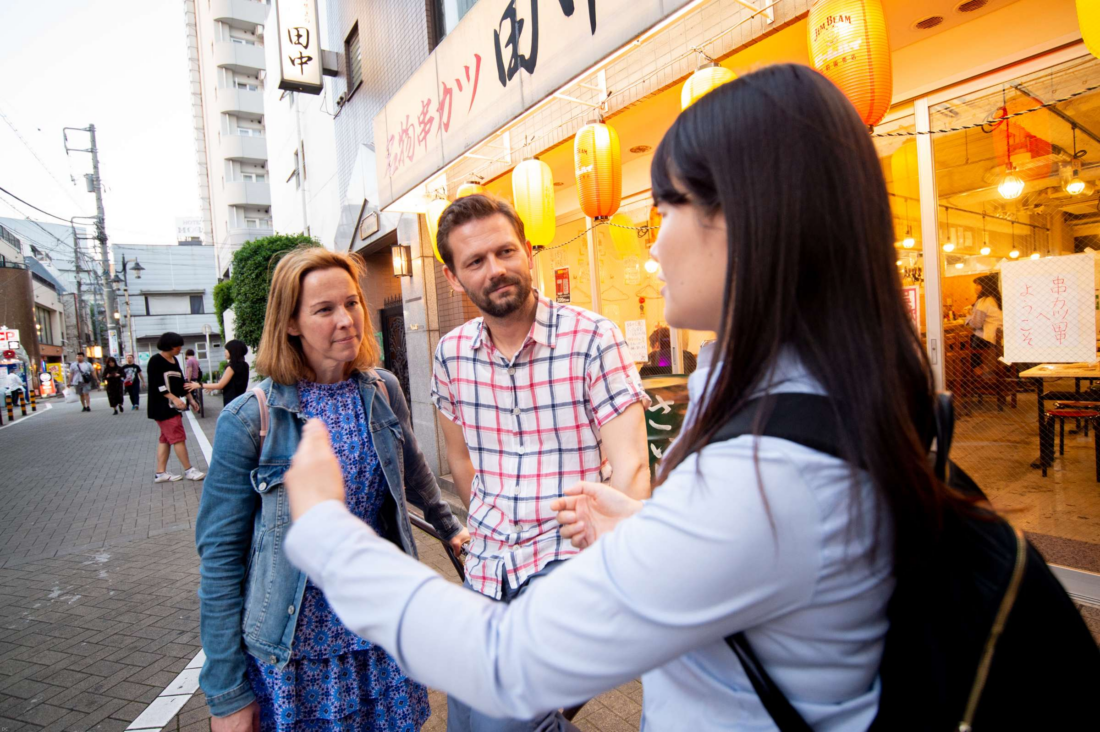 If you're planning on staying in Tokyo for a short amount of time, then this guided tour can really help you get into the Japanese culture by visiting Tokyo's most visited place. One of the best ways to do that is by taking the Tokyo in a Day Tour with Yanasen and Asakusa. This tour takes you through the colorful streets of Tokyo, including a visit to the vibrant Yanaka district and the famous Buddhist temple of Senso-ji.
Tokyo Pop Culture Tour for Kids
A great way to introduce Japanese culture to your children is by taking them on the Tokyo Pop Culture Tour for Kids. This is a 2-hour tour that takes you to Takeshita Street, Shibuya, a Themed café where your kids can play and explore the world of anime, arcades, and manga through these activities.
Tokyo Evening Sake Tasting Tour
Go on a 2-hour guided tour with a local expert that will let your experience the traditional Japanese drink "Sake". This Tokyo Evening Sake Tasting Tour will take you to some of the best places to sample sake. During this tour, you'll be visiting local bar located in Shitamachi where you can try different kinds of sake. The expert will also teach you about the history and culture behind this traditional beverage.
Tokyo Food Tour: Savoring Tsukiji Outer Market
A 3-hour tour surrounded by all things food and culinary. Tokyo Food Tour: Savoring Tsukiji Outer Market gives you the opportunity to learn about Japan's unique food culture and have an amazing gastronomic experience. During this tour, you'll be visiting the Tsukiji district which is known for its enormous and vibrant fish market. Get a chance to have Japanese cooking classes of a lifetime!
Here's everything you can look forward on this tour:
Learn about the history of Japanese cuisine
Led by a culinary expert
Tokyo Night Food Tour in Shibuya
I'll tell you, a night food trip in Shibuya is one of the best ways to experience Tokyo's nightlife. This 3-hour tour will take you around Shibuya and visit some of its most famous eateries.
You'll get to visit some of the inexpensive places to drink and enjoy snacks. You'll get to enjoy the local Japanese craft beers and sake that are famous in Shibuya while snacking on Japanese street food. Plus, you'll get to explore the amazing neon-lit streets of Tokyo and get a great insight into the city's culture.
Tokyo Private Tour by Car / Van – Guide Option Available
If you're not a fan of walking tours, this private car tour composes of 10 hours approximately, to explore Tokyo in a luxurious and personalized way. You'll get to explore Tokyo at your own pace and spend as much time as you want at landmarks such as the Meiji Shrine, Imperial Palace, and Tsukiji Fish Market.
Private Custom Tour: Tokyo in a Day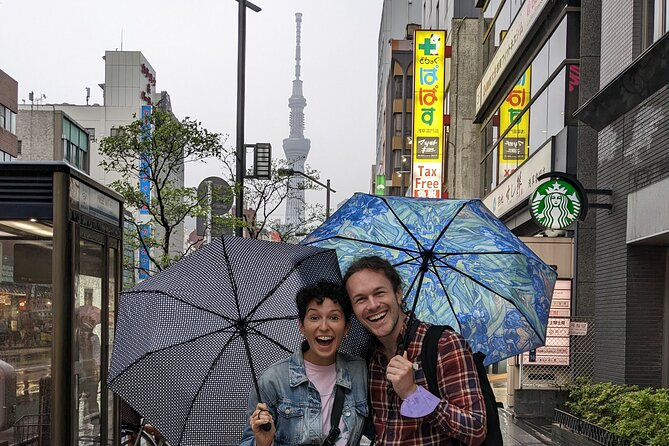 Another great private tour is the Tokyo in a Day Tour. This tour will pack as many sightseeing locations and attractions into your full day of exploring Tokyo. It could be a 4-hour or 8-hour private custom tour, it's completely up to you.
The highlights of this tour includes:
Let an experienced guide help you create a half-day or full-day sightseeing itinerary
See city attractions like Meiji Shrine and the Imperial Palace, or discover Tokyo neighborhoods, depending on your interests
Enjoy lunch at a local restaurant (if full-day tour selected)
Explore the city by train and subway, or upgrade for transport by comfortable, private vehicle
Tsukiji Fish Market Food and Culture Walking Tour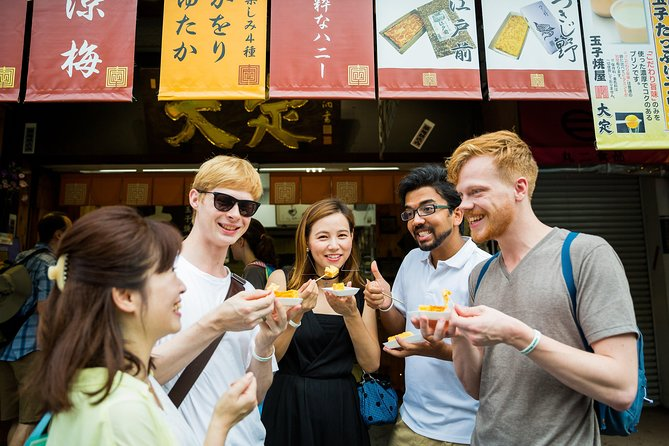 Tsukiji Fish Market is one of the most famous markets in Tokyo, with a wide variety of seafood products. During this 3-hour you'll be with some of the known Michelin-starred chefs as they shop for ingredients. As you wander around the market, your guide will explain the local culture and explain the different types of seafood that are being sold in the 80-year-old market.
Here, you'll get to:
Great way to get a sense for Japan's unique culinary culture
Sample a range of sushi, sake, fresh Tuna, and Japanese omelets Rub shoulders with Japan's Michelin-starred chefs as they shop for ingredients
Eat and drink like a Japanese local
Shibuya All You Can Eat Best Food Tour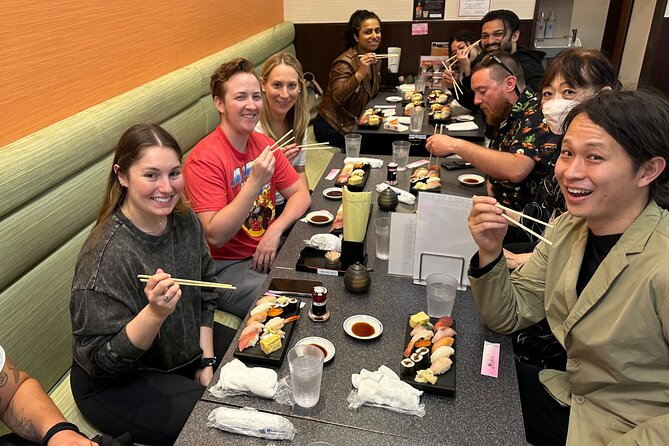 I'd say this is one of the best parts of this tour list so far, a 4-hour All You Can Eat Best Food Tour. This food tour takes you to the lively Shibuya district and gives you the unique opportunity to try some of the best Japanese food.
Tokyo: 2-Hour Guided Sumo Morning Practice Viewing Tour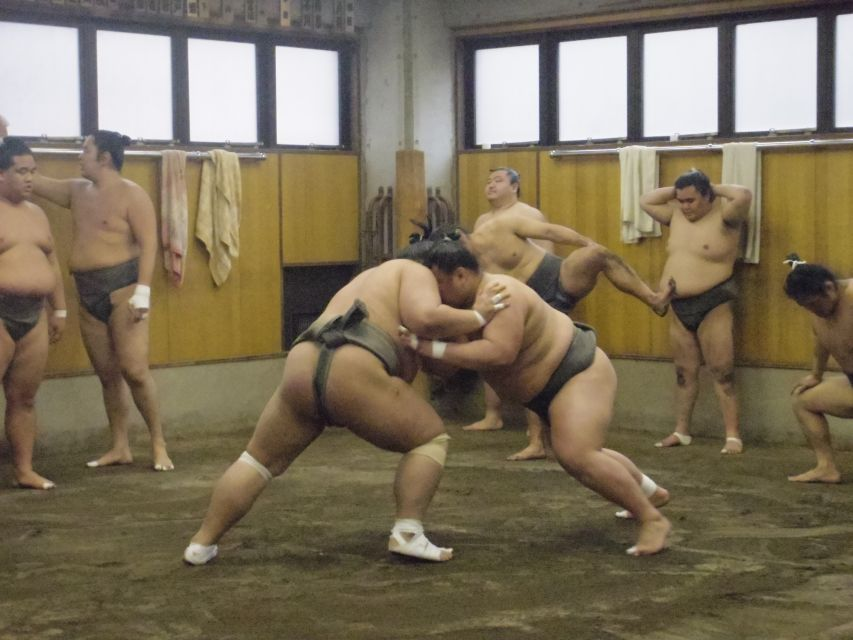 I love this tour as I am always very curious about how Sumo wrestlers train and compete. During this two-hour tour, your guide will take you to the popular Ryogoku district in Tokyo.
These are some of the highlights of this tour:
Highlights
Get the rare opportunity to enter a Sumo stable
Watch Sumo wrestlers in training up close
Learn about the history and the art of Sumo wrestling from your local guide
Tokyo: Ramen Tasting Tour with 6 Mini Bowls of Ramen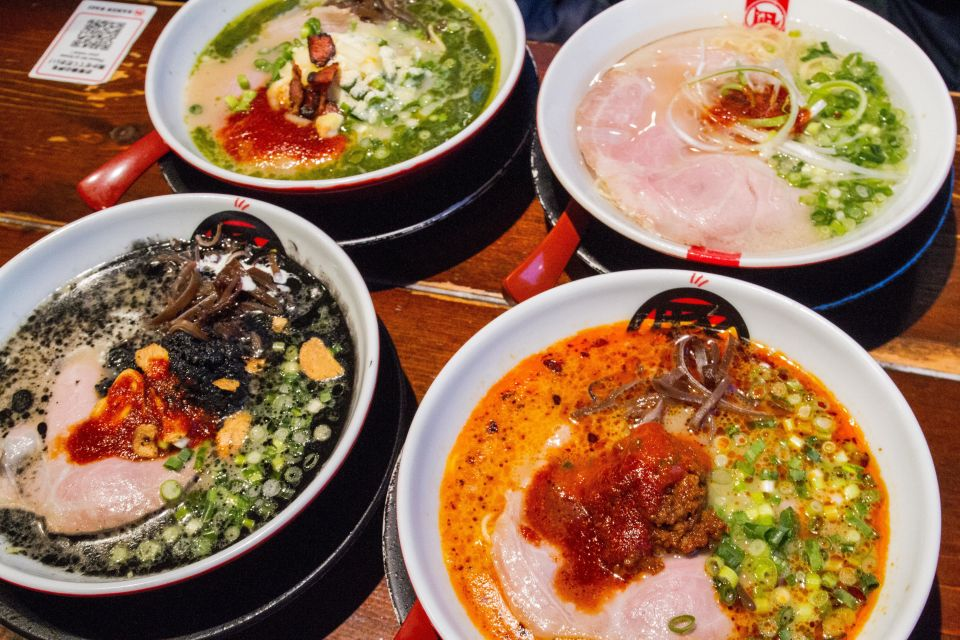 If I can only choose one favorite food among Japanese cuisines, it's ramen. This 3-hour tour will take you to different ramen shops in Tokyo and let you sample up to 6 different bowls of ramen. Get ready to become a ramen expert, learning about ramen origins, types, preparation, and trends.
Tokyo: Tsukiji Market Walking Tour & Rolled Sushi Class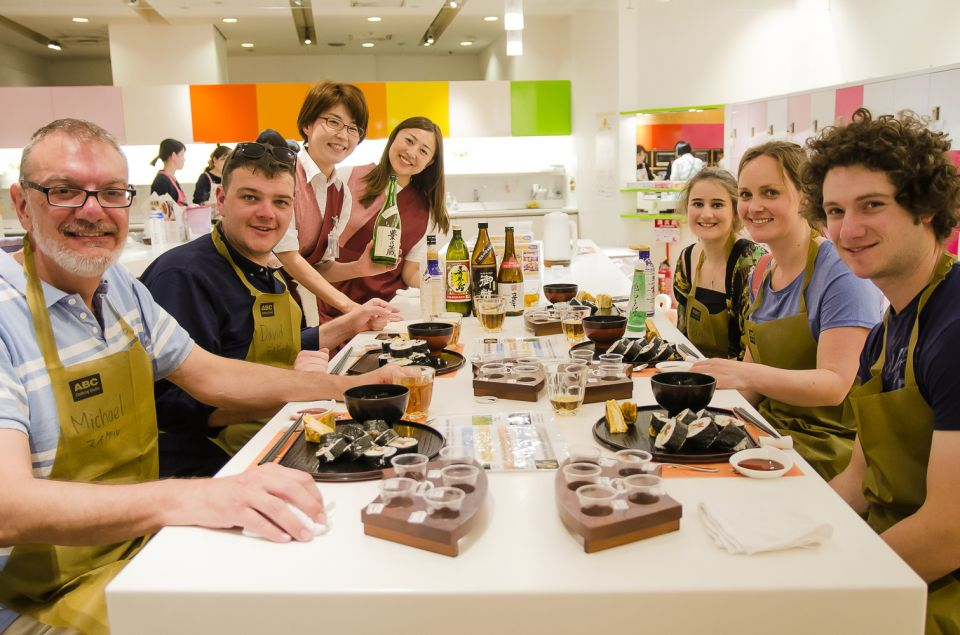 What a fun way to enjoy Japanese cuisine through these Japanese cooking classes amid touring the Tsukiji Outer Fish Market.
On this tour, you'll get to:
Experience the hustle and bustle of the Tsukiji Outer Fish Market in Tokyo
Explore culinary traditions at the Tsukiji Fish Market and a cooking lesson
Take part in a cooking lesson at one of Asia's largest gourmet cooking schools
Prepare washoku dishes, including rolled sushi, Temari sushi, and miso soup
Sit down and savor a lunch comprised of the dishes you have prepared
Tokyo: Kimono Dressing, Walking, and Photography Session
Surely, a not to miss in Tokyo would be a kimono experience. This 3-hour tour will give you the chance to dress up in a gorgeous authentic kimono and take a leisurely walk around the city.
Here's everything you'll get to do on this tour:
You can wear a real kimono, not a tourist one.
You can learn how to walk and behave in kimono from a guide.
You can choose from about 50 kimonos of your love.
I hope you have an incredible time when you visit Tokyo. It's a place everyone should see and I just know that you'll fall in love with it too!
Once you decide what to do in Tokyo, you can plan the rest of your trip to Japan. Check out these great day trips from Tokyo. Be sure you look into transportation and especially remember to buy your Japan Rail Pass BEFORE you go to Japan. You can learn more about the Japan Rail Pass and why you need it here.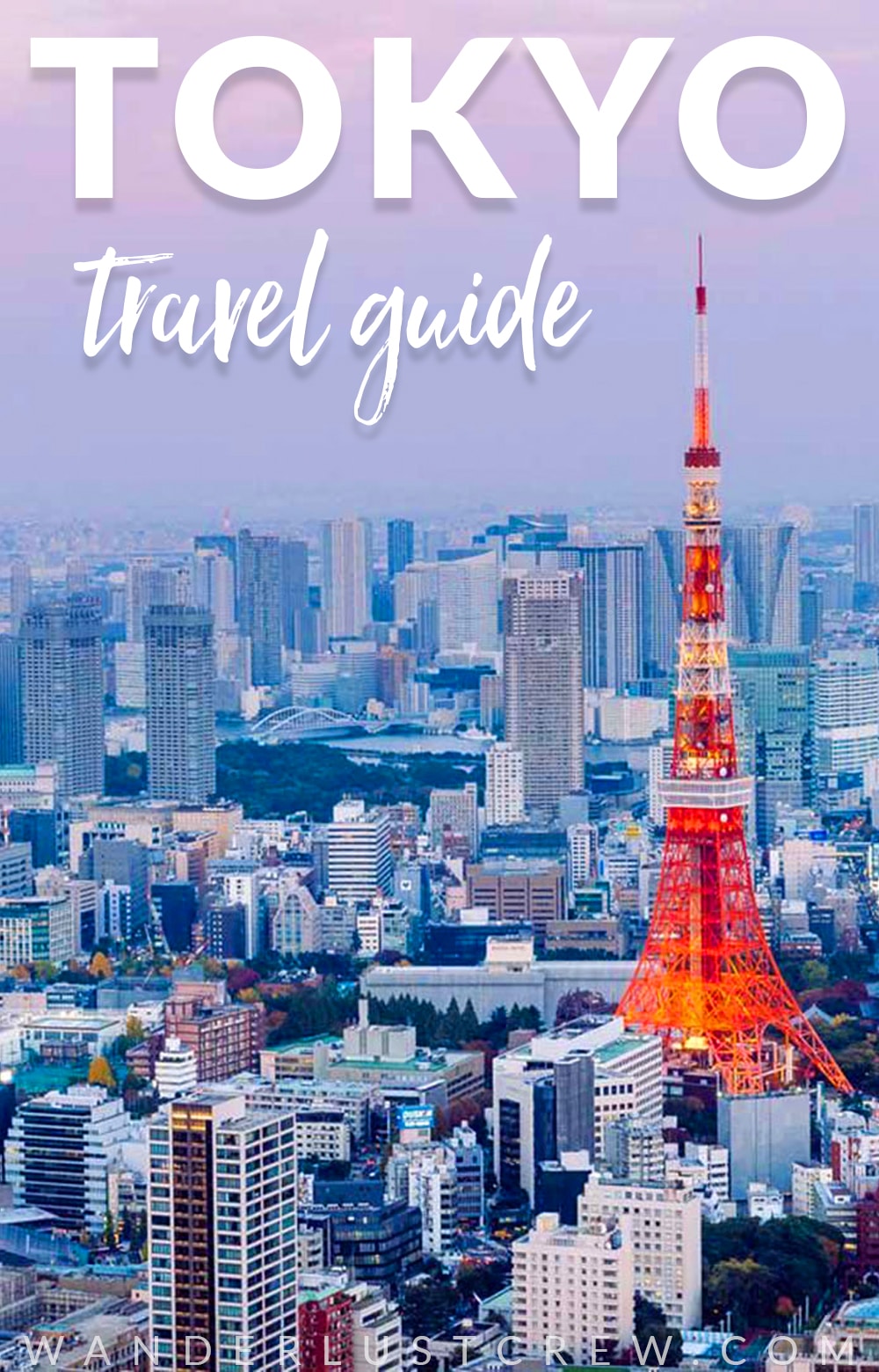 Things to do in Japan FAQ
What are 3 things Tokyo is famous for?
Anime, manga, and video games. These three are some of the top things Tokyo is best known for. Other popular attractions and things to do in Tokyo include shopping, the popular Japanese dishes, nightlife, sightseeing, and exploring Japan's ancient culture and of course, Mount Fuji.
What are the best areas to visit in Tokyo?
For an authentic experience, I enjoyed visiting the Tokyo National Museum and the Meiji Shrine. Other popular attractions include Shinjuku Gyoen National Garden, Tokyo Tower, and Ueno Park.
Is 7 days enough for Tokyo?
It can be! You can take tours so that you can get a good overview of Tokyo. You can also take day trips to other cities nearby such as Yokohama, Osaka, and Kyoto.
What activities can visitors do in Tokyo?
Visitors can do a wide range of activities in Tokyo. Popular activities include visiting museums and art galleries, exploring temples and shrines, shopping, eating out, attending traditional festivals and events, experiencing the nightlife, enjoying outdoor activities such as hot springs and hiking. There are also plenty of opportunities