This beautiful land of history, highlands, and haggis is more than just this on the surface. Discover what Scotland is known for and how to see, do, and taste all that it has to offer.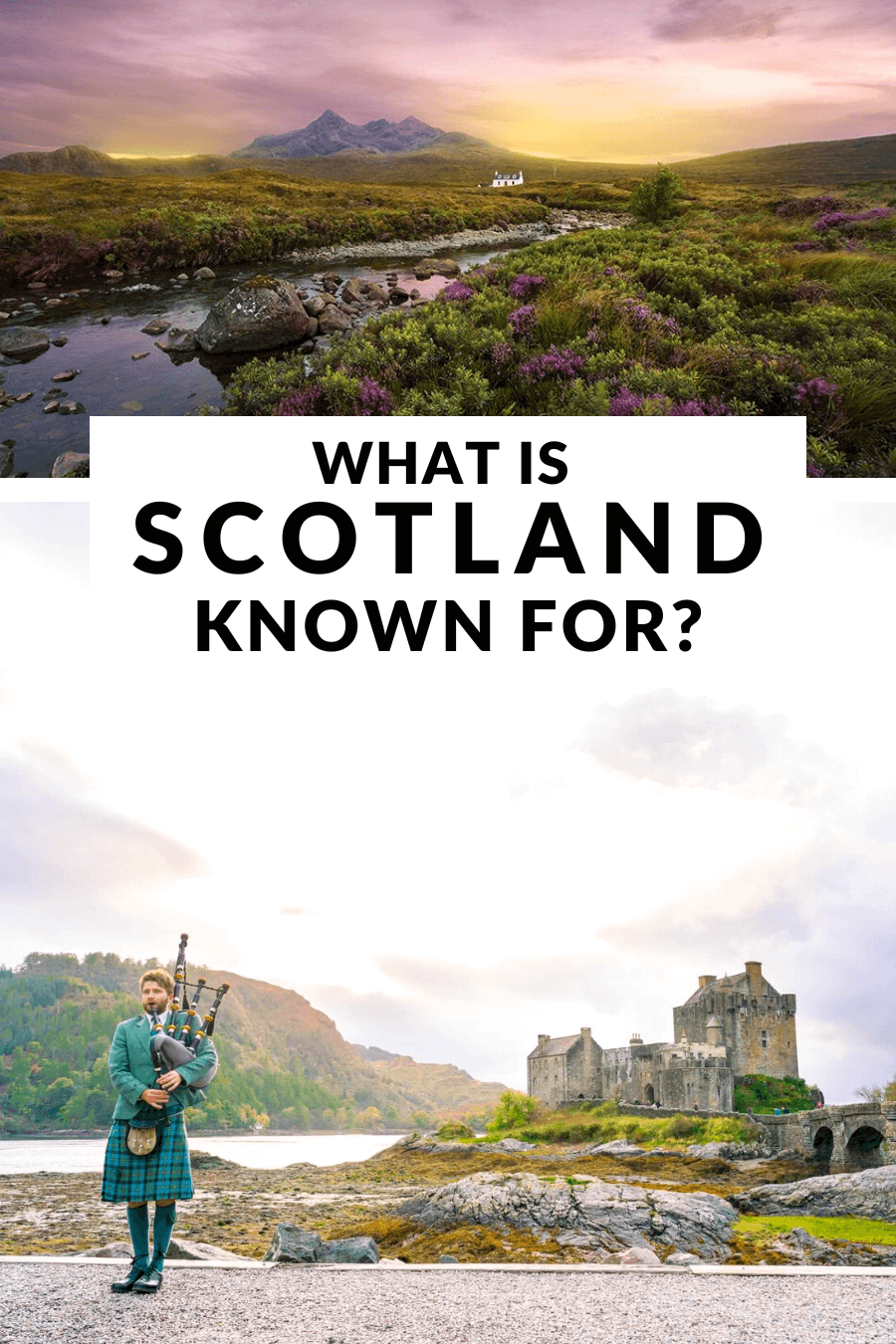 Smelling subtle scents of fresh heather on the Highland hills. Hearing waves crash against the jagged coastlines of the islands. Watching street performers dance in vivid costumes. Trying your first taste of haggis. Listening to the sound of bagpipes.
So, what is Scotland known for? Answering that question requires tuning into all five senses and delving deep into Scottish culture, history, and mythology.
You may have heard that Scotland is known for bagpipes, kilts, haggis, and whisky, but there is so much more to this beautiful country.
Scotland is a country I have a deep connection to. My family is mostly Scottish and I lived there as a little girl with my grandma so it holds a special place in my heart. I love taking my own kids back to explore our family history and discover new places. But what is Scotland known for and why should you go?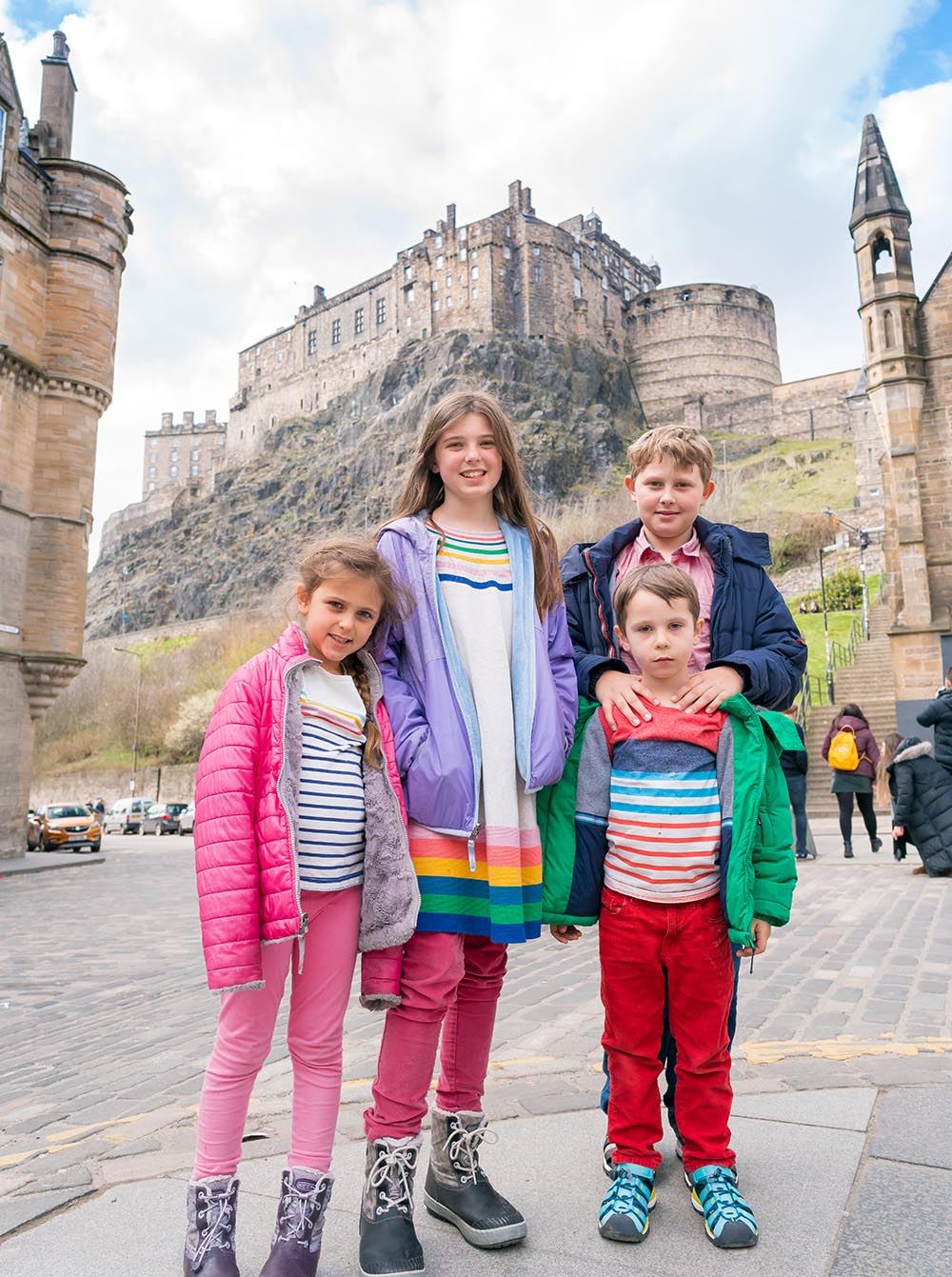 Don't have time to read a bunch of reviews & blog posts? Here are our top picks for visiting Scotland:
Get an Easy Scotland Itinerary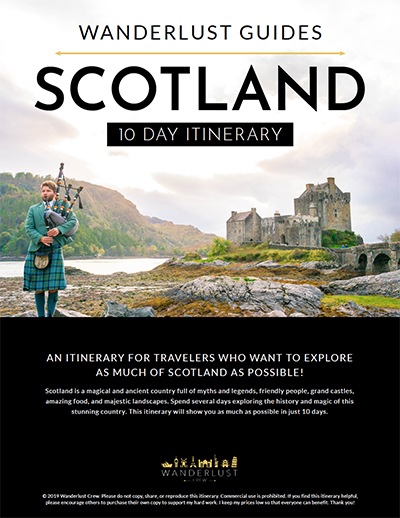 Our favorite hotels in Scotland
Our favorite tours in Scotland
Renting a Car in Scotland
If you want to see authentic Scotland, I recommend you drive yourself. If you're renting a car, there are two companies we prefer to use: Rental Cars and Expedia Cars. We have had no issues with them and have been able to find the best prices available.
Bonnie Scotland's history dates back to the Paleolithic era circa 12,000 BC. Over the centuries, Scotland has fought everyone from the Romans to the English to protect its culture. And yet, Scotland has clung to its proud heritage of good food, good company, and good stories.
Considering there's such a small Scottish population (5.5 million to England's 56 million), this UK country is known for many incredible destinations, interesting dishes, notable people, fun inventions, and unique traditions.
If you're thinking about visiting Scotland or just curious to know more about it, this is a definitive list of all the top things Scotland is famous for. Open a can of Irn Bru and let's discover more about what Scotland is known for.
35 Magical Things Scotland is Famous and Known For
1. The Scottish Highlands
Scotland boasts many incredible national parks and vast areas of wildflower-laded countryside. But nowhere in the country is more synonymous with Scotland than the Scottish Highlands.
The Scottish Highlands is one of the most popular tourist destinations for so many reasons. First, it's the largest region in Scotland, encompassing every island and the top western part of the mainland. It's where you'll find the dramatic valley of Glen Coe and the mountain town of Fort William which sits at the foot of Ben Nevis, the tallest mountain in the UK.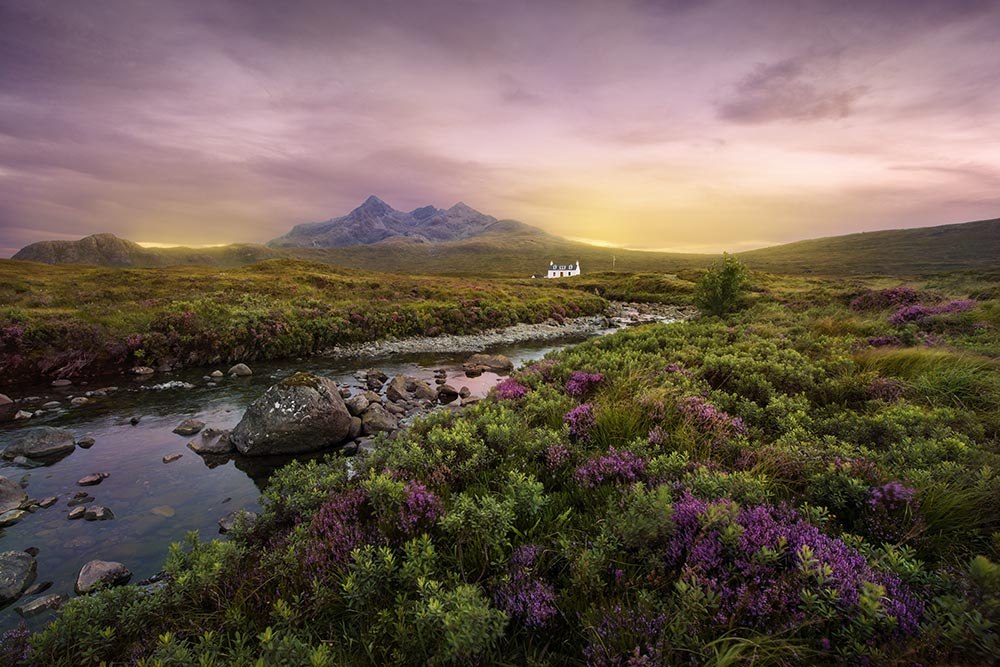 Boarding a Jacobite steam train and traveling from Fort William across Glenfinnan Viaduct is also a bucket list activity for many (more on that later!). As is driving around the coast of the Scottish Highlands on the North Coast 500 route.
Inverness is the unofficial capital city of the Scottish Highlands, close to many famous lochs and whisky distilleries. From here, you can catch ferry crossings to Orkney and Shetland.
The Scottish Highlands is the perfect place for first-time visitors to Scotland because it's where you'll find almost all of the other things that Scotland is famous for.
2. Tartan Kilts
You can't walk down the Royal Mile in Edinburgh without passing several shops selling tartan kilts and accessories. While you might think that these Scottish heritage garments are no longer worn by Scottish people and are there purely to cater to tourists, you'd be wrong!
Tartan kilts and other pieces of tartan clothing are still common attire for special occasions such as weddings and formal events. Men usually wear them with a sporran (pouch) and knee-high socks.
Whilst the history of tartan dates back to the 4th century, kilts only date back to the 16th century. Lowland and Highland clans alike used to wear kilts made from thick Scottish wool woven into whatever tartan pattern they chose. Tartan's association with a particular Scottish family name only dates back to the 19th century.
Still, if you have Scottish family members or heritage then it's super fun to see what tartan is associated with your Scottish clan!
3. William Wallace
Thanks to the 1995 blockbuster hit Braveheart, William Wallace is possibly the most iconic figure in Scottish history. He was a Scottish knight and the leader of the First War of Scottish Independence in the late 13th century.
As the movie suggests, he really did fight for Scotland's freedom!
Some of the best places to visit in Scotland to find out more about him are Stirling Castle and the Wallace Monument. In particular, the Wallace Monument offers gorgeous views across the city of Stirling on Scotland's east coast.
4. Capital City of Edinburgh
Another city on Scotland's east coast that you just might have heard about before is Edinburgh, the capital city of Scotland. Unsurprisingly, the capital city is one of the most popular tourist destinations in the country and the most famous of all Scottish cities.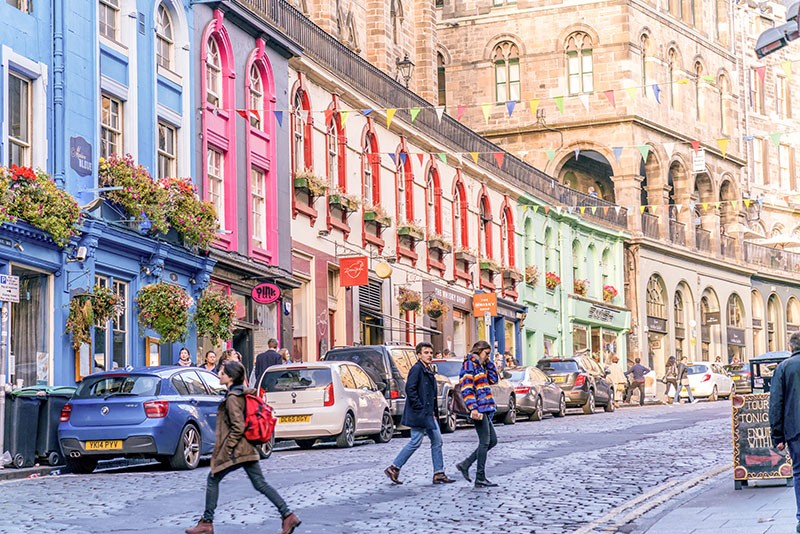 Old Town's historic Royal Mile street and cobblestone closes (alleys) along with New Town's grand Georgian townhouses are a UNESCO World Heritage Site. It's famous for Edinburgh Castle, 11 annual festivals, and the Forth Bridge which is also a UNESCO site.
Like Rome and Lisbon, Edinburgh is also a capital city built on seven hills and each Edinburgh neighborhood has its own unique character. Arthur's Seat and Calton Hill offer stunning views across the smoking chimneys and cathedral spires. It's a magical city with endless stories, museums of Scottish culture, and things to do. Edinburgh should be on every Scotland itinerary.
5. Scottish Whisky
Spelled without an 'e', Scottish whisky has been distilled in this country for centuries and Scotland is famous for producing some of the best whisky in the world.
There are over 140 malted barley and grain distilleries in Scotland and Scotland produces 1.6 billion 70cl bottles of the 'water of life' every year. That's around 53 bottles of Scotch whisky per second!
There are five Scottish whisky regions that produce malted barley and grain whiskies with different flavor profiles, according to the conditions of the natural landscape. The most famous Scotch whisky production region is Speyside but Islay, the Lowlands, the Highlands, and Campbeltown also produce excellent Scottish whisky.
Some distilleries that are highly-regarded for their quality Scottish whisky production include the Highland Park Whisky Distillery and the Clydside and Glasgow distilleries Glengoyne Distillery and Wester Distillery. The Highland Park Whisky Distillery is in Orkney and is the second northernmost single malt distillery in the country.
Fun Facts: a measure of whisky is called a 'dram' and if you want to say 'cheers' in Scotland, you say slàinte mhath (pronounced slanj-a-va).
I don't drink, but I still think it's important to know part of the culture when you visit Scotland.
6. Loch Ness and the Loch Ness Monster
Scotland is famous for its magical and mythical creatures. So famous, in fact, that one of its top tourist attractions is the Loch Ness Monster which doesn't even exist.
Sorry, the Loch Ness Monster does exist. Honest!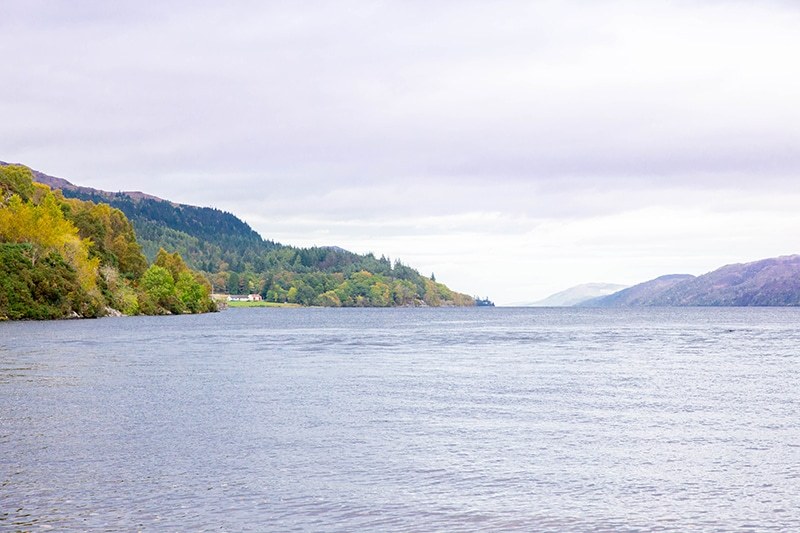 Scotland's largest loch (Scots Gaelic for 'lake') by volume, Loch Ness stretches 23 miles/37 km from Fort Augustus to the south and Inverness to the north. It's surrounded by waterfalls, small beaches, and even castles like the ruined Urquhart Castle. Despite all the reasons to visit Loch Ness, it's the Loch Ness Monster that keeps tourists coming back.
The legend of Nessie (the affectionate name for the Loch Ness Monster) dates back to 1,500-year-old Pictish carvings of an unidentified sea creature. In the 6th century, an Irish Monk reported the first sighting of the Loch Ness Monster. It wasn't until the 20th century when search parties and hoax photos heightened the interest in the mythical Loch Ness Monster.
7. Edinburgh Castle
Stirling Castle might have connections to William Wallace, but no castle is more important to Scottish history than Edinburgh Castle.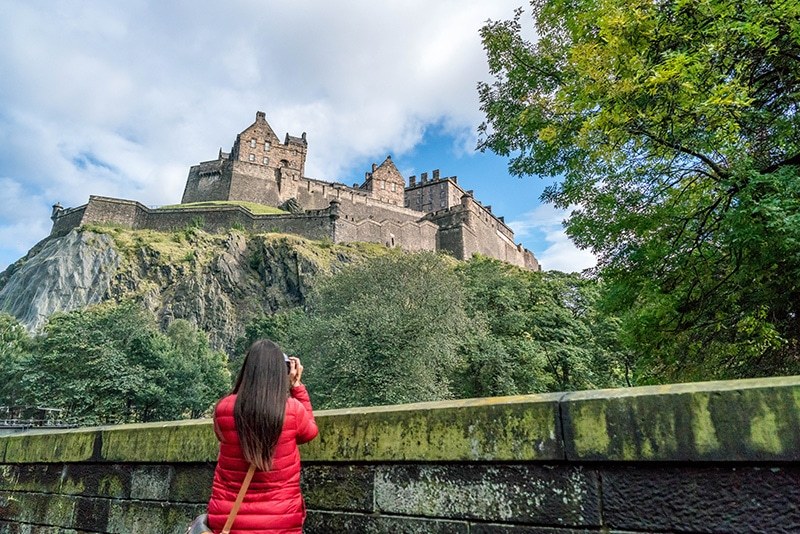 Edinburgh Castle sits on top of a dormant volcano and, if that weren't cool enough, a castle has stood on this hill since the 12th century. It was a royal residence before it became a military barracks in the 17th century and today, Scotland is famous for Edinburgh Castle because it strikes such an imposing image on the skyline.
8. Royal Edinburgh Military Tattoo
During the month of August, Edinburgh is buzzing with lots of exciting arts festivals. One Edinburgh festival that draws crowds from all over the world, in particular, is the Royal Edinburgh Military Tattoo.
The Royal Edinburgh Military Tattoo is a performance by the British armed forces, international militaries, and cultural organizations. It's a real spectacle of an event that ends every night with fireworks, cannon fire, and light shows. It has made Scotland famous in militaries around the world.
I was lucky enough to attend this with my grandma back as a wee lass. Still one of my favorite memories!
9. Scottish Bagpipes
Scotland is famous for folk music, but its most notable instrument has to be the Scottish bagpipe. It's a woodwind instrument with several pipes feeding into a bag (often covered in tartan material) with a reserve of air. This type of bagpipe was adapted from a similar instrument invented in Egypt around 400 BC.
It's not an easy instrument to learn to play and the droning sound means that many people either love or hate the bagpipe! You'll see street performers playing Scottish bagpipes in Edinburgh and some regimental bands of the British armed forces have bagpipers too.
It's always been a lifelong dream of mine to learn the bagpipes! Do I own any? No. Have I tried? Also, no. Given my attempt at the violin during the pandemic, I think I'll just keep this as a dream.
10. Haggis, Neeps, and Tatties
When thinking about what food Scotland is famous for, you might draw a blank. Scotland is known for mythical creatures like the Loch Ness Monster and natural wonders like Scotland's lochs, but it's not known for its delicious cuisine.
In fact, Scotland's national dish is known for being the opposite of delicious. Haggis is a savory dish consisting of minced sheep heart, liver, and lungs mixed with onions, suet, spices, and stock stuffed into the sheep's stomach. Yum!
I still remember the first time I was tricked into eating this. I was the pickiest eater in the world, but my grandma told me it was ground beef and mashed potatoes (I loved potatoes) so I ate it! Then everyone started laughing at me! But you know what, it really wasn't that bad and tasted kind of like ground beef. I've since had it several times and it's fine!
Traditionally, the Scottish eat haggis with neeps (turnips) and tatties (mashed potatoes). As you might expect, this acquired meal has fallen out of favor even with the proudest of Scots.
Many of Scotland's top restaurants are trying to reinvent their national dish, but the jury is still out on whether their efforts will be enough for the national dish to become popular again. It would take more than a side of mashed potatoes to make even the most adventurous local Scot or traveler eat haggis!
11. Robert Burns & Burns Night
This is a fun one and one that we actually still celebrate at home in the US, although with slightly less flare!
What is Scotland known for if not its long tradition of storytelling? Scotland has many famous writers (Edinburgh is a UNESCO City of Literature) but one of the most famous is Robert Burns.
Born at the end of the 18th century, Robert Burns wrote several classic poems including To a Mouse (with the famous 'of mice and men' line) and Auld Lang Syne which is still sung at midnight on New Year's Eve.
Burns Night has been a Scottish tradition for over 200 years. Held every January 25th, Burns Night is simply an evening meal to celebrate the life and works of the famous Scots poet.
Some Scots will celebrate Burns Night by eating Haggis but there are usually special events for Burns Night in the poet's hometown of Ayr.
12. Cairngorms National Park
Scotland is famous for its outstanding natural beauty and wildlife that you can find in abundance in the Cairngorms National Park. Only established as a national park in 2003, this national park is a mountainous region in Scotland's northeast. This area of Scottish countryside boasts heather-covered moors and charming mountain towns like Aviemore.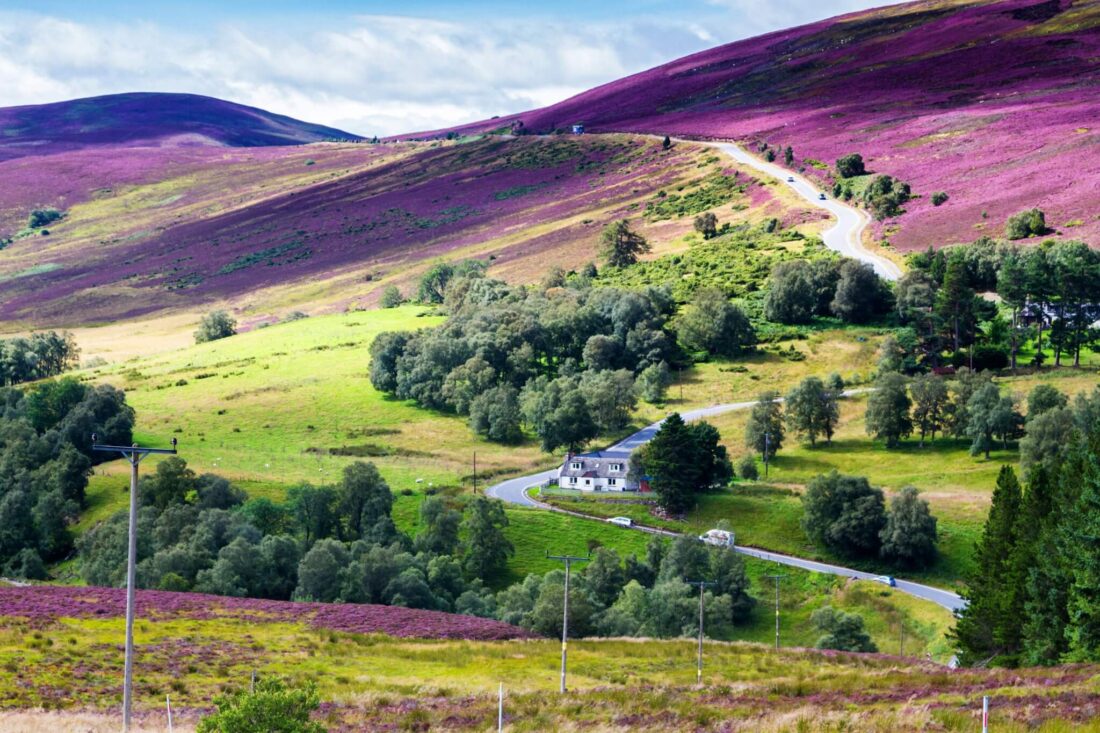 The Cairngorms National Park is known for its outdoor activities. In the summer months, you can take advantage of hiking and bike trails. And in the winter months, you can even go skiing or snowboarding. Scotland is famous for deer and you'll even find reindeer in this part of the Scottish countryside.
13. Outlander Books and TV Series
What is Scotland known for to most people in the US? The Outlander book and TV series. This cultural phenomenon made Scotland famous to such an extent that the author of the series, Diana Gabaldon, received a prestigious award for her services to Scottish tourism.
Outlander is a fantasy series focusing on an English woman from the early 20th century who accidentally travels back in time to the mid-1700s via standing stones in Inverness.
Outlander covers important moments in Scottish history such as the Jacobite Rebellion and Highland Clearances. The TV series features beautiful filming locations all over Scotland from the small villages in Fife to the west coast beaches.
14. Ceilidh Dancing
Ceilidhs were once Scottish or Irish social gatherings, but now dancing a ceilidh is a Scottish tradition that locals take part in for special occasions like weddings. It's similar to a barn dance and involves lots of stomping, clapping, and skipping!
This is a fun part of Scottish culture that you can take part in at many dance halls around Scotland.
15. City of Glasgow
Although Edinburgh is the capital, Glasgow is the largest and most cosmopolitan of all the Scottish cities. It straddles the River Clyde and was once the most important industrial and port city on the west coast.
In Glasgow, you'll find the Clydside and Glasgow distilleries, lots of art nouveau architecture, markets, and beautiful street art murals. Glasgow Green on the River Clyde is one of the city's most picturesque parks.
16. More than 1,000 Historic Castles
Gracing the packaging of every box of Scottish shortbread in the world, Scotland is famous for its historic castles. Currently, there are over 1,000 castles all over the Scottish mainland and islands. There are even some incredible Scottish castles that you can actually stay in!
Some of the most famous castles in Scotland include Edinburgh Castle, Urquhart Castle, Stirling Castle, and Eilean Donan Castle.
Eilean Donan Castle is the second-most photographed castle in Scotland (after Edinburgh) as it sits in the middle of a loch close to the Isle of Skye. There's no denying the unrivaled beauty of the Eilean Donan Castle.
17. Invention of Golf
What is Scotland known for playing? Golf! Originating in the 15th century, the Old Course at St Andrew's is the oldest golf course in the world.
There are now over 550 golf courses around the country. It's still an extremely popular sport and an important part of Scottish culture.
18. Traditional Live Music Scene
There are many cultural ties between Scotland and Ireland and, like the Emerald Isle, Scotland is known for live music performances in traditional pubs. On any given night in any town in Scotland, there are folk musicians with fiddles, guitars, and accordions playing a spontaneous live music 'session'.
Some of the best pubs to hear traditional Scottish music are the Cask & Barrel Southside in Edinburgh and the Ben Nevis Bar in Glasgow.
19. Birthplace of Harry Potter
Victoria Street in Edinburgh and the Glenfinnan Viaduct near Fort William are two of the most popular tourist destinations for Harry Potter fans. Why? Because Victoria Street is the official inspiration for Diagon Alley and the viaduct is the Harry Potter bridge that appears in most of the movies!
Scotland is famous for its connections to both the Harry Potter books and the movies. Join a Harry Potter walking tour in Edinburgh to see all the sites that inspired the books (there are tons!). Take a ride on a steam train from Fort William in the Scottish Highlands and live out your Hogwarts fantasies.
20. Scottish Wool and Harris Tweed
Scottish wool has been an important export for centuries and Scotland is known for its quality wool. Historically, while the men worked on farms and crofts, the women would make cloth from Scottish wool.
Harris Tweed is a specific type of Scottish wool made in the Outer Hebrides. It resists water and keeps you warm in winter and cool in summer. Due to its high quality, this type of Scottish wool is very popular and makes a great Scottish souvenir.
21. Robert Louis Stevenson
As already mentioned, Scotland is famous for its writers and Robert Louis Stevenson is perhaps the best Scottish author in history. In the late 19th century, he wrote classics like Treasure Island and Strange Case of Dr. Jekyll and Mr. Hyde.
There's an exhibit about him at the Edinburgh Writer's Museum along with many other authors that helped make Scotland famous in the literary world.
22. Traditional Scottish Breakfast
You've heard of the traditional English breakfast, but have you heard of the traditional Scottish breakfast? The traditional Scottish breakfast is Scotland's unofficial national dish and they're very proud of it.
Expect any English and Scottish breakfast to have bacon, sausages, fried egg, toast, and fried tomatoes. English breakfasts also have baked beans and black pudding. A traditional Scottish breakfast shouldn't have baked beans and a black pudding because instead, it should have potato scones, haggis, and oatcakes.
In reality, the ingredients of a Scottish breakfast are whatever the restaurant or cafe thinks they are!
23. Scottish Folklore and Mythical Animals
What is Scotland known for in terms of folklore? Scotland loves its mythical animals most of all. In fact, the national animal of Scotland is a unicorn and it appears as a motif on castles, palaces, and monuments across Scotland.
Scotland is known for attracting tourists with reports of a sea monster in Loch Ness, but there are others. Just outside of the city of Falkirk are two 100-foot/30-m-tall steel kelpies. These are shape-shifting aquatic horse creatures that are common in folk stories.
24. Highland Cows (or Coos)
Highland cows are the oldest cattle breed in the world and Scotland is known for rearing these fuzzy, loveable beasts. Most have horns and shaggy brown hair and they are hardy creatures to withstand harsh weather.
Having a longer life span than most cattle, Highland cows can live for up to 20 years. Its meat is exceptionally high-quality and the good news is you can also find Highland cows outside of the Scottish Highlands! There are farms in Lowland Scotland and Northern England too.
If you want to say 'Highland cows' like the Scottish, say 'Highland coos'.
25. Edinburgh Fringe Festival
Aside from the Royal Edinburgh Military Tattoo, the other Edinburgh festival that dominates the month of August is the Edinburgh Fringe Festival. Scotland is known for this festival because it is the largest arts festival in the world.
Yes, the largest of any arts festival across the globe!
The Edinburgh Fringe Festival welcomes comedians, musicians, actors, and performers from all over the world to hundreds of venues across the city. It's such a buzzing, lively atmosphere and many famous household names get their big break performing at the Fringe.
26. Scottish Accent and Dialect
Scottish Gaelic is an old Celtic language that sadly only 60,000 of the Scottish population still speak today. However, Scottish Gaelic is an important part of Scottish heritage and many Scottish people are learning it through apps and at school.
Still, Scotland is famous for its colorful mix of English and the Scots dialect and local sayings. Although some might find the Scottish accent too thick to understand, many others think it sounds charming and friendly. Plus, there are lots of great Scottish slang words and phrases. Here are some great ones:
Haud yer wheesht! – Shut up!
Aye – Yes
Belter – Fantastic, Excellent
Bairns or wains – Babies or Children
Haver – Talk nonsense
Popular Edinburgh author Irvine Welsh wrote many of his early books, like Trainspotting, in a Scots dialect if you want to brush up on your Scots.
27. More than 790 Islands
While Scotland has 790 islands, only 93 of those are inhabited. But many are important wildlife habitats and two even have UNESCO status. St Kilda is home to many endangered birds such as gannets and puffins. Neolithic monuments on Orkney are also a UNESCO World Heritage Site.
One of the most popular islands in Scotland is the Isle of Skye. The Isle of Mull's colorful villages also attracts lots of visitors and the beaches and stone circles on the Outer Hebrides are amazing to visit too.
28. Scottish Shortbread and Scottish Tablet
If you wanted to know what food Scotland is known for most of all, it has to be Scottish shortbread. This crumbly, buttery cookie is simple yet utterly delicious. Dip your Scottish shortbread in tea for an authentic experience!
Another sweet Scottish food that is popular is Scottish tablet. It's very similar to fudge but a little softer. Plus, while you can get fudge anywhere, a Scottish tablet is a great souvenir.
29. Mary, Queen of Scots
Mary, Queen of Scots is the most famous, royal figure in Scottish history and even more famous than Bonnie Prince Charlie. She was a Catholic and a constant threat to her cousin, Elizabeth I of England, who was a protestant Tudor monarch.
Many castles and historic buildings have ties to Mary, Queen of Scots. For example, she was born in Linlithgow Palace and (allegedly) plotted to kill her husband Lord Darnley in Craigmillar Castle.
30. Loch Lomond and the Trossachs National Park
Scotland has only two national parks, the Cairngorms and Loch Lomand and the Trossachs which is just north of Glasgow. While Loch Ness might be Scotland's biggest loch by volume, Loch Lomond is Scotland's biggest lake by surface area.
Scotland is known for Loch Lomond in large part because of a popular folk song of the same name. It's often sung at weddings and soccer matches.
Loch Lomond is also known for its beautiful lush scenery and being part of one of Scotland's Great Trails, the West Highland Way.
Want to know what lochs Scotland has aside from Loch Lomond and Loch Ness? There are 30,000 in total but some other picturesque lochs are Loch Morar, Loch Shiel, and Loch Eilt.
31. Highland Wildlife Park
Scotland is known for animals like the Scottish wildcat, European bison, and red deer. You can find all of these magnificent species and more at the Highland Wildlife Park in the Cairngorms National Park.
The Highland Wildlife Park is a 105-hectare safari park that opened in 1972. Because the Scottish wildcat is one of the most threatened animals in the UK, the Highland Wildlife Park is one of the few places you can see these creatures.
32. Cullen Skink
Mainland Scotland has 6,160 miles/9,910 km of coastline, so naturally, fish is a staple of Scottish food. One of the key dishes that Scotland is famous for is Cullen skink.
This dish is a thick soup made with smoked haddock, potatoes, and onions. Unlike haggis, it's still enjoyed all over Scotland today and you're bound to find it on any Scottish restaurant's menu.
33. Sir Walter Scott
Born in Edinburgh in the late 1700s, Sir Walter Scott is one of the most famous authors that Scotland is known for. He wrote Ivanhoe, Rob Roy, and the Waverley novels. Edinburgh Waverley Train Station is the only station in the world named after a novel.
Scott Monument in Princes Street Gardens in Edinburgh is dedicated to the author.
34. Red Head Capital of the World
Everyone says that ginger-haired people are becoming extinct, but you wouldn't think so walking around Edinburgh. The capital city of Scotland is famous for having the highest percentage of red-hair gene-carrying people in the world.
Most nations have 1-2% redheads but Scotland has 5-6%. In the past, Edinburgh has even hosted red hair pride events.
35. Midges in the Summer
Most of what Scotland is famous for is overwhelmingly positive, but let's end with one very little negative. If you've ever visited the Scottish Highlands during the summer then you've no doubt heard about (or felt) midges. They are small and flying insects that swarm the Highlands in the warmer seasons and they are incredibly annoying.
Luckily, these little biters are relatively harmless. You can avoid the worst of them by wearing long sleeves and bug spray. Considering all the other wonderful things that Scotland is famous for, putting up with a few insect bites is a small price to pay when exploring somewhere as beautiful as Scotland!
What Is Scotland Known For? Book a Trip and Find Out!
While Scotland is a diverse, multicultural, and progressive country, this list includes all of the top things that are most associated with this nation.
So, what is Scotland known for and famous for? As you will discover when visiting Scotland, preserving the natural landscapes and focusing on fun and festivities (preferably with music, laughs, and whisky!) is really what makes Scotland famous and a wonderful place to visit.
Don't have time to read a bunch of reviews & blog posts? Here are our top picks for visiting Scotland:
Get an Easy Scotland Itinerary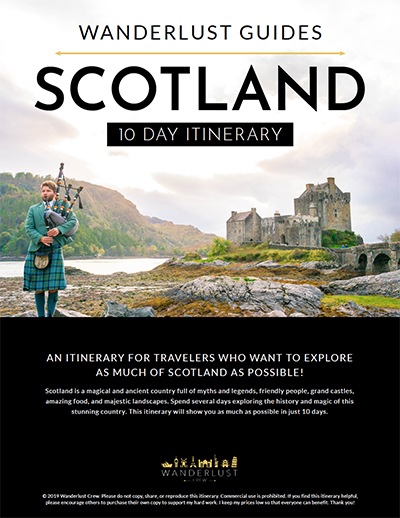 Our favorite hotels in Scotland
Our favorite tours in Scotland
Renting a Car in Scotland
If you want to see authentic Scotland, I recommend you drive yourself. If you're renting a car, there are two companies we prefer to use: Rental Cars and Expedia Cars. We have had no issues with them and have been able to find the best prices available.