Japan is full of culture, fun, and flavor! Blending many influences from the east and west along with ancient traditions, Japanese food is some of the tastiest in the world. This list will walk you through the best Japanese food in the country!

What to Eat in Japan | 25 Foods You MUST Try in Japan
This post contains affiliate links.
During my recent two week visit to Japan, I experienced many different types of food from around the country Almost everything was just so "oishi," meaning delicious. There are so many types of Japanese food that it's hard to even know where to begin!
After spending ten days in Japan with two of my friends who have lived there for years, and eating the best Japanese food in my life, these were just some of my favorites!
Be sure to watch my Japan Food video below! It's sure to make your mouth water!
This Japanese foods list will help you eat your way through Japan!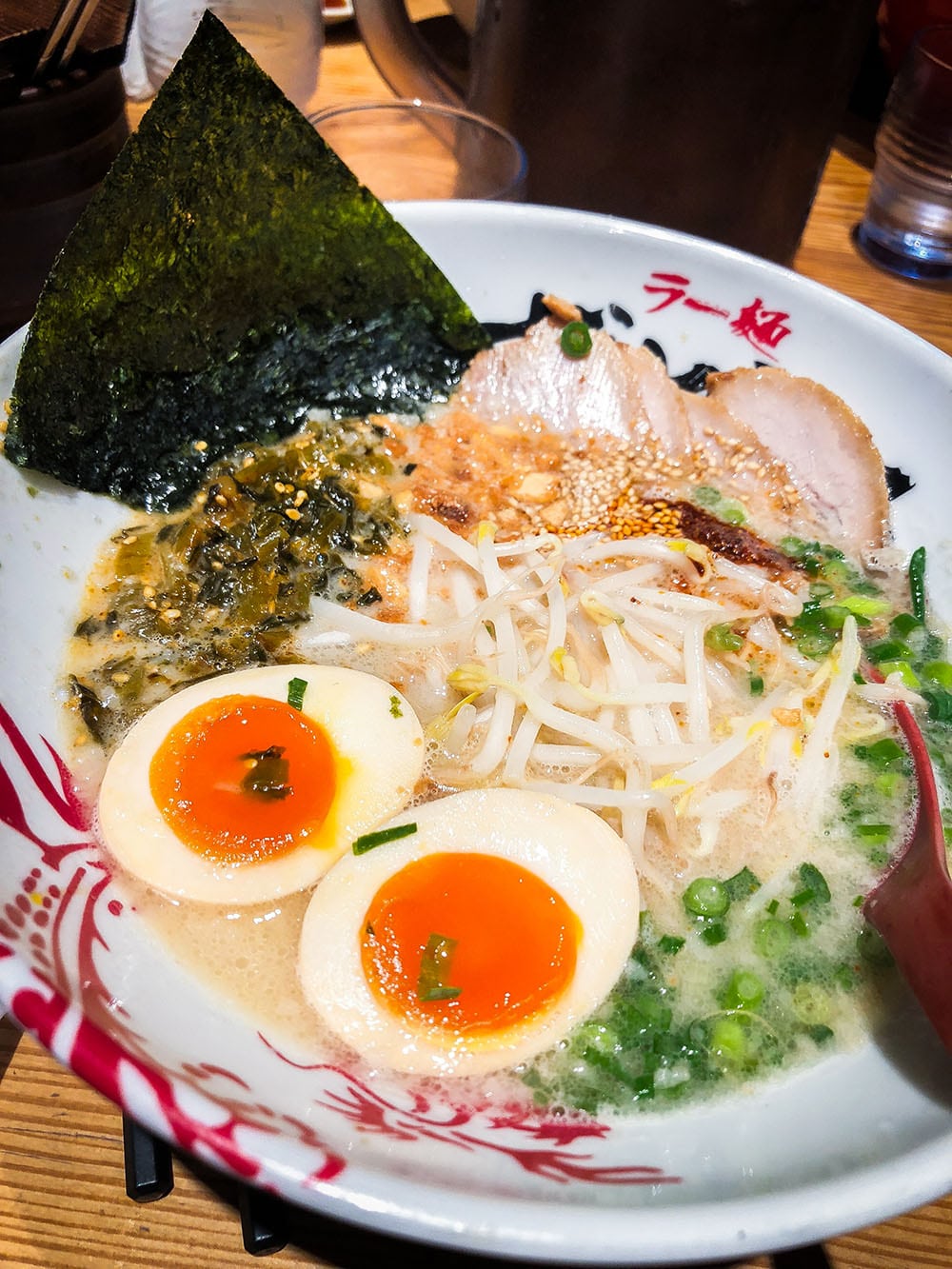 Ramen
With all the good Japanese food to choose from, Ramen is possibly the most famous and widely eaten dish in the country. Ramen is a staple in the Japanese diet and a must when visiting. There are many good ramen places in every city or region of Japan you visit. Look for locals patrons and a milky broth for a good ramen experience. I prefer mine with bean sprouts and a soft boiled egg.
Cost: 500-1200 Yen
Even better than going out for Ramen is learning to make your own. You can learn to make your own ramen and ramen noodles at this Ramen workshop in Tokyo!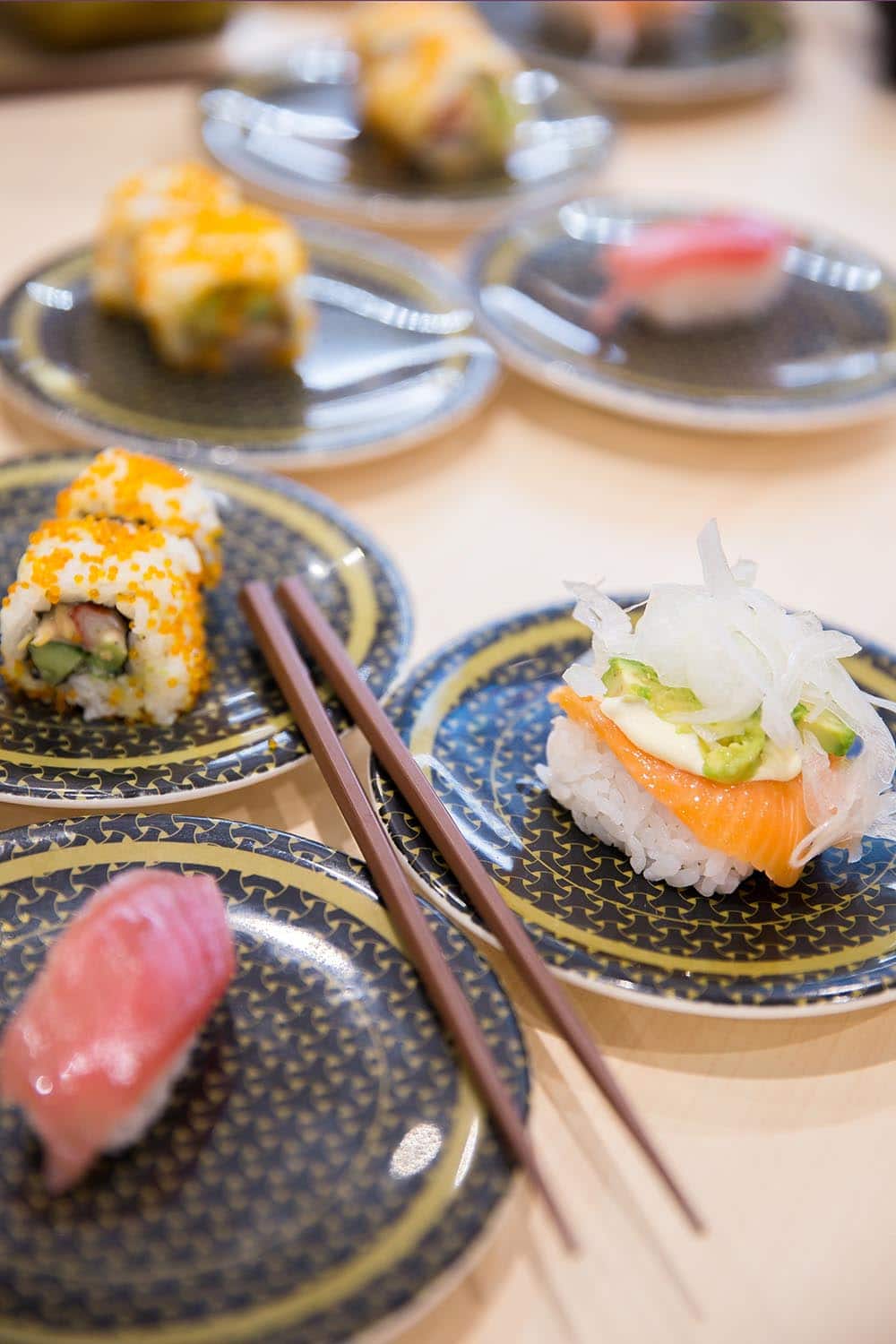 Sushi
This famous Japanese food is not to be missed! No trip to Japan would be complete without a trip to a conveyor belt sushi restaurant. The local favorite is Hama Zushi. When you walk into Hama Zushi, tell the robot how many are in your party and he will let you know when your table is ready. This is so much fun for kids! Hama Zushi is a cheap way to feed yourself or your family. Each plate of sushi costs about 100 Yen or $1 US dollar and contains 2 pieces of sushi.
When you eat conveyor belt sushi in Japan, you simply take the sushi you want off the belt, or at Hama Zushi, you can order your preferred sushi from a screen at your table. When you are finished, an attendant will count your plates and charge you accordingly. This is a great way to sample many different kinds of sushi without buying a huge roll or plateful. Be adventurous and try some things you've never had before. Who knows, you might end up loving it. My new found favorite was the tempura squid. So good!
Cost: 100 Yen/2 pieces of sushi (1 plate)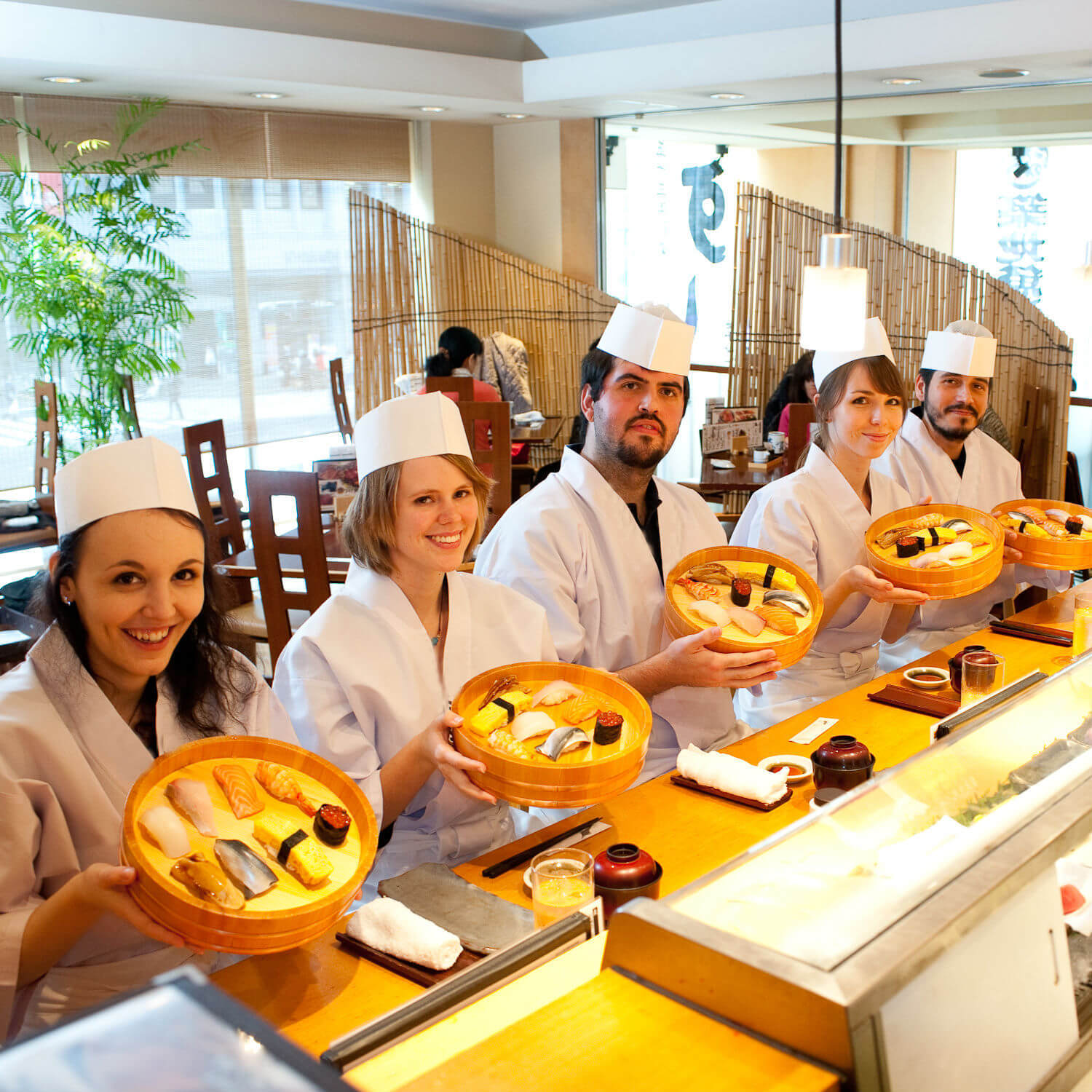 Even better than eating sushi is making your own! This amazing sushi making class will walk you through cutting fish, rolling, and sauces. It's very educational and super fun!
Gyoza
Gyoza are a staple of Japanese food and can be found in any almost Japanese restaurant. Gyoza, commonly called "potstickers" in the US are amazing little hand-rolled dumplings that are steamed and pan-seared. They are filled with meat and/or vegetables and taste delicious! These are always a hit with the kids!
If you want a really fun food experience in Japan, I recommend taking this awesome Gyoza cooking class! Then you have a little piece of Japan to take home with you when you cook at home!
Steamed Buns
This simple and inexpensive little meal is filling and somewhat nutritious. Steamed buns can be found just about anywhere you go in Japan and are usually hot and filled with beef or pork. This is a favorite among Japanese kids and I saw them eating them everywhere (along with me).
Cost: 100-300 Yen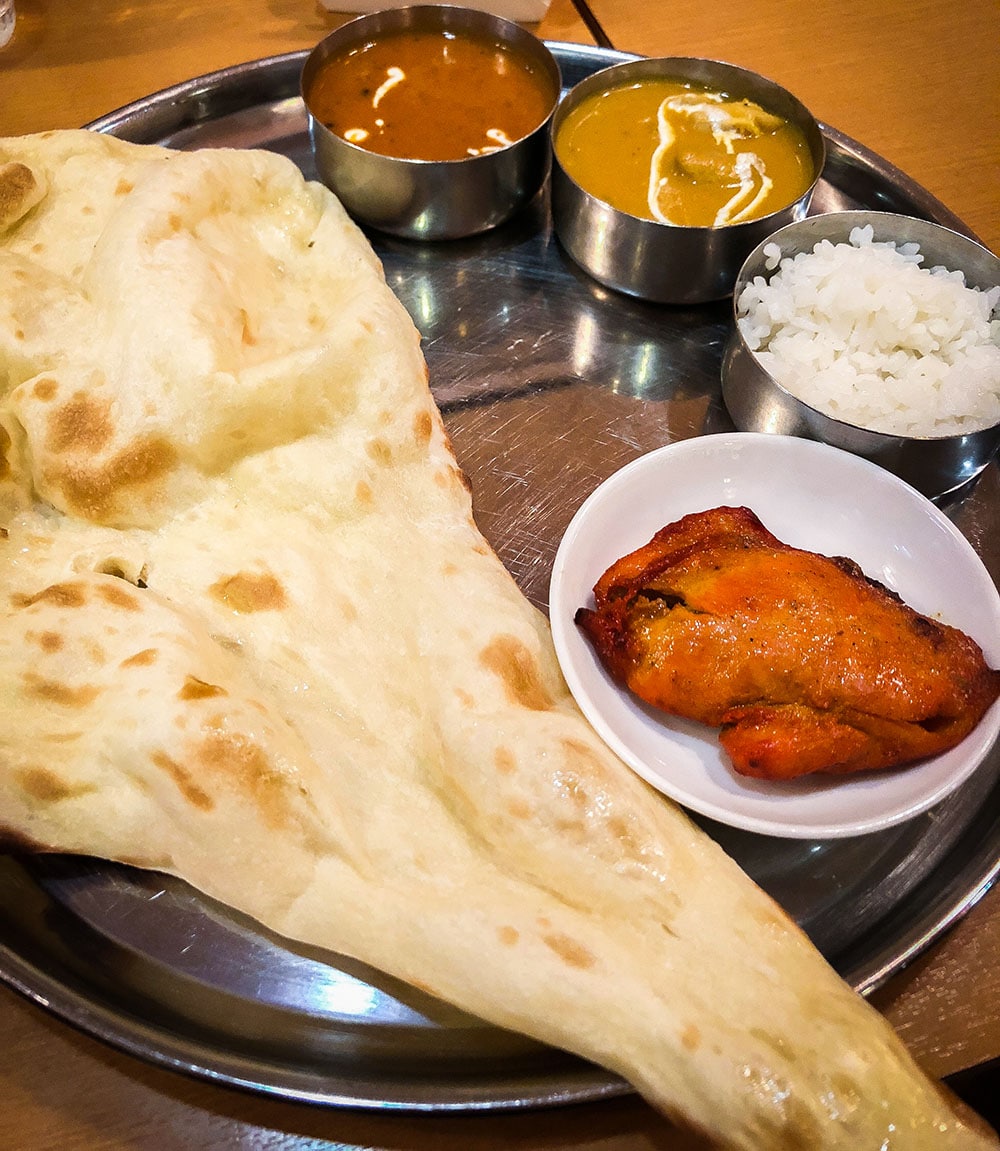 Japanese Curry
One thing that really surprised me was the prevalence of curry in Japan. I've always associated curry with Indian food, but it seems that the Japanese love curry almost as much. There were a plethora of curry restaurants around every town and little curry shops in train stations where you could order your curry from a machine and then go sit inside. You can choose your spice level at most curry shops. I stuck to a 0 or 1 and thought the 1 was fairly spicy. The numbers can go all the way up to 10. You've been warned! Although curry didn't originate in Japan, I think it's still part of the cultural experience here and worth a taste.
Cost: 500-1200 Yen
Melon
Melons and melon flavored things are a huge delicacy in Japan. I found this a little funny since pretty much the cheapest fruit at the grocery store in the US is melon! I've never really been a melon fan until I visited Japan and tried everything melon! Melon ice cream, melon bread, melon candy. Try all the melon things you can!
Melonpan
Speaking of melon…Melonpan is a special soft Japanese sweet bread that is named for its melon-like shape. Occasionally you can find melonpan that is actually filled with a melon-flavored filling. I even found this adorable whale shaped melonpan that was almost too cute to eat…almost. I really don't know how they get their bread so silky soft and smooth, but it's amazing.
Cost: 300 Yen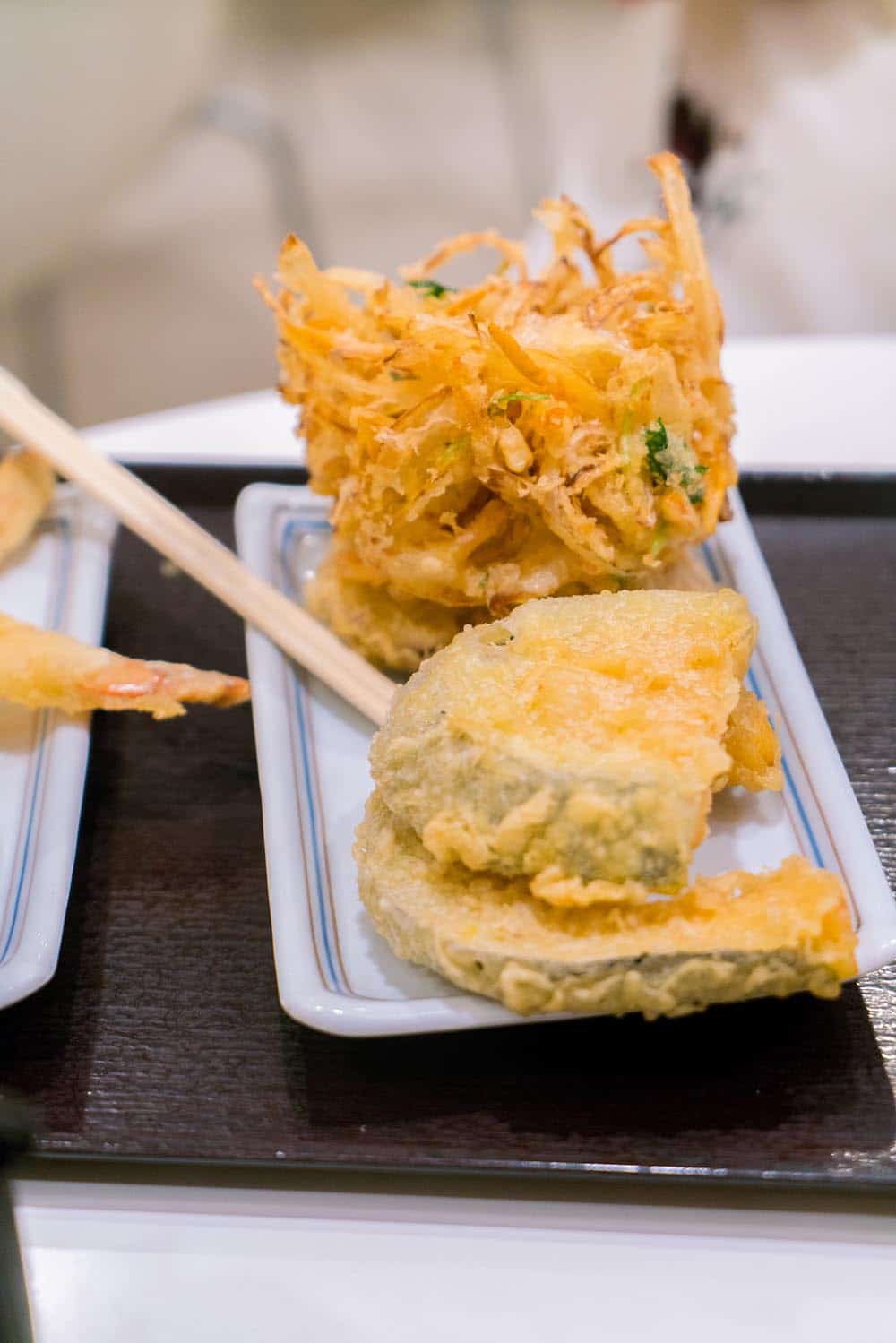 Tempura
Tempura is a light batter smothering meats, seafood, or vegetables. You can get almost tempura anything. I especially loved the tempura vegetables. Pumpkin was my favorite!
Cost: 500 Yen
Kobe Beef
If you're traveling to Kobe or Kyoto and your wallet can handle it, be sure to try some famous Kobe beef. It is considered one of the best Japanese dishes in the country and also the most expensive! It will run you about 10000 Yen or $100 USD, but I've heard its worth it. You'll have to let me know since a $100 steak is not in my budget.
Cost: 10000 Yen
Mochi
You'll find mochi treats at most markets, but beware, they're not like the mochi you get at Costco. Instead, they are usually filled with bean paste. It's different. Not really my favorite because I think my tongue is expecting ice cream, but still worth trying. The mochi outside itself was so good.
Cost: 300 Yen
Okonomiyaki
Okonomiyaki has been described as "Japanese Comfort Food." You'll find it at most fairs and festivals. It consists of a crepe-like pancake topped with noodles, eggs, and a selection of toppings of your choosing. We tried green onion and mayo and loved it.
Cost: 1000 Yen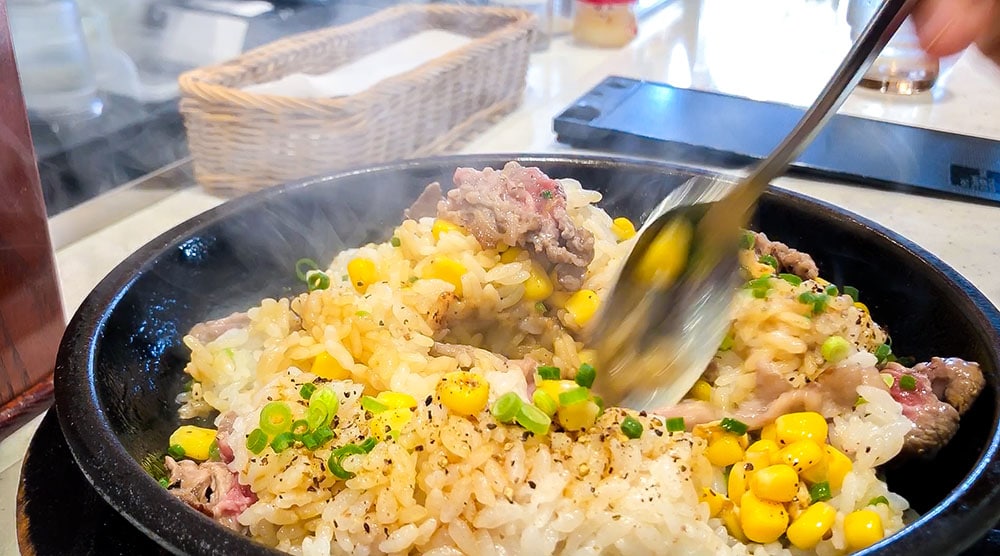 Pepper Lunch
Pepper lunch is a Japanese chain offering delicious fried rice with uncooked beef which is served on a HOT pan and you cook yourself. Pour on some of their special sauce and it's so simple, but so good!
Cost: 1000 Yen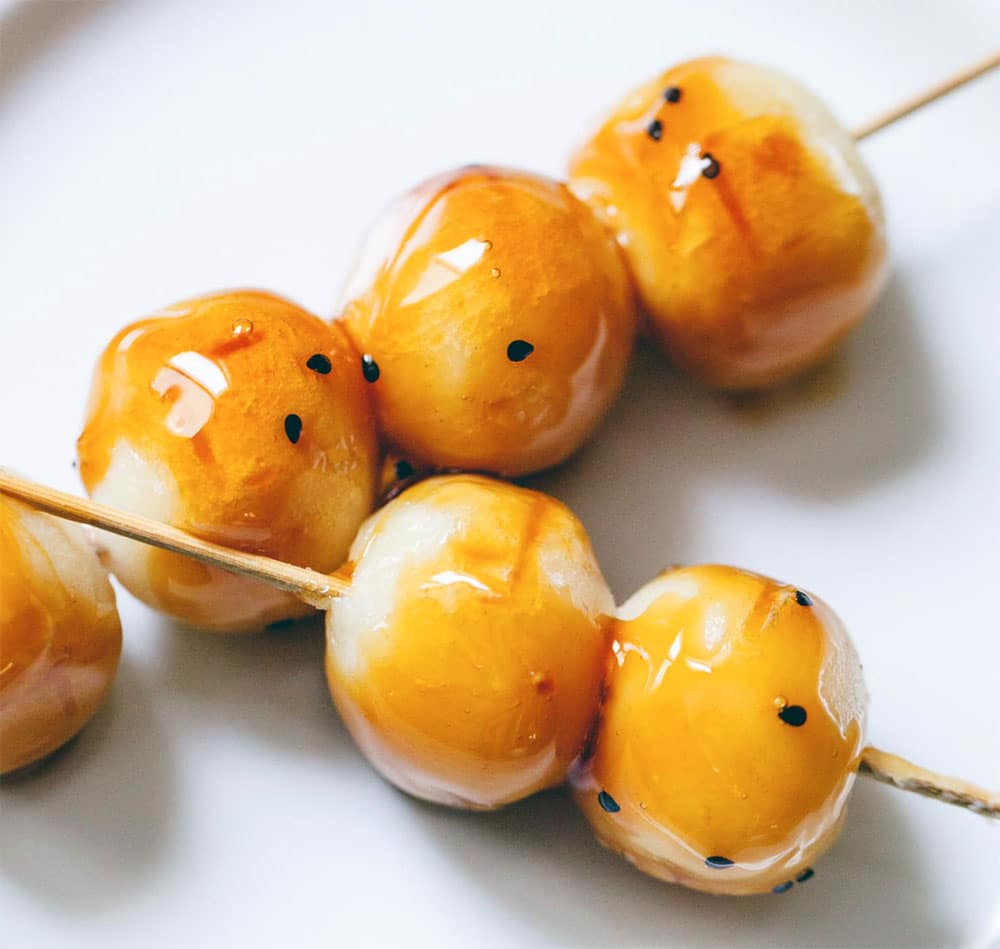 Dango
Dango is sort of like mochi, but less sweet. They are shaped into balls, put on scewers and roasted over a flame, then topped with a sweet miso sauce. I really liked these, but they are rich and couldn't eat a ton.
Cost: 500 Yen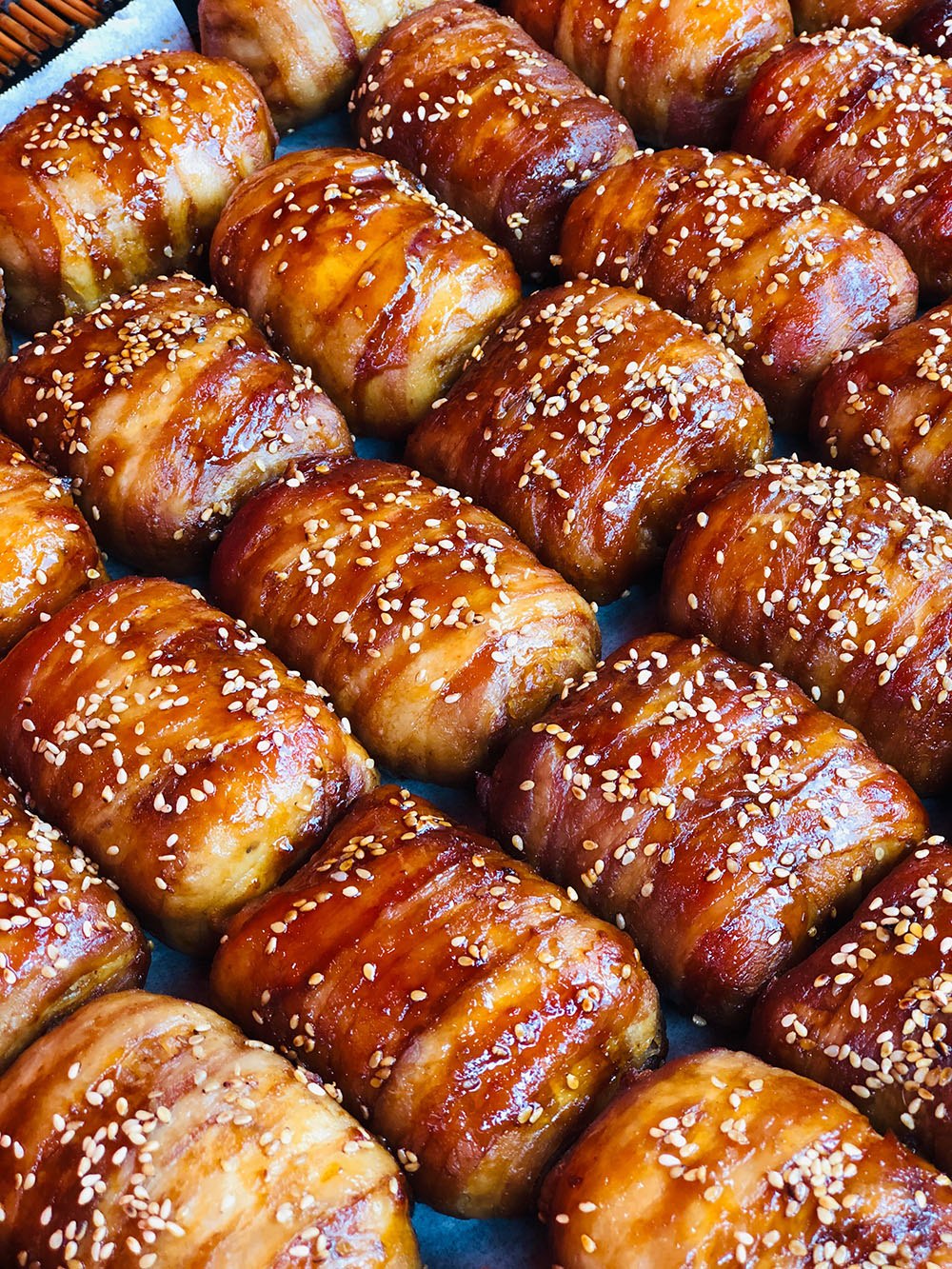 Nikumaki Onagiri
Thanks to my friend Boy Eats World for putting a name to this delicious snack. This meat wrapped rice is basically a big rice ball wrapped in bacon, grilled, then topped with sauce and sesame seeds. I loved this and could seriously eat it daily. You can find it at most outdoor food stalls.
Chesnuts
Chesnuts grow all over Japan and are popular roasted, just like they are in Europe.
Yakitori
You'll find meat kabobs all over Japan. Chicken, Beef, Pork, and we once even tried tofu and crab on a stick. I found the meat in Japan to be really fatty, but really tasty.
Kakigori
If you see any stands or shops selling shaved fruit ice, please stop and get one for me. This was probably my favorite sweet treat in Japan. Maybe because fruit is so expensive there and I was just so happy to have some, but these were frozen strawberries or mangos shaved in a shave ice machine and then topped with sweetened condensed milk. I'm going to try and make this at home. Amazing!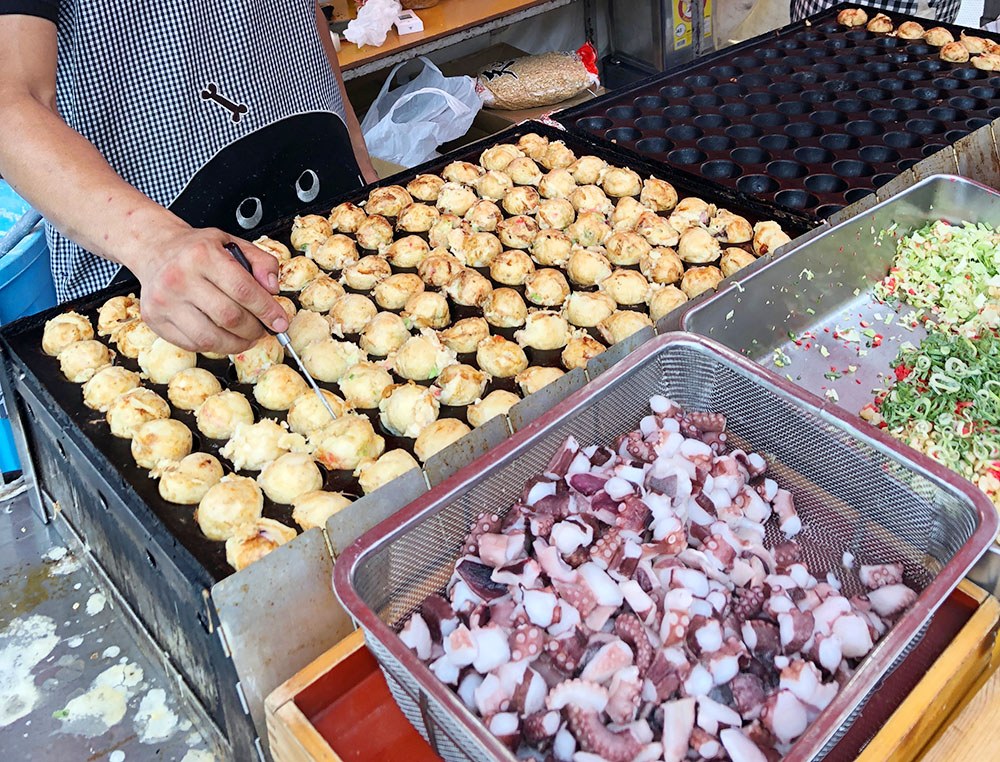 Takoyaki
This was probably the only thing I tried in Japan that I just really did not like. Takoyaki are fried dough balls with a chunk of octopus inside and topped with onions and sauce. I usually really love octopus, but this was not my cup of tea! Let me know if you've tried it and liked it. Maybe I just had a bad batch?
Yakisoba
Yakisoba is a simple fried noodle dish. Kids usually love this. It's cheap, filling, and delicious!
Onigiri
Rice balls were a staple for us when visiting Japan. They are triangle shaped rice usually filled with tuna or salmon and mayo and then wrapped in seaweed. You can find them at any "combini" or convenience store in Japan.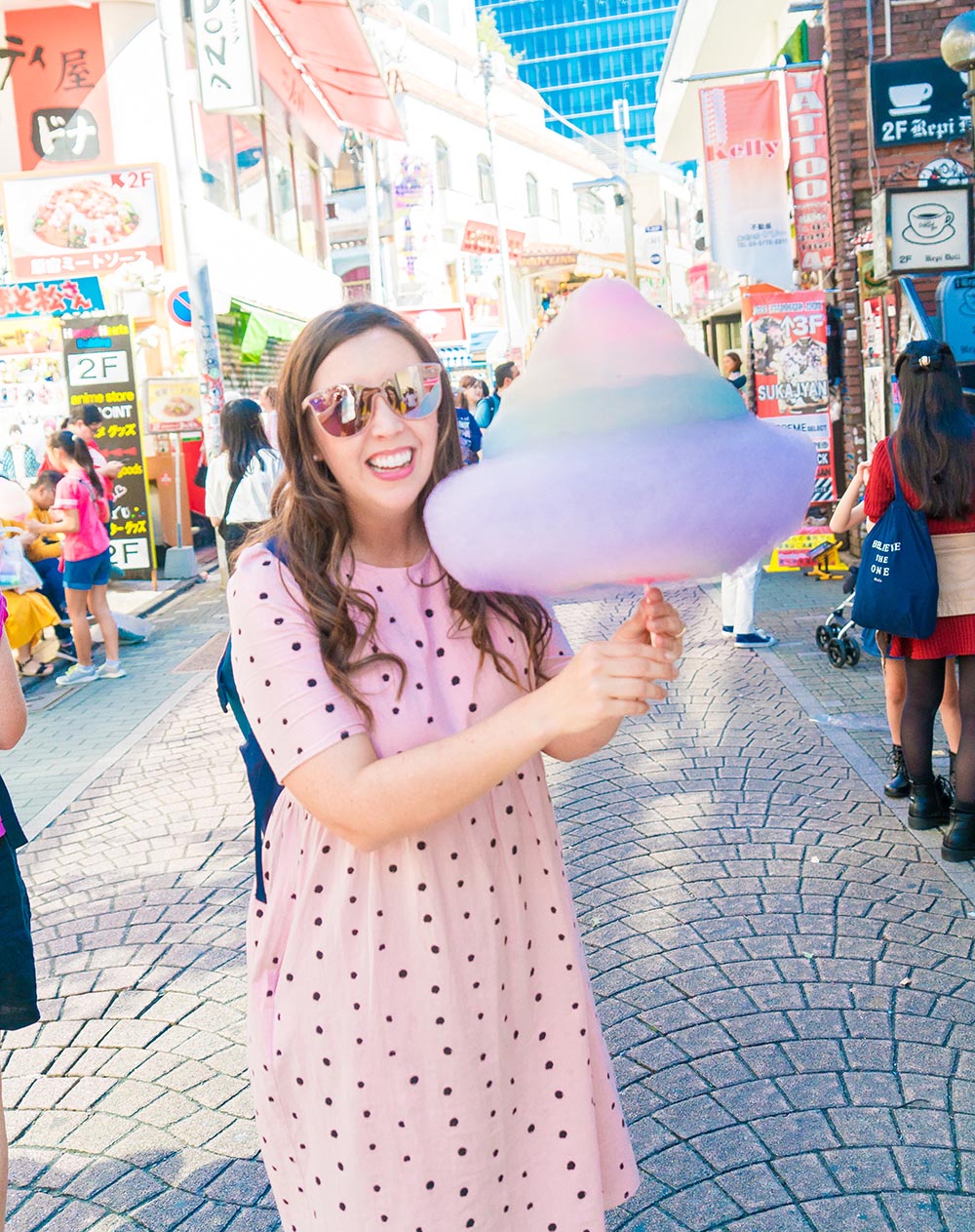 Rainbow Cotton Candy
Find the giant rainbow cotton candy stand on Takeshita Street in Harajuku Tokyo. I'm not much of a cotton candy fan, but it's an experience and worth the picture!
Rolled Ice Cream
I first saw this done in New York City, but I believe it originated in Japan as I saw several of these. Ice cream is slathered on a cold stone and then scraped off with a spatula which forms a roll of ice cream.
Jiggly Japanese Pancakes
These are a Japanese specialty and oh so delicious. This is not your regular pancake with syrup. Much lighter and less bready than regular pancakes, they jiggle! I'm not sure how or why, but I promise they taste great. My favorites are from Rainbow Pancake in Harajuku.
Jiggly Japanese Cheesecake
I'm not sure what it is with the Japanese and jiggly things, but it's a thing apparently. Osaka is famous for its jiggly cheesecake. Be sure to buy the original and not the one that is undercooked.
Sweet Potatoes
Just follow your nose to find the Japanese sweet potatoes roasting on the streets or in stores. They are wrapped in paper and served plain. It's a great healthy snack when you don't feel like a steamed bun or onigiri.
Filled Cookies
These filled cookies go by many names and can be shaped like many different things from leaves to fish, and are usually filled with bean paste or cream
Candy
While the majority of the Japanese diet consists of meat, rice, noodles, and vegetables, they are known for their sweet tooth. Be sure to stop into a combini and try alllll the things! You can find Kit Kat Bars in about 14 different flavors including matcha, rum raisin, dark chocolate raspberry, chestnut, flan, strawberry, maple cookie, and more. But my favorite Japanese candies were Hi-Chews, Melon flavored Premiums, Macadamia Caramelisers, and Black Thunder.
If you're wondering what to get from Japan for your loved ones, bring them home some candy! I brought a ton of these home and I think I might cry when we run out! Update: I found one bag of melon premiums on ebay for $5…worth it!
Japan is full of other desserts, ranging from scrumptious to interesting. The list is so long and I, unfortunately, didn't have time to try all of them, but if you're interested in learning about more sweet treats in Japan, this is a great list.
Where to Shop in Japan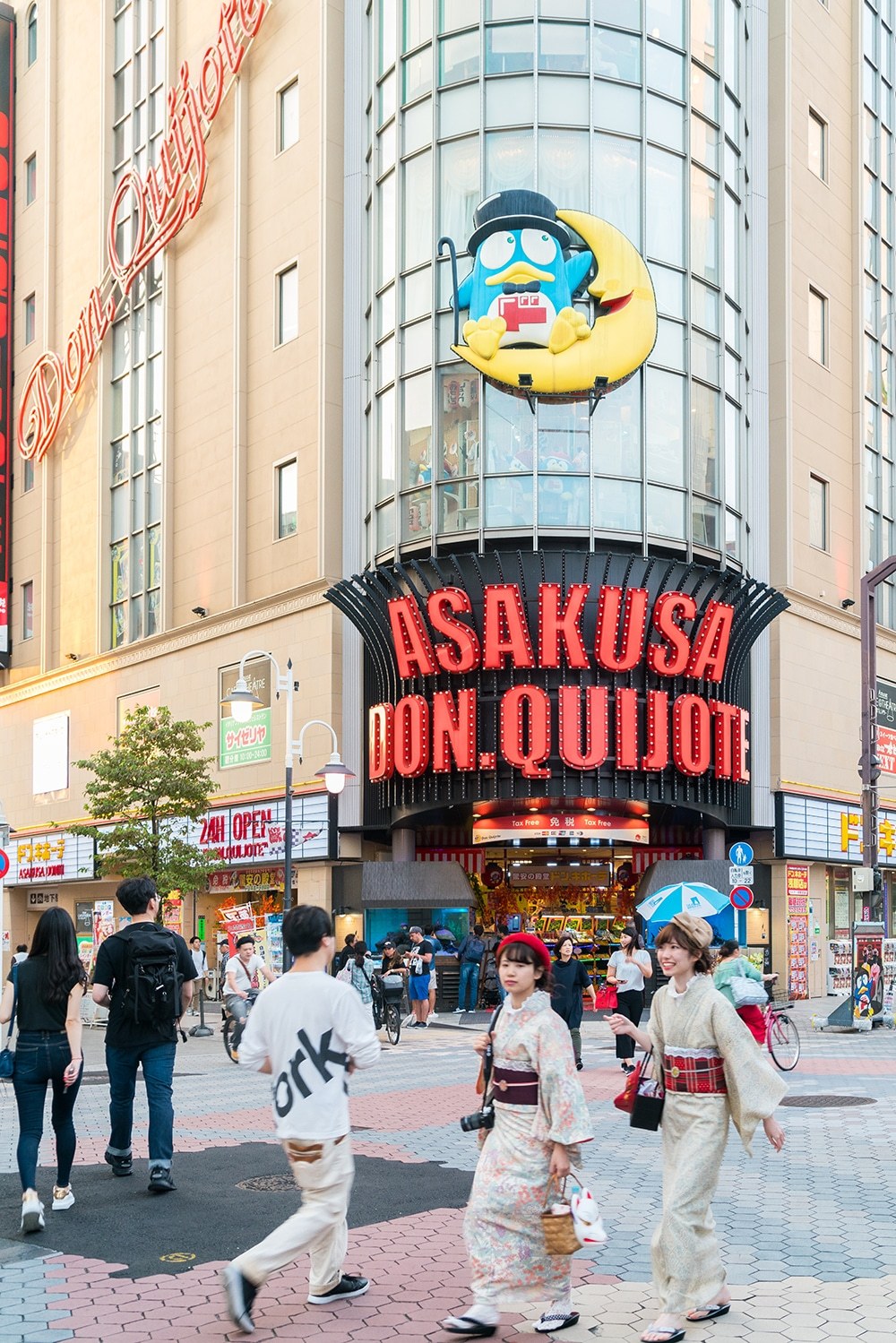 Combini
If you want to shop like a local in Japan, visit a grocery store or your local "combini." You'll see FamilyMart, Lawson, and 7-11 everywhere! This is where you'll find your candy, rice balls, and other goodies at an affordable price.
Daiso
Daiso…if I could transplant one thing from Japan to my hometown it would be Daiso, the wonderful Japanese 100 Yen store. It's basically a dollar store, but WAY better, with stuff you'd actually want to buy and use! I hardly ever buy souvenirs, but I actually loaded up a bag with stuff for my kids. Apparently there was a Daiso in my old hometown in California and I never knew about. I'm pretty heartbroken about it! Might be time to take a trip back home??
Don Quijote
This is like Japanese Walmart. You can find almost anything you'll ever need at Don Quijote. These are all over Tokyo and other big cities in Japan. Anything from luggage, to curling irons, to rice cookers, and there's even an adult section!!!
Enjoy and Be Courageous
Don't be afraid to experiment with the food in Japan. Some of it may seem a little scary and unknown, but you'll never know until you try it! Be courageous and open-minded, and please let me know what your favorites are! Also, if anyone would like to mail me some Melon Premiums, I will pay them!
If you're heading to Nagoya, be sure to check out the best food to eat in Nagoya Japan here.