Using a Japan Rail Pass when visiting Japan is a great way to get around the country and see many sites during one trip. The JR Rail Pass allows you to pay a one time fee and have unlimited use of the Japan Train system during the length of your stay.
How to Use Your Japan Rail Pass
So you're going to Japan! Congratulations on your good choice. Japan is a wonderful safe, clean, fun, and culturally rich country full of amazing destinations and experiences for you to enjoy. If you want more information on Japan, please read my Guide to Tokyo and What to Eat in Japan.
Also, if you plan to have a layover in China on your way to Japan, read this.
There is so much that I can tell you about Japan, but this is probably the most important information that you will receive. Getting from city to city in Japan is NOT cheap! A Tokyo to Kyoto Bullet train can cost around $200 one way. That's a little steep for my taste, but how can you see more of Japan without it costing an arm and a leg?
The good news is that Japan offers an affordable "Japan Rail Pass" that makes traveling around the country extremely affordable for tourists. The "JR Pass" is ONLY available to JR pass holders and tourists and MUST be purchased OUTSIDE of Japan BEFORE you go and then mailed to you.
Which Japan Rail Pass to Purchase
There are several different options when choosing your Japan Rail Pass before you go to Japan trip. The JR Rail Pass is available in several different increments of time. Seven, 14, and 21 days. Think about the time you are in Japan and where you'll be traveling to.
There are two types of JR Rail Passes that you can purchase: Ordinary and Green Pass. A First Class Pass or "Green Class" Pass that will cost you more, but get you a first-class seat on the Shinkansen. I honestly didn't look into the first-class cars, so I can't vouch for its value, but I'm a cheapskate so I would never pay for that.
note: If you are planning to spend a good amount of time in the Kansai region of Japan, you can also buy a regional Kansai Wide Area Pass.
Japan Rail Pass Price
ORDINARY ADULT


7 Day: $25814 Day: $41221 Day: $527


ORDINARY CHILD

7 Day: $12914 Day: $20621 Day: $263
GREEN CLASS ADULT


7 Day: $34514 Day: $55921 Day: $727


GREEN CLASS CHILD

7 Day: $17314 Day: $27921 Day: $363
You can also click one of these pass options below and it will take you to Klook, a trusted site that sells the JR pass:
We stayed in Japan for 10 days so we opted for the 7 Day Ordinary pass and just paid for the Tokyo Subways for the first 3 days. If you are traveling around the country, it will definitely be worth it for you, but if you're only staying in Tokyo it may not be worth it to pay for the pass. As Japan rail pass holders, just remember that you don't need to validate your pass right when you get to Japan. You can use it within any timeframe during your visit.
You can use THIS JAPAN RAIL CALCULATOR to help you decide if getting the pass will ultimately pay off. It's extremely helpful!
For example, if you're going to be in Japan for 15 days, but the first day you'll be only in Tokyo, it will probably be more cost effective to purchase a 14-day pass then pay for the subways for one day rather than buying a 21-day pass. Riding the subway in Tokyo will only cost you about 200 Yen ($2 USD)/ride and purchasing tickets is easy.

Buying Your Japan Rail Pass
This is very important. Be sure to order your JR pass online at least a week or two before you leave. It will usually be shipped in 2 business days, but don't wait until the last minute, because if it doesn't come in time, you're SOL and will be stuck paying hundreds of dollars to travel Japan!
Japan Rail Pass covers all JR Group including limited express trains, express trains, and rapid and local JR stations. So whether or not you're not sure if the Japan rail pass worth it for your itinerary, get one.
When you buy your JR Rail Pass online, be sure to add the dates that you will be using your pass.
Once you've read all my tips, make sure you check out your Japan Rail Pass here!
Obtaining Your Actual Japan Rail Pass In Japan
Your Japan Rail Pass will arrive in the mail, hopefully soon after purchase (most companies, like Klook will send it 2-day shipping). Be sure to bring it with you to Japan. When you arrive at a local trains station, find a JR Information Desk.
Pro tip: If you are flying into Tokyo, there will be a looooong line of people at the Narita Airport train station waiting to validate their JR Rail Pass. Depending on your length of stay and plans, I recommend taking the Skyliner train from Narita Airport into Tokyo and validating your pass there. It's about $25, so do the math and decide if it's worth it. You can always decide once you arrive in Japan and check out the lines.
Once you've waited in line you will need to present your Japan Rail Pass paperwork and passport. You will need to fill out some basic information like name, passport number, and the dates and locations of your visit.
You will then receive this lovely little pass that will allow you to breeze around Japan like a boss!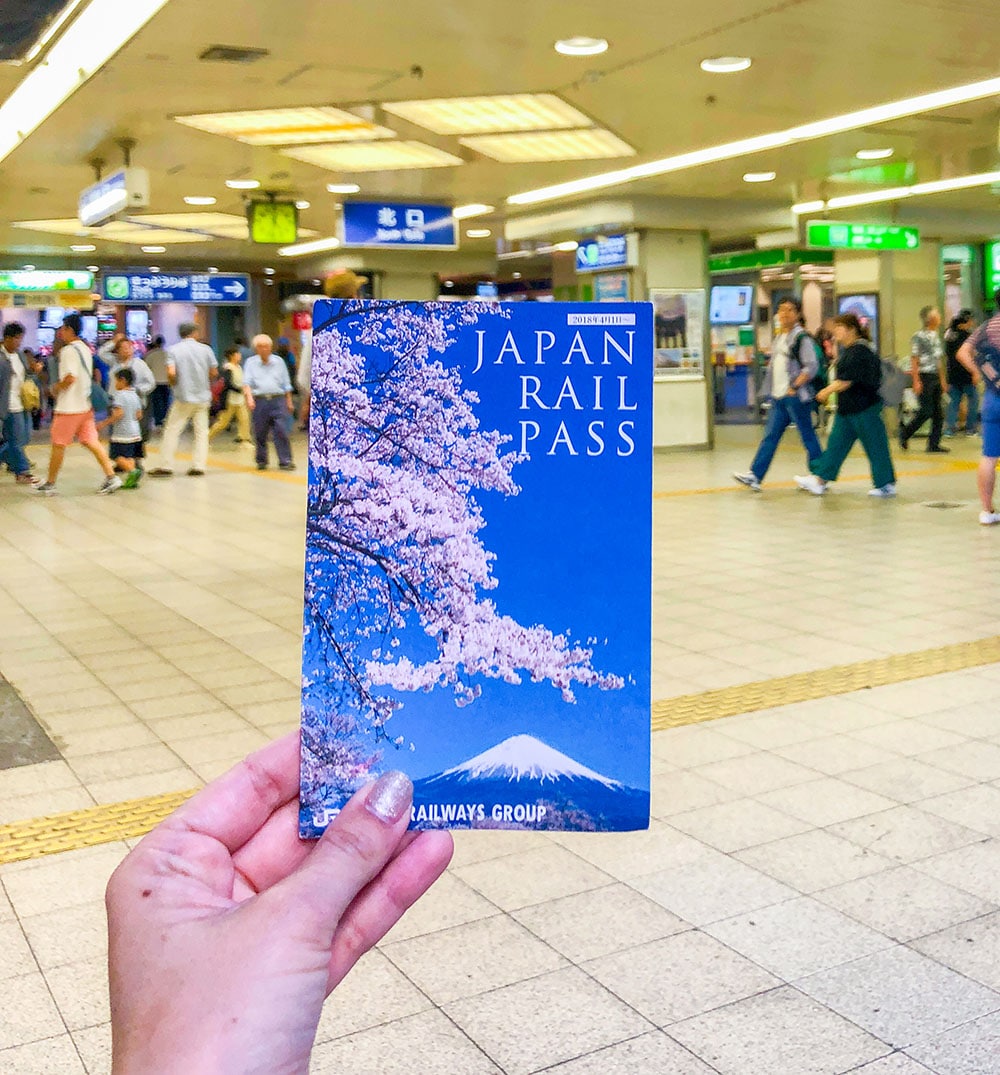 You'll need to carry your Japan Rail Pass on you at all times
Where Can I Use my Japan Rail Pass?
The JR Rail Pass is good for almost all Shinkansen Trains (Japanese Bullet Trains) and many of the public transportation within the cities in Japan. Some of the rail lines are private and will not allow you to use the JR Rail Pass, but those lines are usually about $1-2/ride, so it's not a big deal.
Look for a picture of the JR Rail Pass near the turnstiles into the JR stations. If Japan Rail Pass is not allowed there will be a picture of it with an X over it or just a sign saying "No JR Pass." And if you don't know or can't figure it out, just show your pass to the attendant at the turnstile window. They will say yes or no.
Also, if you search google maps, the lines will generally say "JR" by them, which is very helpful, but sometimes not always accurate, so it's always best to double check.
It's important to note that the JR Rail Pass will also work on some ferries, such as the ferry from Hiroshima to Miyajima to see the Itsukushima Shrine and Tori Gate on the water.
Here is a map of where the JR Trains run, but again Google Maps and the Train Station attendants are your best friends. People in Japan are SO nice, don't be afraid to ask for help! Use this Japan Rail Pass Map to help you plan your routes.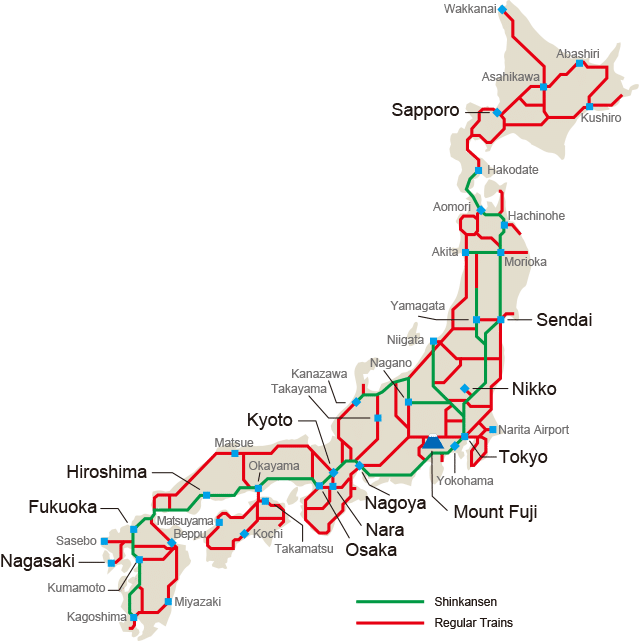 How to Ride the Shinkansen (Japanese Bullet Trains)
Your Japan Rail Pass will cover most of the Shinkansen trains in Japan. The Shinkansen, or bullet trains go up to 200 miles per hour and will get you around Japan quickly and comfortably. Riding the Shinkansen with the JR Rail Pass is a little different than riding the subways. You have two options for riding the Shinkansen:
Open Seating: You do not need to reserve a seat to ride on the Shinkansen. There are certain cars in every train that are reserved for open seating. However, you are not guaranteed a seat. We did this once and it worked out fine, but we were all separated. I don't recommend this as there is no benefit for you.
Reserved Seating: Reserving a seat on a Shinkansen train is easy, but requires a few extra minutes at the train station. Head to the JR Ticket office, tell the employee where you would like to go and when and they will print your tickets with reserved seats for that train.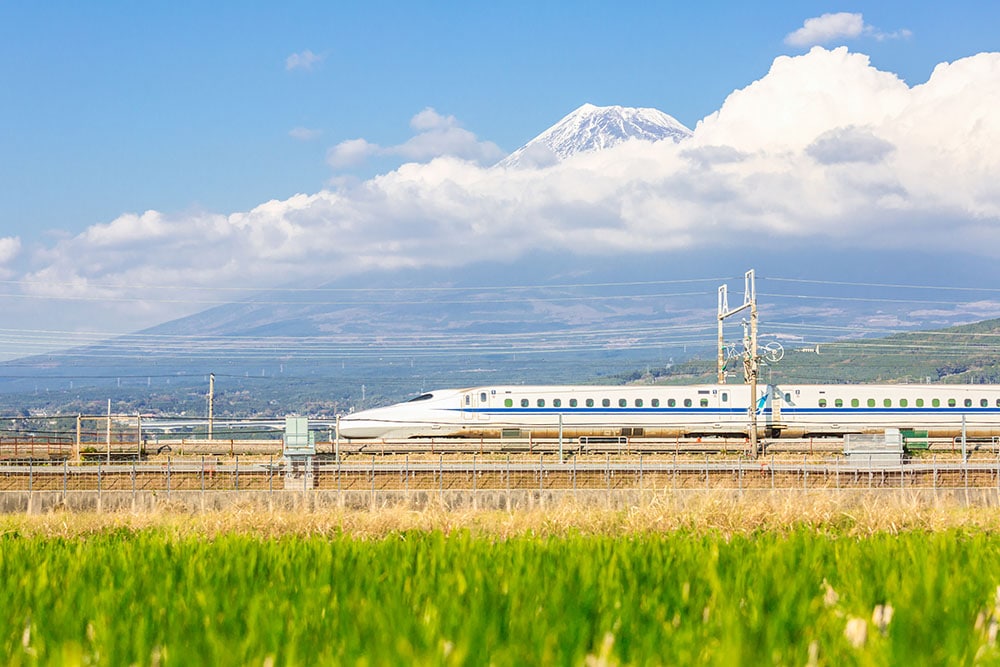 How to Read Train Signs in Japan
The train signs in Japan are in Japanese and in English. The track numbers should be easy to find. Google Maps will also list the track number for you. Once you find the track, you'll see the time of your train with a shape. The shape determines which line to stand on to enter the train. There will be triangles and circles.

Quick Guide to Japan Rail Pass
1. Buy Japan Rail Pass Online 2 weeks before departure2. Get JR Rail Pass in the mail3. Bring JR Rail Pass with you to Japan4. Activate JR Rail Pass at JR Information Booth5. Look up JR routes on Google Maps6. Show JR Rail Pass at the window when going through turnstiles to ride any JR Lines
Some Tips for Riding Public Transportation in Japan
•Most major cities have great public transit systems and most are covered by the JR Pass
•Shinkansen is the fastest way to get around Japan
•On the metro, allow the elderly, disabled, pregnant women, and women with children to sit first.
There are usually designated areas for this as well.
•Do not talk on your phone on the train
•Line up in the correct line
•There are women-only cars, if you're a man, be sure not to enter this one. Small boys are ok.