Our Family Vacation Hack: Local-Favorite Fishing Holes the Kids Will Never Forget

This post is sponsored by Take Me Fishing™ but all opinions are my own.
While we were in Montana, we knew we wanted to spend some time fishing. The kids love to fish, and we all love being on the water. All around Montana you can see signs for fishing and hundreds of angler shops, outfitters and guides.
We even visited the Montana State Historical Society Museum, which had a whole exhibit on fishing in Montana, with antique fishing poles, tackle and artwork.


While we were staying in Helena, we used the Take Me Fishing™ website to find the best place to go fishing and boating with the help of the 2017 Best Family-Friendly Places to Fish and Boat List. The list showcases the best locations across the country, selected by celebrities, athletes, and fishing and boating experts. They also offer an interactive map, a great tool to help you find top spots to fish and boat near you. It just so happened that we were only a few minutes away from one of these great locations, called Canyon Ferry.


Canyon Ferry is a man-made reservoir with the Missouri river flowing through and is chock-full of rainbow trout, northern pike, burbot and walleye.


We headed down to the reservoir and purchased our fishing licenses. You can also purchase them directly from the state you'll be fishing in via Take Me Fishing™ before you go. In some states, children under 12 do not need a license.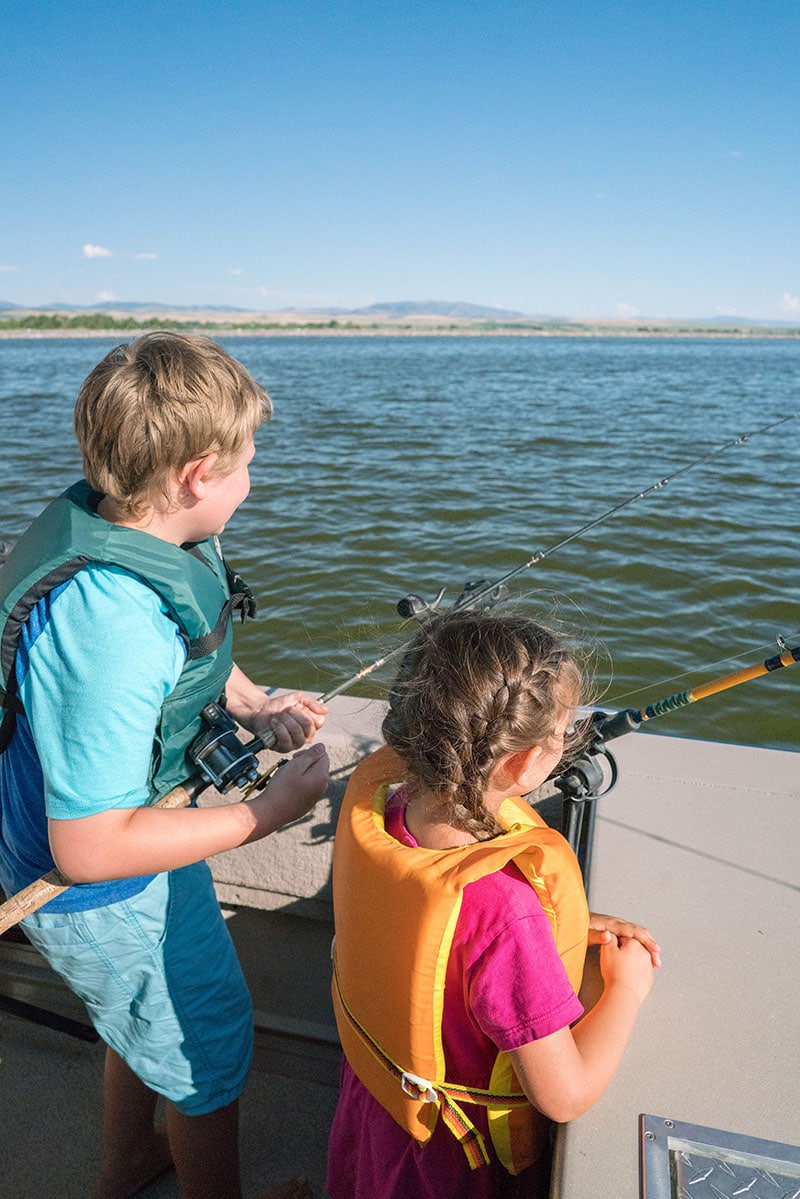 We hired a guide to take us out on the boat and teach us about fishing at Canyon Ferry. Each of us had a line and we rode along in the boat until we got our #FirstCatch of the day! Our guide even had a neat sonar machine that showed us where the fish were. We used lures and slowly cruised around Canyon Ferry. The kids loved keeping an eye on the sonar machine, watching for fish.
About an hour in, Jackson felt a tug on his line. He reeled it in and was the first one to catch a fish. We used the Fish Identifier tool on Take Me Fishing™ before we went out to learn about what fish we might catch here. He caught a rainbow trout that was about 12 inches long, and the look of excitement and accomplishment on his face was just adorable. It's something he'll never forget! He kept shouting, "I caught a fish, I caught a fish, it's my first fish!"


About 20 minutes later, the girls caught two small walleye about 6 inches long. You have to be careful with the walleye because those top fins are really poky! Our guide said that he always throws back the really small fish because they are young and also the really big fish because they are spawning.
Amelie wanted to hold the fish forever, but we put them back since we didn't have a kitchen to cook them in this trip and the walleye were really small. Ethan suggested that we cook them in the hotel microwave. Yum!


We spent about three hours cruising around Canyon Ferry. We loved being out on the water and learning how to both catch fish and identify them. Abbi brought a book with her and we thought that was a good idea for next time. As exciting as fishing is, there can be some waiting involved. Nevertheless, it's great to get that quality time on the water together!


We are hoping to find more time to fish and boat while we are in Alaska next month. It's been a great bonding experience for us as a family and at the same time, educational. We can't wait to go again!


Have you taken your kids fishing? If you're thinking about going, you can start here: Fishing With Children: Six Steps to Success. Once you go, be sure to tag your social posts with #FirstCatch to share your own fishing trips with us!