Want to bask in the sun, sand, and sea? Puerto Rico is the place to be! This lovely island in the Caribbean Sea offers endless adventures and attractions. And if you're looking for the best places to stay in Puerto Rico, this guide has you covered!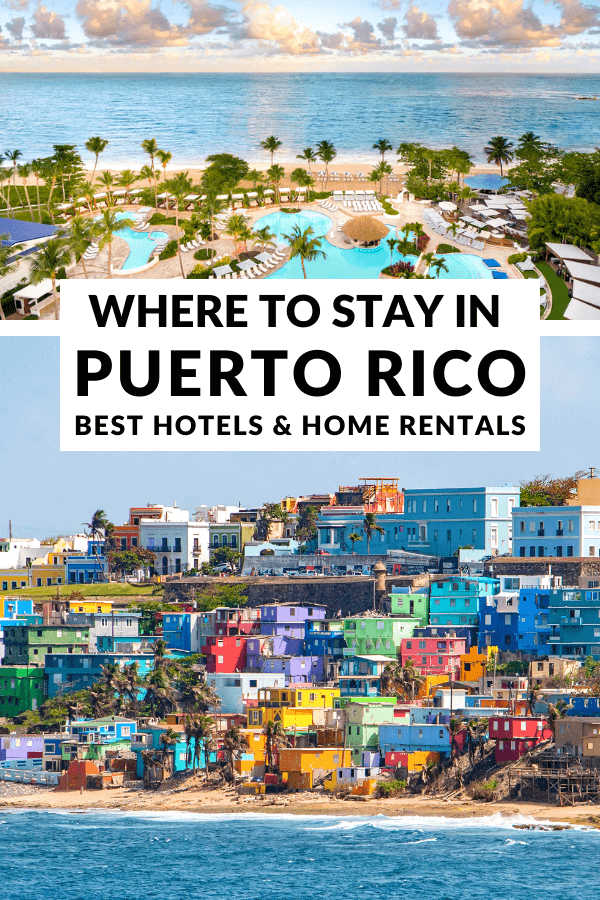 From aqua beaches, sensational sunsets and sunrises, interesting historical spots, and tons of watersports adventures, beautiful places, to delectable Puerto Rican delicacies, it's easy to see why the tiny island of Puerto Rico packs a strong punch. Whether you're looking for a family getaway, a unique Caribbean honeymoon, or a solo backpacking journey, Puerto Rico will always have something special to offer.
There are plenty of the best places to stay in Puerto Rico, from the capital city of San Juan to more secluded spots like Vieques Island. If you're planning a visit to this enchanting island, choosing the right place to stay is critical to making your experience unforgettable.
Puerto Rico boasts a variety of accommodations that cater to every traveler's desires, from luxury hotels to charming vacation rentals nestled in historic towns. Let this guide help you find the best places to stay in Puerto Rico so you can have a mesmerizing holiday in the Caribbean.
Best Places To Stay in Puerto Rico: Puerto Rican Neighborhoods
You have plenty of options for choosing the best places to stay in Puerto Rico. You could put your home base in the historic district of Old San Juan, where you can be near every sight and sound in the capital city and neighboring neighborhoods. Or, you could choose a more secluded, less-touristy spot where you have plenty of opportunities to discover the island's hidden gems, wildlife encounters, and opportunities to try new adventures.
San Juan
San Juan is Puerto Rico's capital city. Its central location makes it the hottest spot for entertainment and nightlife in Puerto Rico. San Juan gives off an old-world vibe with its cobblestone streets, pastel-colored buildings, and 16th-century structures like Catedral Basilica Menor de San Juan Bautista.
Perhaps the most remarkable area in San Juan is Puerto Rico's culture and history hub: Old San Juan. This charming historic town is home to two prominent landmarks, Castillo San Felipe del Morro and Castillo San Cristobal. Paseo de la Princesa, a beautiful promenade in Old San Juan, is also a must-see attraction. It stretches from the Governor's Mansion to Raices Fountain and offers unforgettable views of San Juan Bay.
Apart from that, Old San Juan features a wide array of cute cafes, fantastic restaurants, shopping establishments, and numerous Puerto Rico hotels. If you want to explore Puerto Rico's rich culture and history while being close to several attractions, San Juan is the ideal place to stay. It offers an excellent location within walking distance to various places of interest.
Best Places To Stay in San Juan Puerto Rico
One of the best luxury hotels in the capital city, Fairmont, offers a world-class stay in Puerto Rico. Fairmont is located on the beautiful shores of Isla Verde Beach, just a few minutes from Old San Juan. With an outstanding selection of oceanfront villas, poolside rooms, and guest rooms, plus its modern amenities and top-of-the-line facilities, there is no doubt that Fairmont is one of the best San Juan hotels on the beach.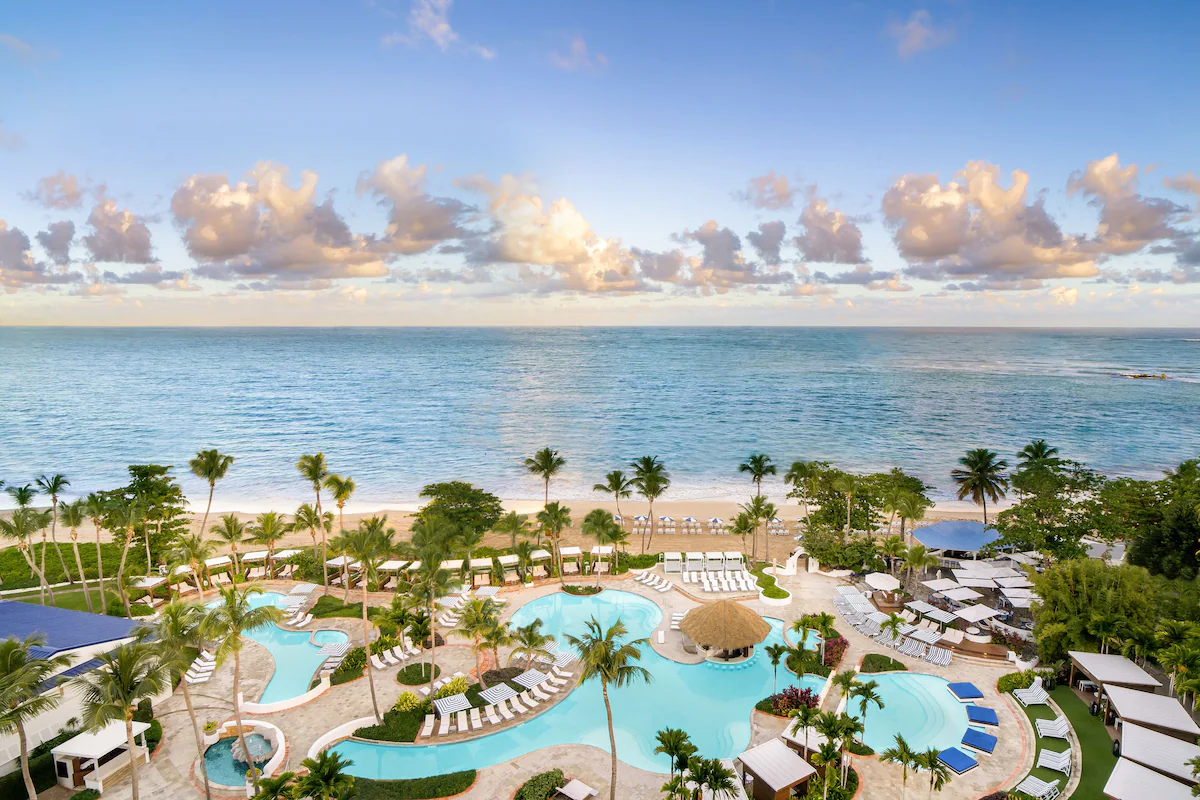 The hotel's spa facilities are nothing short of impeccable. At the same time, six dining options let you indulge in world-class Caribbean cuisine and cap the night with a relaxing drink at one of the hotel's impressive bars.
The hotel's excellent location also makes it more appealing. It is located near the airport and a short walk away from most of Old San Juan's points of interest, including San Juan Mall, many museums, restaurants, and shopping establishments. So if you want to stay in a luxurious hotel in Puerto Rico's heart, Fairmont is an excellent option!
The Caribe Hilton Hotel in Puerto Rico is renowned for its exceptional features and offerings. It is located in San Juan and offers a beachfront setting with stunning ocean views and a private beach. With a rich history as the first international Hilton hotel outside the US, it has welcomed celebrities and dignitaries since 1949. Caribe is indeed one of the best hotels in Puerto Rico you can stay in!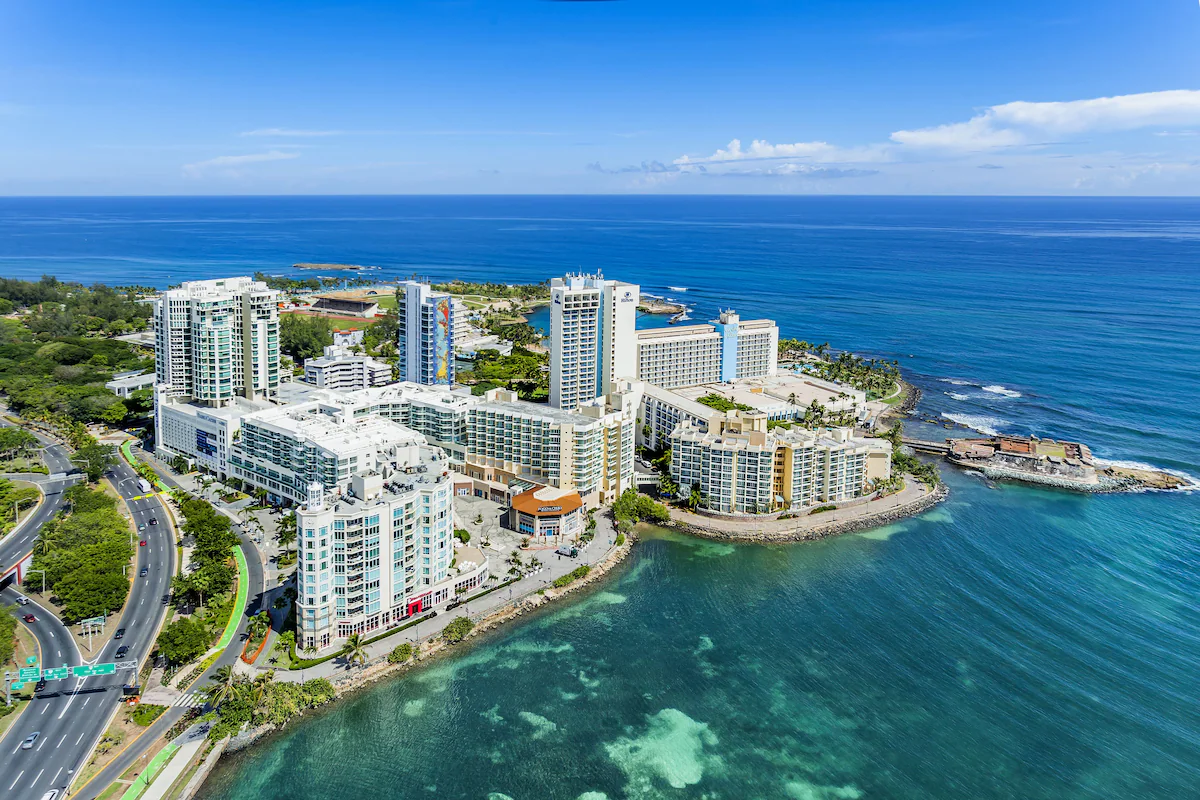 The hotel provides luxurious accommodations, including elegantly designed rooms and suites, many with ocean views. It boasts a range of amenities, three oceanfront swimming pools, a fitness center, a tennis court, and a spa. Guests can enjoy various dining options, indulge in water sports, and enjoy an epic Puerto Rican vacation with luxurious amenities at their disposal.
The Hotel El Convento, in Old San Juan, Puerto Rico, is a magnificent luxury hotel renowned for its exceptional features and unique charm. Set within a beautifully restored 350-year-old convent building, it provides guests with a historical experience that transports them back in time.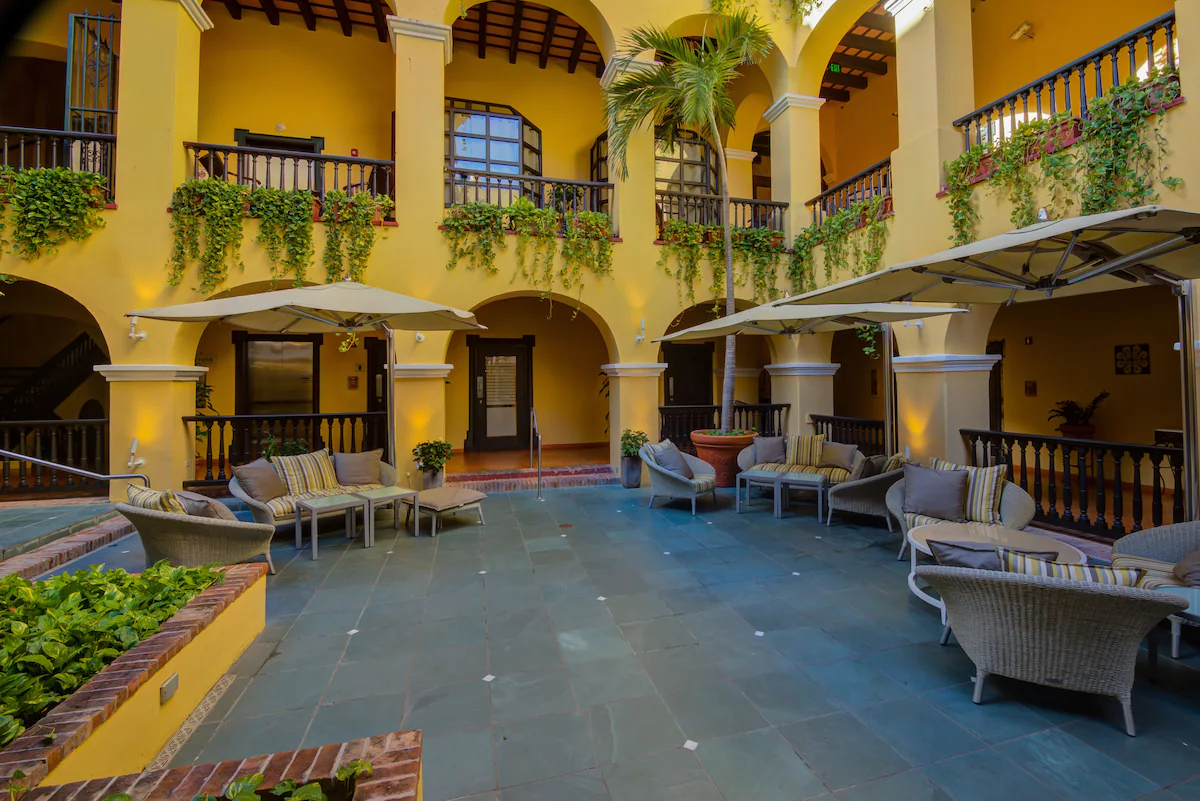 The rooms and suites offer a luxurious experience, combining modern amenities with the hotel's historic charm. Guests can enjoy beautiful views of either the courtyard or the lively streets of Old San Juan and unwind in comfortable and stylish surroundings. Each room has high-end amenities such as plush bathrobes, goose-down pillows, and premium coffee makers.
The hotel's dining options showcase a fusion of Puerto Rican flavors and international cuisine, while the rooftop terrace bar offers panoramic views. Exclusive amenities such as an outdoor pool, fitness center, library, and tranquil courtyard with a fountain enhance the guest experience.
Sheraton Old San Juan is one of the best places in Puerto Rico. Located in the midst of Old San Juan and with an astounding waterfront view, Sheraton offers easy access to the top destinations in the city. You are just a short walk away from the best places to dine and shop and a short drive to some of the best beaches on the island.
The views from the rooms are hard to beat. You can see the city, the San Juan Bay, and even the beautiful ocean from some of the rooms. The guest rooms have the best amenities for the most comfortable stay, such as full pull-out sofa beds, extra living space, and classic decor.
Enjoy various dining options at Sheraton Old San Juan. Palio Restaurant serves international cuisines made with fresh and locally-sourced ingredients, while the elegant Aroma Coffee Bar is where you can indulge in amazing tapas and great coffee.
Vacation Rentals in San Juan, Puerto Rico
If you're looking for unique stays in San Juan, consider getting a vacation home instead of a hotel room. Casa Marpol is a fantastic 3-bedroom house in the heart of Santurce, Puerto Rico. It's super close to many beaches and cool places to check out. The home has everything you need, including AC in every bedroom, a fully equipped kitchen, and comfy places to chill. Plus, you can easily walk or drive to all the local restaurants and bars.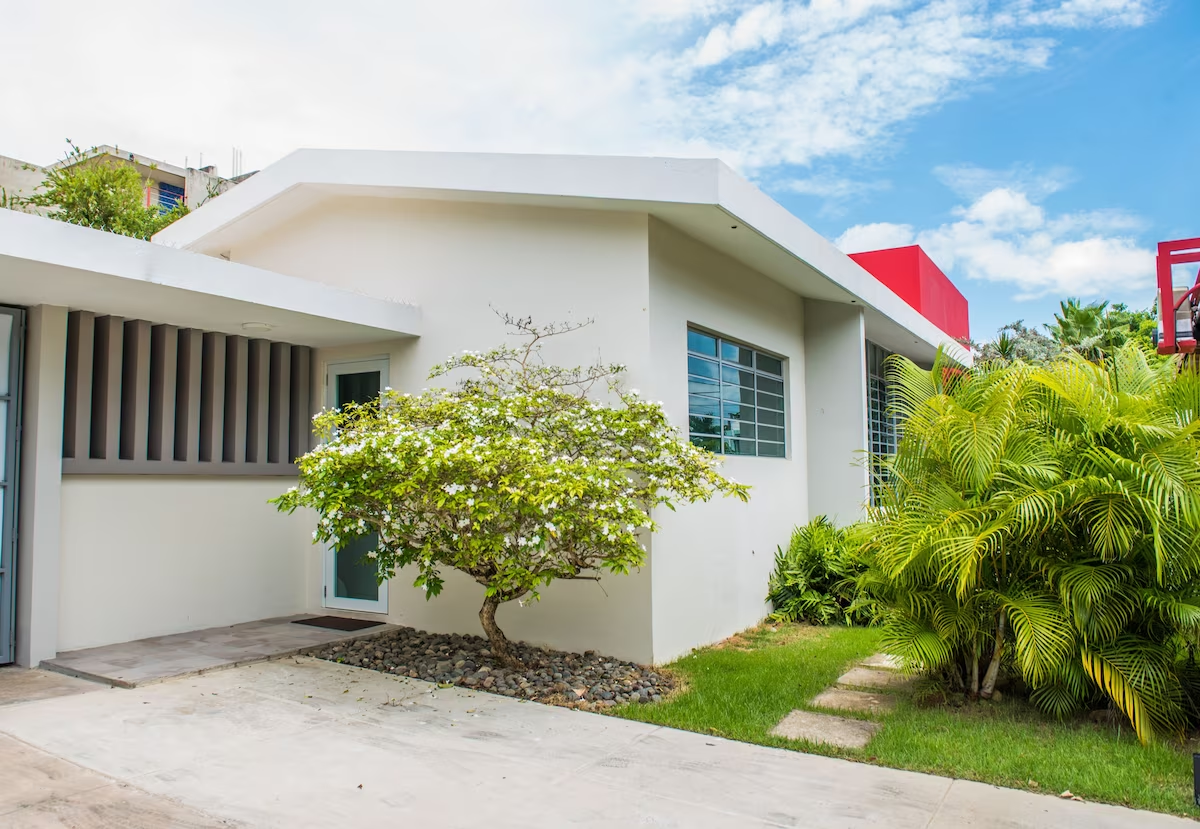 Another great option is this gorgeous large beach house in San Juan with an outdoor pool and bar. The vacation house is equipped with high-speed internet access, a full kitchen, and other luxurious amenities for a memorable stay. It is also strategically located near awesome bars, restaurants, and shops, and you can go to the nearest beach resort in minutes!
Isla Verde
If you want to stay near San Juan with a more exclusive, upscale vibe, head over to Isla Verde. Isla Verde is located on Puerto Rico's north Coast and near the San Juan airport. With vast stretches of sand and towering palm trees, Isla Verde is more of a beach resort than anything else!
If you want to find the best beachfront resorts in Puerto Rico, you'll find them in Isla Verde. It is also a premier destination for party-goers. You get the best of both worlds: relaxing at Isla Verde beach during the day and enjoying a vibrant nightlife as the sun sets. And if you're a foodie, you must visit Calle Loíza, located between Isla Verde and Condado. This is the best place to sample authentic Puerto Rican cuisine.
Since Isla Verde is quite famous among tourists, you'll have plenty of accommodation options here, from the best luxury hotels to comfy guesthouses and budget-friendly hostels.
Best Places To Stay in Isla Verde
Located close to Isla Verde beach in the beautiful neighborhood of Carolina is Embassy Suites by Hilton. The hotel is strategically located in a beautiful spot, providing stunning views and easy access to attractions. On-site amenities like an outdoor pool, fitness center, and on-site restaurants make this hotel a superb accommodation whether you're in Puerto Rico for business or pleasure.
Their spacious accommodations with separate living and sleeping areas make for a comfortable experience, especially for families or groups. Additionally, guests can enjoy complimentary services such as a cooked-to-order breakfast and an evening reception with drinks and snacks.
This is the most popular waterfront hotel with an outdoor pool. It's an excellent accommodation for people looking to stay near the city, but also having all the access to the best activities on the island, such as kayaking and scuba diving. It is only a 1-2 minute walk to some of the best beaches in Puerto Rico and is seven-minute drive away from SJU airport.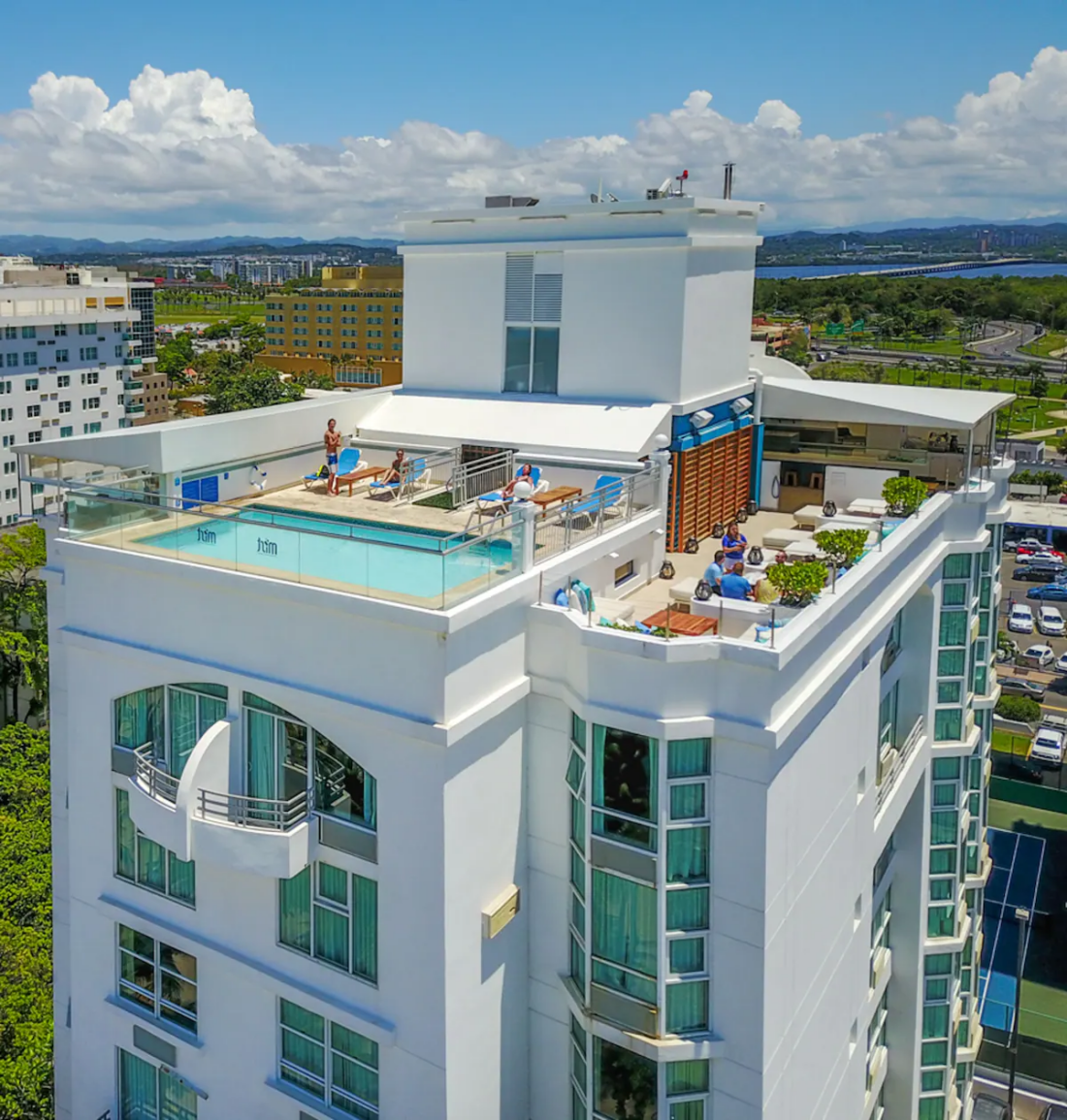 This modern 80-room hotel sports posh amenities, top-of-the-line facilities, and city or oceanfront views. The hotel also has a rooftop bar facing the ocean, the perfect venue for winding down at sunset, and an on-site restaurant where you can enjoy breakfast while admiring the views.
Residence Inn is another fantastic place to stay in Isla Verde, Puerto Rico. It is mere minutes from the airport and conveniently located to some of the best beaches, museums, and other Puerto Rico historical attractions. It also has a fitness center, outdoor pool, and two on-site restaurants to sample local Puerto Rican fares, tapas, and handcrafted cocktails.
These suites have modern designs, free WI-FI, a flat-screen TV, and a fully equipped kitchen. They're great for families, business travelers, or anyone looking for a comfortable and functional space.
Vacation rentals in Isla Verde, Puerto Rico
Villa Stephanie is an excellent vacation rental to stay in Puerto Rico. It is a unique and beautiful Spanish beach house with a pool.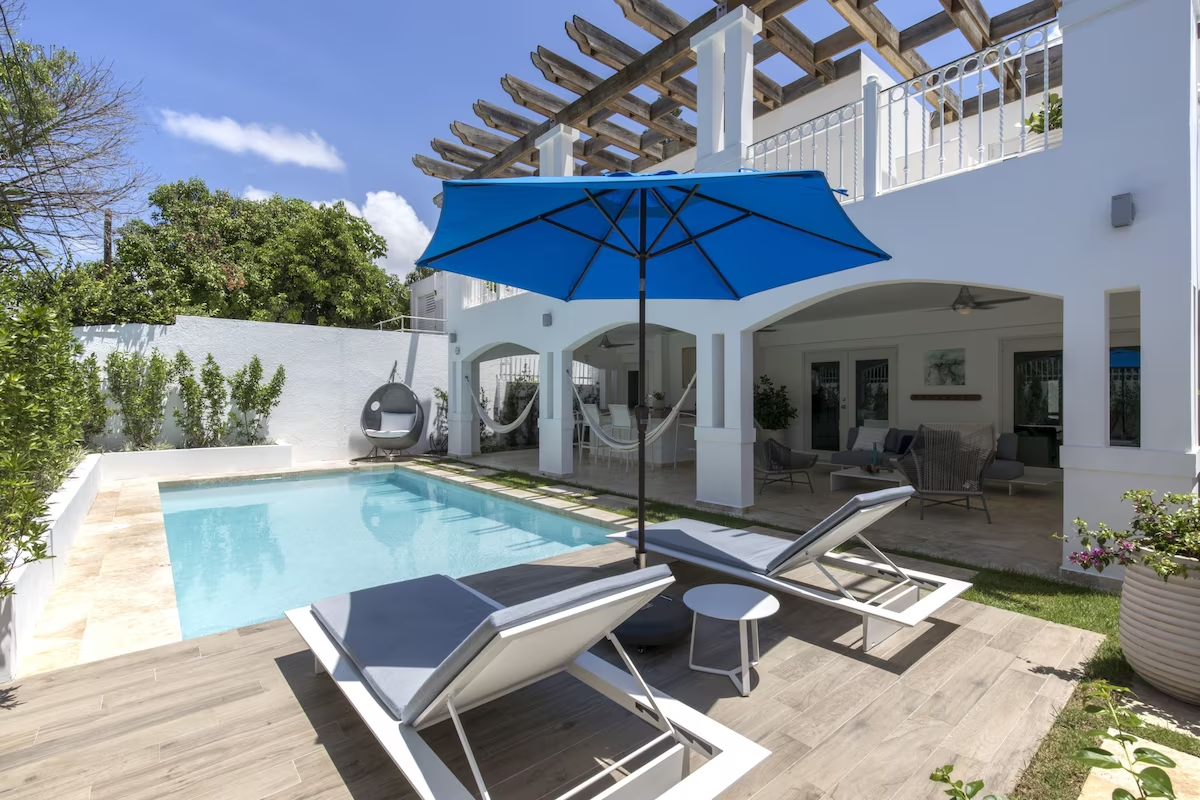 It is conveniently located in Ocean Park, San Juan, just a 5-minute walk from the best beach in town. With six bedrooms and four baths, it can accommodate up to 14 people. Recently remodeled by a renowned interior decorator, the house is the perfect base for your Puerto Rico vacation.
Vieques Island
From its stunning beaches, opportunities for wildlife encounters, and unique bioluminescent experiences, I could say that Vieques Island is one of the best places to stay in Puerto Rico. The island is a natural beauty, drawing in beach lovers, couples, and families.
There are plenty of fantastic things to do on Vieques Island that make your Puerto Rico trip unforgettable. Explore the numerous beautiful beaches, go swimming, snorkeling, and scuba diving. Kayaking in Mosquito Bay definitely a one-of-a-kind experience where you see the bay light a blue-green color.
And you can't miss a visit to Playa Negra, Puerto Rico's only black sand beach. And oh, wild horses are out and about on the island, and you'll encounter them whether you're on the beach or roadsides!
You'll also find some of the best beach hotels in Puerto Rico on Vieques Island, from amazing boutique hotels to luxurious resorts.
Where to Stay on Vieques Island
Hix Island House is a gorgeous boutique hotel in the heart of Vieques Island, a 20-minute flight from mainland Puerto Rico. Nestled in a 13-acre open-air property, Hix Island House boasts a minimalist, zen-like experience among the native trees and views of the Caribbean Sea. And what makes this hotel even more remarkable is that solar panels power most of the devices and equipment in the hotel, a solid step towards minimizing carbon footprint.
The rooms are unassumingly clean. There are 19 lofts in Hix, all made of polished concrete with minimal decor and colors. There are also outdoor showers, full kitchens, and marvelous garden or sea views.
Enjoy a pleasant and comfortable stay on Vieques Island in a guest house offering 5-star hotel accommodations in Casa de Turtoga. The guest house is a few minutes away from the stunning beaches on the island and less than a kilometer away from the world-famous bioluminescent bay. A couple of bars and restaurants are also just within walking distance.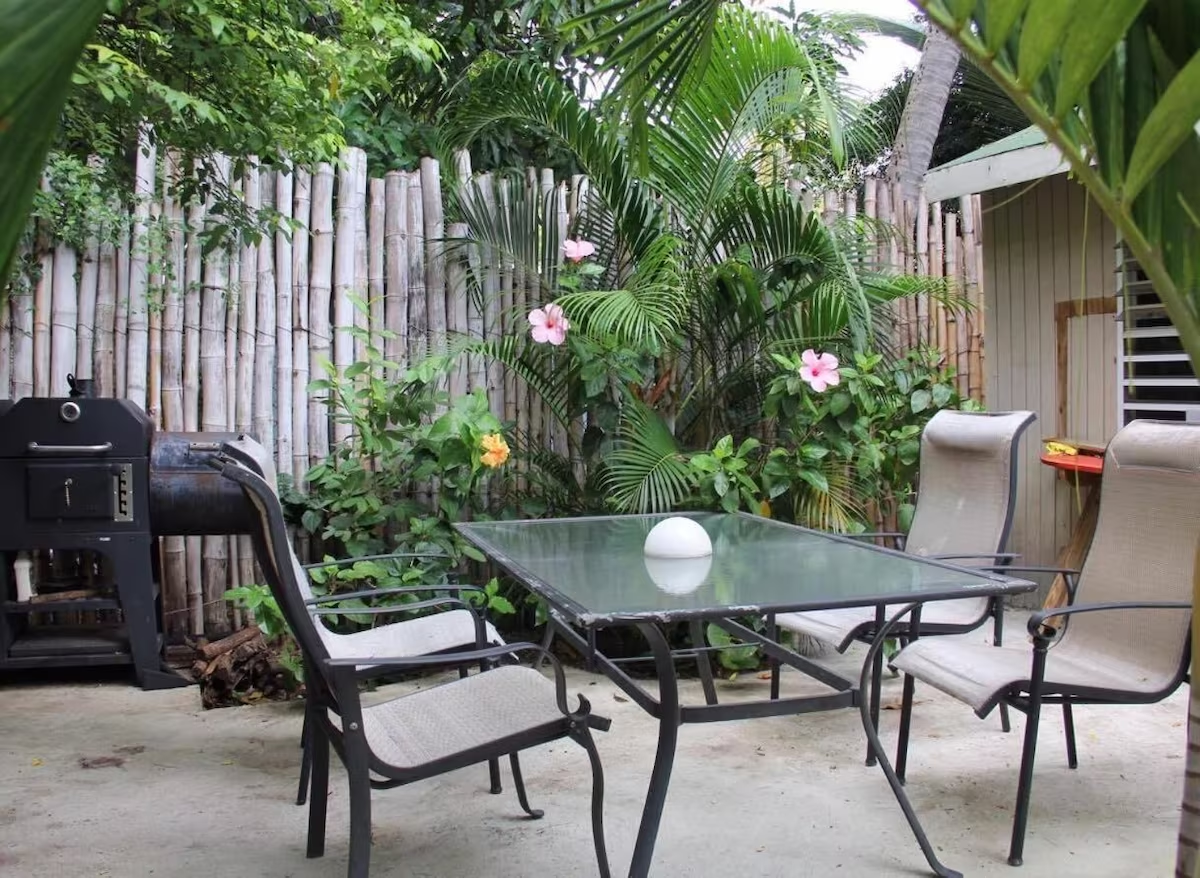 The casa has an outdoor pool, karaoke, grill, and WI-FI. The rooms are decent, clean, and comfortable. Best of all, its excellent location brings you close to Vieques Island's amazing wildlife and outdoor adventures, such as fishing, diving, snorkeling, and canoeing.
Vacation rentals on Vieques Island, Puerto Rico
Villa Tampico
Villa Tampico is a stunning oceanfront house boasting mesmerizing views of the western views of the Culebra island. With five bedrooms, five bathrooms, a fully-equipped kitchen, a large sundeck, and a gazebo, this is the perfect accommodation when staying on Vieques Island with a large party.
If you're looking for a beautiful vacation rental in Esperanza, La Casona Blanca is a fantastic option. This stunning property is sustainable and boasts top-notch amenities like a saltwater pool and an outdoor kitchen.
The air-conditioned accommodations feature private pools and balconies, ensuring your privacy. Additionally, you'll be within walking distance of supermarkets, bars, and restaurants.
Fajardo
If you're looking for the best place to stay in Puerto Rico for young adults and families, Fajardo is the place to be. This charming town on the East Coast teems with various water activities, perfect for adventure-seeking travelers.
Beautiful beaches abound in Fajardo, with Seven Seas Beach as the most popular. Here you can go scuba diving, snorkeling, and swimming. If you'd like to go off-the-beaten path, head over to La Zanja's natural pool, an Instagrammable secluded spot just 30 minutes from Seven Seas Beach.
Flamenco Beach is one of Puerto Rico's best beaches on Culebra Island in Fajardo. The most iconic attraction in Flamenco Beach is called "The Tank," which are literally rusting World War II military tanks covered with graffiti.
It's worth noting that Fajardo is only 20 minutes away from El Yunque National Forest, the only tropical rainforest in the US national forest system. You could hike, go camping and admire the wildlife and natural beauty of the forest.
Where to Stay in Fajardo, Puerto Rico
El Conquistador Resort is a renowned oceanfront destination in Fajardo, located on a private beach with breathtaking views of the Caribbean Sea. This Puerto Rican gem offers guests the perfect balance of relaxation and adventure, with easy access to local attractions such as the El Yunque national forest, Seven Seas beach resort, and an impressive 18-hole golf course on-site.
With more than 300 rooms and suites, El Conquistador is a luxurious hotel with unparalleled access to the breathtaking Caribbean Sea. Every guest room has plush bedding and pillows, ensuring a quiet and restful night's sleep. You can indulge in delectable cuisine at any of the five restaurants or pamper yourself with a rejuvenating spa treatment after a long day of adventuring on the island.
If you're looking for a cheaper place to stay in Puerto Rico but one with a more personalized experience and service, consider the Surfing Turtle Inn. It is a gorgeous inn located on the beachfront, which means guests can admire and savor the beauty of the Caribbean any time of the day.
The newly-renovated rooms and suites have excellent amenities, such as provisions of beach towels, yoga mats, and other beach essentials. The ocean view is also a great hang-out spot for watching the sunset.
Vacation rentals in Fajardo
Seven Seas Penthouse Villa
This gorgeous penthouse villa is located near Seven Seas Beach Resort and only an hour from the airport. It features three bedrooms and three baths and can comfortably sleep eight people.
It is newly remodeled, and almost everything in the penthouse is brand new, including the air conditioning system and kitchen appliances. It also has a children's pool and playground and a beautiful rooftop terrace to relax while admiring the beautiful scenery.
Rincon
Located on Puerto Rico's west Coast is the charming yet secluded town of Rincon. It is two hours away from San Juan, but the trip is worth it. When you arrive, you will be greeted by peaceful and some of the most stunning beach resorts in Puerto Rico.
This small municipality is one offer Puerto Rico all-inclusive family resorts. It is less touristy than the other towns so you can be assured of a most relaxing stay here. Also, there are plenty of activities for adults and kids alike, from paddleboarding, kayaking to mountain biking. The most popular beach resort in Rincon is Sandy Beach, and its shores are home to some of the best luxury hotels and vacation rentals on the island.
With its slow-paced nature and picturesque environment, choosing Rincon as your home base when you stay in Puerto Rico is a great idea. You are away from the harried life in the city, yet you have access to all the amenities for an epic Puerto Rican holiday.
Where to Stay in Rincon, Puerto Rico
Villa Montaña Beach Resort sits on a 35-acre property along the shores of a three-mile stretch of secluded beach. The hotel offers accommodations with garden or sea views, two swimming pools, spa services, an on-site restaurant, and access to many exciting water activities, such as beach cruiser bikes, snorkeling, and surfing.
You can choose among cliffside hotel rooms with private balconies, queen-sized beds, and a main bedroom. Or go for the bigger, more elegant garden villas equipped with Egyptian cotton sheets, private terraces, bathrooms, sofa beds, and unique fine art and artifacts. With these brilliant amenities and other thoughtful touches, Villa Montaña is one of the best places to stay in Puerto Rico with a beach.
Sunset Paradise Villas offers unique oceanfront accommodations in the beautiful beach town of Rincon. And if you're looking for the best places to stay in Puerto Rico for couples, this is it.
Sunset Paradise Villas has a large outdoor pool available the whole year-round, hot tubs, and ala carte breakfasts. Explore the stunning beaches around you or try out a new water activity.
The villas are designed to provide you with all the comforts you need. You can access amazing facilities like a private terrace, a cozy seating area, a fully-equipped kitchen, and a private parking space. The villas' location is also hard to beat, as it is near some of the best destinations in Rincon, great restaurants, and beach resorts.
Vacation Rentals in Rincon, Puerto Rico
Ultimate Casa is a stunning Spanish Style Villa in Rincon. With private beach access, a swim-up pool bar, and breathtaking ocean and canal views, this 3-4 bedroom, 4 bath vacation rental is the ultimate getaway. has a swim-up pool bar with a Flat Screen TV, an outdoor restroom/ changing room, as well as hot & cold outdoor showers. 
Rio Grande
Also known as Yunque City (La Ciudad del Yunque) is one of the most significant towns in Puerto Rico's Eastern Coast. It was named after the "great river" that flows within the town and is wildly popular for its scenic views and beautiful nature.
The biggest attraction in the Rio Grande is El Yunque national forest, a haven for nature lovers. This 28,000 nature reserve comprises breathtaking waterfalls, exciting hiking trails, beautiful streams, and diverse flora and fauna. Close to El Yunque is a ranch called Hacienda Carabali, where you can ride horseback riding, ATVs, cart racing, and more!
From authentic local dining to high-end and luxurious hotels, Rio Grande promises unforgettable experiences and the finest stay during your Puerto Rico holiday.
St. Regis Bahia Beach Resort is the best resort in Puerto Rico. It sits on a private 483-acre nature reserve where guests are treated to a serene and secluded setting. You can have the whole place to yourself, and you can access this fantastic two-mile stretch of beach. It's perfect for just lounging around or doing some water activities. Plus, the tropical surroundings let you an authentic vacation vibe away from the hustle and bustle.
Regis Bahia Beach Resort also offers top-notch amenities, including an 18-hole championship golf course, luxurious Remède Spa, exquisite dining venues, and attentive staff providing personalized service. Fine dining is available at the Paros Restaurant, where you can sample some of the best seafood dishes in Puerto Rico, while the bar is an excellent place to wind down or hold an intimate celebration with your loved one.
Vacation Rentals in Rio Grande, Puerto Rico
The Beach Mansion offers convenience and luxury, ensuring that you'll have the best stay in Puerto Rico. The Beach Mansion has a total of 6 bedrooms and 5 full baths, and it comfortably hosts up to 12 guests. It is the perfect place to stay if you're visiting Puerto Rico with family or a group of friends.
This vacation rental offers superb facilities, from high-speed WIFI, a full kitchenette with modern kitchen appliances, and an outdoor pool. Its location is also perfect for exploring the city and nearby neighborhoods, plus you get 24/7 access to the sea.
Condado
Just a few minutes away from Old San Juan is the luxurious district of Condado. It is home to a beautiful Condado beach, fine dining restaurants, high-end shopping, dynamic nightlife, luxury hotels, and various activities in and above the water. The beach town is teeming with breathtaking sights and one-of-a-kind activities, so the splurge is all worth it!
Condado is a famous town to stay in in Puerto Rico among tourists. Sure, the hotels can be more pricey than in the other cities, but that also gives you convenient access to almost everything you want to see on your holiday. Explore the best restaurants and shops nearby, and arrange recreational activities like scuba diving, snorkeling, and a helicopter ride to see the Condado lagoon.
Suffice it to say; you'll find plenty of accommodation options in Condado. Whether you're looking for an amazing hotel on Condado Beach with an outdoor pool, a private beach facing the Caribbean Sea, or a boutique hotel that's super close to the beach, you'll be spoilt for choice!
Best Places To Stay in Condado, Puerto Rico
The Condado Vanderbilt Hotel, situated in the charming neighborhood of Condado, is an additional appealing accommodation option in Puerto Rico.
This hotel boasts a superb position within the lively Condado district of San Juan, granting guests breathtaking vistas of the Atlantic Ocean while providing convenient proximity to renowned attractions, restaurants, and shopping venues. Old San Juan is a mere 5 kilometers away, and various other noteworthy places of interest are also conveniently nearby.
Take a dip at an oceanfront swimming pool and relax under the palm trees or visit one of the beautiful beaches around you. Enjoy an amazing fine dining experience at the restaurant and work out at the fitness center, which has top-of-the-line facilities. Retire to your suite and be mesmerized by the amazing oceanfront view.
The DoubleTree by Hilton San Juan in Puerto Rico is conveniently located in the Condado neighborhood, less than 4 miles from Old San Juan and Condado Beach. Some top destinations in Old San Juan, such as San Juan Bautista Cathedral and El Morro, are only a 12-minute from the hotel.
Double Tree It offers an outdoor pool, Jacuzzi, fitness and business centers, and two restaurants serving international and Asian-inspired cuisine. Accommodations are modern and include flat-screen TVs, microwaves, coffee makers, and mini-fridges.
Vacation Rentals in Condado, Puerto Rico
Dorado
Dorado comes to mind when it comes to luxurious Puerto Rico destinations. The town's name means "golden," and rightly so. With shores lined with golden sand, endless palm trees, and a good amount of distance from the capital city of San Juan, this town is the ultimate destination for leisure and relaxation.
If you visit Puerto Rico for a stress-free, unhurried vacation, you'll never go wrong in choosing Dorado. It is home to some of the best luxury hotels in Puerto Rico and other oceanfront resorts and upscale neighborhoods.
You will find plenty of fine dining restaurants and budget-friendly places serving authentic puerto rican delicacies. Shops, cafes, museums, and other establishments are also within walking distance so thate you can explore all the town's charming spots effortlessly on foot.
As for the best places to stay, Dorado offers some of the best hotels in Puerto Rico. You can find anything between a high-end luxury hotel for your honeymoon or a gorgeous vacation rental for your family vacation, ensuring that you'll always have a great place to stay in Dorado.
Feel at home but with the finest touch, elegance, and outstanding customer service when you stay at Residences at Dorado Beach, a Ritz-Carlton Reserve. Residences at Dorado Beach is one of the best hotels in Puerto Rico, featuring private plunge pools, a 36-hole golf course, and an on-site spa. Enjoy the sea, sun, and sand as you relax in one of the cabanas while sipping a refreshing cocktail, or try parasailing, snorkeling, and other exciting water activities.
Residences at Dorado Beach clearly paid much attention to the comforts of your stay, making sure that their rooms and suites are equipped with only the best. Think of open-air showers, outdoor living space, and luxurious finishes.
If you're looking for a budget-friendly place to stay in Puerto Rico, consider Paradigm Villa Dorado. This fantastic guest house has an outdoor pool, garden, and breathtaking sea views. It also has its own parking space.
Paradigm Villa Dorado is an airconditioned property with 3 bedrooms, 2 baths, and a fully-equipped kitchen. It is clean, generously sized, and comes with all the amenities you'd need for an epic stay in Puerto Rico.
Final Thoughts
Puerto Ricans are blessed to live on such an amazing island, where everything is beautiful, fresh, and almost surreal! There are so many neighborhoods in Puerto Rico that are worth exploring, and so many experiences worth trying. If your schedule permits, stay a little longer, and you'll fall in love with Puerto Rico even after you've returned to your home country.
And with all the best places to stay in Puerto Rico, I understand if you'll find it tough to pick the best hotel, guest house, or vacation rental for your vacation. Hopefully, my top picks for each neighborhood help you narrow down your choices. There is always something for everyone, so I'm sure you'll have the best holiday in this tropical paradise.