Wondering what to do in Puerto Rico if you only have 3 days, here is the best way to use your time! There are so many things to do in Puerto Rico, it can be tough to narrow things down!
What to do in Puerto Rico in 3 Days
This past year I've been trying to take my kids on small trips one by one. It's been really good for them. I have 4 kids and spending quality one on one time with them is nearly impossible on a day-to-day basis. But taking them on a mini-vacation, just the two of us has been so helpful. It's helped us create precious memories and provided some valuable bonding time, which is priceless. I've especially loved traveling with my teens and almost teens! I wanted to cover what we did during our time here.
If you're looking for more basic information you can check out 16 Unforgettable Things to do in Puerto Rico and The Most Beautiful Places in Puerto Rico.
Watch our video to discover what to do in Puerto Rico
Thank you to Isbell Family Films for creating this video
As a Christmas gift this year I gave each of my kids their own special trip with me. It was a great way to be able to buy less stuff, but still provide them with the gift of experiences, which we really try to do more of in our family. This winter, I also chose trips that would help us get some sunshine and get outside more during the cold, dreary days in the DC area. For this trip with my 10-year-old, I chose Puerto Rico! It's somewhere neither of us has been and I found super cheap flights for $130 round trip for our Puerto Rico vacation.
Now that my kids are in school full-time, it's getting trickier to travel with them. I knew I'd have to plan this trip to Puerto Rico as a long weekend. So we flew out Friday afternoon and came home Monday night. That gave us 3 days in Puerto Rico, which was the perfect amount of time to get a taste of this beautiful island! As part of our worldschooling, I love to help my children learn about each new place we visit. It was really fun researching this island together and discovering interesting facts and also the best things to do in Puerto Rico together.
Here are several questions I've gotten since my trip to Puerto Rico:
Q: Do you need a passport for Puerto Rico?
A: Not if you are a US citizen flying from the US
Q: Is Puerto Rico part of the US?
A: Yes
Q: Is Puerto Rico a state?
A: No
Q: Is Puerto Rico a US territory?
A: Yes
Q: Is Puerto Rico a country?
A: Yes
Q: Where is Puerto Rico?
A: Puerto Rico is located in the Caribbean, about 1,000 miles south of Miami, Florida.
Q: What language do they speak in Puerto Rico?
A: Spanish and English are the official languages, although Spanish is more predominant.
Q: When is the best time to visit Puerto Rico?
A: The hurricane season Puerto Rico is generally between June and November. So I think going between December and May is your safest bet, although the weather will generally be nice all year round!
Q: is Puerto Rico ready for tourists?
A: Definitely! There are still some resorts that are working on reconstruction, but overall the country is ready for us and needs us to visit. Puerto Rico is in a major financial crisis and Puerto Rico tourism needs our tourist dollars! The time for Puerto Rico travel is now!
Q: What are the best things to do in Puerto Rico?
A: Read on to find out!
20 Interesting Puerto Rico Facts
Puerto Rico's official name is the Commonwealth of Puerto Rico.
Christopher Columbus discovered the island in 1493 and named it San Juan Bautista, after John the Baptist.
Spanish and English are the two main languages spoken throughout Puerto Rico.
Throughout the whole year, the temperatures in Puerto Rico vary between 70 and 80 degrees Fahrenheit.
Basketball, volleyball, and boxing are the most popular sports in Puerto Rico.
Puerto Rican food comes from a mixture of Spanish, America, British and African inspirations.
In the late 1960s, thousands of Cubans fled to Puerto Rico during Fidel Castro's reign. Many Cuban meals and traditions have been incorporated into Puerto Rico's culture.
Puerto Ricans have won the Miss Universe Pageant five times. Even though the country is a territory of the United States, it competes as its own country
Puerto Rico also competes individually in the Olympics and have won six medals in total.
The country isn't home to any indigenous large wildlife. Puerto Rico wildlife is mostly exotic birds and fish. No animal can kill you and no snakes in Puerto Rico!
Puerto Rico is home to the largest telescope in the world. It is used to observe asteroids in space.
Puerto Rico has 270 miles of beaches.
Puerto Rico's flag was adopted in 1922. The red stripes represent the "blood" that nourishes the three branches of government.
Residents of Puerto Rico are considered U.S. citizens. However, they cannot vote in U.S. elections.
The U.S. once tried to purchase Puerto Rico from Spain for $160 million. Spain said no thanks!
The U.S. changed the name to Porto Rico in 1898. It was changed back to Puerto Rico in 1931.
The island is home to El Yunque National Forest Puerto Rico, the only tropical rainforest in the United States.
Daylight Savings Time is not observed in Puerto Rico (now considering a move).
Puerto Ricans do not pay income tax or federal taxes, but their state tax is high!
The US dollar is the official currency of Puerto Rico.
A Brief History of Puerto Rico
Puerto Rico was originally inhabited by the Taíno people, who also occupied Jamaica, Cuba, the Bahamas, and other islands. Following the arrival of Christopher Columbus in 1493, it was controlled by Spain. There were many attempts by the Dutch, French, and British, to take over the island, but the Spanish ultimately prevailed for the next four hundred years.
Puerto Rico was acquired by the United States at the close of the Spanish American War in 1898. Puerto Rican citizens were then granted US citizenship in 1917 and can now move between the mainland and Puerto Rico without a passport. In fact, while we were in Puerto Rico, it was US Citizenship Day (March 2), but to be honest, I was in downtown San Juan and didn't see anyone celebrating! Food for thought. In 2017, Puerto Rico was devastated by several hurricanes.
Even today, in 2019, it was talked about everywhere we went. Hurricane Maria created the largest power outage in American history! Puerto Rico is definitely still recovering from the damage, but in my opinion, it felt very safe and easy to visit.
Books About Puerto Rico
If anyone knows me in real life, they know I love to read. I especially love to read books about the places I'm going to visit or destinations I've visited in the past. I think there's no better way to connect with a destination than to read its stories! These are the books I read before visiting Puerto Rico. If you want a great list, check out these 100 Books that will feed your wanderlust!
This is a touching memoir about a girl who grew up in Puerto Rico and made the transition to living in New York as a girl.
An interesting book, written in an unbiased reporter style, in the aftermath of hurricane Irma and Hurricane Maria about equality and sustainability in Puerto Rico. It discusses the need for Puerto Rican communities to come together and take care of themselves and one another instead of relying on investors and government.
Another book written in the Puerto Rico hurricane aftermath. This book discusses the many struggles of Puerto Rico even long before the hurricane crisis, including a failed insurrection against the mainland, an attempted presidential assassination, covert CIA operations, and the first ever U.S. bomb strike against U.S. citizens. It's a fascinating read.
In this interesting memoir, Vilar tells about her grandmother, Lolita Lebrón, a Puerto Rican political activist who served 27 years in prison for opening fire on the U.S. House of Representatives in 1954. Interesting, if not disturbing read.
A cute story to introduce Puerto Rican culture to young readers. This book is about a little girl of Puerto Rican descent whose teacher decides to call her Mary instead of her Maria Isabel, a name she inherited from her Puerto Rican grandmother.
Buy This Book Here Now that you know a little bit more about Puerto Rico, I hope you're ready to dive in and book your trip there! Here is all the information you'll need to have the best 3 day trip to this beautiful island!
Where to Go in Puerto Rico
Puerto Rico is a small island, but it will take you much more time than you think to see the whole thing. Even though we were there for a solid 3 days, we barely scratched the surface of even one tiny section of the island. We stayed in the area between San Juan city (the capital) and Fajardo on the east side of the island, with a day trip to Vieques, one of the outer islands of Puerto Rico.
As you can see, we hardly covered any of the island at all even though we were going nonstop! There's so much to see and do just in this little pocket of Puerto Rico! If you're only traveling to Puerto Rico for three days, I recommend sticking to this part of the island. You'll get the most bang for your buck and for your time!
Getting Around Puerto Rico
Several people warned me NOT to drive in Puerto Rico! So, naturally, I drove in Puerto Rico! Honestly, I didn't think Puerto Rico driving was that bad, but I have heard horror stories. But if you've ever driven in Italy, this is a piece of cake! If you are renting a car, I highly recommend renting from Alamo, Hertz, Enterprise, or National, as these car rental companies are all just outside the Airport exit.
If you rent with Dollar or any of the other companies that are not the four mentioned above, they will be about 15 minutes away by shuttle, which is just a pain for pick up and drop off!
The Best Places to Stay in Puerto Rico
Puerto Rico offers a wide variety of places to stay from vacation rental homes to all-inclusive resorts to local Airbnbs. Many of the Puerto Rico resorts have been affected by the hurricanes and are closed down right now (2019).
Everything we looked at was either closed, booked, or very expensive, so we opted to get an Airbnb to save money. We both decided that we wanted to spend the majority of our vacation fund on all the amazing Puerto Rico excursions, activities, and tours available on the island. We were able to book our Airbnbs for under $100/night.
We stayed in this beautiful Airbnb in a part of San Juan bay known as Isla Verde our first night, which had an amazing view of the beach, and this Airbnb in Luquillo Puerto Rico for the rest of our stay, which was just a few steps from the beach. Here is a list of affordable Airbnbs in good areas in Puerto Rico in the areas that we stayed:
What to do in Puerto Rico in 3 Days
Now onto the good part! There were so many fun things to do in Puerto Rico that it was honestly difficult to narrow down what our top priorities were. Since it was winter at home, we knew we wanted to swim in warm water and enjoy the outdoors and nature as much as possible!
I'm going to share our Puerto Rico itinerary day by day so that you can make your own schedule if you like! These were all amazing Puerto Rico destinations that I think would be good for any visitor!
Day 0 – Arrival
Arrive in Puerto Rico in the evening, pick up your rental car. Check into Airbnb/hotel in San Juan.
Day 1 – Beach, Jungle, Bioluminescence
Beach Time on Isla Verde
We woke up with the sun and enjoyed some beach time at the beautiful Isla Verde Beach, which has been listed as one of the best beaches in Puerto Rico. You can rent an umbrella and beach chairs right on the beach. Isla Verde Puerto Rico beach reminded me a lot of Waikiki, but a lot less crowded or touristy. But there are a lot of high rise buildings and white sandy beaches.
Breakfast at Playa Papaya
After our early morning swim, we needed to refuel with a healthy breakfast. Playa Papaya was literally attached to our apartment building and had the most delicious smoothies, bowls, juiced, and pancakes! We ordered one of everything because we were so hungry!
Ziplining in El Yunque National Forest Puerto Rico
We went ziplining with Junglequi Puerto Rico   and had an amazing time! There were 11 zips and 4 rappels. Jackson was super nervous to go zip lining for the first time, but the staff did a great job of easing him into it and calming his fears. He ended up having a blast! If you're going to zipline Puerto Rico, this is the place to do it! You'll find some of the best hiking in Puerto Rico in El Yunque National Forest.
Junglequi also offers a Puerto Rico rainforest tour where you can learn about the different plants, animals, and birds. I wish we had time to do that because it sounded really interesting! Next time!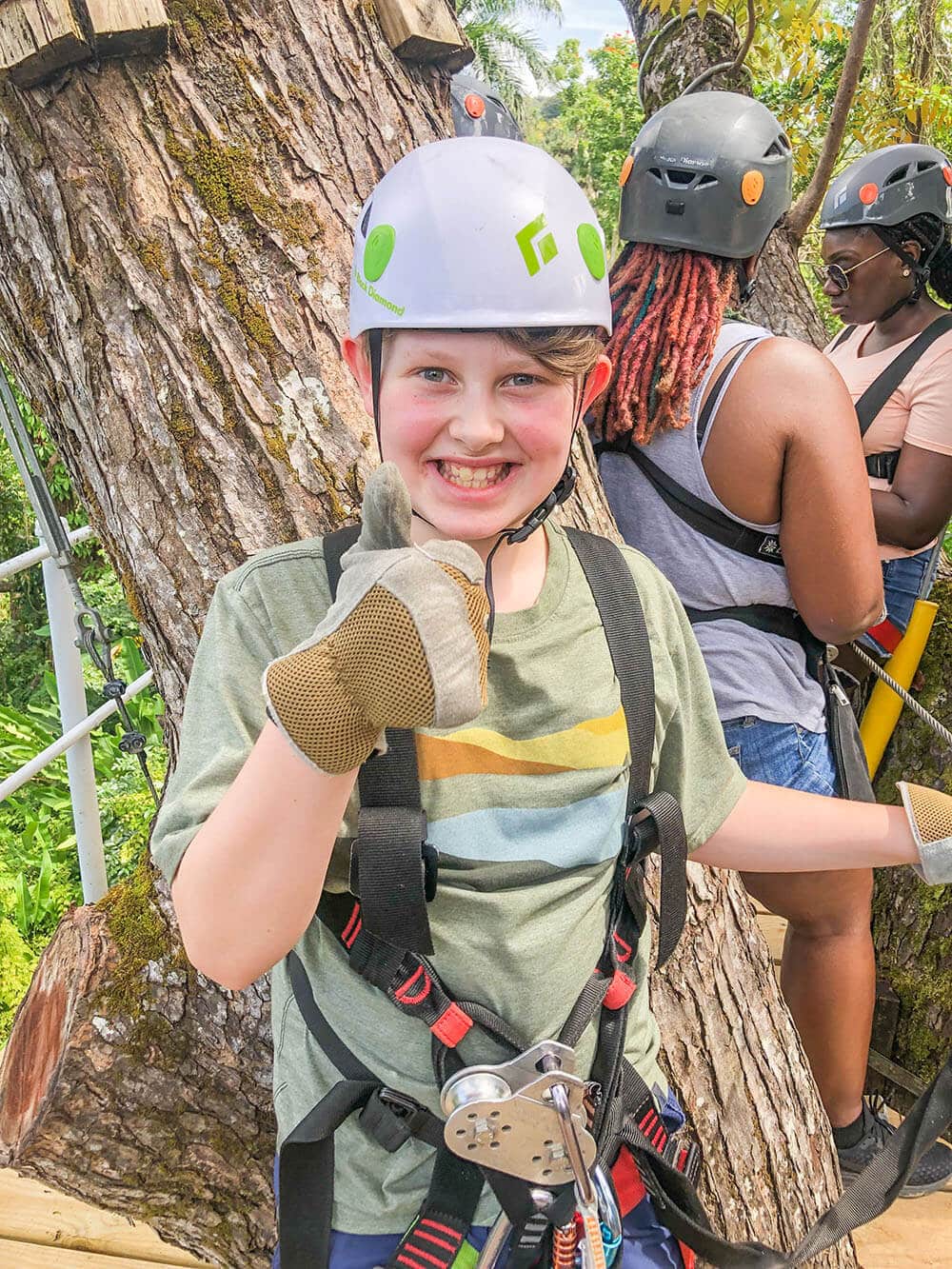 Lunch at Degree 18
Nestled on the outskirts of El Yunque National Forest is the most amazing little cafe serving fresh smoothies, juices, Açai bowls, veggie burgers, wraps, and homemade hummus and veggies. We ate here twice during our trip! So good! This was one of our favorite places to eat in Puerto Rico for a really healthy meal.
Kayaking in the Bioluminescent Bay Puerto Rico Fajardo
Once the sun went down we drove 20 minutes to Fajardo on the east coast of the island and joined a kayaking bio bay tour of Puerto Rico with Pure Adventure.
We lucked out and ended up picking a moonless night, so the bioluminescence was easy to see. Unfortunately, it was not easy to capture on camera! It's honestly one of those things you have to see for yourself to believe. It was truly magnificent and one of the most incredible things to see in Puerto Rico, and honestly in the world! It felt like a once-in-a-lifetime experience!
Book a Photoshoot
We always love to book a photoshoot when we're traveling. As a mom, it's tough to get in the photos since I'm always behind the camera. We love using Flytographer to capture our memories. You can get $25 off your shoot by booking with this link or using code WANDERLUST.
Day 2 – Snorkeling

Day Trip to Vieques Island Puerto Rico
I think this little island is truly one of the best places to visit in Puerto Rico if you're looking for somewhere a little less touristy. We took a day trip to the beautiful island off the coast of mainland Puerto Rico called Vieques.
We chose to go with Pure Adventure again and they did an awesome job. There were about 20 people on our tour, including other kids, which was great for Jackson. We stopped at a secluded beach in Vieques and swam, played, built sand castles, paddle boarded, snorkeled, and hung out on the boat.
Vieques was seriously one of our favorite places in Puerto Rico! It seemed much less crowded and more natural. The boat staff had fresh-cut fruit, chips and salsa, and sodas for us when we got back in the boat. We then sailed over to an old US Naval base pier that is now a great snorkeling spot!
We were able to see tons of beautiful fish and two Hawksbill Sea turtles! It was amazing! The snorkel gear was really high quality which I appreciated, or you could use your own. Our guide stayed with us in the water, which I was grateful for, especially snorkeling with a nervous first-timer. It was a really special experience for us both and a must-do in Puerto Rico!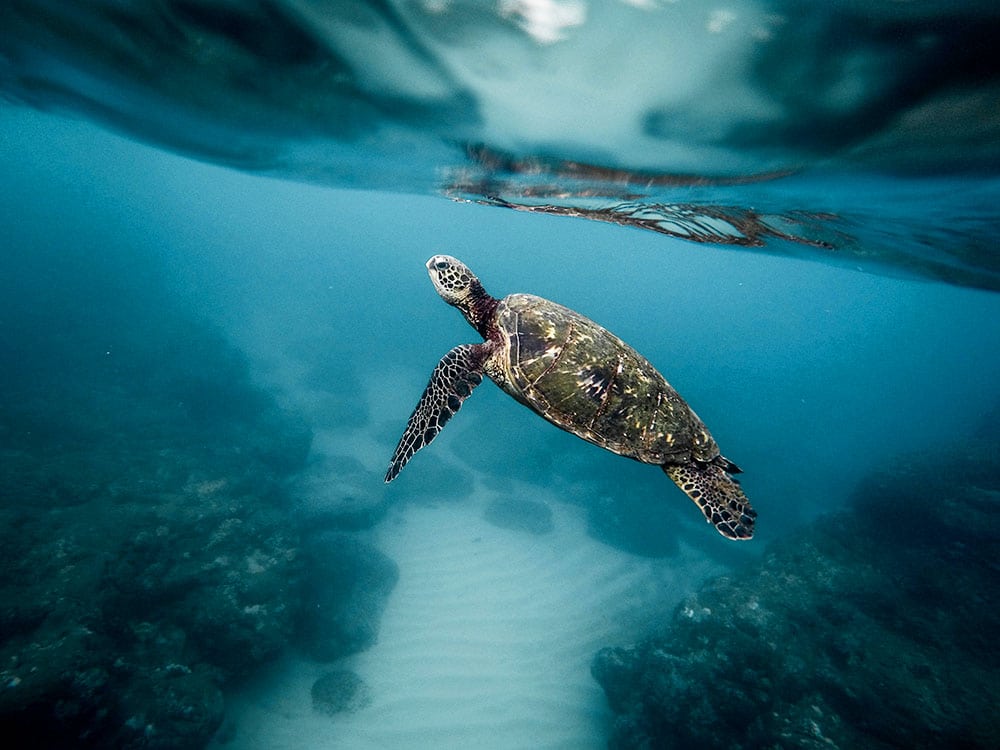 Check out this guide to the best snorkel gear for your trip to Puerto Rico.
Luquillo Beach & Luquillo Kiosks
After our snorkel tour to Vieques, we drove home to Luquillo and had some more beach time at Luquillo Beach, one of many amazing Puerto Rico beaches on the island. Then we tried a few different Puerto Rican specialties at the Luquillo Kioskos.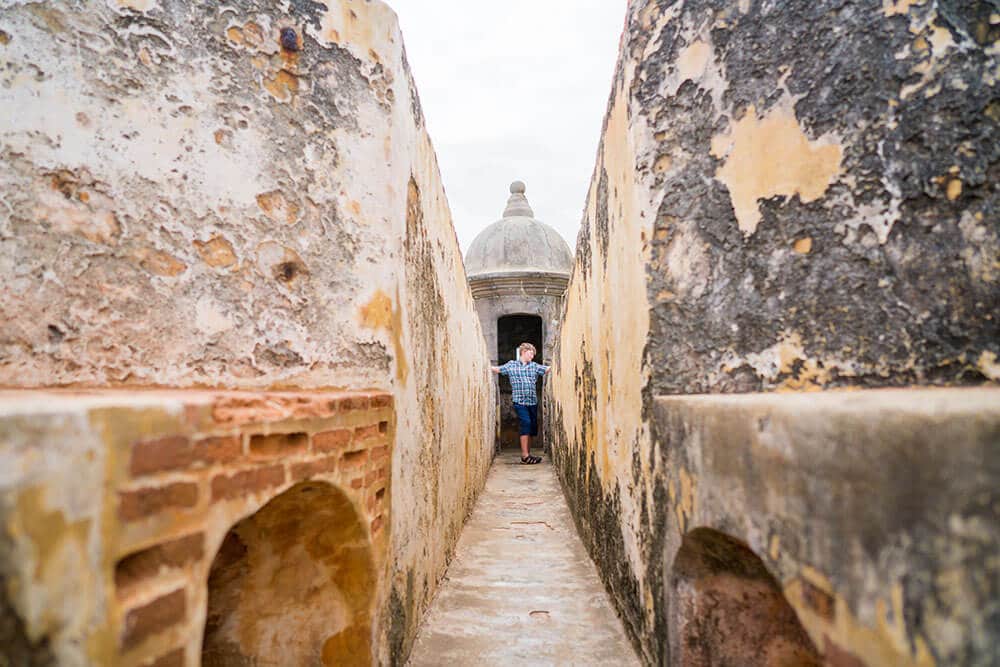 Day 3 – Old San Juan Puerto Rico
There were so many fun things to do in San Juan Puerto Rico that I wish we had planned at least one extra day here! But we were still able to pack in a ton in just one day! Here's what we did:
El Morro Fort
For our first stop in Old San Juan, we visited the beautiful El Morro. This was one of the very first military defenses in the Americas and has been standing since 1539. Originally built by the Spanish, defeat was attempted by the British, American, and Dutch over the next 400 years! The fort is beautiful and offers incredible views of the city, coastline, and cliffs.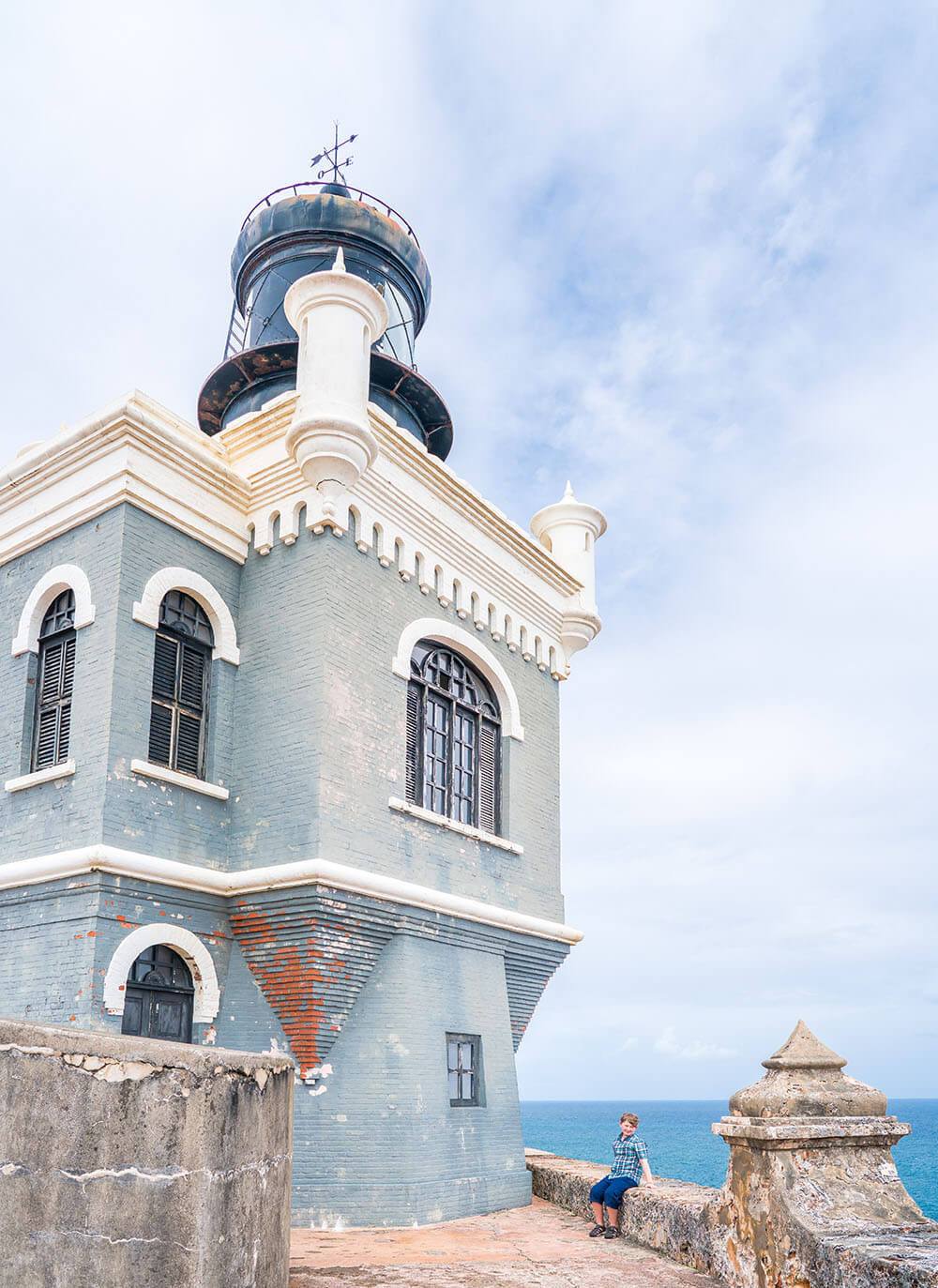 You can also check out the kite flyers on the huge grassy field in front of El Morro. Or buy your own kite. We were short on time and suitcase space, so Jackson opted to fly his Helio Dry Towel instead! Kids can be inventive!
For our first stop in Old San Juan, we visited the beautiful El Morro. This was one of the very first military defenses in the Americas and has been standing since 1539. Originally built by the Spanish, defeat was attempted by the British, American, and Dutch over the next 400 years! The fort is beautiful and offers incredible views of the city, coastline, and cliffs.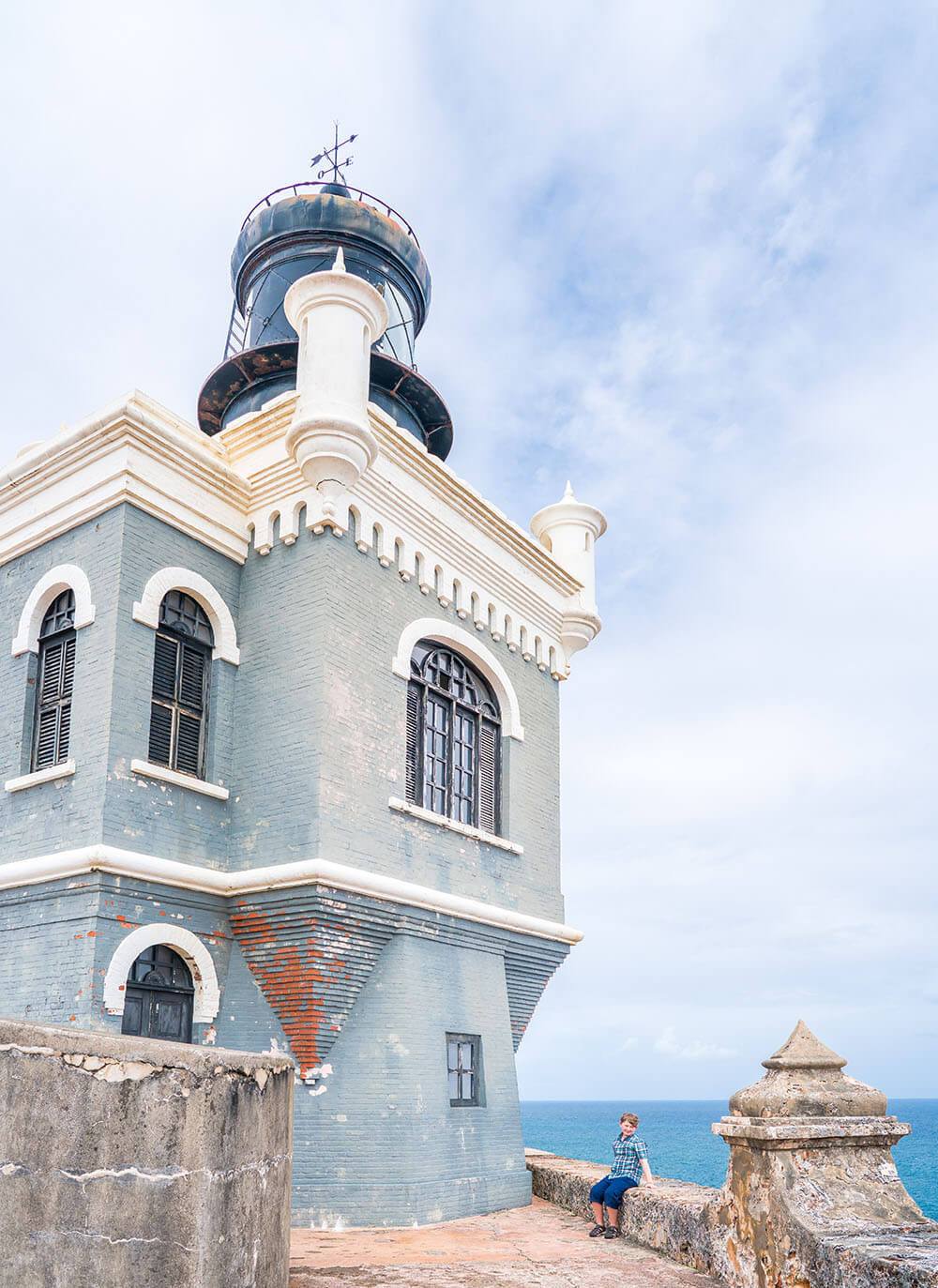 You can also check out the kite flyers on the huge grassy field in front of El Morro. Or buy your own kite. We were short on time and suitcase space, so Jackson opted to fly his Helio Dry Towel instead! Kids can be inventive!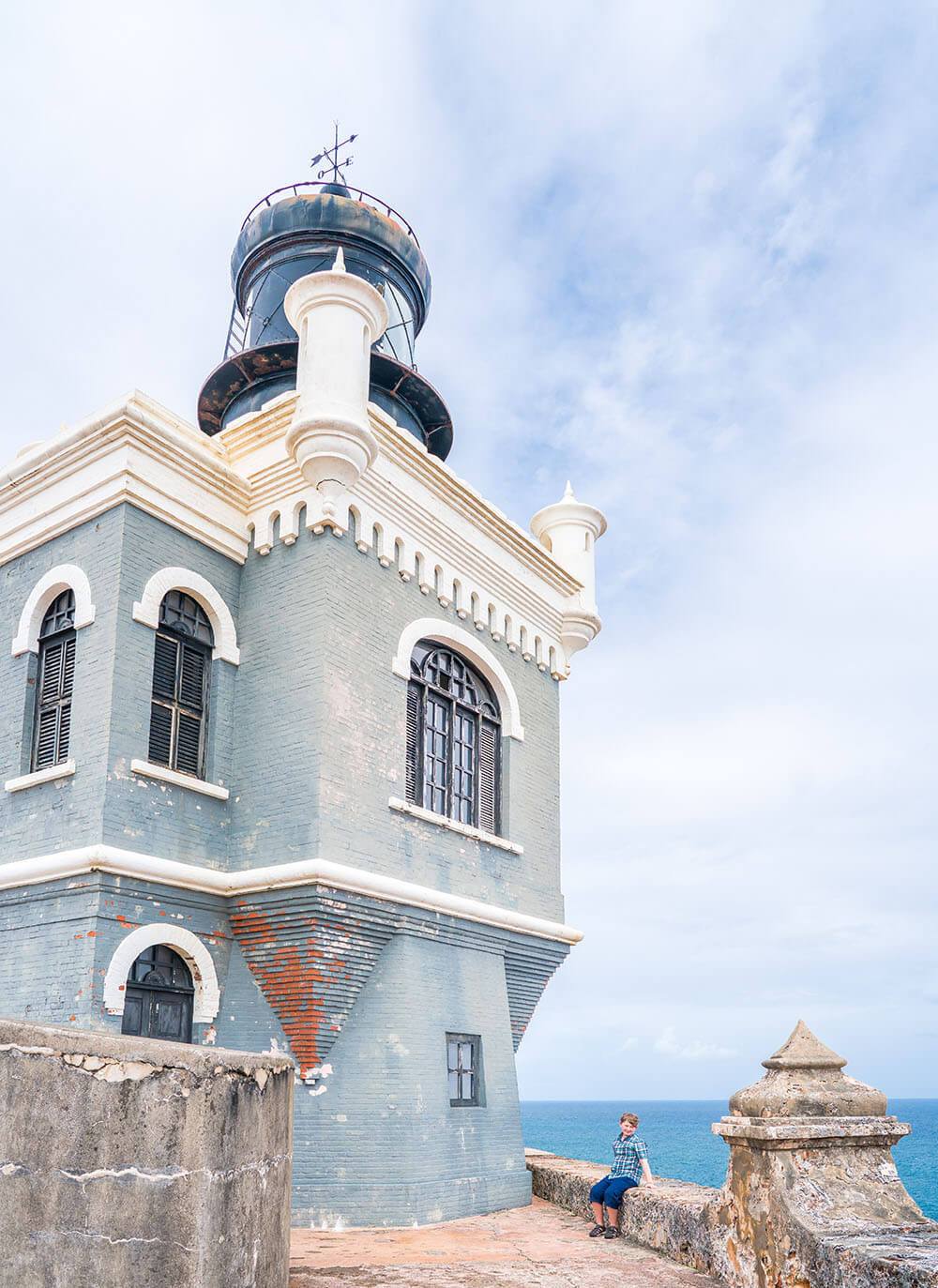 You can also check out the kite flyers on the huge grassy field in front of El Morro. Or buy your own kite. We were short on time and suitcase space, so Jackson opted to fly his Helio Dry Towel instead! Kids can be inventive!
San Cristóbal Fort
Your $7 (kids free) entry fee for El Morro will also allow you entrance to San Cristóbal Fort as well (don't throw your receipt away like I did). We wandered down through the old town of San Juan on our way. San Cristóbal is the largest and best preserved Spanish Military fortification in the Americas. It's also beautiful to explore and see the views.
Grab Some Piragua
Be sure to grab some Piragua while you wander through old town. It's like a snow cone, but the Piragua maker scrapes the ice off a big ice block. Try the Tamarindo flavor, which is a local specialty. They have lots of kid-friendly flavors too. You'll see these Piragua sellers all over the old town.
Check out the Street Art
San Juan has some really cool street art. We loved walking around the town and posing in front of different walls. This was our favorite. No clue what's going on here haha! 
Check out the Colorful Houses
Anyone who knows me knows that I LOVE color! Rainbows, tie-dye, anything bright. I'd paint my house yellow if my landlord would let me! I fell in love with the colorful buildings in old San Juan! How cute are they? It's hard to tell here, but the streets of San Juan are paved with blue-ish bricks!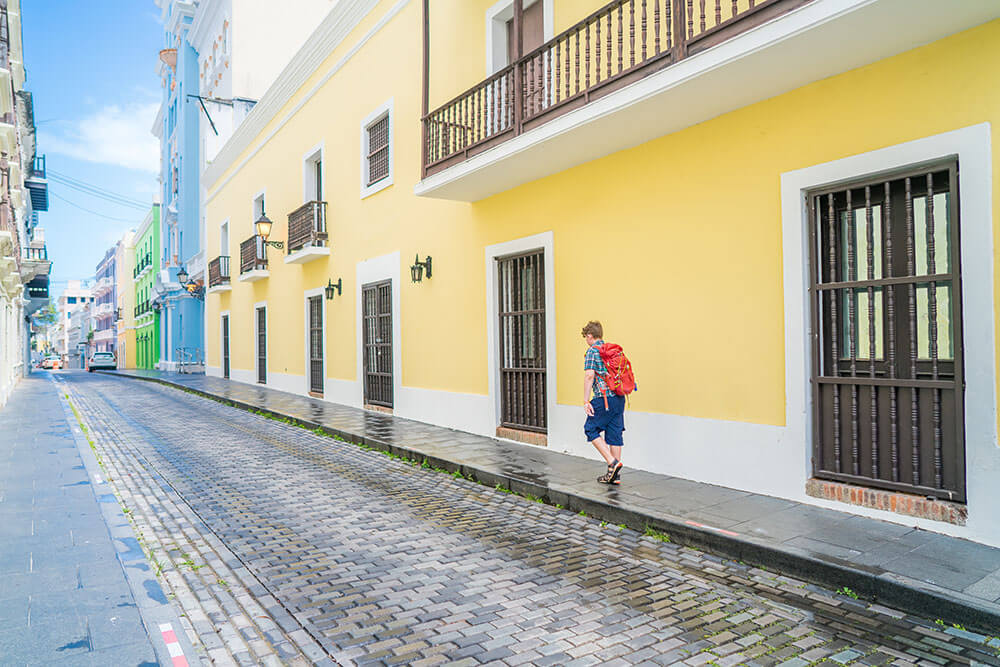 Have your Fill of Popsicles  at Señor Paleta
This place was recommended to us by several people on Instagram when they found out I was going to explore Puerto Rico. They were so right. Señor Paleta's has a huge selection of homemade popsicles including ice cream and dairy free. We had to try one of each of course!
Visit Fortaleza Street (Umbrella Street)
We visited Fortaleza Street which was super pretty! The umbrellas were just turned to pink before we came. Lots of fun watching people pose under these haha!
Shopping and Eating There are lots of great little shops and cafes all around Old San Juan. Pick one and go in! This is a great list of the best things to do in Old San Juan if you need some more ideas!
Best Tours in Puerto Rico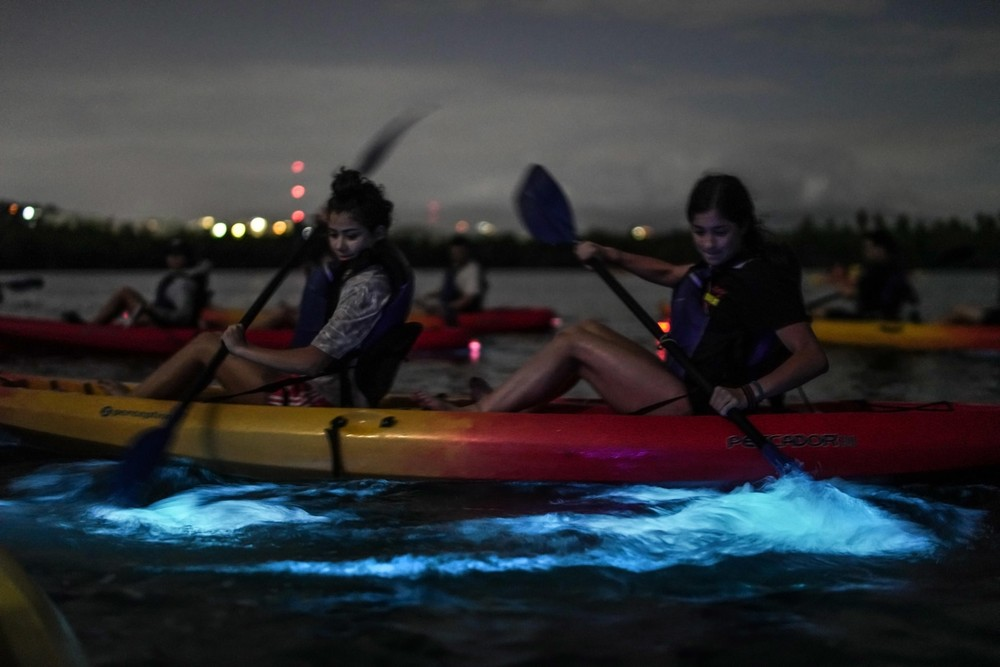 Experience the magic for the first time with this nighttime kayaking tour of the Bioluminescent Bay in Fajardo, Puerto Rico. You'll get to have a Lesson 101 on kayaking that includes having professional guides on this tour. It's a great way to make the most of your Puerto Rican vacation trip!
Here are the highlights of this tour:
Witness the bioluminescence of Puerto Rico's enchanted waters
Guided by a certified interpretive Marine Biologist
All required safety equipment provided
Meeting time: 6pm & 8pm (Times might change depending on the season. If so we will contact you in advance.)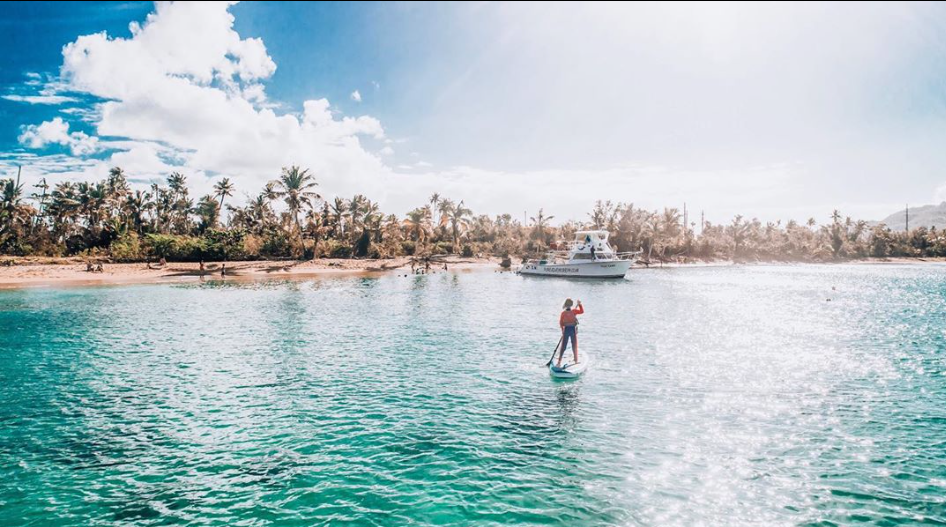 Embark on a snorkeling adventure to the stunning Island of Vieques. This Puerto Rico beach tour is a great way to explore the island's crystalline waters, white-sand beaches, and its beautiful coral reefs.
Here are what to expect on this tour:
Snorkel in crystal clear waters with vibrant reef formations
Learn about the ecology and history of Vieques Island
Enjoy limited access to secluded beaches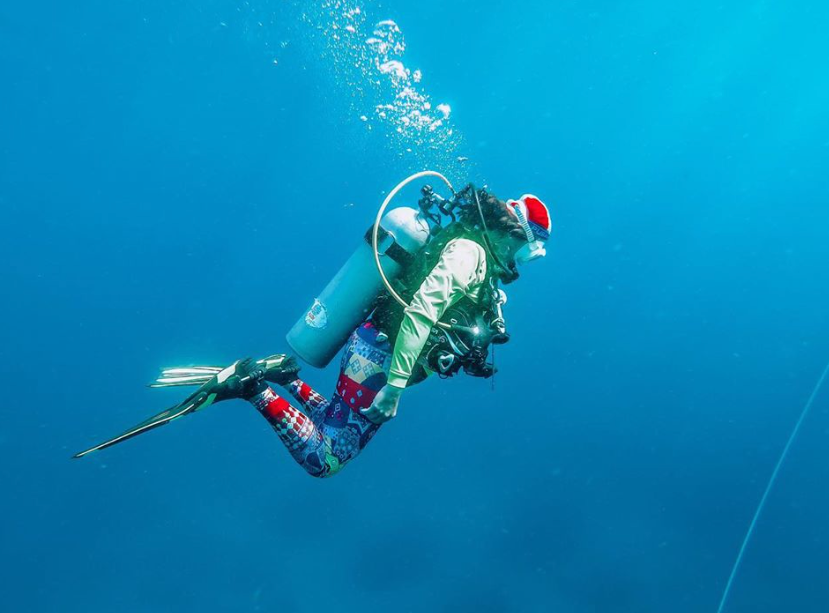 If you're up for some underwater adventure, join this snorkeling and beach tour of Culebra Island. You'll get to explore the different wonders that this beautiful island has to offer. Even small children ages 3 and up are welcome on this tour – making it the perfect family adventure in Puerto Rico.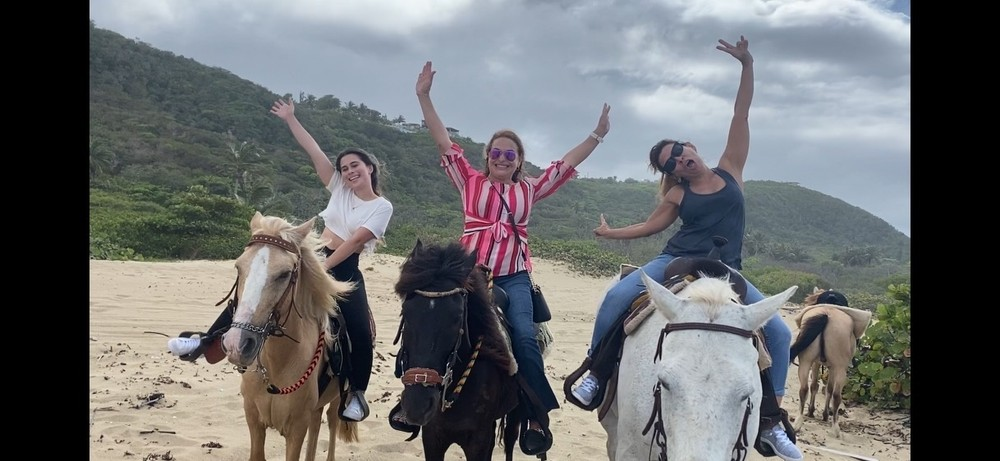 A 2-hour horseback riding tour on the beach of Puerto Rico, this is a great way to explore the Caribbean Ocean views and local beaches. You'll get to experience the tropical breeze as you ride along the beach with your tour guide.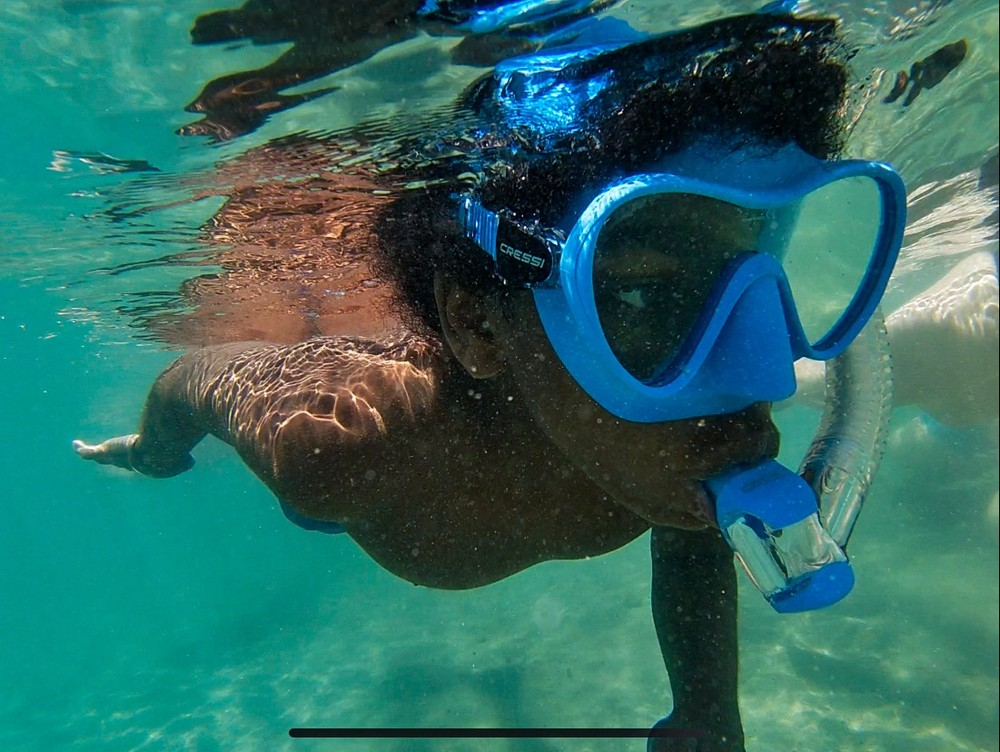 The perfect snorkeling tour for children 8 years and older, this is a great way to learn the basics of snorkeling. You'll snorkel with a certified PADI SCUBA dive professional, and explore some of the most beautiful coral reefs in Puerto Rico.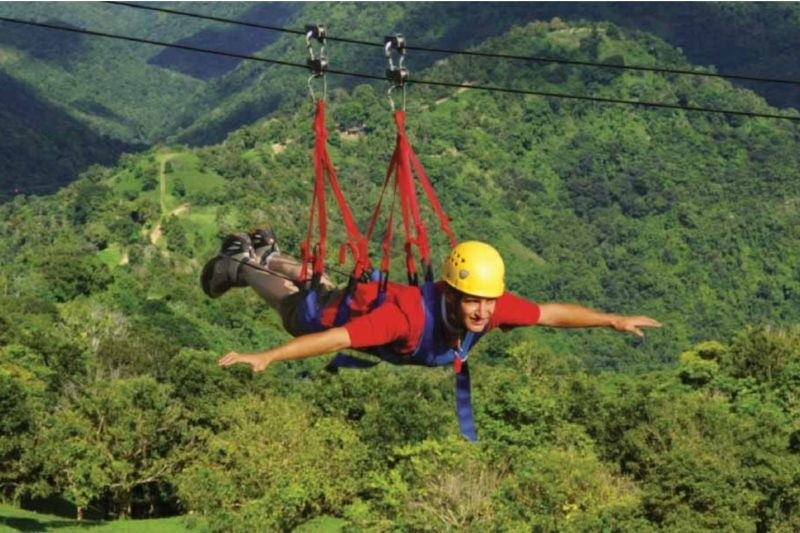 Go on an adrenaline-filled adventure with this zipline and canopy tour of Puerto Rico's rainforest. It's a half-day tour that will get you on one of the most extreme zipline park in America. There's a 1.5 mile zipline that will make you to almost 100MPH!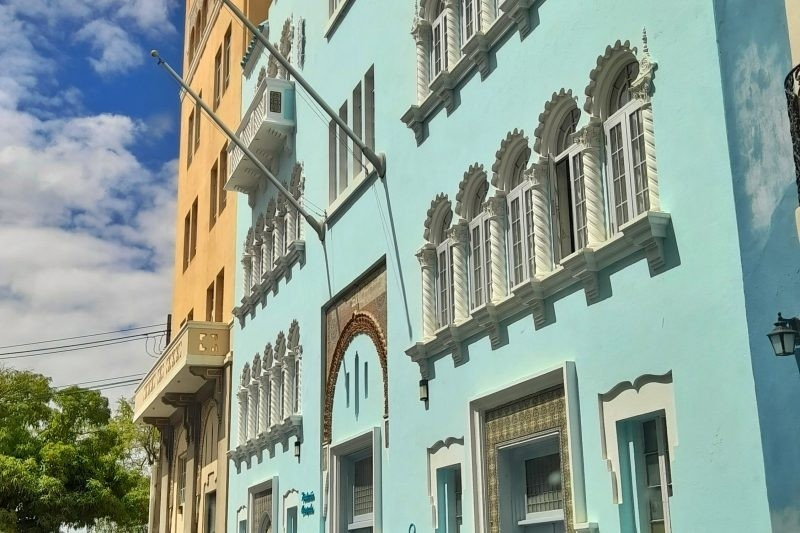 Covering the 6 to 8 hour walking tour, this tour is the most efficient one to choose! You'll get to explore to the historic old town of San Juan, the capital city of Puerto Rico. It's known to be as nation America's oldest city.
During this tour, you'll be accommodated by a private vehicle and your driver will be able to give you an in-depth story of the island's history as you drive around. You'll also get to explore some of the city's interesting sights, such as ld San Juan, Santurce and/or Condado. It's the perfect Puerto Rico road trip experience!
I love trying out new dishes, don't you? If you're a foodie like me, this is a must-try tour! The Old San Juan Walk & Taste Tour™ is a mix of both culinary and sightseeing tour. It's a 3-hour tour that will let you explore the city of Old San Juan while visiting some of its most iconic spots, having a great time tasting Puerto Rican dishes.
Here are some of the highlights of this tour:
Sample delicious local dishes and rum cocktails at independently owned establishments
Stroll along cobblestone streets and admire the city's historic landmarks
Immerse yourself in the unique blend of Taíno, African, and Spanish heritage
We had an incredible time in Puerto Rico and definitely want to take the rest of the family back! It's a wonderful, easy, and affordable tropical family vacation destination. There are so many amazing places to go in Puerto Rico and I know we barely scratched the surface here. If you've been to Puerto Rico and have more suggestions for our next trip I'd love to hear them. Or if you have any questions or need help planning your trip to Puerto Rico, leave a comment, send me an email, or get in touch on Facebook or Instagram!
xo Vanessa
FAQ About Puerto Rico
Is 3 days enough for Puerto Rico?
You can absolutely make the most of your trip to Puerto Rico in just 3 days if you plan properly. It's best to decide which attractions you want to visit and prioritize them accordingly.
How many days are enough for Puerto Rico?
If you really want to explore all of Puerto Rico's attractions, it would be best to stay for at least 5 days. This will give you enough time to see the main tourist attractions, such as El Yunque National Forest and Bioluminescent Bay.
What months are best to visit Puerto Rico?
The best months to visit Puerto Rico are from December to April, as this is the peak tourist season. The weather is generally at its best during this period, and the crowds are not as bad compared to other months of the year.