Looking for an incredible beach destination that has it all, including incredible beaches, adorable downtowns, and unique cultures? Discover these beautiful islands and all the unforgettable things to do in Puerto Rico.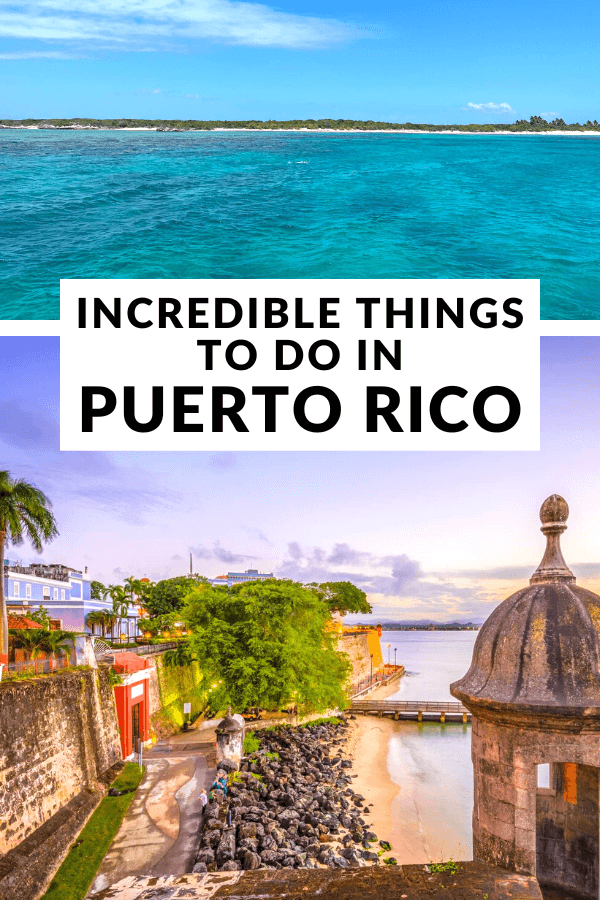 The island of Puerto Rico is a vibrant, inviting place full of history and natural beauty. Whether you're a foodie, an adventure traveler, or a history buff, you'll find all kinds of fun things to do in Puerto Rico.
I've been lucky enough to visit Puerto Rico several times and each time I come back, it surprises me with something new. I've come with kids and on a girls trip. I think it's a great place to do either of those types of travel. It's the perfect destination to come and relax and enjoy the beach, but it's also a great place to come for culture, food, history, family-friendly fun, and nightlife.
One of my personal favorite experiences in Puerto Rico was exploring the cobblestone streets of Old San Juan and trying all the delicious Puerto Rican food! And did you know that Puerto Rico has amazing art galleries? Or maybe you're more interested in seeing a bioluminescent bay or hiking and ziplining in El Yunque National Forest.
You can read about all these things and more below in my list of 15 things to do in Puerto Rico.
And if you're visiting Puerto Rico for the first time, be sure to check out these tips for your first visit.
Where to Stay in Puerto Rico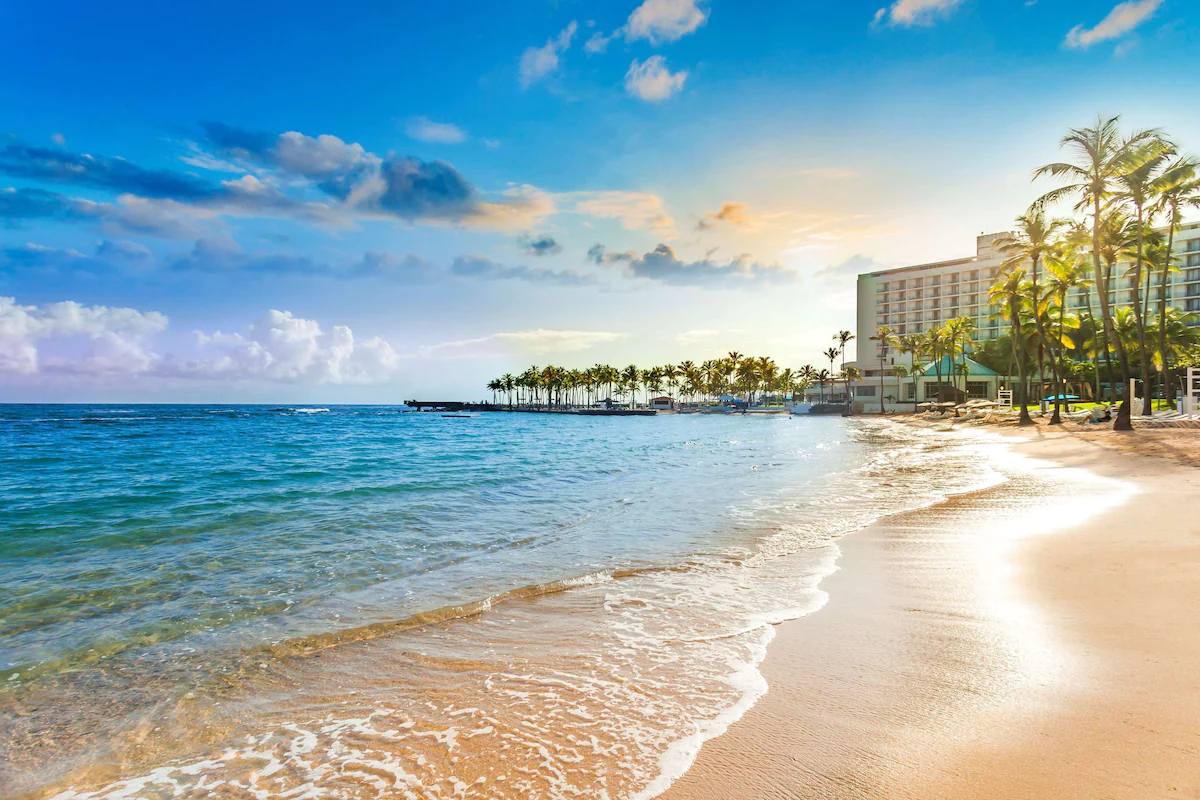 There are quite a few great options for hotels and home rentals in Puerto Rico. We've stayed in both hotels, VRBOs and resorts during our trips to Puerto Rico. Here are some of our recommendations.
Home Rental: Ocean View Villa – This is a great option for large families or groups.
Hotel: El Convento – This is a beautiful boutique hotel in the heart of Old San Juan. Great for a romantic trip or for anyone who wants to be near nightlife.
Resort: Caribe Hilton – We stayed here during a conference, but I'd definitely bring my kids back. A great pool, beach access, and about a 25-minute walk to Old San Juan.
Renting a Car in Puerto Rico
I've done Puerto Rico with and without a car. If you truly want to explore the island, I highly recommend renting our own car. Driving felt fine to me. I drove alone with my 8 year old and felt totally comfortable. Do book your car well in advance though, because as. anisland, there are limited cars available. I recommend choosing a rental company AT the airport to avoid the hassle of taking the shuttle.
If you're renting a car, there are two companies we prefer to use: Rental Cars and Expedia Cars. We have had no issues with them and have been able to find the best prices available.
If you choose to not rent a car, there is UBER on the island and taxis as well in San Juan, but they're not readily available all across the island and not available at all on the smaller islands.
Check Out the 16 Best Things to Do in Puerto Rico
Puerto Rico is the kind of place that you'll fall in love with! The island has 4000 years of history and a strong sense of hometown pride. The culture and even the land itself have been shaped by centuries of indigenous, European, and African influence.
There's truly no place quite like it. You'll have a blast finding ways to soak up the warmth and beauty here. So, enjoy diving into all the best things to do in Puerto Rico!
[TOC]
1. Explore Old San Juan
San Juan was established as a colony by Spain in the 1600s. I visited here with my son on a 3-day trip and we spent a lot of time in Old San Juan and on the beach. I can attest that this is definitely one of the top things to do in Puerto Rico!
The greater city of San Juan is known for its nightlife, resorts, and beautiful beaches. There are great art museums and impressive art galleries where you can check out Puerto Rican art by local creators.
Most visitors looking for things to do in San Juan Puerto Rico head to Old San Juan. Almost 500 years old, it's fun to wander the blue cobblestone streets set in the middle of San Juan Bay!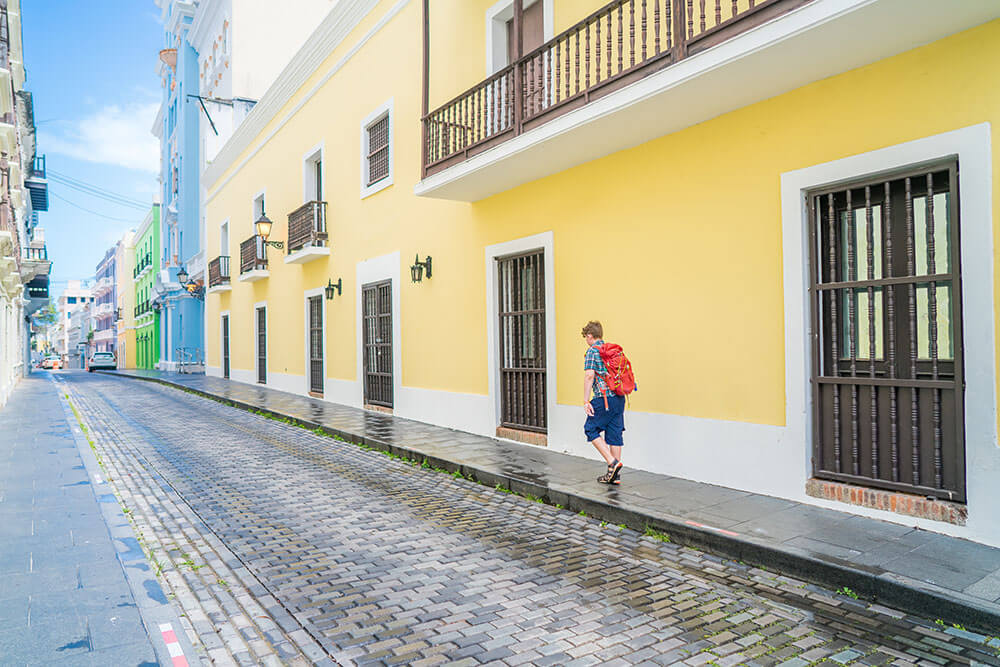 A note about the cobblestones- If you see blue stones, those were made by the English in the 1800s and the blue hugh is from the iron that was mixed with the stones.. The City of San Juan has been slowly replacing damaged cobbles, but there has been a recent push to preserve some of these stones.
Check out the Plaza de Armas, enjoy the cafes and coffee shops there, or simply walk through the streets if you're looking for free things to do in Puerto Rico. There are crisp, brightly colored houses of every color on every street. Calle de la Fortaleza and Calle del Cristo are both especially beautiful and popular streets for photographers and shoppers alike! And Paseo de la Princesa is perfect for a sunset stroll next to the water.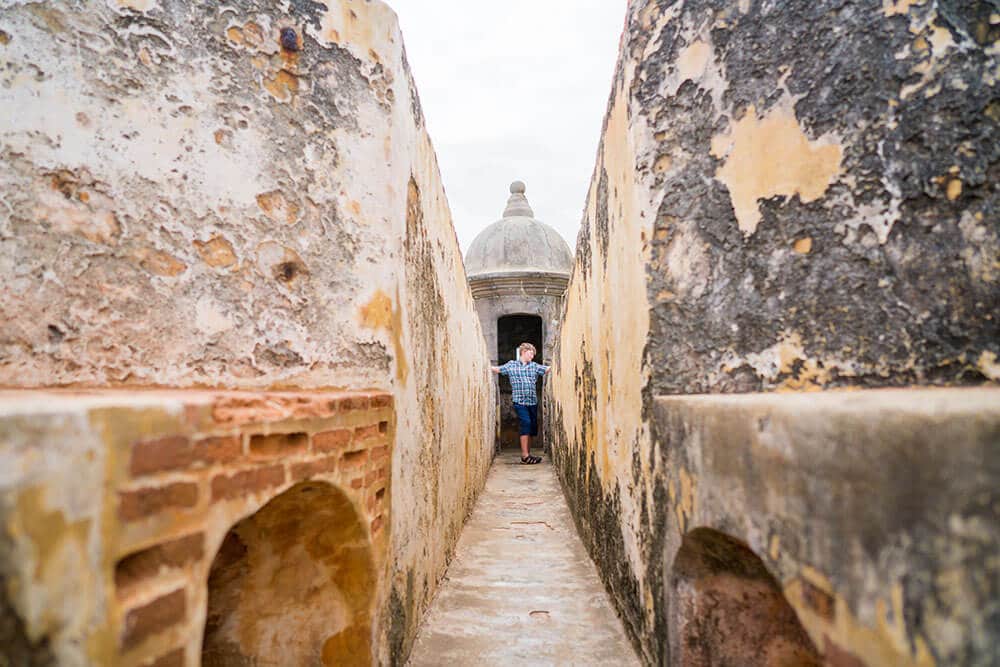 A must-see in Old San Juan is Castillo San Felipe del Morro, also called El Morro, which looks out over the San Juan Bay. You can walk from the San Juan Gate to San Felipe del Morro for amazing views of the Atlantic Ocean and interesting places along the walkway. San Cristóbal Fort is another popular historic landmark not far away and also one of the most popular things to do in PR.
I would plan on dedicating at least one full day in Old San Juan to see the sites, taste the food, and do some shopping.
You can see these colorful umbrellas in Old San Juan. They're not pink anymore, but all colors. of the rainbow. Unfortunately, this street has been blocked off due to demonstrations in front of the Governor's house, which you can see in the background. Hopefully it will be opened up soon. You can still view the umbrellas though.
Best Things to do in Old San Juan
Castillo del Morro
Stroll along Calle del Cristo
Visit Castillo San Cristóbal
Get lost in the cobblestone streets
Paseo de la Princesa
Take a sunset walk along the city walls
Take a historic food tour
2. Indulge in Puerto Rican Food
Any time you visit a new place, the best way to experience local culture is to try regional delicacies. Puerto Rico has a unique food culture with influences from Spain, Portugal, South America, and the Caribbean, as well as African traditions and indigenous foods.
One of the best things to do in Puerto Rico is head to the streets. I mentioned before that Mayaguez is unique for its agricultural contributions and street food scene, but that's not the only city like that! In every city, you'll find vendors in plazas and lining beaches.
Pinones is one place that really stands out. This is a beach community near San Juan, and it's known for its food trucks and food stalls that line the road across from the beach. It's a popular pastime to walk from vendor to vendor and find every kind of Puerto Rican food you can think of, from tostones and mofongo to lechón and fresh seafood.
One of the most fun things to do in Puerto Rico is going on food tours with passionate locals! Try a popular San Juan food tour where you'll walk through Old San Juan and see the sites. On this tour, you'll visit several different restaurants and markets while your guide gives you an understanding of the flavors and traditions that have shaped Puerto Rican food.
We had a blast with our guide, Lorna from Spoon and we highly recommend this tour for its cultural value as well as the delicious food and drinks we tried.
3. Kayak at Night on a Bioluminescent Bay
If Puerto Rico's nightlife isn't really your idea of fun things to do in Puerto Rico at night, consider instead a kayak tour of a bioluminescent bay. I did this with my son on our 3-day trip to Puerto Rico and highly recommend it! We loved it so much that we decided to go again during our last trip. It's really a magical experience.
These protected bodies of water offer the perfect conditions to be home to bioluminescent marine life that you can see during a nighttime kayak tour! On the Laguna Grande bioluminescence bay tour, you'll enjoy the sunset over the lagoon and kayaking through the mangrove forests before you experience the gorgeous bright blue bioluminescence just under the water!
The bioluminescence can be tricky to see right away and the light pollution doesn't help. But our guides brought a large tarp to block out the light so that we could better see the water.
The other popular bioluminescent bay in Puerto Rico is Mosquito Bay on the island of Vieques. Keep in mind that if you go to Vieques, you'll have to stay overnight to experience this.
On this tour, you'll meet on the island at dusk and enjoy a nighttime kayak through the bay. This is the most popular spot for this activity because the bioluminescence is so bright! Brighter than what you will find on Laguna Grande.
4. Visit an Island in Puerto Rico
There's plenty of stuff to do in Puerto Rico without ever leaving the island, but seafarers will want to consider the opportunity to explore all the nearby islands! You can get a water taxi or ferry to most of them, while others might be better on a guided tour.
Did you know that Puerto Rico is made up of 143 islands, keys, and islets? Be sure to get off the main island and explore some of these beautiful places.
Culebra Island off the eastern coast of Puerto Rico is wonderful for getting away from the more crowded beaches of the main island! This place is great for snorkeling wit8h pristine beaches, calm cove beaches, and a wildlife refuge full of sea turtles. We spent several days in Culebra and had an absolute blast!
But the real hidden gems of Culebra Island are the tiny, uninhabited islands of Cayo Luis Peña and Isla Culebritas. Take a boat charter or small-group tour to Culebritas or rent a boat for the day and anchor off the shore of Cayo Luis Peña for a relaxing beach day.
One of the popular things to do in Puerto Rico is taking a kayak and snorkeling tours to Cayo Santiago. You can't actually go on the island because it's a field research station and monkey habitat. But it's only about a mile from the eastern shore and you can take kayaking and snorkeling tours close enough that you might see monkeys roaming around!
Jump on a ferry or an airplane and take a day to explore Vieques Island. You'll disembark in the city of Vieques, and I highly recommend heading to Sea Glass Beach. But the big draw to Vieques Island is the Vieques National Wildlife Refuge. It's popular for hiking and exploring beaches. This area was all controlled by the military but was released back to the people of Puerto Rico. The island is covered in wild horses and they're adorable.
Cayo Aurora, or Gilligan's Island, is another popular tourist destination in PR. This tiny, remote island near Guanica on the southern coast is best if you want to see local wildlife! You can catch a ferry here or rent kayaks from the Copamarina Resort. Go snorkeling for stunning sea life, keep an eye out for iguanas, and kayak through the mangroves.
5. Hike or Zipline in El Yunque Rain Forest
El Yunque Rainforest in Puerto Rico is a mesmerizing tropical paradise that immerses visitors in a lush world of emerald greenery, captivating waterfalls, and diverse wildlife. With its enchanting hiking trails and the awe-inspiring La Mina Falls, this natural gem offers a rejuvenating escape where one can disconnect from the everyday hustle and reconnect with the tranquility and magnificence of nature.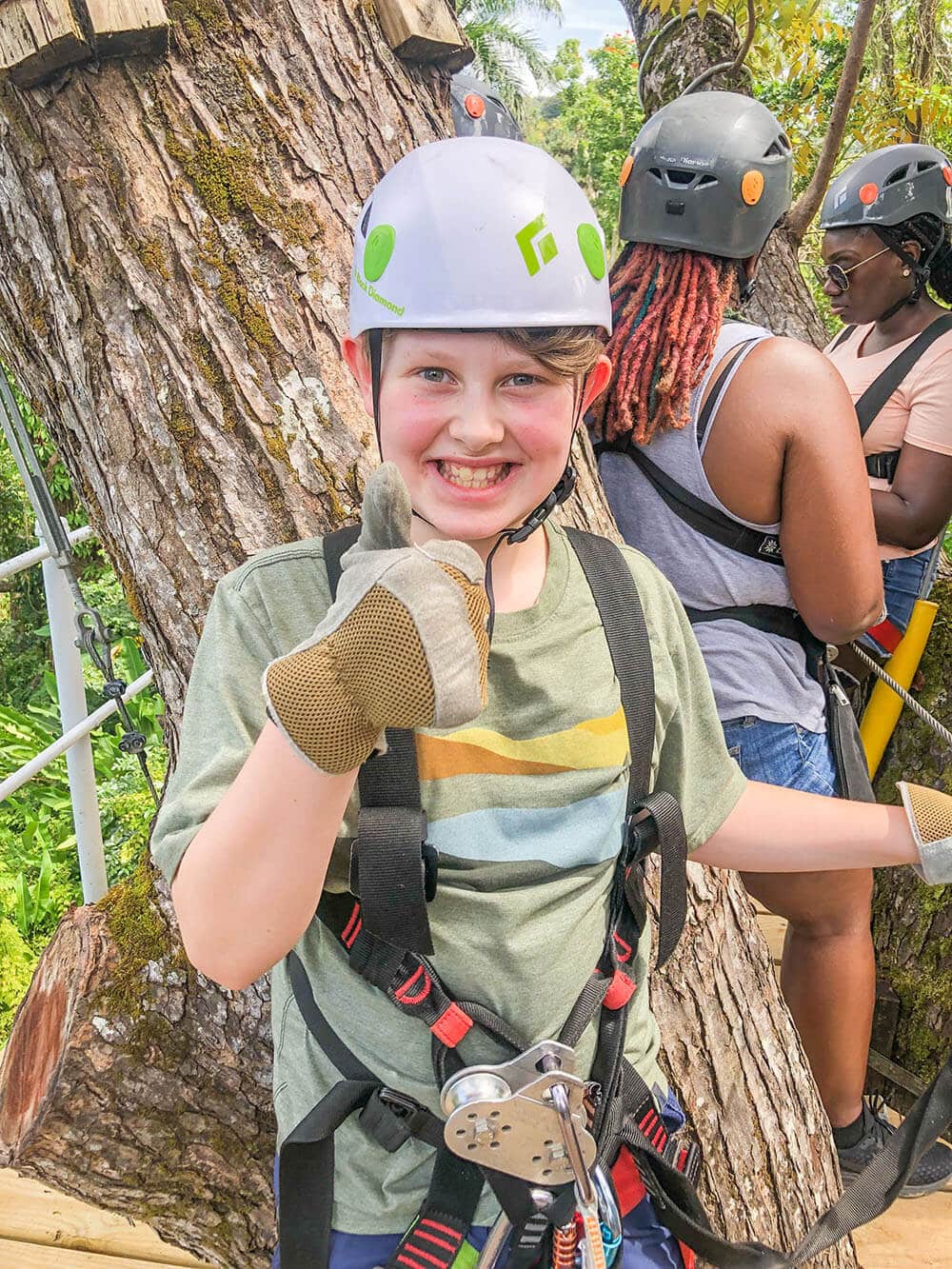 If you're interested in outdoor activities to do in Puerto Rico, consider a rainforest hike! Several parks in Puerto Rico are popular for hiking, but none are better than El Yunque National Forest. El Yunque is 28,000 acres of lush rainforest filled with picturesque hiking trails, rare vegetation, and local wildlife.
El Yunque Rainforest is located in the eastern region of Puerto Rico and is the only tropical rainforest in the US National Forest system. At the visitors center, you can find out about guided hikes or pay a small fee per car and drive to trailheads. I recommend always stopping at the visitor's center because some of the trails might still be closed since the hurricane season.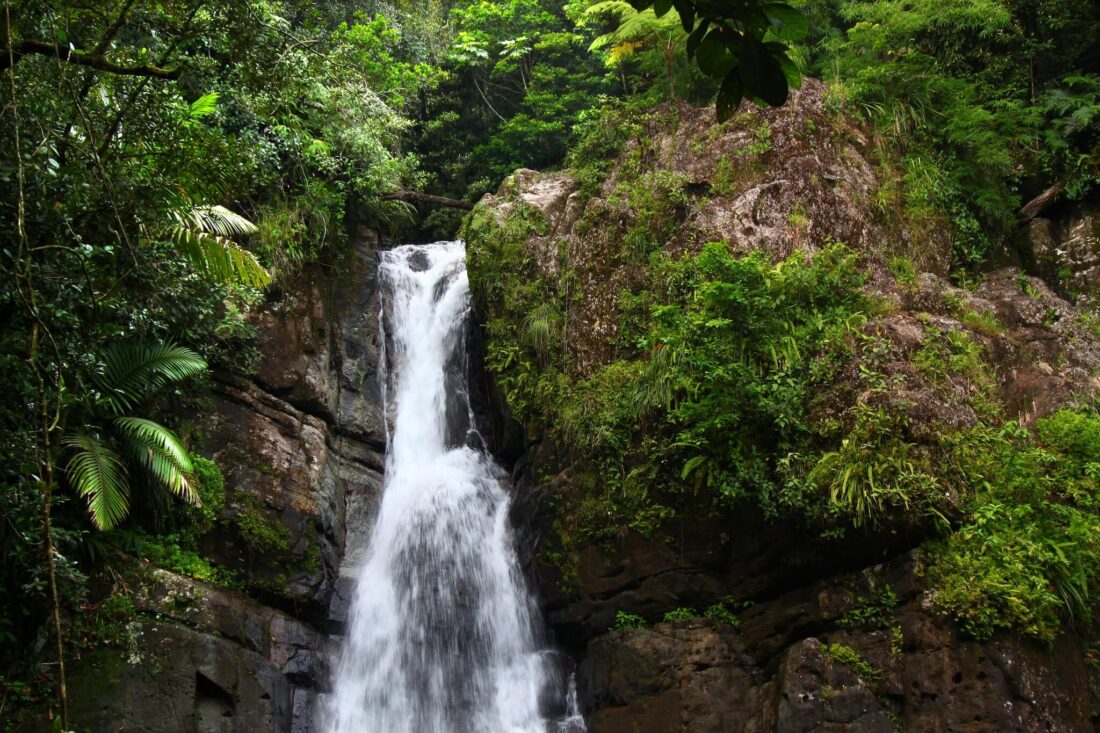 This is one of the best things to do on the east coast and a great choice if you love waterfalls! The La Mina Falls Trailhead is especially popular, and it's worth the trip if you're okay with a challenging 30-minute hike. You'll follow the beautiful La Mina River and reach the falls where you can go swimming.
If you love heights and adrenaline, consider ziplining in El Yunque. It's. beautiful place to soar through the trees.
There are several day trips into El Yunque that are absolutely worth spending time and money doing. It's a beautiful place and a change from the beach. We had a blast ziplining during our last trip to Puerto Rico. We took this tour and had so much fun!
The Monster is the longest zipline in America and is so crazy fun!
6. See Puerto Rico's Beautiful Caves
If you're looking for outdoorsy things to do in Puerto Rico, go cave hunting! The island has more than 2000 caves, including beach caves, hikes to mountain caves, and ancient underground caverns full of breathtaking geological formations that you can tour.
Don't worry if you're not a mountain climber or expert spelunker. While some of the caves are great for adventure travelers, most are easily accessible and are on guided walking tours. And all the caves are in Puerto Rico's mountainous northern region, so most of them are within 90 minutes of driving from San Juan!
You can tour the Camuy River Cave Park, one of the biggest underground cave networks in the world. And Cueva Ventana is another cavern system inside a mountain that offers guided tours along with stunning views of the valley below!
For picturesque beach caves, head to Playa Pastillo. At the western end of this sandy beach is Cueva Golondrinas, a massive dome structure that you can go inside! If you want to swim here, come in the summer when the water is calmer. In the winter, it's too rough to swim but the cave is still a rewarding experience in person.
For a thrill, you can tube down the Tanama River through the grotto caves. Or climb down to the Blue Pool swimming hole and explore Cuevas Arenales where you can jump off boulders and enjoy the sound of waterfalls all around you. A lot of people go on their own but you can also go with a tour guide if you're comfortable that way.
Book a Photoshoot
We always love to book a photoshoot when we're traveling. As a mom, it's tough to get in the photos since I'm always behind the camera. We love using Flytographer to capture our memories. You can get $25 off your shoot by booking with this link or using code WANDERLUST.
7. Explore Ponce
Another large city in Puerto Rico worth visiting is Ponce. This is just an absolutely beautiful city along the island's southern shore. Here you'll find more colorful Spanish-colonial-style homes, grand mansions, beautiful gardens, plazas, and more!
A few highlights include the striking Cruceta del Vigía monument in the heart of Ponce. And right behind it is the fascinating Jardín Japonés. La Guancha Boardwalk is great for an afternoon stroll. Take the kids to the playground or calm beach there, feed the fish, and just enjoy the view. Walk out onto the pier, rent a boat, or have a picnic!
And then there's Puerto Rico's Ponce History Museum. This very pink building is perfect for a visit if you're interested in local history, going all the way back to the Taino people.
8. Eat in Mayaguez
Mayaguez is an agricultural hub on the western coast of Puerto Rico that's known for its food scene. The bustling city has also been the main source of mangos and tuna in the US for forever. In fact, if you ate Chicken of the Sea or Starkist in the 2000s, it probably came from here! Though today, most of this resource stays on the island.
When it comes to finding things to do in Puerto Rico, you'll want to check out the amazing street food in Mayaguez. Grab some sweet razos gitanos, or Spanish jelly rolls, at the 100-year-old Ricomini Bakery off Colón Plaza. Or try the unique flavors at Rex Cream's Ice Cream near the plaza. They offer unique flavors like corn, soursop, and mandarin!
Locally, you'll see a strong sangria-like drink in bars and restaurants around Mayaguez. Sangría de Fido has a strong international reputation! It's made by a local man using fruit juice, Barcardi rum, and burgundy wine. There are true fans of the drink, and you should try it at least once while you're here.
Or for a great local comfort meal, visit Papalaya. This local taco chain sells loaded nachos, papas fritas, and quesadillas. Locals swear by this place, and you can't find it outside of Puerto Rico!
9. Enjoy Historical San German
If you're looking for a less touristy place to explore and visit historical sites, head to San Germán in the southwestern region of Puerto Rico. It's the second oldest city on the island, being settled by Spanish colonialists in the early 1500s. The town is easily walkable in less than an hour, depending on how often you stop!
If the idea of strolling quiet streets, taking in the crumbling architecture, and reading educational plaques sounds like a good time to you, you'll love San Germán. There are history museums where you can learn about Puerto Rico's history.
A stroll down Calle Felix Arce Lugo is enchanting with its brick-lined Plaza Santo Domingo. This is where you'll also find the 400-year-old Iglesia Porta Coeli and many historical markers to read!
And for some very unique local history, walk over to visit the Ceiba de la Libertad. This massive tree is 125 years old! It was planted in 1898 in celebration of Puerto Rico's independence from Spain. The thing about ceiba trees is that their roots can grow and spread for decades. It's a beautiful symbol of the island's spirit of freedom.
10. Visit a Museum in Puerto Rico
Visiting museums is one of the most popular things to do in Puerto Rico. There are some magnificent ones you won't want to miss out on!
For a complete history of Puerto Rico, had to the Museo de Las Americas in Old San Juan. This is a must do in Puerto Rico, with a recalling of the history of the island, all the way back to the indigenous people. You can walk exhibits with ancient artifacts and take in the stunning architecture of the 200-year-old army barracks that today houses the museum.
And for art lovers, check out the Ponce Museum of Art. The contemporary building houses not only the largest collection of European art in the Caribbean but also beautiful examples of regional art throughout history.
If you can't get your fill of art in Puerto Rico, you might want to visit the Museo de Arte Contemporáneo de Puerto Rico in San Juan. The art deco building is a former school that's full of light and regional and Latin American art.
And nearby there's also the Museo de Arte de Puerto Rico of San Juan. You know you're in for a treat when you see the former hospital decked out in modern art! Come here for exhibits of solely Puerto Rican art, including gallery exhibits by residential artists.
11. Tour the Arecibo Observatory
The Arecibo Observatory was owned by the US National Science Foundation (NSF). It was home to the world's largest telescope from 1963 until 2016. The observatory closed in 2020 but you can still visit the site today and enjoy some awesome scenery. It's open Wednesday through Sunday from 9 AM to 3:30 PM.
One of the most popular things to do in Puerto Rico, you don't have to be a science nerd to appreciate the Arecibo Observatory. When you visit, you'll tour exhibits at the visitors' center and the observatory and learn about the research done there in astronomy and atmospheric science.
Then you'll climb up into the sky-high observation deck, for a bird's eye view of the telescope. It's almost overwhelming to look down on the giant reflector dish, built into a natural sinkhole in Puerto Rico! You have to experience it in person. And if you're a film buff, you might recognize the observatory from movies like GoldenEye and Contact.
12. Honor Taino Culture
Long before the Spanish landed on the shores of Puerto Rico, indigenous groups inhabited the island, including the Taino people. For a long time, scholars claimed that the Taino were eradicated centuries ago, but that's no longer believed to be the case. Many Puerto Ricans today claim a Tiano heritage and identity as Taino. You can honor the memory of the Tiano people by visiting ingenious sites on the island.
Caguana Indigenous Ceremonial Center is a great place to start. You can tour an archeological site and see ball fields where the Taino played games! There are also exhibits, petroglyphs, ruins, and a historic botanical garden.
And located in central Puerto Rico is one of the most unique museums on the island. The Cemi Museum is housed in a building that looks like a Taino cemi, which is an ancient god held in a physical form. The small museum is a great place to learn about the spiritual practices of the indigenous group and see genuine artifacts used in rituals. Nearby, you can also hike to La Piedra Escrita, where you can see actual petroglyphs.
13. Tour Casa BACARDÍ
We don't drink alcohol, but for travelers who love a good drink, you'll want to visit Casa BACARDÍ, located across the bay from Old San Juan. Home to the BACARDÍ brand, you can tour the grounds, take a mixology class, or visit the tasting room.
At Casa BACARDÍ, tours offer a variety of experiences from visits to the historic distillery, seeing a movie at the visitors' center, and seeing amazing exhibits in the museum. You can also peruse the gift shop or enjoy a rum tasting with chocolate pairings at the bar. Guests receive a complimentary cocktail at the beginning of your tour, too!
If you're in Old San Juan, there's a super cheap ferry you can take in a few minutes, and car services can take you as well. There's a parking lot, but I don't recommend driving if you're drinking unless you have a designated driver.
14. Spend the Day at Cabo Rojo
One of the most interesting things to see in Puerto Rico is the Salt Flats of Cabo Rojo. You can make a day of it and enjoy one of the best things to do in Puerto Rico. The soft limestone cliffs of Los Morrillos Peninsula on the southern shore feel a bit like you're at the end of the world, but with beautiful scenery! There are tons of things to do here if you're up for a hike.
The Salt Flats are the first thing you'll see. Since the hurricane, it's a bit harder to see. But on a sunny day, you'll clearly see the pink tint to the water! That's due to the mineral content of the salt lagoons where natural salt is extracted. You might see giant piles of salt drying in the sun, too.
Next, you'll start on the hiking trails on the Los Morrillos Peninsula. There are great views from the limestone cliffs of the ocean, and you can find sea caves and stunning rock formations. Walk along the coast to see Faro Los Morrillos, an old lighthouse that you can go up inside if it's open.
Before you head back the way you came, go for a swim at Playa Sucia. The waters are calm, and the views are amazing from the turquoise waters of the half-moon cove beach!
15. Adventure Sports
It should be no surprise that you can find adventurous things to do in Puerto Rico, on and off the water! If you're interested in water sports, just take your pick. Across the island, you can rent kayaks and go on guided kayaking tours. And if you've never tried flyboarding, check it off your bucket list in San Juan or Rincon!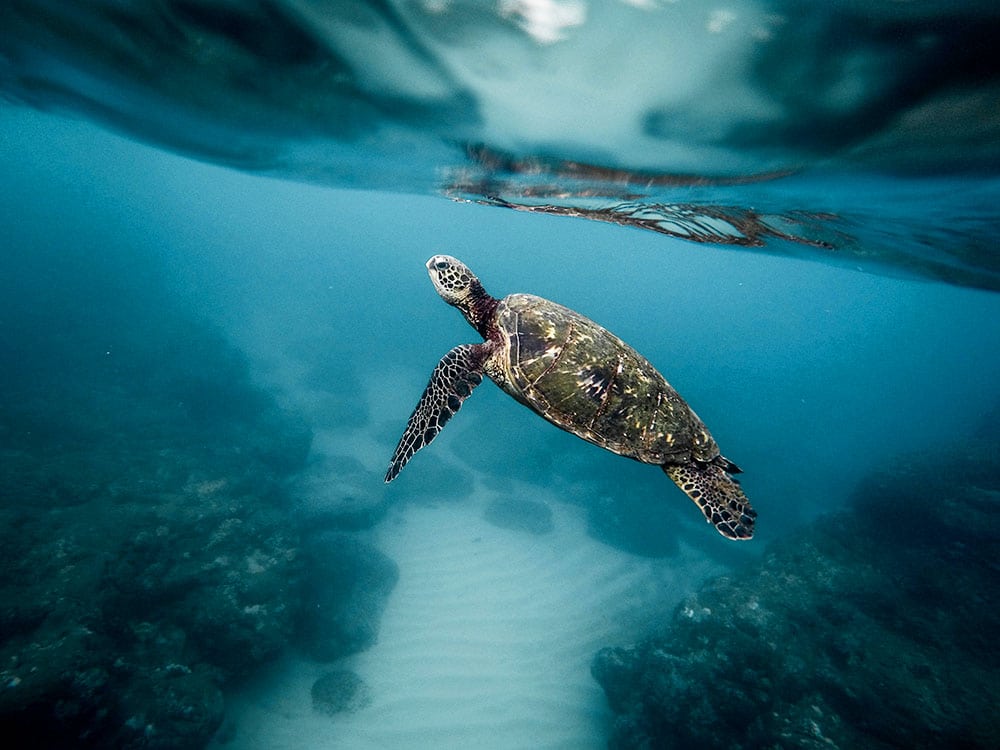 In fact, some of the best surfing is around Rincon on the west coast of Puerto Rico. And in the winter, expert surfers can ride the waves on the north shore and then enjoy the isolated sandy beaches there.
If you're looking for family activities in Puerto Rico, anyone 8 years and up can go snorkeling in San Juan Bay. Or go on a beginner's scuba diving tour in San Juan to get up close and personal with sea life, including sea turtles and tropical fish. And licensed scuba divers will want to check out tours of Fajardo Bay, where you can see sting rays, lobsters, and even coral!
For more Puerto Rico adventures, check out Rainforest ATV tours or horseback riding on Vieques Island. And we loved ziplining in the El Yunque National Rainforest with amazing views from the jungle canopy! The Toro Verde Adventure Park near San Juan is also super popular for its zipline tours.
16. Explore All the Best Beaches
Perhaps beach days should be considered essential things to do in Puerto Rico. And your experience is really up to you! You can find beautiful beaches with tons of amenities, or you can hike to a quiet and secluded beach that you have all to yourself. I've already mentioned some of my favorites, like Sucia Beach, Sea Glass Beach, and Playa Pastillo, but I'll share a few more here!
Crash Boat Beach near Borinquen is a popular destination on the northwest coast. This sandy beach has great food stalls, a pier for diving, and music for dancing. Luquillo Beach was one of our favorite beaches. It's near San Juan and also has the same party feel with food vendors, sand bars, and views.
If you visit Culebra Island, the beaches are all gorgeous coves, natural pools, and lagoons with soft sand and super calm waters. They're great for things to do in Puerto Rico with kids. Flamenco Beach is especially cool with a painted tank that hints at the island's history!
FAQ about Visiting Puerto Rico
While you're thinking about what to do in Puerto Rico, you might have more questions. To help the planning process go more smoothly, here are just a few of the most frequently asked questions about visiting Puerto Rico that you probably also have!
Do you need a passport to travel to Puerto Rico?
No, you don't need a passport to fly from Mainland US to Puerto Rico if you're a US citizen. That's because PR is an unincorporated US territory. That's also why the US dollar is the official currency of Puerto Rico.
When is the best time of year to visit Puerto Rico?
Any time outside of hurricane season is the best time to visit Puerto Rico! So, if you avoid June through October, you still have November through May to visit. Christmas in Puerto Rico is a special experience. And throughout the year, you'll enjoy great weather with temps that are perfect for getting on the water.
Is Puerto Rico prepared for tourists?
Yes! After Hurricane Maria in 2017, some places in Puerto Rico never quite fully recovered. To this day you'll see the reconstruction in many parts of the island. But the tourism industry is one way to support and put money right back into the hands of Puerto Ricans. Puerto Rico is ready for tourists with open arms.
Do I need a car in Puerto Rico?
Not if you plan on staying close to San Juan or one of the resorts. The city is easy to move around on foot and you could always book a car service for one time. But if you plan on exploring the entire island, yes, you'll need a car. I had a great time when I rented a car in Puerto Rico, but I know how I handle unfamiliar international roadways. If you're not comfortable with this, you might want to skip the car!
Which Puerto Rico Must Do Is on Your Bucket List?
The beautiful island of Puerto Rico offers rich history, great nightlife, exciting outdoor activities, and stunning architecture. But that all feels like a huge understatement with all of the amazing things this place has to offer visitors!
Come experience the ancient landmarks of Old San Juan, go surfing off Rincon, or explore the trails of the El Yunque Rainforest. The best things to do in Puerto Rico await you!
Be sure to check out the most beautiful places in Puerto Rico.
TLDR Things to do in Puerto Rico
Explore Old San Juan
Indulge in Puerto Rican Food
Kayak at Night on a Bioluminescent Bay
Visit an Island in Puerto Rico
Hike or Zipline in El Yunque Rain Forest
See Puerto Rico's Beautiful Caves
Explore Ponce
Eat in Mayaguez
Enjoy Historical San German
Visit a Museum
Tour the Arecibo Observatory
Honor Taino Culture
Tour Casa BACARDÍ
Spend the Day at Cabo Rojo
Adventure Sports
Explore All the Best Beaches