6 Reasons You Shouldn't Travel with Young Kids (and why they're wrong)
If there's on thing I've taken away from my experience of traveling with children, it's that there are so many other parents with the same passion to show their children the world. When I find these other amazing people it makes me so happy! I have a lovely guest post today from Laura at Our Next Adventure who travels with her adorable little girl. I love these 6 reasons you shouldn't travel with young kids (and why they're wrong) and I agree 100%. Thanks Laura…
From Laura at Our Next Adventure:
I still get it all the time when telling friends and family about our upcoming travel plans. "You're so brave!", they'll say. "You guys are crazy!" When did traveling with kids become this terrifying thing that only crazy people do?
I wouldn't call myself particularly brave, but I have always had a longing to travel. And while I would have loved the idea of traveling the world with my husband Matt before we had kids, we took the more practical route: finishing school, building careers, making a home, and starting a family. We dreamed of traveling more some day, but it never seemed to be the right time.
And then somewhere along the way, that time just got away from us. That is until one day when we were presented with the perfect opportunity: a job for Matt that mixed working remotely with frequent business travel around the US. Despite the fact that we were due with our first baby in just a couple weeks, it seemed too good to be true! We knew this was our chance to start traveling more.
So we did it. We took the leap. And 2 years later, we're still at it, getting a little "braver" each day, expanding our trips a little longer and a little farther. And at least for the foreseeable future, we love it so much that I don't ever see us stopping!
So if you're someone who's worried about taking the leap or afraid it will be too hard, then you've probably told yourself these 6 reasons why you shouldn't travel with young kids over and over again. But here's why they're wrong: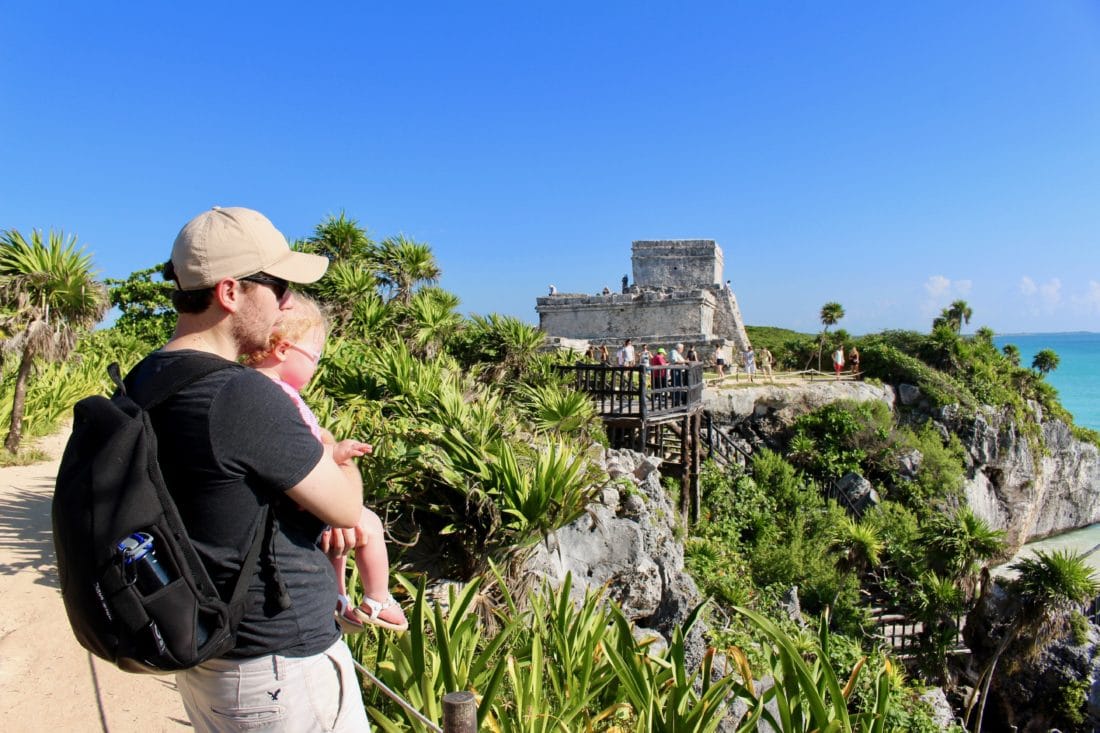 1. Kids won't remember or appreciate it.
Maybe they won't remember everything, but there are certainly intangible lessons young kids learn through travel that are hard to quantify. Being able to sit quietly at a restaurant. More easily adapting to new environments. That's aside from the sheer glee even a 1-year-old feels when riding a train for the first time. And even if the kids won't remember it, you know who will? You! We don't just travel for our daughter; we travel because we love it.
2. Kids require so much extra stuff.
You're right, young kids do require extra stuff: a crib, a stroller, a car seat. But that's no different from life at home! There's so much great travel-friendly kids gear out there, it's really not hard to slim down your packing list if you really want to stay mobile (You can get a full list of our favorite travel gear for young kids here). When it comes to entertainment, keep it simple. Young kids don't require loads and loads of toys and actually will prefer a few simple items that can easily be tucked in a carry-on.
Check here for the best baby travel bed.
And when all else fails, consider renting. New services like Rent The Baby Gear allow you to order online and ship what you need right to your destination, while kid-friendly apartment rentals like Kid&Coe may have just what you need already set up for you. Read these helpful tips for flying with a baby and read these helpful tips for flying with a toddler.
If you're expecting a baby and just dipping your toe into the world of family travel, consider adding these essential items to your baby registry.
3. Flying with kids is too stressful.
Everything with kids is more stressful. Why should flying be any different? (Ha!)
But in all seriousness, it's really not that bad. Crying babies on planes get so hyped up these days, you'd swear you were in for hours of torture. When it comes down to it, flying with kids is nothing more than providing a constant stream of snacks and entertainment. Yes, you might be uncomfortable for a few hours and yes, you'll be on high alert the whole time trying to keep the littles happy. But once you get to your destination, it's all so worth it! (And if you're still scared, read my top tips for everything you need to know before flying with a baby.)
4. It's not safe to travel outside the US with kids.
I can sort of see the logic here. You're far away from home – what if something were to happen?
The truth is, bad things can happen anywhere. In a recent study by the World Economic Forum, the US didn't even crack the top 20 in terms of the safest countries (just marinate on that one for a little while). So you may actually be safer in say, Portugal, than your own backyard.
Now, that's not to say you shouldn't be prepared and travel smart. Things still happen: luggage gets stolen, people get sick. That's why it's good idea to invest in travel insurance that will cover you in case of illness or other emergencies.
5. Traveling as a family is too expensive.
If might seem like it'd be way more expensive to travel with kids, but we really haven't found that to be the case at all! Considering that young kids don't really require that much added space (hello, Airbnb!), eat all that much food, and usually get free (or seriously discounted) admission when sightseeing, you'll find that you're rarely spending much more than you did before kids. And if anything, we find ourselves spending less on dining out and nightlife, so in the end, it's pretty much a wash.

6. You can't truly enjoy a vacation with kids.
Ok, that's a little harsh, don't you think? Maybe you can't enjoy a relaxing beach vacation the way you once did (and don't get me wrong, there is certainly a need for an adults-only vacay once in awhile), but you learn to adapt your travel style and explore in different ways after kids. For us, we simply wouldn't be able to travel as often as we'd like if we didn't bring our daughter, so it's a change we welcome. We've learned to slow down our pace and experience cities in new ways, like waking up early to get coffee and pastries at the corner bakery, or visiting local neighborhood shops.
And though it may be tough sometimes and definitely requires a little sacrifice, traveling with young kids sure beats the alternative: staying home.
Laura
About Laura:
Laura Ishmael is a self-proclaimed foodie, travel enthusiast, and mom to a precocious toddler named Evelyn. When not planning her family's next adventure, she's exploring her local city of Omaha, Nebraska (US). Follow Our Next Adventure for tips and inspiration for seeing the world with your own tiny explorers.
BLOG: http://ournextadventure.co
FACEBOOK: https://www.facebook.com/ournextadventureblog
INSTAGRAM: https://www.instagram.com/our.next.adventure/
TWITTER: https://twitter.com/ournxtadventure
PINTEREST: https://www.pinterest.com/ournxtadventure/
Thanks Laura!
If you would like to follow along with us day by day you can follow @wanderlust.crew on Instagram or on Facebook or on Twitter or sign up for our newsletter! We would love to hear from you!