What is Switzerland known for, you ask? If you're planning a visit, be sure to learn about these classic Swiss things before you go.
Switzerland is one of the very few places that live up to the fantasies many people have about this beautiful country in central Europe. The first time I visited Switzerland, I fell instantly in love with the culture, the scenery, the food, and the people! It was enough to make me want to go back again and again! And so I have and love sharing what I've learned with you.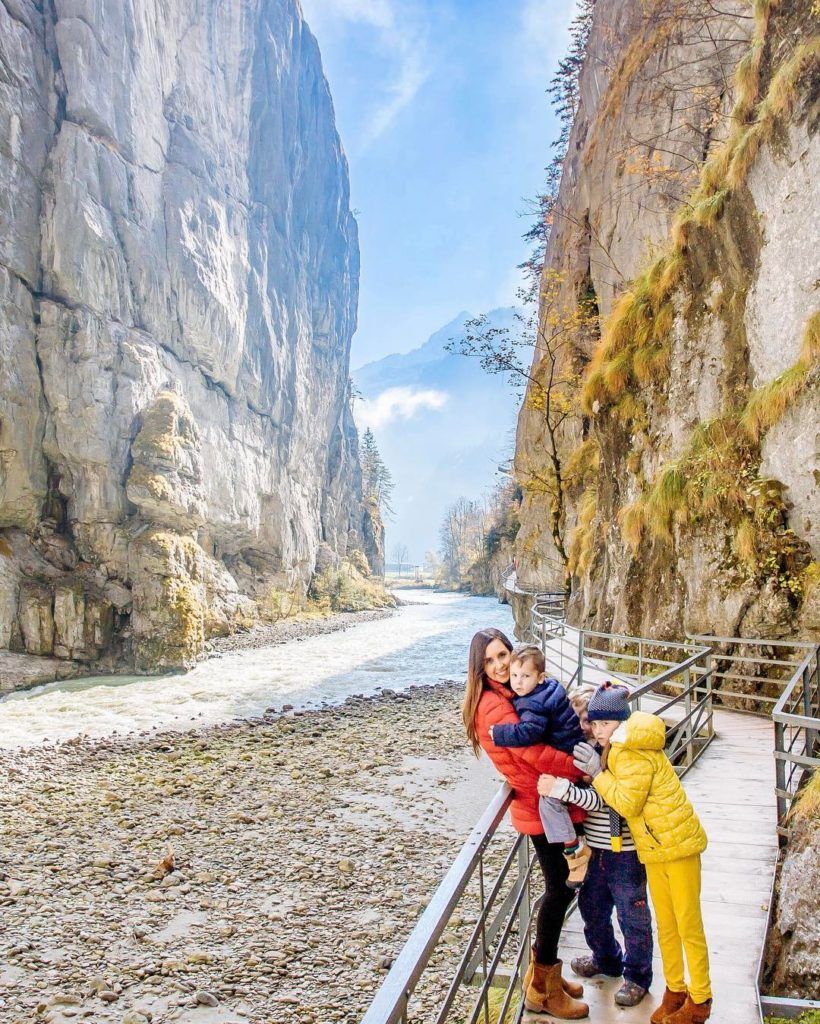 When you think of Switzerland, you think of pristine snow-capped mountains, storybook chalets with smoking chimneys, clean streets, and comforting cuisine. You might also think of trains thundering past glaciers, lakes, fields of hardy cattle, and other stereotypical examples of stunning scenery in Switzerland.
What is Switzerland known for, really? Well, if you visit Switzerland you'll find out that this is all true!
But Switzerland also has a rich history of innovation, invention, and sharing its discoveries with the world. It's a country that is strongly influenced by the five countries it shares a border with and yet feels wholly unique.
Switzerland is famous for so many things and if you're curious to find out exactly what, this list has all the top ones. Let's find that ultimate Swiss feeling by learning more about what makes Switzerland, Switzerland!
35 Cool Things Switzerland is Famous and Known For
1. Swiss Alps
If there's one thing Switzerland is famous for more than anything in the world, it's the Swiss Alps. This mountain range stretches across several borders in this country in Central Europe and the Swiss Alps are the source of most of Switzerland's stunning scenery and natural beauty.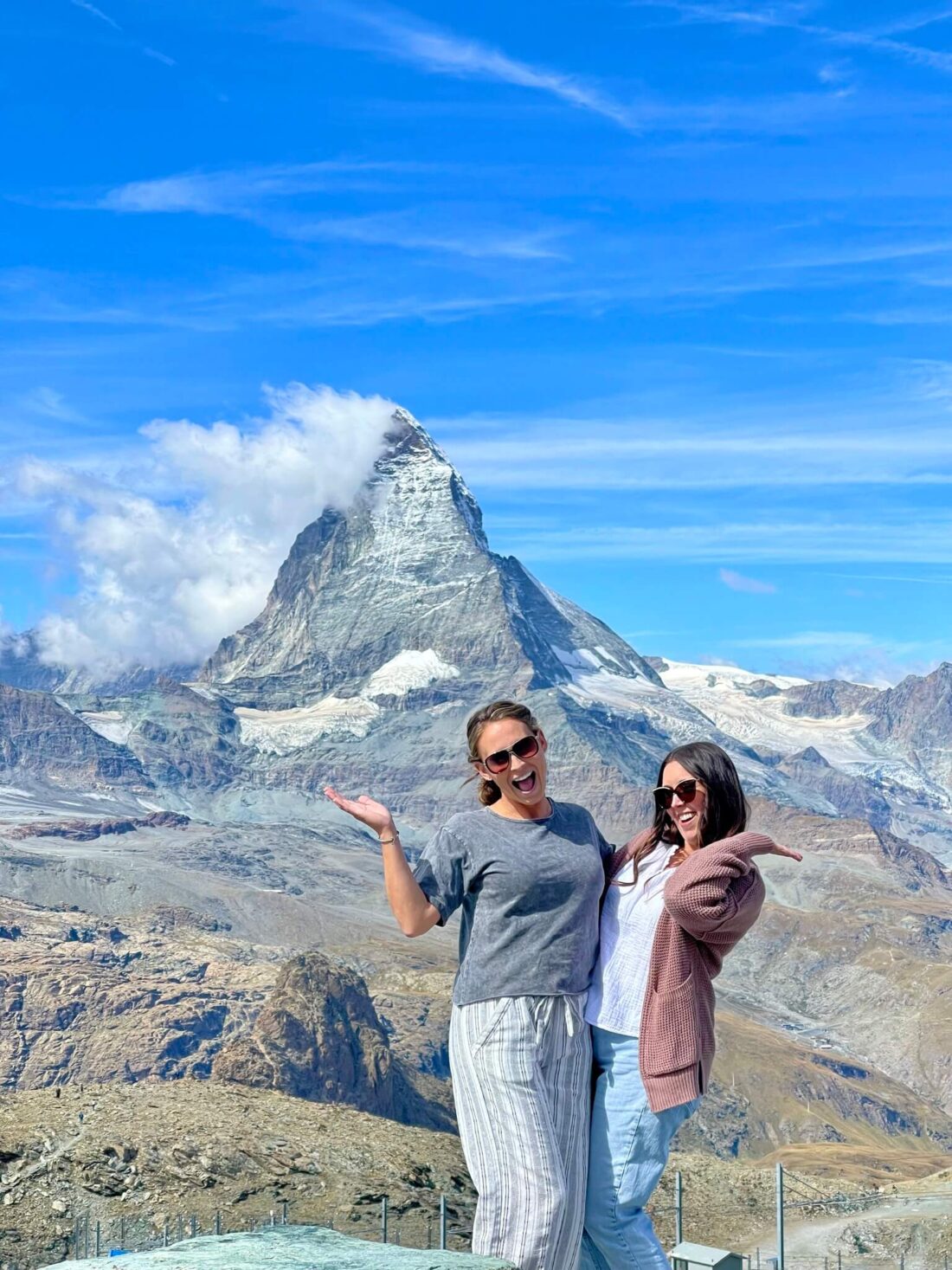 Many visit the Swiss Alps to climb Swiss peaks, ride scenic railways, see glaciers and glacial lakes, stay in charming mountain villages, and enjoy sports like skiing and snowboarding. The magnificence and the volume of the Swiss Mountains make this range unlike any other in the entire world. Everyone needs to visit the Swiss Alps at least once in their lifetime.
2. Swiss Chocolate
What food is Switzerland known for? For Swiss chocolate lovers and those with a sweet tooth, only one answer is acceptable.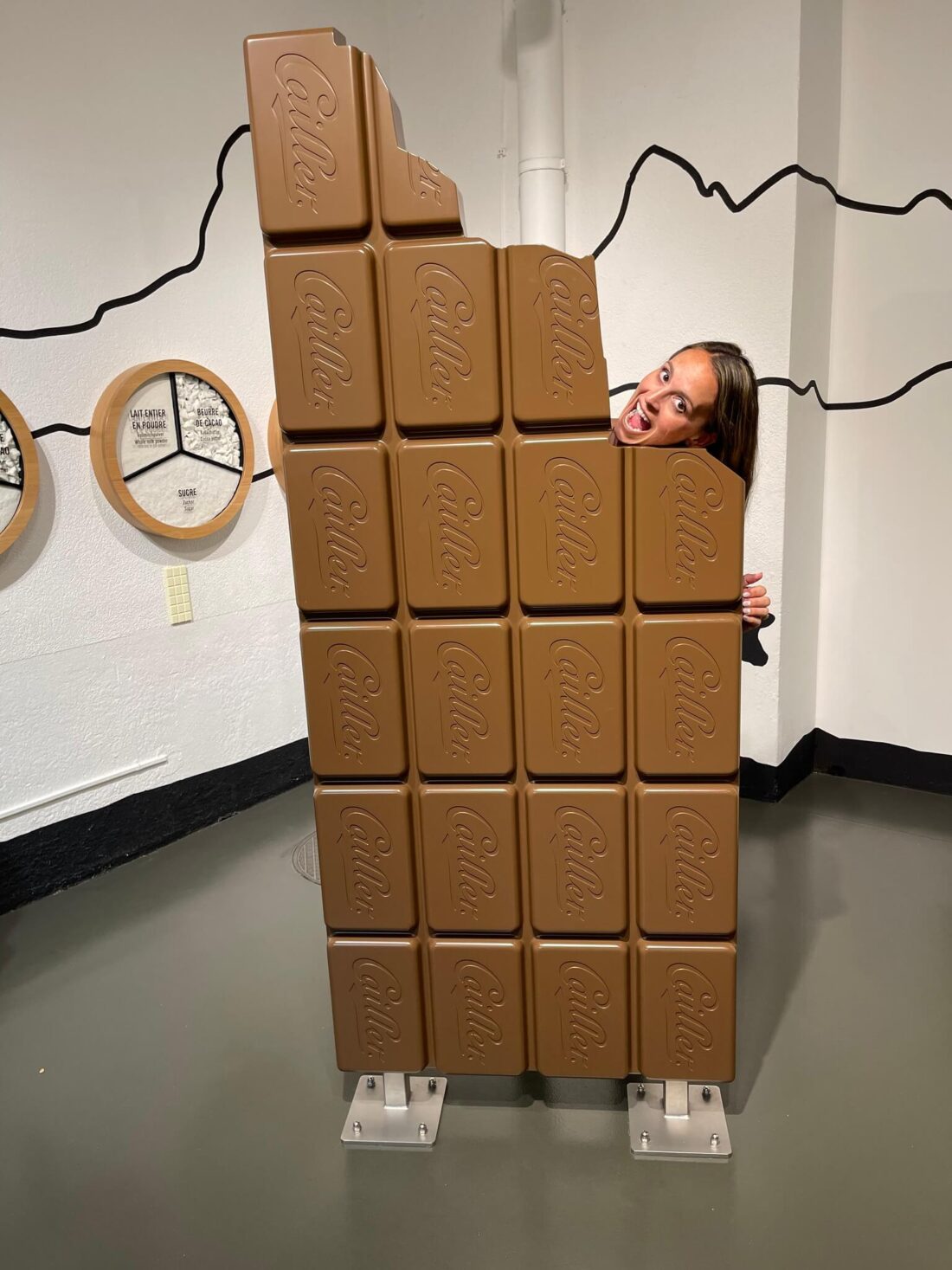 Switzerland basically invented milk chocolate in the 19th century and transformed it into the sweet, creamy, delicious food everyone enjoys today. Naturally, the Swiss are huge Swiss chocolate lovers. So much so, the average person in Switzerland consumes 22 pounds/8.8 kg of chocolate (Swiss chocolate or otherwise) every year.
They have a huge sweet tooth because that's the most amount of chocolate consumed per person in the world!
Swiss chocolate lovers are spoiled for choice when choosing which chocolatier to visit. Toblerone and Lindt are international names that make amazing chocolate but family-owned companies make amazing chocolate too. Check out local Swiss chocolate makers like Sprüngli and Du Rhône Chocolatier.
If you want to learn more about famous Swiss food, be sure to read our Switzerland food guide.
3. Zermatt Ski Resort
Perhaps the most famous Swiss village, Zermatt is widely considered to be the best skiing resort in Switzerland. It's one of the most popular tourist destinations in the country and welcomes almost two million tourists to its mountain trails and luxury shopping opportunities.
Zermatt offers a full skiing resort service and one of the most beautiful, charming skiing resorts in the Swiss Alps. It's famously a car-free village and aside from having one of the best ski resorts, it's also a wonderful place for après-ski, ice skating, and curling. This is also probably the most famous Swiss village thanks to an iconic mountain that's nearby (more on that soon!).
4. Swiss Watches
If you want to know some famous products from Switzerland, you can't get more famous than Swiss watches. Thanks to huge brand names like Patek Philippe and Tag Heuer, luxury Swiss watch production is as popular as ever.
Reformer Jean Calvin banned ornamental objects in 1541 which forced jewelers to turn to the watchmaking industry to make a living. Patek Philippe made the first Swiss watch to wear on the wrist in 1868. It was so innovative and such a quality watch that the rest is history!
Swiss watches dominate the watchmaking industry to this day. If you want a quality watch then luxury Swiss watch production is the only way to go. There are Patek Philippe and Tag Heuer stores all over Switzerland selling upmarket Swiss watches.
5. Cheese Fondue
What is Switzerland famous for in terms of delicious food? Melted cheese fondue is at the top of the list.
The Swiss consume around 44 pounds/20kg of cheese per person every year. That's a lot of melted delicious cheese. It's no wonder that Swiss fondue is their national dish!
Swiss fondue is made by melting cheese in a pot over a flame and dipping food into the cheese on a skewer. You coat the food in the Swiss cheese and eat it straight from the skewer. Some food that is often eaten with Swiss cheese is bread, pickles, and pieces of steak.
Most Swiss fondue is made with a Swiss cheese called Gruyère which is a sweet yet salty type of Swiss cheese. Swiss fondue can also be a dessert if you melt Swiss chocolate and dip berries, cookies, or other sweet treats into the Swiss fondue.
6. Skiing and Winter Sports
Some of the top things Switzerland is famous for are winter sports. This isn't surprising since it has one of the best mountain ranges in the world, the Swiss Alps, and some of the best and oldest ski resorts in the world like St. Moritz.
But some other sports you can do in the winter months in Switzerland include snowboarding, bobsledding, ice skating, curling, and tobogganing. Many ski resorts have runs and facilities for one or two other winter activities.
7. Swiss Army Knives
One of the most common things associated with Switzerland is the Swiss Army knife. Used by the Swiss Armed Forces since 1886, the Swiss Army knife is a multi-bladed pocket knife with a blade, reamer, screwdriver, and can opener.
Today, the Swiss Army knife is available to anyone who wants to buy one, not just the Swiss Armed Forces. Swiss Army knives also feature way more tools including a saw, pliers, scissors, compass, light, tweezers, whistle, fish scaler, file, pen, wirecutter, and/or altimeter.
There are lots of different versions of the Swiss Army knife specifically designed for recreational activities like camping or fishing. Designs of the Swiss Army knife vary, but official tools always display the red and white Swiss flag.
Swiss Army knives are so popular that the phrase 'Swiss Army knife' can be used to describe anything or anyone useful or versatile.
8. Matterhorn Mountain
There isn't a mountain more synonymous with the Swiss Alps than Matterhorn Mountain. And that's saying something because Switzerland is known for having a ton of mountains!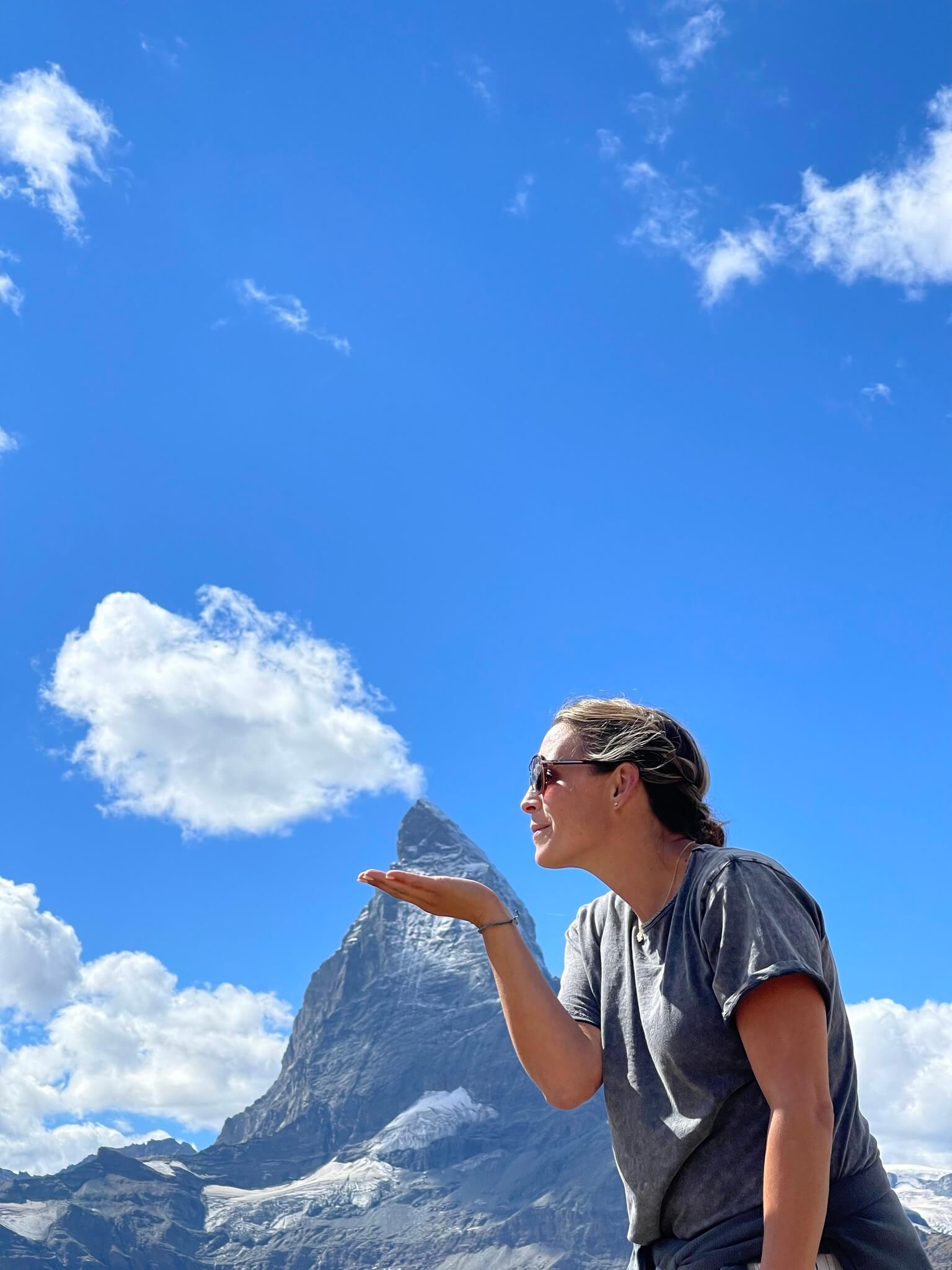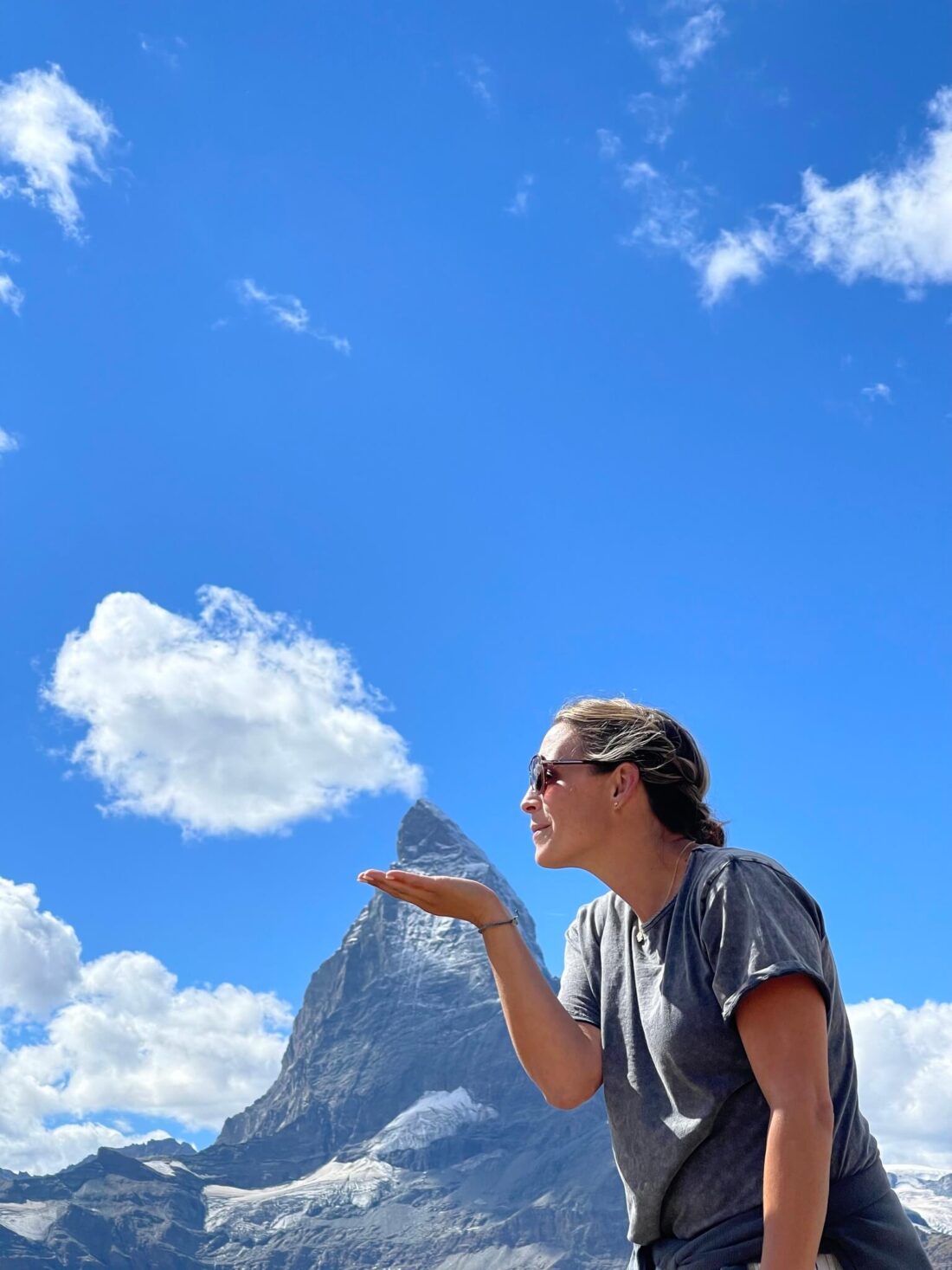 This famous mountain is located just outside of Zermatt Ski Resort. It has a distinctive pyramid shape that can be seen for miles around on a clear day. If you want to climb Swiss peaks, reaching the summit of the Matterhorn is a great challenge.
It's also a famous mountain because it appears on the packaging of Toblerone chocolate bars. You might've seen the Matterhorn dozens of times without even realizing it!
9. Sweet Swiss Cows
Switzerland is famous for what?! Sweet Swiss cows, that's what! These famous Swiss cows have really made a name for themselves over the last few centuries.
Switzerland doesn't have national animals, but if they did, it would be Swiss cows. This animal has appeared on war banners dating back to the 1386 Battle of Sempach. Swiss cows are also revered because they create milk which is essential for making cheese and chocolate.
You'll find shepherds leading cows all over the country to the lowlands throughout the winter months to keep them sheltered. But as soon as spring breaks, you'll see shepherds leading cows back to their high Alpine mountain fields.
Swiss cows usually wear bells as they roam unfenced so this is how farmers find them.
10. Beautiful Cities
If you're planning to visit Switzerland, you'll no doubt spend part of your trip in one of Switzerland's beautiful cities.
One of the most popular tourist destinations in Switzerland is the global city of Geneva. It's home to the headquarters of several international organizations and is surrounded by mountains and lakes.
One of the best things about Switzerland is that it boasts 13 sites with UNESCO World Heritage Status. Bern Old Town is its own UNESCO World Heritage Site thanks to its charming, well-preserved medieval buildings and rich history.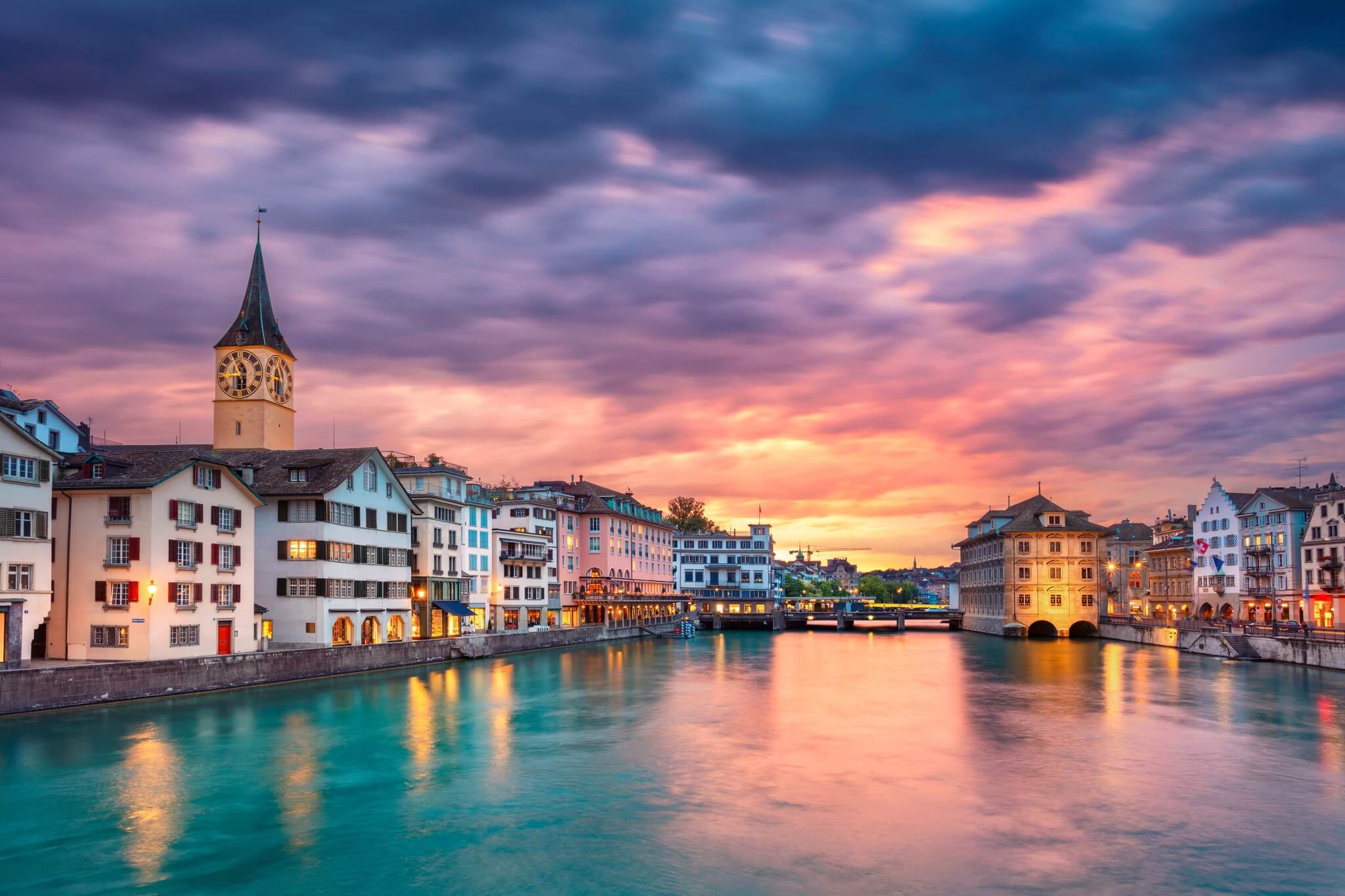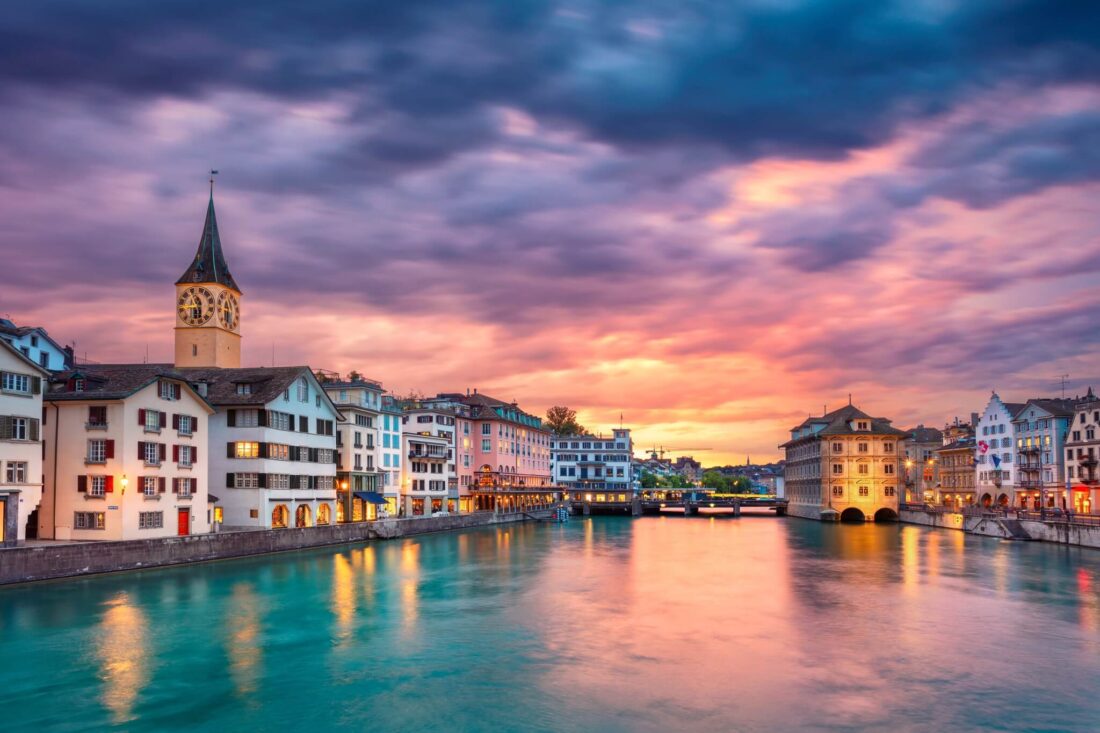 Zurich, Switzerland's largest city, has so many amenities and opportunities for luxury shopping. Basel, Lucerne, and Lausanne are all fantastic Swiss cities too.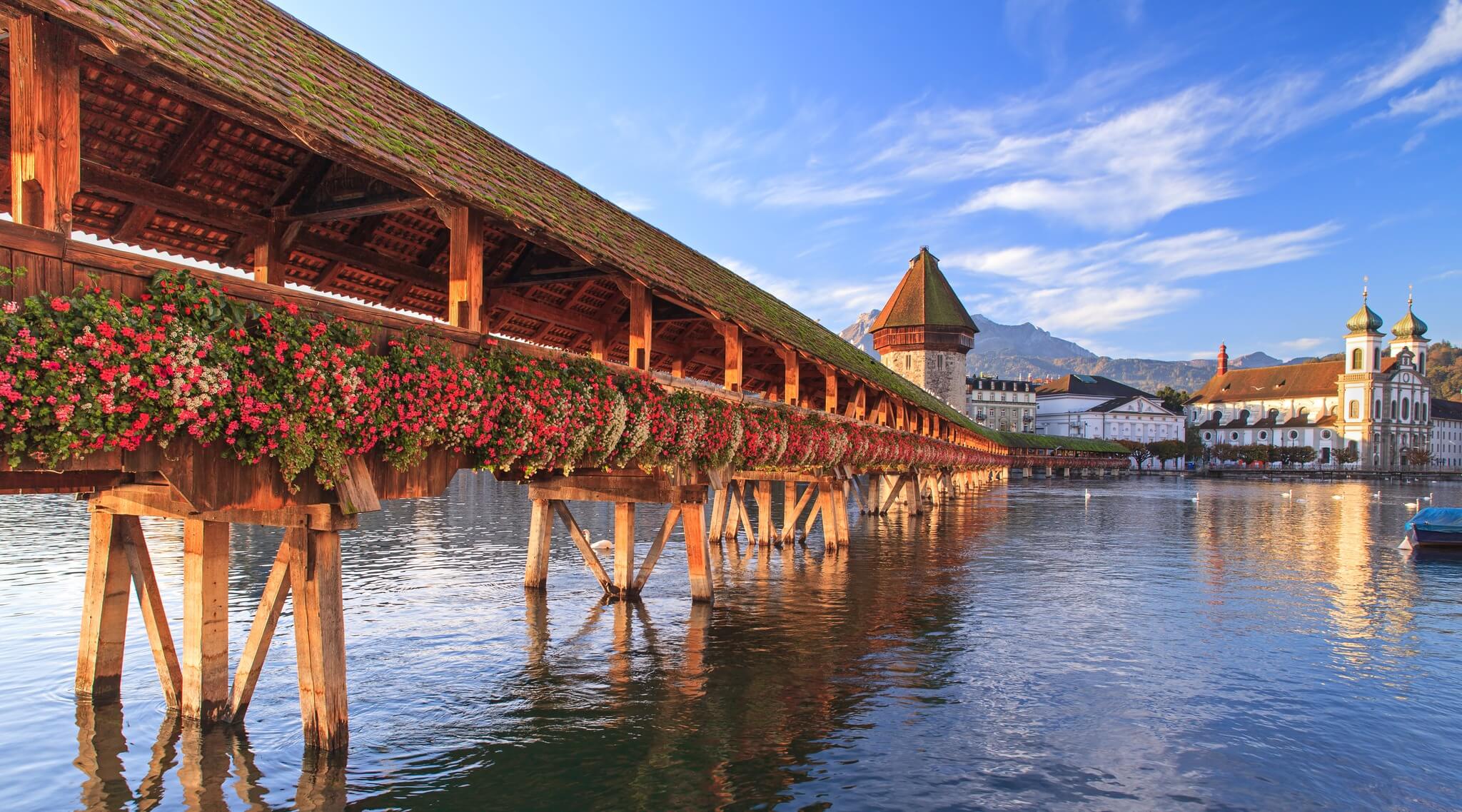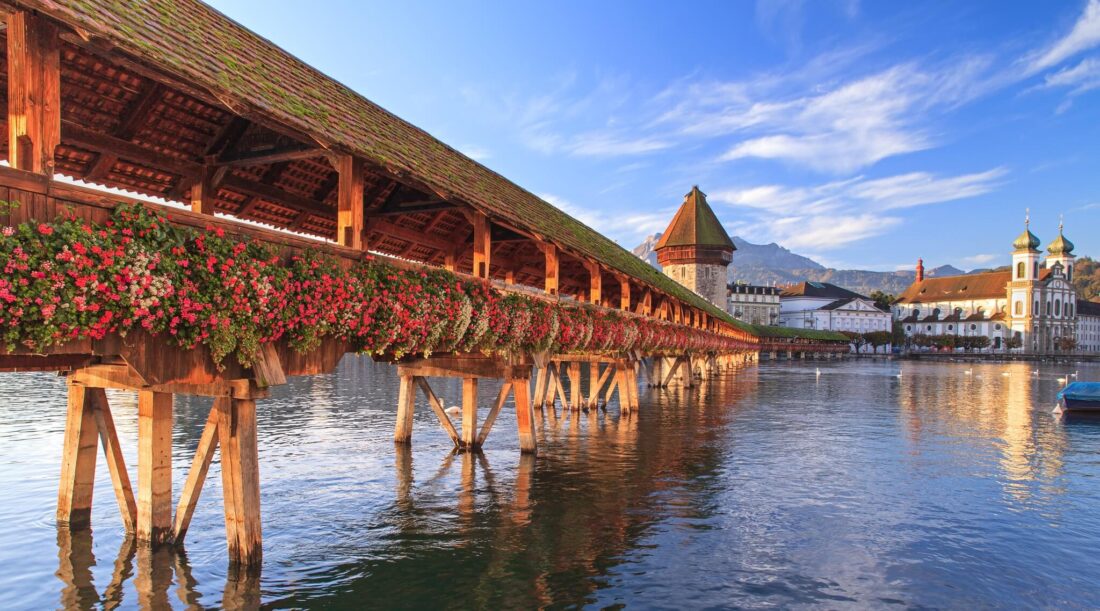 Every city in Switzerland hosts Christmas markets during the festive season. Visiting the Christmas Markets in Switzerland is one of the top reasons why many tourists visit. They sell lots of locally-made Christmas souvenirs, local seasonal food, funfair rides, and so much more.
11. Raclette Cheese
What is Switzerland famous for if not cheese? Melted cheese, grated cheese, chunks of cheese; the people in Switzerland love it all! They enjoy one type of Swiss cheese so much that it's a national dish.
Raclette Swiss cheese is a melted delicious cheese from the Valais canton of Switzerland. It's usually served over potatoes and vegetables for a main course. Like Swiss cheese fondue, melted cheese is always a great communal meal for a dinner party in Switzerland.
12. Punctuality
What are the Swiss known for that is also a stereotype of German people? Punctuality!
Because Swiss watches dominate the time-keeping industry, it's not surprising that Swiss people are known for being punctual. Swiss trains almost always run on time too.
So if you're arranging a meeting with Swiss people, don't be late as they will show up right on time. At least you know that you'll always make a train connection if you're traveling on Swiss trains.
If you plan to get around Switzerland via public transportation, be sure to read our Switzerland Transportation Guide.
13. Swiss Banks
If you've ever watched a Hollywood heist or crime movie, you'll know that on-screen fraudsters and thieves always try to hide their money in Swiss banks. Scriptwriters clearly do their research, because Switzerland is known for offering its bank account holders high amounts of privacy and low financial risk.
But not just anyone can open an account at Swiss banks. If you're not a citizen, most private Swiss banks will expect you to deposit at least 1,000,000 CHF.
14. Swiss National Museum
Switzerland has a long, rich history and you can find out all about it at the Swiss National Museum in Zurich. Though Zurich isn't Switzerland's capital city (that's Bern), it is the largest.
15. Pontifical Swiss Guard
Formed in 1506, the Swiss Guard is the oldest military unit in the world. This branch of the Swiss Armed Forces is widely considered to have some of the best soldiers.
Interestingly, the military in Switzerland is known more for its work outside of the country. The Pontifical Swiss Guard is responsible for the safety and protection of Vatican City.
The uniform of the Pontifical Swiss Guard has a distinctive, colorful, renaissance style. You cannot visit the Vatican without snapping a photo with a member of the Swiss Guard.
16. Beautiful Train Rides
What is Switzerland famous for if not its natural beauty and epic scenery? Swiss trains and epic train journeys!
Swiss trains are famous for being punctual and for allowing people to see parts of the Swiss Alps without having to hike. Some of the best trains Switzerland has are The Bernina Express, The Glacier Express, and the Jungfrau Railway.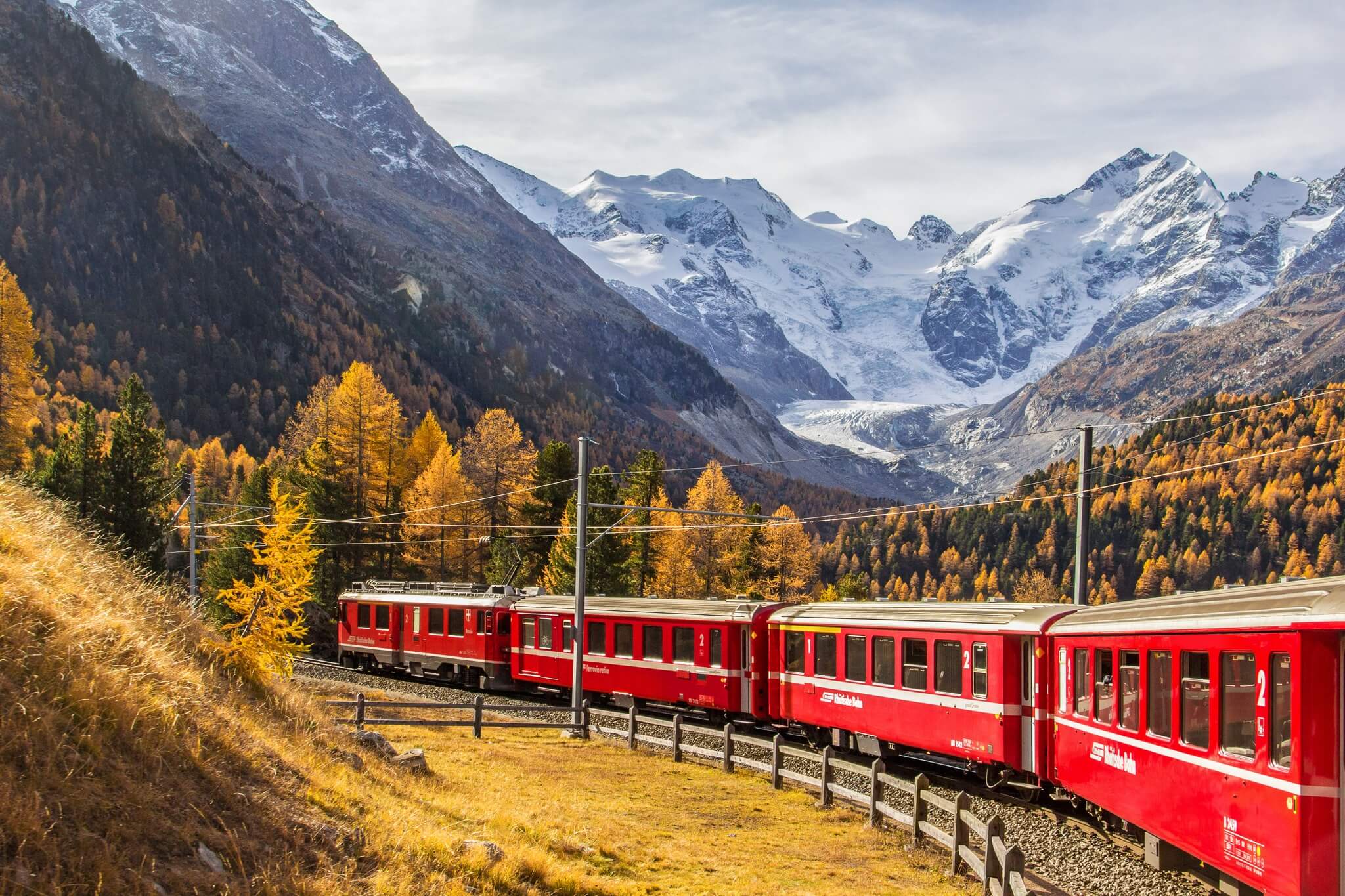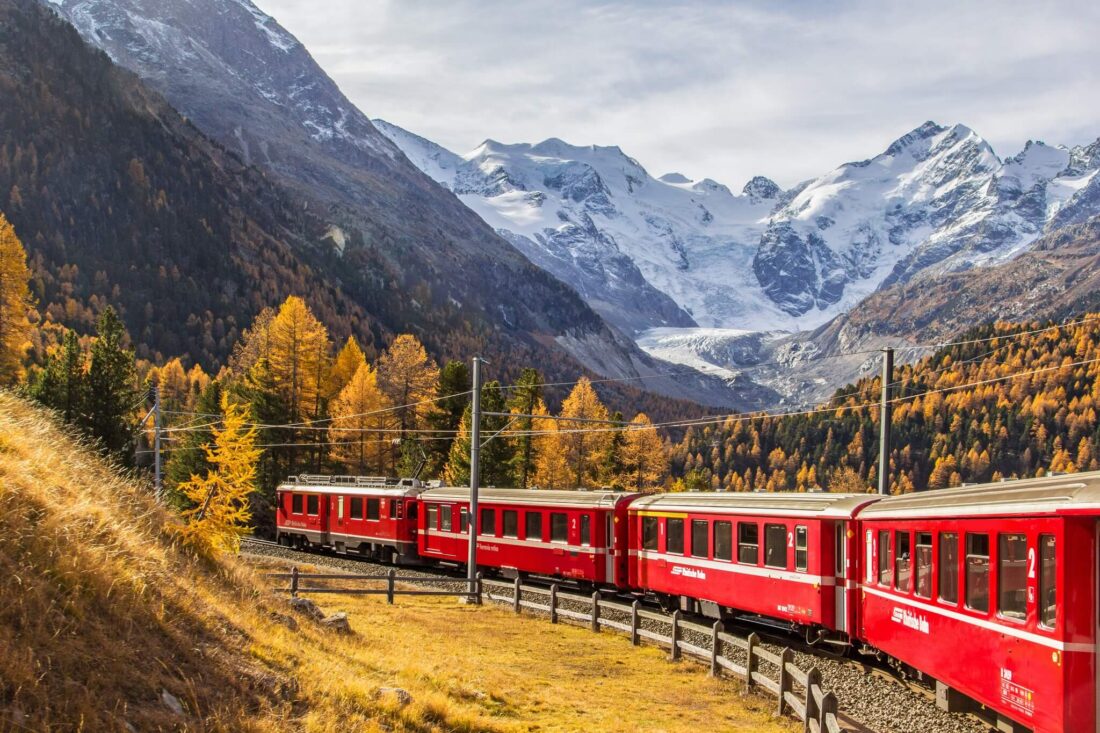 The Bernina Express is a UNESCO World Heritage Site after gaining UNESCO World Heritage Status in 2008. This red train steams through the Alps from Tirano in Italy to Chur in Switzerland.
One of the other trains Switzerland can boast is The Glacier Express which is twice as long as the Bernina Express and encompasses part of it. It's such a breathtaking journey as it takes seven hours to travel only 180 miles/290 km. There's just so much to see!
And the last of the main trains Switzerland offers is the Jungfrau Railway. The Swiss trains that operate this route are cogwheel trains and it's the highest railway in Europe at 11,332 feet/3,463 meters.
Read our Switzerland Transportation Guide for more info on getting around the country with public transportation.
17. Neutrality
If you were to ask your parents or grandparents, "What's Switzerland known for?" then they might say neutrality. Switzerland did not take part in either World War I or World War II and only had the means to defend itself in case any of its neighboring countries decided to invade, which they didn't.
Switzerland has been a peaceful country since the 1815 Congress of Vienna which ended the Napoleonic wars in Europe. During the world wars, the League of Nations recognized Swiss neutrality which further cemented its impartial stand. Even though the world wars were 100 years ago, it's something that lots of people still think about when they think of Switzerland!
18. Montreux Jazz Festival
If you're a fan of jazz music, then you'll be aware that Switzerland is known for hosting one of the most prestigious and unmissable jazz events in the world. The Montreux Jazz Festival is the second-largest jazz festival in the world after Montreal.
It's held in early July in the city of Montreux on the banks of Lake Geneva close to Chillon Castle. The Montreux Jazz Festival has lots of free and paid concerts so it's very accessible for all jazz lovers.
19. Red Cross Headquarters
It makes complete sense that a notoriously peaceful country like Switzerland would be the location of the International Committee of the Red Cross headquarters. The Red Cross provides international aid to people during emergencies, natural disasters, and other crises. The Red Cross is often called the Red Crescent or the Red Crystal depending on the specific country's version of the organization.
The Red Cross HQ is in Geneva where there is also a fascinating museum that explains the aims of the Red Cross Movement. It features stories who have directly benefitted from the Red Cross charity and the original Geneva Convention document.
20. Jungfraujoch
Switzerland is famous for the Swiss Alps, but some parts of the Alps are more well-known than others. Jungfraujoch is a perfect example of how one mountain pass can gain such notoriety.
Jungfraujoch is a pass between the Swiss mountains of Jungfrau and Mönch on the borders of the Bern and Valais cantons. It boasts the highest railway in Europe which is such a breathtaking journey. Or, you can reach it by cable car.
21. Roger Federer
What notable people is Switzerland known for? Perhaps the most famous Swiss legend of the last decade or so is tennis champion, Roger Federer. He's a former World No 1 in tennis and Roger Federer is widely considered to be one of the greatest tennis players of all time.
Despite being over 40 years old when most sports stars would have retired, Roger Federer is still crushing his opponents.
22. Verbier Ski Resort
Switzerland is famous for having so many skiing resorts (more than 300!), but one of the best ski resorts is undoubtedly Verbier. It's also one of, if not the biggest full skiing resort service in the Swiss Alps and is the gateway to the gateway to 4 Vallées ski area.
It's the best skiing resort in Switzerland for off-piste mountain trails and it has an excellent après-ski scene with lots of world-class DJs and bars.
23. Lakes
What is Switzerland known for more than its natural beauty? And Switzerland's abundance of lakes is one of the reasons why it has such stunning scenery!
Many of Switzerland's biggest cities rest on the banks of major lakes like Lake Geneva, Lake Constance, and Lake Zurich. There are beautiful Alpine lakes like Lake Thun and Lake Brienz. Lakes just north of the Italian lakes region like Lake Lugano and Lake Maggiore south of the Alps are just a few of Switzerland's impressive, glistening bodies of water.
24. United Nations
What is Switzerland famous for in international politics? It's famous for having one of the 15 offices of perhaps the most important global organization in the world.
The United Nations Headquarters is in New York City, but this peaceful country and city were where the League of Nations was founded in 1920 before it became the United Nations in 1946. You can find the Swiss UN building in Geneva with its iconic peace gate comprising all the flags of every UN-recognized country.
25. Rösti
The last of Switzerland's four national dishes, Rösti is one of the things Switzerland is famous for. This dish consists of grated potatoes fried in a pan with cheese and butter.
It used to be a breakfast dish but now it's eaten at any time of the day. Many add extra ingredients to their röstis like bacon, onion, herbs, or apple to make sweet röstis.
26. Quadrilingual Citizens
Switzerland is famous for being an extremely multilingual country. While most Swiss people don't speak all four of the country's official languages (French, German, Italian, and Romansh), most speak at least two every week.
Switzerland is split into 26 administrative blocs (called cantons) which used to be fully self-governing states. Each canton still has the ability to decide its own official languages, so Switzerland's rich history includes a beautiful blend of languages.
Currently, four cantons are French-speaking and 18 cantons are German-speaking. Three are French and German-speaking, one is Italian-speaking, and one is trilingual with Italian, German, and Romansh.
27. Cable Cars
One of the top things Switzerland is famous for is the sheer number of cable cars all around the country. They help make some of Switzerland's most dramatic and unscalable mountains much more accessible.
There are approximately 129 gondolas and 251 cable cars dotted around the Alps. The Zermatt Bergbahnen cable car will transport you to Europe's highest mountain station at 12,740 feet/3,883 meters.
28. Carl Jung
Another Swiss legend is Carl Jung, a psychiatrist, and psychoanalyst born in the Swiss region of Kesswil in 1875. He's one of the most influential figures in the field of psychology.
He explored the religious nature of human psychology and he famously said, "People will do anything, no matter how absurd, to avoid facing their own souls."
29. Interlaken
Switzerland is famous for so many idyllic Swiss villages with car-free streets. Interlaken is a famous Swiss village in the Bernese Oberland Swiss Alps as it sits in the picturesque valley of two glacial lakes: Lake Brienz and Lake Thun.
It's a bucket list item for many adrenaline junkies to paraglide over these two lakes. Interlaken is also near the ski resort towns of Grindelwald and Lauterbrunnen.
30. Square flag
One thing Switzerland is famous for that you might not have realized before is the unique shape of its flag. Switzerland is one of the very few places that has a square-shaped flag.
It displays a white cross on a red field. The Vatican is the only other country in the world to also have a square flag.
31. Heidi
Heidi is a children's book written by Swiss author Johanna Spyri in 1880. Almost 150 years after its publication, it's still a well-loved story around the world.
Switzerland is famous for the Heidi character as the novel paints a vivid and envious picture of Heidi's life living in her grandfather's cabin in the Alps. Heidi is also an independent girl (very progressive for the late 19th century!) so her story is timeless.
32. Olympic Committee HQ
Yes, Switzerland is known for having the headquarters of so many important international organizations! Let's add another one as the International Olympic Committee HQ is in the city of Lausanne and has been since 2015.
This is a small city sitting on the banks of Lake Geneva. It's also where you can find The Olympic Museum.
33. Muesli
Swiss physician Dr. Maximilian Bircher-Benner invented muesli in 1900 so that his hospital patients would consume more vitamins and fiber. He served oats with hazelnuts, almonds, one whole apple (the phrase 'an apple a day…' checks out), lemon juice, and condensed milk.
Today, muesli is a wildly popular breakfast dish all over the world. It's taken on a life of its own and you can enjoy muesli with banana, honey, berries, or whatever you want. Excuse the pun, but you can go nuts!
34. Yodeling
"High on a hill was a lonely goatherd, lay ee odl lay ee odl lay hee hoo…" yodeled Julie Andrews as Maria in The Sound of Music (1965). While that movie was set in Austria, Switzerland is famous for being the true birthplace of yodeling.
It's believed to have originated in the central regions of Switzerland in remote Alpine communities. Yodeling was an essential form of communication over the vast mountaintops.
35. CERN Headquarters
The European Organization for Nuclear Research (CERN) in Meyrin is one of the most prestigious centers for scientific research in the world. It's where the World Wide Web was invented and the home of the Large Hadron Collider.
With such significant scientific breakthroughs like the World Wide Web stemming from this research center, the European Organization for Nuclear Research is only going to keep appearing in the news over the coming decades. Who knows what the next discovery will be that will put Switzerland on the map yet again?!
What Is Switzerland Famous For? Plan a Vacation and Find Out!
You can learn everything there is to know about the ski resort Mecca of Europe from books, films, and online but the only way to experience that ultimate Swiss feeling is to visit Switzerland!
Because what is Switzerland known for, really? Pristine snow-capped mountains and resorts make up a huge chunk of Switzerland's identity but it's the wonderful blend of cultures and high quality of living that makes people return to Switzerland again and again.