If you're planning a trip to Switzerland, you're in for the adventure of a lifetime! This captivating country nestled in the heart of Europe is known for its snow-capped mountains, charming villages, food culture, and so much more. There truly are things to do in Switzerland for every kind of traveler.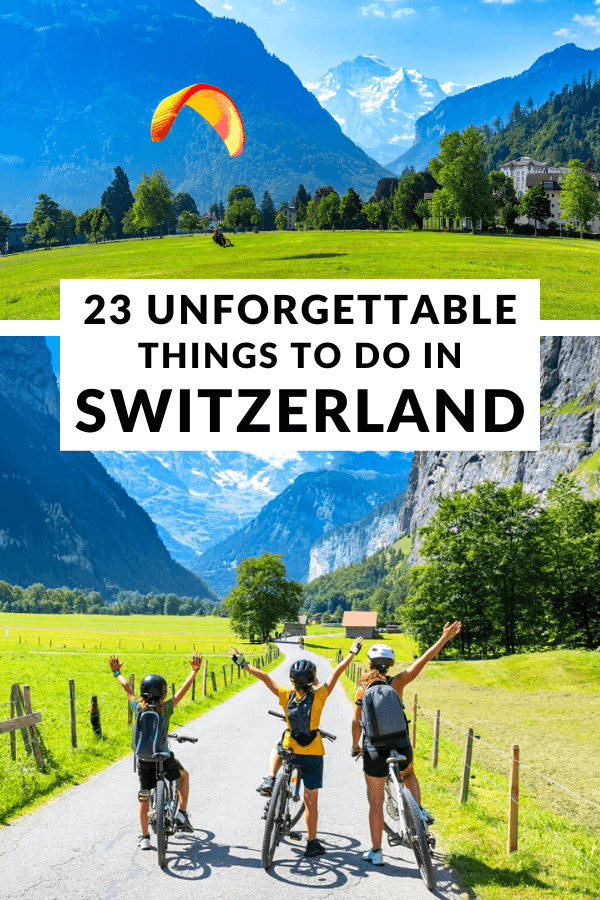 You might be visiting for the first time and heading to ski in the towering Alps. Or perhaps you're returning to tour the best Christmas markets in the region. Whether you're an outdoor enthusiast, a food lover, or simply in search of the most awe-inspiring views, you'll find it here.
We've been lucky enough to live in Switzerland for a little while and enjoy all of its beauty and culture. Recently, I returned to visit good friends and got to relive all the incredible things to do in Switzerland with my good friend.
Below, you can read about 23 experiences you'll want to add to your Switzerland bucket list! You'll look at essential stops, whether it's your first time in central Europe or your 20th. After that, you'll read about more outdoor-focus activities, then finish off with activities that center around a unique aspect of Swiss culture.
Don't have time to read a bunch of reviews and blog posts? Here are our top picks for visiting Switzerland:
Wanderlust Switzerland Guide
Need a quick day-by-day, open-and-go itinerary for Switzerland? Get my guide and let me do the work for you!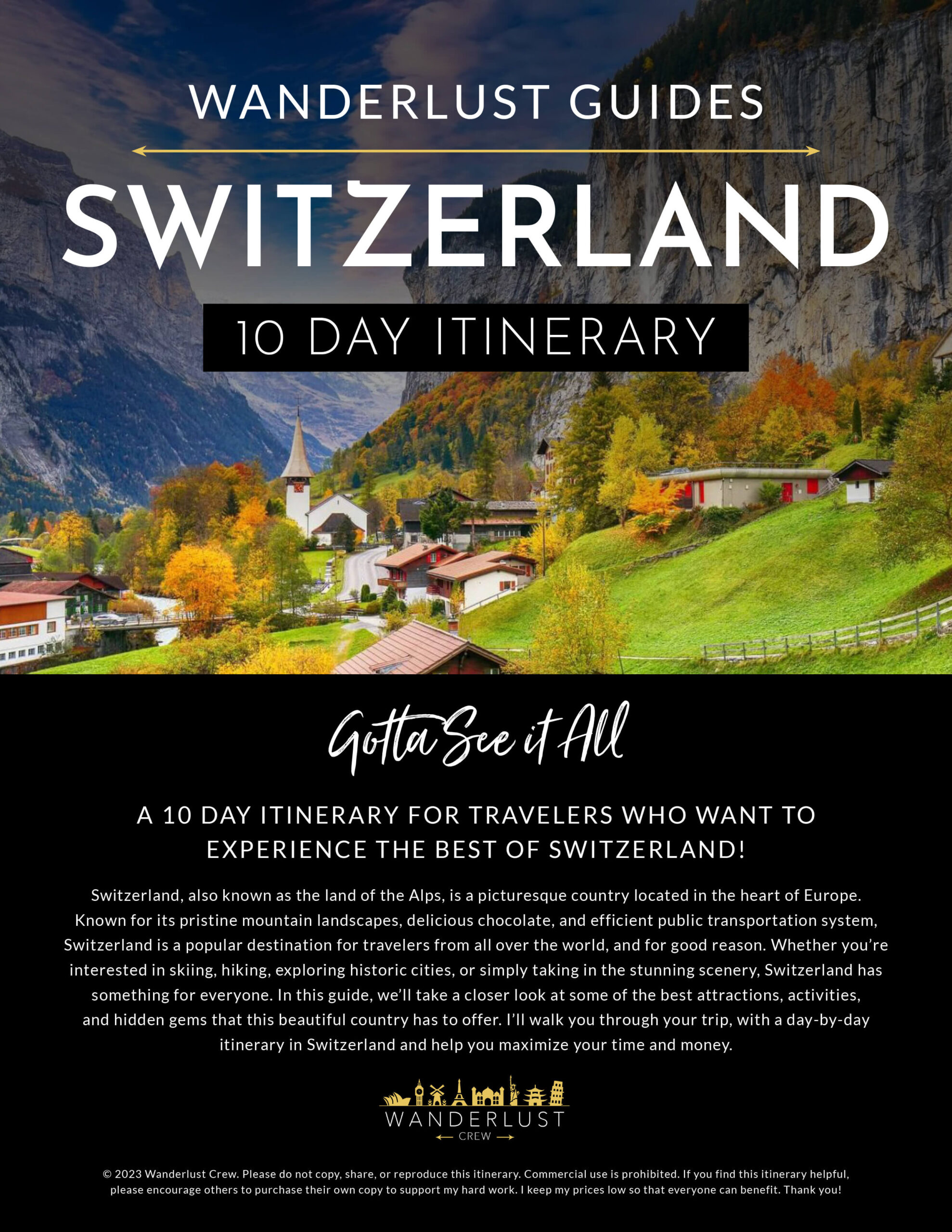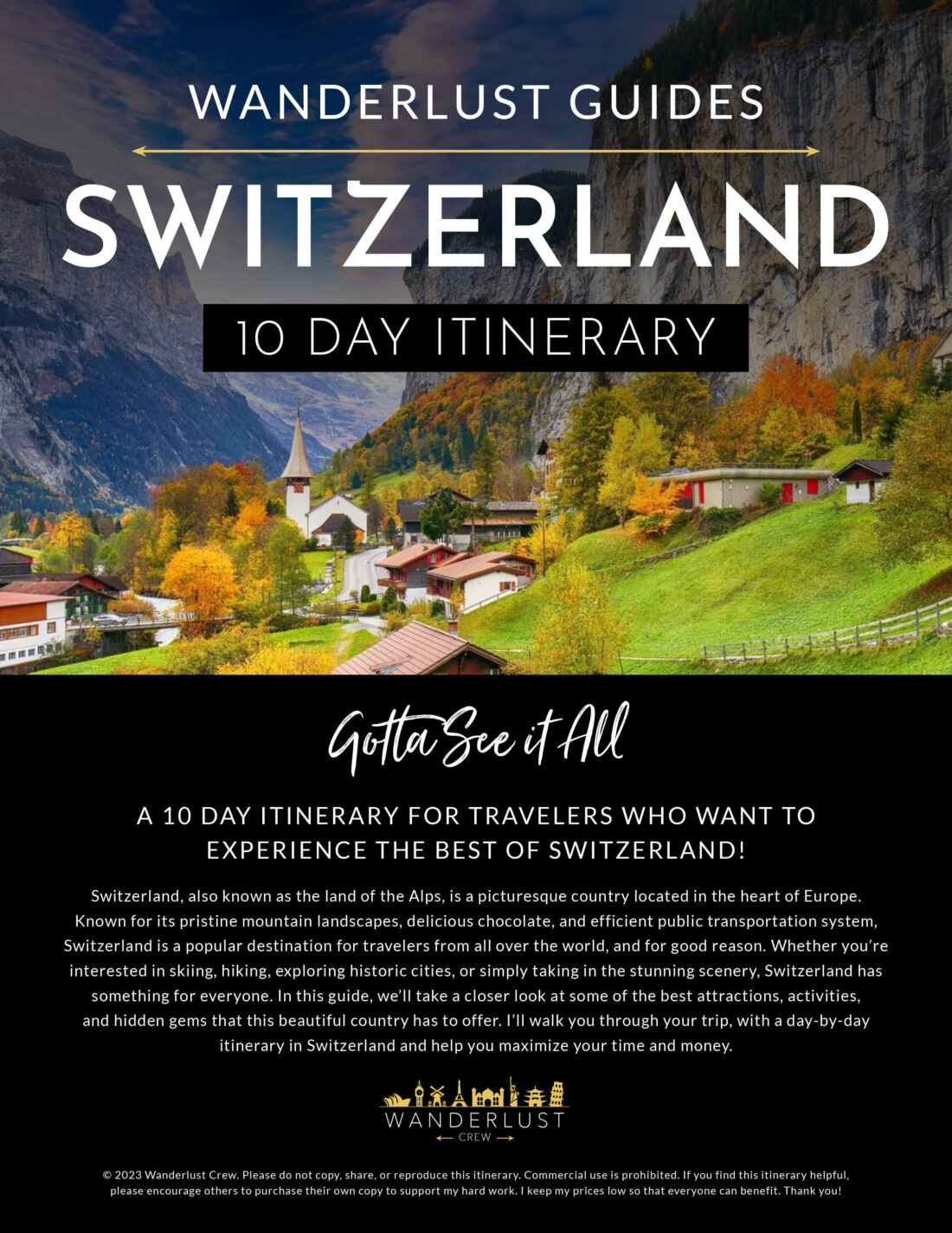 Our favorite Hotels in Switzerland
Getting Around Switzerland
Our favorite activities and tours in Switzerland
Best Things to Do in Switzerland for First-Time Visitors
Starting off my list are must-see Switzerland attractions for first-time visitors. These are places and activities that will guarantee an unforgettable travel experience!
1. Explore the Swiss Alps
Visiting the Swiss Alps should be on every nature lover's Switzerland bucket list. The winter is the busiest season when world-class slopes and resorts come alive! For a more tranquil experience go snowshoeing or cross-country skiing in the serene winter wonderland.
A must-do in Switzerland is exploring the renowned Swiss National Park, the country's only national park. Here you'll be enchanted by the grandeur of snow-capped peaks, crystal-clear alpine lakes, and lush green valleys. Hikers will find an extensive network of trails that lead to hidden gems and panoramic viewpoints.
In the warmer months, the mountains offer even more outdoor adventure, including paragliding, mountain biking, and white-water rafting. Or simply enjoy the serene alpine meadows, dotted with wildflowers and grazing sheep.
The Swiss Alps are also home to charming mountain towns like Zermatt and Grindelwald. These ski communities offer a variety of outdoor activities within reach. They also boast luxury hotels and cozy chalets, as well as quality restaurants, shopping, and tourist attractions of their own.
2. Visit the Matterhorn
The Matterhorn isn't just a mountain. It represents the spirit of the Swiss Alps and holds a special place in the hearts of locals and visitors alike. Visiting the Matterhorn is undeniably one of the best things to do in Switzerland.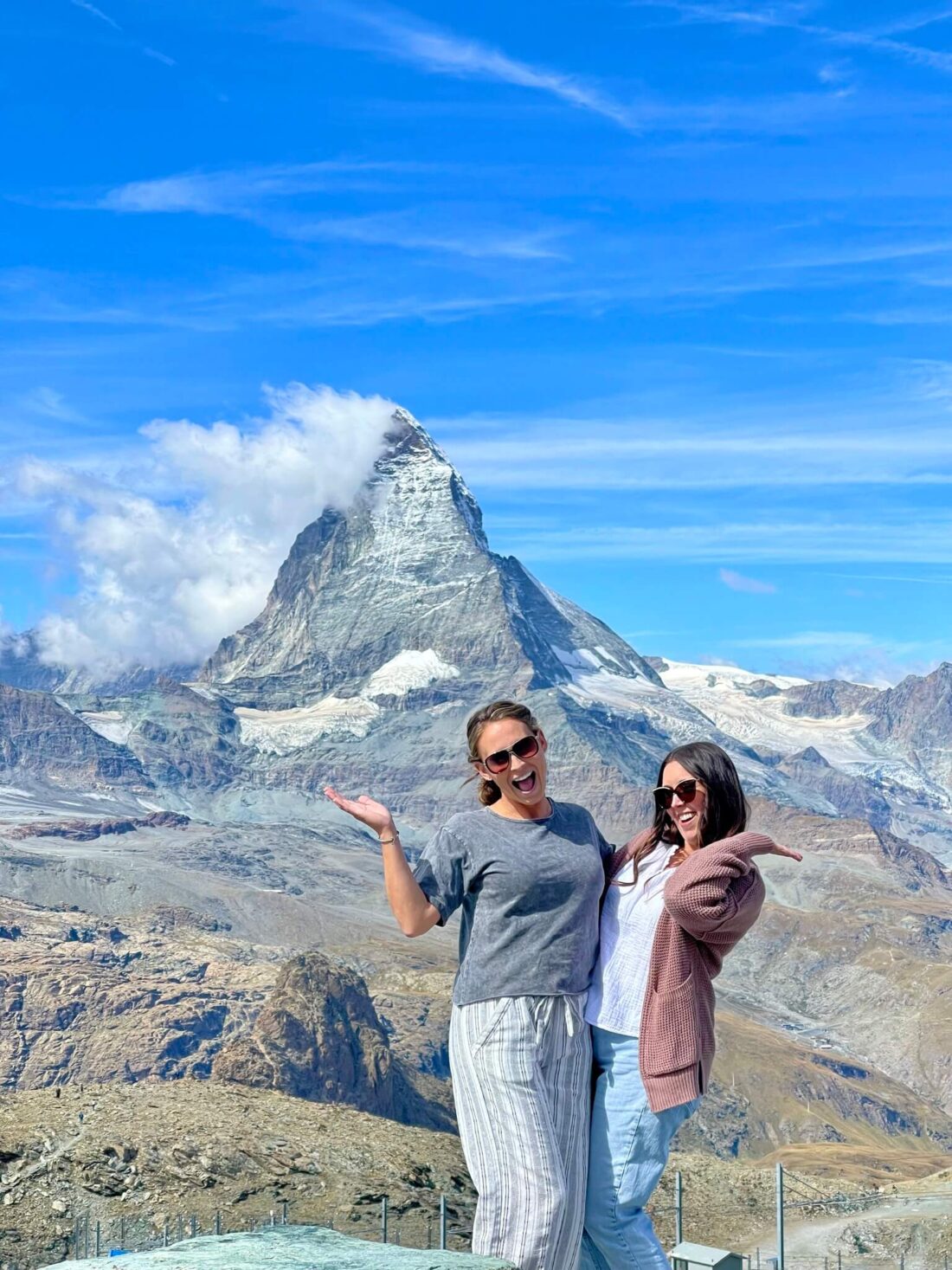 You can admire this iconic mountain from the village of Zermatt or venture closer to its base along one of the hiking trails. It's an unforgettable experience, seeing the reflection of its towering form in the mirror-like waters of Lake Riffelsee!
For many, scaling the Matterhorn's summit is the ultimate mountaineering challenge. But even if you're not an experienced climber, there are plenty of other ways to see the mountain up close.
One way is by taking a cable car ride to Trockener Steg. This mountain ridge offers panoramic views of the surrounding mountains and glaciers, with the Matterhorn at the forefront.
3. Take a Swiss Train Journey
Switzerland is famous for its efficient and extensive train network. But it's also a great way to enjoy the country's breathtaking and diverse landscape! Not only will you get from one destination to another, but a Swiss train journey is its own experience.
You can take the Glacier Express on a panoramic eight-hour journey through the heart of the Swiss Alps. Take in stunning views of snowy mountains, deep valleys, and historic Alpine villages.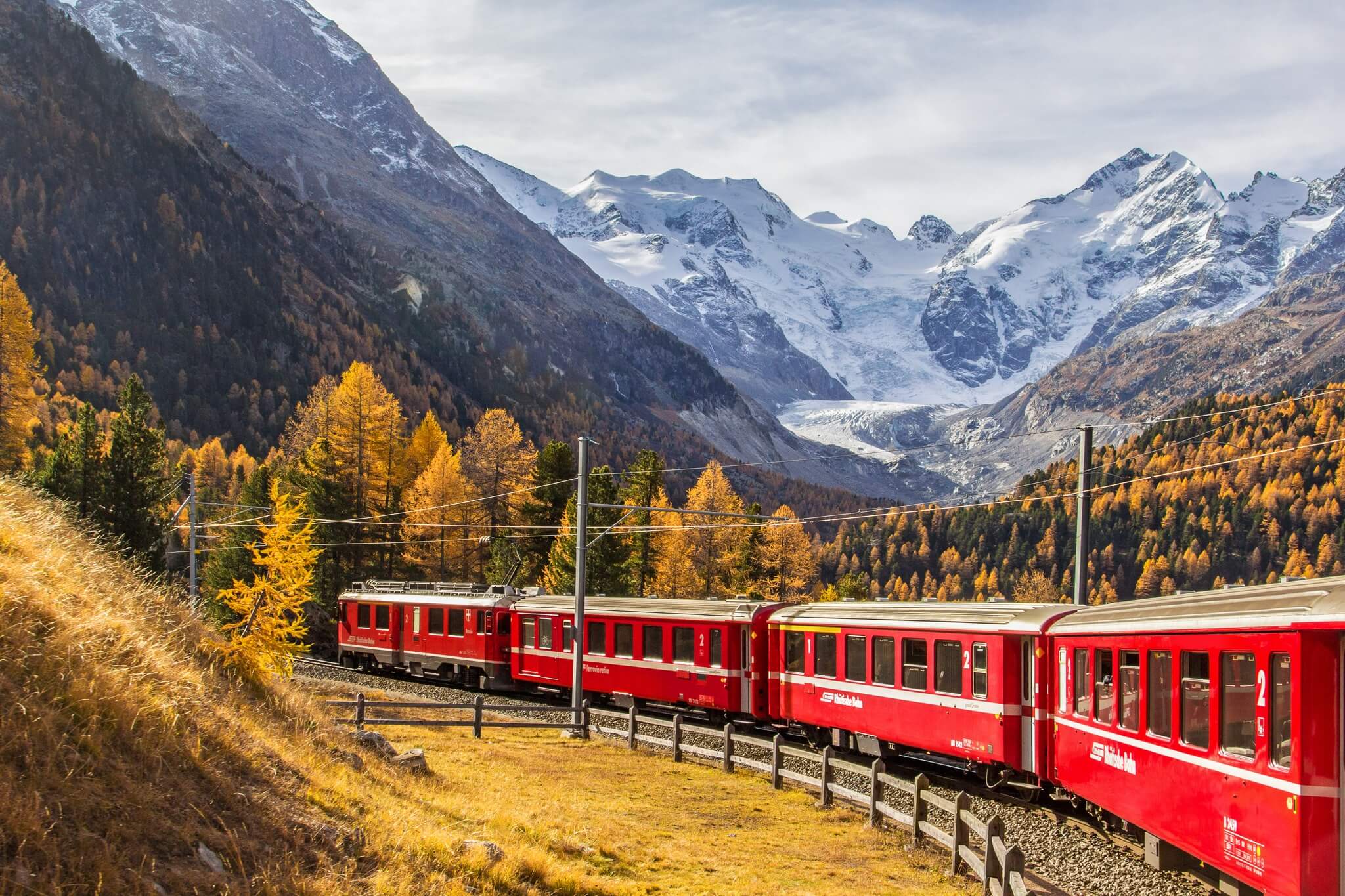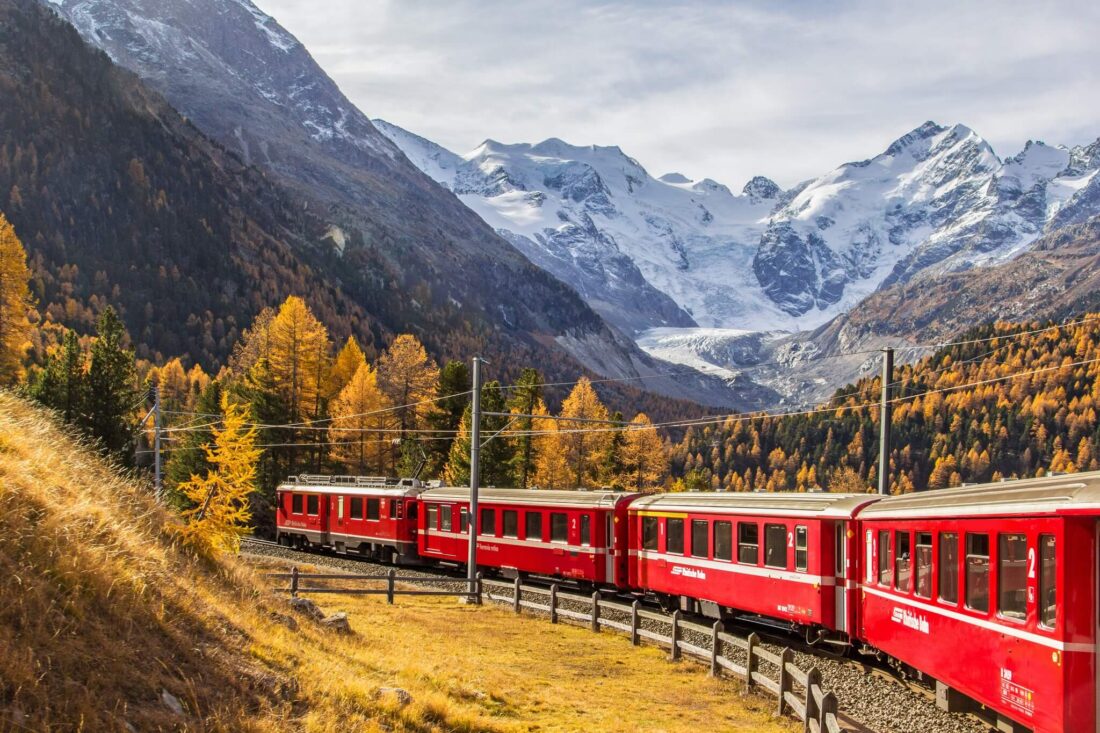 Another spectacular train journey, The Bernina Express, is a wonderful way to see the Swiss and Italian Alps. This UNESCO World Heritage route navigates the Bernina Pass, through dramatic landscapes, crossing dizzying viaducts and winding through tunnels!
Or go with the GoldenPass Line. This scenic route takes travelers from Lucerne to Lake Geneva. The route passes through the rolling hills of the Emmental region and the charming towns of Interlaken and Montreux.
4. Go Paragliding
If you are thinking about going paragliding at all and are planning a trip to Switzerland, NOW is the time to do it. Switzerland has some of the most incredible paragliding in the world due to the elevation of its mountains. You get a long ride down! I am terrified of heights and i still went paragliding. I was really proud of myself for overcoming my fear in order have this amazing experience. It was 100% worth it! It was much more peaceful than I thought it would be.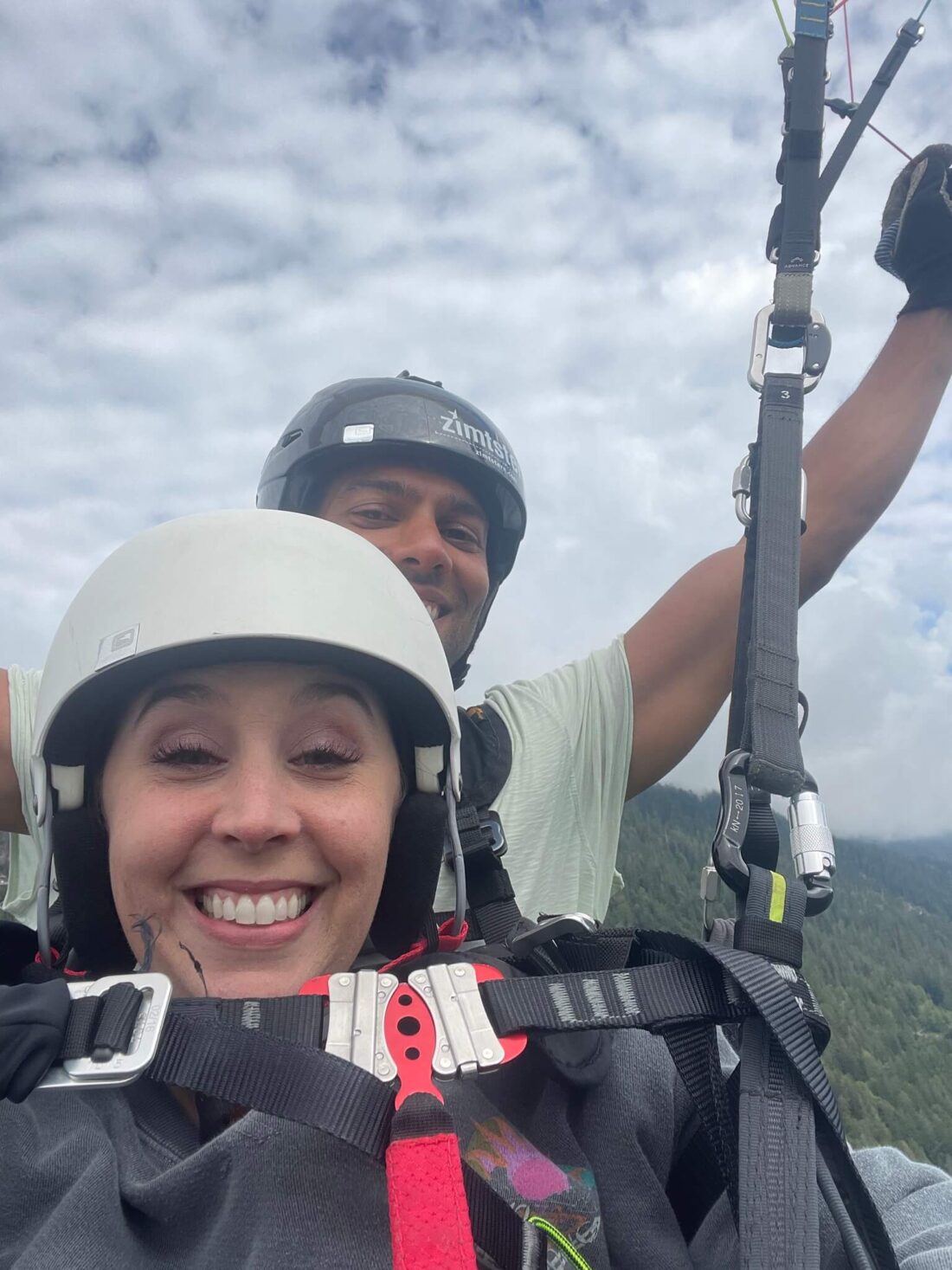 There are several companies in Switzerland who offer paragliding. The most popular places to do it are Interlaken, Lauterbrunnen, and Zermatt. I chose to go paragliding in Interlaken and it was absolutely breathtaking. Be sure to go with a licenced guide or tour company. We recommend this one.
5. Explore Lucerne
Located in central Switzerland, Lucerne is a charming town set on the shores of Lake Lucerne. It's a place dripping with history, gorgeous views, many world-class restaurants, and cultural attractions.
A visit to the city's medieval old town center is a must. Take a stroll along the 700-year-old Chapel Bridge for a bit of history and panoramic views of the Reuss River. And history lovers will want to explore the medieval walls of Museggmauer with its nine towers.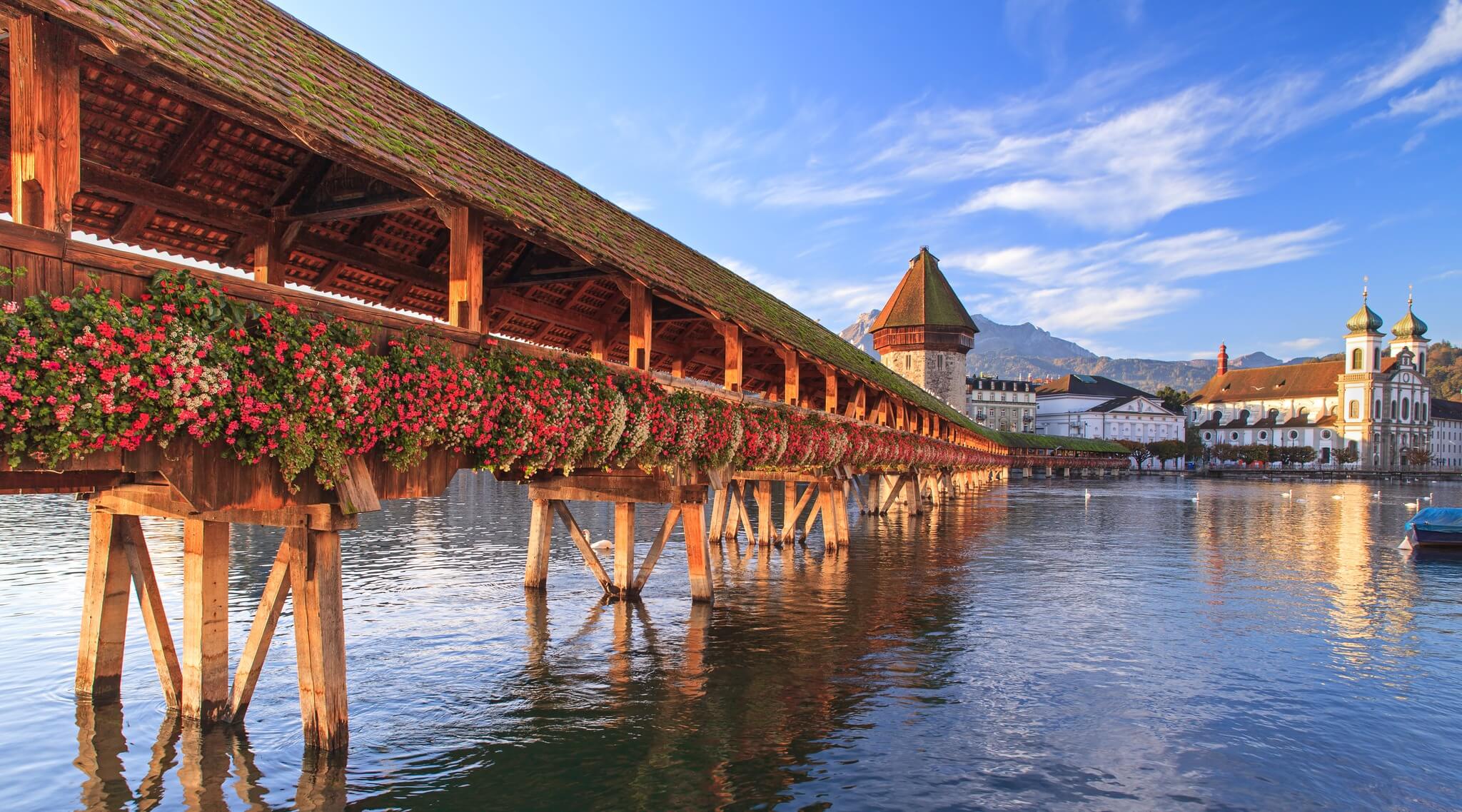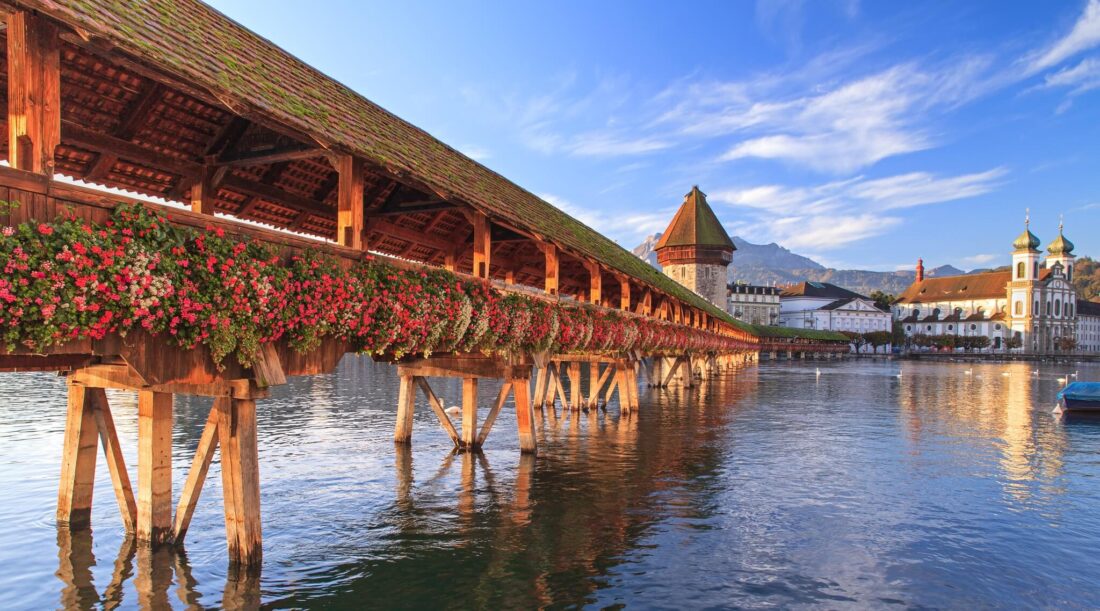 To see works by artists such as Picasso and Klee, visit the Rosengart Collection. And Lucerne is home to the Richard Wagner Museum, a 15th-century residence of the renowned composer turned museum. Or shop boutiques and international brands in Lucerne's old town.
Nature lovers will be enchanted by Lucerne's surroundings. Why not take a cruise on Lake Lucerne to enjoy breathtaking views of the surrounding mountains from the water? Or take a day trip to nearby Mount Pilatus or Mount Rigi for a day of hiking or mountain biking.
Additionally, Lucerne's central location makes it an excellent base for exploring the rest of Switzerland. From here, you can embark on scenic train journeys, such as the GoldenPass Line or the Wilhelm Tell Express.
6. Visit the Jungfraujoch
Take a cogwheel train to Jungfraujoch, known as the "Top of Europe." At an elevation of over 11,000 feet, you'll enjoy absolutely breathtaking views and a variety of landmarks and attractions. This isn't just a fun train ride to the top of a mountain! I would plan 3-4 hours here for the full experience.
From Kleine Scheidegg, the cogwheel train will start its 20-minute ascent through tunnels and across viaducts, gradually climbing to the highest railway station in Europe! Upon reaching Jungfraujoch, you'll step out onto the observation deck to take in the moving beauty all around you.
Spread out before you will be the winding Aletsch Glacier. This is one of the best sites to see a sweeping view of the largest glacier in the Alps. Then go inside the complex, which is home to Sphinx Observatory and the fun Ice Palace.
Visitors to Jungfraujoch can also try snow tubing or take a guided tour of the glacier. And the complex features various restaurants and cafes where you can enjoy a meal with a view. Indulge in traditional Swiss fondue or authentic Indian food while gazing out over the peaks!
And if you're coming from Zurich, this day trip to Jungfraujoch Zurich is an excellent choice. Or if you're staying in Interlaken, this is a great day trip by train.
7. Discover the Old Towns
Exploring the historic old towns of Switzerland's cities, such as Bern, Zurich, Geneva, and Bellinzona, is like stepping back in time! These cities offer a glimpse into Switzerland's past while boasting charming architecture, bustling squares, and tourist-friendly things to do. And if you have a limited amount of time, focusing on one of these cities is a great way to get a taste of Switzerland.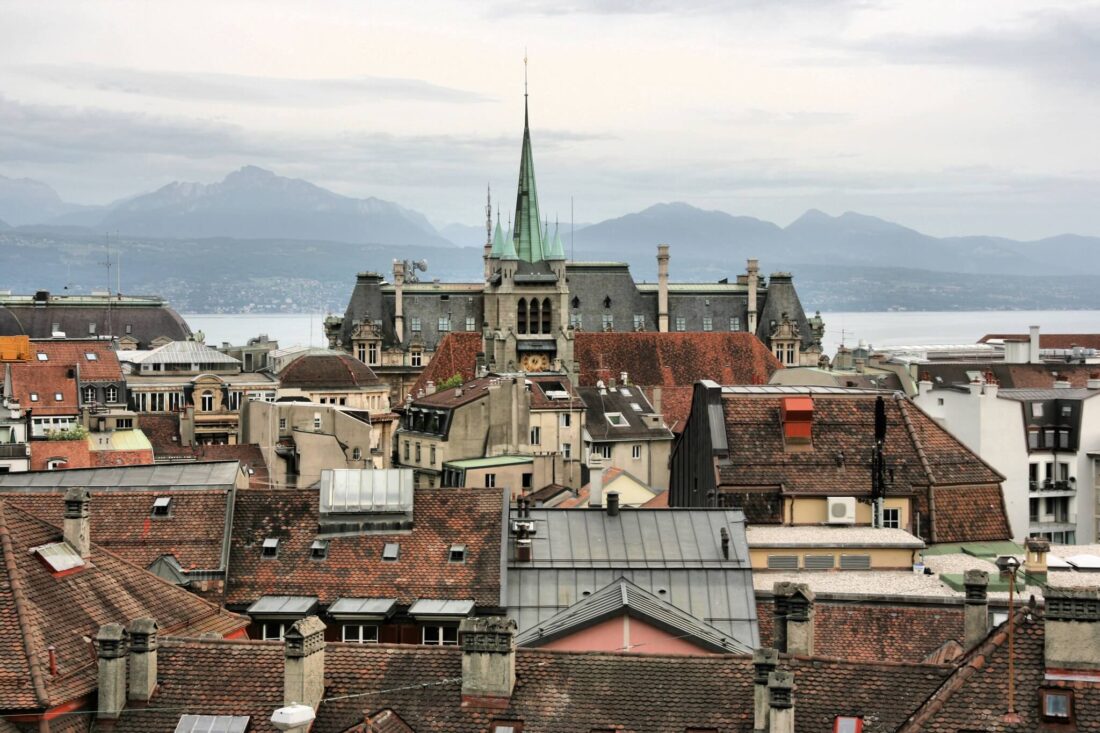 Bern, the capital city of Switzerland, features a well-preserved old town dating back to the 12th century. It's also a UNESCO World Heritage site. You can stroll along the cobbled streets and marvel at the famous medieval Clock Tower. Visit the Cathedral of Bern or explore the Bern Historical Museum.
Zurich is Switzerland's largest city and presents a blend of old and new. Its old town offers classic charm with narrow alleys, busy markets, and pretty squares. You can visit 12th-century cathedrals and then hit up the vibrant Bahnhofstrasse shopping street, with its high-end brands, trendy cafes, and gift shops!
In Geneva, the heart of the city is the Old Town. Admire St. Peter's Cathedral and see the giant Mur des Réformateurs outside the University of Geneva. There are also excellent museums all throughout Old Town. The Maison Tavel is the oldest house in Geneva, now a museum showcasing the city's history. It's a must for anyone visiting Geneva.
8. Enjoy Swiss Chocolate and Cheese
No visit to Switzerland is complete without indulging in two of its most renowned culinary delights: Swiss chocolate and cheese! Switzerland offers a variety of indulgent experiences for anyone who appreciates the country's unique food culture.
Swiss chocolate is renowned worldwide for its quality and craftsmanship. One of the most fun things to do in Switzerland is go on a chocolate tasting. This Geneva chocolate walking tour allows you to experience the city's old town while sampling a variety of chocolate creations!
Cheese lovers are in for a treat! Switzerland boasts an impressive variety of artisanal cheeses. The Alpine regions are most famous for their flavorful cheeses, made from the milk of cows grazing on lush mountain pastures. If you have the chance, visit one of the traditional cheese dairies in the countryside. You'll witness the cheese-making process firsthand and enjoy fresh samples.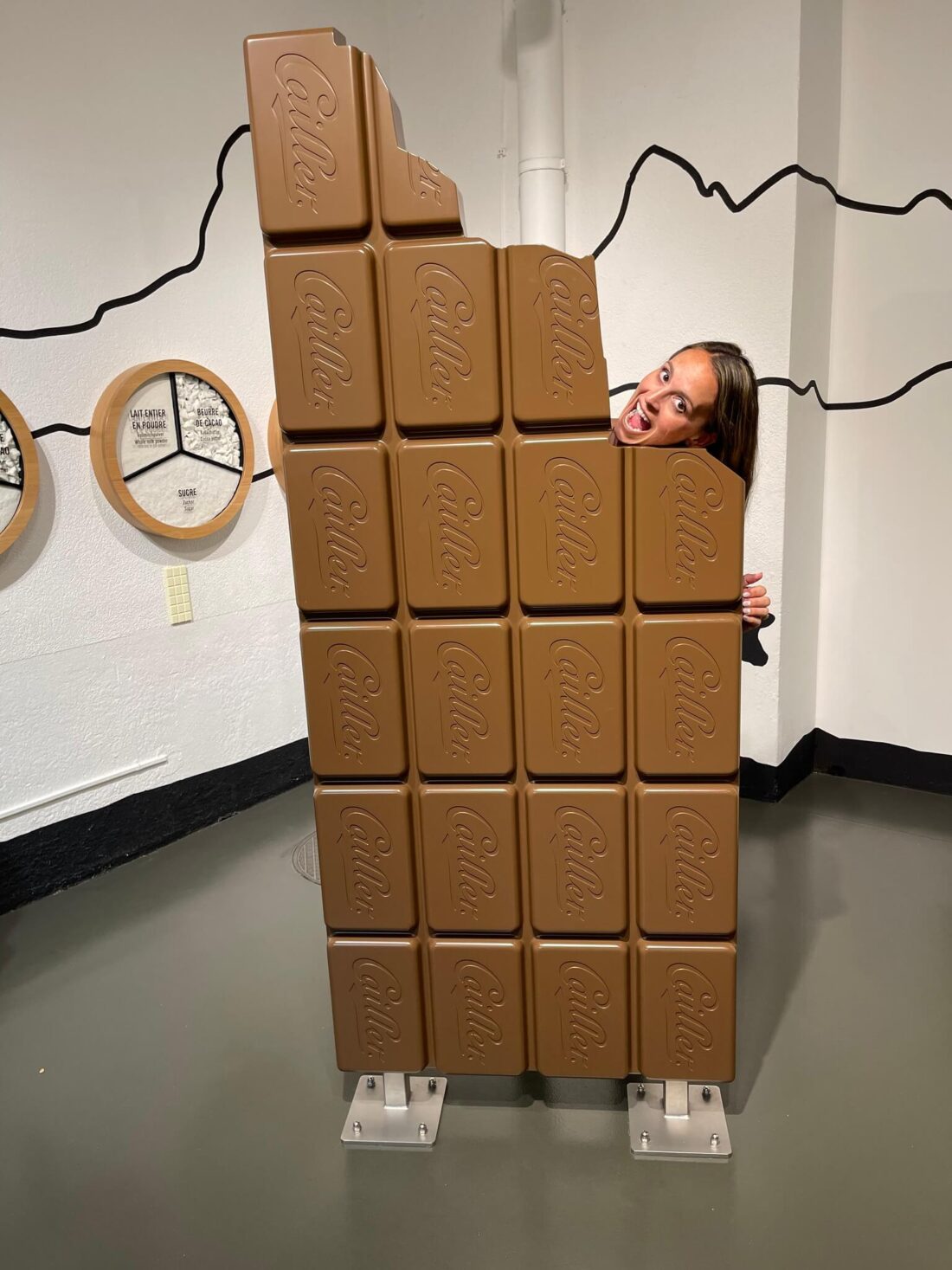 And for an authentic Swiss experience, trying fondue is a must. This melted cheese dish served with crusty bread is a long-standing Swiss tradition. Restaurants across the country, especially in the Alpine regions, offer fondue as a specialty. It's served as a main dish and should only be paired with a dry, white wine! Try it after skiing or as a meal with loved ones.
Also, several chocolate and cheese festivals take place throughout the year in Switzerland! There's the Salon du Chocolat held every March in Zurich and the Swiss Cheese Festival held in May in Gruyères.
9. Take a Boat Ride on Swiss Lakes
A lake cruise is a wonderful way to enjoy a day of sightseeing while experiencing the tranquility of Switzerland's lakes. There are thousands of lakes scattered across Switzerland, each offering its unique charm.
Lake Geneva, nestled between the Swiss and French Alps, is Europe's largest alpine lake and a popular choice for a boat ride. You'll cruise by picturesque villages, vineyards, lakeside towns, and historic landmarks like Chillon Castle. Lake Lucerne, surrounded by towering mountains, is a relaxing trip with unbeatable views!
There's Lake Zurich, offering a look at bustling Zurich from a different perspective. And then there's Lake Thun and Lake Brienz, both in the Bernese Oberland region. These lakes are known for their glass-top waters and mountain backdrops, making for a tranquil ride.
10. Visit Chillon Castle
One of the top places to visit in Switzerland is the historic Chillon Castle. It will be a highlight of your travels! Located on the shores of Lake Geneva near Montreux, Chillon Castle is a fortress from the Middle Ages that offers a captivating look into Switzerland's history.
Inside the castle, you'll explore the halls, courtyards, and towers at your own pace. Admire the intricate Gothic architecture and walk through haunting underground dungeons. During your visit, you can walk the lakeside promenade and garden, which offer sweeping views of Lake Geneva and the mountains beyond.
There's an entrance fee for each guest. Chillon Castle is open year-round but with different hours in each season. You can take self-guided audio tours in a variety of languages or book a guided tour. Both offer excellent insight into the castle's significance in Swiss history.
11. Discover Rhine Falls
Rhine Falls, located near Schaffhausen along the Switzerland/Germany border in the north, is one of Europe's largest waterfalls. It's a landmark you have to see in person and offers a range of activities for visitors close by. If you're in Zurich and want to see the falls, consider booking a tour with transportation.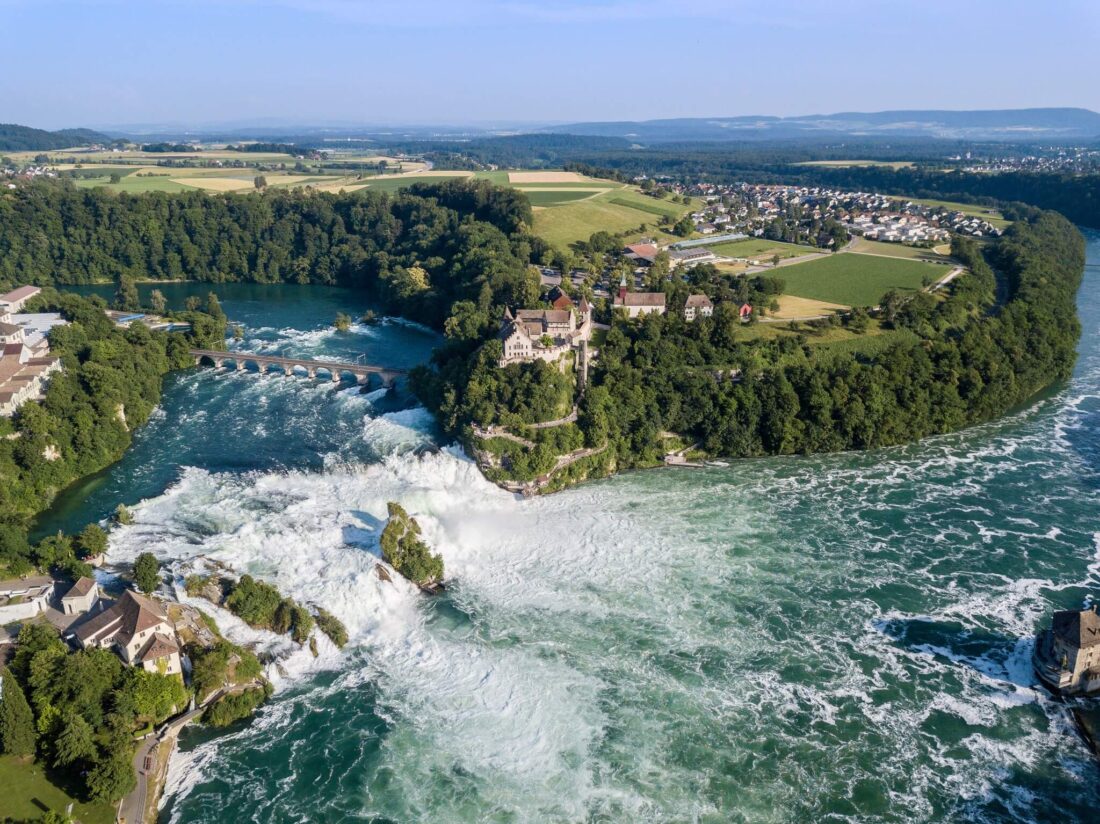 The main attraction is, of course, the majestic waterfall itself. You can stand on the viewing platforms and witness the thundering cascades, reaching 23 meters high! It's an experience to feel the mist on your face and feel the sheer force of nature.
For an even more memorable experience, during the summer months, you can take a boat ride that will take you close to the falls! Or explore nearby pathways that offer different perspectives of the falls. This way is definitely more serene and much less crowded.
When you visit Rhine Falls, you'll arrive at Schloss Laufen. This 1000-year-old castle has been turned into a tourist hub for visitors to the falls. Inside, you'll find a variety of shops, restaurants, and cafes. Enjoy the view while you eat or shop for souvenirs to commemorate your visit.
12. Explore the Swiss Riviera
Between the lakeside towns of Lausanne to Montreux is a gorgeous region known as the Swiss Riviera. Cradling the northern shore of Lake Geneva, you'll find hillside vineyards, sprawling historic villages, luxury experiences, and a variety of outdoor activities.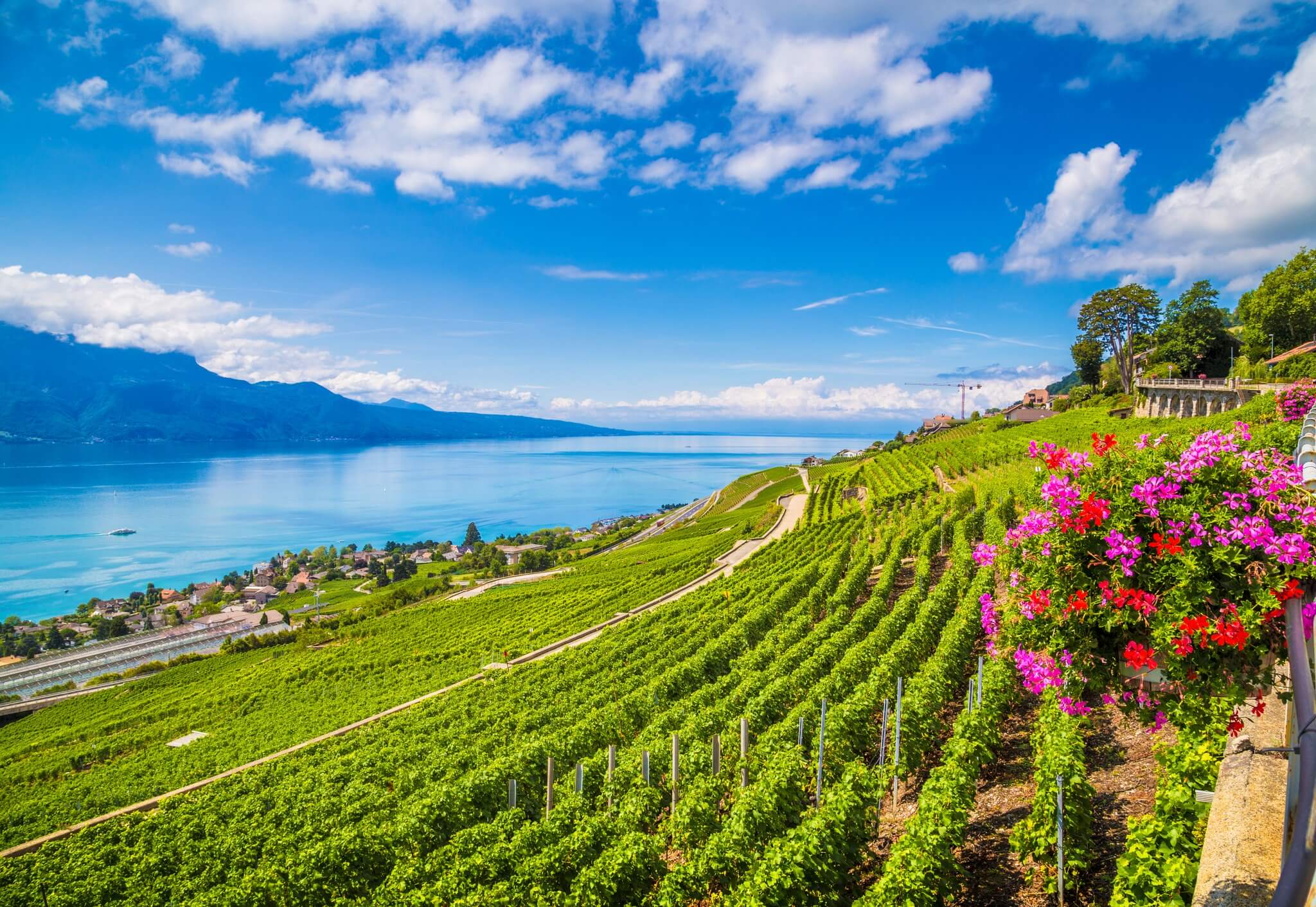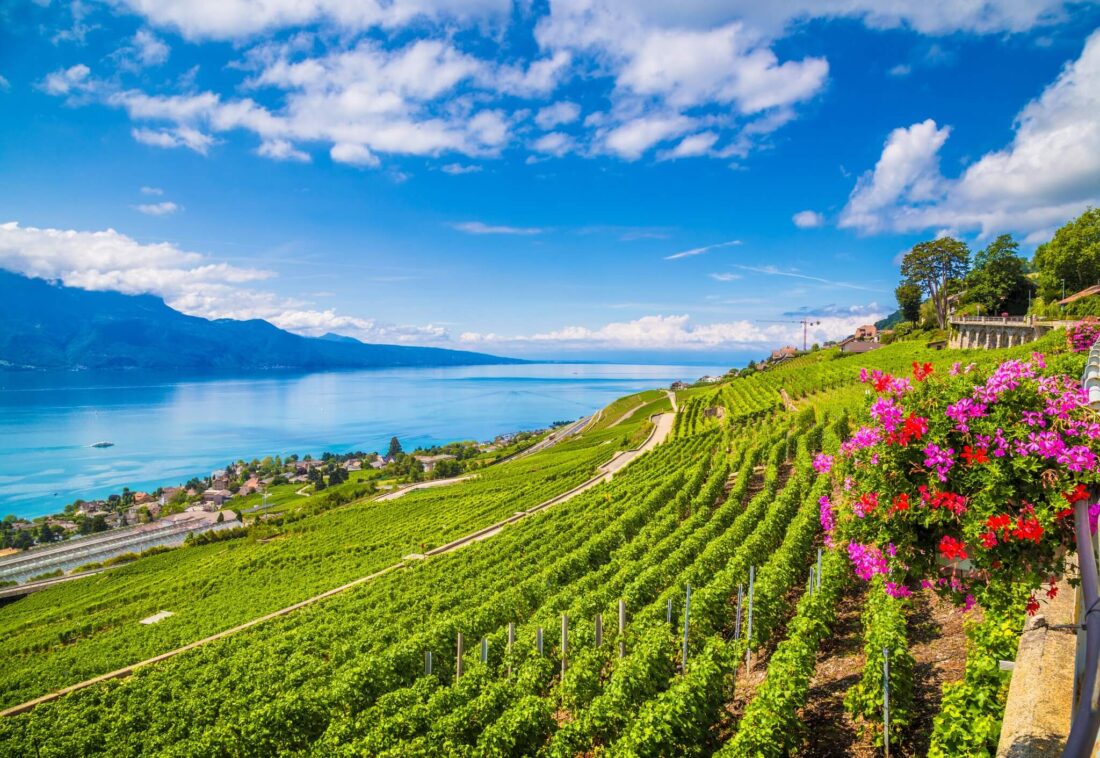 A Switzerland must-see, Montreux is a highlight of the Swiss Riviera. Explore the Chillon Castle, a medieval fortress that overlooks the lake, or stroll through the charming Old Town with its quaint shops and cafes. It's also famous for its annual Jazz Festival.
At the eastern end of the Swiss Riviera, Lausanne is home to a handful of top-notch museums, art galleries, and theaters. You can visit the Olympic Museum or wander through the beautiful sculpture gardens of Olympic Park.
The Swiss Riviera is also renowned for its vineyards and wine production. Take a tour of the Lavaux vineyard terraces, a UNESCO World Heritage site. Or enjoy panoramic views of the cobalt-blue lake while taking advantage of all the water sports available to you on Geneva Lake! You can even take a vintage paddle steamer across the Swiss Riviera.
13. Attend a Music Festival
Every year, Switzerland hosts a diverse range of international events and music concerts centered around every genre of music. You'll have an unforgettable experience with other music lovers. Also, these events offer unique destinations and opportunities to see a different side of Swiss culture!
Zurich Openair is a 5-day event in August with a star-studded lineup across 3 stages. Or you can try to get tickets to the exclusive Verbier Festival in July. Here, you'll experience international classic music while relaxing in the mountain resort!
In the Swiss Riviera, there's the Montreux Jazz Festival in June. Soak in the stunning setting while you attend all kinds of concerts and free stages set along Geneva Lake. You can also head the Lucerne Festival, a summer-long event featuring world-class classical performances.
Another event that draws visitors from around the world is OpenAir St. Gallen, at the end of June. This 3-day rock festival is one of the largest and oldest music festivals in Switzerland! Or enjoy the charming city of Bern while you attend Gurtenfestival, another massive annual international music festival.
14. Visit the Christmas Markets
During the holiday season, exploring Switzerland's Christmas markets is one of the best things to do in Switzerland! You shop for unique gifts, traditional handcrafted items, and delicious treats. Some of the most popular Christmas markets are in Zurich, Basel, and Montreux. We lived in Basel during the holidays and can attest that the markets are so much fun! It's more than just shopping. There are usually rides for kids and lots of great street food!
The atmosphere of these markets is truly magical. Stalls are covered with twinkling lights and festive decorations, creating an inviting ambiance that instantly gets you into the holiday spirit! Pick up hand-painted ornaments, sip on mulled wine, or sample roasted chestnuts while you shop.
Christmas markets offer live entertainment, including carol singers and musicians, adding to the festive charm. Children can go on carousel rides and meet Santa Claus, making it fun for the whole family! And the sense of community at these markets is palpable as locals and visitors gather together to celebrate.
More Must-Do Activities in Switzerland for Thrill Seekers
Once you've seen the best of Switzerland, there's more! Below are just a few heart-pumping experiences every kind of outdoor lover will want to add to their Switzerland bucket list.
15. Go Hiking
Many travelers visit Switzerland just to spend weeks hiking! It's a no-brainer, exploring a myriad of trails that showcase the country's natural beauty. One of the top things to do in Switzerland in summer, hikes are a great way to see a variety of landscapes.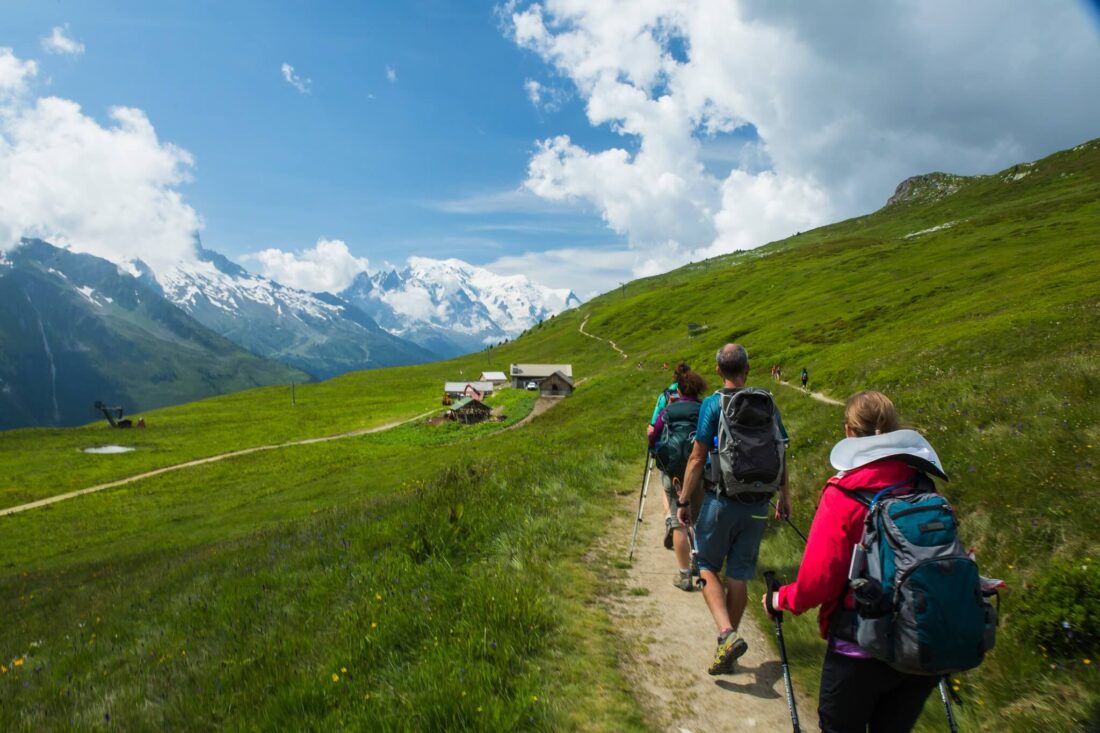 And you don't have to be a mountaineer to enjoy hiking in Switzerland. The Aare Gorge Trail is an easy hike with a clear path through a dramatic gorge near Meiringen. And inside the Swiss National Park, the Champlönch – Il Fuorn Trail is a wonderful nature walk that ends at a historic chateau-style hotel and restaurant.
Or enjoy the lush countryside along the moderate Lavaux Vineyards Trail. Overlooking Lake Geneva, this picturesque hike winds through terraced vineyards and charming villages. And a notable challenging hike is the Rhine Gorge River Hike, often referred to as the Swiss Grand Canyon. Take the route from the Rhine Gorge viewpoint down into the gorge and along the river for awe-inspiring views all around you!
During winter, some hiking trails transform into cross-country ski trails, offering a different way to experience Switzerland's beauty. It's an exhilarating experience, gliding through snowy landscapes, surrounded by pristine forests and mountains.
16. Try Skiing and Snowboarding
Of course, one of the most popular things to do in Switzerland is skiing in the Swiss Alps. You can visit a world-famous ski resort, like Zermatt, Verbier, and St. Moritz. They provide a range of slopes suitable for all levels of expertise, from gentle beginner slopes to challenging black runs. There's something for everyone!
Switzerland attracts winter sports enthusiasts from around the world, with its picturesque alpine scenery and well-developed infrastructure. Swiss resorts are known for their excellent ski facilities. This includes state-of-the-art lifts, well-maintained slopes, and professional ski schools offering lessons for all ages and abilities.
Equipment rental services are readily available, but that's just the beginning of the amenities that Switzerland's ski resorts offer. Experience stunning mountain views and charming alpine villages. You'll find cozy mountain huts where you can indulge in Swiss fare and après-ski activities! Book services at the spa, enjoy drinks at a slope-side bar, or sample piping-hot cuisine at a restaurant after a day skiing.
17. Mountain Biking
Mountain biking enthusiasts can take advantage of miles of trails through a variety of landscapes throughout Switzerland. Enjoy stunning views inside the Swiss National Park or take in the rolling terrain of the Swiss Plateau. And the Swiss Alps serve as a dramatic backdrop for mountain biking.
Switzerland's mountain biking trails cater to all skill levels, from beginners to experienced riders seeking a challenge. Whether you prefer technical singletracks, scenic forest paths, or epic cross-country trails, you'll find a trail to suit your style.
Some popular destinations for mountain biking include Verbier, Davos, Arosa, and the Engadin region. But throughout the country, you'll find easily accessible bike parks and rental services. Many resorts also offer bike-friendly lifts and gondolas, making it convenient to access the higher elevations for thrilling descents!
18. Stand-up Paddleboarding, Kayaking, or Canoeing
Did you know that Switzerland offers fantastic opportunities for SUP boarding, kayaking, and canoeing? With 1500 lakes, you're sure to find some that are ideal for these water sports, including Lake Geneva, Lake Lucerne, and Lake Zurich.
It's a memorable way to see the country's many pristine lakes, rivers, and stunning alpine landscapes. Float across the calm waters, soak in the picturesque scenery, and enjoy a unique perspective of the mountains and lakeside towns.
You can also go kayaking along the Rhine River and the Aare. Navigate through the river's twists and turns, encounter gentle rapids, and enjoy sightseeing along the way.
Rental services and guided tours are available all over. This is a great way for everyone to enjoy these water sports, whether you're a beginner or an advanced paddler seeking a guide through the countryside.
19. Via Ferrata
A Via Ferrata is one of the top things to do in Switzerland for thrill seekers due to the unique experience it offers! The sport combines the elements of rock climbing and hiking. With the aid of fixed cables, ladders, and bridges, you'll transverse vertical cliffs, scale mountains, and conquer challenging terrain!
Switzerland has several Via Ferrata routes, one of the best being in Mürren, with its stunning views of the Lauterbrunnen Valley. Interestingly, Via Ferratas are a relatively modern addition to the long list of Swiss alpine sports. They actually originated in the Dolomites in Italy and have gained popularity in recent years.
Many outdoor enthusiasts add Via Ferrata trips to their Switzerland bucket list because they provide physical exertion, push boundaries, test endurance, and give the ultimate sense of accomplishment. Whether you're an experienced climber or a beginner looking for an adrenaline rush, you'll have an unforgettable adventure on a Via Ferrata.
Wellness Culture Things to Do in Switzerland
While you explore Switzerland, don't forget to immerse yourself in the country's established wellness culture. Switzerland's thermal springs and clean mountain air have long been recognized for their healing properties.
Today, the country is known for its spa resorts and wellness centers that offer a wide array of treatments and focus on holistic well-being. Below you can read about some of the best wellness tourism experiences in Switzerland.
20. Swiss Thermal Spas
Switzerland boasts some of the best thermal spas in the world. They originate from the country's natural thermal springs, renowned for their healing properties and therapeutic benefits.
Switzerland is home to numerous thermal baths and spa retreats built around them. You can relax in natural hot springs, indulge in soothing spa treatments, and enjoy the tranquil ambiance.
One of the most popular thermal spas is Tamina Therme in Bad Ragaz, cradled in the heart of the Swiss Alps. Its thermal waters have been flowing for over 700 years! There's also the Leukerbad Therme, the largest thermal spa resort in the Alps.
Or for unique places to visit in Switzerland, there's Hürlimannbad & Spa Zürich., located in a former brewery in the heart of Zurich. Soak in the rooftop pool while enjoying panoramic views of the city or book any number of wellness treatments and massages.
21. Alpine Wellness Hikes
Different than traditional hiking, alpine wellness hiking is a gentle way to move your body and enjoy the natural beauty of Switzerland. A huge part of wellness culture is mindfulness of your well-being and looking for opportunities to nourish your body.
On an alpine wellness hike, you'll trek through alpine trails. Purposefully breathe in the fresh alpine air and contemplate the peacefulness of the mountains.
Some wellness hikes may include yoga sessions or meditation stop so you can connect with yourself and nature on a deeper level. Enjoy the benefits of low-impact exercise and the healing power of nature.
You can join guided hikes that focus on mindfulness, breathing techniques, and relaxation. Or stay at a wellness resort that includes walking trails you can explore on your own.
22. Alpine Herbal Remedies
Discover the traditional Swiss knowledge of herbal remedies and natural healing. Learn about the beneficial properties of alpine herbs, visit herb gardens, and explore local herbal medicine traditions.
23. Wellness Hotels and Resorts
When you're looking for wellness tourism experiences, consider booking a stay at one of Switzerland's world-class wellness hotels. One of the best things to do in Switzerland, they offer luxurious accommodations and a long list of unique wellness experiences. Check out the best places to stay in Switzerland to find some of these great resorts.
These hotels are designed to provide a holistic retreat, combining luxurious amenities, soothing spa facilities, and healthy cuisine. You can enjoy serene surroundings while you attend activities like yoga, meditation, and wellness workshops.
Bad Zurzach is a renowned spa town in Switzerland, home to a variety of exceptional wellness resorts and hotels. For over 100 years, the thermal salt springs have made this a destination for those seeking relaxation and rejuvenation.
Stay at one of the town's holistic-centered hotels, like Parkhotel Bad Zurach. Onsite you have access to a wellness center and spa, including an indoor thermal pool. But you're also within walking distance of several wellness centers, including the sprawling SPA Medical Wellness Center.
Visiting Switzerland FAQ
What is Switzerland known for?
Switzerland is that the country has several claims to fame, depending on your interest! There are the majestic Alps, with its stunning peaks, waterfalls, glacial lakes, and world-classing ski resorts. The country is known for its culinary scene, but especially for fondue and chocolate! Switzerland is also the world capital of watch production and boasts an influential spa industry.
How many days do you need in Switzerland?
If you can aim for a week or longer in Switzerland, do it. This will allow you to travel inside the country and really get a feel for everything in this amazing place! But you can also enjoy a quality 3- to 4-day trip if you focus on 1 region and stick to major landmarks. I highly recommend using our week-long Switzerland Itinerary to help you organize your trip and maximize your time.
What is the best month to go to Switzerland?
If you plan to visit Switzerland for winter sports, you'll find the best conditions from December through February. For the cheapest rates and mild weather, aim for May or September. However, Switzerland offers an amazing experience all year round! Come June through August for the best summer weather and lush landscapes. Or if fall foliage makes your heart sing, early fall is the best time to plan a trip.
What are some of the top things to do in Switzerland?
No Switzerland visit is complete without exploring the Swiss Alps, whether you're hiking the iconic Matterhorn or taking a scenic train ride on the Glacier Express. Experience Swiss culture by visiting charming cities like Zurich and Lucerne. Every visitor should delight in Swiss cuisine, indulging in traditional dishes like fondue. And soak in the beauty of nature with a cruise on Lake Geneva or to see Rhine Falls.
What Will You Add to Your Switzerland Bucket List?
Switzerland is unlike any other place you've been to! The country offers a wide range of activities and attractions that make it a top destination for travelers.
And you don't have to pick, with so many experiences within your reach. You can explore the Swiss Alps or visit historic cities like Bern and Zurich. Indulge in rejuvenating spa treatments and take scenic train rides in the mountains.
You're sure to find things to do in Switzerland to create lasting memories. If you're planning a trip to Switzerland, be prepared for a one-of-a-kind adventure!