Iceland is known for its stunning northern lights, breathtaking volcanoes and glaciers, the Blue Lagoon, and rugged landscapes. However, visiting Iceland requires careful planning because Iceland accommodation options can get fully-booked months in advance! So if you wish to have an unforgettable adventure, here are the best places to stay in Iceland.
Nicknamed the Land of Ice and Fire, the country of Iceland is located in the North Atlantic Ocean. It is as small as the state of Virginia in the US, yet it packs a strong punch to the best destinations, consisting of breathtaking glaciers, natural hot springs, stunning coastlines, valleys, and mountains.
The unspoiled Icelandic nature continues to draw tourists to this amazing country from all over the world. This Nordic island nation is teeming with beautiful and enchanting sights, fantastic settlements, and surreal views that take your breath away. So whether you're exploring the capital city or moving towards the remote areas of Iceland, you'll have to prepare for a holiday you'll always remember.
We loved our time in Iceland and made so many great memories. Iceland is difficult to describe. It's truly unlike any other place I've ever been! My kids loved exploring the unique landscapes and learning about the history of this special island.
Pro Tip:
Every region has something striking to offer, so it's unsurprising to hear Iceland hotels getting booked quickly. Therefore, planning your Iceland itinerary and figuring out the best hotels to stay in Iceland is wise.
Thankfully, there's a wide range of budget hotels to luxurious hotels in most parts of the country. Accommodation options outside the city center tend to become limited, especially during winter when businesses close down. The bottom line is to carefully plan where to stay in Iceland and book your hotels and accommodations as early as possible.
Read more about traveling Iceland on a budget.
Reykjavik, the capital region
Reykjavik, the capital city, is one of the best places to stay in Iceland. Most people consider this as their home base in exploring Iceland. The charming city is full of contrasts. On the one hand, it is a small city with a rich culture and colorful history. And on the other hand, it is cosmopolitan, offering world-class experiences.
City life in Reykjavik is colorful and dynamic, and it's easily one of the best places to stay in Iceland. The quaint cafes get filled up with people quickly during the day, while fantastic restaurants welcome an influx of patrons at night. On weekends, people gather at bars and clubs to party. Apart from that, there are plenty of things to do in Reykjavik, from sightseeing, shopping, and whale watching to swimming in natural pools.
Reykjavik also has many beautiful sights, including the Harpa concert hall, Hallgrimskirkja Church, and Kolaportið Flea Market.
Outside the city limits are some of Iceland's most stunning destinations. You could go on a day trip to visit these locations and drive back to Reykjavik at the end of the day.
Best Day Trips from Reykjavik
Golden Circle
Iceland's Golden Circle route encompasses a 190-mile trail that covers three of Iceland's most sought-after spots: Thingvellir national park, Gullfoss Waterfall, and the Geysir Geothermal Area. The Golden Circle tour is also the best trail if you're hunting for Northern lights. The area's light pollution and the lesser crowd make it an even more appealing venue for witnessing the northern lights dance.
Thanks to the gorgeous landscape and scenic beauty of the Golden Circle, it has become one of the best places to go glacier hiking. This fantastic experience will make your visit to Iceland unforgettable!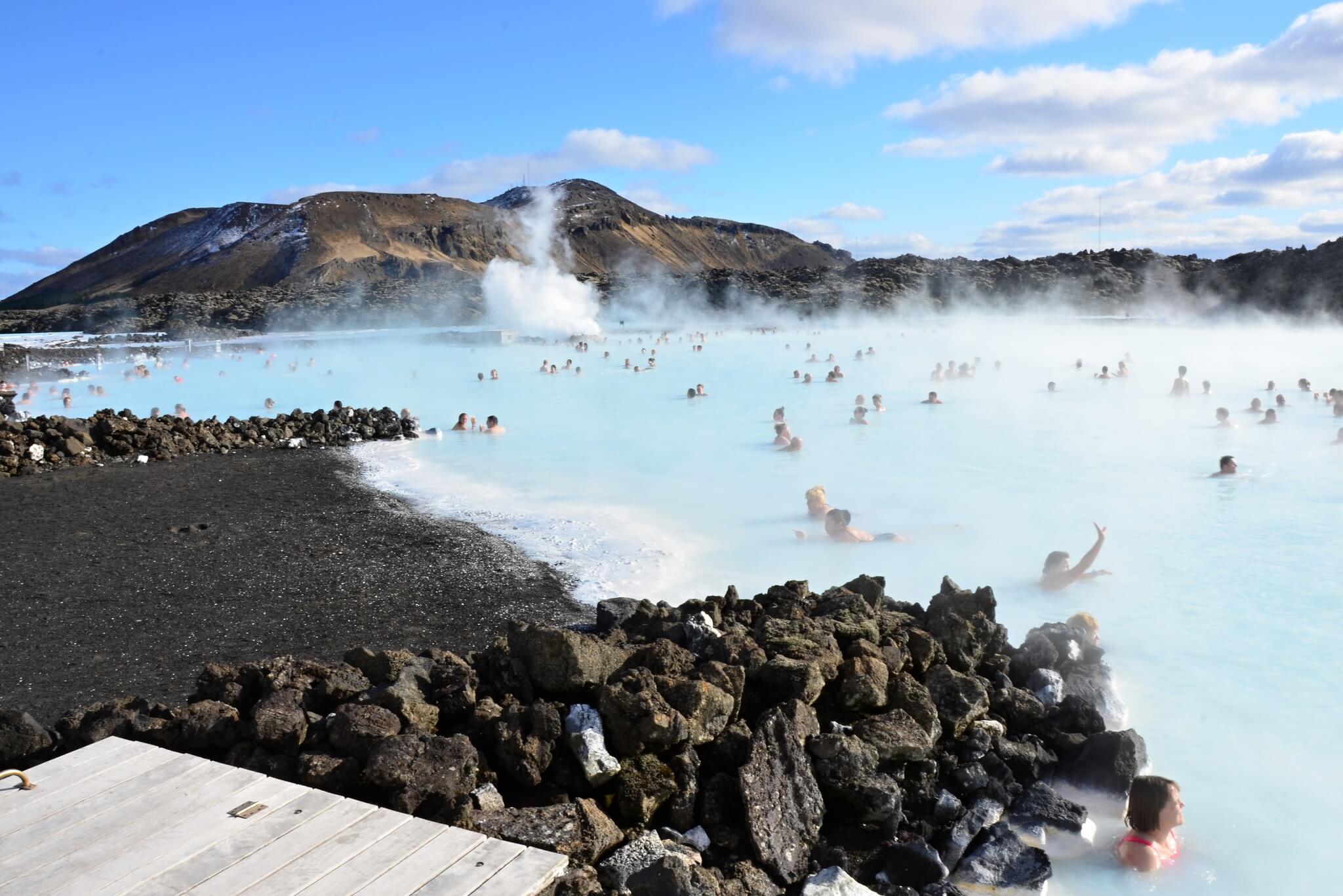 Blue Lagoon
No trip to Iceland without stopping by the famous Blue Lagoon. This complex comprises geothermal pools containing silica mud and mineral-rich water believed to have curative powers. The warm waters, on-site spa treatments, and its closeness to Keflavik international airport make Blue Lagoon an excellent stop, whether you've just arrived in Iceland or are departing at the end of your holiday.
Whale watching
Whale watching is the most popular wildlife activity in Iceland. You don't have to go far from the city center to see the whales, as many day tour providers offer this service near Reykjavik and within the Golden Circle. You can find many of these magnificent creatures at the Snæfellsnes Peninsula, where a variety of whales can be seen, including humpbacks, minke whales, dolphins, and porpoises.
Jokulsarlon glacier lagoon
Iceland has the most stunning glaciers all over the world. It is a four-hour drive from Reykjavik. But don't worry because you'll be rewarded by the most surreal and otherworldly sight of glaciers far beyond your imagination.
Situated in Vatnajökull National Park, the Jokulsarlon glacier lagoon is the biggest, most majestic glacier worldwide. If you have extra time, take a boat tour to see the glaciers up close, or sign up for an ice cave tour and explore the breathtaking iced caves in the park.
Finally, visit Diamond Beach, which makes up a portion of the lagoon. It is one of Iceland's best black sand beaches, but Diamond Beach is more special because of the glistening, glass-like ice that looks like diamonds.
Pro tip: The best way to spend your vacation in Iceland is to get yourself a rental car and drive to different destinations. Public transportation in Iceland is limited, so self-driving is the most efficient way to explore the country at your own time and pace. Your only concern would be getting to your pre-booked hotels in time. Sightseeing in between destinations will surely be worth your time!
Where to stay in Reykjavik
Reykjavik is the best city to stay in Iceland. Thanks to its active tourism industry, Reykjavik continues to draw in tourists worldwide, empowering the hospitality industry to open up more accommodation options in the city center. So if you're looking for where to stay in Reykjavik, Iceland, we recommend these Reykjavik hotels and guesthouses.
Canopy By Hilton is one of the best luxury hotels in Reykjavik and offers an excellent stay in Iceland. The hotel is centrally located in Reykjavik. It is a stone's throw away from Laugavegur Street, the premier destination for shopping and nightlife in the city. Hallgrimskirkja Church, Harpa Concert and Conference Hall, and Nautholsvik Geothermal Beach are nearby.
The modern 4-star hotel marries Icelandic touches in the room design and decor, with walls adorned by works of local artists. There's an on-site restaurant to enjoy delicious meals with an extensive list of wines and drinks to pair. The hotel bar is an excellent location for refreshing cocktails and classic drinks with astonishing views of the central garden.
Canopy by Hilton offers twin, queen, and king rooms, with three suites to choose from. The hotel's amenities include free WIFI, a mini fridge, a handheld shower, high-quality bedding and duvet covers, an in-room espresso machine, and a workstation.
The Edition Hotel by Marriot is one of the best Reykjavik hotels to stay in Iceland. The hotel is located at the heart of the capital city, near Harpa, Laugavegur Street, and the Old Harbour. The Pearl, Art Museum, and the Imagine Peace Tower are also within walking distance. This is also the best hotel to consider if you need to be near everything in the city.
As a five-star luxury hotel, you'll find every detail in your accommodation with a careful and thoughtful touch. The hotel comprises 253 private rooms, ranging from double rooms with courtyard views or harbor views to terrace rooms with city views, connecting family rooms to the penthouse, boasting a fireplace and balcony.
Dining at the Edition Hotel is itself a spectacular experience. You may indulge in delectable comfort food served at The Roof, where you can watch the Northern Lights during the colder months. Or head over to Tides, the hotel's signature restaurant, and partake in its delicious seafood-based menu. For socializing, visit the Sunset, the hotel's coolest place to enjoy cocktails and party with world-class DJs.
There are plenty of guest houses in the city center, including the well-known Guesthouse Galtafell. It is an excellent accommodation option for budget travelers, apartment-style budget hotels, and cheap hostels.
Guesthouse Galtafell is centrally located, so you are mere steps away from the city's finest attractions, such as the Hallgrímskirkja Church, which is only 500 meters away, and the National Museum not so far ahead.
Guesthouse Galtafell boasts excellent facilities, including free parking in front of the house, unlimited WIFI, coffee/tea-making facilities, and daily housekeeping. The rooms are nice and clean, some with shared and private bathrooms. For a lengthier stay in Iceland, consider booking the apartment so you can cook meals in the kitchenette and have enough space for two guests.
If you're searching for the best place to stay in Iceland Reykjavik with family, Reykjavik Residence Hotel is a great option. This fantastic apartment-style hotel is located in downtown Reykjavik, near every amazing sight and sound in the city.
Reykjavik Residence Hotel has one, two, and three-bedroom apartments, family rooms, and suites, perfectly accommodating a family or a small group of friends visiting Iceland. The private rooms have their own sitting rooms, and fully-equipped kitchens, while the suites have extra amenities like a PlayStation and PS4.
With the apartment's ideal location, family-friendly services and amenities, and access to the city's best restaurants, cafes, and shopping establishments, there is no doubt that it is one of the best places to stay in Reykjavik.
In addition to luxury hotels and budget hotels, look into fantastic vacation rentals in the heart of Reykjavik. This modern and stylish apartment is a perfect budget accommodation for a small family or group of friends. It consists of two bedrooms that can comfortably accommodate up to six guests.
The newly renovated apartment has a well-equipped kitchen, free private parking, unlimited WIFI, and air conditioning. If staying with babies and kids, you could request a cot and high chair.
Iceland's South Coast
There is no doubt that the region of South Iceland is one of the best places to explore on your trip. Boasting rugged mountains, fantastic geysers, stunning meadows, black sand beaches, and mesmerizing waterfalls make the southern coast a premier destination for all sorts of adventure.
There are plenty of must-see spots in south Iceland. Here's a rundown of the top tourist destination on the south coast you shouldn't dare miss out on.
Skaftafell National Park
Skaftafell National Park is located just off Iceland's ring road. Its stunning location, natural beauty, and a plethora of outdoor activities, plus plenty of hidden gems in between, all in Skaftafell National Park, will pack up your schedule but are guaranteed to give you a memorable Icelandic experience.
Glacier hiking is a popular outdoor activity most visitors take part in. Europe's largest glacier, Vatnajökull, is, in fact, located in Skaftafell. Apart from glacier hiking, ice caving is another activity worth trying while in Iceland.
Also, hiking trails vary wildly in Skaftafell, so you'll be sure to find a trail that best fits your hiking capabilities. For example, one of the hikes passes through the Svartifoss Waterfall, a majestic and almost surreal waterfall framed with dark basalt columns. This trail is highly recommended if you're up to a moderate hike.
Jokulsarlon Glacier Lagoon
Also located right by the Ring Road is the Jokulsarlon Glacier Lagoon, and it's definitely a must-see spot on the South Coast. Although Iceland is covered in glaciers, Jokulsarlon Glacier Lagoon is the most unique, breathtaking, and awe-inspiring. A trip to Jokulsarlon Glacier Lagoon must be in order when you visit Iceland.
The glacial lagoon is the product of the melting ice from Vatnajökull, the largest glacier in Europe. As a result, massive icebergs float on the surface of the water. If you're lucky, you'll see some of them break and crumple dramatically and unforgettably. And if you're even luckier, you'll see the Northern lights in a full-color display right before your eyes.
Best waterfalls on the South Coast
The south coast is home to the most majestic waterfalls in Iceland. The Seljalandsfoss Waterfall is one of the most popular attractions on the south coast. The best part of the experience is that you can walk behind it, and you must try it too. It's only a short walk and only takes a few minutes — but the memory will forever last!
The Skogafoss Waterfall is also just as famous. This picturesque waterfall has been featured in so many films, as well as in the hit series Game of Thrones. You can't get behind it but can climb the top via a staircase. And prepare yourself because the astonishing views will take your breath away!
The beautiful Kvernufoss Waterfall is underrated. It is only two kilometers from Skofagoss, so it's worth the visit while you're there. This hidden gem of a waterfall is a little secluded, so only a few people go there. The short hike leads to the gorgeous Kvernufoss Waterfall, and once there, you'll realize you're glad you made an effort. You can go behind the waterfall in the summer, but bring a raincoat with you.
Eldhraun Lava Field
Eldhraun Lava Field is the largest in the world, and it came about after a catastrophic eruption in the 18th century. Today, Eldhraun Lava Field is one of the top tourist attractions in South Iceland. The fields are covered in a carpet of moss, while various lava formations have appeared over the years.
Over 200 caves have also been formed in the field, contributing to its allure and mysticism. So if you're driving by the Ring Road or staying on the south coast for a few days, visit Eldhraun Lava Field and see its otherworldly beauty with your own eyes.
Vik
Vik is a small charming village on the south coast. It is 110 kilometers away from Reykjavik and just off the ring road.
Vik's idyllic scenery makes it one of the best places to visit in Iceland. The Black Sand Beach is a tourist favorite, thanks to the blue Icelandic skies, dark sand on the shores, and the black basalt columns standing proudly in the ocean.
You also can't miss the most famous church in Vik, the Vikurkirkja Church. The church is located in a high location, so it is safe from glacial meltwater. Katla Volcano is one of the active volcanoes in Iceland, and Vikurkirkja Church has been appointed as an evacuation center if and when the volcano erupts in the future. Meanwhile, taking a glimpse of this serene red-roofed church during your trip is an unforgettable experience.
Vik is a great pit stop for travelers following the ring road route. It has retail stores, supermarkets, and Iceland lodging options. In addition, there are no other towns or settlements nearby, so it serves as an essential connection between south and east Iceland.
Where to stay on Iceland's South Coast
There are a few towns on the south coast, but tourism is alive in this part of the country. That means travelers have a decent amount of accommodation options in the region. However, you will find fewer options than you would in Iceland's capital. Still, you'd have plenty of options for budget hotels, guest houses, cottages, and decent camping sites.
Hali Country Hotel is a fantastic mid-range hotel in the Southern region. It is located on Hali farm, offering warm and comfortable accommodations on the south coast. The hotel comprises 35 private rooms, all equipped with free WIFI, heated flooring, private bathrooms, a chair and desk, and other amenities.
The rooms have stunning views. To the south are the Atlantic Ocean, breathtaking mountains to the north, and the glorious glaciers to the west. The restaurant also serves a fantastic menu, often consisting of trout, lamb, and other traditional Icelandic fares.
The best aspect of booking a hotel room at Hali is the location. It is only 15 minutes from Jokulsarlon Glacier Lagoon and Skaftafell Nature Reserve. If you're not planning to return to Reykjavik and continue your with your journey, you can enjoy a pleasant and comfortable stay in Hali.
Ion Adventure Hotel is one of the best four-star hotels to stay in Iceland. The hotel is only 45 minutes from Reykjavik and is near tourist destinations like Thingvellir National Park.
You can choose different rooms at Ion Adventure Hotel. The rooms are dressed in Icelandic style, with floor-to-ceiling windows and access to the south's most magnificent views. Some hotel amenities include free WIFI, spacious beds, organic bedding, and name-brand toiletries.
After a long day of exploring, you can relax at the hotel's natural spa with an outdoor hot pool. Afterward, indulge in a sumptuous meal at the on-site restaurant featuring Nordic dishes.
This holiday home is one of the best places to stay in Iceland, mainly if you spend time in the Golden Circle. This isolated vacation home has splendid views of the glaciers and volcanoes. There are no other nearby houses, so you'll also get unobstructed views of the Northern lights.
This two-bedroom house can comfortably sleep up to six people, which is ideal for small families. The house has underfloor heating, a fully-equipped kitchen with a dishwasher, and provisions of linens and bathroom toiletries.
But the best thing about this lodging in Iceland is that it has one of those outdoor hot tubs at the terrace, offering a relaxing way to enjoy Iceland's amazing sceneries of the lake and volcano while soaking in warm water.
East Iceland
Whereas southern Iceland is bustling with activity, shopping, dining, and dynamic nightlife, East Iceland is much more serene. East Iceland is characterized by quaint fishing villages, dramatic scenery, rolling hills, towering waterfalls, impressive lagoons, and natural hot springs.
The region's distance from the Keflavik international airport and the capital city makes it less popular among visitors. However, international travelers who have had the opportunity to explore East Iceland can definitely attest to its captivating beauty.
The East Fjords stretch from Berufjörður from the south to the quaint fishing village of Borgarfjörður Eystri in the North. Some tourists overlook the East Fjords because it lacks some of Iceland's iconic attractions. But on the one hand, that's precisely why East Fjords are appealing. The sparkling lakes, charming fishing villages, and dense forest are always worth the visit.
The eastern region is definitely one of the top places to stay in Iceland, and here are the most stunning sights to see while you're there.
Studlagil Canyon
Although Iceland is well-known for its sheer number of basalt columns, you won't find anything as stunning and marvelous as those at the Studlagil Canyon. The canyon was formed due to the incredible force of water flowing from the Highlands to North Iceland.
After a hydroelectric plant was established in the area, it revealed the hidden beauty of the canyon, featuring enormous and towering basalt columns with slow-flowing blue-green waters below.
Adventurers often visit the Studlagil Canyon to partake in its beauty and to experience a unique hike. The 9-kilometer hike can be challenging, so assess if you're up to it. Wear proper hiking gear and be cautious of slippery areas. Along the way, you'll find a lot of birds and get rewarded by the phenomenal sight of the Studlafoss Waterfall.
Vestrahorn
Wondering where's the best place to stay in Iceland for nature lovers and photographers? If you have reached East Iceland, you should visit Vestrahorn, the most popular destination for photography enthusiasts.
The two-peaked Vestrahorn is believed to be at least eight million years old. It is located above black sand beaches, lending a mystic and surreal look. Vestrahorn takes on a magical look at springtime when flowers bloom, and it becomes the perfect foreground for a fantastic photoshoot.
If you want to know where to stay in Iceland to see the Northern lights, think of Vestrahorn. Without light pollution in the region, you can witness the Northern lights put up the most spectacular display.
Storurd
Storurd is located at the foot of the Dyrfjoll mountains. Boulders sitting on the green pond, this phenomenal sight is taken straight out of a fairy tale book. This hidden gem sees only a few visitors, but those who've had the opportunity know what it is magical beyond words.
Since Storurd is located on rugged terrain, you have to prepare yourself for quite a hike. The best time to visit Storurd is during the summer when everything is bright and clear. While you're there, visit Borgarfjörður Eystri, a small town nearby with only 100 residents. The town is famous for its hiking trails, captivating natural scenery, and fantastic birdwatching opportunities.
Where to stay in East Iceland
Due to its distance from the capital, East Iceland is not for day-trippers. However, if you're cruising by Iceland's Ring Road and exploring the opposite of Reykjavik, consider spending at least two days in East Iceland.
It's good to know that East Iceland has its own airport in Egilsstaðir, allowing you to skip the long drive from Reykjavik and get to the region quickly. Considered the region's capital, Egilsstaðir offers essential services, like shops, restaurants, and accommodations, ranging from four-star hotels to budget hotels, summer cabins, and guest houses.
Kaldá-Lyngholt Holiday Homes offer some of the best accommodations in Iceland in the Eastern region. Composed of three cottages, these holiday homes are within walking distance from the river with a waterfall. The nearest town, Egilsstaðir, is 9 km away, where you will also find groceries and supermarkets.
Each cottage serves as a fantastic home away from home while you're in East Iceland. Each cottage has a double bed, a fully-equipped small kitchen, a living room with a TV, and a veranda with a hot tub, perfect for viewing the Northern Lights.
There are plenty of beautiful destinations surrounding the holiday home. You can visit the Hallormsstaður Forest, Sturord, and Hengifoss Waterfall. So if you're looking for budget accommodation, this is one of the best Iceland places to stay.
One of the best luxury hotels in the Eastern region is Hotel 1001 Nott. This family-owned hotel is located near Egilstadir, and it is definitely one of the best places to stay when you visit Iceland.
The rooms are decked with floor-to-ceiling windows, affording you the best views of the natural scenery outside. Private entrances to the gardens give you the utmost privacy, and you can soak in an outdoor hot tub after a full day out. In addition, the hotel has an on-site restaurant and bar where you can sample traditional Icelandic dishes made with fresh catch and ingredients.
The Seljavellir Guesthouse is an excellent lodging Iceland accommodation in the Southeastern region. Located in Hofn and just off the Ring Road, this is the best area to stay in Iceland if you're looking for fantastic yet budget-friendly accommodation in a stunning location.
The rooms are pristine and sleek, with basic amenities like free WIFI, flatscreen TV, a workstation, and a seating area. Depending on the room you book, you may get one with impressive glacial or mountain views. While breakfasts are served at the hotel, you may also drive a few miles around and find a great restaurant nearby.
Some of the best sights around the hotel are Vestrahorn, Hornafjordur Art Museum, and Stone Museum, just a few miles away. In addition, the town center of Hofn is only an eight-minute drive.
North Iceland
If you're looking for the best place to stay in Iceland, away from the hustle and bustle and closer to nature, then the region of North Iceland is worth considering. North Iceland is teeming with magnificent yet active volcanoes, lush valleys, hot springs, and fishing villages.
The best way to tour North Iceland is to follow the route of Diamond Circle, the northern region's version of the Golden Circle. The Diamond Circle covers the region's best waterfalls, canyons, lakes, and towns. Additionally, North Iceland's rich culture and history, and unspoiled beauty make it one of the best regions to stay in Iceland.
So many tourists focus more on finding the most popular places to stay in Iceland, often limiting their trips to Reykjavik and the southern region. But if you have at least three days to spare and are willing to explore the hidden gems at the peripheries of this beautiful country, then it only makes sense to spend time getting to know this region personally.
Here are the best places to see in North Iceland:
Lake Mývatn
One of the best tourist attractions in the North is Lake Mývatn. This breathtaking lake is home to some of Iceland's most fascinating geological formations. The lake was formed over 2,000 years ago and now covers 37 square kilometers close to the Ring Road.
Lake Mývatn is surrounded by fascinating sights brought about by long years of volcanic activity. Lava pillars, mud pools, and hot springs can be found near the lake. You can go fishing, camping, exploring waterfalls, and birdwatching at the lake.
There are plenty of great accommodation options around the area. Book the best hotel if you're considering staying longer around the lake.
Dettifoss Waterfall
The largest waterfall in Iceland, and one of the most powerful in Europe, is Dettifoss Waterfall, located in the Northern region.
Dettifoss is a jaw-dropping beauty. Standing 45 meters and measuring 100 meters, being in the presence of such a powerful waterfall is a once-in-a-lifetime experience. You will feel the charge and power of Dettifoss even before you see it. Many hiking trails lead to the waterfall, with view decks at a safe distance. If
Asbyrgi Canyon
This depressed horseshoe canyon is in the northern part of Vatnajökull National Park. This incredible canyon features lush forests with walls as guards against harsh elements. The canyon is believed to have been formed thousands of years ago due to glacial flooding. Now, it is home to numerous bird species and other wildlife.
Apart from the scientific explanation, locals also believe in its folkloric origins. According to legends, the canyon's horseshoe shape formed when Odin's eight-legged horse stepped on the ground. Until today, many people believe the canyon is home to otherworldly creatures, including elves, making it all the more magical and mysterious.
Akureyri
Akuyeri is considered North Iceland's capital city. It is the second largest city after Reykjavik. There are only 20,000 people in Akureyri, but its tourism and economy are thriving, making it the best place to stay in Iceland in the Northern region.
Akuyeri is teeming with charm, culture, and history. The winding alleys, beautiful local shops, and quaint cafes can be found all over downtown. It is also the gateway to some of the best day trips in the region, including visits to Dettifoss Waterfall, Myvatn Lake, and Asbyrgi canyon.
Additionally, some of the best places to see in the city include the Laufas Turf Houses, Kjarnaskogur Forest, Mount Sulur, and whale watching at Eyjafjörður.
Where to stay in Northern Iceland
North Iceland hotels vary in price and accommodation options. Thanks to its booming tourism industry, visitors get many choices, from mid-range hotels in downtown Akuyeri to guesthouses and cabins with stunning views. Here are our best recommendations if you're staying where to stay in Iceland's northern region.
This mid-range hotel is located near downtown Akuyeri and offers a cozy and comfortable stay in the North. The 66-room hotel has panoramic views and hiking and biking trails for guests.
The hotel offers free WIFI in all areas and an on-site restaurant with stunning views of Eyjafjörður fjord. In addition, the hotel's wellness center offers massage services and free use of the hot tub and infrared sauna.
There are plenty of things to do within and around the hotel area. There's a playground for kids and a great outdoor space for families. The Christmas garden is 10 minute drive away, and a swimming pool and golf course are nearby. Wander around the Eyjafjörður fjord and find unique galleries, cafes, and restaurants.
Moar Guesthouse also offers an incredible stay in Iceland. It is located in the town of Akranes, only five minutes from the Ring Road. The best sights near the hotel include Laugavegur Shopping Street, the National Museum of Iceland, and Solfar Sun Voyager.
The guesthouse offers stunning sea and mountain views. During winter, you may catch the Northern Lights right from the balcony. There's also outdoor dining and a garden for guests to chill and relax in.
Moar Guesthouse provides modern facilities, including a fully-equipped kitchen, a nice and clean bathroom, and an outdoor and living area. It's a great-sized accommodation catering to a small family, so it's excellent value for money!
Siglo Hotel is one of the best hotels to stay in Iceland in the Northern region. This four-star hotel offers superb accommodation at Siglufjord, also known as the Herring capital of the world.
Siglo Hotel has everything thought out for a pleasant and comfortable stay. A hot tub and sauna invite guests for a relaxing soak while enjoying the peaceful and beautiful scenery. The rooms are donned in clean and fresh decor and are equipped with modern amenities like free WIFI, flat screen TV, walk-in shower, and name-brand bath products. In addition, rooms come with ocean and mountain views.
You can enjoy a buffet breakfast at the hotel and order drinks at the lobby bar. Restaurant Sunna has the best views of the marina, offering fantastic scenery as you indulge in the restaurant's delicious menu.
If you're looking for where to stay in Iceland as a family, consider House Kaldbakur, located at the Nollur Farm in Northeast Iceland. House Kaldbakur is a vacation rental with high-end amenities, including a hot tub under the roof, allowing you to enjoy a relaxing dip while admiring the beautiful scenery.
This spacious vacation rental comprises two bedrooms and comfortably sleeps up to six guests. Its best amenities include free and fast WIFI, underfloor heating, a heated pool, and an outdoor tub. There's a full bathroom, well-equipped kitchen, and living area. All rooms have access to the most incredible views of the fjord.
Some of the best destinations around the area include the Mud Pots, Akuyeri Church, and Hof Cultural Center.
West Iceland
West Iceland is home to the Icelandic Vikings saga, diverse geological formations, majestic volcanoes, and rugged coastlines. Packed with rich culture and history and overflowing with natural abundance, it is easy to see why the western region is one of the best places to stay in Iceland.
Reykjavik and other charming towns and villages belong to Western Iceland. Hot springs, geothermal baths, caves, basalt columns, glaciers, and volcanoes — you name it, this region has it.
There's no shortage of incredible things to see in West Iceland. While it is close to cosmopolitan Reykjavik, you'd be surprised at how diverse this region is. So if you spend a few days in the West, here are the top destinations you shouldn't miss.
Snaefellsnes Peninsula
Located between the Westfjords and Reykjavik, the Snaefellsnes Peninsula is one of the most famous destinations among travelers and locals. Snaefellsnes Peninsula is a two-hour drive from the capital following the Ring Road. But if you land at Keflavik international airport, you can hop into your rental car and drive towards Reykjavik and then head to Route 54, leading to the Snaefellsnes Peninsula.
The Snaefellsnes Peninsula has a sampling of everything that Iceland has to offer. It is well-known for its dramatic landscapes, diverse wildlife, and the sheer amount of various natural formations, including lava fields, black sand beaches, and majestic glaciers. In addition, it is home to Snæfellsjökull glacier, a glacier-tipped volcano that has become one of Iceland's icons.
Incredible Waterfalls
The breathtaking waterfalls are some of the best things to see in the region. Hraunfossar and Barnafoss waterfalls are close to each other and located in Borgarfjörður. Glymur, the second tallest waterfall in Iceland, is situated in Hvalfjörður. The Kirkjufellsfoss waterfall is quite famous among photographers due to its incredible beauty. If you enjoy marveling at waterfalls and taking a hike leading towards them, then Iceland's western region will surely keep you busy.
Krauma Geothermal Bath
If you're looking for the best place to relax in the West, you need not look further than Krauma geothermal bath. This geothermal bath uses hot spring water from Deildartunguhver, Europe's most powerful hot springs. There are different pools, and none use chemicals to maintain cleanliness.
Krauma Geothermal Bath is in a secluded area where you can enjoy peace and quiet as you soak in the pools. Saunas, relaxation rooms, and a restaurant are also available to offer you the utmost convenience and relaxation.
Where to Stay in West Iceland
The western region is popular among tourists, so finding a great place here should be easy. From luxury hotels offering the best views of the Northern lights to accommodations near Snaefellsnes Peninsula, you'll have plenty of options.
The Freezer Hostel is located in the charming fishing village of Rif. Once a fish factory, the Freezer Hostel is now a home away from home for artists and culture enthusiasts. But not only that, the hostel's prime location brings you close to the famous Snaefellsnes Peninsula and affords you the most beautiful views of the Northern lights.
Guests can enjoy and relax at the bar, cook meals in the kitchen, and sleep in comfy beds. The accommodation options range from shared dormitories to family rooms with private bathrooms. The rooms are equipped with WIFI, and kitchens have a refrigerator, coffee machine, microwave, stovetop, etc.
In the summer, the hostel holds events for artists and performers. It is a great way to immerse into Iceland's culture and art scene, while making new friends during your trip.
Hótel Húsafell offers a luxurious stay in Iceland. This four-star hotel combines modern amenities, Iceland's natural beauty, and fantastic location, making it one of the most sought-after places to stay in Iceland.
The hotel comprises 48 gorgeously-appointed rooms with modern furnishings, supplies of organic toiletries, underfloor heating, and the most breathtaking outdoor views. WIFI, breakfast buffet, private bathrooms, and coffee-making facilities are included in your booking.
If you're looking for where to stay in Iceland to see the Northern lights, you've come to the right place. With the high domes of Langjökull glacier, you're guaranteed to have a cloudless and unobstructed view of the Aurora Borealis.
If you visit Iceland as a family or a small party, consider renting Hvalfjarðarsveit Cottage, 40 km from Reykjavik. This 4-bedroom cottage can comfortably sleep up to five guests and is equipped with a full bath, kitchen, living area, and patio.
Enjoy ultimate relaxation in this remote area with splendid views of Lake Eiðisvatn and the fjords around you. During winter, the Northern Lights are visible from the cottage as there's hardly any light pollution.
Final Thoughts: Best Places to Stay in Iceland
There you have it, a full rundown of the best places to stay in Iceland. Every region is beautiful in its own way, and you'll be surprised over and over again by the sheer beauty of this country. So be prepared to be swept by the stunning sights of pristine lakes and charming fishing villages, and practice your poses before the waterfalls and volcanoes. These jaw-dropping natural wonders will make your Icelandic experience unforgettable.
The most important thing to remember when planning a trip to Iceland is that accommodations get booked early! Some of the best hotels, vacation homes, and guesthouses are booked up for the year, so it's terrific to nail down your itinerary to figure out where to stay as you hop from one place to the next.
Are you already searching for the best hotel, apartment, or guest house? Good! Review our hotel recommendations per region so you can get the ball rolling. Iceland would love to have you soon!