While Glacier is not to be missed, there are also so many family-friendly things to do near Glacier National Park and all around Montana!

The Best Things to do Near Glacier National Park for Families
This post was sponsored by Visit Montana. All opinions are my own.
Montana is one of my family's favorite states! And Western Montana holds a special place in our hearts. We spent last summer in southwest Montana exploring ghost towns and dinosaur fossils. This year we ventured farther north to explore Glacier National Park and beyond.
When you think of Western Montana, the first destination that comes to mind is most likely Glacier National Park. And while Glacier certainly does deserve ALL of the visitors and attention, after all it's the "Crown of the Continent," and home to more than one million acres of pure natural beauty, there is also more to this gorgeous corner of the treasure state.
Read here for a Family Guide to Montana
Read here for a Guide to Glacier National Park for Families
Check out this video of all the amazing things we did in Montana during our trip!
If you're visiting Glacier National Park and want to explore even more of nearby Montana, you've got plenty of options waiting for you just outside the park. Many visitors to the park will be staying outside Glacier, making it easy to experience all that the surrounding area has to offer. Here are some of our family's favorite things to do near Glacier National Park.
Explore the Town of Whitefish
Located just 25 miles outside Glacier National Park, the town of Whitefish is a great place to find boutique shops and restaurants with a trendy, yet downhome feel. Be sure to hit up our favorite restaurant in Whitefish, Loula's for some great breakfast and amazing freshly baked pies daily! Be sure to try the famous Huckleberry pie!
Whitefish Mountain Resort
When you're done exploring Whitefish, head up the mountain to Whitefish Mountain Resort where you'll find great skiing in the winter and some amazing family-friendly fun in the summer. Whitefish offers summer tubing, two exhilarating Alpine slides, mountain biking, a spider climb, strider bike park for the little ones, an 8 zip zipline course, and a huge aerial adventure park with courses for all levels.
Don't miss the scenic ski lift to the top of Whitefish Mountain where you'll be greeted by the Summit Restaurant where you can find a variety of food and Huckleberry milkshakes of course! At the top of the mountain, you'll also find the Summit Nature Center. The summit is part of the Flathead National Forest so kids can participate in a scavenger hunt and even earn their own Junior Ranger badge!
Whitefish Lake State Park
Located in Whitefish you'll find the beautiful Whitefish Lake and Whitefish Lake State Park. Take boats out on the water or have a picnic on the lakeshore.
Flathead National Forest
Glacier National Park is surrounded by the Flathead National Forest. Explore these beautiful protected lands and try a few hikes like Blackfoot Lake, Demers Ridge, Glacier View, and Moose Peak Trail.
Visit the Tiny Town of Polebridge, Montana
You can drive through Glacier National Park via Camas Road and visit the tiny town of Polebridge, Montana, population 167. Polebridge is completely off the grid and absolutely adorable. If you're lucky enough to be visiting Glacier over the 4th of July, Polebridge has an amazing parade complete with candy and a fly over!
Don't leave without a stop into the Polebridge Mercantile, which has been around since 1914 (just after Glacier National Park opened) and grab a Huckleberry Bear Claw, which may be the most delicious thing I've ever eaten!
Visit Flathead Lake
Flathead Lake is a huge lake just outside Glacier National Park. In fact, you've probably seen it on a map of Montana it's so big. It's actually the largest body of freshwater west of the Mississippi! You can do a variety of activities on Flathead Lake such as water skiing, kayaking, and boating. Or if you're like us, throw rocks in the water for hours!
Huckleberry Patch
If you haven't had your fill of Huckleberry pie, stop by the Huckleberry Patch, just a few miles from the West Glacier entrance, and enjoy Huckleberry licorice, jam, ice cream, pie, and even a Huckleberry BBQ burger! It's a cute stop and a great place to pick up fun Montana souvenirs. You can learn more about Montana Huckleberries here.
Blackfeet Heritage Center and Museum of the Plains Indian
Located in the small town of Browning, these are both great museums detailing the history and culture of several Montana tribes. We loved all the gorgeous native artwork and educating ourselves on Montana's first inhabitants.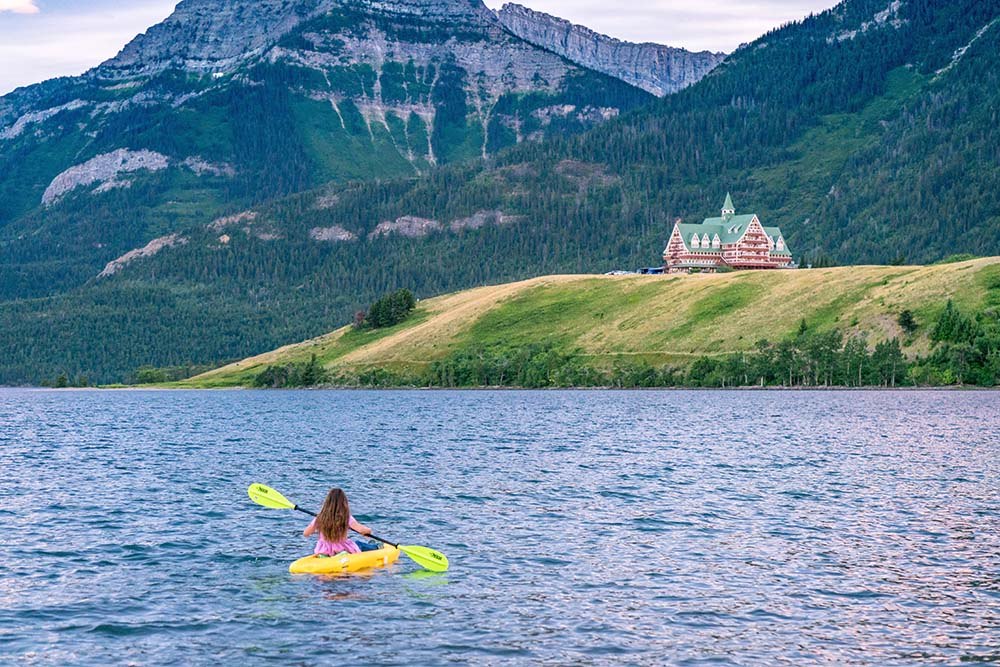 Waterton Lakes National Park Canada
If you have a week or more in Glacier National Park, consider visiting Waterton Lakes National Park in Alberta, Canada. It's about a 2.5-hour drive from the center of Glacier. You can drive up Going to the Sun Road, through Logan Pass, by St. Mary Lake and on into Canada! The Glacier-Waterton border is actually the first International Peace Park in the world. You can visit Waterton as a day trip or stay overnight. Be sure to take the boat tour on Waterton Lake that will allow you to see Glacier from the Canadian side and also view the maintained border between the US and Canada. You can find more information on Waterton Lakes National Park here.
Note: You will need a passport to cross the border each way. Check Chief Mountain border crossing hours here.
While I hope you have an amazing time in Glacier National Park, I also hope you get out of the park to explore more of Montana and beyond!
Here are some resources that will be helpful for your trip to Montana:
Montana Guide for Families
Family Guide to Glacier National Park
If you have any questions or need help planning your trip to Montana, be sure to get in touch via Facebook, Instagram, or Email.