Wondering where to stay in Edinburgh? Our comprehensive guide will walk you through the best Edinburgh neighborhoods to stay at and the best accommodations you can find in each area, to suit every budget and preference, ranging from luxury hotels in Edinburgh to the best vacation rentals.
Scotland's capital city, Edinburgh, is a beautiful destination in Europe. A magnificent city with a vibrant culture and rich history, Edinburgh fascinates all types of travelers. So whether you've come to Edinburgh as a solo backpacker, as newlyweds on your honeymoon, or as a family looking for new European experiences, Edinburgh will surprise you in the most incredible ways!
I had the opportunity to live outside of Edinburgh as a kid with my Grandma, who was a total inspiration to me and a huge influence on my life. She's really the reason I fell in love with travel. She was a single mom to 5 kids. She raised and supported her kids and then went on to get her Masters and then earn her Ph.D. in English Literature. She was attending the University of St. Andrews while I lived with her and they are some of my fondest memories.
We loved hopping into Edinburgh to spend time at the castle or just wandering the cobblestone streets. (I'll see if I can dig up some old pictures…they're in a box somewhere). Ps. This was pre-Harry Potter, so it's even more magical now! I've since taken my own kids back to Scotland and they especially love Edinburgh. There's just so much history and fun presented in a compact city that doesn't seem too overwhelming.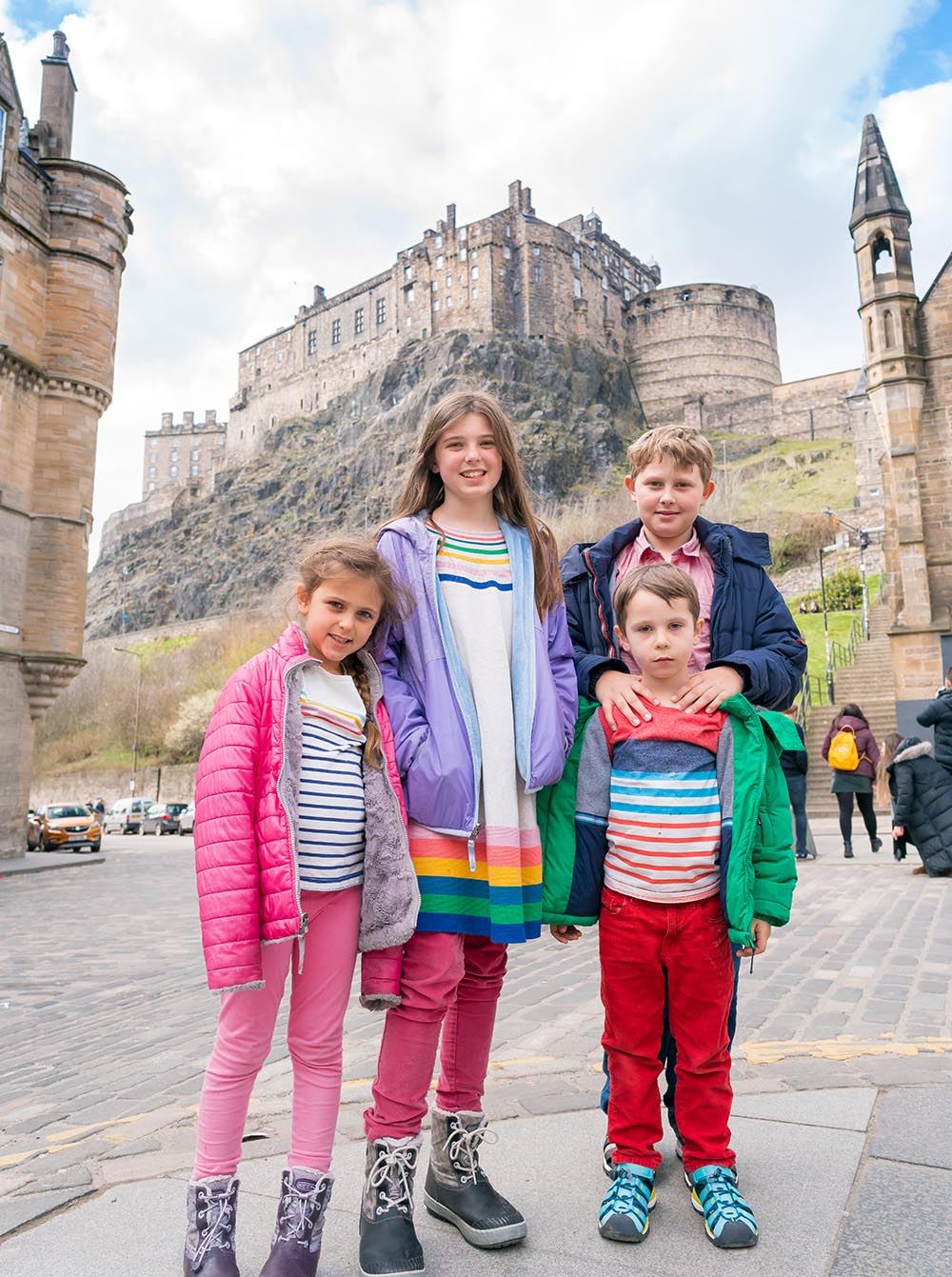 I wanted to share with you my favorite places to stay in Edinburgh, including the best neighborhoods in Edinburgh and some of our favorite hotels in Edinburgh as well.
The stunning medieval architecture, the charming Old Town, and the magical Edinburgh Castle are only some of the must-see places in the city. Add to that the world-famous Royal Mile, George Street, and Princes Street, and soon you'll realize that there's more to Edinburgh than you've probably expected.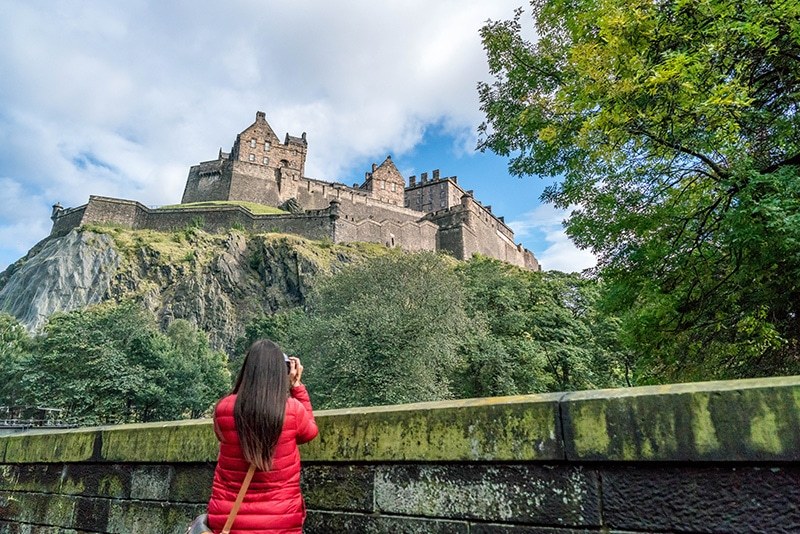 If you're going on a vacation to Scotland and visiting Edinburgh, you'll want to know the best places to stay in Edinburgh.
From the winding cobbled streets of Old Town, the beautiful Princes street gardens in New Town, to the trendy shops in Stockbridge, the best Edinburgh neighborhoods will give you unforgettable experiences during your trip. The entire city is relatively compact, making these neighborhoods walkable.
Also, there are plenty of accommodation options in the best neighborhoods in Edinburgh, Scotland, from chic boutique hotels to lavish and elegant luxury hotels to castle hotels in Scotland. So if you're wondering where is the best area to stay in Edinburgh, you'd want to get to know each of these fantastic Edinburgh neighborhoods first.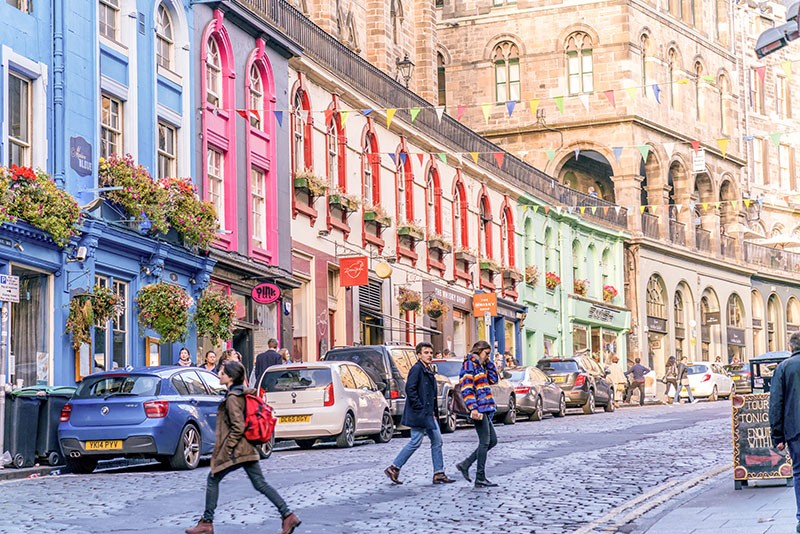 This post contains affiliate links
The Best Neighborhoods To Stay In Edinburgh (according to me)
Here are the best neighborhoods to stay in in the city. Discover the best hotels, apartments, and vacation rentals to suit your budget and preferences.
Edinburgh Old Town
Old Town is at the very heart of Edinburgh. This historic old town is home to the famous Edinburgh Castle. It is practically within walking distance of nearly everything you'll need to see within the area and discover its many hidden gems.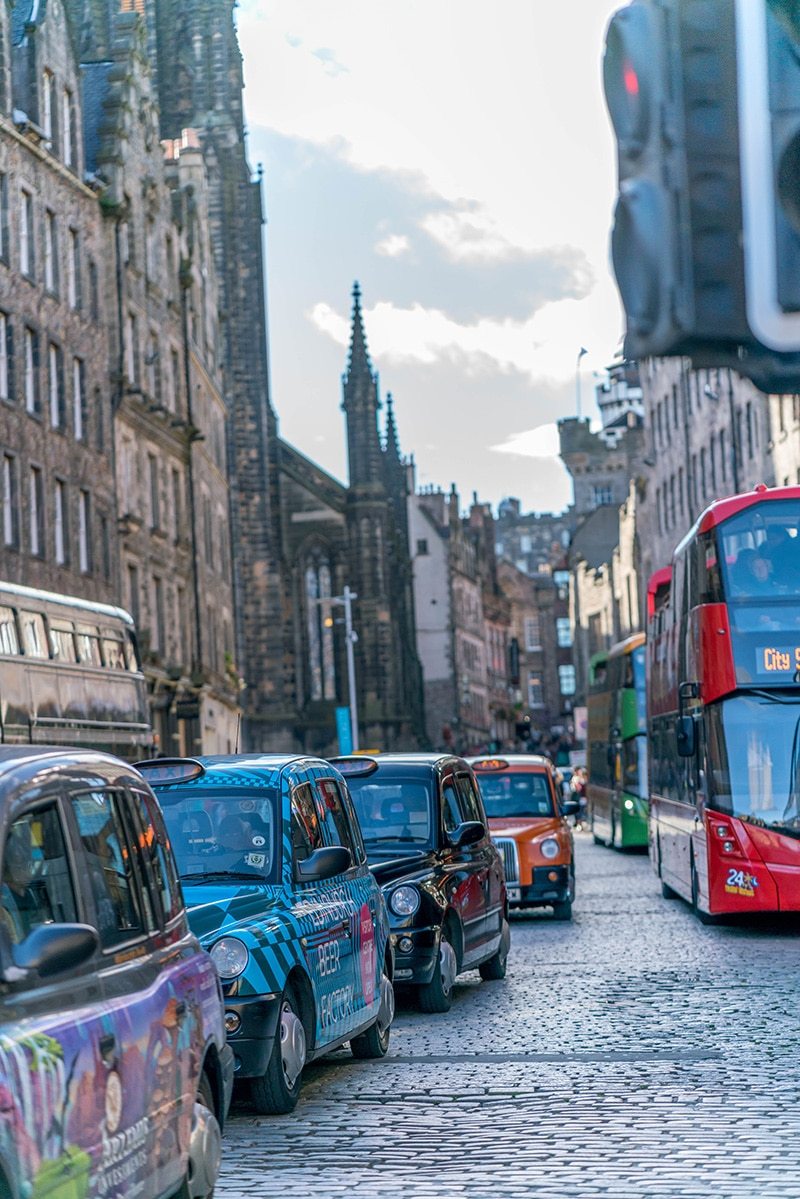 Some fascinating spots in Old Town include Edinburgh's Royal Mile, home to the Edinburgh Fringe Festival. The world-famous Edinburgh Castle is at the top of the Royal Mile, while the Holyrood Palace sits at the bottom. Other remarkable destinations in Old Town are the Scottish Parliament, St. Gile's Cathedral, The Real Mary King's Close, and the National Museum of Scotland.
Numerous shops, famous restaurants, and some of the best hotels in Edinburgh are also located in Old Town. It is the recommended neighborhood to stay in Edinburgh if it's your first time in Scotland, giving you a glimpse of this country's fascinating culture and history. In my opinion, this is the best neighborhood to stay in Edinburgh if you want that old-school magic feel and everything right at your doorstep. If you're wondering where to stay in Edinburgh Old Town, here are our favorite hotels.
Radisson Blu Hotel is located in the historic Old Town, right smack in the center of the Scottish capital. Radisson Blu is a luxurious hotel offering warm and comfortable stays in the Edinburgh city center.
With the hotel's strategic location, almost everything you'd want to see in the area is just a short walk away. While there, consider visiting the Royal Mile, Holyrood park, Arthur's seat, George IV Bridge, and Edinburgh Castle. Some of Edinburgh's most famous restaurants and Princes Street, Edinburgh's shopping district, are also a stone's throw away from the hotel.
Radisson Blu Hotel offers excellent accommodation, featuring stylish rooms, comfortable suites, modern amenities, and excellent services. You can also access an indoor heated swimming pool, gym, sauna, and steam room. Delicious Scottish breakfast is served at the hotel's on-site restaurant on the ground floor.
The Glasshouse Hotel is a fantastic boutique hotel to stay in in Edinburgh. This luxurious hotel was previously the 172-year-old Glenorchy Church. Restored in 2002, the Glasshouse Hotel has since become one of the top places to stay in Edinburgh.
The hotel boasts 77 bedrooms sporting cozy-contemporary interiors. This modern hotel has floor-to-ceiling windows, luxurious bedding, heated floors, and other amenities. Also, all rooms have access to the roof terrace, where you'll find the breathtaking views of Calton Hill and panoramic sights of the city center.
Major tourist attractions are close to the hotel, including Edinburgh Castle, Playhouse Theatre, and The Royal Mile. Thanks to its central location, it's easy to visit places of interest by riding the Edinburgh Waverley Train Station and tram at St Andrew Square.
This famous house of Allan Ramsay, located in Old Town, offers a cozy and comfortable stay. It is conveniently situated in the heart of Old Town, allowing easy access to the sights and sounds in the city center.
The property is declared a UNESCO World Heritage Site, overflowing with a rich history waiting for you to discover. The vacation house has three floors, equipped with two queen-sized beds and two twin beds, sleeping up to 6 people.
With your kitchen, living room, and two private bathrooms, your stay in Edinburgh with your family will be epic, comfortable, and worth every moment. So if you're searching where to stay in the Edinburgh old town as a family or a small party, this famous house should be on your radar!
Edinburgh New Town
A relatively short distance from the Old Town is Edinburgh New Town. Streets and bridges connect these two areas, and you can easily walk through the Princes Street, George Street, or Queen Street to cross between the old and new town.
While Old Town is historic, the New Town is oozing with a modern and lively vibe. It is the best area to stay in if you're looking forward to shopping, dining at Michelin-star restaurants, and enjoying Edinburgh's night scene. Many would consider New Town as the Edinburgh city center or downtown area, and it's wise to stay here to be in the middle of everything fun in the city.
The downtown area provides convenient access to the city's main attractions, such as shopping at Princes Street, Charlotte Square, St Andrews Square, and the Scottish National Gallery. Rose Street is worth visiting, especially if you're looking for excellent Scottish meals and enjoying a few drinks at pubs and bars.
There are also several fantastic Edinburgh hotels in New Town, so you'll be spoilt for choice!
If you're a massive fan of Harry Potter, you must experience staying at the Balmoral Hotel. The hotel is on Princes Street, where JK Rowling spent time writing Harry Potter and the Deathly Hollows. If you have a more generous budget, opt for the JK Rowling suite where the famous author stayed — it's a once-in-a-lifetime experience!
The imposing structure of this hotel features a clock tower, which has become symbolic of the city. The elegant and modern rooms are donned in soothing colors and equipped with luxurious touches like marble bathrooms and high-end toiletries.
Fine dining at the hotel's on-site restaurant, The Number One, a Michelin-star restaurant, is always an exquisite experience. For a casual ambiance, head over to Brasserie Prince, indulge in sumptuous French and Scottish cuisine, or socialize with friends over tea at the Palm Court, the hotel's elegant venue for afternoon tea.
Eden Locke comprises 72 stylish apartments perfect for families and small groups of friends visiting the fine city of Edinburgh.
The apartments are tastefully furnished with everything you'd need for a comfortable and relaxing stay in Edinburgh. Rooms have an L-shaped sofa, kitchens, parquet floors in the bedrooms, and modern conveniences like fast WIFI and a smart TV.
Eden Locke is located on George Street and is accessible to all Edinburgh attractions, such as the National Museum of Scotland, Edinburgh Zoo, the Palace of Holyrood House, and Craigmillar Castle. In addition, high-end shopping stores, fancy restaurants, and chic cafes are just a stone's throw away from the apartments. Also, Edinburgh Waverley station and Haymarket station are within walking distance.
Kimpton Charlotte Square is one of the best New Town hotels. The 5-star luxury hotel is located near George and Princes Street. You won't miss it for its grand Georgian architecture and stunning courtyard.
The elegant rooms in Kimpton are donned in rich colors and luxurious fabrics. The hotel touches up each room in style, featuring luxurious leather upholstery, functional yet beautifully crafted desks and chairs, to innovative technology. Rooms and suites have free WIFI, flat screen TV, fridge-filled snacks, to complimentary toiletries. The hotel also has a full-service spa, gym, and swimming pool.
The hotel's desirable location gives you access to all the famous sights in New Town and the rest of the city. The train station is only a five-minute walk away, while Edinburgh airport is just a 10-minute drive. You can reach the beautiful gardens, shopping districts, fantastic restaurants, and most of the must-see spots in the city on foot.
Stockbridge
Stockbridge is located in the northern part of the city. Thanks to its thriving artisan community, it is famed for its cool and hip bohemian vibe. But there's more to Stockbridge that warrants your visit to this charming neighborhood.
Stockbridge is an affluent, upmarket area in the Edinburgh city center. There are plenty of faces to find good food and coffee. In the evening, pubs are filled with people looking to see and be seen. While in Stockbridge, you should go shopping at the Sunday Farmer's Market, visit the picturesque Dean Village, and walk along the Water of Leith. You should also see the Royal Botanic Garden and the Gallery of Modern Art.
Stockbridge is also home to some of the best hotels in Edinburgh. You can always find a great place to stay in this charming and hip Edinburgh neighborhood, from luxury hotels to beautiful townhouses.
This double-upper villa in Stockbridge offers a warm and cozy stay in Stockbridge. It has four bedrooms and can comfortably sleep up to 11 people. It is the perfect accommodation for traveling families or groups of friends looking for a decent-priced vacation rental in a great location.
It is close to the Water of Leith, affording you easy access to a serene, beautiful river, perfect for spending the afternoons chilling, walking, or cycling. Other places of interest are nearby, such as Dean Village, the Royal Botanic Garden, and the Scottish National Gallery of Modern Art. In addition, it is close to several excellent shops, chic cafes and restaurants, and public transport.
The apartment is fully equipped for a pleasant and comfortable stay. The kitchen has a range cooker, an open fireplace in the drawing room, high-speed WIFI, a coffee and tea maker, and a supply of bathroom toiletries.
Nira Caledonia is a stunning Georgian townhouse once the home of the literary elite John Wilson of Ellera. This Edinburgh hotel is historically significant to the city, so you won't find modern features like air conditioning and lifts to preserve the hotel's structure. However, the hotel offers a comfortable stay. It has modern conveniences such as flat-screen TVs and iPhone dock stations.
The 26 elegant rooms in Nira Caledonia reflect Edinburgh's rich history and culture, featuring antique furnishings and decor. You can choose from single rooms, townhouse grand, to jacuzzi suites, depending on your group size, preference, and budget. The hotel's on-site restaurant, Blackwoods Edinburgh, serves delicious meals throughout the day. All the dishes are made with fresh and locally-sourced ingredients.
Nira Caledonia is an excellent place to stay in Edinburgh, as it's only 10 minutes from the city center. Beautiful parks and gardens are less than a kilometer away, while notable city spots are also within walking distance. Portobello and Cramond beaches, lovely restaurants, and bars are also easily accessible from the townhouse.
The Raeburn is a gorgeous luxury boutique hotel located at the heart of Stockbridge. Once a family home in Stockbridge, The Raeburn has been converted into one of the best places to stay. On foot, you can walk to the city center in ten minutes and explore other must-see spots like Edinburgh Castle, Camera Obscura and World of Illusions, and King George V Park.
The hotel boasts ten spacious rooms furnished with the utmost comfort in mind. Think of Egyptian cotton bed sheets, marble towels, rainforest showers, and modern amenities such as a speedy WIFI connection, iPhone docking station, and flat-screen TVs.
The Raeburn also offers a fantastic dining experience at its on-site restaurant, serving all-day meals with fresh ingredients. The drinks menu is also varied and extensive, allowing you to choose the perfect refreshment after a long day of exploring Edinburgh.
Leith
Dreaming of a coastal getaway in Scotland, but don't have time to venture farther north? Leith is the place to be! Located at the city port, Leith offers a chill and relaxing vibe, perfect for tourists looking to escape the city center's hustle and bustle. This charming coastal neighborhood is conveniently located only 2.5 miles from the Old Town, and you can easily reach it by bus, train, or even on foot if you're feeling fit!
Leith is a beautiful neighborhood offering unique experiences. Here you can sample the best seafood and craft beer by the harbor. Leith's streets are also artfully designed with murals and installations, making them the perfect photo background. There are fantastic restaurants and cafes, and some independent shops. The pubs are filled with young people looking to have a good time at night.
Also, you can't miss out on going onboard the Royal Yacht Britannia, which was once used by the royal family, and the Georgian antiques, if you're looking forward to scoring unique antiques during your trip.
Be sure to take the Leith walk. Leith Walk is a street in Edinburgh, Scotland, which runs from the east end of Princes Street to the port area of Leith. The street is approximately 2.5 miles long and is one of the busiest and most diverse streets in the city. It is known for its unique mix of independent shops, restaurants, pubs, and cultural venues, as well as its historic architecture and landmarks.
Leith Walk has a rich history, dating back to the 16th century when it was a rural path leading from Edinburgh to the port of Leith. Over time, it developed into a bustling commercial and residential area, with many different communities settling in the area, including Irish, Jewish, and Chinese immigrants.
Leith emits a distinct vibe as compared to New Town and Stockbridge. It is more chill and hip, ideal for young travelers and foodies. There are also several hotels and accommodations, so deciding to make Leith your home base while exploring Edinburgh is a good idea!
There are several luxurious hotels in Leith, but Fingal Edinburgh is the most unique of them all. Why? Because Fingal is a super yacht turned into a hotel. This floating hotel comprises world-class luxury cabins decked in elegant decor and furnishings.
You may choose the classic cabin, carefully curated with warm lighting and elegant curves. Or, go all out, and book the penthouse Skerryvore Suite with a private dining area, lustrous fabrics, and a king-sized bed. All cabins have thoughtful touches such as WIFI connection, smart TV, and brand-name toiletries.
But that's not all. Fingal's exceptional location allows you to wander to Leith's best spots, where you can find fascinating shops, chic cafes, and Michelin-starred restaurants. But if you're too lazy to leave the hotel, you could dine on-site at the hotel's 2-star AA Rosette restaurant and partake in delicious meals that usually feature sumptuous seafood fare.
Malmaison is an incredible hotel located at the bustling waterfront of Leith. It has over 100 rooms and suites, and each is tastefully decorated in luxurious styles and textures. Every service and facility in the hotel is well thought out, from the fluffy duvets and super comfy beds to the unforgettable views of the harbor. Other helpful amenities include high-speed WIFI, a coffee and tea maker, and flat-screen plasma TV.
From the hotel, you can easily explore Leith's best spots, including parks and gardens, on foot. The main attractions in the city center are also just as accessible, including the Palace of Holyrood House, Camera Obscura and World of Illusions, and Edinburgh Castle. In addition, some of Scotland's best beaches are on the city's outskirts, many of which are only a few minutes drive from the hotel.
The hotel also offers a wide range of dining options. Chez Mal Brasserie serves irresistible French cuisine, while Chez Mal Bar provides all sorts of cocktails and extraordinary bar food. To cap the long day of exploring the beautiful city, treat yourself to a relaxing massage at the spa, and you're guaranteed to have the best sleep of your life afterward.
This stylish apartment is located on the fifth floor of the building located in the heart of Leith, affording you glorious views of Edinburgh Castle straight from the balcony.
The spacious apartment comprises of two bedrooms that can sleep four people. It comes with a private bathroom and kitchen, equipped with modern facilities such as a washer and dryer, TV, internet, microwave, fridge, and dishwasher. It's the perfect accommodation for groups of tourists looking for a lengthier stay in the city at a more budget-friendly accommodation cost.
The penthouse boasts a prime location that provides convenient and speedy access to the city center. Notably, popular attractions such as the Royal Mile, Princes Street, Edinburgh Dungeon, and Holyrood Park are within walking distance from the hotel.
Additionally, being situated in Leith grants you easy access to both the Old Town and New Town, providing you with ample dining and shopping choices. Furthermore, the vast array of public transportation options available at your doorstep makes it effortless to venture out and explore other neighborhoods.
Morningside & Bruntsfield
To the south of the city are two neighboring areas that are just as interesting and worth exploring: Morningside and Bruntsfield
Morningside and Bruntsfield are upscaled neighborhoods known for their affluent residential areas. These two neighborhoods have excellent shopping districts, fantastic cafes and restaurants, and beautiful parks and gardens. It is half an hour from the city center, but you'll be surprised by the fantastic things to do and see in these areas.
The tranquil environment makes a good background for an afternoon picnic in the meadows. Another must-visit is the Dominion cinema, the country's last family-run cinema, which gives you a unique movie-viewing experience.
And be sure to experience dining in the restaurants in the area, many of which serve French and Italian dishes. After that, go on a walking tour and admire the grand architecture and historic buildings in Morningside and Bruntsfield.
There are plenty of accommodations in Morningside and Bruntsfield. Since these neighborhoods are away from the city's dynamic energy, you'll find your stay here most calm and relaxing. These two areas are the ideal home base if you're looking forward to an unhurried vacation where you can enjoy every moment at your own pace.
Black Ivy is a Soho-inspired boutique hotel overlooking Bruntsfield Links Park. There are 21 distinctly-decorated rooms decked in vibrant colors, Egyptian cotton bed sheets, brand-name toiletries, and spacious en suite bathrooms. You'll enjoy modern amenities like free WIFI, flatscreen TV, and a coffee and tea maker.
Black Ivy boasts of serving delicious meals in stylish settings. The restaurant offers an extensive menu, while roasts are specially provided on Sundays. The Bar, on the other hand, probably sets Black Ivy apart from other traditional hotels. The Bar serves an endless collection of craft beer and other concoctions while amazing musicians play live music.
The Lane is a boutique hotel located in Morningside. It is located in two charming Victorian Villas and is only two miles from downtown. Plenty of public transport can take you to and from Morningside and the city center, allowing you to explore the city easily.
The Lane offers a comfortable and pleasant stay in Edinburgh. The spacious and luxurious bedrooms are decked in contemporary designs with sophisticated finishes. You'll appreciate all the seemingly simple touches the hotel paid attention to, from the upholstered headboards, walk-in showers, and underfloor heating. If you book the suite, you'll get a private terrace where you can adore the scenic environment anytime.
The hotel's Bar and restaurant are one of the city's oldest and most popular dining spots. Known by the city folks as The Canny's Man, and is known to serve delectable dishes made with fresh and locally-sourced ingredients, especially seafood.
FAQs About Where to Stay in Edinburgh
Is it better to stay in Edinburgh Old Town or New Town?
If I had to pick where to stay in Edinburgh and only pick one neighborhood, it would be Old Town.
Is 3 days enough in Edinburgh?
There's never enough time, but 3 days in Edinburgh is a good amount of time to see most major attractions and get a feel for the city.
Is Edinburgh a walkable city?
Yes, Edinburgh is quite compact compared to other capital cities. It is not recommended to drive in Edinburgh unless necessary. Parking is tricky and traffic isn't great. Walk or use the bus system.
How many days in Edinburgh is enough?
Three days, 2 nights is the minimum amount of time recommended to spend in Edinburgh.
Where To Stay In Edinburgh: The Choice Is Yours
Whether you're a Harry Potter fan looking to feel the magic in the city of Edinburgh, a couple who wishes to embark on an unforgettable romantic vacation, or a family making new memories, one thing is for sure, coming to Edinburgh will be a decision you'll never regret.
You should ponder where to stay in Edinburgh as each neighborhood is pretty and charming in its own way. Would it be in Old Town where you can see history on your doorstep? Or in Stockbridge, so you can shop till you drop? Or will you choose Leith, so you can feel the fresh breeze at the harbor yet still be relatively close to the city center?
The good thing is, whichever spot you choose, you'll always find a great place to stay. Edinburgh has no shortage of superb accommodations, whether you're looking for something luxurious, fun, quirky, or budget-friendly. Edinburgh will always have something for you!