Discover the most beautiful train ride in the world, the Bernina Express Train. Learn the best tips for your journey through the Swiss and Italian Alps. Learn where the Bernina Express goes, how to purchase tickets, how to reserve seats, and the most beautiful stretches of the route.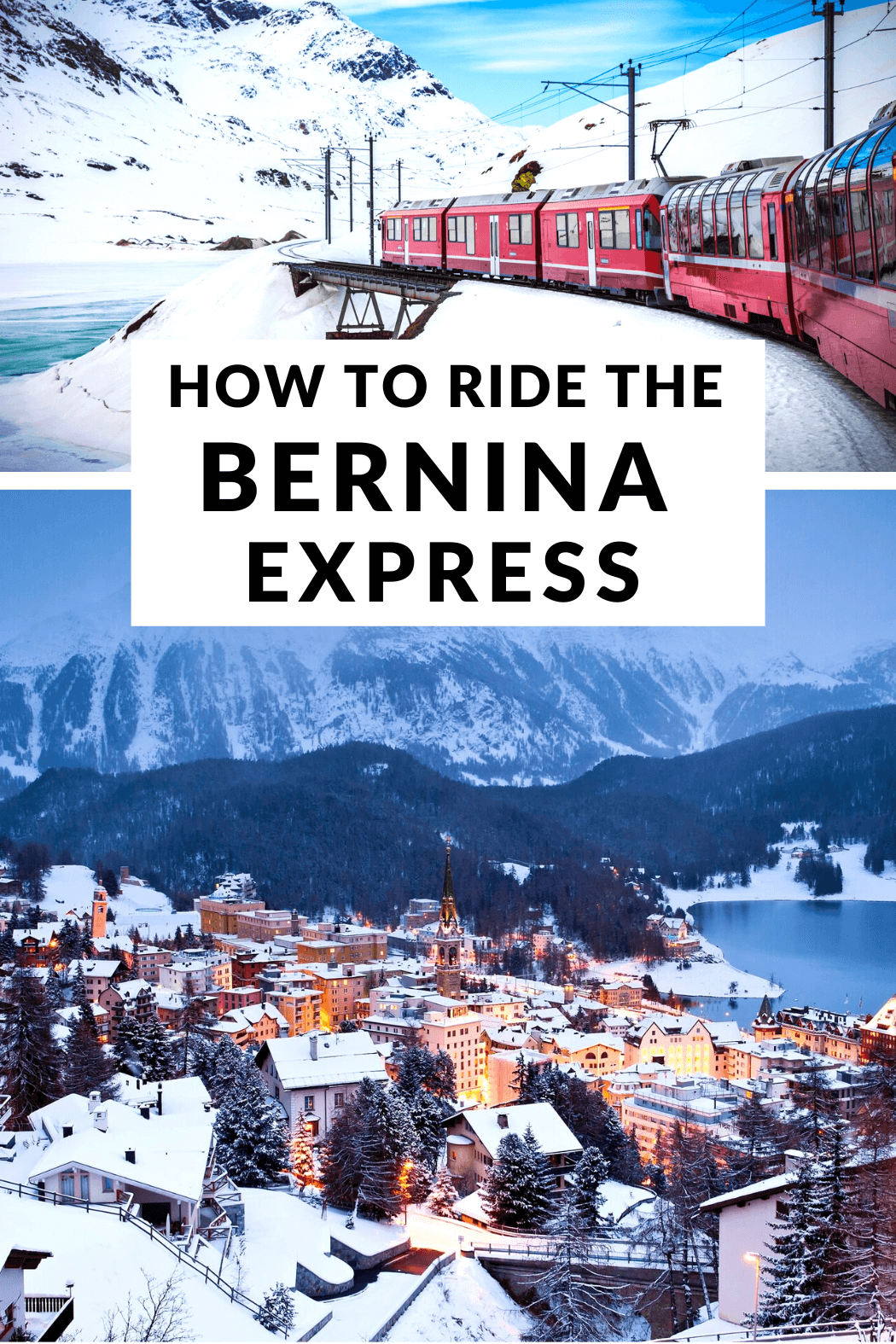 Is there a journey you can take that is more romantic and adventurous than a train ride in Europe? You can cross multiple borders with ease and watch the wonderful scenery change from palm trees and lakes to snowy mountains and glaciers before your eyes.
Riding the Bernina Express scenic train route between Switzerland and Italy offers all of that and more.
This UNESCO World Heritage Site runs between Chur in the Graubünden canton of Switzerland and Tirano, an Italian town in Valle d'Aosta. It offers beautiful scenery, the chance to ride a historic railway line, and a novel way to explore these two countries. The ride through the Alps is truly one of the most beautiful places in Switzerland.
This guide includes absolutely everything you need to know about traveling on the Bernina Express from first-hand experience. It includes how to get to the Bernina line from Zurich or Milan, how to travel part of the Bernina Express route or the entire route, and how to make a reservation and book tickets.
Hop on board and discover the magic of the Bernina Express route for yourself!
Don't have time to read a bunch of reviews and blog posts? Here are our top picks for visiting Switzerland:
Wanderlust Switzerland Guide
Need a quick day-by-day, open-and-go itinerary for Switzerland? Get my guide and let me do the work for you!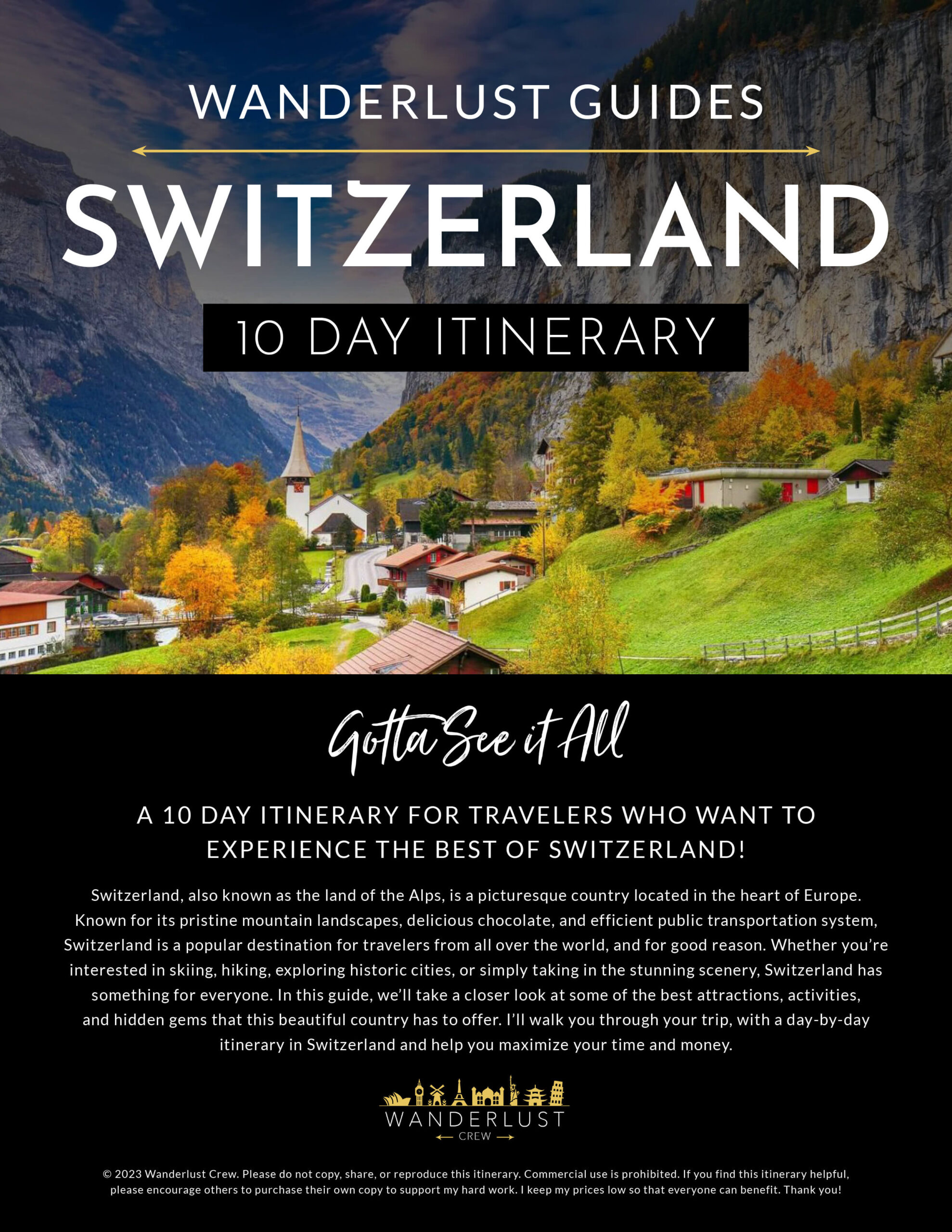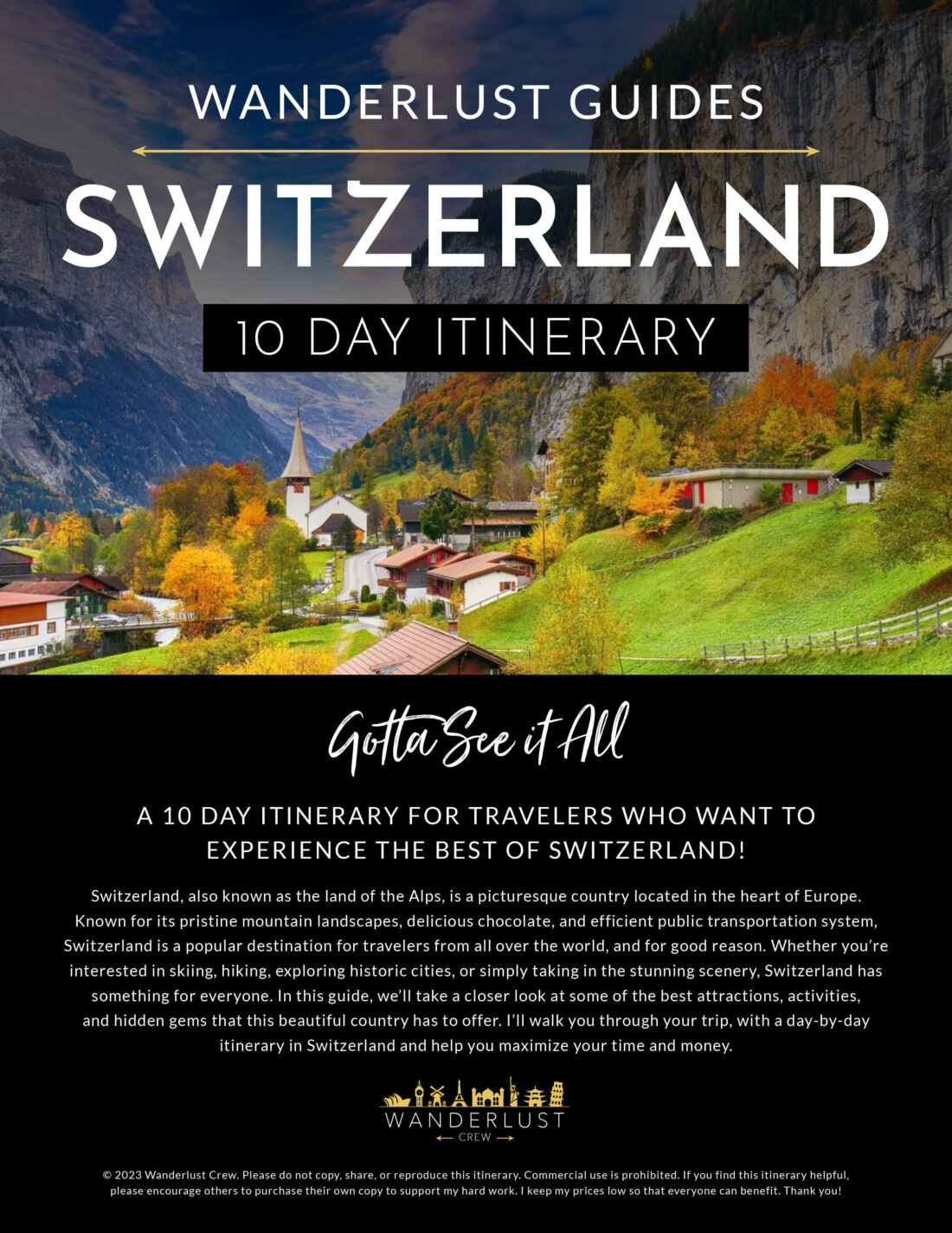 Our favorite Hotels in Switzerland
Getting Around Switzerland
Our favorite activities and tours in Switzerland
What Is the Bernina Express?
The Bernina Express is a four-hour train route on the Rhaetian Railway. It covers 25 stations between the mountains of the Swiss Alps and the picturesque villages of northern Italy.
The train negotiates a 144 km/90-mile journey over 196 bridges and viaducts and through 55 tunnels. It's certainly not a high-speed train but rather a scenic train route with spectacular views and a fantastic alternative to other routes between Zurich and Milan.
This incredible train climbs 7,392 feet/2,253 m above sea level with Alpine gradients as steep as 1 in 7. If you don't know anything about Alpine gradients (and no one would expect you to!) then all you need to know is that 1 in 7 is pretty steep.
History of the Bernina Express UNESCO World Heritage Site
The Bernina Pass section of the Rhaetian Railway line was built between 1896 – 1904. The Bernina Railway line, along with the Albula Railway line which is part of the Bernina Express route, became a UNESCO World Heritage Site in 2008.
UNESCO state that not only is the structure an outstanding example of architecture and civil engineering but it also works beautifully within the landscape. It also had a socio-economic impact in the early 20th century when it was built. The Bernina Express helped connect isolated and remote towns in the Central Alps with the wider region.
Overall, the Bernina Express route was a win-win for everyone! It's still impressive over 100 years later.
Where Does the Bernina Express Route Go?
The Bernina Express route map is like a who's who of gorgeous Swiss landscapes. Only a very, very small section of the route is in Italy.
Where the Bernina Express ends and starts depends on your perspective, but let's start at the most northerly point on the Bernina Express map. The first of the 25 stations is Chur in the Alpine city of Switzerland.
Then, the train passes through the Albula Valley on the Albula Railway and along the famous Landwasser Viaduct. It travels through the Albula Tunnel before reaching the luxurious ski resort town of St Moritz. After St Moritz, the train passes through Pontresina before reaching Ospizio Bernina which is the tallest point of the route.
Afterward, it continues chugging past the Morteratsch Glacier and the Palü Glacier to Alp Grüm Train Station. Getting closer to the Italian border, the Bernina Express route runs past Bernina Massif then Lake Poschiavo in the Poschiavo Valley. Just before reaching the last stop of Tirano town, it winds down the famous Brusio Circular Viaduct.
Bernina Express Train Map
This Bernina Express Map will show you the stops and points of interest along the Bernina Express route. There will be several opportunities to stop and explore, but make sure you reserve your tickets and that you're able to get where you need to be on time. Some people make many stops and some people just ride the train all the way through without stopping. It just depends on what you'd rather do.
How to Ride the Bernina Express from Milan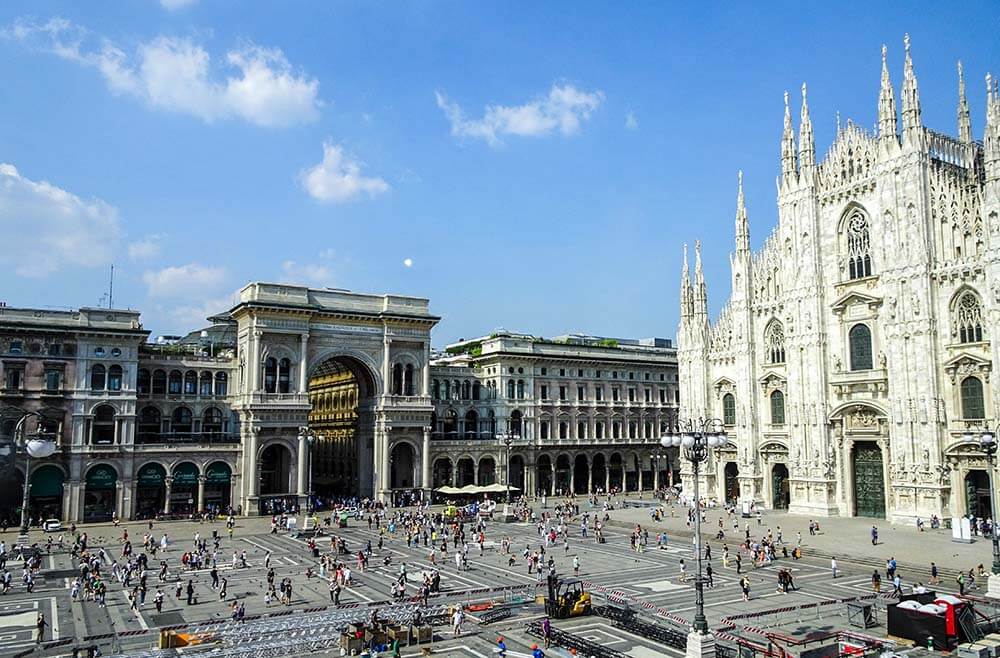 The Bernina Express makes a great day trip from Milan or a day trip from Lake Como. If you're starting in Milan Italy, you can hop on a regional Trenord train from Milano Centrale Station to Tirano Station. There is a direct train every two hours and you don't need to book ahead as there is unreserved seating in 2nd class on local trains in Italy. You can buy a ticket at the station, stamp it, and hop on board.
This train route is also beautiful as it runs along the east banks of Lake Como! This journey takes around 2 hours and 30 minutes.
You switch trains in the town of Tirano but note that the Bernina Express departs from a different station. Walk across the courtyard (literally, the two stations are next door to each other) from the Tirano RFI Station to the Tirano RHB Station to change trains for the Bernina line.
How to Ride the Bernina Express from Zurich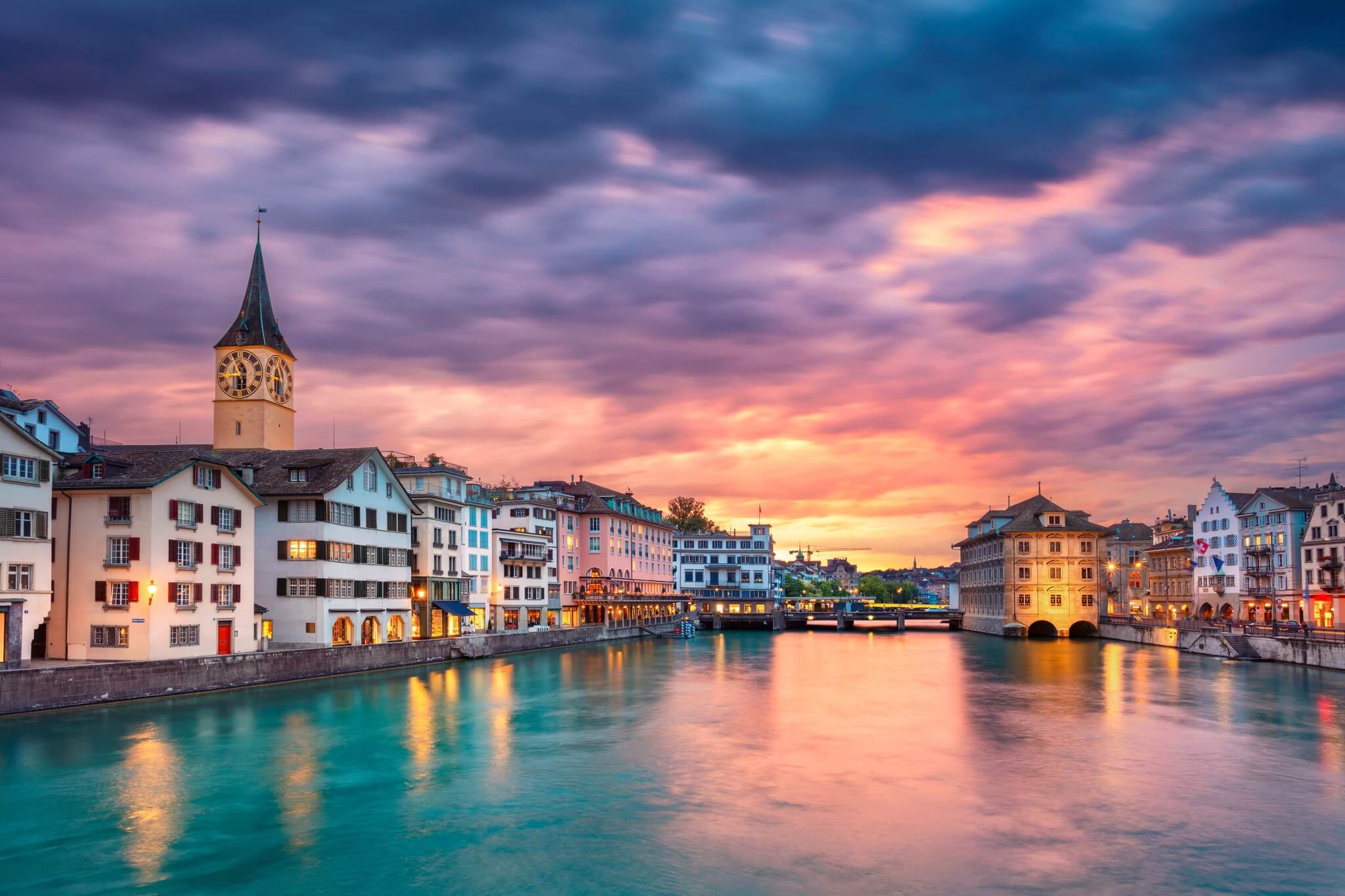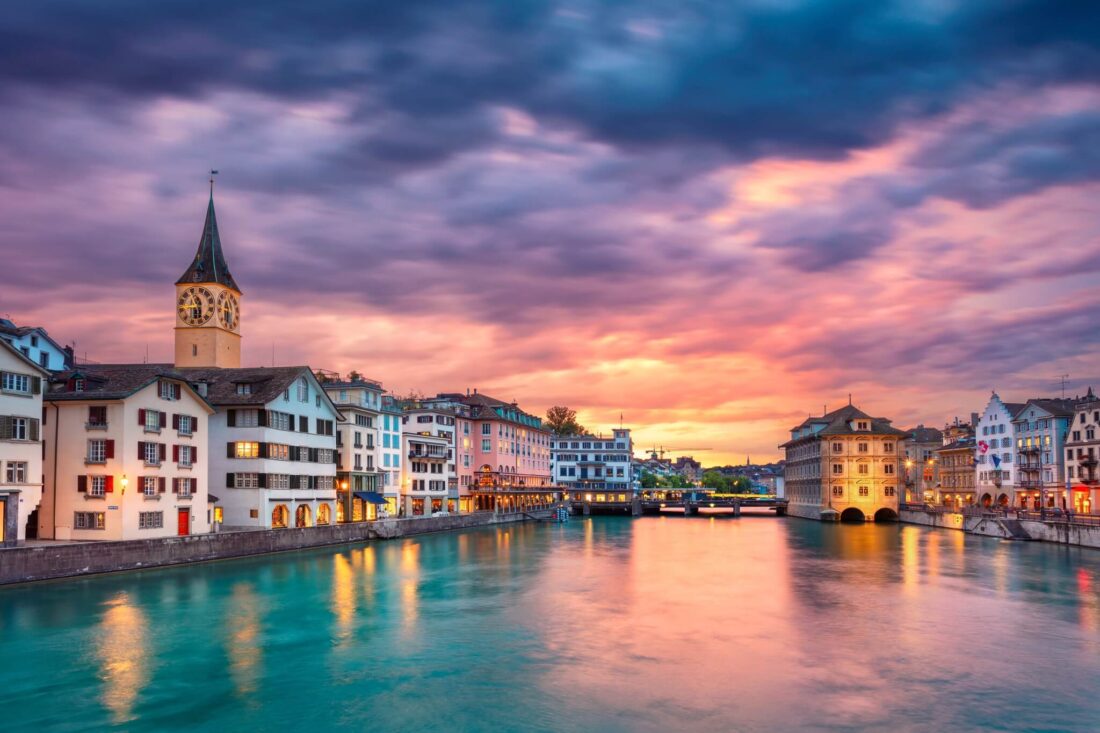 Alternatively, if you are starting your journey in Zurich Switzerland, you can get a direct train from Zurich HB Station to Chur Station via an SBB InterCity or InterRegional train. There is a direct train every 60 minutes and you also don't need a reservation for these trains. Just hop on board and sit where you like!
This journey is only around 75 minutes long and offers beautiful views of Zurichsee and Walensee lakes.
Chur is a terminus which means that no trains pass through, they always either start or end here. You will change trains here for the Bernina Express and there are only six platforms so it won't be difficult to locate.
Buying Bernina Express Tickets & Prices
Seat Reservations
It's essential to have two pieces of documentation (either electronic or physical) to travel in the panoramic cars of the Bernina Express: a valid ticket and a seat reservation. You can buy a seat reservation up to six months in advance and you should buy this first.
It's no use having a train ticket if all the seats are sold out! It's a reservation-required service. The extra fee for reservation costs between CHF 20 (around €19) and CHF 26 (around €25) depending on the month. There are also price differences between the 1st class and second-class carriages.
There aren't too many benefits to 1st class, so don't worry about having to ride in 2nd class if the seats in 1st class are sold out. Try and book seats opposite your travel partner so you both get a window view. You can book seat reservations on the Rhätische Bahn website.
Train Tickets
All you need after your seat reservation is a standard ticket! These are on sale six weeks in advance and are included in most Eurail passes, the GA travelcard, and the Swiss travel pass.
If you're booking a journey that is slightly longer than the Bernina Express, make sure the times correspond with the Bernina Express timetable. You can buy tickets from Rail Europe or The Trainline. If the booking platform suggests buying a Swiss Saver Day Pass, buy it because this is valid for the Bernina Express route.
To give you an idea of prices, the cost of a ticket from Zurich to Tirano starts from CHF 92 (around €87) for 2nd class. Saver Day Passes start from CHF 52 (around €50).
How Often Does the Bernina Express Run?
During the summer months (which is usually from mid-May to mid-October), there are two services between Chur and Tirano. In the winter months (which is the rest of the year!) there's only one.
There's also an extra service between St Moritz and Tirano if you only want to do half of the journey. Again, there are two of these services per day during summer and one during winter.
There are also hourly local trains that travel between Tirano and Chur on the Bernina Express route. They typically aren't direct trains so you will probably need to change trains in St Moritz.
What Are the Bernina Express Trains Like?
Bernina trains are a vision of royal red steaming through the glistening white snowy landscapes or vibrant green fields. Not literally steaming, of course! Like all trains in Switzerland, this narrow gauge train runs on electricity.
There are 2nd class and 1st class carriages on every Bernina Express train. The 2nd class carriages have fabric seats and there are more seats in every carriage whereas 1st class has leather seats, more space, and fewer seats.
Both classes have the same panoramic windows, power sockets, and free WiFi. You can purchase refreshing beverages and delicious snacks from the trolley or you are welcome to bring your own food and drink. In the summer, there are panoramic cars with open roofs and windows.
Luggage compartments are available on the train and these tend to have windows that you're able to open. You cannot open the panoramic windows on the official Bernina Express carriages, only the regional train carriages.
Regular Train Travel Vs Bernina Express Train
There are lots of pros and cons to booking a regional train on the Bernina Railway over the official Bernina Express train.
Local trains are a little bit cheaper because you don't need a reservation. They run more often and they also stop at every station so you can get off halfway at St Moritz on a regular train if you'd prefer. The windows on the Bernina Express are much taller and wider than on regional trains, but you can open the windows on local trains.
However, you cannot make a seat reservation on regional trains, there is only one class, and there are no opportunities to buy refreshments on board. So, if you're looking for a once-in-a-lifetime, luxury train experience then you should book a 1st class reservation on the official Bernina Express service.
10 Highlights of the Bernina Express Route
These are just some of the spectacular sights you can expect to see outside the panoramic cars along the Bernina Pass. All highlights are listed in order of traveling north from Tirano Italy to Chur Switzerland.
1. Brusio Spiral Viaduct
If you are starting the Bernina Express route in Tirano, this will be the first attraction you see! The Brusio Viaduct is a single-track, nine-arch stone spiral railway viaduct that curves 360 degrees around itself.
This viaduct opened in 1908 to reduce the steep gradient in this part of the track. It looks like a work of engineering you might find in a toy set, but not real life!
2. Poschiavo Valley & Lake Poschiavo
Soon, you'll be chugging through the Poschiavo Valley and passing Lake Poschiavo. It's a natural reservoir just into the Swiss border around 3,156 feet/962 meters above sea level.
Surrounded by mountains, it looks beautiful in every season!
3. Bernina Massif
Also known as Piz Bernina depending on the country, this is the highest mountain in the eastern Alps. It's also the tallest part of the Bernina Range and the Rhaetian Alps.
You can easily witness this impressive mountain just south of Pontresina as it has an elevation of 13,283 feet/4,049 meters!
4. Alp Grüm Station
Alp Grüm is a popular place for hikes in the summer and Nordic skiing and snowshoeing in the winter months. It's a charming station with an onsite restaurant.
It offers stunning views of the Palü Glacier and Lagh da Palü lake.
5. Morteratsch Glacier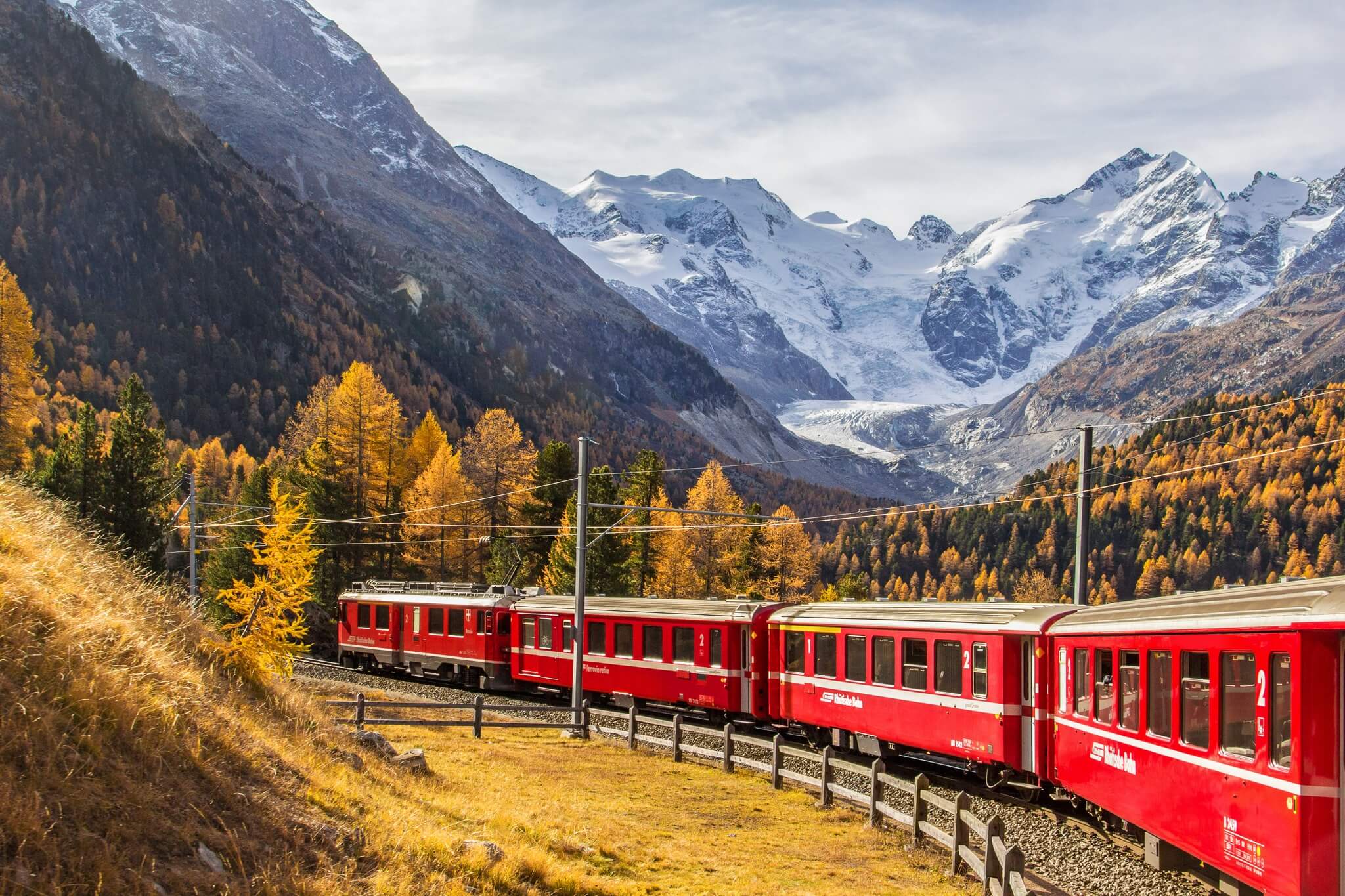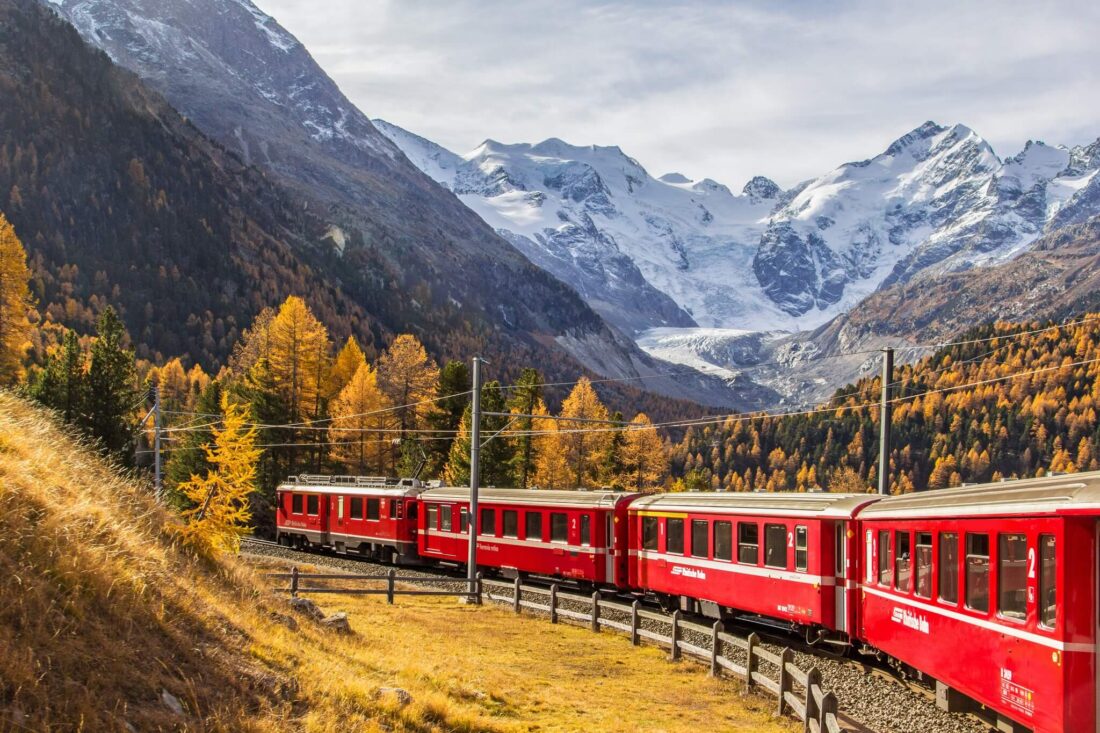 This is the largest glacier in the Bernina Range of the Bündner Alps in Switzerland. It's a typical valley glacier and is a fantastic hike during the summer and fall months.
6. Ospizio Bernina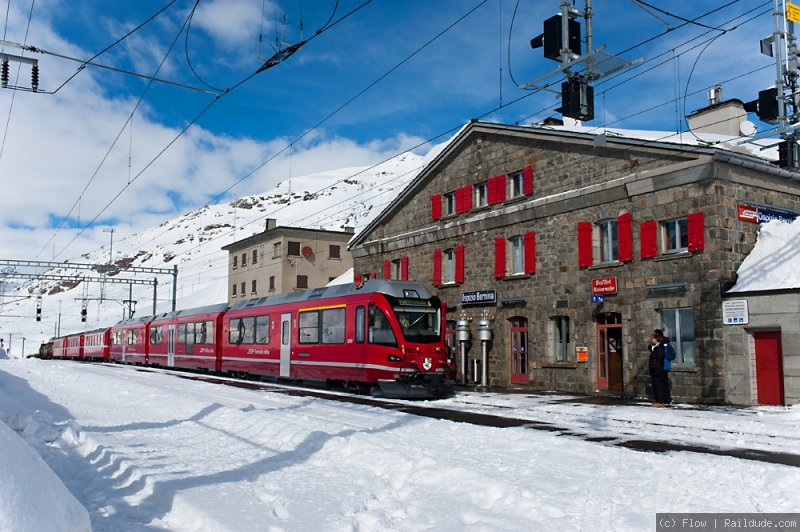 Once you reach this station, you've reached the highest point on the Bernina Express route and also the Rhaetian Railway network! The Ospizio Bernina station is 7,392 feet/2,253 meters above sea level.
7. Pontresina
This mountain village has incredible architecture including lovely churches and historic hotels. It's also known for its hiking trails and fragrant pine tree forest.
8. St Moritz
The luxury resort town of St Moritz is the oldest winter resort in the world. St Moritz has had the privilege of hosting the Winter Olympics twice, plus, it's just a lovely (if a bit expensive – even for Switzerland!) town to explore.
9. Albula Tunnel
Another amazing feat of engineering on the Albula Railway line, the Albula Tunnel is one of the highest in the alps. It's currently being completely rebuilt. After over 100 years, it seems about time.
10. Landwasser Viaduct
Just before you arrive in Chur, you'll cross over the Landwasser Viaduct. It's a 65-meter-high, six-arch bridge (don't look down if you're scared of heights!) and one of the icons of the Bernina Express route.
How to Ride the Bernina Express Bus
Yes, there is also a Bernina Express bus route, if for whatever reason you cannot take the trains or would just prefer to travel by bus.
The bus is a relatively recent addition to the Bernina Express family run by the Rhaetian Railway. The Bernina Express bus does not quite operate on the same route as the trains (that would be pretty impossible) but the bus does travel through the Bernina Pass from Lugano Switzerland to the town of Tirano Italy and back.
The Bernina Express Bus journey is around 90 km/56 miles and takes around three hours. It usually operates from the end of February to the end of November, shutting up shop to avoid the worst of the winter weather.
While not as historic or as impressive as the train, the Bernina Express bus still offers incredible lakeside views. But why choose between the bus and the train?! You could take the bus from Lugano to Tirano and then hop on board a train from Tirano to St Moritz or Chur for the full experience!
What Should I wear on the Bernina Express?
The Bernina Express is a beautiful train journey that travels through the Swiss Alps, so it's important to dress appropriately for the climate and environment. Here are some recommendations on what to wear:
Dress in layers: The temperature can vary greatly depending on the altitude and weather conditions, so it's best to wear layers that you can easily add or remove as needed.
Comfortable footwear: You'll likely be doing some walking and standing, so it's important to wear comfortable shoes with good grip. Avoid high heels or sandals as they may not provide enough support or traction.
Warm jacket: Even in the summer months, it can get chilly at higher altitudes, so a warm jacket or coat is recommended.
Hat and sunglasses: The sun can be intense at high altitudes, so a hat and sunglasses can protect you from the glare and UV rays.
Rain gear: Switzerland is known for its unpredictable weather, so it's a good idea to bring a raincoat or poncho just in case.
Overall, dress comfortably and be prepared for changes in weather conditions. You can explore more options for Switzerland clothing and gear in my Switzerland packing list.
Other Beautiful Train Journeys in Switzerland
The Bernina Express route isn't the only epic train journey in Switzerland. Oh no, no! Far from it.
The Glacier Express runs along the same route as the Bernina Express from St Moritz to Chur, but then it continues onto Zermatt. The entire journey from St Moritz to Zermatt is 290 km/180 miles and takes seven hours.
Jungfrau Railway transports passengers to the highest train station in Europe, also known as the Jungfrau Railway Station. It's an eyewatering 11,332 feet/3,454 meters above sea level in the Bernese Alps.
There are also two spectacular cogwheel railways, the Gornergrat Cog Railway and the Cogwheel Railway to Mount Pilatus. They are both marvels of modern engineering but, more importantly, they travel through incredibly beautiful parts of Switzerland!
FAQs for Riding the Bernina Express Train
Where does Bernina Express start and end?
The Bernina Express starts in Chur, Switzerland, and the Bernina Express ends in Tirano, Italy.The train travels in both directions on the route, so the opposite is also true. It is easy to travel to Chur from Zurich and it's easy to travel to Tirano from Milan via a regional train.
Can you do Bernina Express in one day?
Yes, it is 100% possible to do the Bernina Express in one day! The entire journey is 144 km/90 miles and takes only four hours to travel. It's also possible to ride the Bernina Express bus and then ride at least part of the train route after finishing the bus journey.You could easily start or end your journey in either Chur or Tirano or even the major cities closest to the stations, Zurich and Milan.
Can you get on and off the Bernina Express?
If you board the official Bernina Express train, it is a non-stop, direct train between Chur and Tirano. The short answer is no, you cannot usually get on and off. However, if you book a ticket for a regional train on the Bernina line, you are welcome to board and alight the Bernina Express train at any station on the route. You don't have to stay on the train for the entire trip. As with any other regional train, you can't hop off a random station for a second and then hop back on! No matter how beautiful the scenery is and how good your photos would look. There's a high chance the train will leave without you.
What months does the Bernina Express run?
The Bernina Express operates year-round, but the timetable varies depending on the season. From early April to late October, the Bernina Express runs a daily service. During this time, you can enjoy the beautiful spring and summer scenery, as well as the autumn foliage. From November to early April, the Bernina Express operates on a reduced schedule, with fewer trains running each day. However, the winter months offer a unique and magical experience as the landscape is covered in snow and ice. It's worth noting that some sections of the Bernina Express route may be closed during the winter months due to snowfall or adverse weather conditions. However, the train still runs on most days, and passengers can enjoy the winter scenery from the comfort of the panoramic train carriages.
What is the difference between 1st class and 2nd class on the Bernina Express?
The main differences between 1st class and 2nd class on the Bernina Express are as follows:Comfort: The seats in 1st class are generally more spacious and comfortable than those in 2nd class. They may also have additional features such as footrests and adjustable headrests. The panoramic windows in both classes provide excellent views, but 1st class may have slightly larger windows. Amenities: 1st class carriages usually have fewer seats than 2nd class, providing a quieter and more exclusive environment. Additionally, 1st class passengers are often offered complimentary drinks and snacks during the journey. Cost: As expected, 1st class tickets are more expensive than 2nd class tickets. However, the difference in price can vary depending on the time of year and demand. Overall, both classes provide a great experience on the Bernina Express, with stunning views of the Swiss and Italian Alps. The choice between 1st and 2nd class ultimately depends on your budget and personal preferences for comfort and amenities.
When Is the Best Time to Ride the Bernina Express?
Choosing the best time ride the Bernina Express train journey is so tough! The Bernina Express is an epic, scenic train route every season. Board the Bernina Express in winter for snowy mountain peaks, St Moritz's frozen lakes, and glühwein in ski resorts. Spring brings colorful flowers and thawed-out glacial lakes. Summer offers lush green hills and some trains even have even open-air carriages in July and August! The fall season doesn't disappoint either with vistas covered with the burnt oranges and vibrant reds of harvest time. If you're desperate for a real answer and you have the option to visit Switzerland in any season, choose winter. You'll have the quintessential Swiss Alps experience.
Which Side of the Bernina Express Train is Better?
If you are traveling on the Bernina Express from Chur to Tirano, sit on the right side. But if you are traveling from south to north, sit on the left side.Keep in mind that both sides offer amazing views and you can move freely around the trains. So, it doesn't matter too much!
Enjoy an Unforgettable Trip on the Bernina Express Switzerland Train
If you love sensational panoramic vistas, the romance of train travel, and unique experiences then you will love traveling on the Bernina Express route. No matter when you are visiting Switzerland or Italy, traveling along the Bernina Pass via bus or train is worth it in all seasons.
With this guide, you'll know exactly how to book your trains and all the logistical details to make the most of your train journey. All aboard for an epic adventure in Switzerland and Italy!