You'll most likely know Switzerland as one of the most beautiful places in the world. You picture majestic mountain peaks, flowing waterfalls, paragliding, hiking, and adorable Swiss Chalets. While planning your Switzerland itinerary, you're probably not thinking about Swiss food, except for maybe chocolate and cheese (let's be honest, that's usually all I'm thinking about).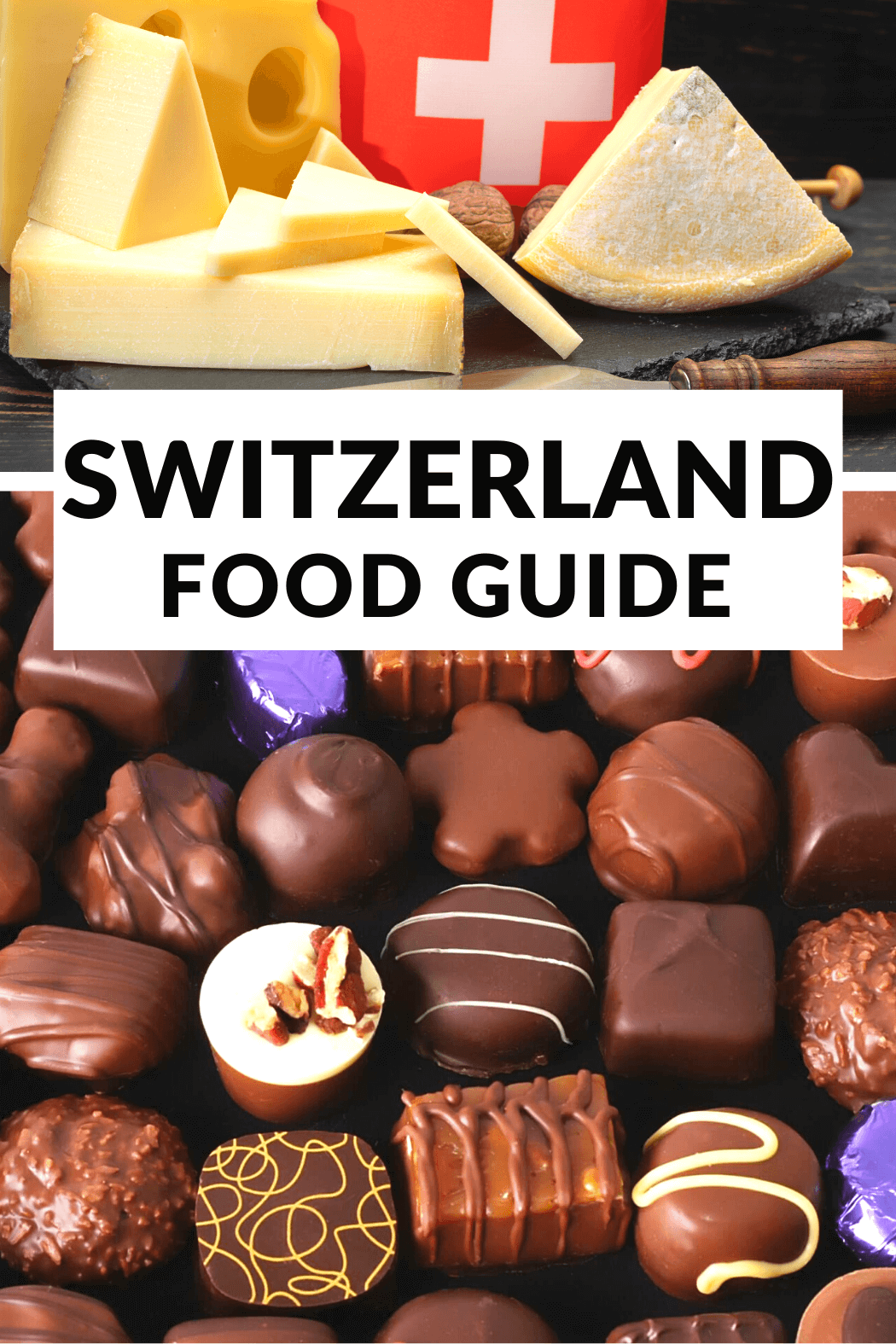 When we first moved to Europe for our worldschooling adventure, Basel, Switzerland was the first place we lived. Paul was working there already, so it was an easy place for us to start. I could get settled with the kids and he could go to the office for a bit. We quickly fell in love with Switzerland and have returned several times
Lucky for me, one of my best friends lives in Switzerland right now, so I got to go back again a few months ago to visit her and her family, which was so fun. I brought along another of my best friends and it was such a blast. We stayed in Bern and took several day trips out from there.
Don't have time to read a bunch of reviews and blog posts? Here are our top picks for visiting Switzerland:
Wanderlust Switzerland Guide
Need a quick day-by-day, open-and-go itinerary for Switzerland? Get my guide and let me do the work for you!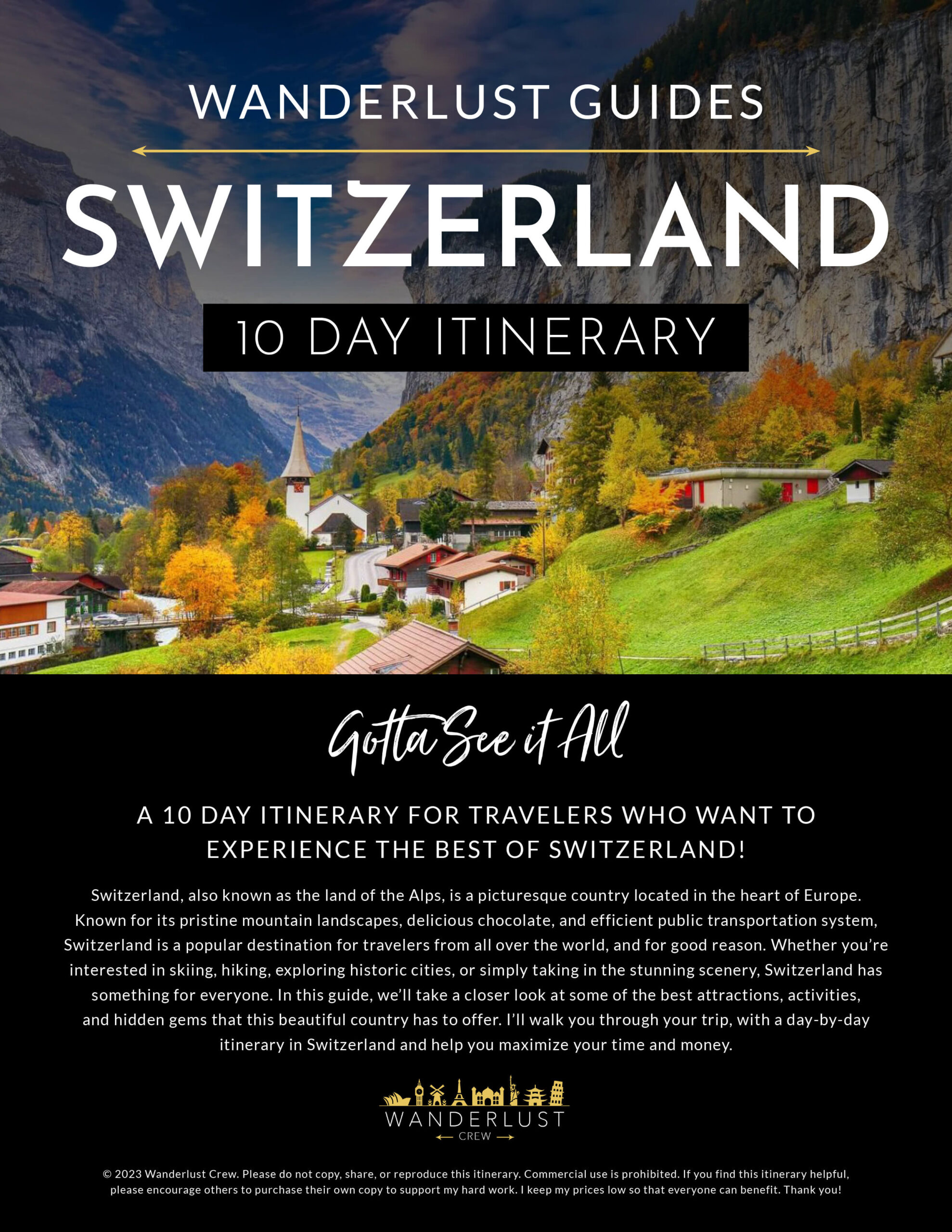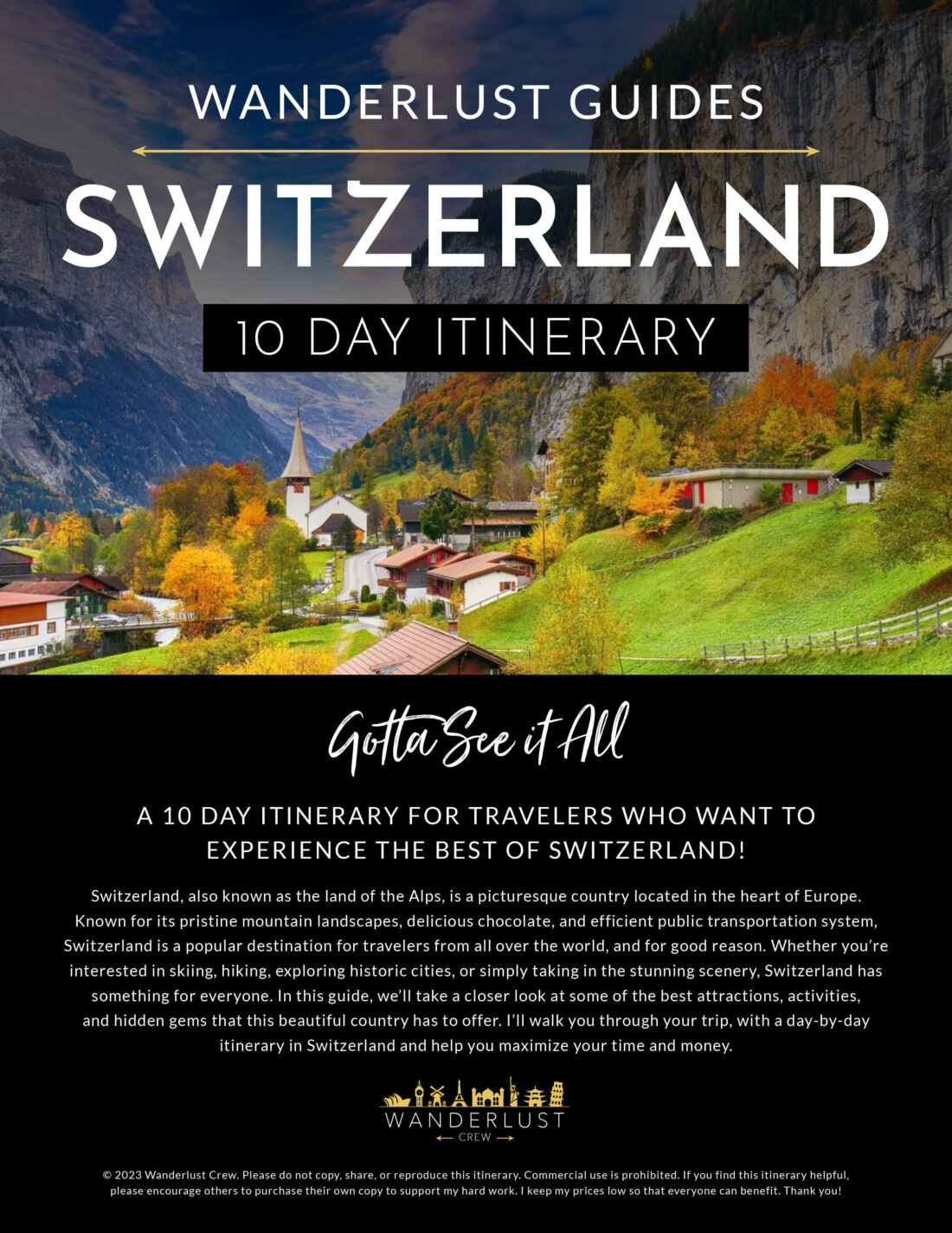 Our favorite Hotels in Switzerland
Getting Around Switzerland
Our favorite activities and tours in Switzerland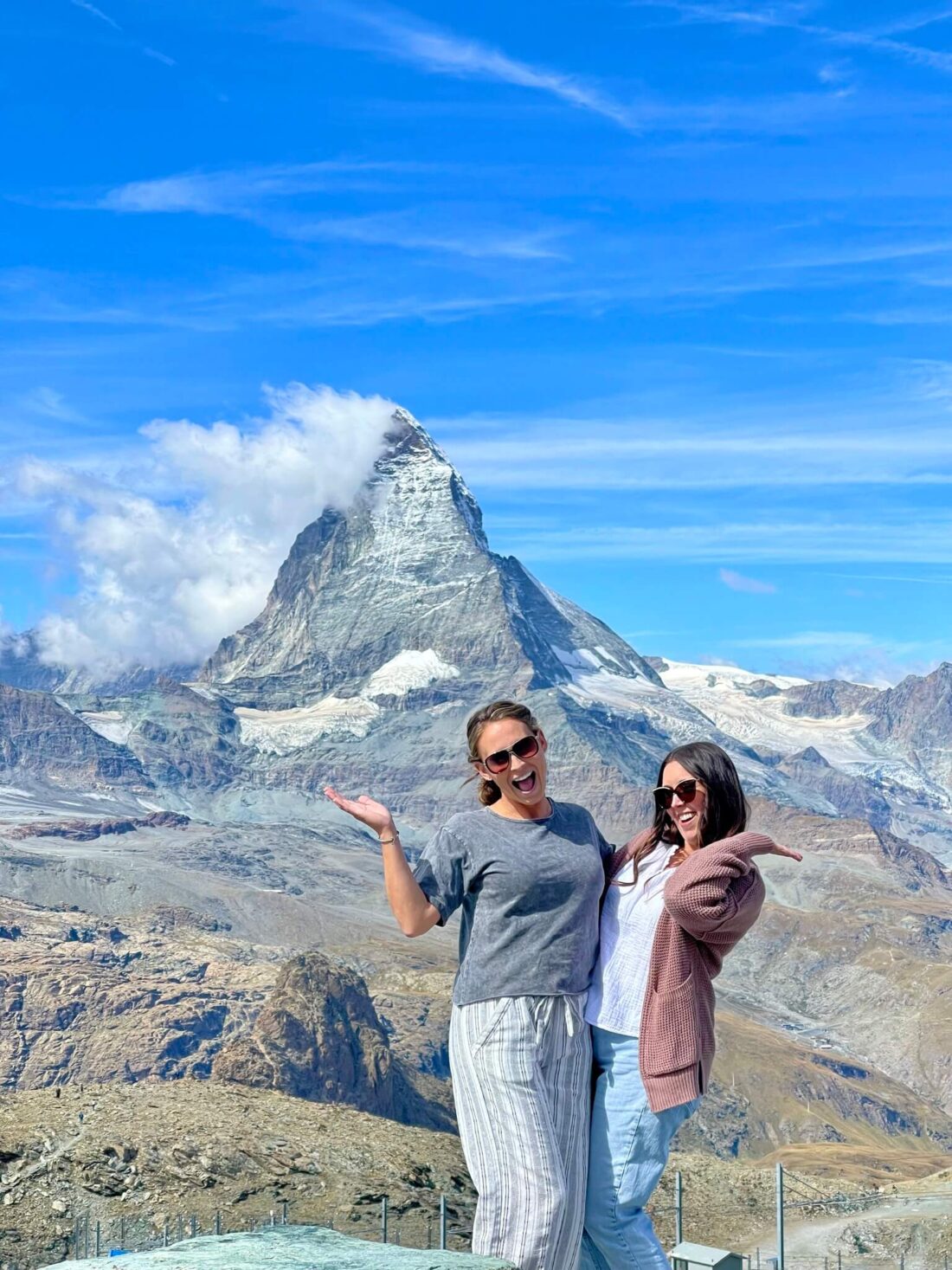 Lucky for me, my good friend is a major cheese and fondue fan and I'm a major chocolate fan, so we had a lot of fun sampling all the Swiss fare we could possibly fit into our bellies!
Swiss food might not be the first to spring to mind when considering the best cuisine in Europe. You might think French or Italian culinary traditions have more to offer. This Switzerland food guide will prove you wrong!
Scratch beneath the surface and you'll realize that Swiss cuisine has plenty of famous dishes. Let's not forget that the Swiss people invented milk chocolate and Swiss cheese fondue is always a winner at dinner parties.
If you're visiting Switzerland, there are tons more traditional Swiss food staples, desserts, and wines that you will be able to taste and experience straight from the source. There are many variations throughout the country in the different French, Italian, and German-speaking regions too.
This Switzerland food guide will tell you everything you need to know about traditional Swiss food before visiting Switzerland. Pack your appetite and tuck in!
What Food Is Switzerland Known For?
Aside from Swiss chocolate, Switzerland has four key national foods: raclette, müseli, rösti, and cheese fondue. Considering two of those are cheese, that should tell you something about the Swiss people! They absolutely love their cheese.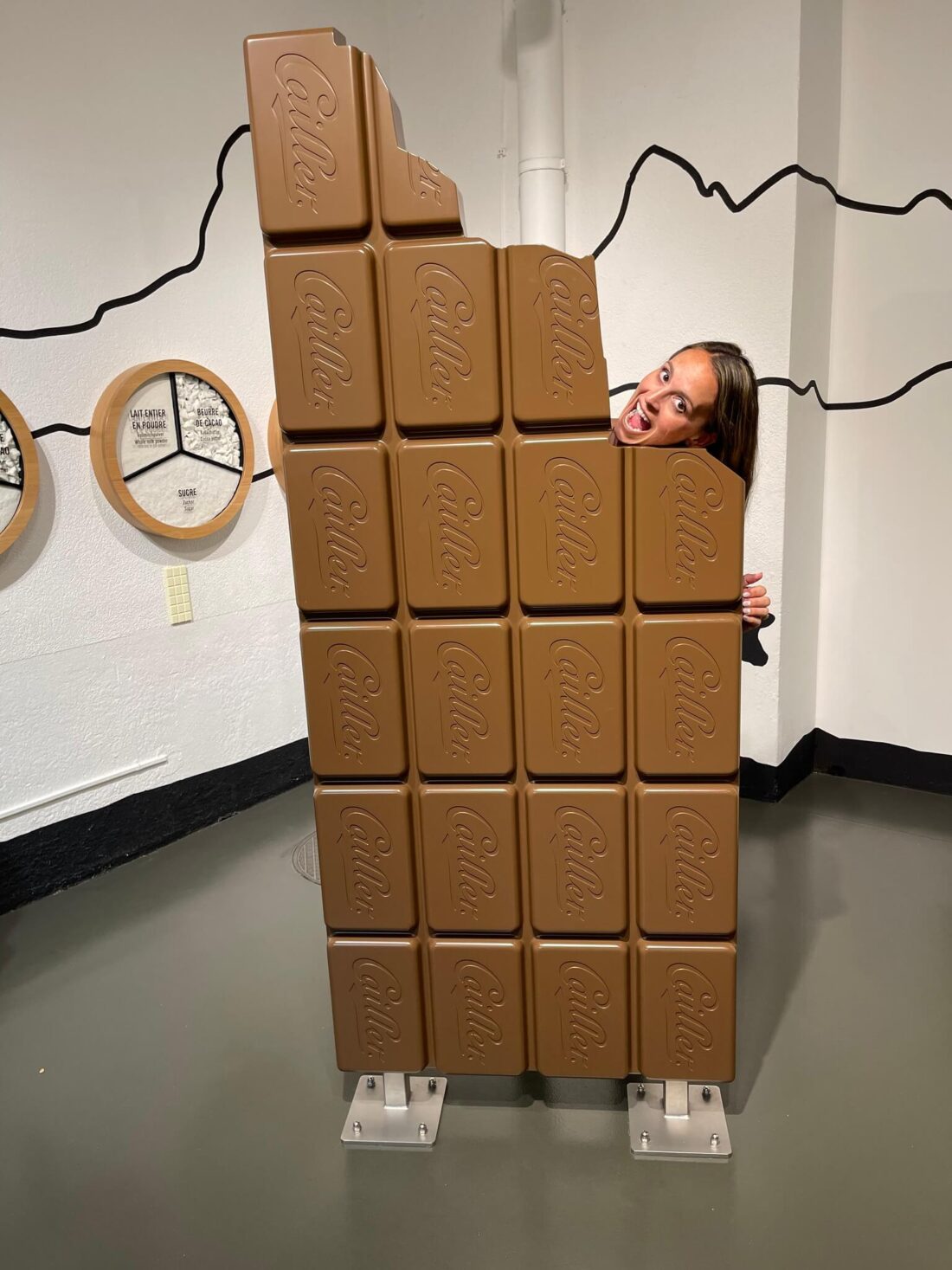 Generally speaking, the Swiss diet includes a lot of bread, dairy products (butter and cream as well as cheese), and hearty vegetables like beans, potatoes, and cauliflower. And of course, let's not forget about Swiss chocolate.
What Are the Regional Differences in Swiss Cuisine?
Switzerland is split into 26 cantons, another name for districts. There are 17 German-speaking cantons, four French and one Italian-speaking canton. Three cantons are bilingual and the canton of Grisons is trilingual.
Though these are not hard borders by any means, it's fair to say that the language of each canton has strong influences from that culture. In the German cantons, you'll find more cured meats, in the French there is more cheese and potatoes, and in the Italian, there is more pasta.
What Do They Eat for Christmas Dinner in Switzerland?
Switzerland Christmas food involves a lot of spiced cookies, meat, and pastry.
The main dish is usually served on Christmas Eve and a popular choice is Filet im Teig, pastry wrapped pork fillet. Potato salad and meat fondue are two other Swiss dishes you'll probably find in a Swiss household at Christmas.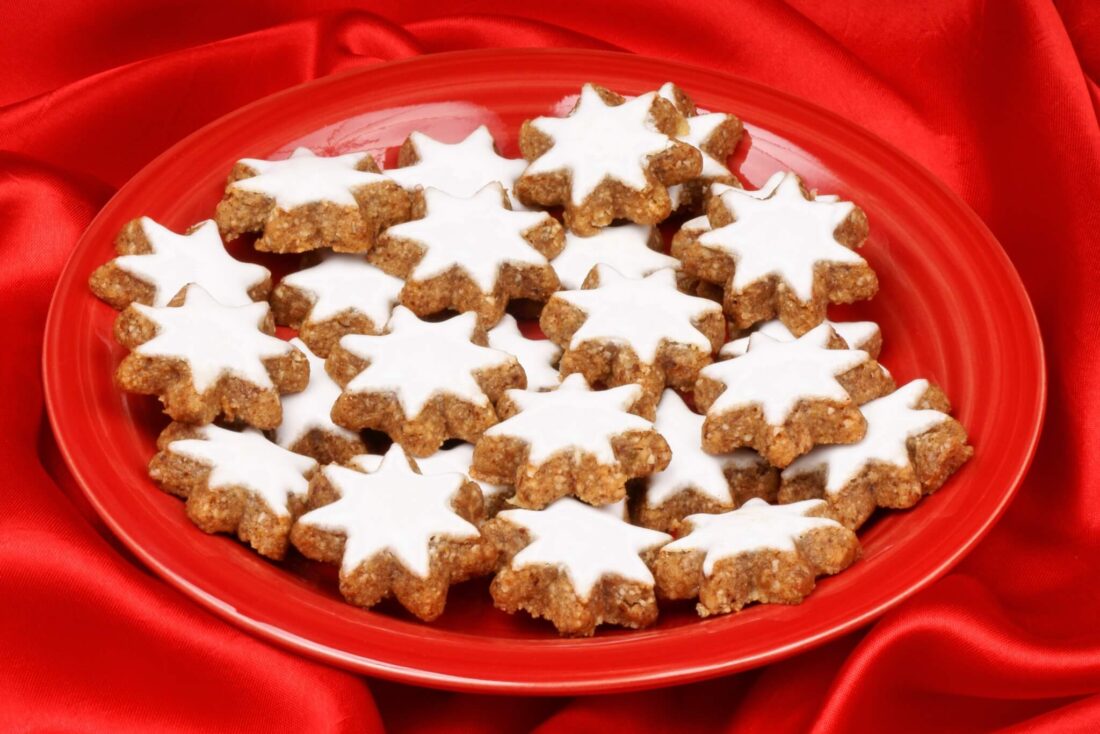 Basler Brunsli, Zimtstern, Spitzbuben, and Mailanderli are all examples of flavorful cookies you can find at Swiss Christmas markets.
What Is The Traditional National Day Food in Switzerland?
Swiss National Day is August 1st every year. It celebrates the founding of the Swiss Confederation in 1291, though it's only been a national holiday since 1994.
On this day, the Swiss eat Augustweggli buns which are usually pierced with tiny Swiss flags.
They also tuck into Swiss rösti with Gruyère cheese (it is a national dish, after all!), boiled eggs, and cervelat sausage. Eating simple yet high-quality Swiss cuisine is the best way to celebrate this country!
When Are Mealtimes in Switzerland?
In Switzerland, people tend to eat breakfast between 6:30 am – 7:30 pm before going to school or work. The Swiss-German word znüni translates to 'at nine' which is when they might have a mid-morning snack.
Swiss people tend to eat lunch right at noon. Lunchtime rarely extends to as late as 2 pm. Zvieri is a Swiss-German word that translates to 'at four' when some people in Switzerland eat another snack.
You might be familiar with Switzerland's neighboring countries, like France and Italy, eating dinner super late at night. Switzerland isn't quite as hardcore as most people sit down to dinner at 6 pm or 7 pm. However, some restaurants in cities will keep serving meals until 11 pm!
What Is the Cost of Food in Switzerland Per Day?
You might've heard that Switzerland food prices can be pretty high. It's true, the cost of living in Switzerland is higher than in most other European countries but the prices match the high quality of life.
Typical fast food meals cost around 15 CHF (approximately $16) and one meal in a cheap restaurant might cost something like 25 CHF (around $27). There are several factors to weigh up but if you're a tourist and dining out for every meal, you might spend $100+ on food every day. Of course, buying food in a grocery store costs a lot less!
Best Swiss Food: 18 Must-Try Traditional Dishes in Switzerland
1. Swiss Cheese Fondue
Let's start this Switzerland food guide with the best food in Switzerland. Cheese!
The origins of Swiss fondue can be traced all the way back to the 17th century. But modern melted cheese fondue, which consists of cheese melting in a large pot over an open flame, first appears in cookbooks in the French Rhône-Alpes region in the late 19th century. It became a national dish in the 1930s.
Cheese fondue is usually eaten in the French-speaking parts of Switzerland during the winter months. Gruyère is the most traditional Swiss cheese to use in fondue. Using skewers, you can dip pieces of bread, pickled onions, cured meat, potatoes, or anything else you think will taste good. Fondue is an easy, delicious, and fun communal dish.
2. Swiss Chocolate
One of the other most popular, world-famous Swiss dishes is, of course, Swiss chocolate! Are there any two words that sound more beautiful when put together?
In 1875, Swiss native Daniel Peter invented milk chocolate by successfully combining cocoa and condensed milk. Other Swiss chocolate producers like Rodolphe Lindt quickly adopted this new chocolate recipe, as did many other chocolatiers around the world.
It's one of the mainstays of Swiss cuisine and also a type of Swiss fondue. You can melt Swiss chocolate in a heavy bowl over an open flame and dip fruit (berries work well) or even whole pieces of chocolate to enjoy one of the most delicious Swiss desserts.
3. Raclette Cheese
The backbone of Swiss cuisine is melted cheese, as evidenced by two out of the four national dishes consisting of this delicious ingredient. Raclette is a type of cheese hailing from the French-speaking part of Switzerland and is another dish most commonly consumed during the winter months.
It's sliced into strips roughly 8mm thick and melted in a grill. Then, you can enjoy raclette by pouring it over almost anything like boiled potatoes, pickled onions, bell peppers, or meat.
4. Vaud Wine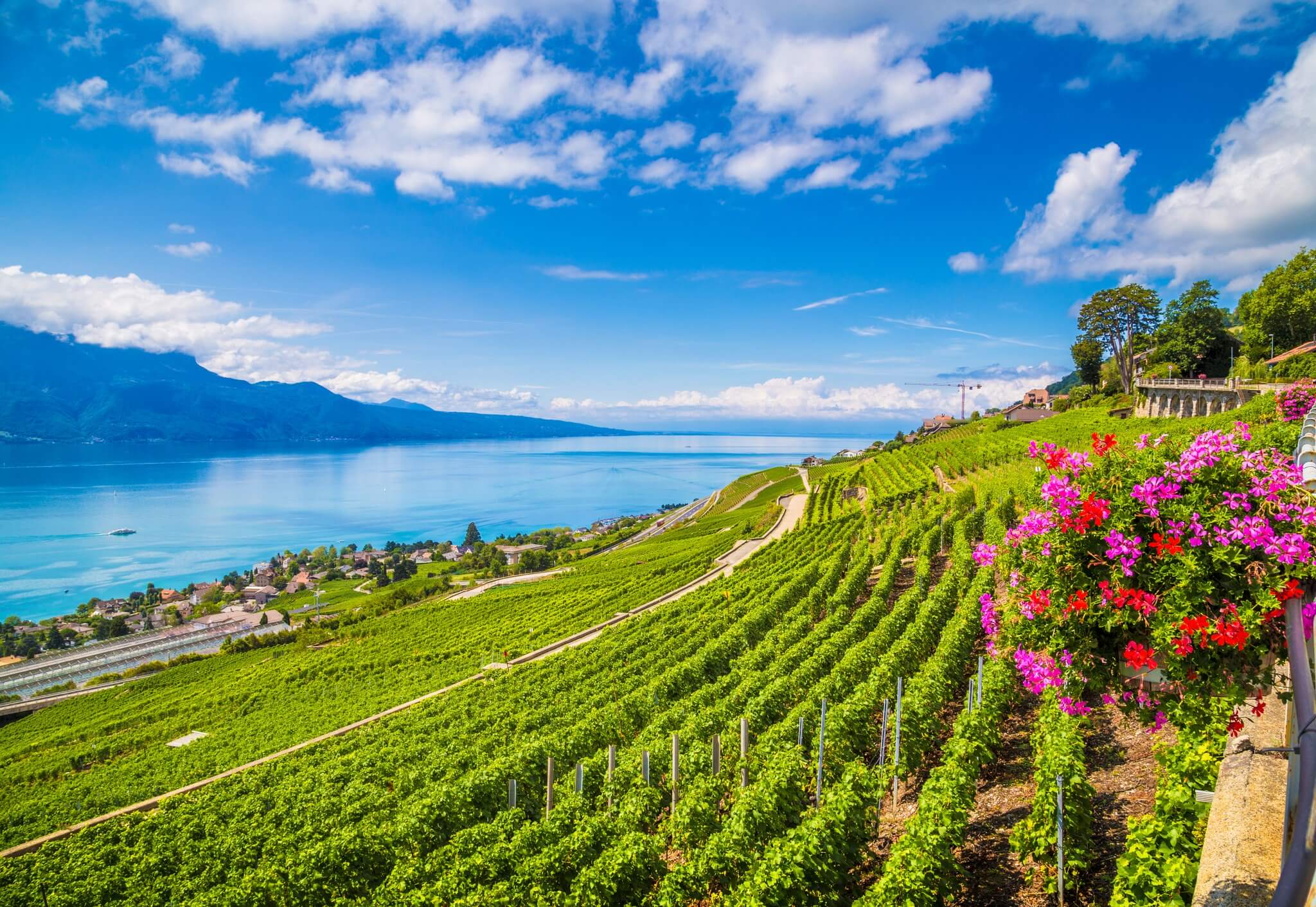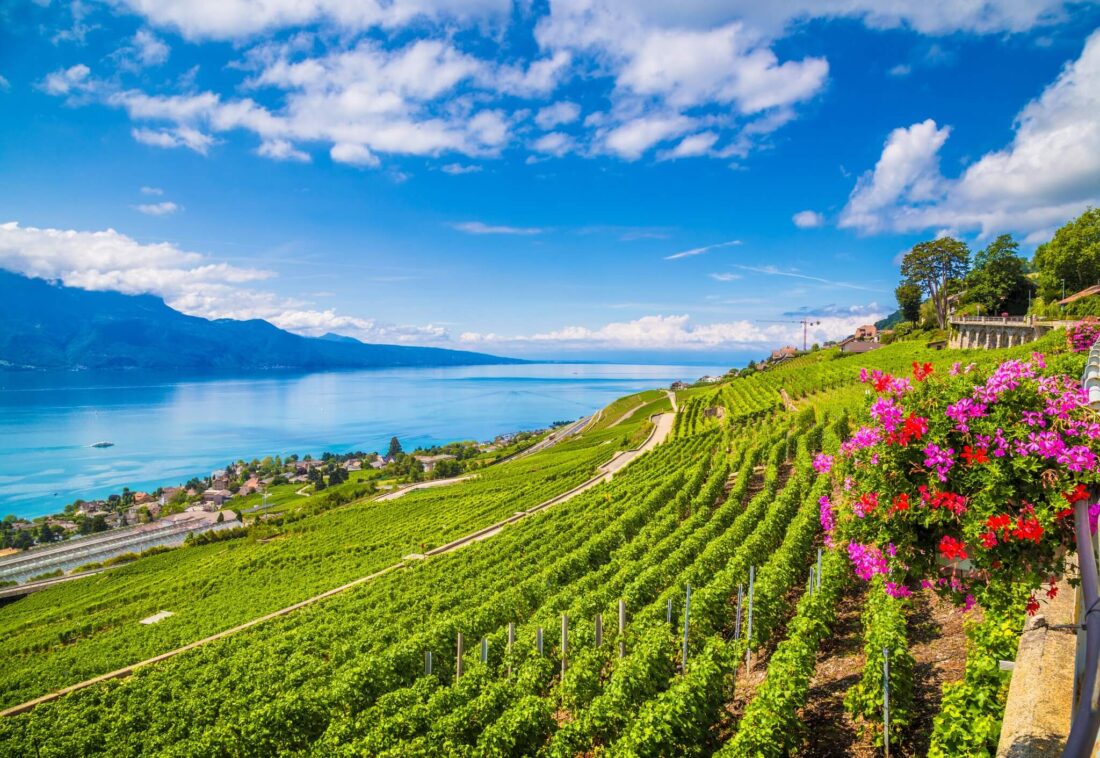 Did you know that Switzerland produces some incredible wine? There are six wine regions which are mostly located along the southern border near Lake Geneva. The Lavaux Vineyard Terraces, in particular, are a UNESCO World Heritage Site in the Vaud wine region close to the city of Lausanne.
Vaud is the second-largest wine-growing region in the country and mostly grows fresh, fruity grapes for white wines. Red wine lovers will find beautiful pinot noirs in the German-speaking canton of Graubünden.
5. Creamy Onion Soup
Move over watery French onion soup, because Switzerland has its own unique version. This is a simple yet delicious dish that often features on menus in traditional Swiss restaurants as a starter. Its core ingredients are butter, bread, onions, chicken stock or beef stock, flour, milk, and, of course, cheese.
It's often served with bread and butter and also a couple of extra slices of Swiss cheese which results in a more filling dish. You've got to love hearty Swiss cuisine.
6. Apple Bircher-Benner Müseli
It's not surprising that müseli was invented by a doctor, considering how healthy and nutritious it is. But what is surprising is that Maximilian Bircher-Benner, the Swiss doctor who created this famous breakfast dish in 1900, didn't intend it to be a breakfast dish. He served it to his patients as an appetizer, like bread and butter.
His recipe consisted of oat flakes, thinly-sliced or grated apples, rolled oats, and lemon juice, typically served with condensed milk. It's similar to granola and today there are limitless variations of müseli served around the world. The Swiss are clearly proud of this invention or else it wouldn't be one of their national dishes.
7. Berner Rösti
The Swiss rösti is perhaps the most popular food in Switzerland (besides cheese, of course) and it's one of their culinary traditions that deserves way more recognition! The Berner Rösti is a Swiss cuisine that originated in the city of Bern and consists of small discs of pan-fried boiled potatoes that have been thinly sliced or grated.
This is the fourth and final national dish that features in this Switzerland food guide and it's perfect for lunch. Röstis are usually served with a topping of bacon, butter, fried egg, and/or cheese. It's a classic hiking or skiing dish so look for it on the menus when you stop for lunch in the Swiss Alps.
8. Leeks With Potatoes and Sausage (Papet Vaudois)
Originating in the Vaud canton, this is a 'one pot' stew cooked slowly on the stove. Leeks, potatoes, and sausage are the main ingredients but onion, heavy cream, and white cooking wine are also added to round out the dish.
Most traditional Swiss cuisine cookbooks will require Vaud sausage but some recipes call for beef instead. It just has to be a large, smoked sausage that you can leave whole or chop up.
9. Basel-Style Roasted Flour Soup
The people of Switzerland clearly love their soups! As the name suggests, this soup originates from the city of Basel but unlike the name suggests, it tastes of more than just flour.
The recipe includes butter, onion, and white wine as well as flour. This soup was traditionally only consumed during carnival time and the legend is that a girl from Basel was only allowed to marry when she knew how to cook this soup. Luckily, it's easy to make and should be served with bread.
10. Bern-Style Lekerlis Biscuits With Hazelnuts
Remember how the Swiss love to eat spiced cookies during the Christmas festive season? One of the most popular foods of Switzerland is lekerlis biscuits with hazelnuts.
Originally invented in Bern, these cookies are enjoyed all over Switzerland during the month of December and you will find them at every Christmas market. It's a soft biscuit made with almonds, honey, and candied citrus peel as well as hazelnuts and they are incredibly moreish.
11. Zurich-Style Ragout of Veal and Mushroom (Zurcher geschnetzeltes)
Most of the Swiss dishes in this Switzerland food guide are simple and cozy dishes that most locals would cook at home and enjoy with friends and family. This Zurich-style veal and mushroom ragout is a little more upmarket and a dish you are more likely to see on the menu of a fancy restaurant.
The focus of the dish is, of course, the veal meat with mushrooms, shallots, and cream sauce with lemon juice as an accompaniment. This is as sophisticated as it gets in Switzerland!
12. Chicken in a Creamy White Wine Sauce
You'll notice a lot of Switzerland food dishes are served with a creamy white wine sauce or creamy cheese sauce. This Swiss chicken recipe is perhaps the most quintessential of all creamy sauce meals.
On the surface, it might seem like any other simple chicken dish you can find in any cookbook. But once you also add French mustard and cheese to the pot… Voilà! It's a distinctly Swiss dish.
13. Alpine Macaroni and Cheese (Älplermagronen)
Most Switzerland famous food found its notoriety as an alpine dish to provide hikers and skiers with energy. Alpine macaroni, made with macaroni pasta or another type of pasta, mashed potatoes (yes, potatoes in pasta), roasted onions, and bacon, is one of those meals.
It's becoming harder and harder to find so if you spot it on a menu in the Swiss Alps then you should order it. This is a special favorite of my kids when we were living there.
14. Traditional Swiss Roll Sponge Cake
Switzerland foods and Swiss desserts are a masterclass in simplicity. The Swiss roll is literally just a thin sponge cake made with butter and filled with jam and cream. But it's so delicious and you can find it in grocery stores and bakeries all over the world.
You may recognize these from the Little Debbie variety you possibly grew up with (I sure did). I can assure you that the legit Swiss versions are much tastier (sorry Debbie).
There are various forms of the Swiss roll available but the classic strawberry jam, chocolate, and lemon varieties are particularly tasty.
15. Hazelnut Meringue
Another one of the best Swiss desserts, this nut meringue is often served with chestnuts for an after-dinner, cozying-up-by-the-fire-in-our-chalet sweet treat.
Swiss meringue tends to be smoother, silkier, and denser than other types of meringue like French. The hazelnut adds a bit of a kick so it can be enjoyed by itself.
16. Epiphanies Cake (Galette des Rois)
Perhaps not the most famous food in Switzerland, but you'll struggle to find Swiss desserts with more history than this cake. Dating back to the Middle Ages in France and Spain, this cake is also known as the King cake or Three Kings cake in celebration of the three wise men of Christian Catholic tradition.
The Epiphany cake has two layers and whether it's a brioche, sponge, or made from something else depends on the region. Many who live in Alpine areas eat a Three Kings brioche with huge pink pralines. Traditionally, people consume it on January 6th or the first Sunday of the New Year and whoever finds the small baby Jesus in their slice receives a special blessing.
17. Cured Meats (Walliser Rohschinken and Bindenfleisch)
Eaten with Swiss fondue or with simple bread and butter, cured meats are some of the most popular foods in Switzerland. There are many, many types of cured meat from various parts of Switzerland but two that stand out are Walliser Rohschinken and Bindenfleisch.
Walliser Rohschinken is a cured and dried raw pork ham from the Valais canton. It's only made with high-quality pork legs raised in Switzerland.
Bindenfleisch is an air-dried beef originating in the Graubünden canton. It's usually taken from the cow's upper thigh or shoulder and it's always treated with wine and seasoning like salt, onion, and herbs. Both of these cured foods from Switzerland are perfect for lakeside picnics!
18. Polenta and Braised Beef
Speaking of beef, another popular food of Switzerland originating in the Italian-speaking canton of Ticino is polenta and braised beef. More Swiss dishes made for the wintery, snowy weather!
First, the beef is fried with bacon, garlic, and onions before adding tomatoes, beef stock, and red cooking wine. The hearty dish is cooked slowly for around an hour. Polenta is a traditional Italian side dish that soaks up the tomato sauce beautifully.
Eat As Much Traditional Swiss Food as Possible on Your Next Trip
This is a detailed Switzerland food guide of the very best food from Switzerland, but it doesn't include every traditional dish. No matter which regions throughout the country you explore when visiting Switzerland everywhere has something unique to offer!
As long as you taste as much Swiss cheese, Swiss chocolate, fondue, and other traditional Swiss food as you can, you will have a full belly and a fantastic time in Switzerland.